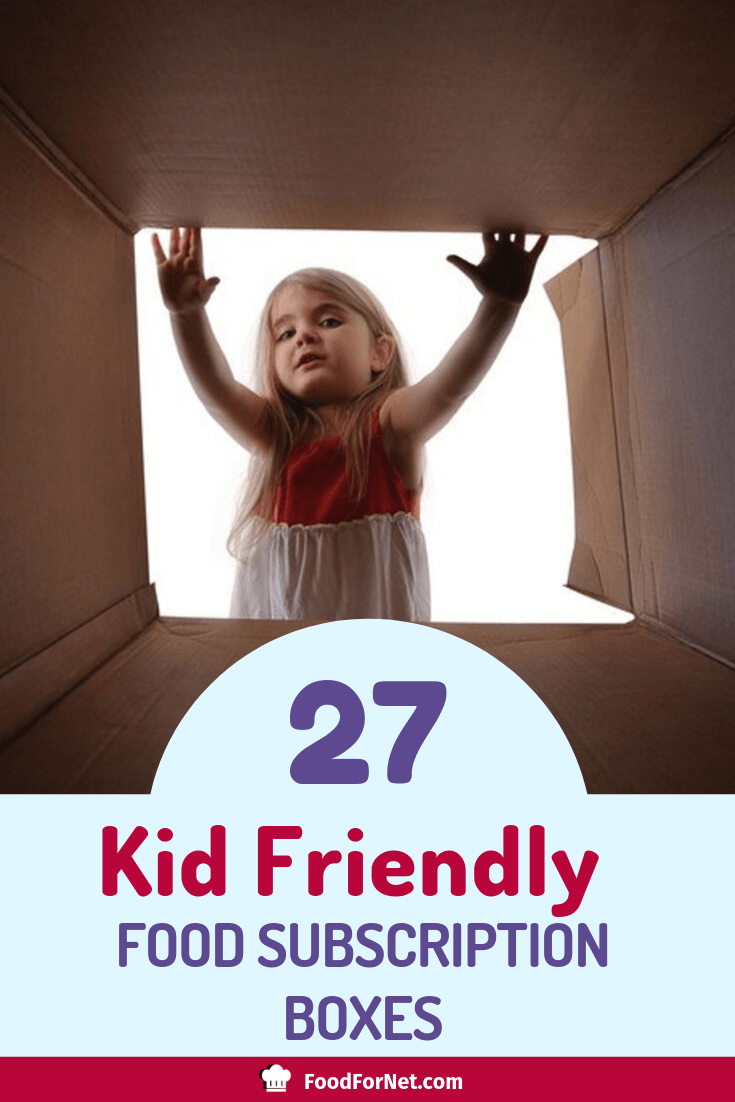 Subscription boxes are mostly an adult trend. This is easy to see, as the most popular types of subscription boxes include coffee, wine and beer. Thankfully, there are plenty of choices for kids too. I've seen many boxes out there that focus on toys and activities. Those are fantastic, but they're not the focus of this discussion.
Today, we're looking at kid friendly subscription boxes from a food perspective. We're focusing on boxes where the overall style is suitable for kids, or the individual items in the box are kid-friendly.
That's a pretty broad definition, so you'll see many different types of box in this list. The variety should make it easy for you to find the best subscription boxes for your family. You might even find that stuff that appeals to adults just as much as to kids! If you're looking for full meals, we've got a list of kid-friendly meal kits as well.
Kid Friendly Subscription Boxes
Candy And Other Sweet Treats
Goldbelly Monthly Ice Cream Subscription
Gelato Sundae Club
Apothecary Soda
Gummy Munchies
InstaCandy
Candy Club
WowBox
British Candy Box
Not Pie
Seasonal Pints Club From Salt & Straw
Snacks
Mouth Snack Subscription
Popcorn Of The Month Club
WataNut Nut of the Month Club
SnackSack
Num-Nums Munch Box
Love With Food
Expack
Healthier Subscriptions
Sugar Smart Box
Graze
Paleo Pax
My Keto Snack Box
Healthy Me Living
American Gluten Free
Paleo Family Snack Box
UrthBox
Other Options
Pizza Of The Month Club
Jam And Jelly Of The Month
PS. Though they're not specifically for kids, the cupcake of the month clubs are pretty popular.
PPS. You can insert a bit of education into these fun clubs by joining an international snack month club, but some of that weird stuff like seaweed might not work well if you have a picky eater 🙂
Candy And Other Sweet Treats
Goldbelly Monthly Ice Cream Subscription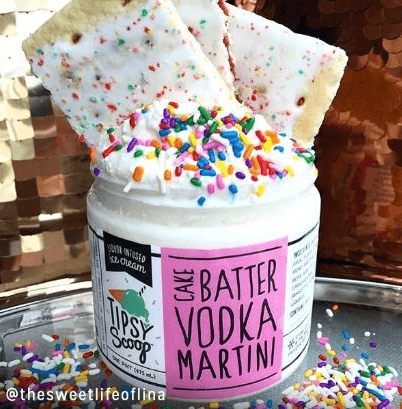 This Goldbelly Monthly Ice Cream Subscription could be the perfect choice for a family. The subscription provides you with ice cream treats on a monthly basis. This can include regular ice cream, along with items like ice cream sandwiches.
Goldbelly focuses on unusual ice cream flavors from creameries throughout the United States. Not only does this subscription taste amazing, it's also the perfect chance to try new flavors for yourself.
Here's a full list of candy of the month clubs worth checking out too!
Gelato Sundae Club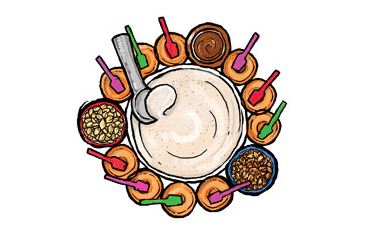 This Gelato Sundae Club from Zingerman's is impressive. As the name suggests, the club provides the ingredients needed to create sundaes. I don't just mean ice cream either (well, gelato in this case). You're getting other important parts of the sundae, like hot fudge and sprinkles.
The style would be particularly fun for kids and families. After all, sundaes make amazing treats. Still, the club isn't perfect. You can only order for 3 months at a time and you will always get the same sundaes in the same order.
Also yes. Ice cream of the month clubs are a thing.
Apothecary Soda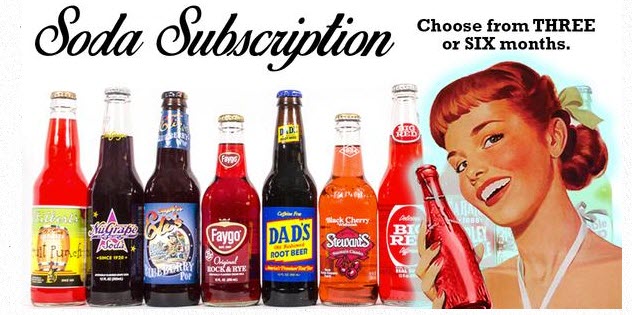 Apothecary Soda is an interesting company. It focuses on craft sodas, including root beer, cocktail mixers and fruit flavor sodas. This is a fantastic way to enjoy soda, without relying on the mass-produced brands. The subscription also means that kids won't feel left out if parents are drinking beer or wine regularly.
The subscription box can be ordered as a 3-month ($60) or 6-month ($115) membership. Both durations provide you with 10 bottles of craft soda each month. That's an impressive amount of soda for a relatively low subscription price.
Gummy Munchies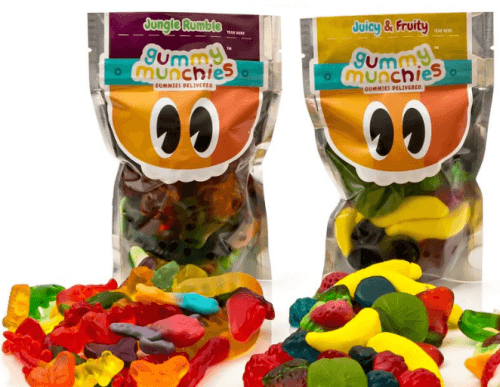 There are plenty of candy companies out there, but few focus on gummies in the way that Gummy Munchies does. The service is a very good choice for kids, as gummies tend to be extremely popular. You can also be certain that all of the candy will be gobbled up.
The main subscription option is the Gummy Munchies Club. This follows an unusual style, delivering 6 full-sized bags of candies every 3 months. The bags are all in different flavors, such as Jungle Rumble, Gummy Classics and Sour Hour. This subscription would be fun if you wanted to stock up with plenty of candy. The club costs $49.99 per quarter.
There is also another option. You can sign up for an individual bag from the company on subscription. Their Juicy & Fruity bag is an example. This costs $10.95 normally or $9.31 on subscription. Signing up will provide you with a bag every month. You can change the frequency too, if you want gummies less often.
InstaCandy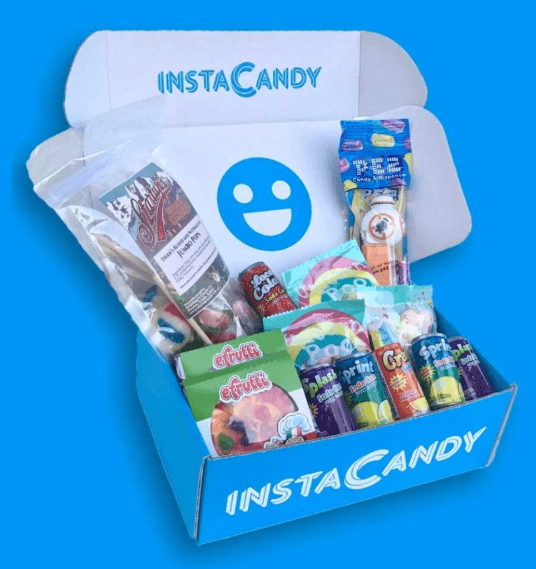 InstaCandy isn't the most interesting candy subscription out there, but that might be a good thing. Unlike many other boxes, the items that InstaCandy offers tend to be familiar. Even if kids don't recognize the brands present, the styles and flavors will be appealing. The box also contains full-size items that are easy to include in lunchboxes or take on trips.
The subscription is simple – costing you $24.99 per month. You can pay month-to-month or sign up for a 3, 6, 9 or 12 month pre-paid plan. Just be aware that the pre-paid options don't tend to be cheaper. You pay roughly the same amount per month either way.
Candy Club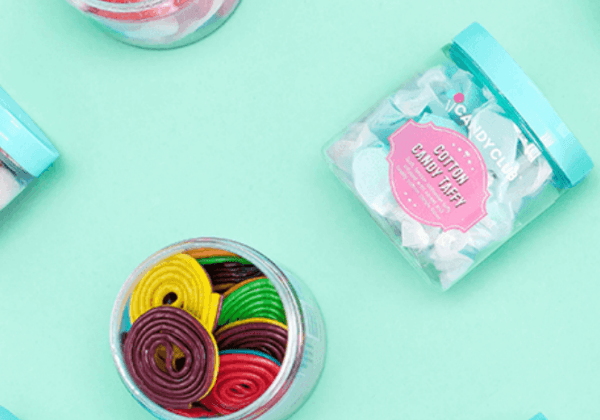 There are many different subscriptions that offer sweet treats, but Candy Club is one of the most impressive choices. The club works with various candy producers and artisans to offer you 6 candy cups each month. Many of the included candies are very different than what you would find elsewhere.
The cup style works very well for kids, as they can easily be given the cups separately. The cups even seem to be resealable. You can also develop a candy profile on the site, which will influence the types of candies that are contained in your box.
Candy Club has 2 different subscription programs to choose from. They both have 6 candy cups, but their Fun Box has 6-ounce candy cups, while the Party Box has 13-ounce cups. The boxes cost $29.99 and $49.99 per month, respectively. There is also a deep discount on your first order. That discount is a fantastic way to try out the club.
WowBox


WowBox is a Japanese snack subscription box that has multiple versions to choose from. It is a particularly good choice for children because many of the snacks are fun. There are also plenty that involve characters that your children may be familiar with.
A particularly good choice is the Dagashi box. Dagashi are a type of treats that children often buy for themselves. The snacks are often designed with kids in mind, so many have bright colors and cartoon characters. Each box contains 10 to 12 different treats. Dagashi is also the cheapest subscription from WowBox, costing just $14.99 per month.
There are also 3 other boxes from the company that you can focus on. The WowBox Fun & Tasty Box features a variety of different items, their Kawaii & Beauty Box emphasizes cute and healthy items, and their New & Limited Box does exactly what the name suggests. Each of these boxes has a regular version for $24.99 a month and a larger version for $34.99 per month.
The larger versions often contain additional items, like a drink and periodic bonuses.
British Candy Box


If you want to give your children something different, what about a British Candy Box subscription? As you can probably guess, the company provides a selection of British treats and sweets to your door each month.
The items are a combination of the familiar and the unusual. For example, you'll see some options like Dairy Milk and Galaxy chocolate. Don't worry though, you're not getting American candy. There are distinct differences with the British versions.
The company offers 3 different subscription boxes that you can choose from. The Great British Box costs $23.97 per month and comes with 10 to 12 different items. The Ultimate British Box is a step up. It costs $34.06 per month and contains 15 to 16 items.
Their other option is The British Snack Box. This one contains 13 to 15 items and costs $30.90 per month. The biggest difference is that this box focuses on snacks, while the other two mostly offer sweets. Of course, any of the 3 boxes would be popular with kids.
Not Pie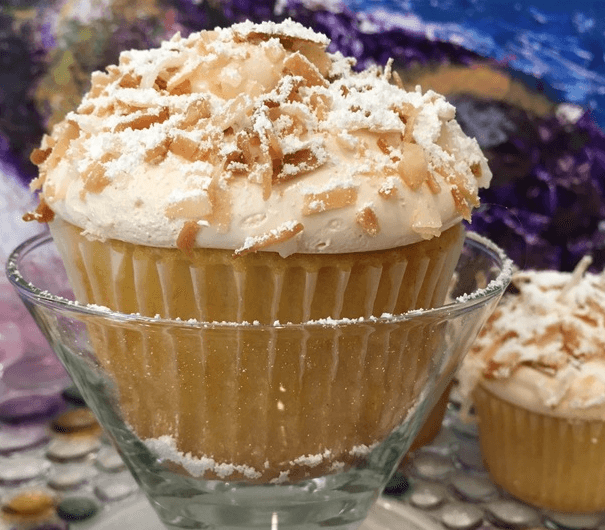 Buying cupcakes locally is easy to do and there are plenty of subscription programs too. This subscription from Not Pie is much better than all of those. The program provides 6 amazing cupcakes every month. These are gourmet cupcakes, produced in small batches, in a special flavor every month. They're even topped with special marshmallow that you won't find elsewhere.
Cupcakes like these will always be appealing to kids. The style may also work well, as the subscription doesn't provide a large number of cupcakes. This helps to stop kids from eating too many sweets, while still providing them with regular treats.
The monthly version of the subscription costs $29 per month. It can be canceled at any point in time. Alternatively, you can order for 3 months (for $85), 6 months (for $145), 12 months (for $290) or quarterly (for $105). The longer term subscriptions do end up a little cheaper each month, but the difference isn't dramatic.
If you actually want pie, then here's the pie of the month clubs.
Seasonal Pints Club From Salt & Straw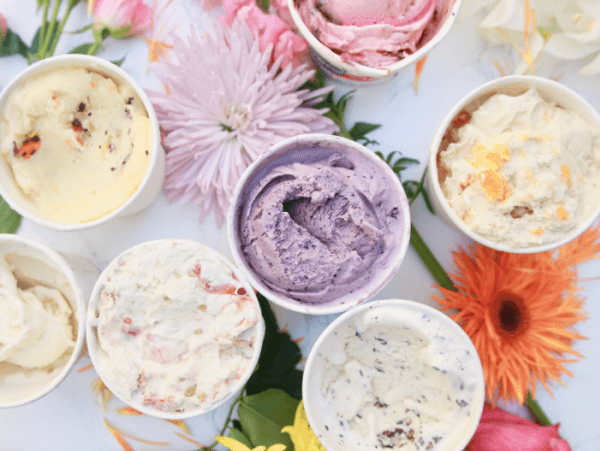 There are many different ice cream companies out there and some of them, like Salt & Straw, are simply better than others. This is partly because Salt & Straw has a strong focus on their craft, so they care about how every single batch turns out. The company also aims to produce interesting flavors, ones that you won't find from conventional ice cream brands.
Most of their flavors would be appealing to kids and to adults. This makes the subscription program especially good for families, as there are multiple flavors to try out.
There are 2 different variations to consider. The first is called Keep the Love Alive. It costs $65 each month and provides members with 5 different seasonal flavors. This is an incredible amount of variation, giving your family an awesome chance to enjoy ice cream.
Alternatively, there is the Get a Taste of the Sweet Life subscription. This version contains 5 packs of new seasonal flavors. You can join it for 3, 6 or 12 months – starting at $195 for 3 months.
Snacks
Mouth Snack Subscription


Mouth is a fascinating gift site, with many products to choose from. Of their 4 subscription programs, their Snack Subscription is the most relevant to kids. This program offers 4 to 5 different snacks each month. The snacks come in a variety of styles, including sweet, salty, chewy and/or crunchy.
Perhaps the best part is the selection. You're not simply getting a box of similar snacks. The products are distinct. You might see items like granola bars, pickles, popcorn and more. Many of the snacks are high-quality, with an emphasis on natural ingredients and health.
The subscription will cost you $60 per month if you join on a month-to-month basis or if you pre-pay for a 3-month membership. You can decrease the monthly cost to $57 by paying for a 6-month membership or $54 with a 12-month membership.
Here are more snack clubs worth looking at as well.
Popcorn Of The Month Club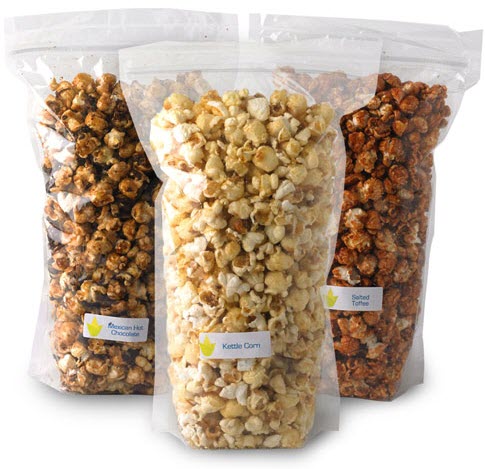 Flavored popcorn mightn't be the healthiest snack in the world, but it is still better than many others. It's also an ideal choice for kids and combines perfectly with family movie nights at home.
This Popcorn of the Month Club provides roughly 2 gallons of gourmet popcorn every month. The box always includes 3 different varieties. These are made using natural ingredients and popped with coconut oil. The end result is an interesting popcorn selection that tastes amazing.
The base price for the club is $24.95 per month, regardless of your membership duration. This is true regardless of whether you pre-pay for membership or pay every month. However, the subscription does come from Amazing Clubs. This site does regularly offer discounts. You might get lucky and pay less for your membership.
WataNut Nut of the Month Club

The company WataNut specializes in gourmet cookies and nuts. This makes them a fun choice for something a little different. Despite the name, the Nut of the Month Club doesn't just contain nuts. Instead, each box comes with 4 different products. This typically includes some nut mixes and some cookies. You can choose either a 12-ounce or a 24-ounce version.
Combining cookies and nuts like this seems to be a very good balance. You have some sweet treats along with the nuts, which are more filling and will often be savory.
You can order on a month-to-month basis, for $24.95 each month. Pre-paid subscriptions are available too for 3, 6 or 12 months. This starts at $74.95 for the 3-month version.
SnackSack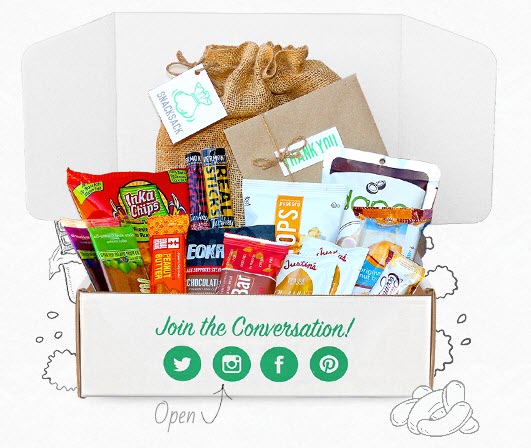 SnackSack is a perfect choice if you want healthier snacks. The company aims to provide junk-free products. These tend to be USDA organic, gluten free, vegan and/or non-GMO. The style means your kids are getting healthier snacks, ones that still taste fantastic.
There are 3 different boxes to select from: A Vegan subscription, a Gluten-Free subscription and a Classic subscription. Each can be joined on a month-to-month basis. When doing so, the Gluten Free SnackSack costs $24.95 per month, as does the Vegan SnackSack. The Classic SnackSack costs $22.95 per month instead.
You can also pre-pay for your membership. This does save you a little bit of money per month, especially on the longer subscriptions. However, the amount saved isn't much. All of the subscriptions auto-renew, so you'll need to cancel the service when you're done.
Num-Nums Munch Box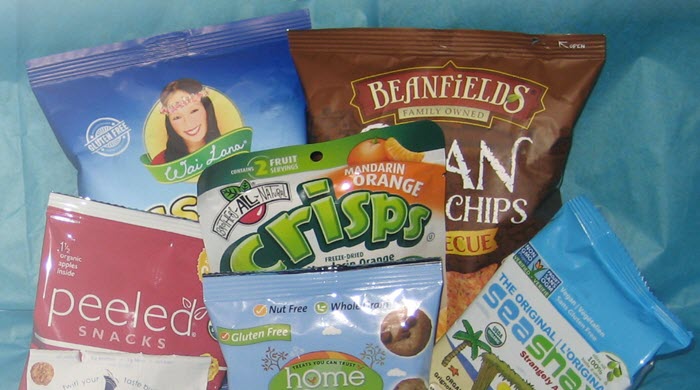 Allergies and food sensitivities are common in many families. They can make snacking frustrating, which is where subscription boxes come into play. Num-Nums Munch Box is a very good solution to those challenges. There are various types of boxes, including a Dairy Free Box, Gluten Free Box, Top 8 Allergen Free Box, Vegan Box and Peanut/Tree Nut Free Box. You can even get in contact with them directly to request a completely custom box.
This is possible because Num-Nums sources products that are free from as many allergens as possible. Because of this, the items will be similar across all of the boxes. The subscriptions even work well for people with no allergies, as the snacks taste good and tend to be healthy.
With Num-Nums, there are 3 different versions to consider. The first is a Mini Box. It makes a great introduction, as the box has just 5 snacks for $8.99 (plus $2.50 shipping) per month. There is also a single box for $19.99 per month (plus $4 shipping). This one contains 10 to 12 snacks.
The final version is a Double Box for $39.99 each month (and $6 shipping). This does literally double the previous version, giving you 20 to 24 snacks. The doubling aspect means that you're getting 2 of each snack from the smaller box.
Love With Food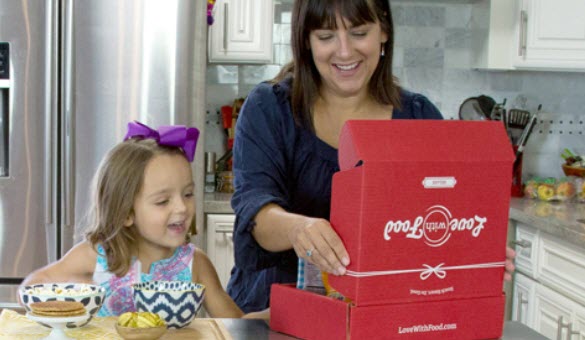 The general aims of Love With Food are to provide junk-free snacks, while also reducing child hunger in the United States. They target child hunger by providing free meals to American families for each box that is sold. The style is appealing and also provides a talking point for families.
As this company relies on junk-free snacks, you can be confident that your kids are getting items that are healthy and enjoyable.
This time, there are 3 versions to consider. The Love With Food Tasting Box is the best place to start, offering 7 or more snacks each month. The box costs between $7.99 and $9.99 per month, depending on subscription length. There is also a Deluxe Box. This is larger, with 15 or more snacks. This version costs between $16.50 and $19.95 per box.
Another option is their gluten free box. This costs $19.99 to $24.99 per month. The cost is mostly due to the gluten free focus, as the box contains 10 or more snacks (considerably fewer than the Deluxe Box). Even with the pricing, the box is ideal for gluten free kids and families.
Expack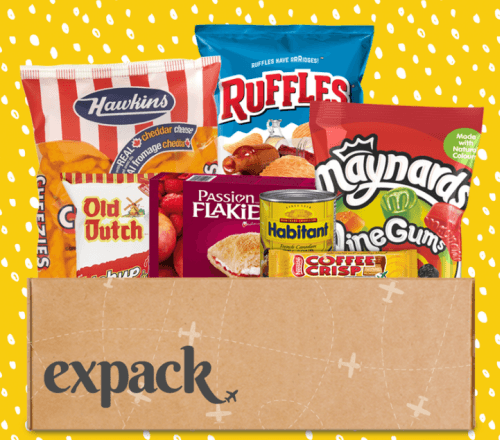 Expack is designed with the needs of expats in mind. The company offers multiple snack boxes that cost $39.99 each ($35 on special). There is a box from the USA, France, UK and Germany, along with 2 from Canada. The subscription is a fun choice for kids, as there is such a wide range of products, including plenty that will be unfamiliar.
The boxes also follow an unusual style. There is a collection of favorites, which are sent out every 2 months (or even more frequently). For example, the favorites for the UK include Jaffa Cakes, Jelly Babies and Clotted Cream. There are also other items that are sent less frequently.
That selection highlights another interesting aspect – the items in the boxes. While you are getting plenty of common snacks and treats, there are also some more unusual items, like Hamburger Helper in the United States box. The style might not suit everyone, but at least you're getting a different selection than normal.
Healthier Subscriptions
Sugar Smart Box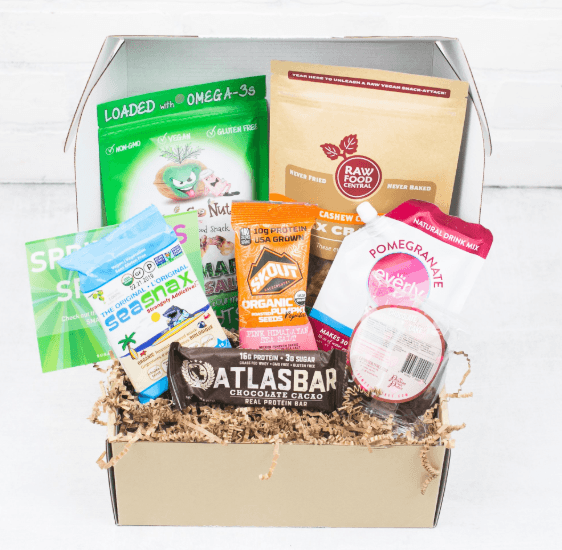 The Sugar Smart Box is a good solution to the challenge of finding healthy snacks for kids without tons of sugar. Most kid-focused snacks are loaded with sugar, which isn't desirable. . It provides a selection of low carb and low sugar options every month.
Each box contains 5 or more individual snacks in a mixture of styles. You'll often find some nuts, some meat-based snacks and some other items, like protein bars. There are even coupon codes so that you can re-order any snacks that you particularly enjoy.
There are 2 styles of box to consider. The first is the Sugar Smart Box Mini. This version starts at $29.95 per month and can be a good introduction to the service. It contains 5 to 7 snacks each month. The other option is the Sugar Smart Box Subscription. In this case, you're getting 8 or more snacks. You also have access to a private Facebook group, although that is focused on diabetes, rather than families.
Graze


Graze isn't your typical snack subscription box. For one thing, the company doesn't provide a selection of pre-packaged snacks. Instead, you receive a box that contains 8 different plastic containers, each filled with snacks from Graze.
The company has more than 100 different snacks in its selection. The ones that you receive are based on your preferences. You can also rate snacks, giving the company the ability to refine your selection over time.
This style is one that works well for families with kids. It helps ensure that the snacks chosen are going to be enjoyed. The snacks also tend to be more unusual and healthier than ones that you would find at a local store. You could even take out the individual portions and include them in a lunchbox or something similar.
Paleo Pax

As the name implies, Paleo Pax is designed for paleo dieters. This type of diet is often used to promote health. It reflects a return to historic eating patterns and a movement away from artificial ingredients. These aspects mean that the foods tend to be healthier, on average, making this an ideal box for kids.
The subscription is an expensive one, costing around $49 per month. Still, you do receive a considerable amount for that price. Boxes tend to contain 18 snacks. There are typically 2 flavors of each snack. Having multiple flavors could be particularly good if you have 2 kids that the subscription is for. Of course, this does mean fewer types of snacks than normal.
The snacks are all pre-packaged, so they're perfect for lunch boxes as well.
My Keto Snack Box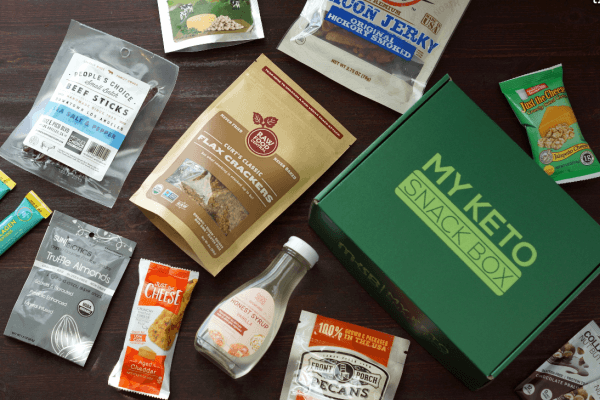 With My Keto Snack Box, the emphasis is on the keto diet. As such, all of the items are low in carbs and high in healthy fats. This style won't suit every family, but cutting down on carbs and sugar is often a good way to improve health.
This subscription box costs $38 when ordered on a month-to-month basis. You can simply cancel whenever you want to. There are also pre-paid versions, although these are designed as gifts.
Members of this program receive around 8 to 11 snacks (sometimes more) each month. The company tries to include a range of different product types, including meat, nuts and other styles. Some of the snacks may be more popular than others, but at least there are plenty of them to choose from.
Healthy Me Living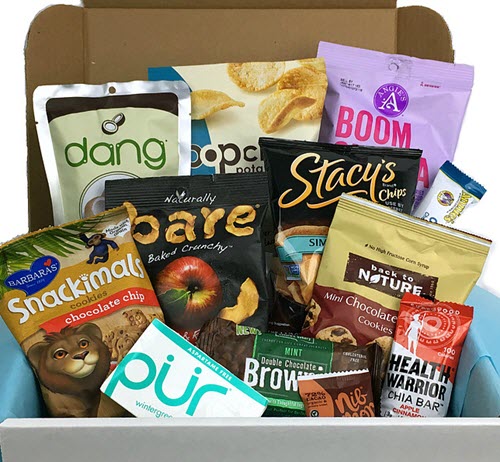 The name Healthy Me Living makes it clear what this company is focusing on. The company chooses snacks carefully to ensure that they live up to quality and health standards. This include a strong focus on where products are sourced from, along with an avoidance of artificial and questionable ingredients.
Each box contains between 7 and 10 snacks, with new options regularly being added. The basic subscription follows a month-to-month approach, costing $29.99 per month. Signing up for a longer term can drop the price considerably, down to around $25 per month.
The boxes do look fantastic and include many kid-friendly options. Even so, the items mightn't be what you expect. Unlike most other subscription programs, Healthy Me Living provides many products that you might find in a local store, like Annie's Organic White Cheddar Popcorn. This style makes the program best if you want easy snacks. If you're looking for unusual options, you may want to look at another company.
American Gluten Free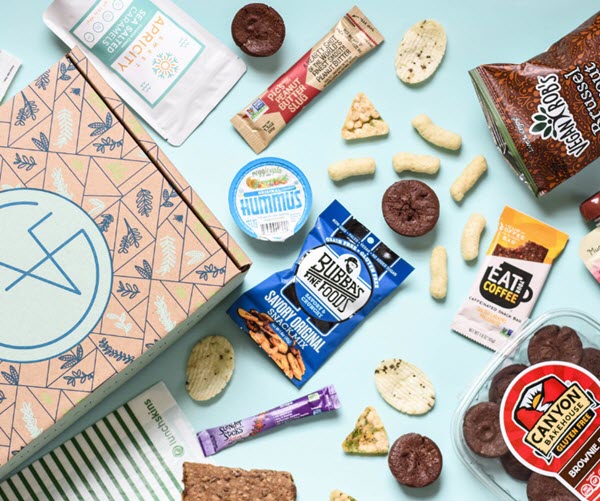 American Gluten Free is more than just a gluten free subscription company. The featured snacks are also dairy free and there are multiple snacks to choose from. Even more importantly, all of the snacks are celiac safe. This is a claim that few other companies can make.
Their 4 box styles are Snack Box, Pantry Box, Vegan Box and Kids Club Box. Each emphasizes a different type of product. For this list, we're just focusing on one of them – The Kids Club Box. This version contains between 8 and 10 different products. Some of these are samples and others are full-size.
The selection contains a mix of healthy products and sweet treats, giving you snacks for every occasion. Most of the items are ready-to-eat snacks. You might occasionally find a baking mix as well. This gives you the chance to make snacks at home.
If you sign up monthly, the subscription costs $24.95 per month. A 3-month pre-paid plan drops the average price down to $24 each month, while a 6-month version decreases it to $23 per month.
If you've got a gluten free kid, here's the full list of gluten free snack boxes.
Paleo Family Snack Box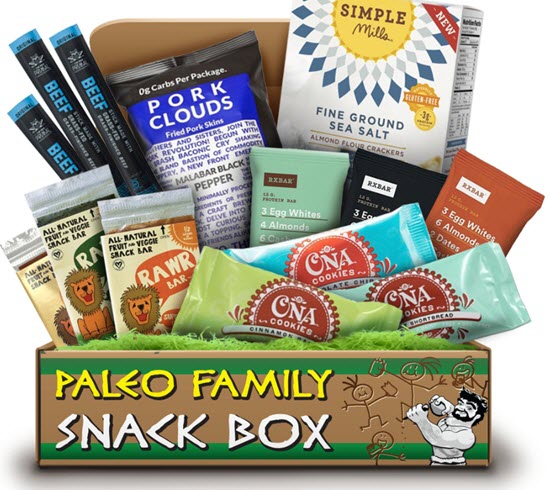 Most snack boxes contain 1 (or possibly 2) versions of each product. The Paleo Family Snack Box has a different approach. There are often 3 of each item, all in different flavors. This style works very well for families, as people aren't fighting between many different snacks. In cases where there is only 1 version of a snack, the package is often large enough to allow for easy sharing.
The paleo style isn't a bad thing either. Paleo food is often very healthy, with less processing than other types of product. You may also be trying items that you wouldn't have found elsewise. This is another advantage.
The box simply costs $38 if you buy it as a single order. You save 5% if you subscribe. This brings the price down to $36.10 per month.
And of course, we've got a list of paleo snack boxes to explore as well.
UrthBox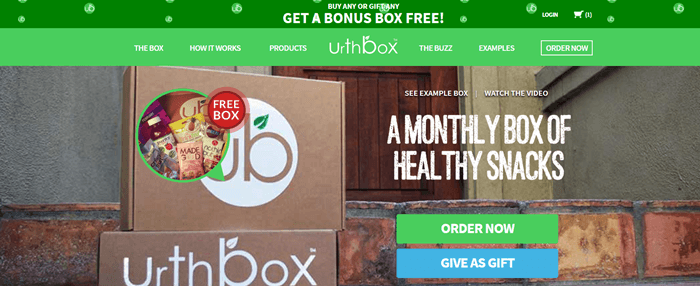 Urthbox is another great choice for a healthy snack subscription box for kids. The included snacks are all natural and are organic. They're also full-sized, with an emphasis on reliable brands.
While the snacks are great, UrthBox's biggest advantage is the flexibility. There are 4 different subscription sizes to choose from, along with 3 ways to pay. This allows you to get exactly how many snacks you need each month.
The Mini Box offers 6 or more snacks per month for $19.99. The Small Box has 12 or more snacks for $29.99 per month. The Medium Box has 18 or more snacks for $39.99 per month and the Large Box has 25 or more snacks for $49.99 per month. Those prices are based on a monthly membership. You save money if you pre-pay for either 3 months or 6 months.
Other Options
Pizza Of The Month Club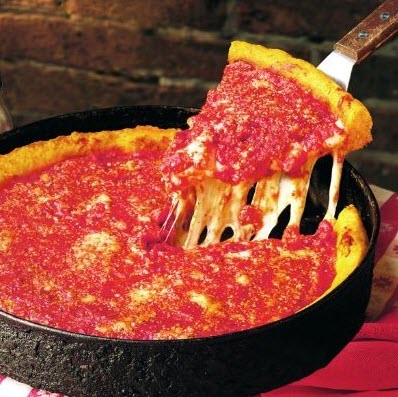 Pizza is another choice that kids would find extremely fun.
This Pizza of the Month Club comes from Amazing Clubs as well. It's one of the more unusual subscriptions out there. Not many companies would want to bother with the hassle of delivering pizza. Still, this club does precisely that.
All of the provided pizzas follow the deep dish Chicago style. They've even been taste tested to ensure that they are fit for the club. Monthly subscriptions contain 3 different pizza varieties. There is even a newsletter for pizza lovers. This provides plenty of details about the included pizzas and extra information about pizza in general.
This time, the club costs $59.95 per month. The price is higher than many other options, but you are receiving a considerable amount of food each month. The price is the same regardless of membership duration and there are sometimes discounts that can decrease the monthly fee.
Plus, there are more pizza month clubs here.
Jam And Jelly Of The Month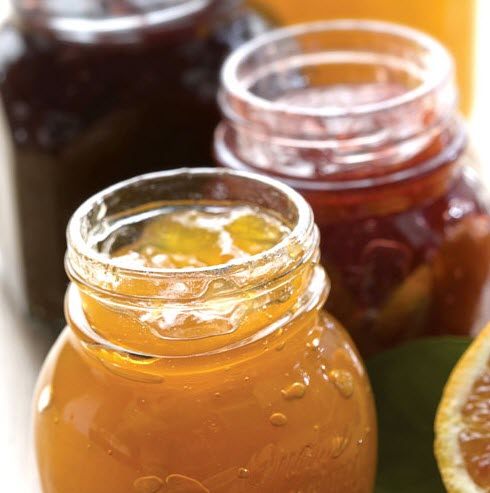 This Jam and Jelly of the Month Club comes from Amazing Clubs and is one of many unusual clubs that they offer. Members receive 2 types of fruit preserve each month. These are always made using high-quality natural ingredients and come from some of the best preserve creators around the world.
The club would be perfect for kids. It's a great way to make breakfasts more interesting, especially for anyone who loves peanut butter and jelly. The products are also a sweet and natural treat, much healthier than a candy subscription box.
Membership simply costs $19.95 per month. You can bring that as low as $17.95 per month if you are willing to pay for 6 or 12 months at a time. You can also check out the previous selections on the site to see what the subscription has sent out previously.
In fact, there are a bunch of gourmet food clubs for mom and dad so you guys don't miss out too.