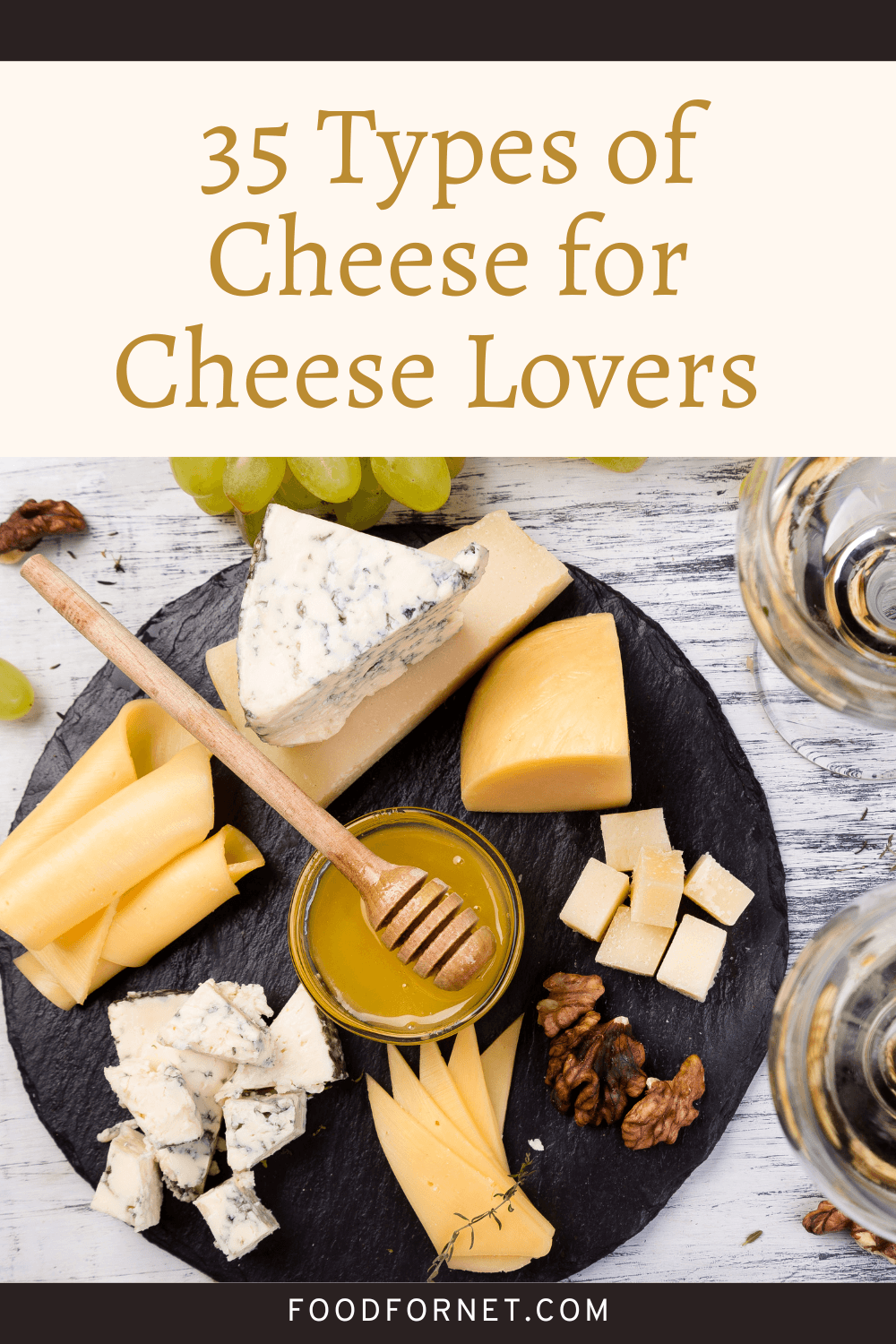 While cheese is incredibly popular, it can also be confusing. There are simply so many different types of cheese out there – even if we just count the ones that you see regularly.
I mean, you've almost certainly seen brie, camembert, feta, havarti, and parmesan at the grocery store, not to mention a dozen or more other options. But, the differences between them aren't always obvious.
That's why we've created this post. In it, we highlight the most common types of cheese and talk a little bit about each of them. By the end, you'll know much more about cheese, including where the different types shine and what each brings to the table.
Love cheese? You're really going to freak out over this Rare Cheese Club that delivers incredible, hard to find cheese every month. Best club everrrrrrr!
Types Of Cheese (With Pictures!)
Asiago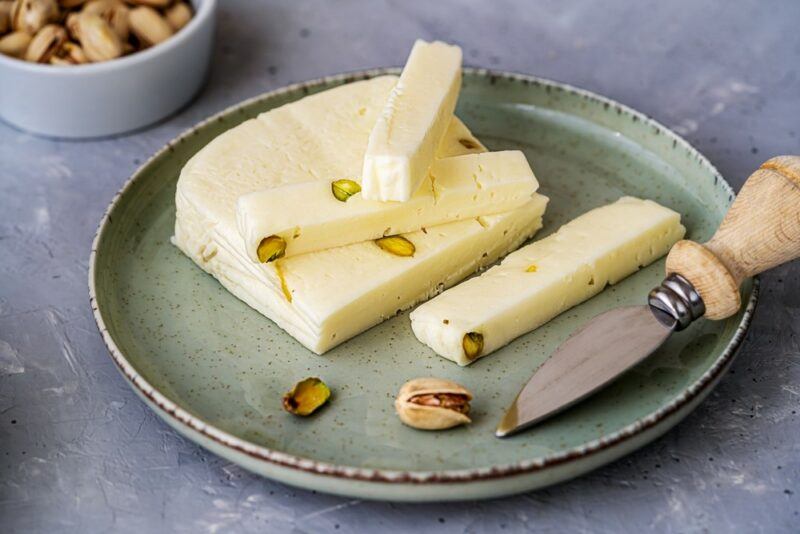 Asiago is a cow's milk cheese that originally came from Asiago in Italy. The flavor and texture vary depending on the age of the cheese.
When it is fresh, the creamy texture makes slicing easy. There's a distinct nuttiness and sweetness to the flavor profile. In contrast, aged asiago tends to be crumblier and is often served grated over meals. It is also sharper and more pungent.
Blue Cheese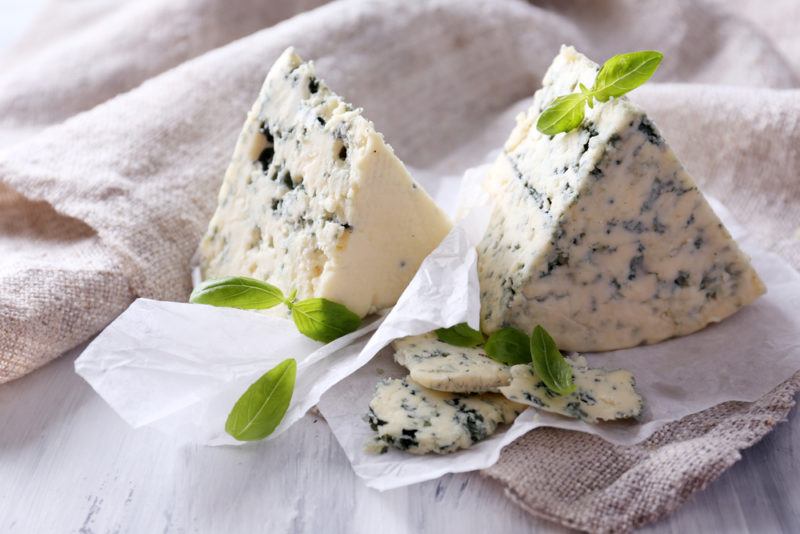 Blue cheese is a general term. It simply refers to cheese where specific bacterial cultures have been added to create a cheese with veins or spots of blue mold.
Temperature and moisture controlled environments are normally used to age the cheese. Caves are a classic choice, but other environments can be used as well.
In general, blue cheeses tend to have a sharp and salty flavor. While this type of cheese can be eaten on its own, it is also commonly included in salads and other dishes.
There are many differences between individual blue cheeses. This means that even if you don't like a particular type of blue cheese, you may enjoy another type.
Brie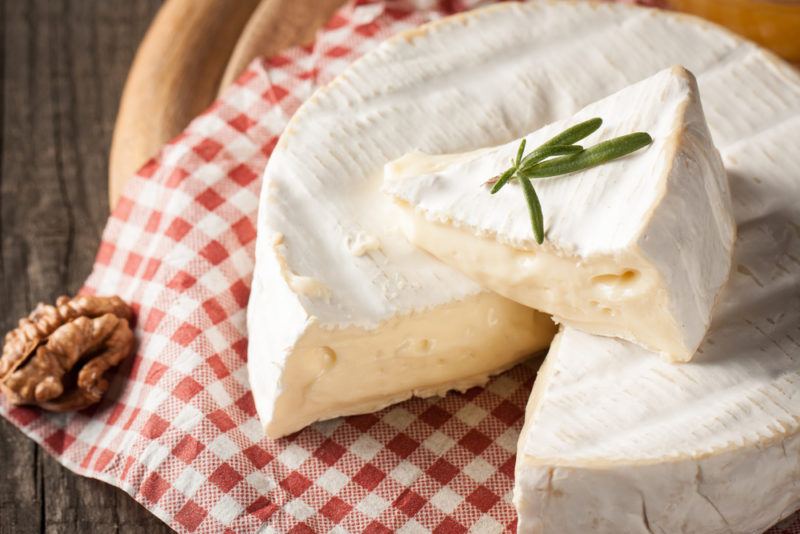 Brie is a soft cows' milk cheese with a familiar soft white rind. It comes from Brie in northern France (hence, the name of the cheese). The softness and creaminess of brie make it a popular choice, especially on cheese boards.
Brie complements fruit, wine and ham, which is why you'll often see it as part of a cheeseboard. It is sometimes served baked as well, which creates a delicious dessert.
Camembert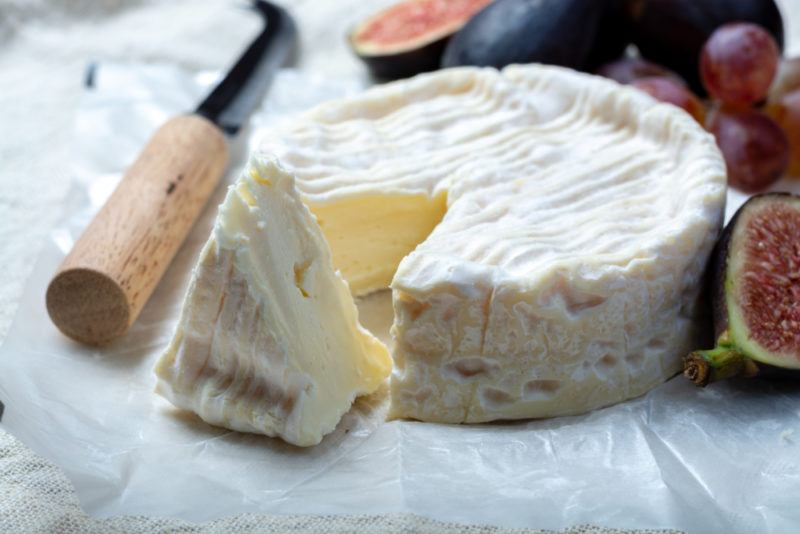 Despite the similarities between camembert and brie, there are some distinct differences too. Camembert tends to have a lower fat concentration, along with a stronger flavor.
The taste differences are linked to how the cheeses are made. Cream is added when creating brie, creating a cheese that is around 60% milk fat. This isn't the case for camembert, which ends up being around 45% milk fat.
The lactic starters are stronger for camembert too and they're put into the cheese multiple times. This is another reason why camembert tends to have a stronger flavor.
There are other differences too, but the most important message is simply that camembert tends to be stronger and the cheese may be runnier at warm temperatures, while brie is creamier and can be firmer.
Cheddar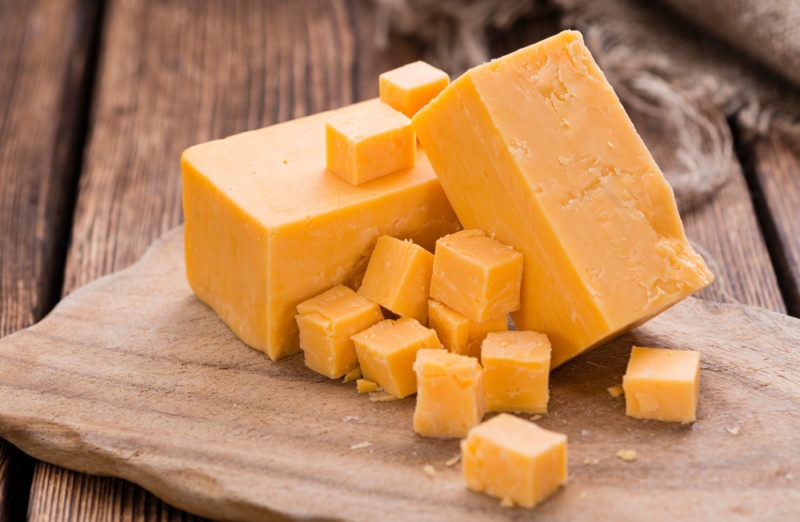 Cheddar is one of the most famous cheese types out there and is still the most popular cheese in the UK. While the cheese is naturally off-white, colorings are often added to make it appear orange instead.
Cheddar cheese is named for the village of Cheddar in Somerset, where it was first produced. There is no protected designation of origin (DOC) in place, so cheddar is made in multiple countries and production techniques can vary.
This means that cheeses labeled cheddar can be very different from one another, such as the way that some cheddars are sharp, while others are not. The term cheddar is even used for some types of processed cheese.
If you're looking for a more traditional type of cheddar, you can try West Country Farmhouse Cheddar. This name is protected. It can only refer to cheddar produced in a relatively small region, using local milk and traditional methods.
Chèvre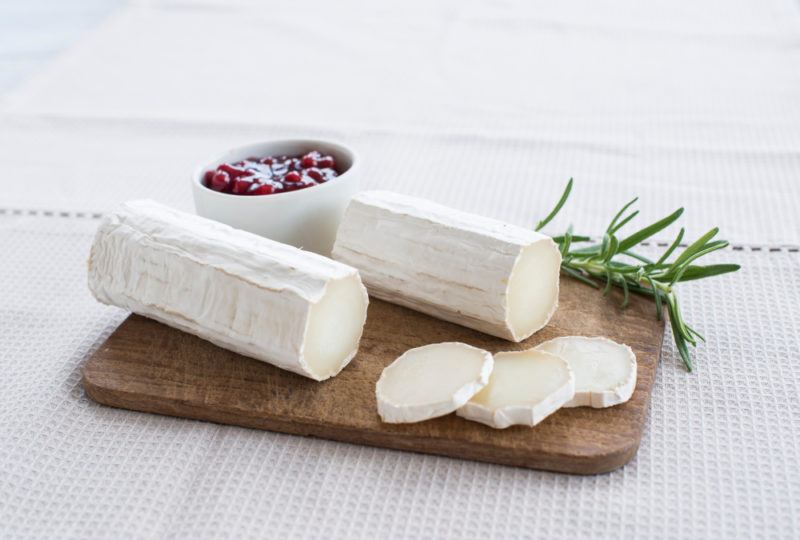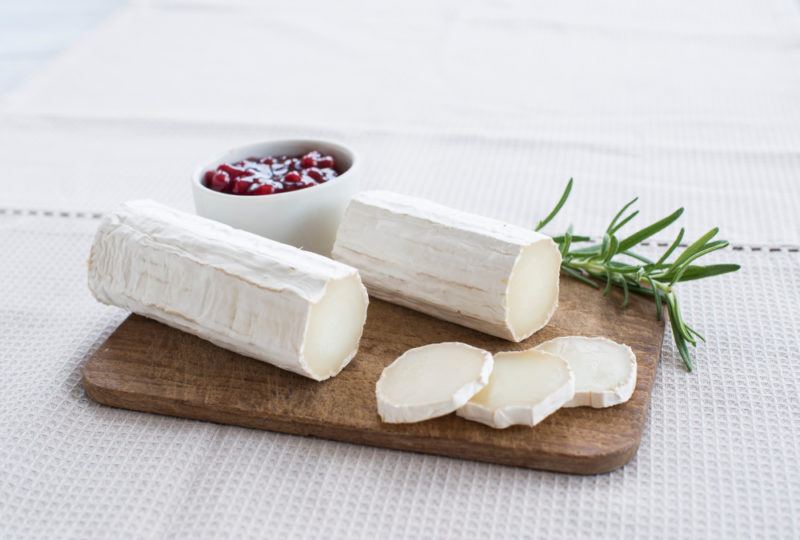 Chèvre is the name for a cheese making tradition, rather than a single type of cheese. Chèvre cheeses are French and are made using goats milk.
This type of cheese tends to have an intense flavor profile, with a tangy finish. The texture varies depending on the type of cheese. Some chèvre ends up being firm with a little softness. Other times, chèvre cheese may be soft enough that it can be easily spread.
Chèvre production focuses on promoting the flavors from the milk. This approach means that the cheese always tastes interesting, with a complexity that is often not found in more mainstream cheeses.
Colby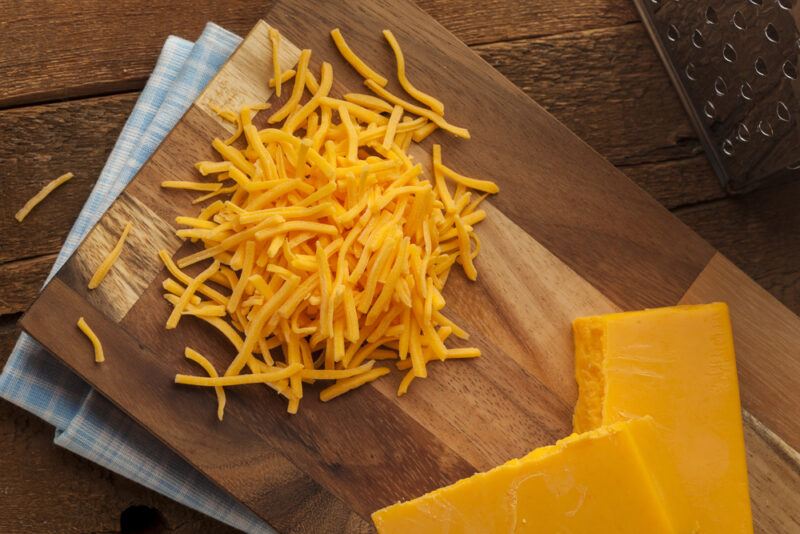 Like cheddar, colby is a semi-hard cheese made with cow's milk. The cheese gets its name from the village of Colby in Wisconsin, even though it is no longer produced there.
Colby ends up being softer and moister than cheddar, with a less distinctive flavor. Annato is often used to season the cheese. This is what creates the slightly nutty flavor of the cheese and its orange color.
Cotija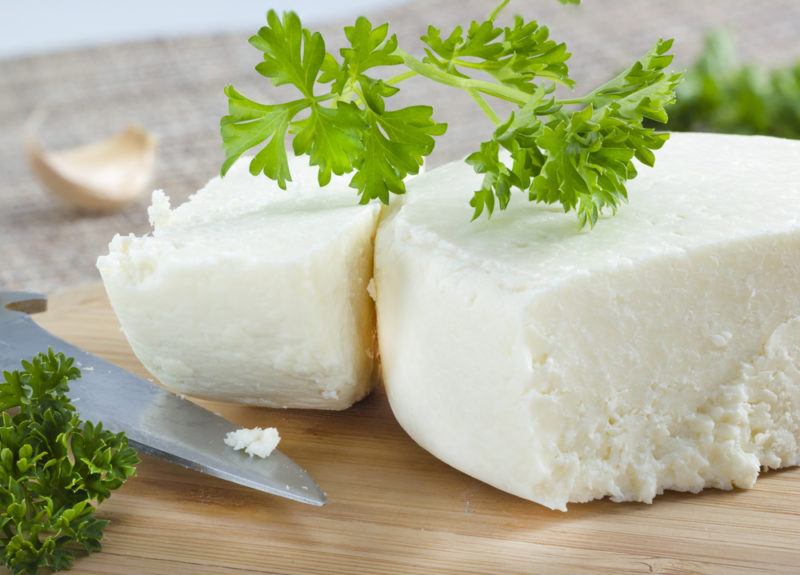 Hailing from Mexico, cotija is a cow's milk cheese. There are two distinct types that you can easily find.
The first is known as el queso do Cotjia de Montaña. This is a dry and firm cheese, where saltiness is its most notable feature. The saltiness can help the cheese to keep longer but it does mean that the cheese won't appeal to everyone.
The second type is tajo. This version of cotija has a similar flavor to feta. It is less salty than el queso do Cotjia de Montaña, while also being moister and fattier.
Cottage Cheese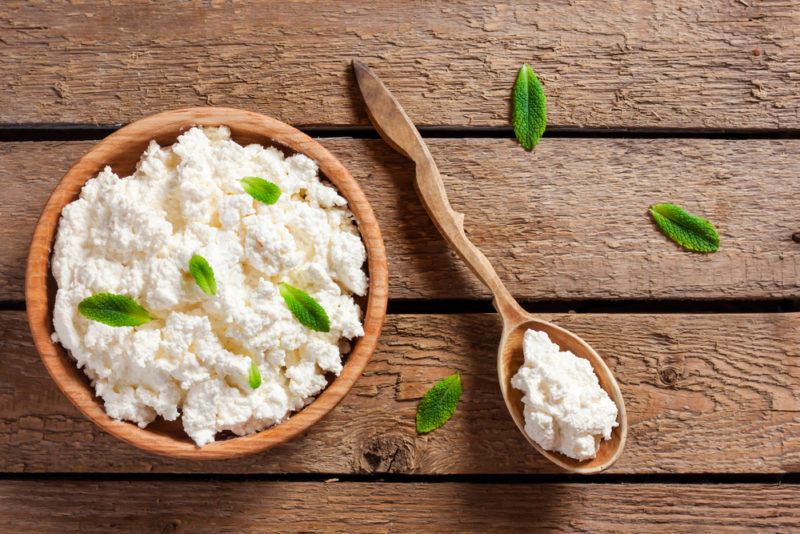 Cottage cheese is produced from fresh cheese curd. It is an unaged and mild type of cheese.
The production process involves draining the cheese, which removes some of the whey but not all of it. Cream is often added to the curd grains. This contributes to the flavor of cottage cheese and is one reason that the cheese is so mild.
Cottage cheese is a popular choice for dieters, as it tends to be low in calories while containing a decent amount of protein. As such, cottage cheese makes its way into many healthy snacks and is used as a topping for granola, toast and various other foods.
Cream Cheese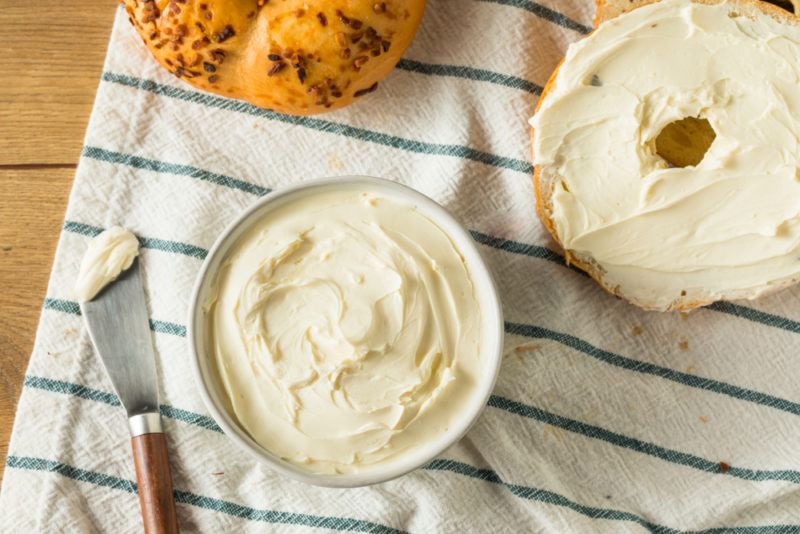 Cream cheese is another very mild type of cheese. It is popular for its spreadable nature and the flavors easily combine with other foods. Once again, it relies on milk and cream as ingredients.
Cream cheese is more processed than many of the other cheeses on this list – and many contain stabilizers or other additives. However, cream cheese can also be made at home, for people who wish to have more control over the finished product.
Emmental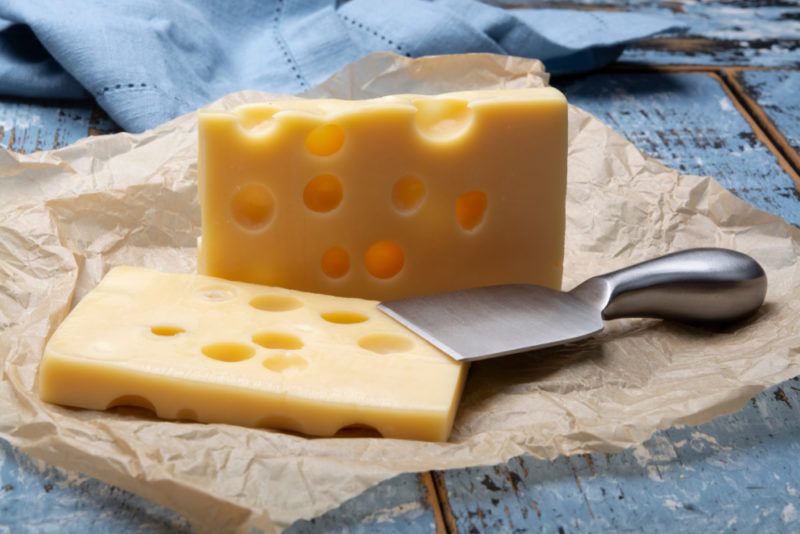 Emmental is easily recognizable for its yellow coloring and the various holes in the cheese. It has a mild savory flavor. The cheese is sometimes used as-is, but many dishes rely on a combination of Emmental and Gruyère.
Historically cheesemakers saw the holes in Emmental as a sign of imperfection, so there was a focus on decreasing them as much as possible. These days the holes are seen as a key part of the cheese (although they can make cheese production difficult).
Emmental is sometimes called Swiss cheese. However, as we'll discuss later, Swiss cheese is a more generic label that can apply to various types of cheese.
Feta Cheese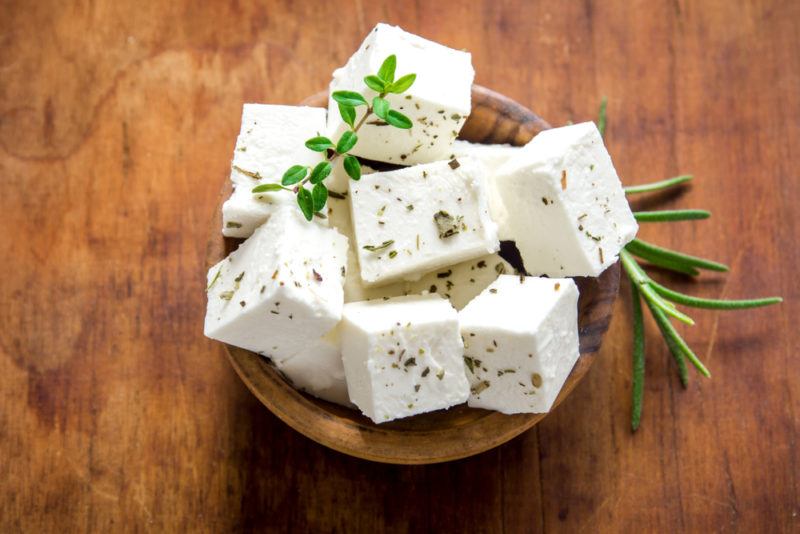 Feta is probably the most well-known Greek cheese, one that often features in Greek dishes. It is a brined cheese that is typically made from sheep's milk or from a combination of sheep and goat milk. While some companies do produce cow's milk feta too, this is not the traditional approach.
The cheese crumbles easily. It tends to have a sharp and tangy flavor. This flavor is stronger for pure sheep's milk feta, as goat's milk feta tends to be milder.
Feta may contain probiotics too. These microbes may help to improve your gut health and lower inflammation.
One final note. Feta is a brined cheese, so it tends to be high in sodium. You can decrease the salt content by rinsing the cheese before consuming it, although doing so will alter the flavor profile.
Fontina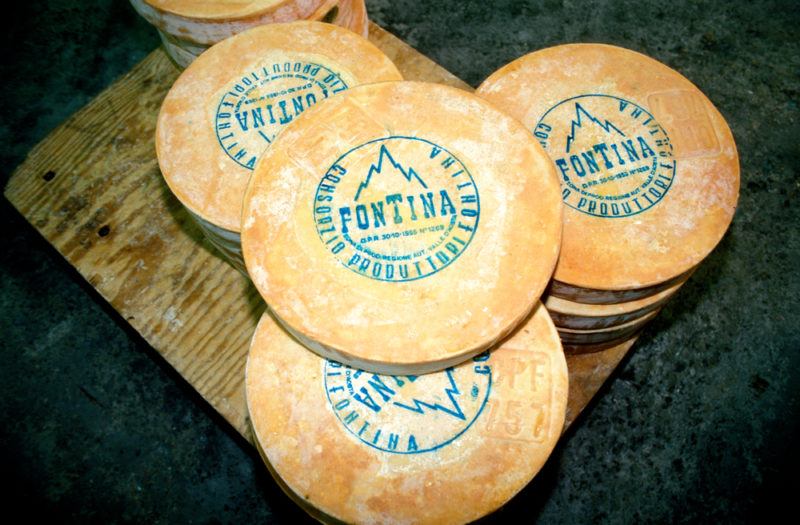 Fontina can be considered a semi-hard cheese, one that hails from Italy. The cheese relies on cow's milk and tends to be creamy and rich, with a noticeable nutty flavor.
It also melts well, making it a good inclusion in many recipes. Gouda and gruyère are considered to be similar cheeses and can often be used in similar situations.
Additives are generally avoided when making fontina and the finished product tends to be gluten free (although, it is still important to check labels).
Gorgonzola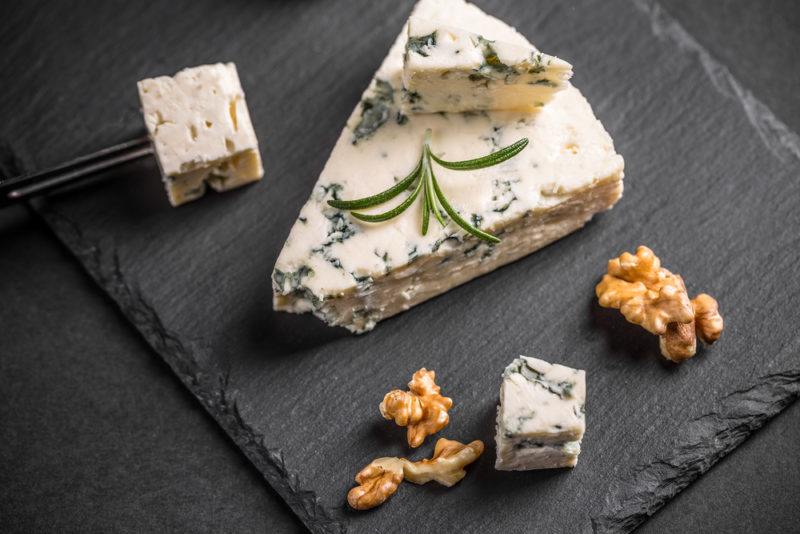 Gorgonzola is often just called blue cheese, which is misleading. In reality, gorgonzola is one type of blue cheese. There are many others and each type has its own characteristics.
Gorgonzola itself hails from North Italy. The cheese is made from unskimmed cows milk.
The mold tends to grow in green or blue veins, which can create a marbling pattern (which is why you'll sometimes see it called veined Italian cheese). In contrast, many other types of blue cheese have spots of the mold instead.
Gouda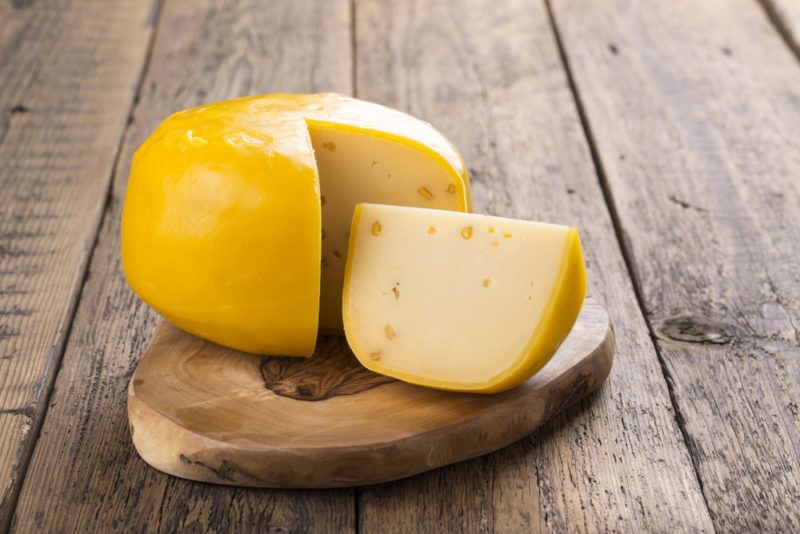 Gouda is another semi-hard cow's milk cheese. It comes from the Netherlands and continues to be an extremely popular type of cheese.
Gouda typically has a caramel-like flavor profile, along with sweet and savory notes. The cheese is often aged, with the flavors varying depending on the length of aging.
Vegetarians can enjoy some gouda, as the cheese can be made using vegetarian rennet. However, non-vegetarian rennet is used too, making it important to check the labels if you are looking for a vegetarian version.
Gruyère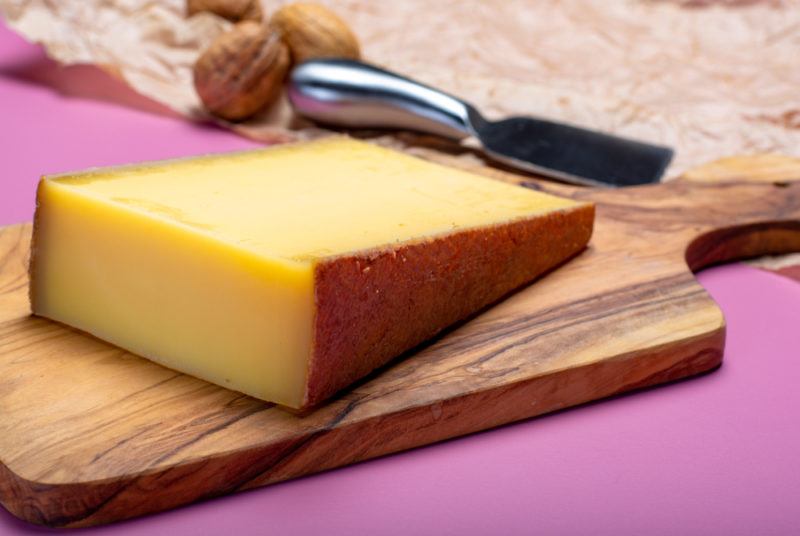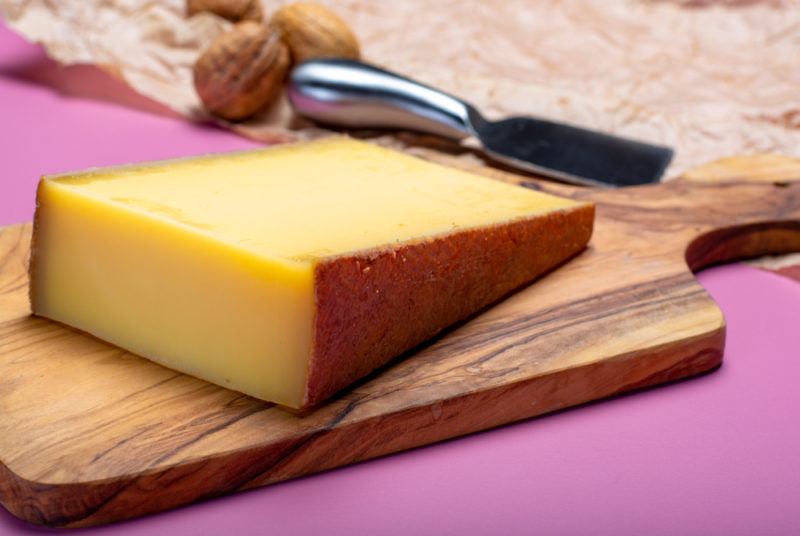 Gruyère is a sweet cheese, with a salty finish. The flavor varies dramatically with age. Younger versions of the cheese tend to be creamy, with a nutty component. The flavor becomes stronger and more complex as the cheese ages.
If gruyère has been aged for more than five months, then it may develop cracks. These create a grainy texture in the cheese. They're also an easy indication of the cheese's age.
Havarti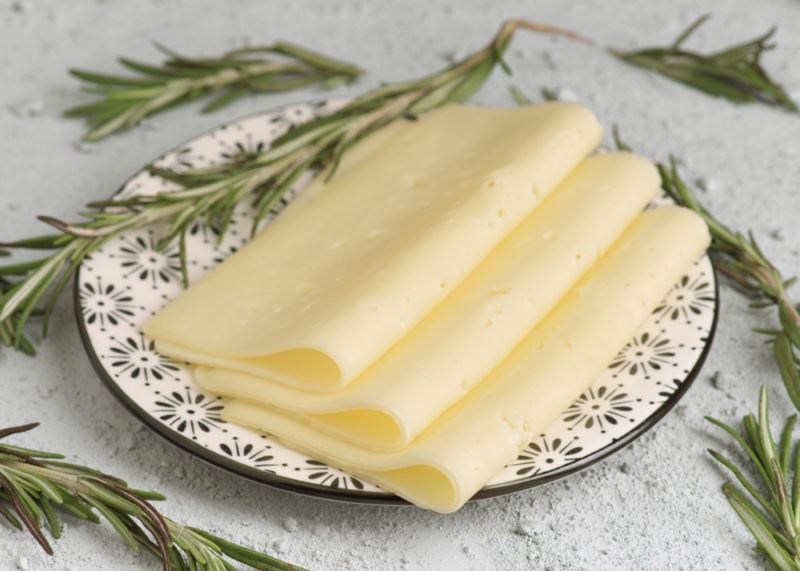 Havarti is a semi-hard cheese that you'll often see sliced. The springy texture makes it perfect for this role, as does the smoothness of the cheese.
Harvarti has a relatively mild flavor, making it perfect for sandwiches, salads and many other uses.
The cheese originally came from Denmark and is made using cow's milk. It is typically aged for just three months, which is one reason for the cheese's mild flavor.
There is some controversy surrounding harvarti, as Danish groups have sought to protect the name and ensure that harvarti cheese can only be made at approved dairies and with Danish milk. Other groups claim that harvarti is a generic type of cheese and that production shouldn't be limited to Denmark.
Jarlsberg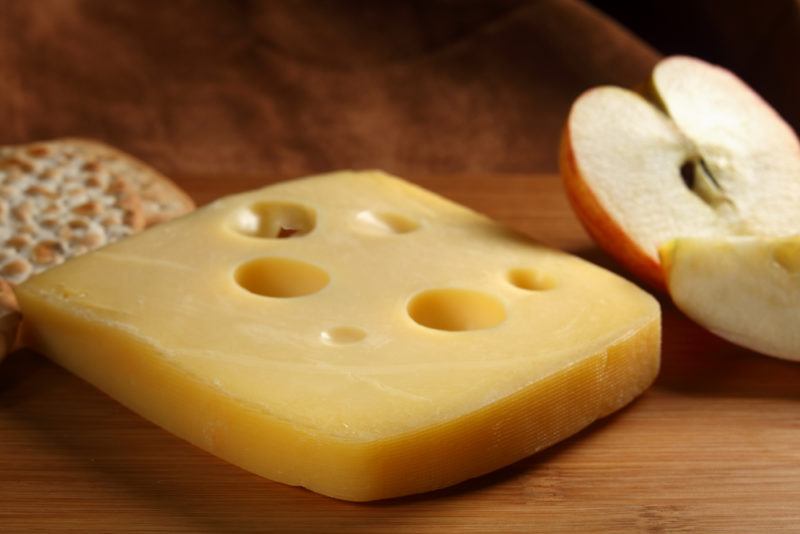 Jarlsberg cheese looks like Swiss cheese and you may see it marketed as such. The two types of cheese do look similar visually, as Jarlsberg cheese has the familiar holes in it (the same is true for Emmentaler).
Even so, there are distinct differences, as Jarlsberg tends to be sweeter and has a more distinctive flavor. The balance of flavor means that Jarlsberg can be easily eaten on its own or used to complement a dish.
The cheese melts easily, making it ideal for many purposes, such as fondue, sandwiches and toasties.
Manchego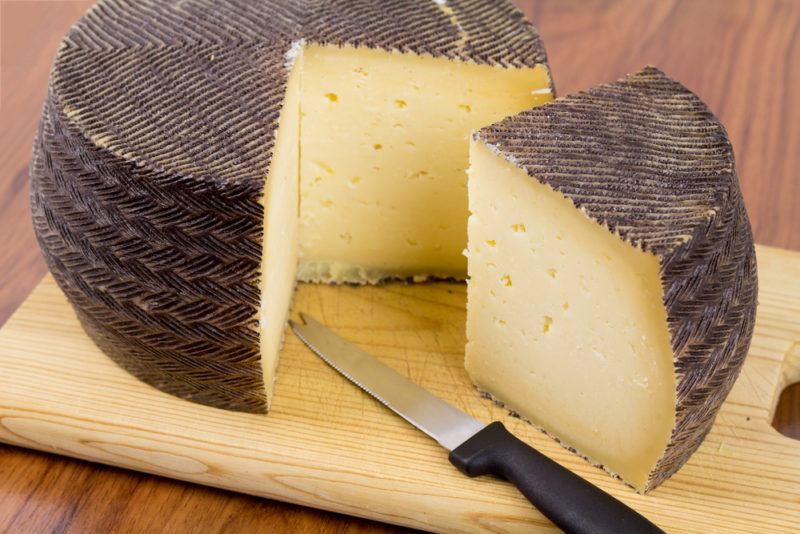 Here's a less common cheese to talk about. Manchego is a Spanish cheese that is made from sheep's milk. It is generally aged for at least 60 days and may be aged for as long as two years.
This aging process creates a distinctive flavor in the cheese, although this isn't overbearing and is balanced out by the cheese's creaminess. The rind (which is inedible) can be anywhere from yellow to brown, while the cheese ranges from white to ivory yellow.
Manchego cheese is under a Protected Destination of Origin. There are specific requirements for how the cheese is made and few additives are allowed. Raw milk can be used, but the cheese must be labeled artesano (artisan) if this is the case.
Mascarpone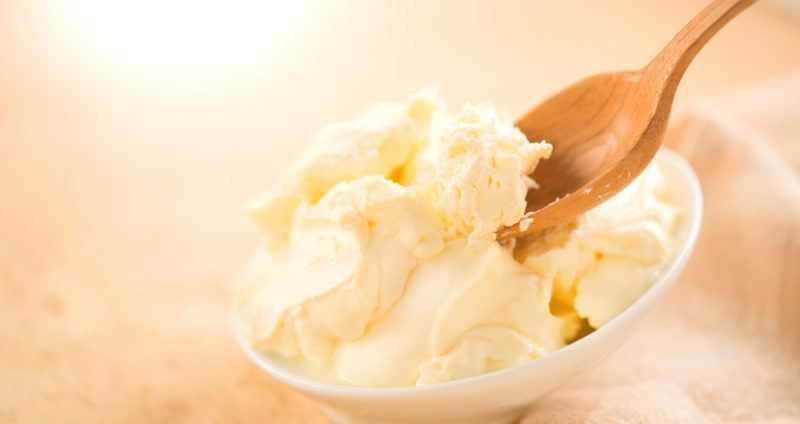 Mascarpone can basically be considered as an Italian type of cream cheese. The biggest difference is that mascarpone is made using full fat milk. This generally isn't the case for other types of cream cheese.
This difference in ingredients means that mascarpone tends to have a creamier and richer taste, while cream cheese is a little more acidic.
You can often use cream cheese instead of mascarpone, or vice versa, but this will depend on the flavor profile that you're looking for. The creamier nature of mascarpone won't work well for all cream cheese recipes – such as cheesecakes, which rely on the tartness of cream cheese.
Monterey Jack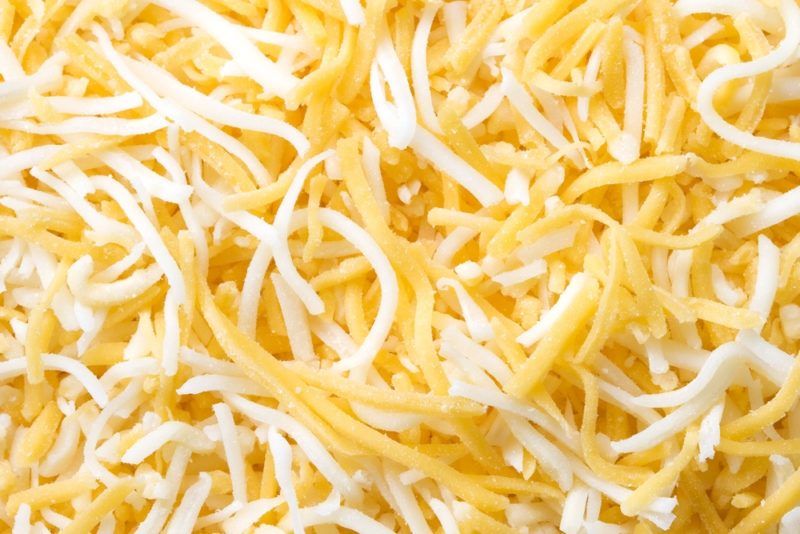 Monterey Jack is another semi-hard cheese that is easy to enjoy. It has many similarities to Colby cheese. This isn't surprising, as the production processes are very similar.
Monterey Jack (or Jack, as it is sometimes called), tends to be mild in flavor and slightly sweet. The cheese is white and is often combined with Colby cheese to create a marbled cheese or a mixture of white and orange strands.
Mozzarella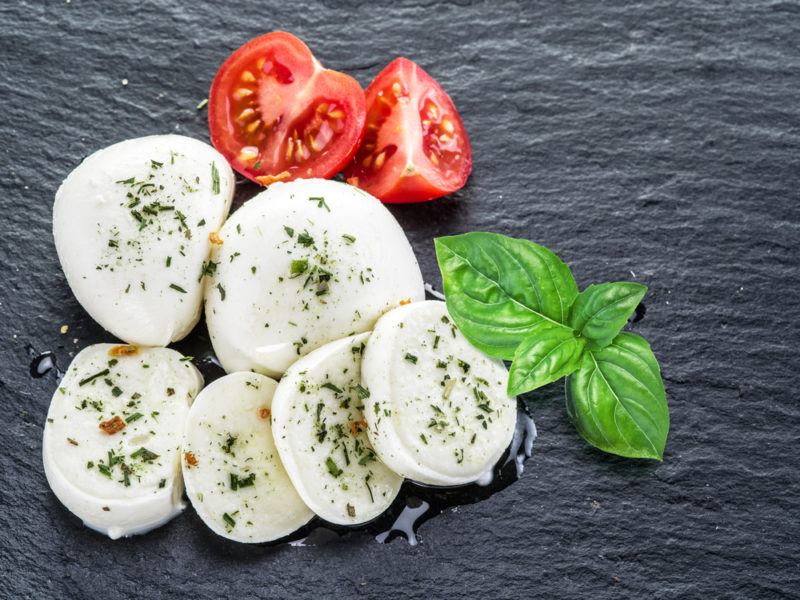 Who doesn't know mozzarella cheese? It is one of the most popular cheeses for pizza and is also very popular as part of Caprese salad (along with basil, tomatoes and balsamic vinegar).
Mozzarella can also be an interesting choice for health, as it is relatively low in calories. However, mozzarella doesn't have a strong flavor of its own, so it normally needs to be combined with other ingredients to make an interesting dish.
On a side note, the mozzarella that you find on pizza isn't always the same as fresh mozzarella. Manufacturers also create a low-moisture version of the cheese, which tends to be firmer and melts better.
Muenster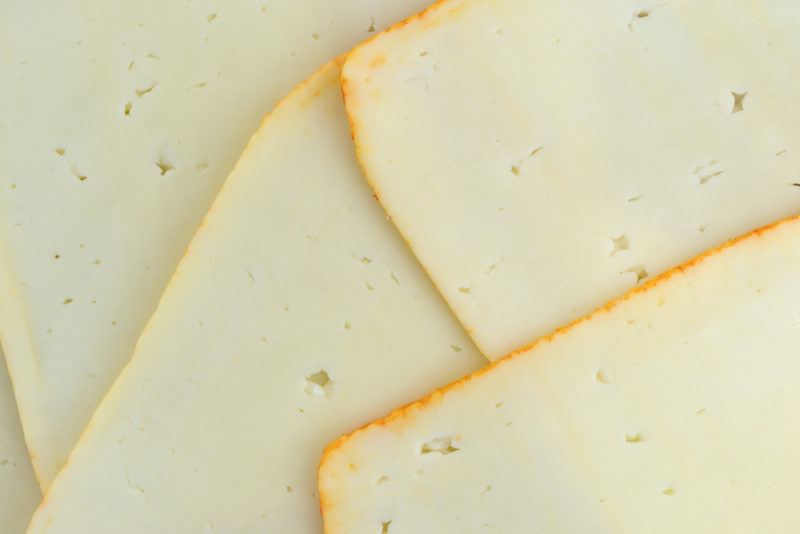 Muenster should look familiar, as the cheese is similar to a few others from this list. Once again, the cheese is semi-hard and is made using cow's milk.
The orange of Muenster's rind comes from annatto. Annatto is used to color other cheeses too, like cheddar and Colby.
Muenster can be a good cheese for beginners, as it has a mild flavor and smooth texture. Muenster also melts well, so it can be used for toasties, hamburgers and the like.
Neufchâtel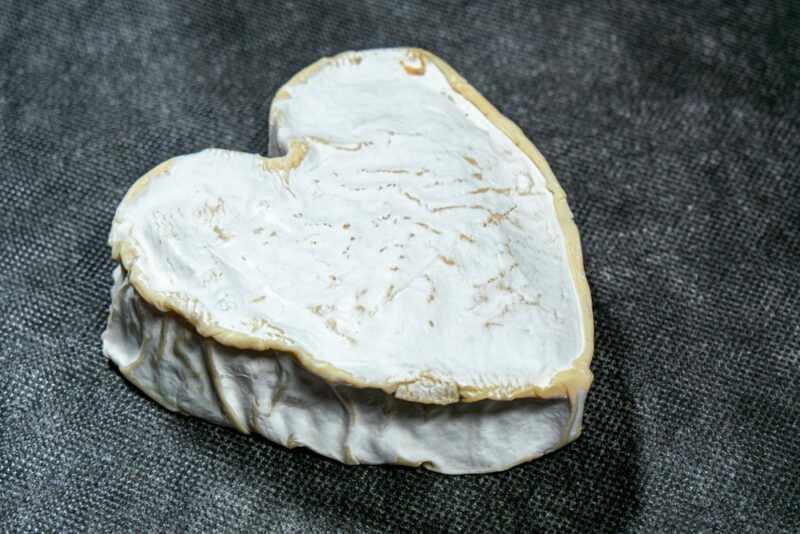 Visually, neufchâtel looks like camembert and brie cheese, with a familiar white rind. The cheese is distinctive, though, as it is grainy, while most other cheeses with a similar rind are creamy instead.
While the cheese isn't particularly well-known, it has a long history. It dates back to 1035, making it one of the oldest French cheeses.
Parmesan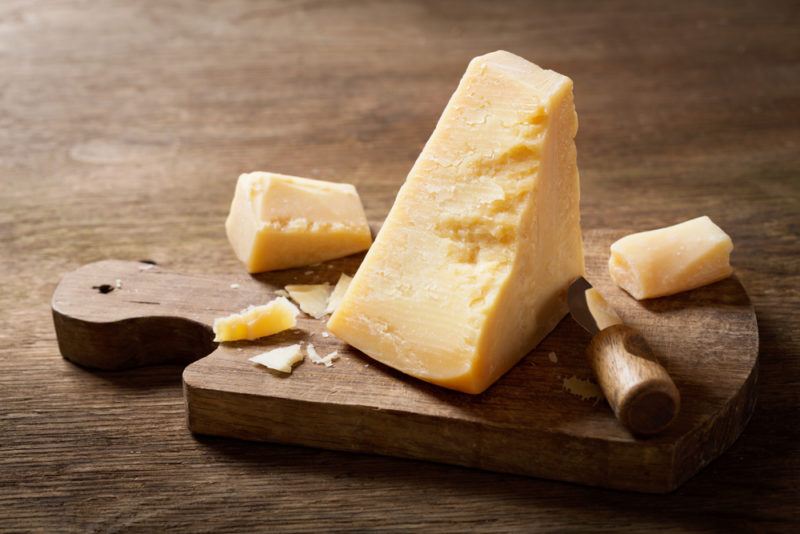 Parmesan cheese is a little unusual. It is a hard Italian cheese with a granular texture. It is often grated or shaved, as parmesan has a strong distinctive flavor and you only need a little of it for most dishes.
The full Italian name for the cheese is Parmigiano Reggiano. This name is part of a Protected Designation of Origin. In contrast, the term parmesan can refer to various similar cheeses.
Parmesan tends to be an expensive cheese, partly because it is difficult and time-consuming to make. Interestingly, the low moisture content of parmesan means that it survives well out of the fridge for quite some time.
Pecorino Romano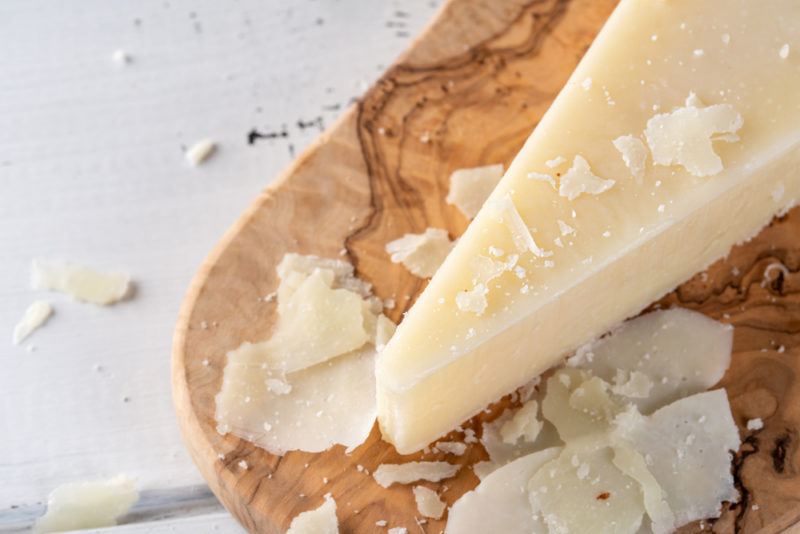 Pecorino Ramano is similar to parmesan and the cheese is typically grated or flaked. Just like parmesan, Pecorino Ramano is often used on pasta dishes.
One difference is that Pecorino Ramano relies on sheep's milk, while parmesan uses cow's milk instead.
You can also find Romano cheese in the United States. This is not the same type of cheese. Romano cheese is made with cow's milk and tends to be milder than Pecorino Ramano.
Provolone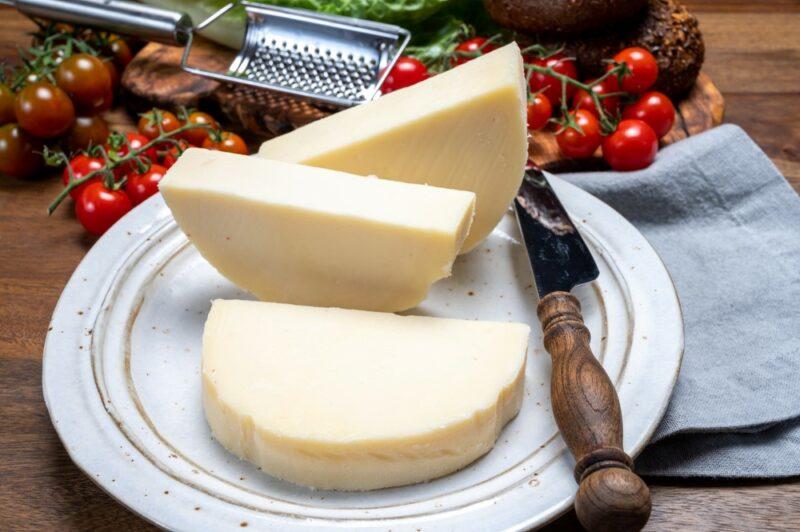 Provolone is often considered a stretched curd cheese, which makes it similar to mozzarella. Like mozzarella, provolone is a soft and mild cheese. It also has nutty notes and slight saltiness.
Provolone can be used in many ways. It can be included in meals as an ingredient or grated over a salad or any other dish. This cheese melts well, making it a versatile ingredient.
Ricotta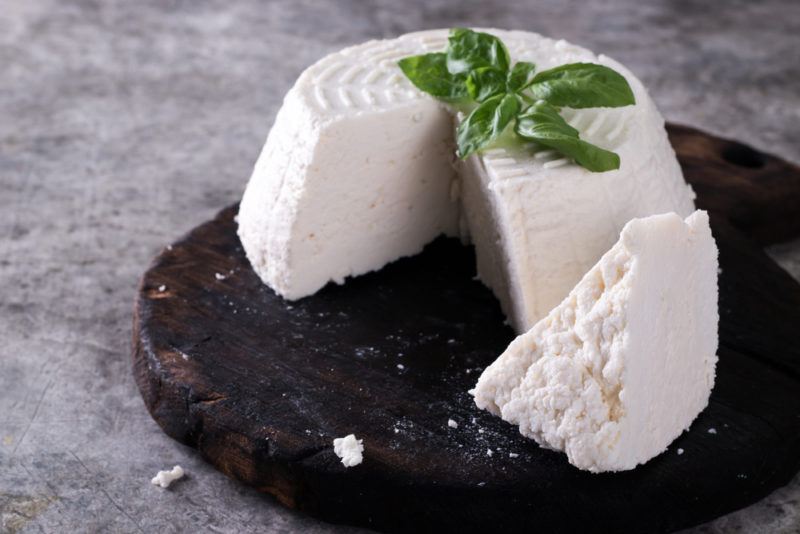 Ricotta is a whey cheese. It's typically made using the whey left behind after other types of cheese production.
Ricotta is often considered a particularly healthy type of cheese, as it is low in salt, fat and saturated fat (compared to other types of cheese).
While ricotta is similar to cottage cheese, it does have differences. Of the two, ricotta tends to be softer and has a finer texture. Ricotta and cottage cheese can often be used in the same recipe, but you may need to make tweaks as ricotta tends to be drier than ricotta.
Roquefort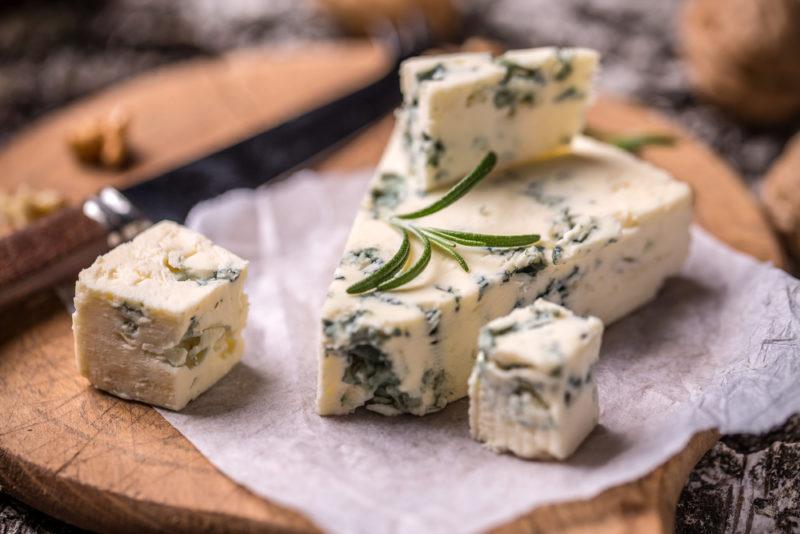 Like Gorgonzola, Roquefort is a well-known blue cheese. Roquefort is made using sheep's milk and the cheese originated in the South of France. As with many such cheeses, Roquefort has no rind and the entire cheese can be eaten.
The name Roquefort is exclusive to cheeses that have been produced in the Combalou caves in the region of Roquefort-sur-Soulzon. Similar cheeses are made in other locations, but these cannot use the Roquefort name.
Stilton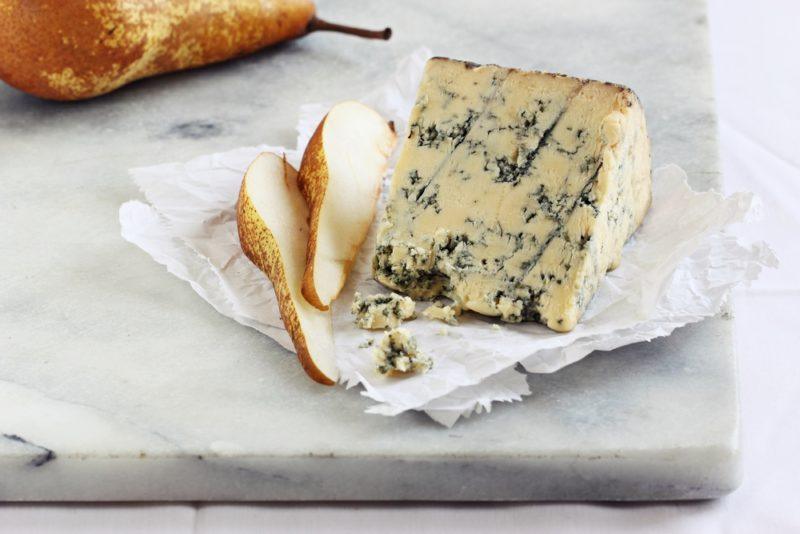 Stilton is unusual, as there is a blue cheese version and a white version.
Both types have Protected Designation of Origin. Interestingly, the rules mean that cheese produced in Nottinghamshire, Derbyshire and Leicestershire can be called Stilton, but cheese produced in the village of Stilton cannot.
The cheese is produced using cow's milk and is aged for at least nine weeks. It tends to be semi-soft and crumbly. The creaminess of the cheese increases as it is aged.
String Cheese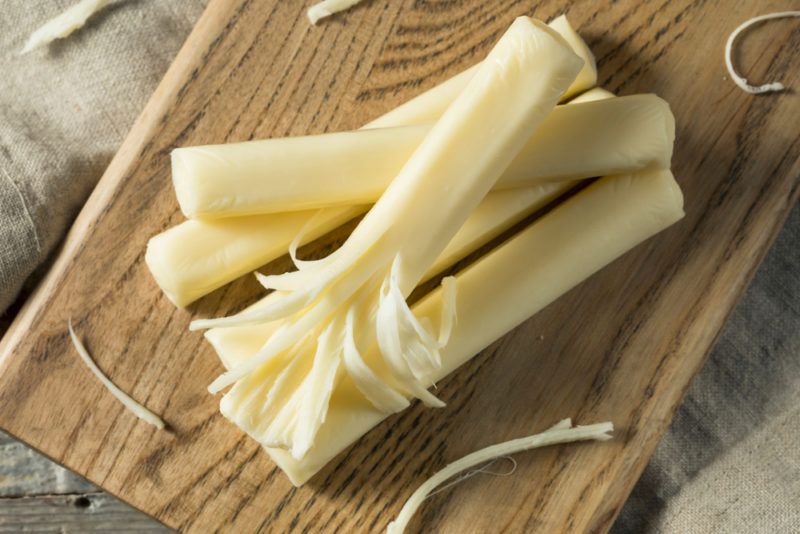 String cheese is actually mozzarella cheese. This is what gives it the ability to peel apart. However, the process of making string cheese is a little different than regular mozzarella.
For one thing, string cheese is made into strips and stretched (it goes through a lot of stretching) which doesn't happen with mozzarella. String cheese is also dried out, while mozzarella tends to be stored in either brine or water.
In the end, string cheese still tastes like mozzarella, but the differences in texture are noticeable.
Swiss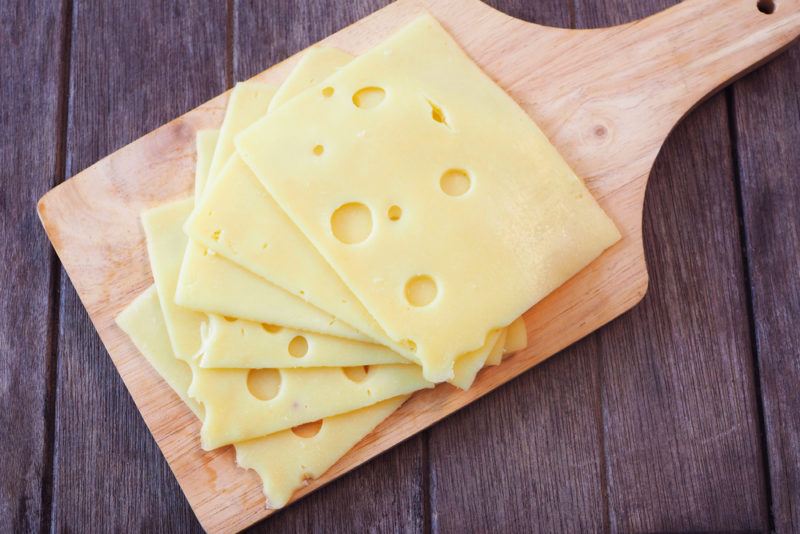 Swiss cheese is a generic name that refers to several different types of cheese. Most of these have the familiar holes that you see in the image, which are known as eyes (but, you can get 'blind' Swiss cheese too, where the cheese doesn't have any eyes).
The eyes in Swiss cheese occur during the fermentation process. A longer fermentation tends to produce larger eyes in the cheese and a more pronounced flavor.
Two examples of Swiss cheese are baby Swiss and Lacy Swiss. These are both American varieties that have a mild flavor. Lacy Swiss is made using low fat milk, while baby Swiss uses whole milk instead.
Taleggio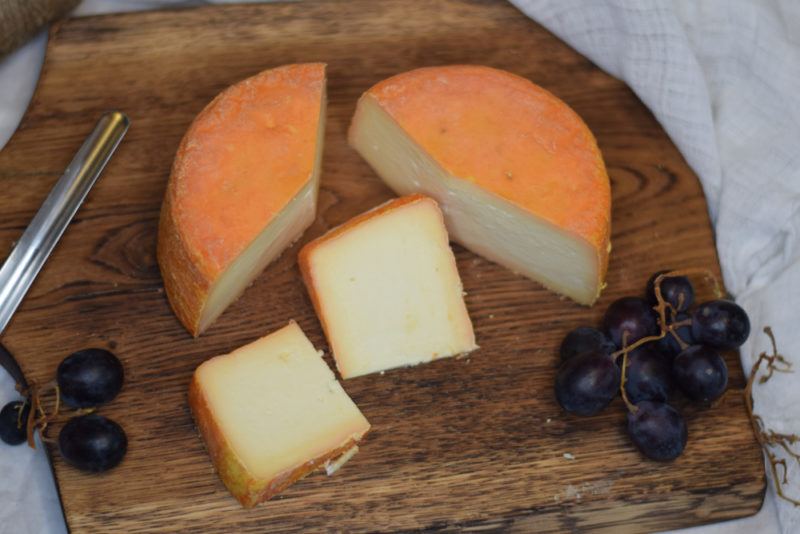 Taleggio is sometimes considered a gateway cheese to the world of stinky cheeses.
Much of the cheese's flavor comes from the rind, which advocates say that you should always eat. The rind is what makes the cheese distinct, so if you don't like the intensity of flavor, it's better to focus on another type of cheese entirely.
The interior of the cheese is creamy. This creates a powerful contrast of flavors and textures.
Wensleydale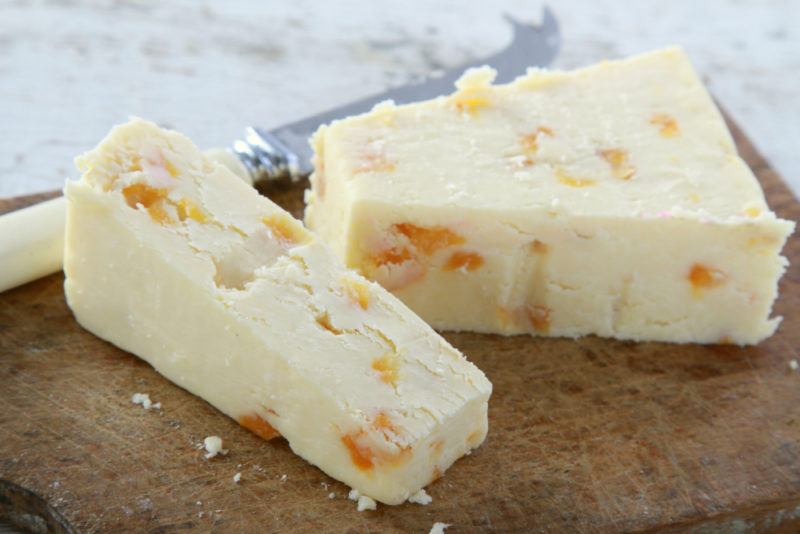 Wensleydale is similar to cheddar in some senses. The cheese has a moist and slightly crumbly texture, along with a slightly sweet flavor. It is often combined with fruit, such as cranberries or apricots.
The original version of the cheese was made using sheep milk. Cow's milk is now used instead.
While Wensleydale cheese is currently made throughout the UK, any cheese labeled Yorkshire Wensleydale was made in Wensleydale Creamery, located in North Yorkshire. This creamery has been making Yorkshire cheese for more than 100 years and has won various awards for its cheese.
Bonus: American Cheese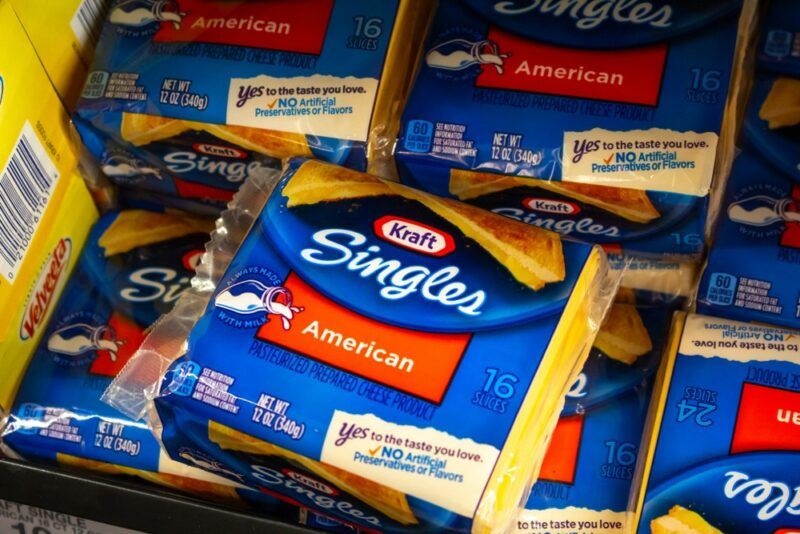 American cheese needs to be considered separately, as it isn't really cheese at all. Instead, American cheese tends to be processed. It uses cheese like cheddar or colby, but other ingredients can be included too, including milk, cream, buttermilk, milk protein concentrate, emulsifiers, and more.
The end result is a processed product that doesn't melt well and barely resembles cheese. This is particularly true for the individually wrapped slices of American cheese. Blocks of American cheese tend to be closer to true cheese, although it's still pretty processed.
How Many Types Of Cheese Are There?
No one truly knows how many types of cheese there are. But, some estimates suggest there might be somewhere between 1,800 and 2,000 different types – or perhaps even more.
Getting an exact figure is impossible, as there are countless ways to vary cheese and no shortage of cheesemakers throughout the world.
Styles Of Cheese
Along with the different types of cheese, we can also consider the general styles of cheese. This helps us to discover themes and where various cheese fall. The list below shows one way to classify cheese (out of many potential approaches).
Fresh cheese. These cheeses are very young, often just a few days old. They haven't developed a rind and tend to be moist, mild, and offer bright flavors. They're also very spreadable.
Soft white rind cheese. These cheeses should be very familiar, including examples like camembert and brie. They have a white rind and tend to be creamy with a moist interior. The flavor is typically mild, although this varies depending on the specific type of cheese.
Semi soft cheese. Semi soft cheeses typically have a water content of more than 36% and less than 45%. Plenty of types of cheese fall into the category, including gruyere, feta, gorgonzola, gouda, and many more.
Hard cheese. This category should be familiar, as it contains many traditional cheeses like cheddar, parmesan, and asiago.
Blue cheese. The blue coloring in blue cheese comes from blue penicillium mold, which is safe to consume and adds an interesting flavor and appearance to the cheese. However, blue cheese is an acquired taste and not everyone enjoys it.
Cheese with extras. These are cheese products with extra flavoring ingredients, like chives, cumin, or nuts. Sometimes these are young cheeses that have been blended together with the flavoring ingredients. Other times those ingredients have been there since the beginning.
The categories aren't precise, so some types of cheese may fall into different categories depending on who is making the list and precisely how the cheese was made.