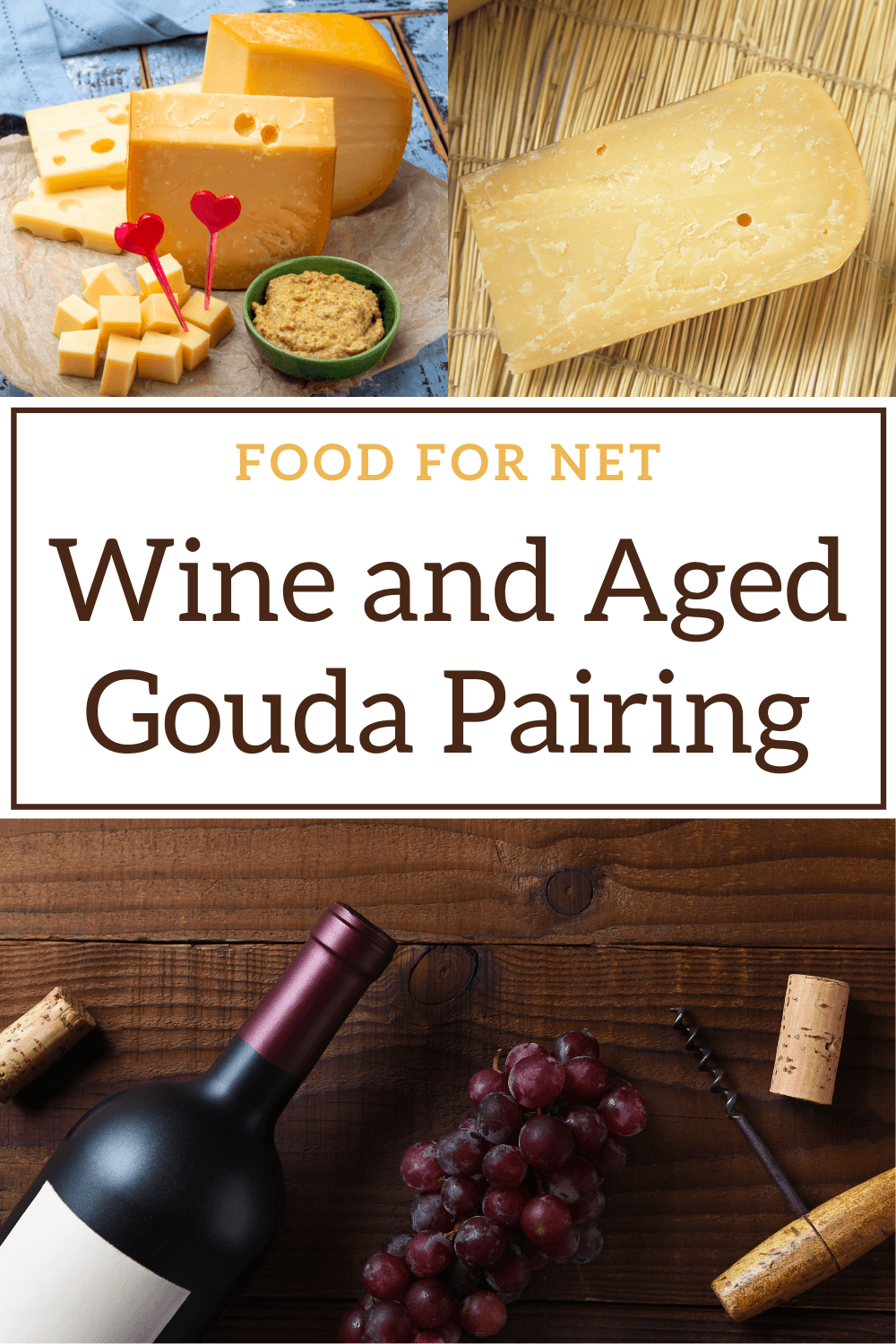 Pairing wine and cheese is part science and part art form. If you get the combination right, then the wine and the cheese elevate each other, creating a flavor treat that you're certain to remember. Get the combination wrong, on the other hand, and you end up taking away from both the wine and the cheese. The process isn't as simple as a single type of wine for a single type of cheese either, which is why we're talking about aged gouda wine pairing in this post.
Gouda is a popular cheese that's named after the city of Gouda, which can be found in the Netherlands. It is one of the most popular cheeses in the world and is also one of the oldest recorded types of cheese that is still being made in the modern day.
When young, gouda tends to have a mild flavor. After aging, the flavor of the cheese becomes much more intense and a slight crunchiness develops. Gouda can be broken into multiple categories based on age, including young cheese (aged for 4 weeks), matured cheese (aged for 16 to 18 weeks), old cheese (aged for 10 to 12 months), and very old cheese (aged for 12 months or more).
Not surprisingly, the type of gouda that you choose will influence the best type of wine to drink with it. And, as is often the case, there are multiple wine pairings that you can try. Each combination has its own advantages.
We're featuring the best pairing choices in this list – and will also talk about tips for pairing wine with aged gouda. After all, there are many other types of wine out there that will complement aged gouda too, so you need to know what you're looking for.
Related: Wine & Truffle Pairing
Wine Pairing For Aged Gouda
Cabernet Sauvignon

Aged gouda tends to have nutty and fairly intense flavors, so you need a wine that can stand up to these. Cabernet sauvignon is an easy choice, as it offers a decent amount of tannins and is also full bodied. Indeed, you'll often find cabernet sauvignon paired with richly flavored foods, particularly those that also happen to be high in fat.
Cabernet sauvignon has another advantage too – the wine is easy to find. People living in small towns will appreciate this about the wine, as more unusual types of wine can be difficult to source if your selection is limited.
Even with the wine's intense flavors, cabernet sauvignon isn't likely to overwhelm your aged gouda. The cheese has enough intensity to stand up to many wines. This is particularly true if you're focusing on gouda that has been aged for a year or more.
Cabernet Franc

While cabernet sauvignon might be one of the most popular types of full bodied red wine, it is far from your only choice. Cabernet franc is another trending option for pairing with aged gouda.
The cabernet franc grape is normally grown to be used in a blend and is often used to create either merlot or cabernet sauvignon. However, the grape can also be used to create cabernet franc as a single varietal wine.
Cabernet franc wine is a popular choice for food pairing and it combines well with tomato-based sauces and sauces that are heavy in vinegar flavors. The richness of the wine is also perfect with aged gouda. This wine may be especially appealing for anyone who enjoys cabernet sauvignon and wants to try something a little different.
Bordeaux

Bordeaux wine is another popular choice, which shouldn't be surprising, as most Bordeaux wines are made from cabernet sauvignon and merlot. This combination means that Bordeaux wines tend to have a similar amount of body and richness as cabernet sauvignon.
But, while Bordeaux wines can be appealing, you will may need to experiment a little to find the best fit. The name Bordeaux simply refers to wine that is produced in Bordeaux, France. Because of this, there can be notable differences in the flavor profile of the wine.
The region that the wine is produced in can have a particularly strong impact on the wine's flavor. Some versions end up with a tarter flavor profile, while others are sweeter instead.
Grenache

While full bodied red wines might be the most common recommendation for serving with aged gouda, they're not the only way to go. Softer reds can work well too, especially as these can be more nuanced and less intense.
The trick is to look for wines, like grenache, that fall somewhere in the middle for tannin content and acidity pair well with aged gouda too. This type of wine has enough depth of flavor to hold its own against the flavors of the gouda without overwhelming the cheese.
Softer reds can pair with long aged gouda, but they may be best with gouda that falls somewhere in the middle of the aging range. This way the intensity of the wine and the cheese is roughly matched.
Gamay

Then there are gamay wines. Gamay is a red grape variety that comes from Beaujolais in France. The grape is used in a variety of different types of wine, with notably different flavor profiles.
While some gamay wines may be a better choice than others, you'll find that most do pair well with aged gouda. The flavors and acidity in the wine complement the gouda without overwhelming the cheese.
Sagrantino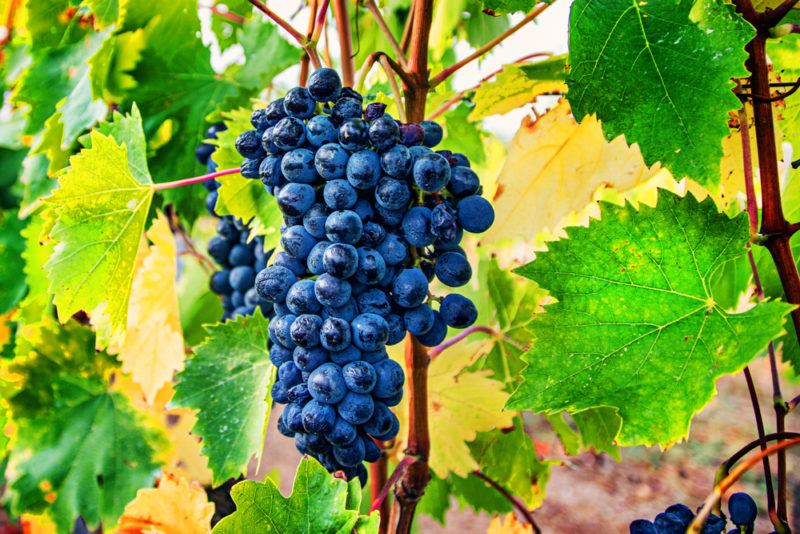 This red wine varietal is produced in central Italy and can be somewhat difficult to find, but it is certainly worth trying for yourself. The wine is notable for having exceptionally high levels of antioxidants.
It is a full bodied wine with high tannins and medium to high levels of acidity, so it can be a little tricky to pair with food. Despite the difficulties with the wine, it does pair well with gouda that has been aged for a long time.
The crunchy cheese crystals that develop in long aged gouda are the reason that this pairing works, as they create a type of funkiness and umami flavor to the cheese. The combination is certainly unusual, but it ends up being fun and is worth trying out for yourself (if you can get your hands on some sarantino).
Off-Dry Riesling

You can also pair white wines with aged gouda – a process that creates some interesting flavor combinations. An off-dry riesling is an appealing choice, as this provides a freshness that contrasts against the saltiness of the cheese.
Plus, aged gouda often develops caramel-like notes as it ages. Pairing the cheese with a white wine allows these sweeter flavors to shine. Just steer clear of a sweet riesling, as you would risk overwhelming the flavor of the cheese.
Lightly Oaked Chardonnay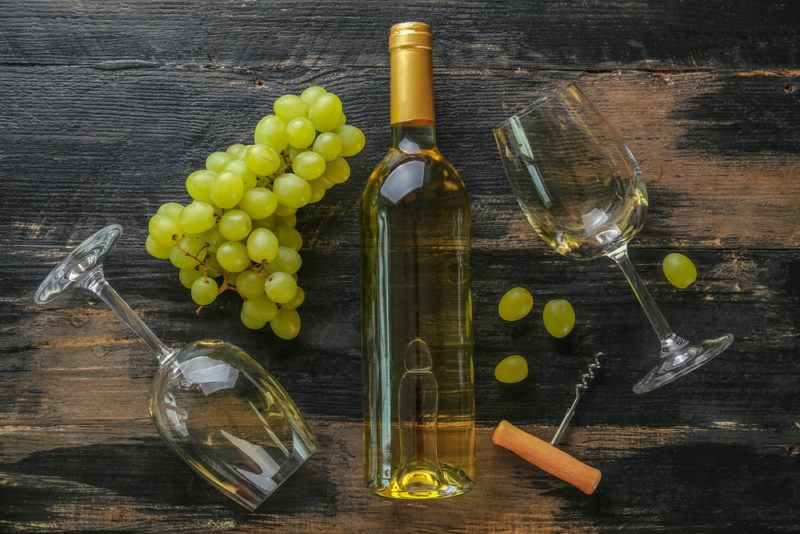 Chardonnay is another white wine that can work well when paired with aged gouda. The texture of chardonnay is one reason for choosing this particular white wine, as there is enough texture present to allow chardonnay to stand on its own even with the strong flavors of the gouda.
Choosing a lightly oaked chardonnay is your best choice, as you end up with extra body to the wine than you would get otherwise.
Rhône White Wines

White wines from Southern Rhône can also be an interesting choice with aged gouda. The appealing aspect here is the texture of the wines. They have enough going for them that the wine's characteristics remain noticeable even with the intensity of the smoked gouda.
Key flavor notes to look for include stone fruits, beeswax, or white flowers. These all help to balance out the saltiness of the smoked gouda.
And, of course, you can look for other types of white wine with a similar flavor profile. The important thing is to make sure that the wine isn't too subtle.
Tips For Pairing Wine With Aged Gouda

The first thing to think about is the age of your gouda. Gouda can be aged for five years or more and the flavor profile changes dramatically with age. The process also leads to calcium lactate crystals, which provide an unexpected crunch to the cheese and some funky tones.
Because the flavor of the cheese varies notably with age, the best wine to match with it will change as well. A wine that easily complements a relatively young aged gouda may be completely overwhelmed by cheese that has been through more extensive aging.
Pay attention to the cheese itself too.
Gouda isn't a name protected type of cheese, so the name sometimes refers to cheeses made in a similar way, rather than to a single specific type of cheese. If you're looking for the authentic experience, Noord-Hollandse Gouda is a better choice, as this protected title only refers to Dutch gouda.
Of course, you don't need to stick to Dutch gouda to find delicious cheese. The trick is to look for quality brands, ones that don't focus on mass production.
Finally, it's important to experiment for yourself. Wine pairing is partly a science, partly an art, and partly personal. Combinations that one person loves might seem very unappealing to another. It's best to try some of the recommended pairings for yourself to see which combinations you enjoy and which ones you don't.
Don't be afraid to try new ideas either. Once you have a sense of the types of wine that you enjoy with aged gouda, you can use the wine as a starting point to experiment. You may quickly find new combinations of wine and aged gouda to try, including ones that aren't well-known enough to make it onto any 'best of' lists.
A good general rule of thumb is that hard aged cheeses tend to pair well with wines that are sweet, aromatic, full-bodied, and/or high in tannins. While there will be many exceptions to that general idea, it does act as a good place to begin your search.
Related Content