Finding good Chinese food wine pairing solutions might seem extremely difficult. After all, there are many meals to choose from, each with their own distinct combinations of flavor and texture. And, to make matters more complicated, you're often eating multiple dishes as part of the same meal.
If you just want a single type of wine, then it's hard to go past a German riesling. This wine has a light body, high acidity, and slight sweetness. That combination of features can stand on its own against the strong flavors of many Chinese meals, including what you'll be ordering for Chinese takeout.
A riesling from another part of the world can be helpful too, especially if you choose an off-dry bottle. That slight sweetness can make a huge difference to your wine pairing efforts.
But, in this post, we want to do more than recommend a single type of wine. Riesling isn't everyone's favorite anyway and some Chinese dishes do better with a different choice entirely. So, we're going to dig into your options for some specific Chinese meals.
If you want to expand your knowledge further, take a look at our other wine pairing posts. We've talked about Thai food as well, along with how you can pair wine with pasta, cheese, or finger foods.
Chinese Food Wine Pairing
Fried Dumplings or Egg Rolls
Crab Rangoon
Kung Pao Chicken
Ma Po Tofu
Dan Dan Noodles
Chinese Spare Ribs
Dim Sum
Peking Duck
Dry Fried Chicken
Mung Bean Noodles
General Tso's Chicken
Fried Rice
Chow Mein
Lo Mein
Moo Shu Pork
Beef and Broccoli
Fried Dumplings or Egg Rolls

Egg rolls and fried dumplings both offer their goodies locked inside a crisp pocket. Regardless of what is inside, fried dumplings and egg rolls both call for a fresh sparkling wine. Franciacorta is one option. This wine is produced using similar methods to champagne, but the wine ends up with more distinctive fruit notes.
You could turn to champagne too or many other types of sparkling white wine. The trick is to look for something that is crisp and has some acidity. These two features create a refreshing wine that will go well with many fried foods.
Crab Rangoon

Crab rangoon is another Chinese dish that is easy to pick up and eat. It's a puff, basically, that contains cream cheese, crab meat, and often some herbs.
With crab and cream cheese as key ingredients, you're going to need a white wine to complement, ideally one with strong acidity to balance out the fat. Riesling is an excellent choice here. It even works well if you're serving the crab rangoons with sweet chili sauce.
Kung Pao Chicken

There's plenty going on with kung pao chicken. The dish has sour, sweet, salty, and spicy tones. That might sound like you end up with a mess, but the dish is incredibly popular and tastes pretty stunning.
The spicy notes in the dish mean you should be looking for an off-dry white wine. While you could go with a riesling once again, an off-dry pinot gris could be an even better choice. The combination of acidity and aromatics in the wine contrasts with the strong flavors of the dish. Interestingly, the wine can still hold its own, even with all that kung pao chicken has to offer.
Some people recommend using a gewürztraminer instead. Gewürztraminer has multiple advantages here, as it is aromatic and can have some spicy notes. The aromatic qualities can make this wine taste sweeter than it is, which is one reason why it works so well with spicy foods.
Ma Po Tofu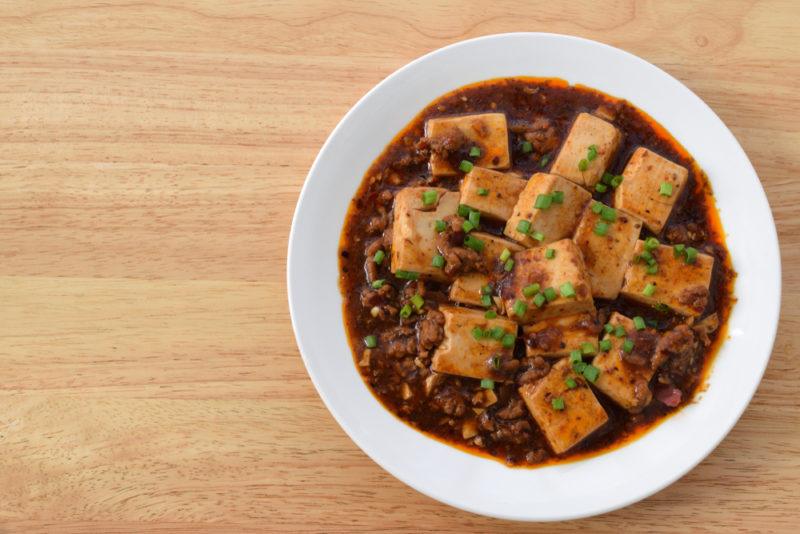 Speaking of spicy, here's another meal that might just blow your socks off. With this level of spiciness, it's essential to find a wine that has a low alcohol content and is low in tannins too. Otherwise, you'll end up making the spiciness overbearing.
The wine choices are similar to what you would choose for kung pao chicken. So, a gewürztraminer tends to be a good choice, along with a pinot gris or an off-dry riesling.
When choosing a red wine instead, look for one that is fruity and has low tannins. A pinot noir can work well enough, while a Beaujolais is even better.
Dan Dan Noodles

Speaking of gewürztraminer, dan dan noodles is another meal that you can use this wine for. The noodles tend to be rich in flavor with plenty of umami. You'll often find a type of mustard green present or perhaps something more familiar like baby bok choy.
Either way, a range of wines can be delicious with the meal – starting with gewürztraminer. The rich umami flavors in the meal are perfectly complemented by the fruitiness of the gewürztraminer.
You could also try a sparkling dry rosé. While the pairing is quite different than gewürztraminer, both choices have their own advantages. If sparkling wine isn't your thing, try a still rosé instead. Just make sure it's a crisp one.
Chinese Spare Ribs

Chinese spare ribs are sweet, smoky, and sticky, making them a delicious meal that needs a worthy wine. This time, a red wine is better than a white one, as the fruity flavors in red wine are exceptional for balancing out the pork.
The best wine is going to be low in tannins, so you're not getting any clashes with the flavors of your meal. Grenache red wines are an easy choice here. These wines tend to be easy to drink, aren't too pricy, and there are many to choose from.
Dim Sum

Dim sum is a type of steamed dumpling that is served in small portions. While the term can sometimes refer to the overall style of eating, we're just going talk about the dumplings today.
Pairing wine with dim sum can be tricky, as there are so many fillings to choose from. These may be similar or may have quite different flavors and ingredients.
As a general rule, the stronger the flavor of the filling, the more difficult it is to pair with wine. So, if you plan to focus on wine pairing, it may be best to serve dim sum with light flavors.
Chardonnay can be a delicious wine to begin with. You can even look for a chardonnay that has been oaked, as long as the oak flavors aren't too intense.
A fruity rosé is another style to try. And honestly, it's hard to go wrong with a rosé. This type of wine should pair with a wider range of dumpling fillings than many other options.
If all else fails, you could go with an off-dry riesling again.
If you're serving the dim sum with a vinegar-focused sauce, then the wine pairing gets quite tricky. High acidity is the key goal here. Some white wines will fit the bill, as will a bottle of champagne. Indeed, sparkling wine can be a good choice for many types of dim sum, as you end up with a vibrant and delicious contrast to your meal.
Peking Duck

Peking duck is one of the few times where you'll want a fairly rich red wine to pair with your Chinese food. This pairing is excellent because duck has some surprisingly strong flavors of its own and this style of cooking can amplify those flavors.
A wine that blends merlot and cabernet franc can be exceptional here, as is the case for various Bordeaux wines. You might need to dig around a little for the exact right bottle, but this pairing is worth the effort.
You could also look for a merlot or a pinot noir. If you take the pinot noir route, look for a version with strong fruit flavors. This is important because pinot noir is a light-bodied wine and the flavors of the wine could get overwhelmed by your food.
Dry Fried Chicken

This is another dish that can be paired with red wine, somewhat surprisingly. A cabernet sauvignon ends up being the best choice, partly because of the pyrazine present in the wine. Pyrazine provides a slight bell pepper flavor, which then complements the vegetables in your dry fried chicken.
You could lean towards a pinot noir as well. As there's little risk that a pinot will overwhelm the flavors of your chicken.
Mung Bean Noodles

For this dish, you'll need to pay close attention to the sauce. Mung bean noodles can be made with different sauces and each type of sauce has its own appropriate wine pairing.
If you're eating a version that relies on a black bean sauce, then a zinfandel can be a good choice. On the other hand, a garlic-heavy sauce that isn't too spicy will pair better with a crisp white wine, like a sauvignon blanc.
General Tso's Chicken

This meal is a common choice at Chinese restaurants in the United States and is often spicy and aromatic, featuring deep-fried sweet and sour chicken.
An amber wine can be an interesting pairing here. This type of wine involves contact between the grapes and the wine. The process adds some tannins to the wine, but not nearly as much as you see with red wine.
As a result, amber wine is often food-friendly. It has enough depth and complexity to stand up against meals, even when they're as complex as General Tso's chicken. Yet, the wine has fruit notes and a lightness that stops it from overwhelming your food.
Of course, amber wine isn't your only option.
For white wine lovers, a gewürztraminer is an excellent alternative. Gewürztraminer wines tend to have a delightful complexity, along with some spicy flavor notes. Those features work well with the strong flavors of General Tso's chicken.
For red wine, try a Beaujolais red. This wine tends to be light, much like pinot noir, but with increased fruitiness. This fruitiness is crucial when you're pairing the wine with a dish as rich as General Tso's chicken.
However, when you're looking for a Beaujolais red, try to avoid Beaujolais nouveau. While this wine can be appealing in some cases, the focus on fast production means that a Beaujolais nouveau isn't going to have the depth that you need.
Fried Rice

Fried rice can be made in many ways and the best wine to serve with it will depend on the ingredients and the type of sauce that's being used. Most of the time, however, you're going to be looking for a lighter type of wine.
A dry riesling could be a good choice here, along with a sparkling wine or a rosé. All of these wines provide a balance of fruit and acidity, which helps to cut through the richness of your dish and balance it out nicely.
Chow Mein

The term chow refers to the way that the noodles in this dish have been stir-fried, while mein is a reference to the noodles themselves. The focus on stir-frying means that your wine needs to get past the richness of the oil. This was the case with the previous type of dish too, which is why you can pair chow mein and fried rice with similar types of wines.
So, once again, look for a dry white wine, a rosé, or a sparkling white wine. A rosé might be especially appealing, as this is a versatile type of wine that will match with many different meals.
If the chow mein is vegetable based, then you could look for a muscat as well. This is an aromatic wine that balances out the lightness of your vegetables.
Lo Mein

Lo mein, on the other hand, relies on noodles that have been stirred or tossed with other ingredients. When lo mein is made using vegetables, you're looking for a vibrant wine to complement.
A sauvignon blanc can be an excellent choice here, especially one from New Zealand, as New Zealand sauvignon blancs tend to be rich in herbaceous flavors. They're always an exceptional choice to complement a herb or vegetable based dish.
A sparkling wine could be appealing here as well. The sparkling nature of the wine means that you always end up with something vibrant, which is exactly what you need.
Moo Shu Pork

Moo shu pork is a delicious dish, one that is rich in umami flavors. It tends to be a filling meal, while the thin pancakes that the meat is served on create a nice contrast in texture. The meal is now common in Chinese restaurants across the United States and is something that many people make at home as well.
While the meal can seem complex, pairing wine with it isn't difficult.
A chardonnay from California is an easy match here. This provides you with plenty of richness, helping to create a decadent pairing. You might also consider an off-dry riesling, which offers extra contrast against the richness and flavors of your meal.
If you prefer red wines, you might consider a Beaujolais red, which tends to rely on the gamay grape and is low in tannins. The low tannin content helps the wine to complement your meal, without any strong clashes.
In fact, relying on low tannin reds is a good general rule when you're pairing Chinese food and wine.
Beef and Broccoli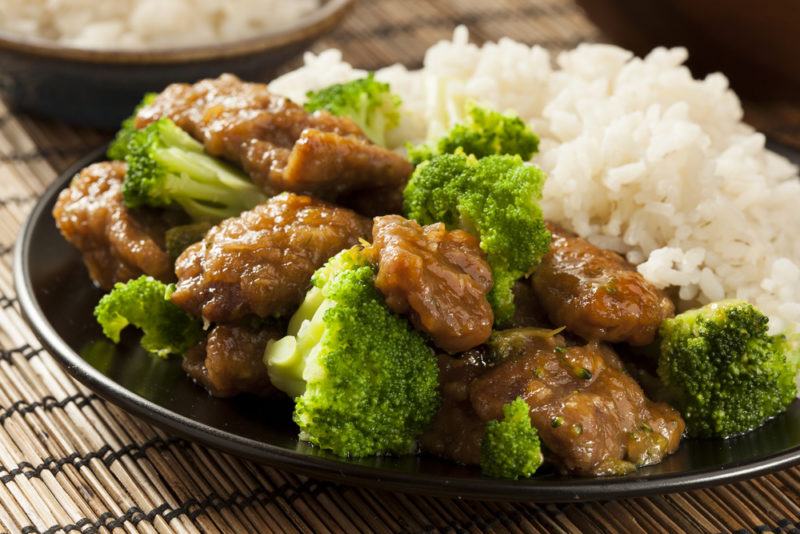 This type of meal isn't as rich as many other Chinese dishes, so you have more flexibility for your wine pairing. Most types of silky red wines will pair well here. This means that you should focus on wines that have a decent flavor profile and doesn't have overbearing tannins.
Merlot is an excellent choice here. The wine tends to be somewhere in the middle in terms of body, tannins, and acidity, which is why it matches well with so many types of food.
This is also an easy wine to find, as it is widely planted, and many vineyards produce excellent bottles of merlot.
Alternatively, you could look for a GSM blend. This type of wine uses grenache, shiraz, and mourvedre grapes, and can be a delightful drink.
Tips For Pairing Wine With Chinese Food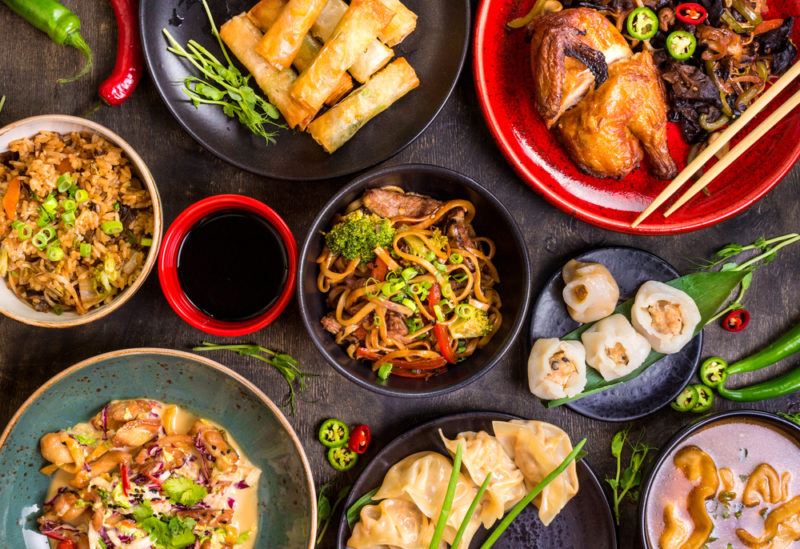 We've covered a variety of Chinese meals in this list and, honestly, we're just scratching the surface. There are many other meals out there too, not to mention all of the variations on these dishes. Different recipes, ingredients, and sauces can all influence the wine that you choose.
This means that some general tips are in order.
The first is simple – don't stress too much.
Food and wine pairing can sometimes seem like a delicate art that you need to get exactly right, but honestly, this isn't the case at all. Even if the wine you choose isn't perfect for your meal, the combination probably won't be horrible either. Many wine pairings end up being simply average.
There's also a strong personal preference element to the whole equation. The combinations that you enjoy the most will be based on your favorite wines and your personal tastes. The mood you're in could play a role too, along with countless other factors.
The best approach is to stop trying to get it perfect and have some fun instead.
Besides, you probably won't be eating a single type of Chinese food at a time. Serving many dishes at once is a more common style. This makes matching individual wines to specific meals a little silly.
You could choose to focus on some general types of wine instead. An off-dry riesling is the perfect place to start, as this matches with so many of the meals that we've talked about. A sparkling white wine can work well too, as the bubbles offer a delicious contrast to the texture of your food.
If you prefer red wine, then you might consider a wine like Beaujolais, which is based on the gamay grape. This type of wine tends to be low in tannins and has decent acidity. Both features are important, as high tannins would clash with the flavors of your food too strongly, while the acidity is needed to give your meals depth.