Cheese and wine are often seen as complementary, with the combination often being served at dinner parties or gallery openings. And yet, you'll often find that the cheese and wine that have been chosen don't complement each other all that well. To get the most out of your cheese and wine, you need to get the pairing right. So today, we're focusing on brie wine pairing.
Here's the thing – wine and cheese pairing is complicated. There are many varieties and styles of wine, along with just as many for cheese. Then there are all the subtle variations from one product to the next, not to mention the effects of aging.
And, there isn't just one good wine choice for each type of cheese (if that was the case, this would be a very short article). Instead, there are often many different recommended types of wine, each of which has a slightly different interaction with the cheese.
In the case of brie, you're mostly looking at crisp and herbaceous white wines, which includes sparkling whites and still ones. You can also explore other soft cheeses to pair with wine such as camembert, or hard cheese like hard cheeses like aged gouda.
Brie Wine Pairing
Pinot Noir

When pairing with brie, you need a wine that will complement the flavors of the cheese without overwhelming them. After all, brie can be somewhat subtle, so an intense wine isn't going to work well.
Pinot noir is one of the classic choices for cheese and wine pairing, as it has enough body to complement many types of cheese, but not so much that the wine overpowers the cheese. It's a versatile wine too, which is always a bonus.
Plus, pinot noir is very commonly served alongside brie. You truly get the chance to experience all that brie has to offer. You don't need to stick with brie on its own either. Many recipes that use brie will pair perfectly with pinot noir too. You can even pair pinot noir with baked brie for something simple and delicious.
Fruity Merlot

Merlot tends to be more intense than pinot noir, but that doesn't stop merlot from being another good option for pairing with brie. For this combination to work, you need to hunt out a merlot that is relatively fruity and doesn't have too many tannins. While it might take some effort to find a suitable merlot, doing so is well worth the effort.
If you can't find a merlot that meets those criteria, then it's best to look for another type of wine to pair with the brie. Relying on a tannic merlot wouldn't be nearly as appealing and you risk overwhelming the subtle flavors of the brie.
Rosé

The delicate profile of rosé makes this another interesting choice for pairing with brie. Plus, rosé has some of the qualities of red wine and white wine, making it a fantastic alternative to both of those styles.
As before, it's best to focus on a fruity rosé if you're going to serve the wine and the cheese together. The fruitiness complements the flavors of the brie well.
While regular rosé may be the most common choice here, you can also use sparkling rosé instead. The bubbles add some interesting complexity to the pairing and help to make everything more vibrant.
Champagne

Speaking of bubbles, champagne also complements brie very well indeed. One reason is the acidity of the champagne, which serves as a sharp contrast to the fat content of the cheese. The acidity of champagne is appealing too, for similar reasons.
Indeed, champagne is a good way to cleanse your palate when eating brie. Doing so makes the whole experience more enjoyable, as you're less likely to be overwhelmed by the fattiness of the cheese.
Chardonnay

When serving a rich cheese like brie, an acidic wine is often the best choice. The acidity cuts through the fat of the cheese, making it much more refreshing and keeping your palate cleansed.
Chardonnay performs this role well, as it has a decent amount of body, so the flavors of the wine won't be overwhelmed by the cheese. The combination of chardonnay and brie doesn't just apply when you're serving the cheese on its own either. Many meals that use brie as an ingredient will be perfectly suited to chardonnay.
Riesling

Like chardonnay, riesling is a popular white wine that you can easily find in local stores. It has a similar freshness to chardonnay, making it another wine that will perfectly contrast the fat in the cheese.
But, this time, you can play around with the type of riesling that you choose. If you want to make the combination really pop, look for an off-dry riesling. This type of riesling has a slight sweetness to it. Choosing a wine with some sweetness makes sense, as brie is a little sweet as well.
Dry riesling does pair well with brie too. The main difference is that you get more contrast between the cheese and wine if you're relying on dry riesling, while off-dry riesling provides more complementary flavors.
Or, if you want to go all the way with sweetness, you could try a riesling ice. This type of riesling is a dessert wine, which tends to mean that it relies on late harvest grapes. Wines like this have much more sweetness than your typical riesling.
Drinking a dessert wine with brie might seem like an odd idea, but don't knock it until you try it. The combination can be a hit and is certainly worth experimenting with.
Sauvignon Blanc

Speaking of classic crisp whites, sauvignon blanc is another easy option. The wine is classically paired with goat's milk cheeses, as the floral notes in the wine help to draw out the earthy flavors that are often present in goat's milk cheeses.
As such, sauvignon blanc is best when paired with goat's milk brie. You could drink the wine with another type of brie too, but you wouldn't be getting all the advantages that sauvignon blanc has to offer.
Besides, goat's milk brie is delicious, even if you're not normally a fan of goat's milk cheeses. It's worth trying the combination just to broaden your horizons, if nothing else.
Pinot Gris

Seeing pinot gris on this list shouldn't be too surprising. Brie does tend to combine best with fresh white wines and that description sums pinot gris up well.
While pinot gris is well-suited to most types of white wine, it's most powerful when paired with heavy and rich types of brie. The bright flavors of the pinot gris shine through the most in this situation.
Pinot Grigio

If you're focusing on a young brie, then a pinot gricio can also be a good choice. Pinot grigio tends to have a lighter body than pinot gris and is crisper as well, even though both wines are made from the same variety of grape.
When you're focusing on a young brie, the crispness of a pinot gricio can be exactly what you need. It's also nice to be enjoying a wine that is familiar and just a little bit different.
Beaujolais

Let's steer away from the white wines again for a minute. Beaujolais is a light bodied red wine that is high in acidity and low in tannins, which makes it similar to pinot noir in some ways. The balance of acidity and tannins means that the wine won't overwhelm the brie. Even so, the wine retains enough flavor and body of its own.
The wine itself is made using gamay grapes. It has some key berry notes, including raspberries, cranberries, and tart cherries. These flavors are best if you're pairing the cheese with a mature brie. Be sure to avoid a brie that is too fresh or one that is over-ripe. While you could still pair this wine with a fresh or over-ripe brie, the effect wouldn't be as powerful.
This particular combination is good if you want to focus on the tanginess of the brie, rather than the cheese's creaminess. You even end up making the creaminess less noticeable, which could be a good thing in some situations.
Chenin Blanc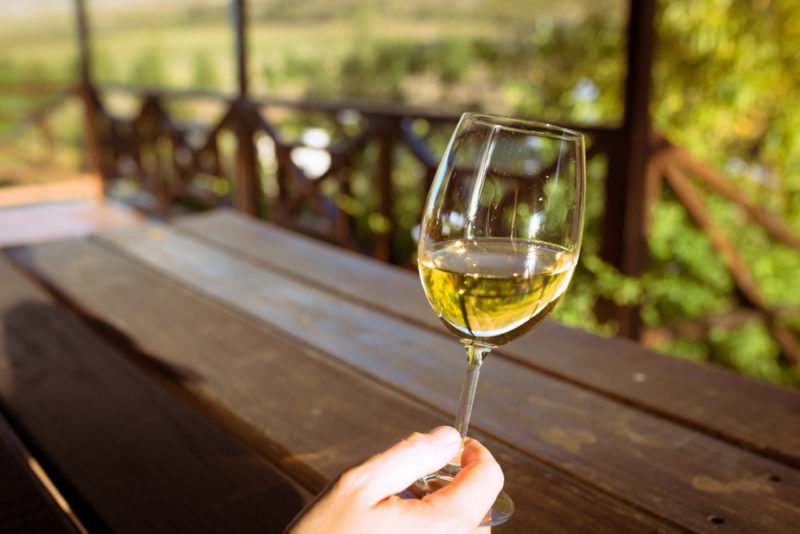 This versatile white wine is another option to consider. The powerful thing here is that chenin blanc often contains nutty notes, especially if you choose a lightly oaked version. There is also some fruitiness present that helps to make the nutty tones more noticeable.
It's easy to see how these aspects work well with a creamy brie. You end up highlighting the complex elements of both the cheese and the wine.
Sparkling Moscato

This wine choice has a few things going for it. The first is that Moscato tends to be a sweet wine. As we mentioned earlier, brie has a little sweetness to it too. Pairing sweetness in your wine and cheese works well and makes both of them taste a little better.
The second thing is that we're talking about a sparkling wine. The bubbles in the wine add an element of interest, which kicks the entire combination up a notch.
Finally, Moscato wines can have fruity flavors, with some including orange and raspberry tones. Choosing a wine that has these flavors can be exceptional with brie.
Tips For Pairing Wine With Brie

This list has highlighted a selection of common wines to drink with brie, along with some that are less well-known. However, many other combinations will work too. After all, the wine world is extensive and there are no hard and fast rules for how you pair wine and food.
It's much better to use popular pairings as a general guide to what works and what doesn't, then use those themes and start to find your own combinations. With brie, you're generally looking for light wines, especially those that have some acidity to them. Sparkling wines and sweet wines have their place too. And, as you've seen, there are exceptions to these patterns.
When thinking about your own combinations, pay close attention to the brie that you're using. Very light wines and bubbly wines are best with young brie, while you may need a more complex wine for brie that has been through more maturation.
Also remember that wines differ from one another, even within the same general type. For example, one off-dry riesling may have different flavor notes than another. Even if the differences seem slight, they can affect the way that the wine pairs with cheese. This is a key reason for experimenting and finding your own favorite combinations.
Related Content