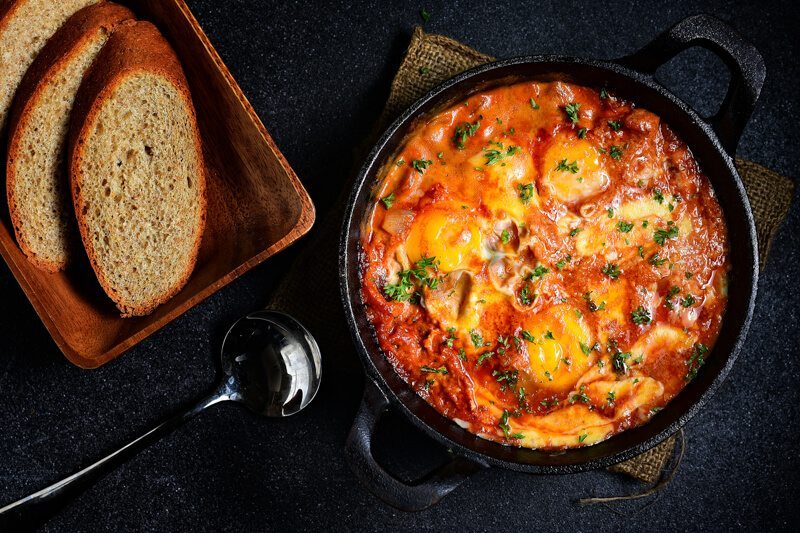 Cheesy Shakshuka
Speed - 95%
Simplicity - 100%
Tastiness - 97%
A time-tested favorite that simply works! Eggs, tomatoes, cheese. . . flavored with good spices, how could that go wrong?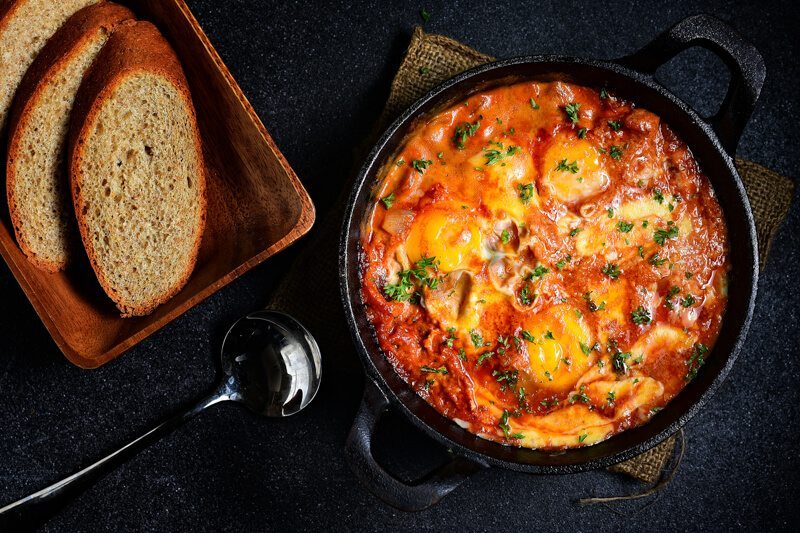 Ingredients
3

Pieces

Eggs

1

Piece

White Onion

diced

1

Piece

Bell Pepper

diced

2

Cloves

garlic

minced

1

Teaspoon

Cumin Seeds

1

Cup

Diced Tomatoes

1/4

Cup

Mozzarella Cheese

Salt

to taste

Pepper

to taste
Instructions
Sautee the onions and bell pepper in a skillet.

Add the garlic and cumin seeds and sautee for another minute.

Add the diced tomatoes and simmer for 5 minutes. Add water or stock if needed.

Season with salt and pepper.

Make dents in the contents of the skillet and drop in the eggs.

Layer in the cheese.

Cover and simmer for 3-5 minutes.
A shakshuka is basically a one skillet meal of eggs poached in a savory tomato sauce that is typically spiced with cumin and peppers. A well-known Israeli breakfast, typically eaten with a warm side of flat bread such as pita or challah, this simple dish is indeed fit to be served any time of the day. In fact, it makes for a very well-balanced meal in terms of nutrition, and is relatively low in fat and calories.
Excellent in its relative simplicity, there really is nothing more to preparing this dish than creating that spice-based sauce, cracking those fresh eggs in, and finishing the entire skillet in the oven or covered on the stovetop. I did add a simple personal touch to this shakshuka with the addition of a quick-melting cheese on top, to add a richness that just pairs too well with tomatoes and eggs as we all know.
So let's begin. Heat up a tablespoon or two of olive oil in a skillet and get those onions and peppers slightly caramelized. Roasting these aromatics just renders their natural smoky sweetness.

Once the onions and peppers are nice and soft, the garlic goes in together with any spice of your choice. A traditional Shakshuka would call for cumin seeds, some paprika, and some powdered cayenne. I suggest adding these spices by feel rather than following any recipe as we all have a different tolerance and preference for strong spices such as these. Add them in small pinches, and go by the aroma that they give off. You'll get an idea of how they'll end up tasting by the aroma that they produce in the skillet, believe me.

Locally prepared with fresh tomatoes, I find canned ones to be more consistent in flavor, and saves a lot of needed stewing time as a bonus.
Give the sauce a few minutes of simmering to get all those flavors to come together. You may need to add a bit of extra water or stock if your skillet starts to dry up.

Taste your sauce and give it a final seasoning of salt and pepper before cracking the eggs in.

Carefully crack the eggs into the simmering sauce, going slowly so as to get them to set in place rather than flowing all around your pan.

Finally, add the slices of mozzarella cheese on top, and finish off the dish. You may finish everything in the oven, or simply put any good fitting lid on the skillet and let it simmer on low for another 3-5 minutes.
This dish is really up for any other creative modification you could think of. Use any other type of fresh or semi-soft cheese, like feta, manchego, or edam, in place of the mozzarella. Add a meat component such as ground beef or turkey. Make it extra special with some slices of prosciutto. Or keep it healthy with some spiralized zucchini. This is one good dish, that just works. Any modification you could think of could only make it better, I'm sure!