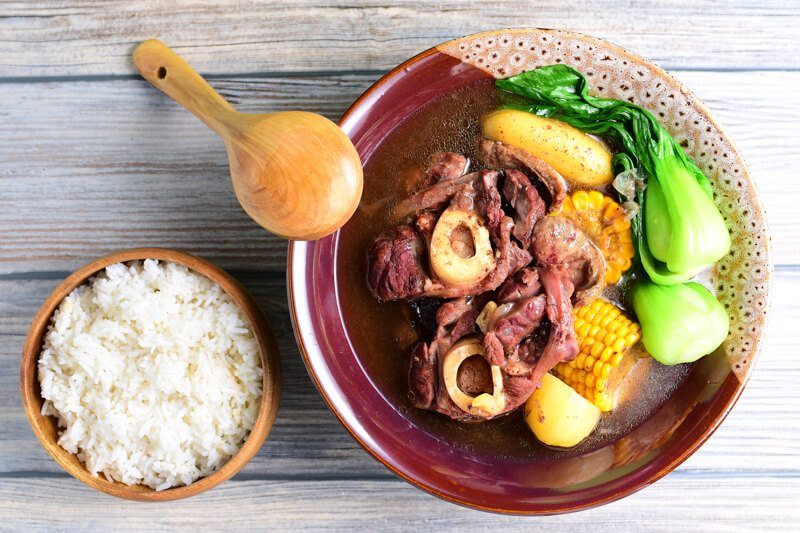 Slow Cooker Pochero(Filipino Beef Stew)
Speed - 95%
Simplicity - 97%
Tastiness - 99%
Fall-off-the-bone beef shanks. . . extremely flavorful broth. . . comfort meal. Period.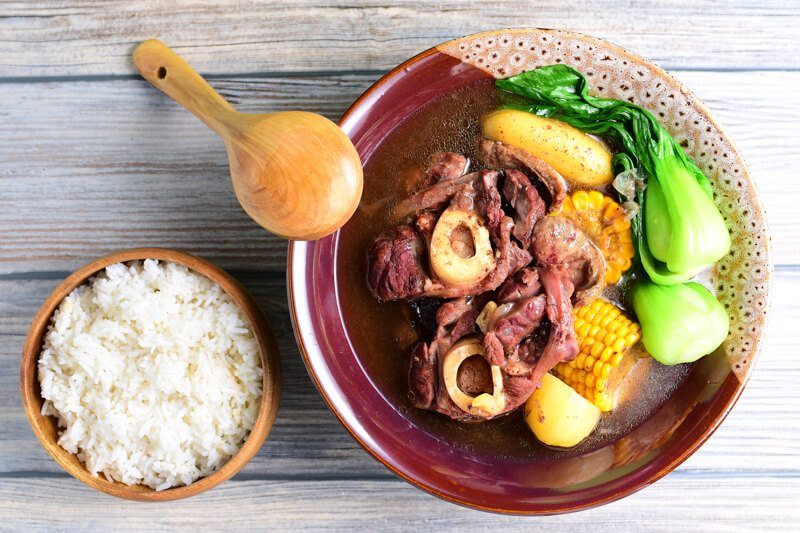 Ingredients
1.5

Kilograms

Beef Shanks

sliced

2

Pieces

Spanish Chorizo

sliced

1

Large

White Onion

peeled and quartered

2

Ears

Corn

cut into 2″ pieces

1/2

Tablespoon

Black Peppercorns

2-3

Pieces

Bay Leaf

4

Cups

Water

2

Large

Potatoes

peeled and cut into chunks

4

Pieces

Saba Bananas

6

Stalks

Bokchoy

Salt

to taste

Fish Sauce

optional
Instructions
Combine beef, chorizo, onion, corn, black peppercorns, salt, bay leaves, and water in the slow cooker.

Cook for 5-6 hours on high.

Add potatoes and bokchoy on the last hour of ccoking.

Add bokchoy and cook for another 20 minutes.
Much like most other one-pot meals from various parts of the world, this Pochero from the Philippines is typical of a Sunday family lunch – rich, heavy, comforting. . . simply special. Meals like these, do pack everything nourishing in it from a heavy portion of meat, a rich broth, and fresh produce – indeed worthy of serving on that day of the week when everyone in the family is around, which for most of us would fall on a Sunday.
With slow cookers around, serving dishes such as this are made way much easier without any compromises on flavor. In fact, meals such as this Pochero would be traditionally cooked for much the same time in earthen clay pots. Stewing bony cuts of meat, such as the beef shanks we shall be using, low and slow just yields a level of umami that can't be beaten by more rapid cooking methods.
Though this Pochero may exist differently across various regions of the Philippines, some being tomato-based, this one made with a clear broth may be the most popular.
Just like all other one-pot preparations, this is just as simple as throwing all ingredients into a pot and cooking away. That would, of course, be with the exception of those relatively quick-cooking components, potatoes, banana, and bokchoy in the case of this Pochero, which may be added towards the end.
Beef shanks should be the first choice for this stew, with short ribs coming in at a very close second. The combination of bones, collagen, dark red meat, and a good fat marbling is really essential for flavor and texture. Much leaner stewing cuts may be substituted to make the dish significantly 'healthier' in the expense of flavor.
Chorizo slices are added for more depth of flavor – smoky, spicy, and slightly sweet. Good chunks of corn also go in to give that broth a very distinct organic sweetness. White onions and black peppercorns provide a contrasting pungency, while bay leaves lend a very mouthwatering aroma.

Add enough water to cover everything in the pot and start cooking. With evaporation virtually non-existent with slow cookers, you won't need to compensate for any loss of cooking liquid like you'll need to do with more conventional stovetop methods.
It would be good to add a bit of salt by now to get your meat deeply-seasoned. Just keep it on the low side though, with the intention of adjusting it in the end.

Set your slow cooker on high and leave it for 4-6 hours. During the last hour of cooking, add the potatoes and saba bananas to the pot.
Saba bananas are like a cross between plantains and the more common table bananas – same sweet flavor but definitely a lot more starchy.

When the potatoes and bananas are fully tender, adjust for your final seasoning with more salt or with some fish sauce. For those who may not be familiar with fish sauce, just trust me. . . it works better for some dishes, this Pochero included.
Finally, put those stalks of bokchoy in, put the lid back on, and give them a few minutes to wilt a bit.
P.S. This meal deserves a delicious dessert after it, like Maja Blanca.