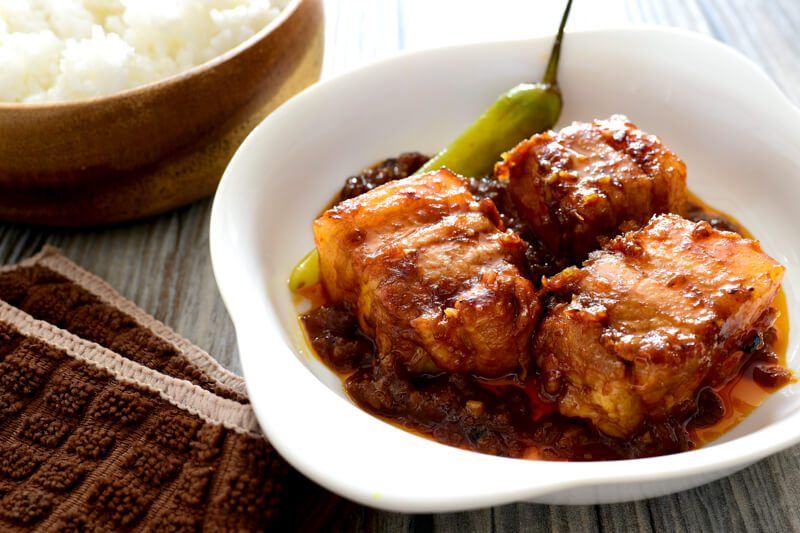 Filipino Pork Binagoongan(Pork in Shrimp Paste Stew)
Speed - 95%
Simplicity - 96%
Tastiness - 99%
The pork did end up really tender and succulent. The shrimp paste does make everything uniquely flavorful. This dish does work!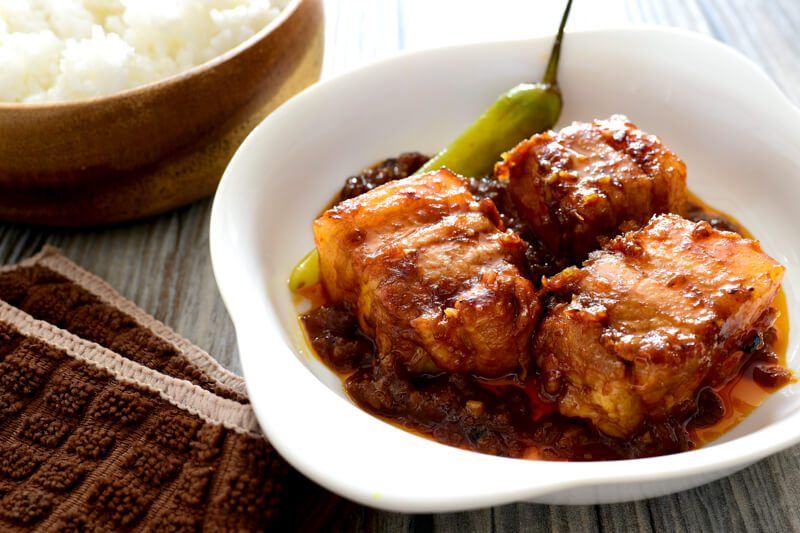 Ingredients
750

Grams

Pork Belly

cut into cubes

1

Piece

Shallot

minced

6

Cloves

garlic

minced

1/4

Cup

Shrimp Paste

2

Tablespoons

Tomato

Paste

2

Tablespoon

Sugar

2

Tablespoons

Vinegar

2

Teaspoons

Black Peppercorns

3

Pieces

Bay Leaf

6

Pieces

Banana Pepper

Water
Instructions
Boil the pork, black peppercorns, bay leaves, vinegar, and water until tender.

Sautee shallots and garlic in a pan.

Add the tomato paste and roast for a minute.

Add the shrimp paste and sautee for another minute.

Put the pork, stock, and banana peppers into the pan. Simmer for 10 minutes.

Season with sugar.
Pork stewed in shrimp paste? I know I may be getting some odd reactions with this dish, but before everything else, let me say that this quite uncommon combination simply works. Excellently, in fact just like a whole lot other strange-sounding Asian specialties. Well, there definitely is a reason why this has become a Filipino classic.
True to its authentic preparation, we'll be using pieces of pork belly, cut into cubes, for that richness that comes from the gorgeous layering of fat and lean red meat. For a less fatty alternative, the only substitute I could recommend would be cuts of ribs, which again should not be too far from the belly.
First would be to tenderize these pieces of meat in some aromatic broth. A simple one from water, vinegar, some black peppercorns, and a few pieces of bay leaf would be fine. These will need around 40 minutes to an hour of simmering to get tender enough.
You'll want to get just enough water so you'll end up with a good amount of concentrated stock which we'll use as a base for the sauce in the end. Adding in too much water would dilute that stock into something less flavorful.


When the pork is tender enough, set it aside for the meantime as we work on our sauce. We'll sautee some aromatics – shallots and garlic just until those shallots caramelize and soften up a bit. It would be best to get the shallots in the pan first, getting a minute or two of lead time so the garlic doesn't burn as soon as it goes into the pan.

We'll be adding some tomato puree to provide body and vibrance to the sauce. Just be sure to roast it well enough(about a minute), to intensify that red color and to cut down much of its acidic flavor which this dish doesn't need.

When the tomato paste has roasted well enough, it's time to get the shrimp paste in. A minute or so of sauteeing would be enough for cooked varieties of shrimp paste. Raw preparations will however need about five minutes.

Now we're ready to add the pork into the pan. If you've reduced your stock enough, everything goes into the pan. There'll be lots of pork flavor in that stock which we wouldn't want to waste any drop of.
The banana peppers go into this pan as well. Unlike most other chili peppers, these provide much more flavor and aroma without much heat. They're basically like elongated and slightly spicier capsicums.

Get everything into a final simmer until the sauce has reduced considerably. What you'll want to end up with is a very thick sauce of mostly shrimp paste.
The dish will be a bit sour and salty from the vinegar and shrimp paste that we've put in. A touch of sugar would balance everything out.
P.S. To round your meal off, why not try a Filipino dessert like Maja Blanca?