Chicken Pelau
Speed - 93%
Simplicity - 96%
Tastiness - 92%
Comfort food with a very simple one-pot approach. Great for a special meal with the family that's really easy to do (as a bonus to you!)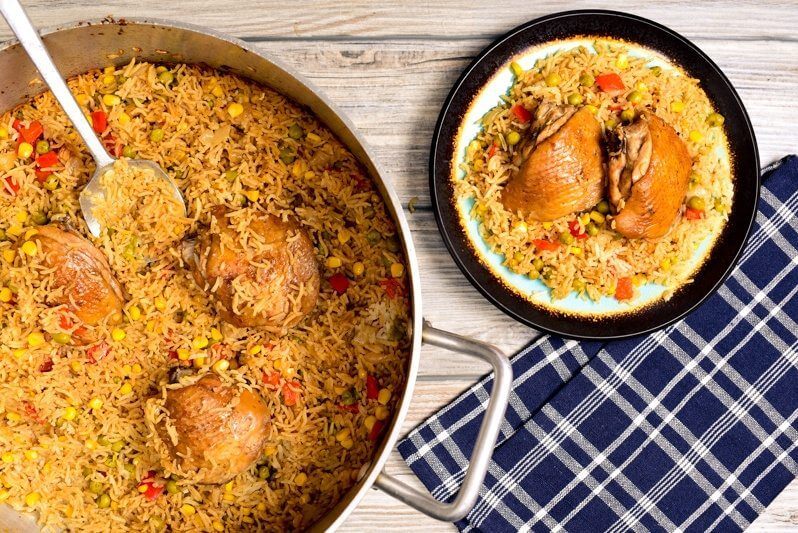 Ingredients
1

Kilogram

Chicken Thighs

1

Piece

White Onion

diced

1

Piece

Bell Pepper

diced

1

Cup

Corn Kernels

1

Can

Pigeon Peas

6

Cloves

garlic

2

Tablespoons

Worcestershire Sauce

2

Tablespoons

Catsup

1/2

Cup

Green Onion

2

Tablespoons

Brown Sugar

2

Tablespoons

Coconut Oil

2

Cups

Long-Grain Rice

1

Cup

Coconut Milk

2

Cups

Chicken Stock
Instructions
Puree the green onions and garlic with a bit of oil in a food processor

Marinate the chicken in the green paste, worcestershire sauce, catsup, and salt

Rinse the rice until the water runs clear. Soak in water for 15 minutes

Heat coconut oil in a deep pan

Add the sugar and cook until frothy

Put the chicken in and sear until brown and evenly coated in the sugar

Add the onions, bell pepper, and corn into the pan and sautee until the onions are translucent

Add the rice and stir to coat evenly in oil

Stir the peas

Add stock and coconut cream. Boil until liquid reduces to the level of the rice in the pan

Turn the heat down to low, cover, and leave to cook for 30 minutes
This Trinidad specialty may have just become my favorite all-in-one-pot rice pilaf. Again, like with some of the other recipes you'll find here, you may see a few changes which may set this Pelau different from more traditional preparations. Let me justify myself for doing so by stating that I really prefer understanding a certain local dish and try to recreate it in a much simpler if not a better approach. That may mean a few modifications to the cooking method, going by what I think makes more sense; or some ingredient substitutions based on personal preference for flavor or for easier sourcing.
Making a 'green paste' from some crushed garlic and green onion would be essential for a classic chicken Pelau. I've added a bit of oil to go with those 2 ingredients in the food processor to make grinding them much easier.

Typically done from cut-up pieces of a whole chicken, I find that using uniform cuts like these bone-in chicken thighs would lead to perfectly even cooking. They all go overnight in this marinade of Worcestershire sauce, catsup, and that green paste. I'll be holding on the salt until these chicken thighs are about ready for a sear to keep them from drying up.

Most recipes you'll find may call for the use of long-grain brown rice. I'm using white basmati rice, which I personally love, and I'm sure that it would work equally well.
Rinse your rice under a running tap until the water runs clear. Washing off that excess starch would keep those individual rice grains from clumping together as they steam.
Give the rice a 15-minute soak. This soaking time would allow them to swell considerably so they could absorb much more moisture in the pot, making them much more tender to the bite.
After 15 minutes, drain all the water in the bowl and set the rice in a colander to air-dry for about 10 minutes. This should strengthen those grains enough to be stir-fried in the pot without breaking.

Let's begin our Pelau. Heat some oil in a pot, and stir in the sugar until brown and slightly frothy. Caramelizing the sugar gives it a deep "nutty" flavor which we need more than the sweetness that it brings.

Once all nicely brown, get those chicken thighs in the pot for a good sear and an even coating of that caramel.

The aromatics and vegetables go in next. As you can see, I've stuck with the more traditional onions and bell peppers for their flavor but used corn instead of squash or carrots, which would be more common with an authentic Pelau. Not liking squash that much, I knew I had to replace it with something else with a natural sweetness – corn would be perfect!

The rice would go in next. Stir it around for a minute or two, trying to coat each grain with all those juices and oil in the pot.

The canned peas, given their shorter cooking time,  go in last. Pigeon peas, if available, are a must for a true Trinidad Pelau.

The stock and coconut milk goes into the pot. The following ratio works fine for me:
1 part rice : 1 part stock : 1/2 part coconut milk
Too much coconut milk would easily cause some scorching at the bottom of the pot.
Bring the pot to a boil and let everything cook uncovered until the liquid in the pot comes to level with that of the rice. Then, put the lid on, reduce the heat to as low as it can go, and leave the Pelau to cook for 25 minutes. No peaking to check on what's going on inside that pot, or you'll end up with undercooked rice. . . seriously.
After 25 minutes, turn the stove off and leave that lid untouched for another 10 minutes. That extra wait would allow those grains of rice to absorb all the steam left circulating inside the pot.

If you've trusted me so far with all those little details, you'll surely end up with perfectly cooked chicken buried in a pot of perfectly fluffy and flavorful rice.