Coconut milk is becoming more popular these days as an ingredient in cooking, cocktails, or a delicious addition to coffee. It provides a delightful creaminess, along with a slight coconut flavor – making it an instant hit for many people, but is coconut milk good for you?
The obvious answer is yes. Coconuts are plants, after all, and coconut milk can be easily made using just a mature coconut, water, and a few basic tools.
Besides, coconuts have been gaining plenty of attention recently. Just look at all the hype surrounding coconut oil and coconut water.
Still, the interaction between food and health is always complex. That's why we're taking a close look at coconut milk to see where it shines and whether there are any serious problems with it. After all, coconut milk is higher in fat than other plant-based milks. That feature alone has health implications.
Is Coconut Milk Good For You?
Benefits Of Coconut Milk
Why Coconut Milk Isn't Always Useful
Is Coconut Milk Better Than Cow's Milk?
Types Of Coconut Milk
How Do You Use Coconut Milk
Alternatives To Coconut Milk
Should You Drink Coconut Milk?
Benefits Of Coconut Milk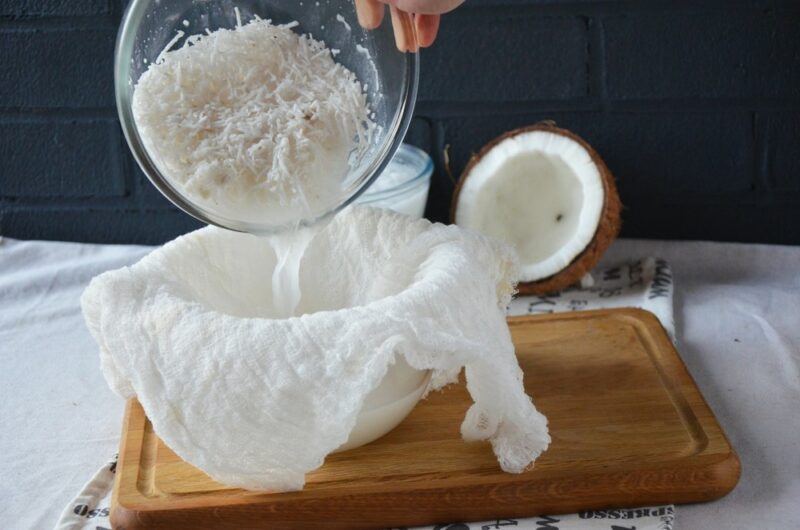 It's A Natural Product
Coconut milk doesn't need to go through much processing. It's simply made by grating the flesh of a mature coconut, mixing this with hot water, then pressing the coconut flesh in a cheesecloth. The resulting liquid is coconut milk and can be stored as-is (it will last for roughly 5 days).
If you don't want to grate the coconut flesh, you can also run it through a blender with water, then squeeze it through a cheesecloth after that.
Companies often use machine-based methods for squeezing and straining the coconut. Plus, some will use additives like guar gum to stabilize the product. Even so, many companies keep processing to a minimum and avoid additives, giving you a natural product that's easy to use.
Rich And Creamy
The fat content of coconut milk makes it creamy, more so than any other plant-based milk. This alone might be a reason to try it for yourself.
The creaminess is particularly important when you're cooking with coconut milk, as the coconut milk adds richness to your meal. Don't forget that you can add the milk to coffee as well and a creamy product is perfect here too.
It's Dairy Free
As a plant-based milk, coconut milk is naturally dairy free. This makes it an excellent choice if you're avoiding dairy for any reason.
Doing so isn't an unusual choice these days anyway.
After all, the dairy industry isn't exactly kind to cows and there are debates about whether drinking milk is natural for humans. Then there's the issue of lactose intolerance, allergies to milk proteins, the potential for inflammation… and the list goes on.
While milk still has some benefits, turning to a plant-based alternative could be more appealing and even healthier for many people.
Low In Carbs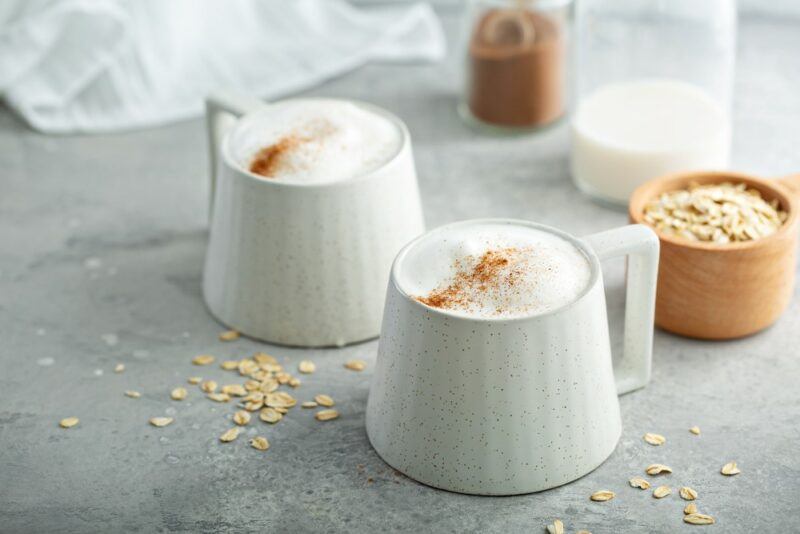 For anyone avoiding carbs, we have good news, coconut milk is naturally low in carbs.
While there's still some debate about whether carbs are healthy or not, there's little doubt that simple carbs do more harm than good. The carbs found in other plant-based milks tend to be simple carbs – making coconut milk a logical choice.
But, there are still some carbs, which do add up. You'll also need to be careful about the brand you choose. Some coconut milk products will have added sugars, which increases the carb content.
Could Promote Weight Loss
While coconut milk is high in fat, it could also promote weight loss (under the right circumstances). This is partly because of the MCTs found in the milk. These are the same fatty acids found in coconut oil and MCT oil. MCTs are interesting, as our bodies process them differently than other types of fat – differences that could lead to health benefits.
Some studies suggest that MCTs may help balance our gut bacteria, decrease food consumption later in the day, and promote better insulin sensitivity.
Coconut milk is also lower in calories than full fat milk. So, switching from full fat milk to coconut milk could decrease your calorie intake, which then promotes weight loss.
Of course, how coconut milk affects your weight depends on the amount that you drink. You're probably safe if you're having coconut milk in your coffee. But, if you're using large amounts in cooking and in smoothies, you might end up putting weight on.
Suitable For Keto And Paleo Eating
Coconut milk is almost the perfect milk option for keto dieters. After all, the drink is low in carbs, high in fat, and contains MCTs. What could be better?
Coconuts and coconut milk are also allowed on a paleo diet, which makes coconut milk even more versatile.
This also makes coconut milk an excellent plant-based milk if you're serving a crowd.
Allergic Reactions Are Rare
Despite the word 'nut' in coconut, coconut allergies are rare. Most people can safely eat coconuts without any side effects at all. This is another thing that makes coconut milk versatile.
That being said, it's always important to be wary the first time you try new foods, especially if you have other allergies. Start slowly and watch for any side effects. You can also talk to your doctor if you're concerned.
It's Easy To Find
Coconut milk is one of the most popular types of plant-based milk, so it's easy to find in most grocery stores. You'll often find multiple brands to choose from, along with different flavors. Some will be fortified, others may not be.
However, with so many products out there, you'll need to do a little shopping around. The ingredients labels should help you to work out which brands are best. The healthiest ones will be natural and use few additives.
Don't stress too much about whether the coconut milk is organic or not. Significant residues aren't often found on coconuts, so non-organic coconut milk is just as healthy as the organic alternative.
Why Coconut Milk Isn't Always Useful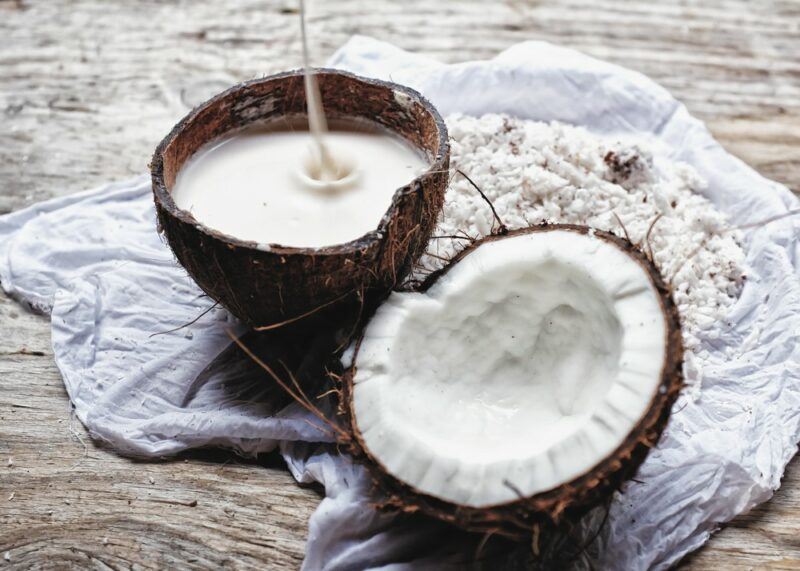 It's High In Fat And Calories
Unlike most other plant-based milk, coconut milk is high in fat, along with saturated fat and calories.
Now, these features don't automatically make coconut milk unhealthy. Fat alone doesn't cause weight gain and high calorie foods can also be nutrient dense and healthy. Even saturated fat mightn't be as bad as we once thought.
Still, the fat and calories in coconut milk are a problem – as it's easy to consume too much. Someone not watching their portions could easily end up gaining weight from coconut milk.
Don't forget that if you order food or drink out, you won't always know how much coconut milk was used. Some so-called healthy drinks might use much more than you expect, making them laden with calories.
Take turmeric lattes and matcha lattes as an example. These are both powerful drinks, ones that are linked to health benefits. The drinks also heavily rely on some type of milk. Using coconut milk to make them could create a rich drink indeed.
Can Cause Side Effects
Coconut milk isn't a good idea for everyone. Some people get side effects from the drink, often from the fermentable carbs. These carbs can lead to problems like nausea, diarrhea, and constipation.
The issues are strongest for people with irritable bowel syndrome or whose digestion is already compromised in some way – although healthy people can experience side effects too.
To avoid the problem, start slowly with coconut milk. This gives your body time to adjust and means that you'll spot any side effects early on.
Keep an eye out for allergic reactions too. While coconut allergies are rare, they do occur. If you're allergic to coconuts, then you'll need to avoid coconut milk entirely.
There May Be Additives
On its own, coconut milk is healthy. However, there are often additives, including thickeners. These help to give the milk the right consistency and improve its shelf life.
While these additives are considered safe, they don't offer health benefits. It's often best to focus on more natural coconut milk brands, ones that don't use many additives at all. After all, there's a lot we don't know about the long-term impacts of a diet that's rich in additives.
You could even make your own coconut milk. This gives you full control over the process. Plus, you get to choose how diluted the coconut milk is.
Has A Distinctive Flavor
As you might expect, coconut milk tastes just like coconut. The flavor isn't overwhelmingly strong, but it is hard to miss.
If you love coconut, then this flavor mightn't be a bad thing. Still, the taste means that coconut milk works excellently in some meals and drinks and poorly in others.
And, if you hate the flavor of coconut, then the milk isn't a good choice. It's too difficult to hide the taste entirely.
Is Coconut Milk Better Than Cow's Milk?
Whether coconut milk is better or worse than cow's milk really depends on what you're looking for.
If you're looking at nutrition, then the answer is no. Cow's milk contains more nutrients than coconut milk, including a decent amount of protein and calcium, along with various vitamins and minerals.
However, coconut milk is dairy free and is lower in carbs. This makes it ideal if you're concerned about dairy or can't digest lactose.
Types Of Coconut Milk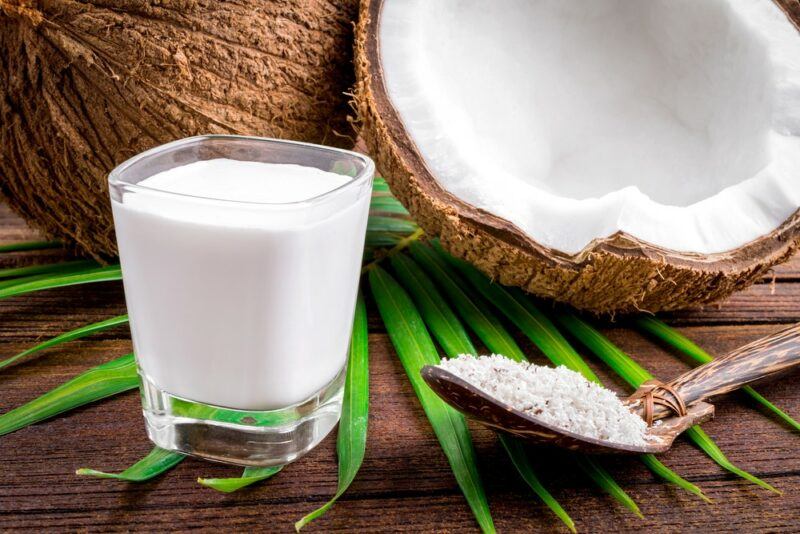 Buying coconut milk in the store can get a little confusing. You'll find it in the same section as other plant-based options, like almond milk and oat milk, but coconut milk is often sold in smaller cans too and even as powdered milk.
In general, the coconut milk you find in large cartons is basically just a diluted version of what you find in the cans. So, coconut milk from a carton tends to be thinner and lower in fat (perfect for coffee), while coconut milk from the can is thicker (perfect for cooking).
Of course, you'll see plenty of variation from one brand to the next.
If you're finding shopping difficult, try using the fat content of the product as a rough guide. The more fat there is in the coconut milk, the thicker and less diluted it should be.
Coconut Milk Versus Coconut Cream
Coconut milk and coconut cream are similar but different. The comparison is a little like milk versus cream, meaning that coconut milk and coconut cream have the same ingredients, but coconut cream tends to contain more fat and is thicker.
Many recipes and drinks can use either type, but you'll get a different consistency depending on what you choose. Not surprisingly, coconut cream is the best choice if you want to make rich and creamy meals, while coconut milk is excellent in smoothies and coffee.
If you're not sure which to get, coconut cream is often the best choice. You can always turn this into coconut milk by diluting it.
How Do You Use Coconut Milk?
Coconut milk is often used instead of dairy milk. It makes an excellent dairy free creamer, making your coffee creamier than most other dairy free milks will.
Of course, coffee is just one of many options. Coconut milk can replace dairy milk in most situations, like using coconut milk in smoothies or pouring it on cereal.
Many recipes rely on coconut milk too, particularly curries that you want to be creamy. Just make sure that you're using the right type of coconut milk for whatever recipe you've chosen.
Alternatives To Coconut Milk
Coconut milk is just one type of plant-based milk. There are plenty of others too, including almond, oat, soy, hemp, and cashew milk. Each type has plenty of supporters and just as many haters.
In practice, the various plant-based milks are simply different. The best type will be the one that matches your needs. For example, if you're looking for low sugar and carbs, milks made from nuts or seeds are a good bet, like almond milk and hemp milk.
Soy milk is by far the best choice if you're looking for protein. It's pretty low in carbs too. Oat milk provides protein too, but the carb content is higher.
You'll probably need to experiment to find out which type of milk you like the best. They all differ in flavor and texture – features that might influence your decision more than anything else.
Should You Drink Coconut Milk?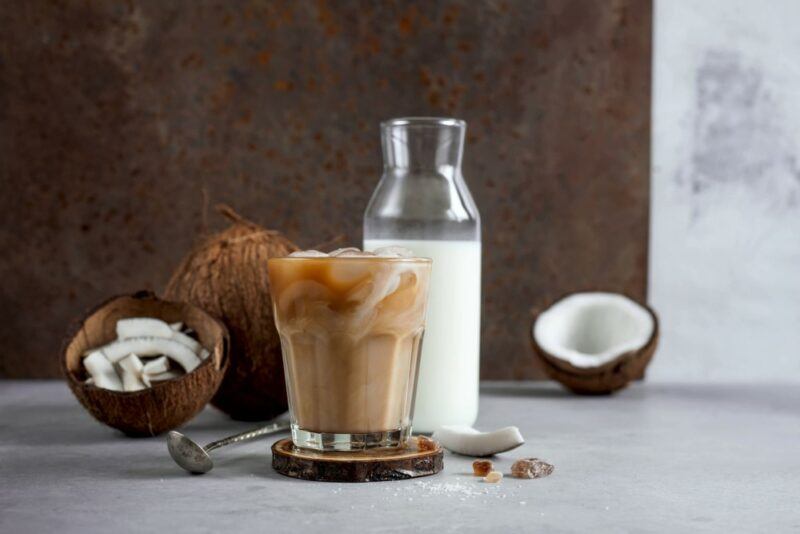 Coconut milk might not be as nutritious as cow's milk, but that's true for any plant-based milk. The decrease in nutrition isn't enough of a reason to avoid coconut milk. After all, the nutrients from milk can all be found in plenty of other foods.
The real question is, does coconut milk help you personally?
If you like the flavor and aren't following a low fat diet, then why not try coconut milk? It's certainly a popular choice. You might even see some health benefits. Just keep an eye on the amount you're drinking so that you don't overdo it with calories.
Frequently Asked Questions
Is Coconut Milk Gluten Free?
Coconut milk is indeed naturally gluten free. The risk of gluten contamination is also low, as the coconuts generally aren't grown or processed near gluten-containing grains.
This makes coconut milk an excellent ingredient for anyone who is gluten intolerant.
Is Coconut Milk Acidic?
Interestingly, coconut milk can end up acidic or alkaline. Making the milk with fresh coconuts gives you an alkaline-forming product while using dried coconuts instead creates an acid-forming one instead.
Some companies also use additives in their coconut milk. Some of these can acidify the coconut milk still further.
If you're concerned about acidity, canned coconut milk is one of the best choices, as this doesn't include the concerning additives. You'll still need to check the ingredients label, though, to make sure it has been made using fresh coconut flesh.
Of course, making your own coconut milk is the best approach. This gives you control over every step and helps you keep the acidity low.
Is Coconut Milk Vegan?
Yes. Coconut milk is simply made from coconut milk and water. This is why many vegans use coconut milk as a replacement for dairy milk.
However, PETA argues that some brands of coconut milk aren't vegan because monkeys are trained to pick the coconuts and are treated inhumanely. This approach is only practiced in Thailand, so coconut milk from other countries doesn't have the same ethical concerns.
Is Coconut Milk Good For Weight Loss?
Coconut milk is often promoted as a weight loss tool, partly because of the MCTs. These could indeed increase fat burning. They may help decrease your appetite and thus lower your calorie intake.
Coconut milk also contains fewer calories than dairy milk. So, using coconut milk instead of dairy milk in your drinks is an easy way to decrease calorie intake and promote weight loss.
Is Coconut Milk Low FODMAP?
UHT coconut milk can be low FODMAP if you stick to a serving of around half a cup. Larger serving sizes are too high in oligosaccharides and can trigger IBS symptoms.
Full fat canned coconut milk is a little different. You need to keep the serving sizes even lower, at around a third of a cup, to keep the FODMAP content in check. Light versions of canned coconut milk should be better, as they tend to contain more water.
You'll need to pay attention to your own physical responses here, as there are plenty of differences between coconut milk brands and they haven't all been tested for FODMAP levels.