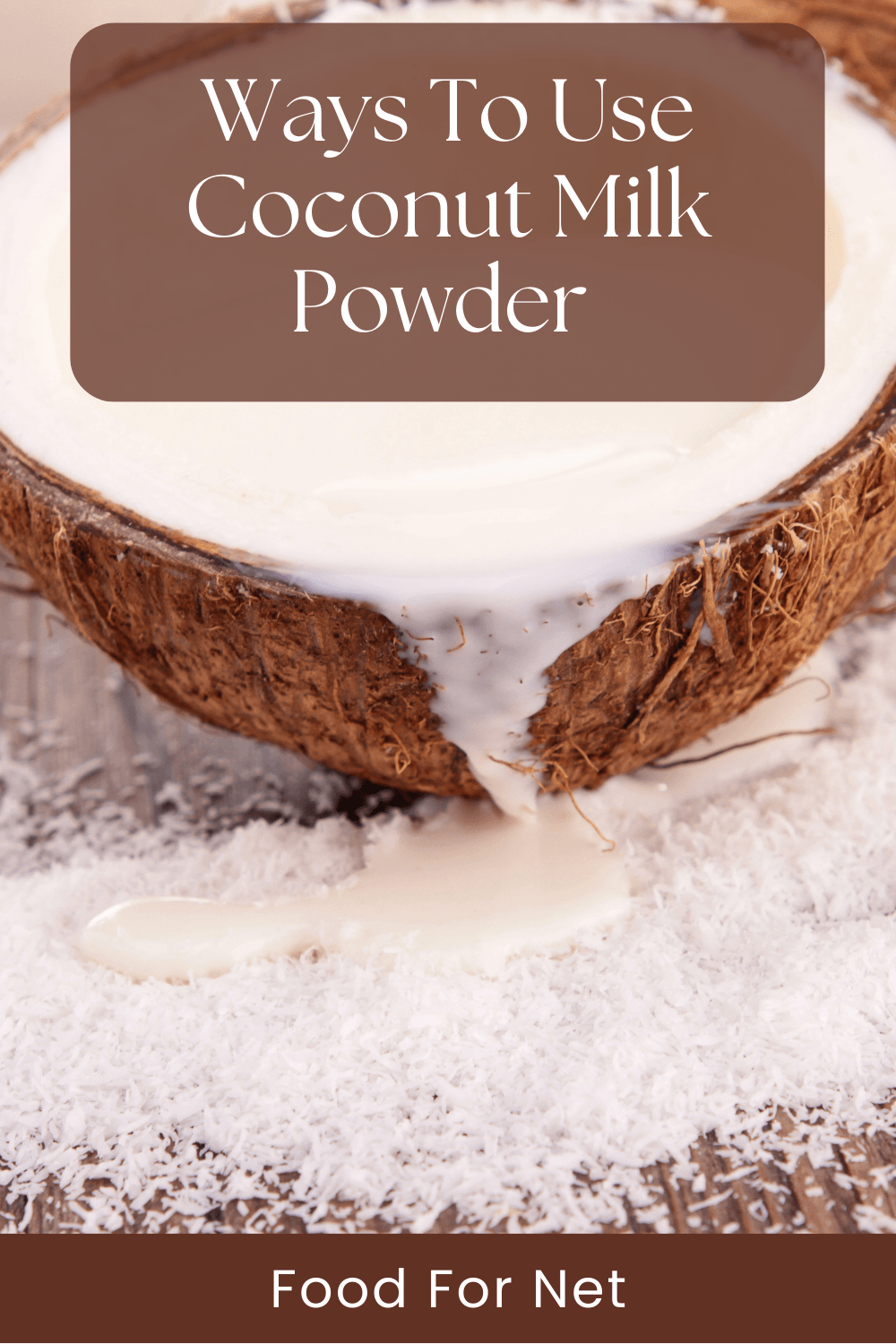 Coconut milk is popular for vegan cooking, coffee, baking, and countless other uses. But, what about coconut milk powder? This product isn't nearly as well-known as coconut milk itself, but shouldn't be ignored either. It's actually extremely useful and deserves a place in any plant-based kitchen.
For one thing, coconut milk powder is just as versatile as regular coconut milk. It can be used in all the same situations as coconut milk, plus a few extra ones, which is pretty impressive. This is partly because you can simply reconstitute the powder with water. Doing so basically gives you coconut milk again.
Before we get into the uses, though, let's make one thing clear – we're not talking about coconut flour. Coconut flour is made from coconut meat and doesn't contain most of the fats found in coconut. It's excellent in baking, but it's not something you'd add to your coffee.
In contrast, coconut milk powder is simply dried coconut milk. It still has many of the fats found in coconut milk, which allows it to add creaminess to your drinks and meals.
Ways To Use Coconut Milk Powder
Add It To Your Coffee

Coconut milk powder is fantastic in coffee. The effect is similar to using coconut milk, except that you're adding a powder rather than a liquid. Doing this instead of using milk is an easy way to make your coffee dairy free.
What's more, coconut milk powder is highly shelf stable (largely because the water content is low). An unopened packet can last at least two years, if not longer. You still get a decent amount of time from the powder once it's opened too, especially if you store it in an airtight container away from the light.
The shelf stability of coconut milk powder is fantastic while you're traveling. It means you can have coffee wherever you are, without needing to stress.
This feature is ideal for vegans because some coffee stores still only offer dairy milk, rather than having a plant-based option. Having coconut milk powder on hand means you'll never need to go without.
Drink It

Coconut milk powder can be easily reconstituted, simply by adding hot water. A ratio of 2 parts warm water for every part of coconut milk powder is a great place to start. The powder will easily dissolve, giving you a similar texture to regular coconut milk.
Once the powder is dissolved, you can drink the liquid just like you would regular coconut milk.
Use It In Smoothies

Coconut milk powder is excellent in smoothies as well – giving you an easy and tasty dairy free drink. It's easiest to reconstitute the powder first (using a 2:1 water to powder ratio), then make the smoothie as normal.
You could even follow a coconut milk smoothie recipe by simply replacing coconut milk with reconstituted coconut milk powder. The flavor and texture should be exactly the same.
That said, reconstitution isn't strictly necessary. If your smoothie already has plenty of liquid, you might be able to add the powder on its own. Doing so would give you healthy fats and a mild coconut flavor, without diluting the drink.
Add To Curries

Curries are another fantastic place to use coconut milk powder, as many curries call for coconut flavor anyway. To do so, just look for a recipe that calls for coconut milk, then use reconstituted coconut milk powder instead.
Coconut milk powder can even be a little more powerful than coconut milk here, as you get to play with the consistency. So, instead of using the 2:1 ratio that we talked about earlier, you might use less water to create a similar consistency to coconut cream.
But, remember that we're talking about coconut milk powder – not coconut flour. So, the powder will add a coconut flavor and some creaminess, but it won't thicken a curry in the way that coconut flour does.
Make A Tea Latte

You can certainly use coconut milk powder with tea, but doing so requires a little finesse. You need to brew the tea for long enough to give it a decent flavor, but not so much that you make it bitter. If the tea is too mild, then it will get completely overwhelmed by the coconut.
Stirring a heaped teaspoon into the coffee is a good place to begin. This amount often works well and if not, you can always add a little more or a little less powder next time around.
Include It In Hot Cereal

Coconut milk powder really shines in hot cereal like oatmeal. It allows you to add plenty of creaminess without extra liquid. That's a feature you only get with coconut milk powder, not with coconut milk itself.
There are plenty of other cases where the same benefit applies too, where you want creaminess or coconut flavor, without liquid. Why not experiment and see what you come up with?
Mix It Into Your Soup

Not surprisingly, coconut milk powder is excellent in soups too. You can simply use it in any soup recipe that calls for coconut milk or coconut cream.
Because consistency doesn't matter too for soup, you might not even need to reconstitute the powder first. You could simply mix it directly into the soup. But, remember that coconut milk powder won't have the same effect as coconut flour. It's best used for extra creaminess, rather than as a thickening aid.
Make A Dessert

Don't forget about desserts either. Any dessert that works with coconut milk can also be made with reconstituted coconut milk flour. Sometimes you'll even be able to use the flour directly without reconstituting it first.
Make Coconut Rice

Coconut rice can be as simple as taking cooked rice and adding some coconut milk powder. Doing so brings in the desired coconut flavor, plus just as much creaminess. Some people even find that coconut milk powder is the best choice, as it is more evenly absorbed than coconut milk.
This means you can also use coconut milk powder for many types of rice pudding. Or, you could start with a very basic rice pudding, then experiment with extra ingredients for flavor and texture.
Bake With It

You can even bake using coconut milk powder. Reconstituting the powder is crucial here, as the amount of liquid often determines whether your recipe is a success or a failure.
If you're replacing coconut milk in the recipe, then you just need a ratio of 2 parts water to 1 part powder. For coconut cream instead, try a ratio of 1 part water to 1 1.5 parts powder.
Use It Instead Of Coconut Milk

Desserts, soups, smoothies, and coffee are just a few of the ways you can use coconut milk powder. You can also simply use the powder in any recipe that calls for coconut milk.
The process is easy. Just constitute the powder using the 2:1 liquid to powder ratio that we talked about earlier. Once you've done this, you can simply treat the liquid like coconut milk.
Doing so won't mess up any recipe. After all, coconut milk powder is simply dehydrated coconut milk. All you're doing is adding water to rehydrate it.
Use It Instead Of Milk Powder

Another trick is to use coconut milk powder instead of regular milk powder in a recipe. Doing so often helps to give you a dairy free meal.
Most of the time you'll simply be able to make a 1:1 replacement. Just remember that the powder will add a slight coconut flavor to the recipe, one that wasn't present beforehand. While this coconut flavor will often work well, sometimes it won't complement the other ingredients
Use The Reconstituted Liquid Instead Of Milk

Why not take things one step further and use reconstituted coconut milk powder instead of regular dairy milk? This is basically the same as replacing dairy milk with coconut milk. You can use a 1:1 ratio for this replacement as well, making things incredibly simple.
This trick will work better with some recipes than others. After all, coconut milk and dairy milk do behave differently. If you're not sure, check whether there are any substitution instructions. Many recipe creators will say whether you can use a plant-based substitute.
Travel With It

Coconut milk powder lasts longer than coconut milk once opened and is also lighter. This combination of features makes it a fantastic option when you're traveling.
For example, a small container of the powder could be excellent for coffee and tea on the go. You might also use coconut milk powder for easy cooking, particularly if you don't have a full kitchen on hand.
Add It To A Cocktail

Have you ever made a cocktail with coconut milk? If you haven't, now's the time. Plenty of cocktail recipes rely on coconut milk, while other times you can easily substitute coconut milk instead of dairy milk.
Using coconut milk power is as simple as reconstituting it once again, then using the liquid instead of coconut milk. You could also experiment with your own coconut milk cocktails. Who knows what new creations you'll come up with?
Is Coconut Milk Powder Worth It?
Coconut milk powder is harder to find than coconut milk and tends to be more expensive. It also works in many of the same situations, so is the powder worth bothering with?
In many cases, yes, because the power is more versatile than coconut milk. With coconut milk powder, you can tweak the ratio of water to powder to change the thickness of the liquid. You can even leave the water out entirely to add creaminess to your dish without extra liquid.
Coconut milk can also get frustrating, as you rarely use the entire carton or can at a time. Many of us get stuck with half used cans of coconut milk that often go bad before we get to them. Coconut milk powder lasts much longer, so you don't need to deal with that issue at all. It also takes up less space, which is always a good thing.
Where To Find Coconut Milk Powder
Coconut milk powder isn't as commonplace as coconut milk, so you might need to shop around to find some. Local grocery stores occasionally stock it, particularly those that focus on natural foods or Asian ingredients.
Amazon is a good alternative if you can't find the powder locally. After all, the site has an endless selection of products, including plenty of baking items. Just make sure you choose a reliable seller, one that gets plenty of positive reviews.
If you find a coconut milk powder brand that you like, you may also be able to order the product from their site directly. Some companies offer this service and others don't. If you're unsure, why not send them an email?