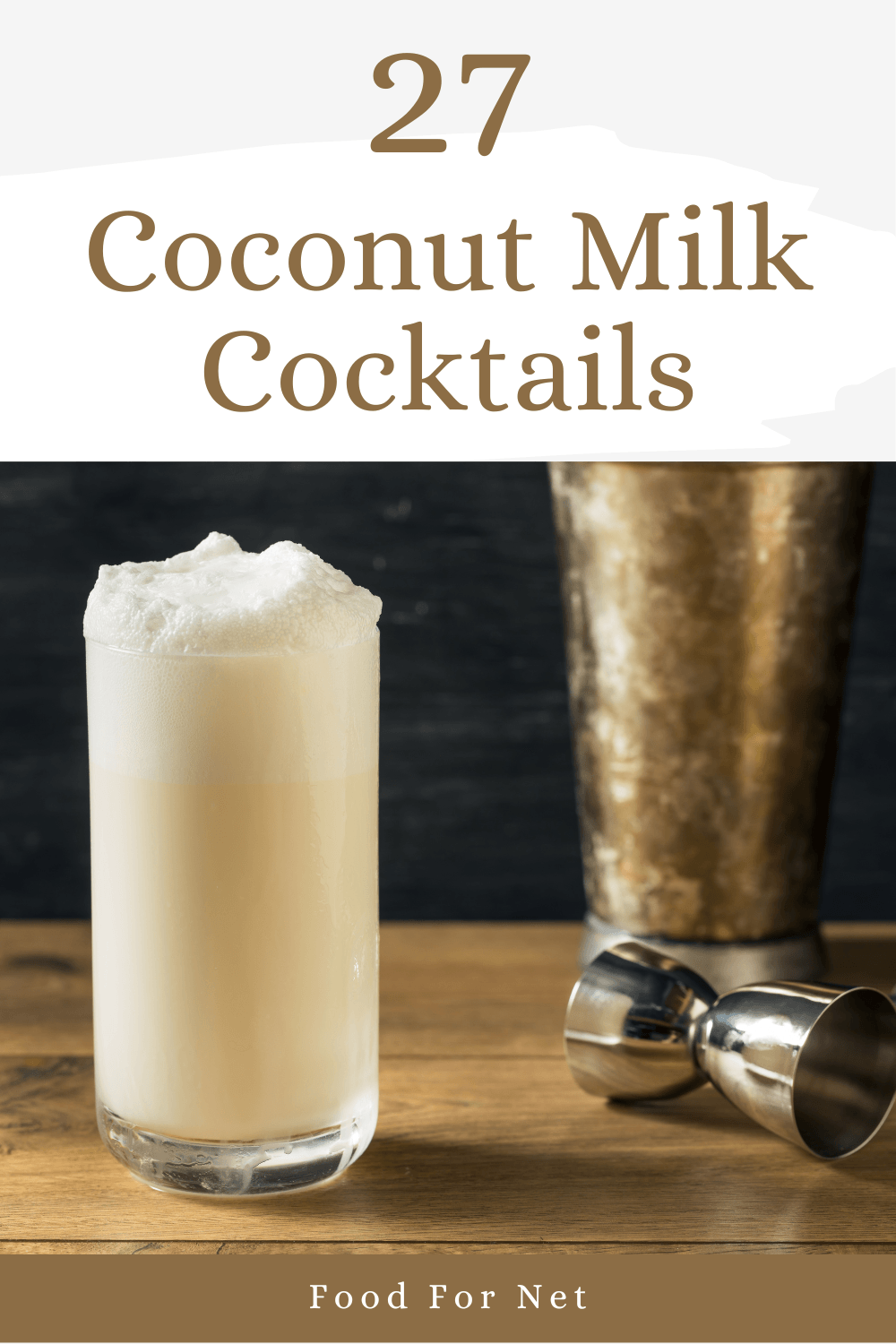 Coconut features again and again in cocktails. Not just in tropical cocktails either. Many creamy cocktails also use coconut cream too, as it adds an amazing richness and depth to your drink. Cocktails with coconut milk are much less common, but there are some delicious ones out there.
So, what's the difference anyway? Well, coconut milk and coconut cream are both made of coconut pulp and water. Coconut cream is simply the version with much less water, which makes it higher in fat, thicker, and creamier.
There's also cream of coconut. This is similar to coconut cream, except that it's also sweetened and has a richer flavor.
While coconut cream and cream of coconut are the most common choices in cocktails, coconut milk works well too. It's particularly good in the place of regular milk in milk cocktails or as a way to make drinks like the pina colada much less intense.
P.S. Don't worry if you're out of coconut milk. Many of these cocktails will work with coconut milk substitutes as well.
Cocktails With Coconut Milk (With Pictures!)
Coconut Rum White Russian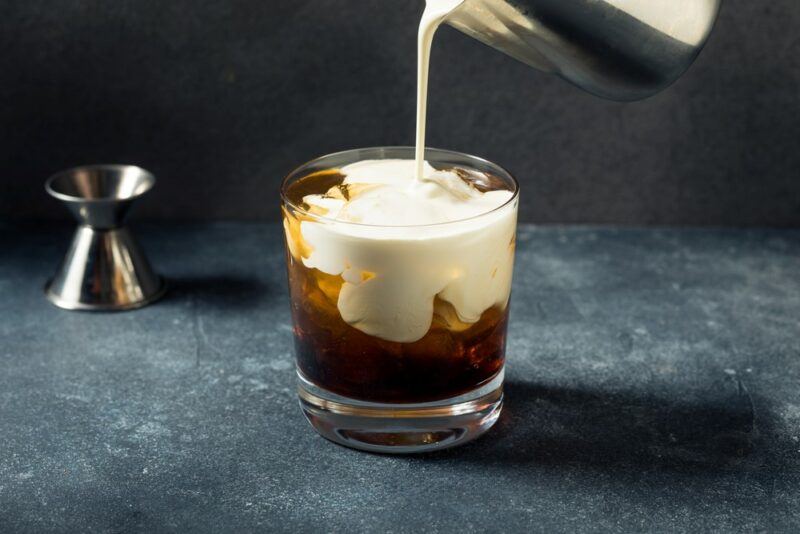 The white Russian is an instantly familiar classic. The regular version simply combines Kahlua (or any other coffee liqueur) with vodka and heavy cream.
But, rather than using heavy cream or even regular milk, you can sub out for coconut milk instead. Doing so gives you a much lighter drink that's still creamy.
You can take things one step further too, by using coconut rum instead of vodka. This trick gives you a double hit of coconut. The interplay between coconut and coffee flavors creates a delightful drink.
Coquito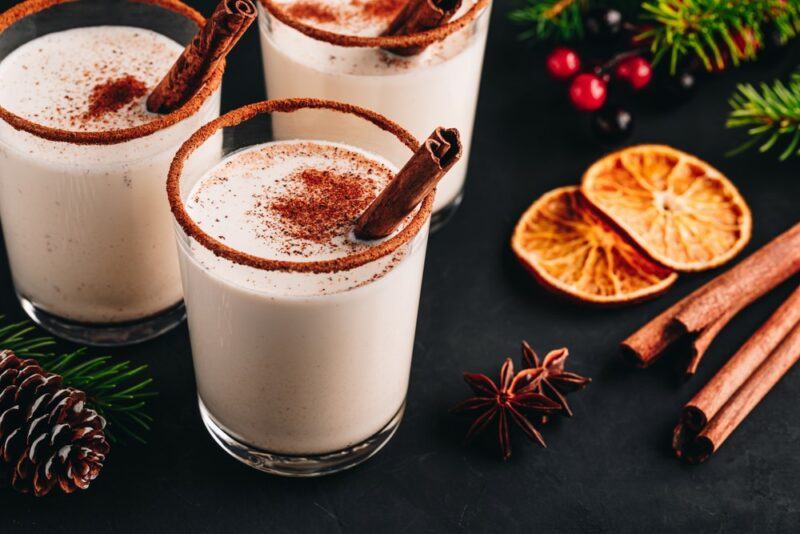 Traditional cocktails tend to focus on coconut cream rather than coconut milk. The coquito is a delightful exception.
The cocktail itself is Puerto Rician and is often served as a Christmas drink. That's not too surprising, as the recipe is pretty similar to eggnog.
The classic version uses rum as the spirit of choice. Coconut milk and sweetened condensed milk are used as well, providing creaminess and a little sweetness. Egg yolks are sometimes added to the mix, plus many recipes add some evaporated milk for texture.
The eggs and condensed milk mean that this isn't a vegan-friendly cocktail. However, you can make a vegan version by skipping the eggs and using sweetened condensed coconut milk. The substitutions create a lighter drink, but one that's still delicious.
Long Island Coquito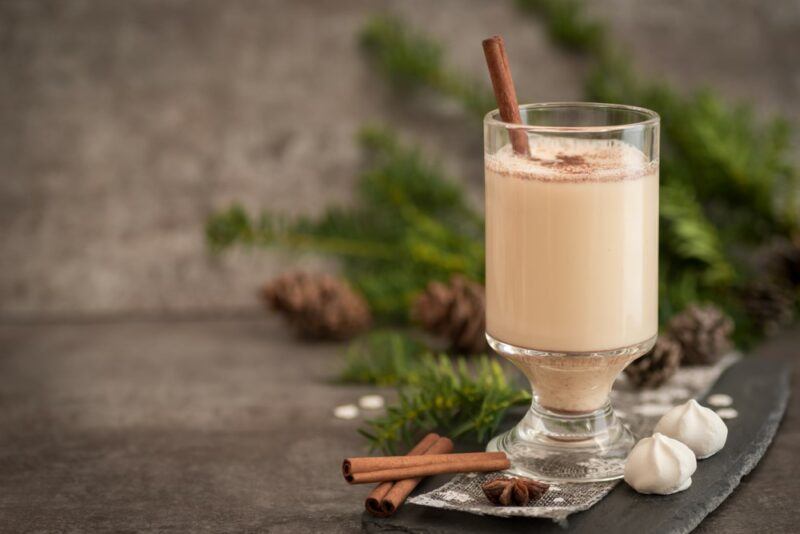 Not surprisingly, this cocktail combines features from a Long Island iced tea with a coquito. The idea doesn't sound like it should work, but it does. You end up with a milky and mellow drink that's quite potent.
The cocktail features four types of alcohol: coconut rum, coconut vodka, gin, and tequila. There's also evaporated milk, coconut milk, and coconut cream in the mix.
It's quite a thick drink, especially if you blend it with ice. This means you'll need to sip it slowly (which isn't a bad idea anyway).
Tropical Painkiller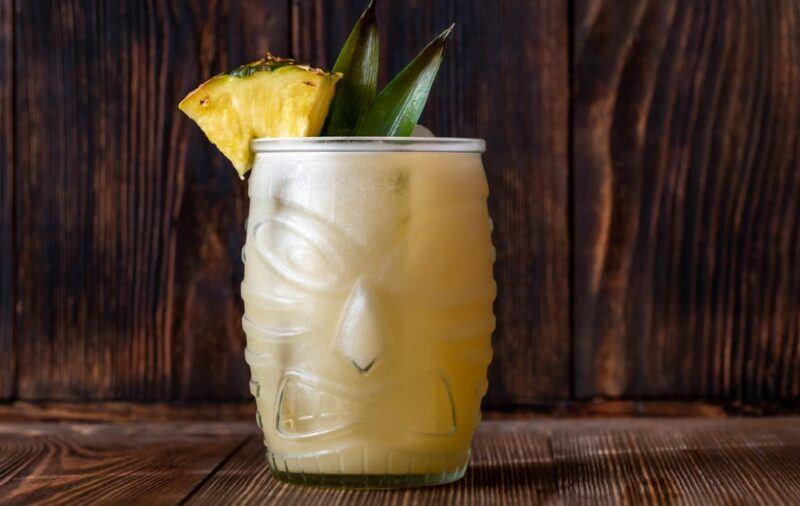 The traditional painkiller cocktail combines pineapple juice, orange juice, cream of coconut, and Pusser's Rum. This version is similar, except that you can use any type of rum and you're relying on coconut milk rather than cream of coconut.
The coconut milk still provides the same coconut flavor, while giving you a less rich drink. It's perfect if you want something tropical that isn't too creamy.
Frozen Spiced Rum Mango Lassi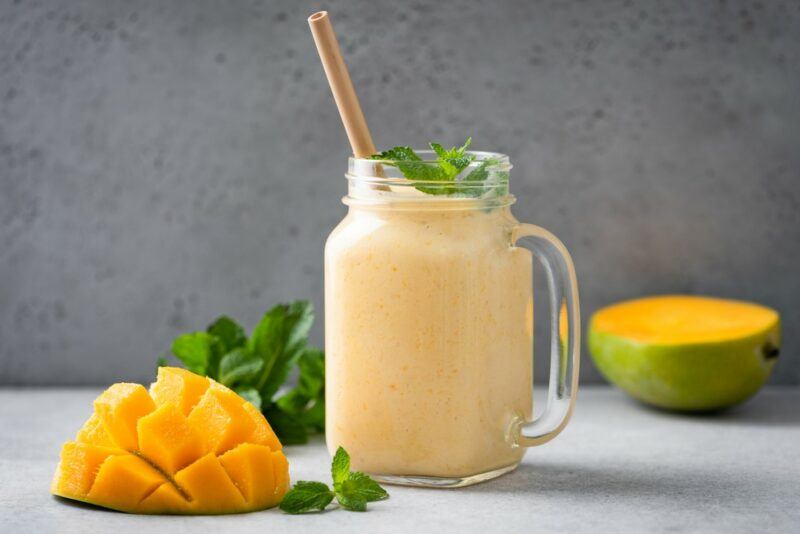 This cocktail is a twist on the traditional mango lassi. Except, you know, it's alcoholic. Garam masala is used to provide much of the spice in the drink, while spiced rum adds some complexity as well.
To make things even more exciting, try preparing this as a frozen drink. Doing so is completely non-traditional but works well with the spices used in the recipe. Besides, modern twists on traditional drinks are always fun.
Hot Rum Horchata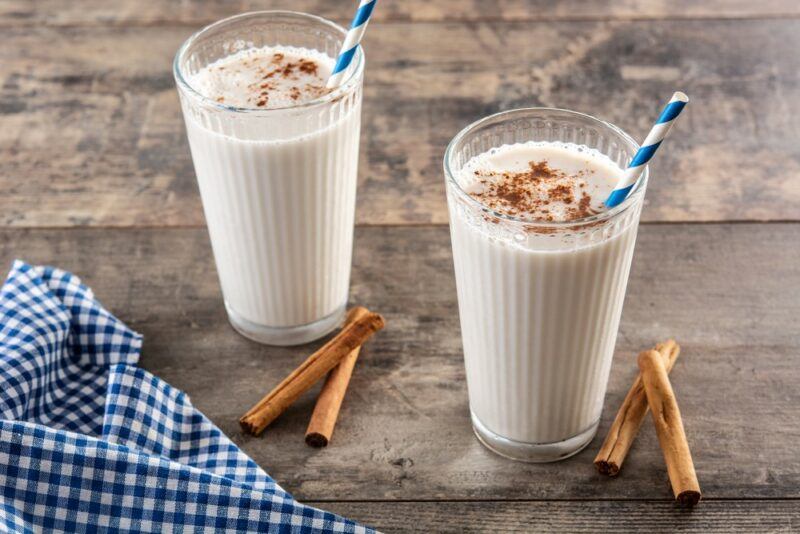 Horchata comes in many forms, but it's typically made using plant-based milk. Some versions rely on tiger nuts, while others turn to white rice, sesame seeds, or other ingredients. Cinnamon is often used too, which provides a fantastic flavor contrast.
One version of the drink relies on a combination of rice, coconut milk, and almond milk, plus rum to provide an alcoholic kick. The recipe avoids all dairy ingredients, yet still gives you a creamy and comforting drink.
The cocktail even tastes a little like eggnog, but there aren't any eggs in the recipe. In fact, this is a dairy free and vegan friendly cocktail.
Dairy Free Grasshopper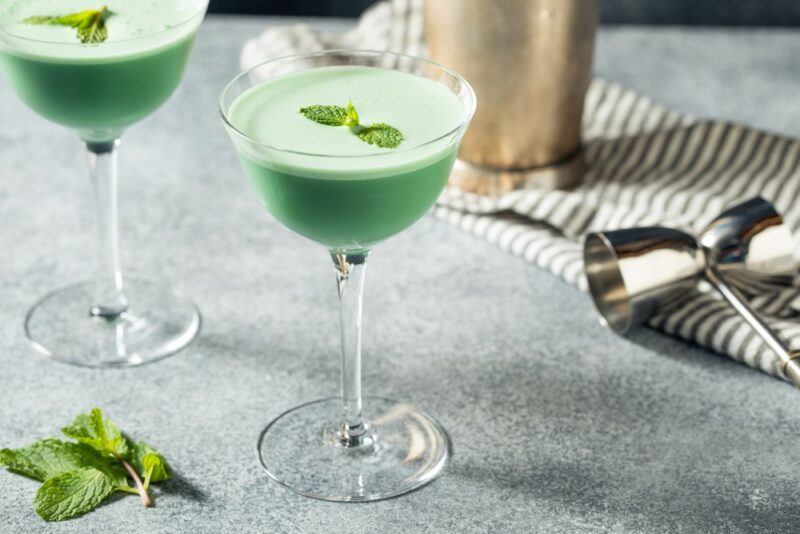 The grasshopper was a popular 90s cocktail that still gets served today. It's traditionally a very rich drink that relies on heavy cream. However, you can make a vegan version by combining crème de cacao, crème de menthe, and coconut milk.
It's a simple cocktail too, as you're using equal amounts of all three ingredients. Using coconut milk also makes this a lower calorie drink than the traditional cream version.
Pina Colada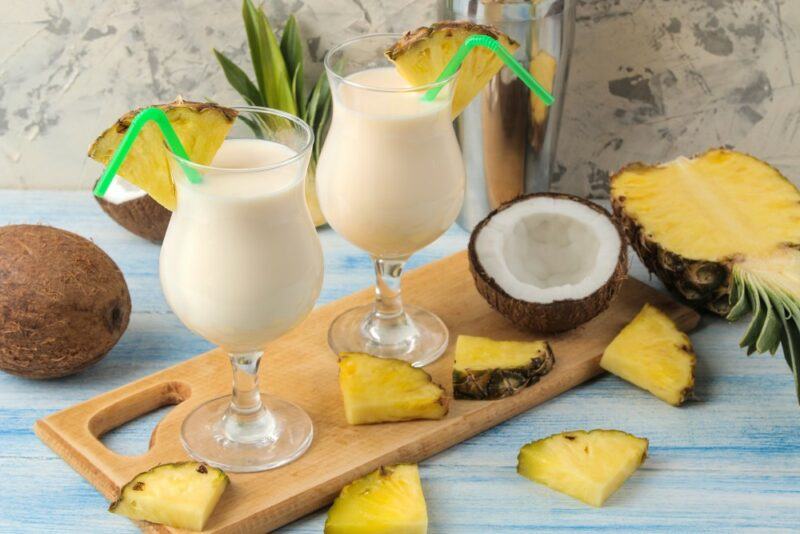 The pina colada typically relies on rum, pineapple juice, and coconut cream. The coconut cream makes the cocktail particularly rich and decadent, but it isn't essential.
Some recipes call for a half and half mixture of coconut cream and coconut milk. Others skip the coconut cream entirely and just use coconut milk.
Blue Hawaiian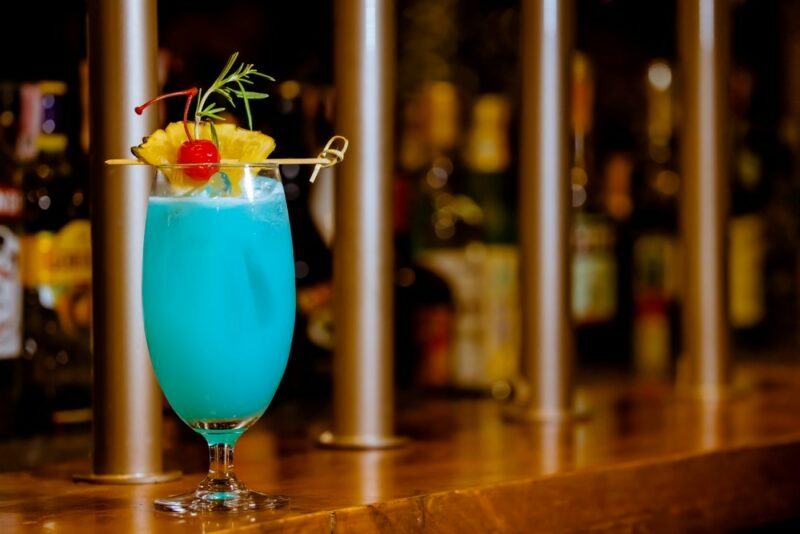 The blue Hawaiian is basically a pina colada with blue curacao added. So, once again, you can switch out the coconut cream for coconut milk.
With this, and most similar cocktails, you'll need to shake your coconut milk well. It can easily separate, which risks ruining the texture of your cocktail.
As for the rum, you can choose whatever type you like. Many people go for white rum in pina coladas or perhaps coconut rum. You can use a darker and more complex type of rum, but some of the rum's nuances will get lost amid the other flavors.
Coconut Gin Fizz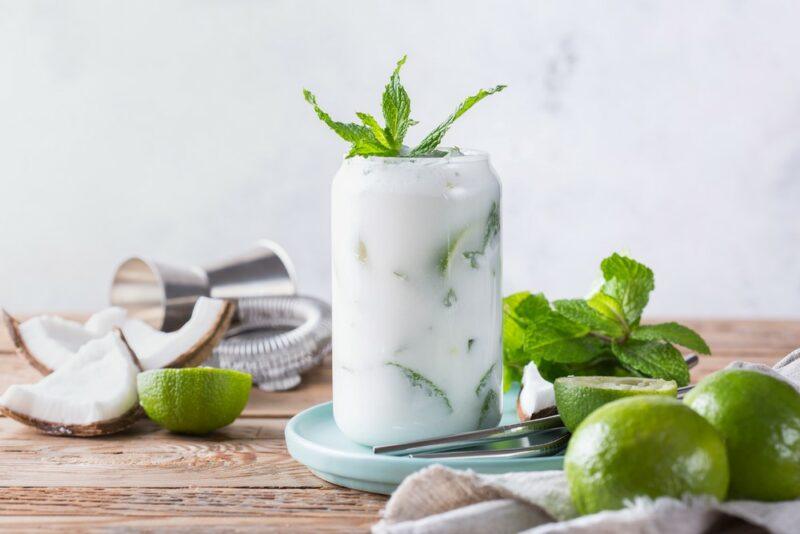 Fizz cocktails can be a lot of fun. They have a delightful texture and are often refreshing.
This version combines coconut milk with gin, lime, ginger juice, some sweetener, and a touch of seltzer water (you could try lime hard seltzer instead, if you want to increase the alcohol content). The ginger juice is a nice touch, as the ginger's spiciness helps to the sweetness of other ingredients.
It's also nice to find a coconut drink that doesn't rely on rum. Using gin instead makes this a more refreshing drink, one you might end up making time and time again.
Winter Sunshine Rum Cocktail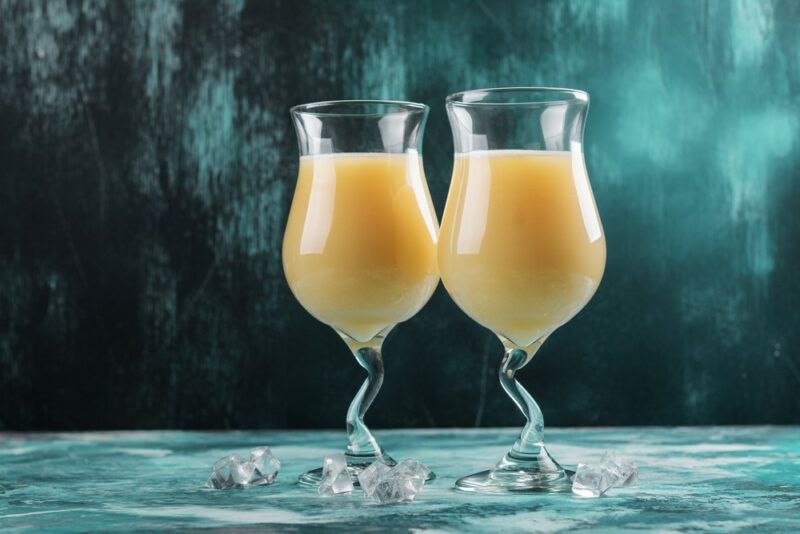 This cocktail brings us back to rum, but it's still a delicious choice.
In some ways, the drink is like a pina colada, except that the pineapple juice is replaced by orange juice. Orange juice still brings plenty of brightness and sweetness to the cocktail. It's also easier to find than pineapple juice. You can even squeeze your own.
The cocktail tastes best if you use coconut rum. Doing so enhances the coconut flavor even further.
Blue Coconut Cocktail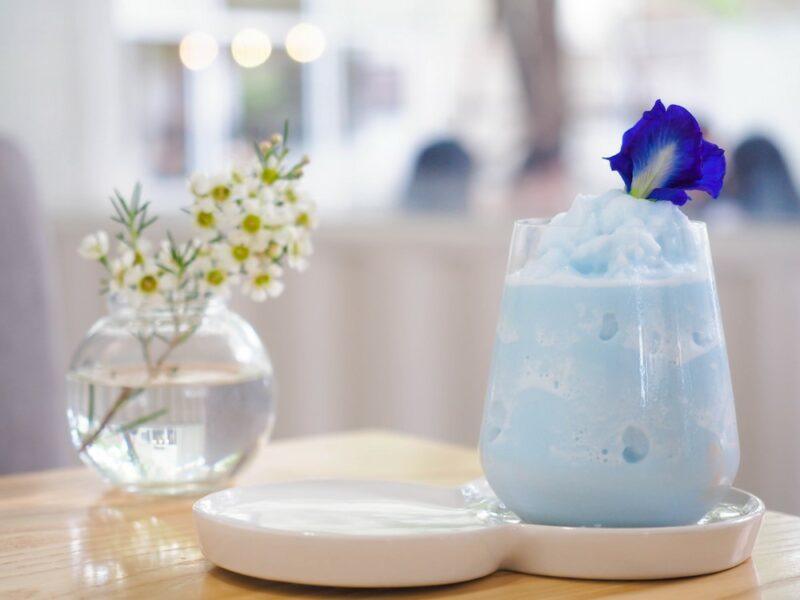 This cocktail uses butterfly pea flowers. These are fascinating flowers, as their juice changes color based on the pH of your drink.
For this recipe, the author infused white rum with the pea flowers, creating dark blue rum. When the cocktail is prepared, coconut milk, rum, and ice cubes are added into the glass. Right before serving, pineapple juice and lime juice are added too, creating a color change.
The color can be made more intense by creating blue coconut milk and/or using blue ice cubes – both made with butterfly pea flowers.
Color changing cocktails like this are a little frustrating to make, but they're very fun at parties and are a great way to impress guests.
Coconut Mojito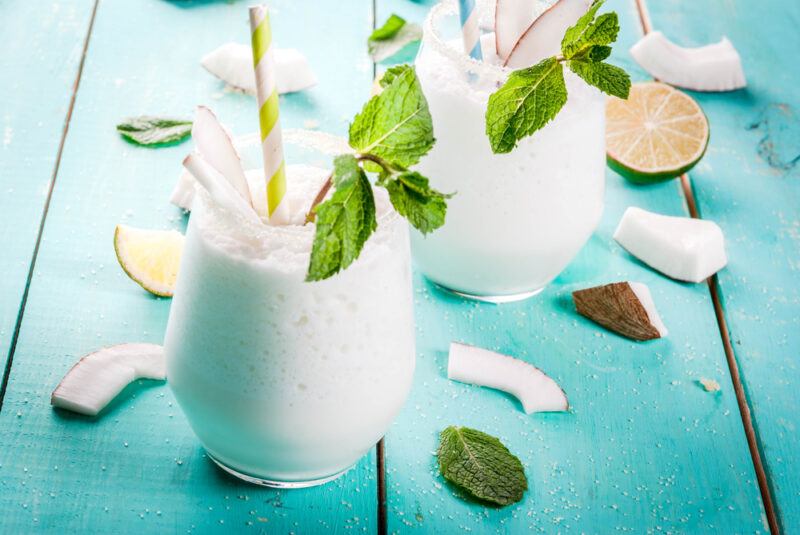 A mojito is traditionally a clear drink, made with soda water, white rum, and lime. However, you can easily mix it up by adding some coconut milk or coconut cream as well.
If you use coconut cream, then your drink is rich and creamy. Coconut milk still gives you the coconut flavor, but drops down the creaminess.
You can riff on the drink even more by swapping the club soda for ginger beer. The extra ginger flavor works well with the coconut, rum, and lime.
Coconut Milk Rum Julep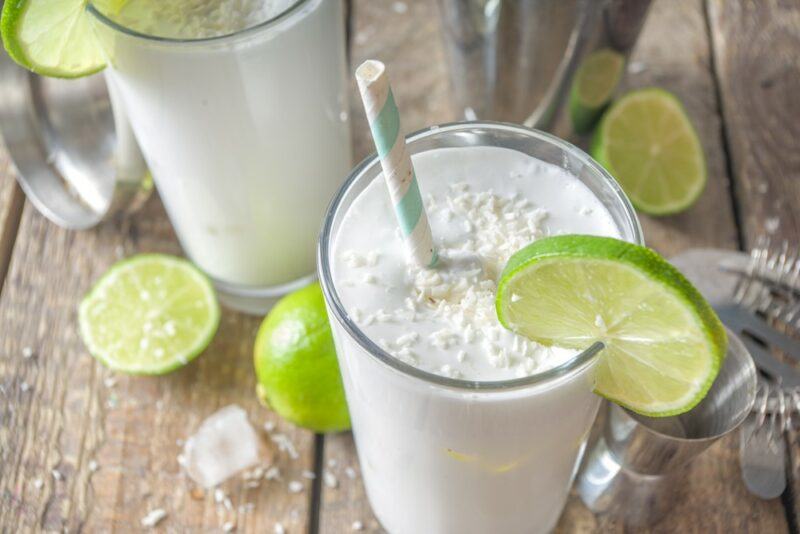 Mint juleps also work well when made using coconut milk or coconut cream. Again, coconut milk isn't as rich, but it still gives you a delicious drink. You might even prefer coconut milk, particularly if you're watching your calories.
Bourbon Coconut Milk Cocktail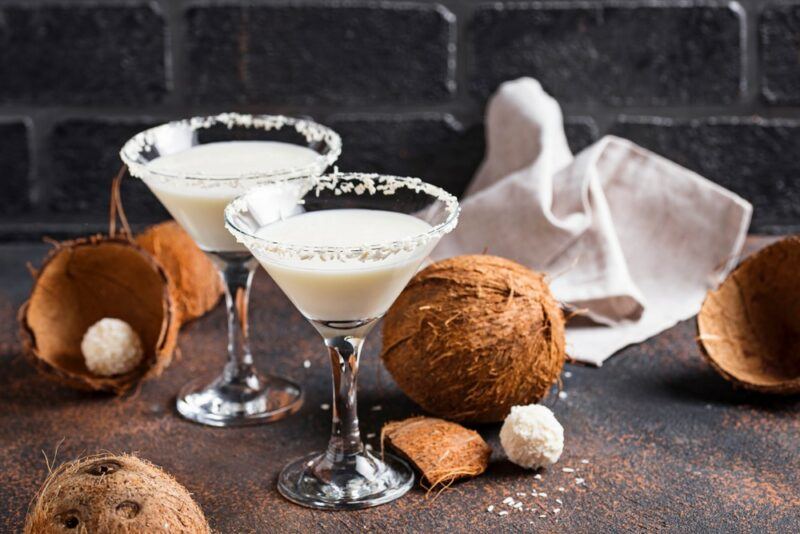 This recipe keeps things nice and simple. You're using bourbon, coconut rum, coconut milk, simple syrup, and vanilla extract.
Including both bourbon and coconut rum is a fantastic way to add depth to your drink, while the simple syrup stops it from getting too intense. Nutmeg makes a great garnish that contrasts the other flavors in the cocktail.
Pineapple Coconut Mimosa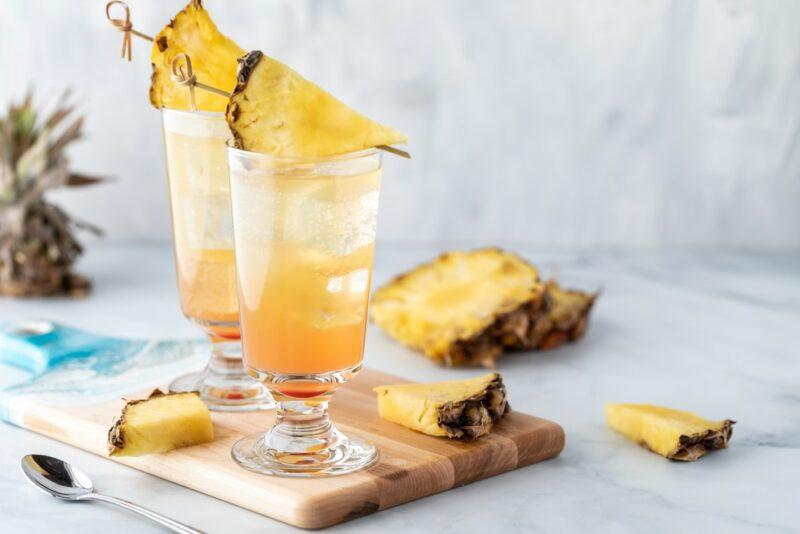 Bored of regular mimosas? If so, this pineapple coconut mimosa could be perfect.
There are just three ingredients, pineapple juice, sparkling wine, and coconut milk. Fresh pineapple juice will always be best.
The order of these ingredients matters. Start off with around two thirds of a glass of sparkling wine, then top up with pineapple juice and finish with a little coconut milk.
The coconut milk is the lightest ingredient. So, if you pour carefully, it should settle on top of all the rest.
Batida De Coco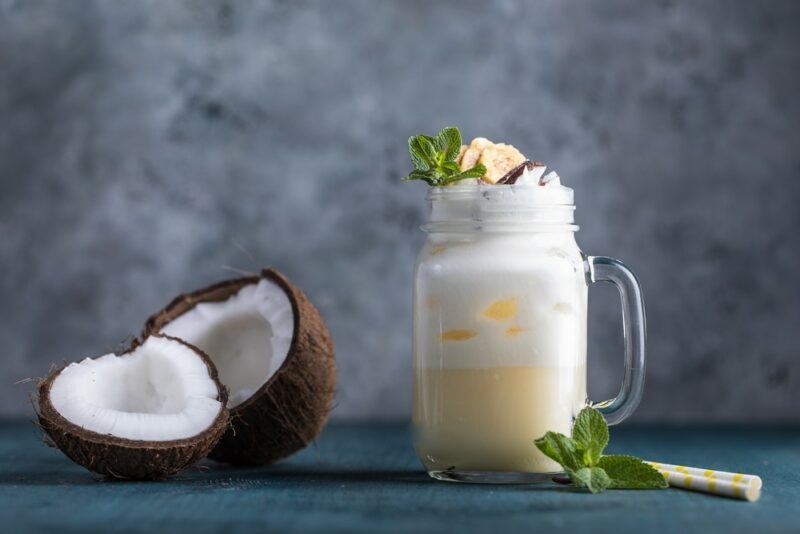 This coconut cocktail is a little different than most, as it uses cachaça, which is a distilled sugarcane juice spirit. Cachaça is similar to rum, but has its own distinct properties, including a slight grassy note in some batches.
The cocktail also relies on coconut milk, coconut water, and sweet coconut milk. These three ingredients provide a creamy and sweet balance. You can tweak the ratios of the ingredients until you find the right flavor profile for you.
If you don't have cachaça on hand, no worries. White rum or even vodka works well in the cocktail too.
Coconut Margarita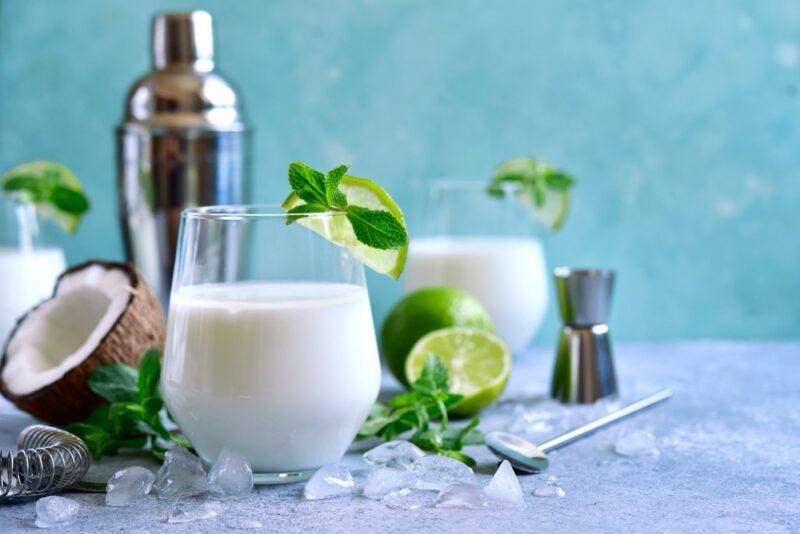 This cocktail starts with the traditional margarita base of tequila, lime juice, and orange liqueur. It then adds coconut milk and white cranberry juice.
These two ingredients change the color and the flavor of the cocktail, giving you a delicious seasonal drink. The cocktail works even better if you use cranberries to garnish it. A sugar rim is a great addition too.
Grand Finale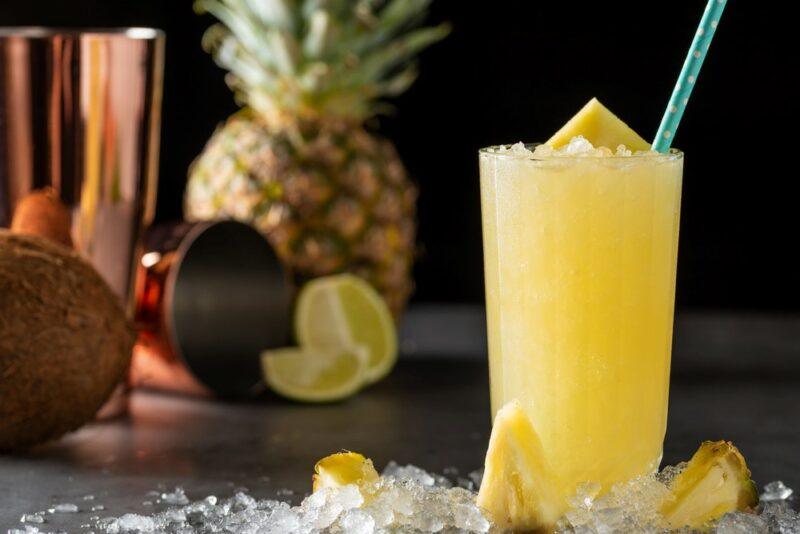 This simple cocktail combines coconut milk with pineapple juice and Everclear, then finishes off with orange soda. You end up with the flavors of a tropical cocktail, without many ingredients.
My Thai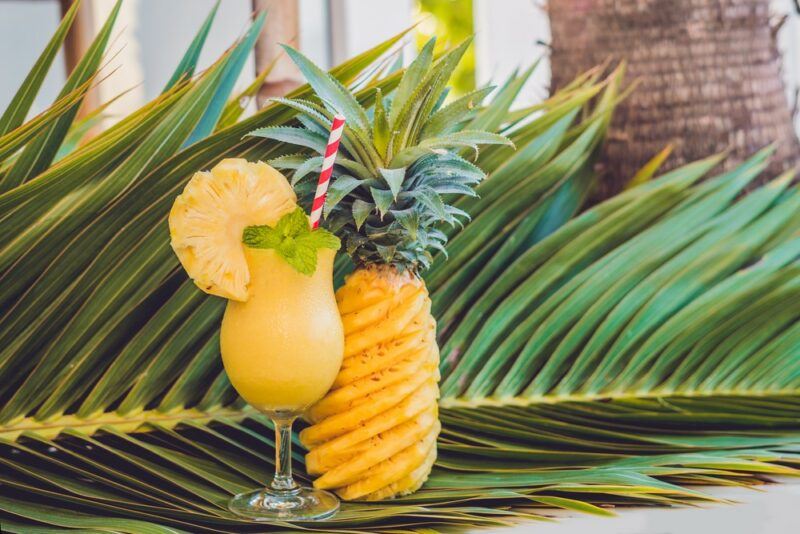 Not surprisingly, this cocktail is a riff on the classic mai tai. The recipe focuses heavily on Thai elements, which includes using Thai coconut milk and a Thai chili pepper.
The spiciness of the pepper is a sharp change from the traditional mai tai recipe, but it could be perfect for lovers of heat.
While this cocktail calls for Thai coconut milk, you could use any other type of coconut milk. The difference isn't that dramatic.
Bananalada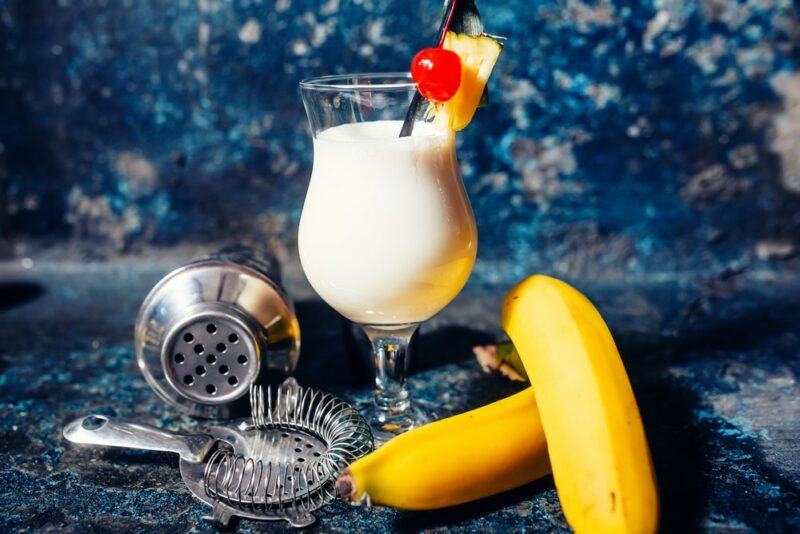 This cocktail includes coconut milk, banana, white rum, and Kahlua, which makes it a little like a smoothie, rather than a regular cocktail. This isn't a bad thing though, as the fruitiness of the banana is an excellent contrast to the rum and Kahlua.
The Kahlua also adds a coffee flavor to the cocktail. That's always a nice touch.
Blue Moon Curacao And Vodka

This cocktail is all about the visuals. It gets the light blue color from the use of blue curacao, while coconut milk makes the drink creamy.
You've also got vodka to raise alcohol content, along with sugar for sweetness and some cardamom seeds.
Coconut Martini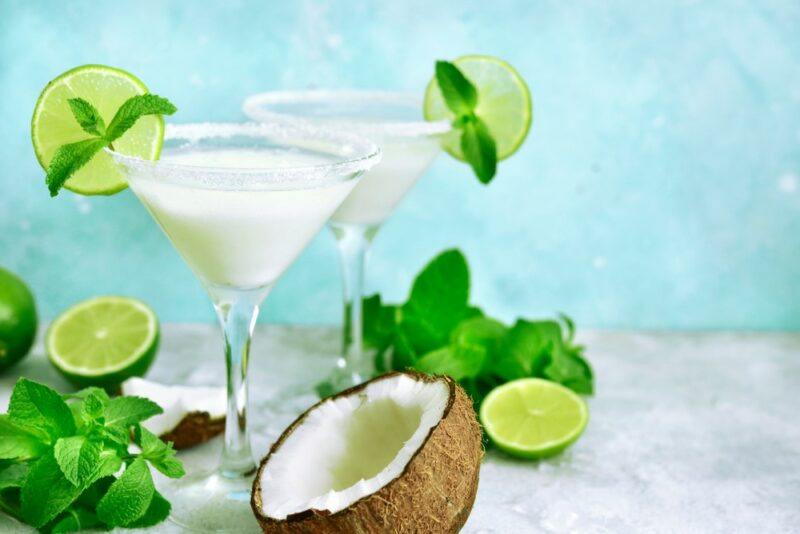 This is simply a coconut cocktail served in a martini glass. There are plenty of recipes to choose from and few of them are martinis in the traditional sense.
Most coconut martinis rely on coconut cream to make the drink as creamy as possible. However, a few focus on coconut milk instead.
One simple recipe combines vodka with coconut syrup and coconut milk. You could also make a version that uses coconut rum rather than vodka.
Coconut Pearl Paloma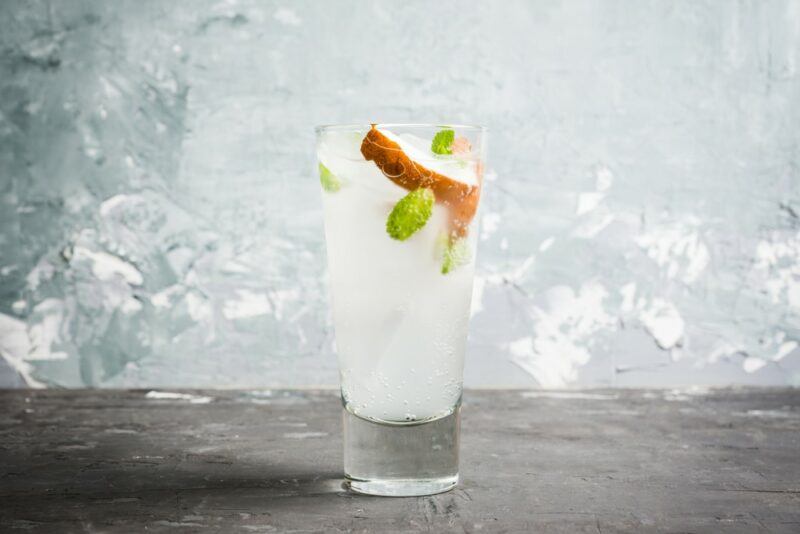 This coconut pearl paloma isn't really a paloma, as it doesn't contain grapefruit juice. However, the cocktail does rely on tequila and lime juice, along with simple syrup and coconut milk.
The most unexpected addition is elderflower liqueur. This adds an interesting nuance to the drink without straying too far from the other flavors.
Roasted Cherry Colada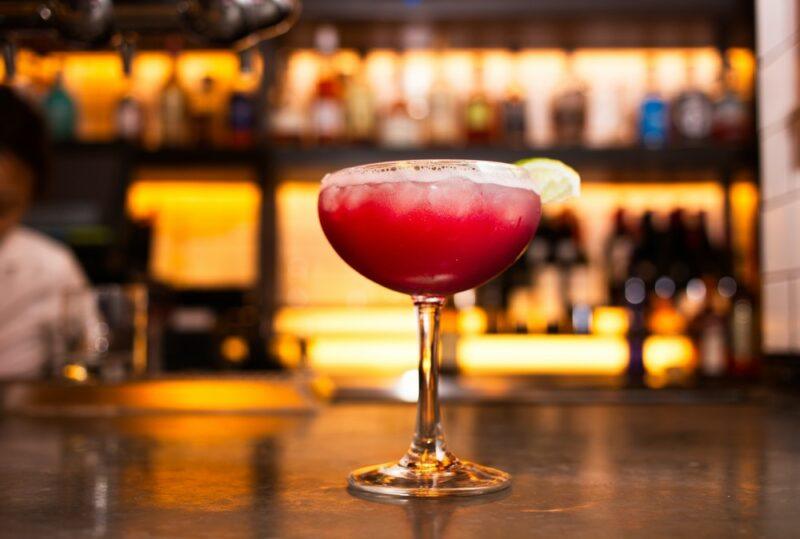 This cocktail is a fun variation for anyone who enjoys a pina colada, but wants something different.
For one thing, you're not using pineapple at all. Roasted cherries dominate the flavor profile instead. The recipe also uses coconut milk rather than coconut cream, making it lighter than a traditional pina colada.
Then there are the spirits. The cocktail relies on two types of rum, plus Everclear. Rather than including Everclear in the cocktail itself, you can use it as part of the garnish – by filling half a cherry with the spirit and then lighting it.
Paloma Milk Punch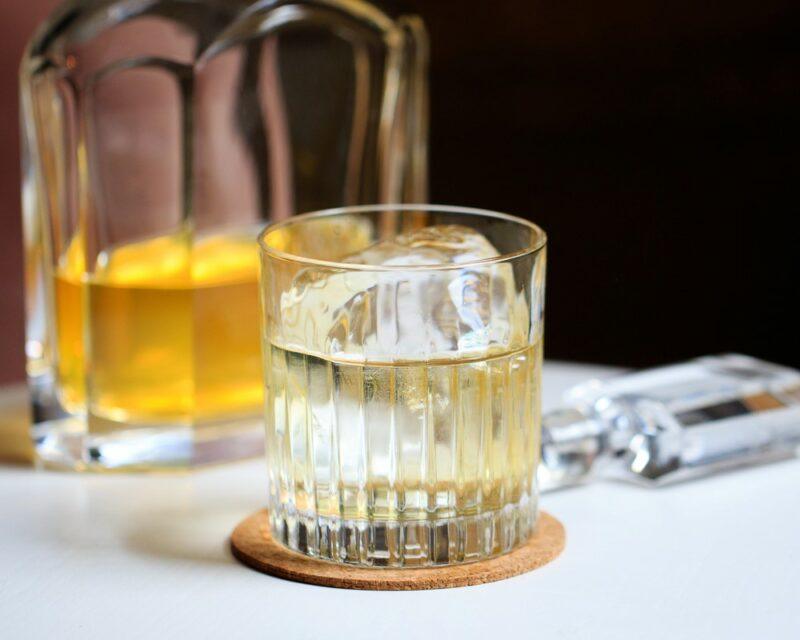 Here's another riff on the paloma that isn't really a paloma at all. Instead, it's a clarified milk punch that relies on coconut milk and a host of other ingredients.
Grapefruit juice is included in the mix, but the flavor doesn't dominate, as there are too many other ingredients. There are even some unusual additions to the recipe, including crème de pamplemousse, chile liqueur, hoja santa and tarrago tea, plus a spice mixture.
With all these ingredients, plus the clarification step, this isn't a fast cocktail to prepare. It's only worth trying if you enjoy a challenge and want to make something truly unique.
Batida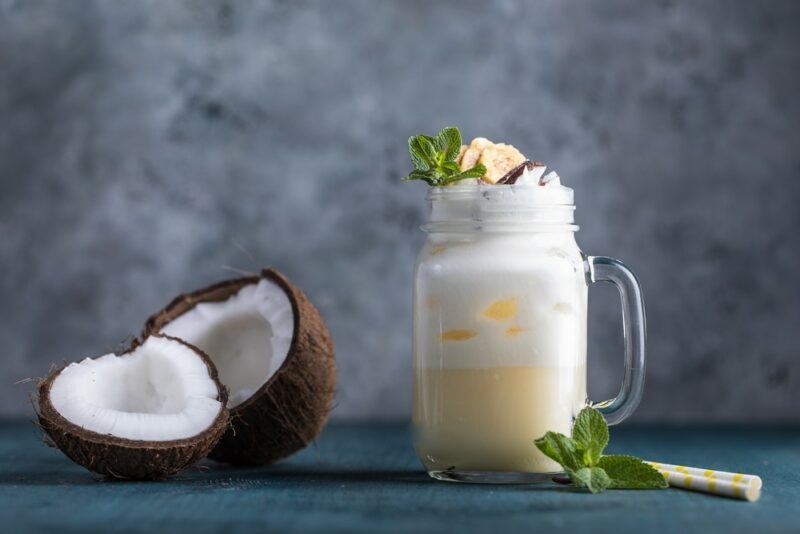 This cocktail is much simpler. It relies on cachaça, passionfruit syrup, lime juice, and coconut milk. The coconut milk and lime juice are familiar additions, while the cachaça and passionfruit syrup are more unusual.
If you don't have cachaça on hand, the cocktail should still taste good with white rum or perhaps even vodka. You'll still get an interesting nuanced flavor from the passionfruit syrup.