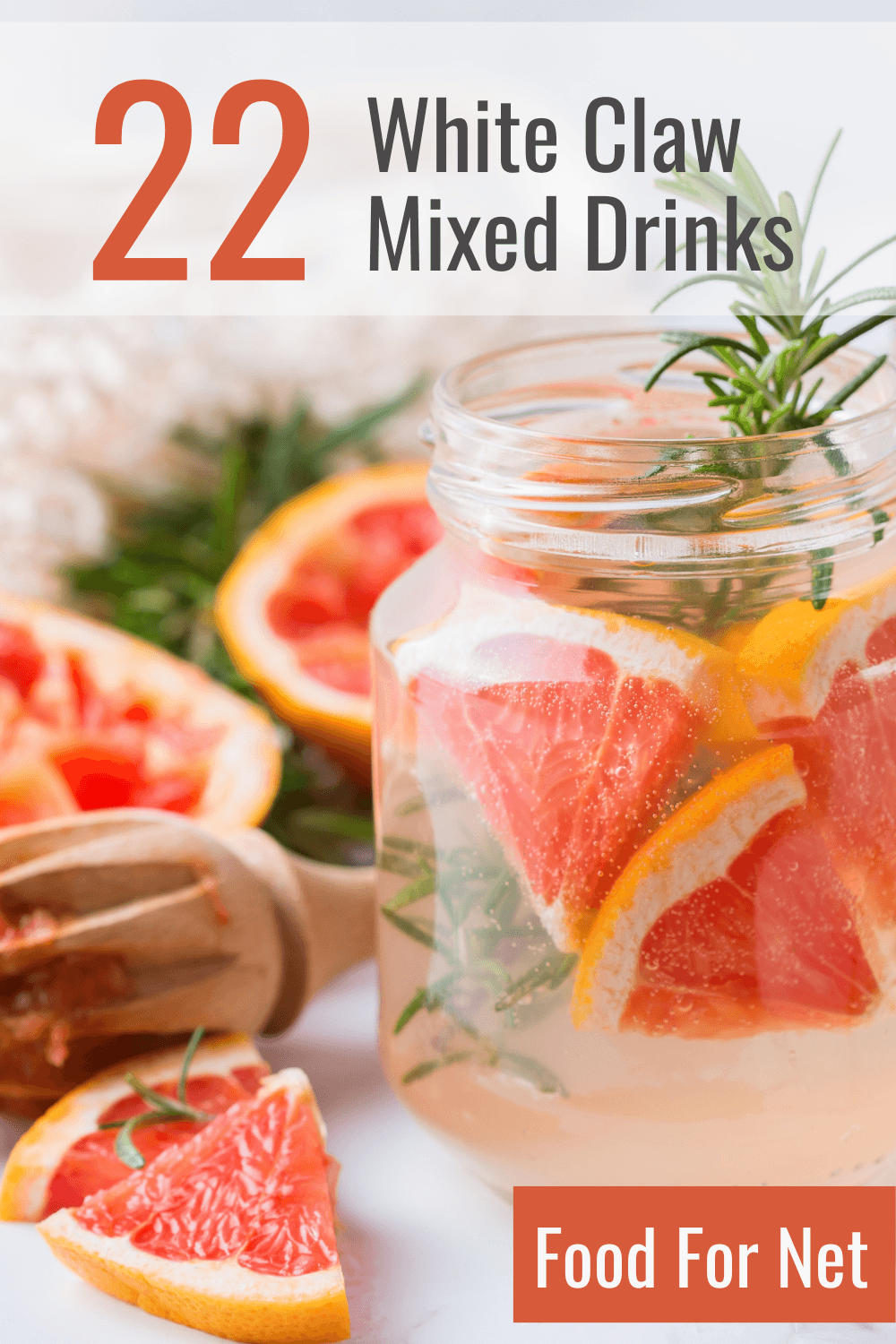 White Claw has produced a huge range of hard seltzer in all types of flavors. The American and Canadian versions come in at somewhere between 5% and 8% alcohol by volume (ABV), while the international versions are just 4.5% ABV. White Claw is one of the newest drink trends to become mainstream, and it's no wonder there are lots of new White Claw mixed drinks being experimented
The low alcohol content and ready to drink nature of White Claw makes the cans perfect on their own, particularly for barbeques, picnics, and afternoons on the beach. But, what about White Claw mixed drinks?
These are actually a much better way to use White Claw (other than drinking it straight from the can). Plus, you end up with more interesting flavors and a stronger cocktail.
The simplest approach is to use the hard seltzer instead of club soda in any cocktail. This trick works well, as long as you match the flavor of your seltzer to your cocktail.
Or, you can experiment with cocktails that have been designed with White Claw in mind. These have an excellent balance of flavors. Some are also quite creative.
White Claw Mixed Drinks (With Pictures!)
Raspberry White Claw Cocktail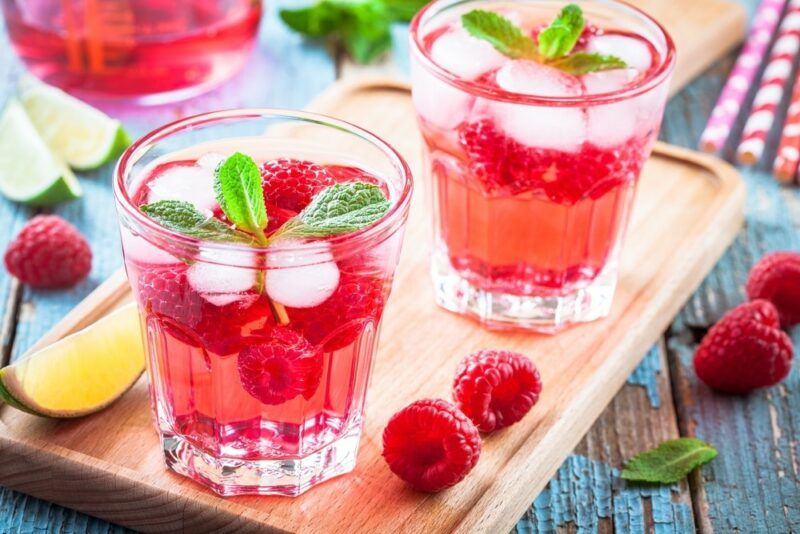 This first cocktail is more complex than most, as the recipe calls for homemade pink drink sugars, plus five ingredients in the cocktail itself.
It should be a very fizzy cocktail, as it relies on lemon-lime soda, as well as raspberry hard seltzer. There's also lime juice and grenadine. These both nicely contrast the flavors of the other ingredients, making the cocktail surprisingly nuanced.
Don't worry if the pink drink sugars sound like too much work. The cocktail is still delicious without them.
Tipsy Mermaid Cocktail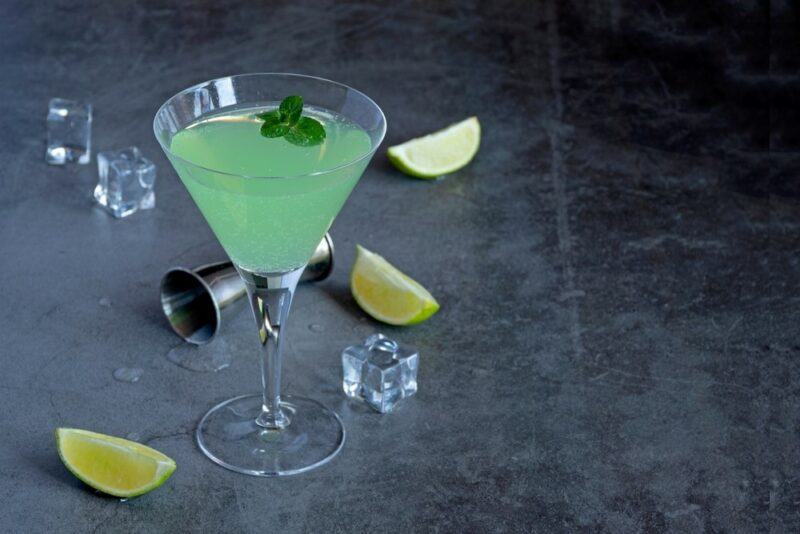 Doesn't this cocktail look amazing? The green color comes from a combination of blue curacao and pineapple juice.
These ingredients, coupled with lime juice and white rum, give you a tropical cocktail. Interestingly, though, the White Claw flavor of choice is watermelon, which isn't a typical tropical flavor at all.
If watermelon doesn't do it for you, feel free to experiment. Any flavors that complement pineapple and lime should do well in this cocktail.
Coconut Lime Slushie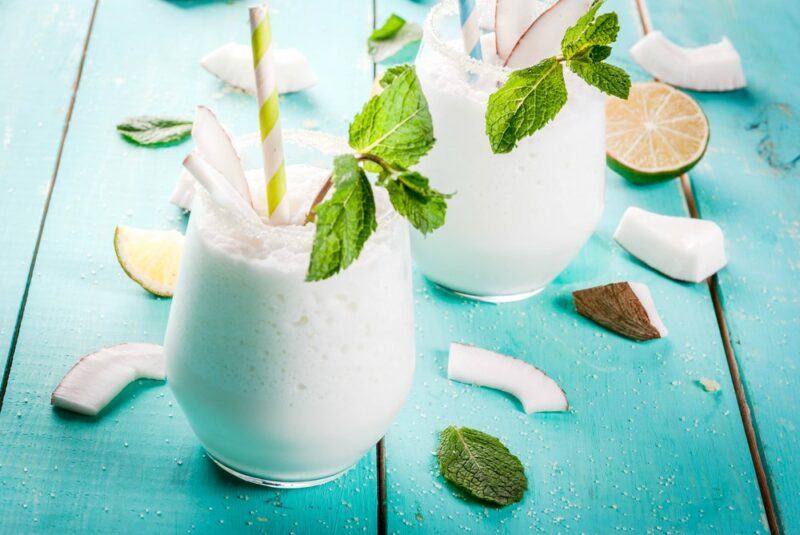 What about making a slushie from your hard seltzer? Slushies are perfect in the summer, helping to cool you down and keep you refreshed.
There are plenty of different flavor combinations to experiment with, like a coconut lime slushie that simply relies on lime hard seltzer, coconut cream, and frozen pineapple. You might need a few ice cubes as well to get the right slushie texture. Frozen strawberries would also work well with lime hard seltzer.
A word of warning, though – you are blending a carbonated drink, which doesn't always go to plan. It may be best to start with just half a can of seltzer, then add the rest in towards the end. This way, you avoid any potential cocktail explosions.
If you want more alcohol, try adding vodka to the slushie. Doing so means you're not changing the flavor much. Of course, rum would be an excellent alternative if you're making a tropical slushie.
White Claw Martini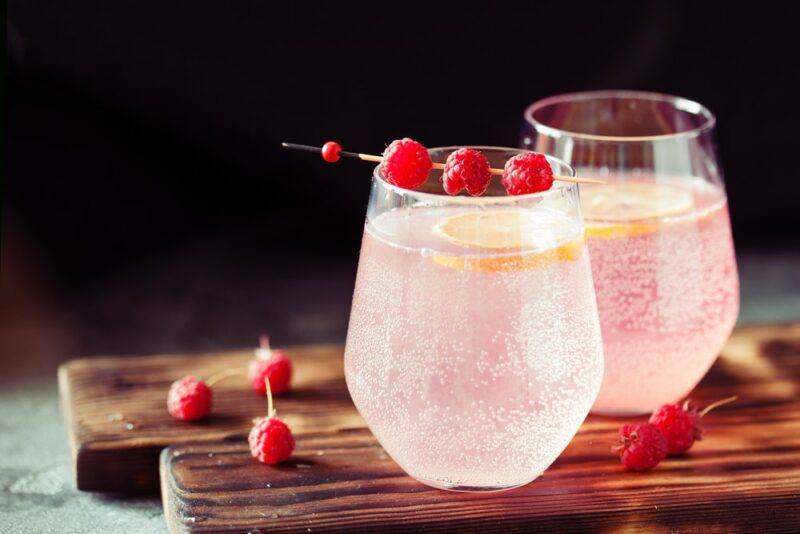 While this cocktail isn't really a martini, it is a fun drink to try. It relies on cranberry juice, vodka, and amaretto, plus White Claw.
One fun thing is that most flavors of White Claw will work well in the cocktail. You can experiment with different options until you find a flavor combination that you love.
Shanghai Mule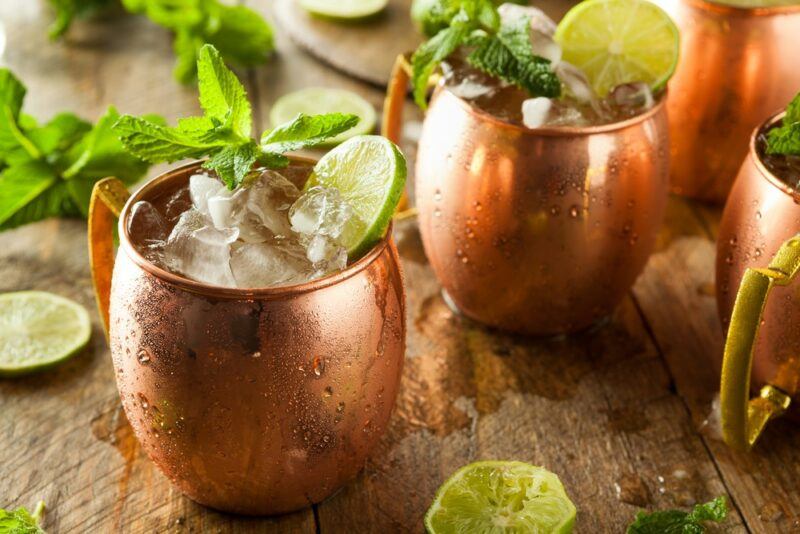 So, a Moscow mule combines vodka with ginger beer and lime. This version is similar but different.
The lime portion comes from lime hard seltzer. That's easy enough. And you're still using vodka (or perhaps lime vodka) as the spirit of choice.
The tricky part is the ginger. Adding ginger beer and hard seltzer would dilute the flavors too much. Ginger liqueur is a much better choice. This still gives you a ginger flavor, but doesn't mess with the rest of your cocktail.
White Claw Margarita Spritzer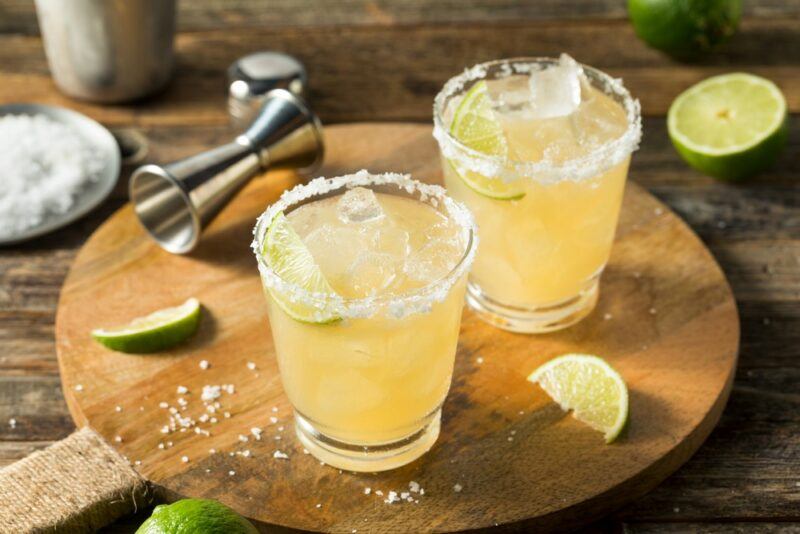 This cocktail really is a riff on the traditional margarita. It still relies on tequila, orange liqueur, and lime juice. The big difference is simply that you're adding White Claw into the mix. Somewhere between half and three quarters of a can should do the trick, depending on your desired flavor intensity.
Lime White Claw is the obvious choice here. This ramps up the lime flavor of your cocktail even further.
If you don't have orange liqueur on hand, you could make this cocktail with freshly squeezed orange juice instead. Doing so changes the flavor and texture of your cocktail, but not in a bad way. You still end up with a delicious drink
Sour Blue Raspberry White Claw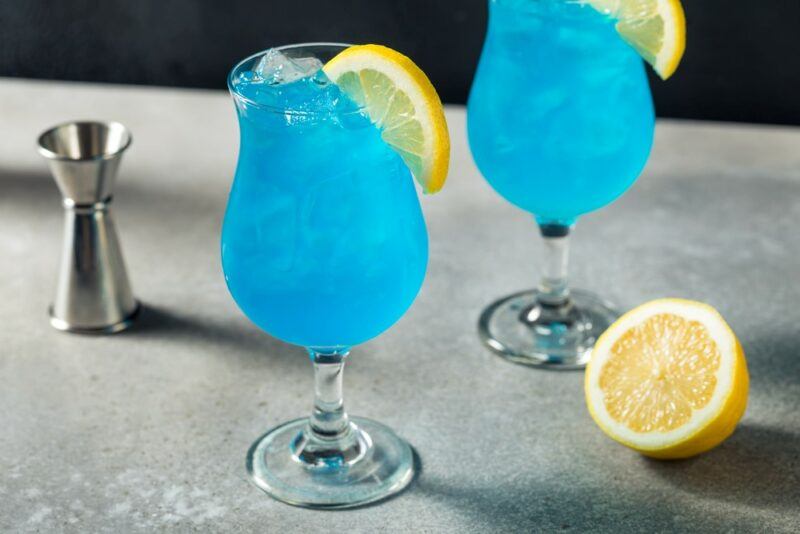 Sour blue raspberry isn't as trendy as it once was, but that doesn't stop this from being a delicious throwback cocktail. To make it, combine blue curacao with rum and lime juice, then top the whole thing up with raspberry White Claw.
The blue curacao is responsible for the blue color of this cocktail. It also provides an orange flavor that complements the raspberries.
Serving this cocktail over ice makes it even more refreshing. You can also use raspberries and lime wedges in the cocktail to highlight the theme even further.
White Claw Paloma

Normally, a paloma is made using grapefruit soda, tequila, and lime juice, or grapefruit juice, soda water, tequila, and lime juice. Both versions are delicious and easy to prepare.
The cocktail is also begging for a White Claw version. The easiest way to do this would be to use White Claw Ruby Grapefruit instead of the grapefruit soda. You might need to add some simple syrup as well, otherwise, the drink could be too tart.
Alternatively, you might use a mix of White Claw and grapefruit juice. This version will give you a stronger grapefruit flavor. You could even mix the grapefruit juice, lime juice, tequila, and simple syrup at the bottom of your glass and pour the soda on top, creating a layered effect.
Strawberry And Mango Slushie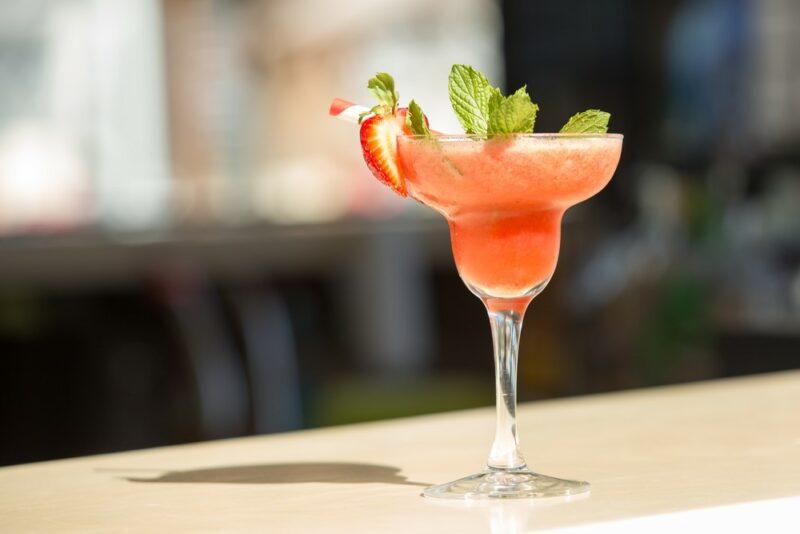 Slushies are always a fun way to use White Claw. This version simply relies on White Claw Mango, plus frozen strawberries, frozen mango pieces, and some ice.
Blend these all together and you get a frozen drink that's perfect for summer. Just be careful with your blender, as blending bubbly drinks can get a bit tricky.
You could make this cocktail with just the White Claw, but why not bump the alcohol content up a bit? Vodka works well – keeping the flavor of your cocktail unchanged. You could also use rum or tequila. These both complement the other flavors in the cocktail.
White Claw Honey Mule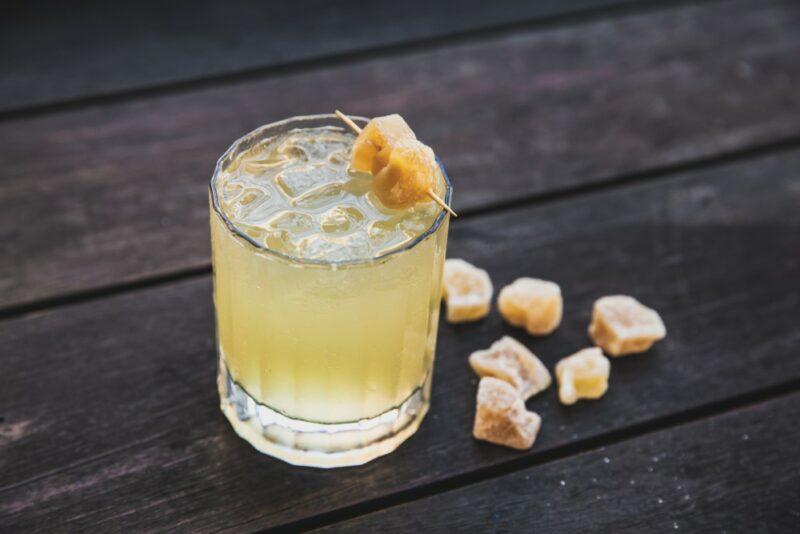 This cocktail reminds me of something you might have for a cold, as it starts with honey ginger syrup. To this, you're adding vodka, fresh lime juice, and lime White Claw.
Preparing the honey ginger syrup involves simmering the ingredients together and them leaving them to steep for half an hour. This might seem like too much work for a White Claw cocktail, but remember that you can use the same syrup in other cocktails and hot drinks too.
White Claw Spicy Margarita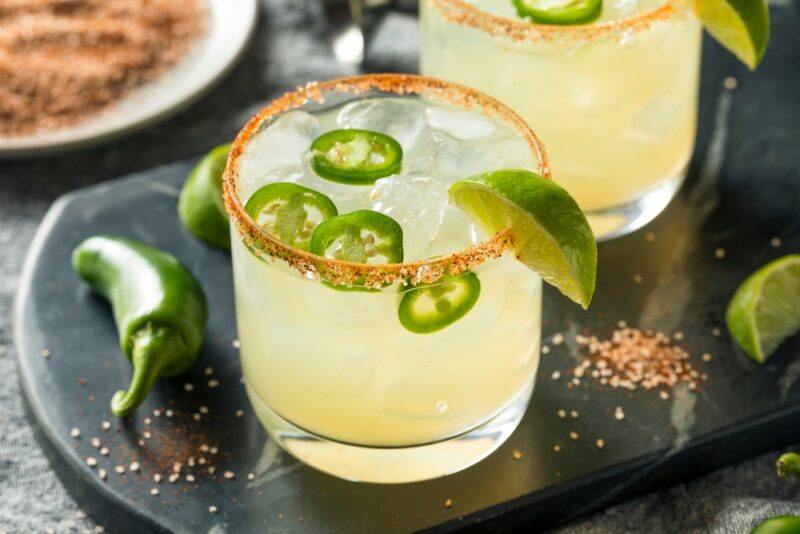 A spicy margarita is ideal when you want your drink to have a bit more kick. You don't need to change much about the traditional recipe either.
For example, you could simply muddle de-seeded jalapenos into your simple syrup before preparing the rest of your cocktail. Another trick is to make a jalapeno simple syrup. Doing so takes a little more time, but gives your cocktail a more consistent and predictable heat.
Either way, the goal is to build your margarita as normal, then top it up with lime White Claw. The White Claw lengthens the drink and gives you plenty of fizz.
You can also take things a step further by adding a flavored rim to the glass. Tajin spice is a popular choice, although smoky salt works well too.
Clover Club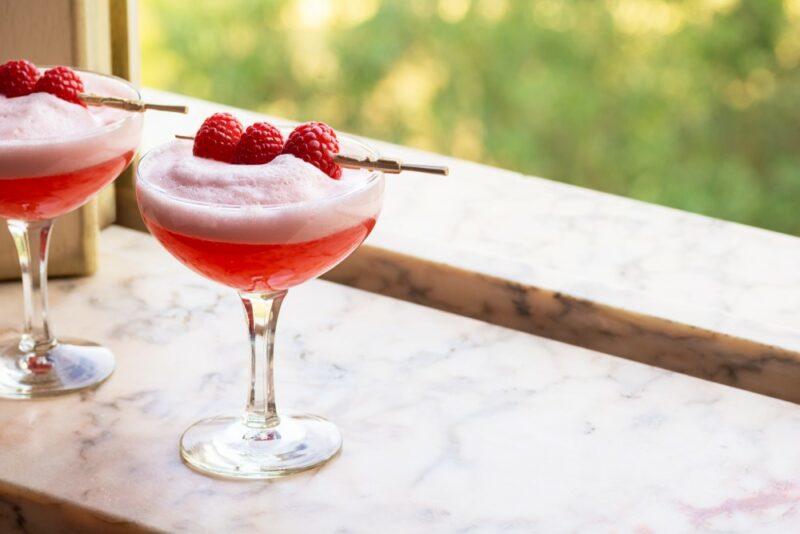 The traditional clover club cocktail can be seen in the image above. It's a variation on the classic sour, as it relies on gin, an egg white, and lemon juice. The difference is that you also use Grenadine or raspberry syrup. This last ingredient gives the drink its color, along with extra flavor and some sweetness.
Making a version with White Claw Raspberry is easy enough. You simply drop the egg white and use regular simple syrup rather than raspberry syrup.
These changes mean you lose the foamy head of a traditional clover club. There's a silver lining, though, as the cocktail is now much easier to prepare.
White Claw Daiquiri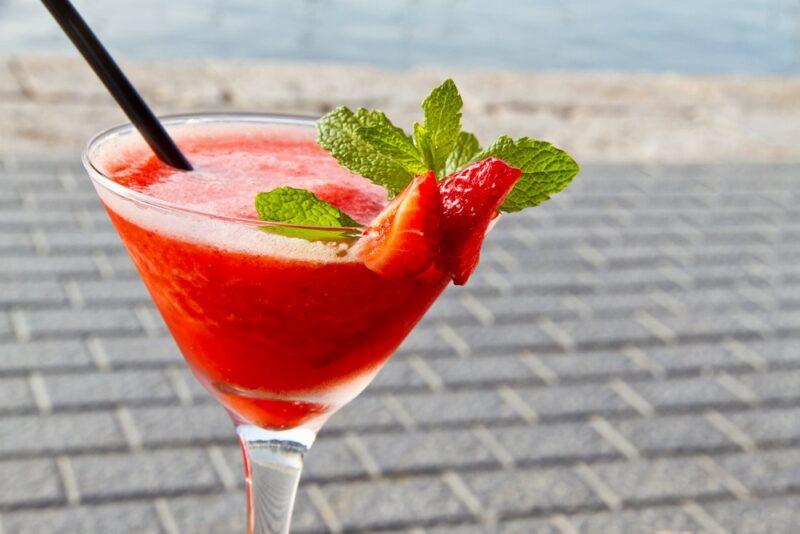 There are plenty of ways to make a daiquiri-like cocktail using White Claw, but this is one of the best. As with a traditional daiquiri, you're including rum, lime juice, and simple syrup.
You're also blending these ingredients with frozen strawberries, which gives you a slushie-like texture. Any other type of frozen berry would work well too. You could even use a frozen berry mix.
Finally, you top the cocktail up with White Claw. Pineapple or lime White Claw complements the other flavors well, but don't be afraid to experiment with other flavors.
White Claw Mango Margarita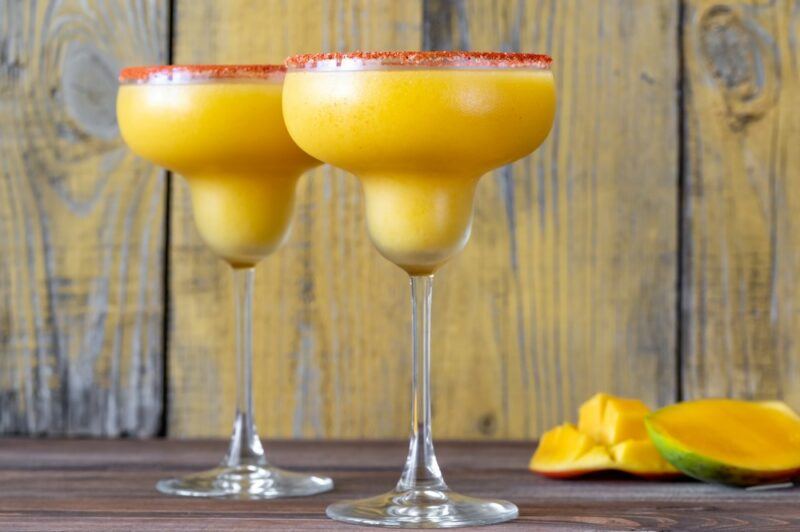 Here's another delicious fruity drink. This time it's a margarita riff, which means you're using tequila as the spirit of choice.
It's another frozen cocktail too. It works particularly well if you use a combination of frozen mango chunks and ice. However, if you get stuck, you could make it with mango nectar or mango pulp and plenty of ice.
Adding some lime juice and lime White Claw into the drink helps to, as lime and mango complement each other well. If you need extra sweetness, you could add some sugar syrup or perhaps honey.
White Claw Pina Colada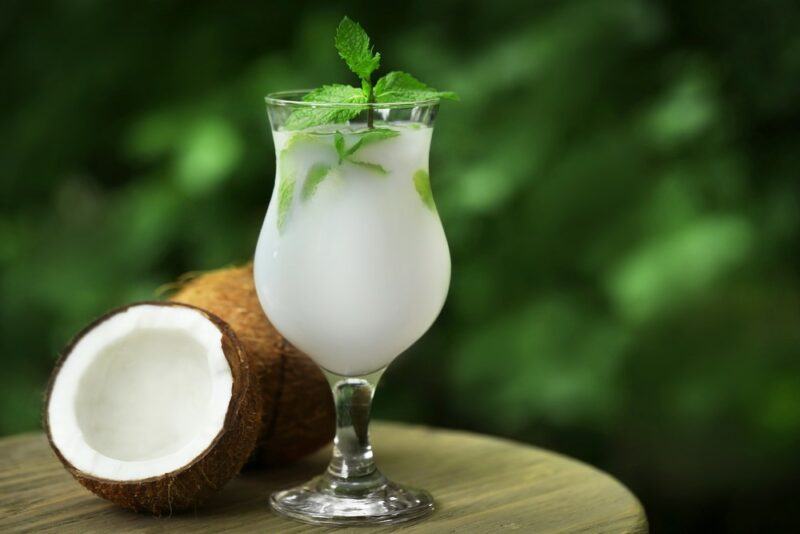 This cocktail is both like and unlike a traditional pina colada. It does have the same flavor profile, with pineapple, lime, and coconut all featuring, along with plenty of rum.
However, you're adding carbonation to the drink, in the form of White Claw Pineapple, which changes the texture. It's also best to use coconut milk or even coconut water rather than coconut cream. As such, this cocktail isn't as rich and creamy as you might expect. Still, it's no less delicious.
Ramos Gin Fizz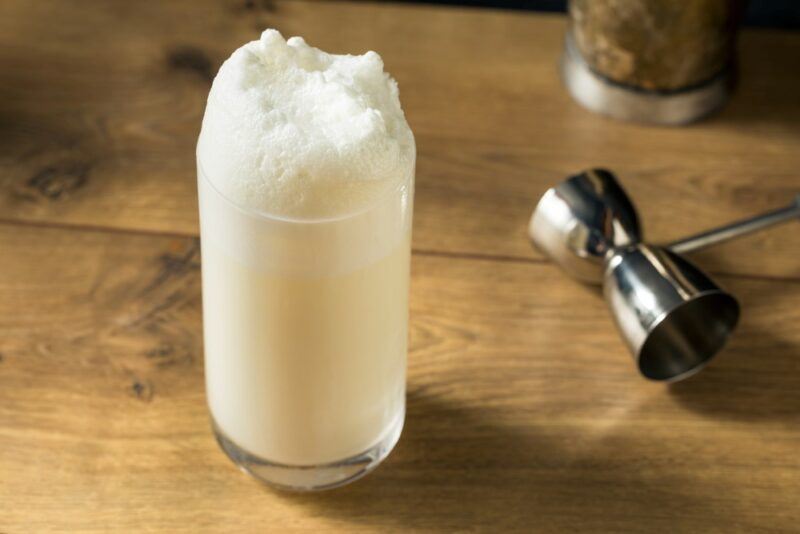 The Ramox gin fizz is a famously difficult cocktail and using White Claw doesn't actually make things easier.
You still need to follow the traditional recipe, which includes more than half a dozen ingredients and a huge amount of shaking. Many experts still say you should shake the drink for between 12 and 15 minutes to get the desired foam.
Building your cocktail precisely or using alternative techniques may cut the shaking time, but you'll need to experiment to get the right results.
The final step of a Ramos gin fizz involves pouring the mixed cocktail and soda water into a glass. For a White Claw version, you simply swap the soda water for a lemon or lime version of White Claw.
Using White Claw actually makes this cocktail better than the original, as sometimes the flavor in the soda water version is a touch too nuanced.
Aperol Spritz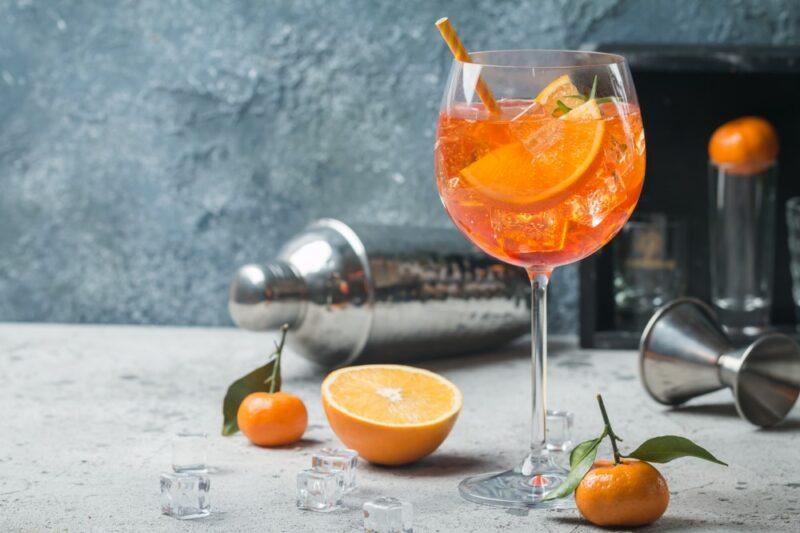 An Aperol spritz traditionally combines prosecco with Aperol and a touch of club soda. The soda adds a bubbly freshness to the drink, while also diluting the flavors a bit.
So, why not use White Claw instead of the soda water? This increases the alcohol content of the cocktail, while adding to the flavor too. Tangerine White Claw can be used here, as it complements the flavor of the Aperol.
Black Cherry Limeade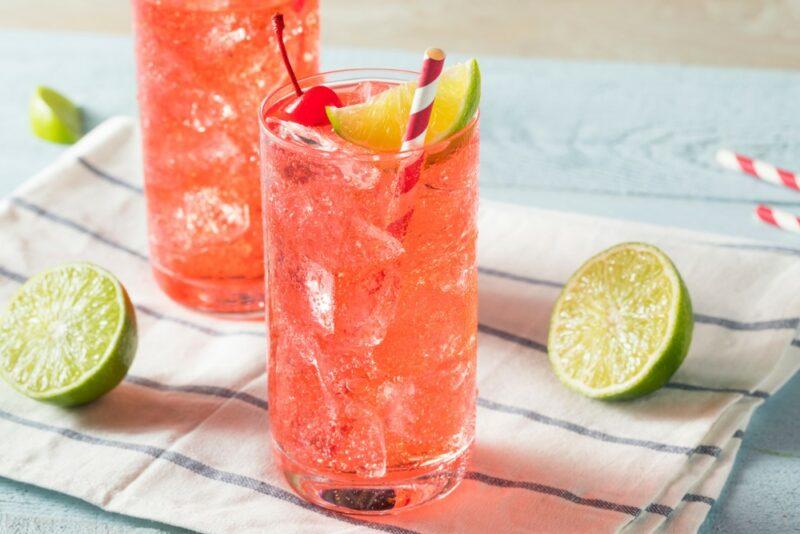 This cocktail is both delicious and simple. All you're doing is combining Black Cherry White Claw with a decent amount of limeade.
The White Claw decreases the intensity of the limeade, while adding an interesting flavor contrast. You could add some cherry juice as well. This gives the drink a red color and elevates the flavor.
Wine Spritzer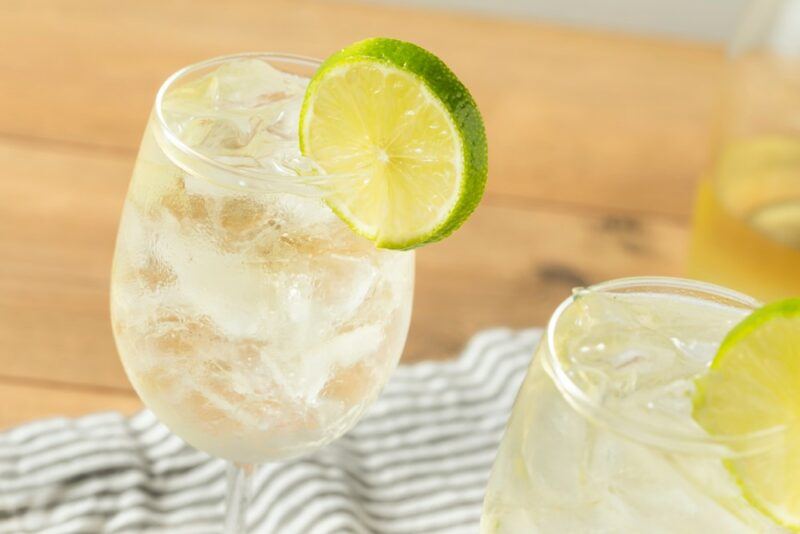 Wine spritzers are as simple as combining wine with soda water. White wine spritzers are the most common, but you can easily make red wine ones as well.
To make a White Claw version, simply replace the soda water with a complementary flavor of White Claw. Doing so increases the alcohol content of your cocktail, while providing an interesting flavor.
The trick is to choose your ratios carefully. Wine should dominate the cocktail, so you'll probably want around 75% wine, then just 25% White Claw. If the White Claw content is higher than this, some of the nuances of your wine may get lost.
White Claw Mojito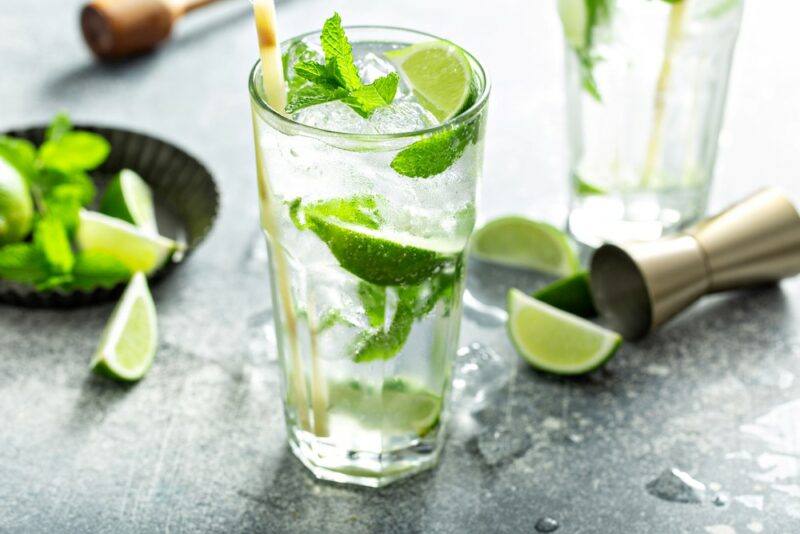 Mojitos are another simple drink that works excellently with White Claw. Normally you make the cocktail with white rum, lime, soda water, and some mint leaves.
So, you just swap the soda water out for Lime White Claw. This adds more lime flavor to the drink. The extra alcohol doesn't go amiss either.
Sangria With White Claw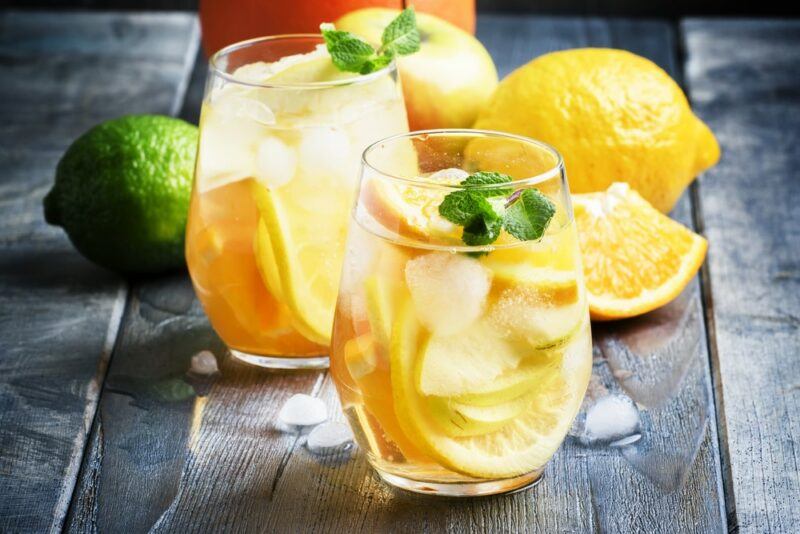 Sangrias often rely on some type of soda to give them fizz. So, why not make them using White Claw instead? You can actually do this for the traditional red sangria or for a white sangria.
You can still pack your sangria full of fresh fruit as well.
The main catch is that White Claw is sold in small cans. So, this works best for making individual drinks, rather than preparing a large party sangria.
Black Cherry Bourbon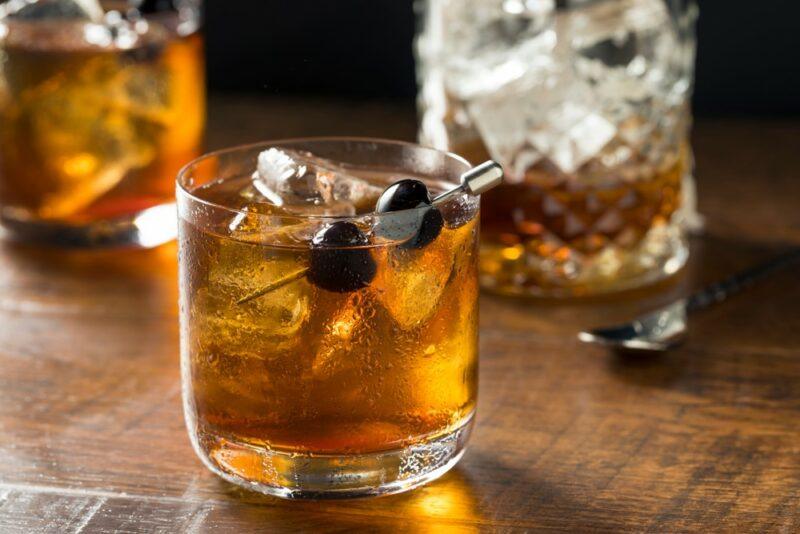 This final cocktail is a bourbon-based one. It combines bourbon with Black Cherry White Claw, which is already an excellent flavor combination.
You could leave it like this. Or, try adding a little lemon juice and simple syrup. This gives you a sweet-sour balance, similar to the classic sour cocktails.