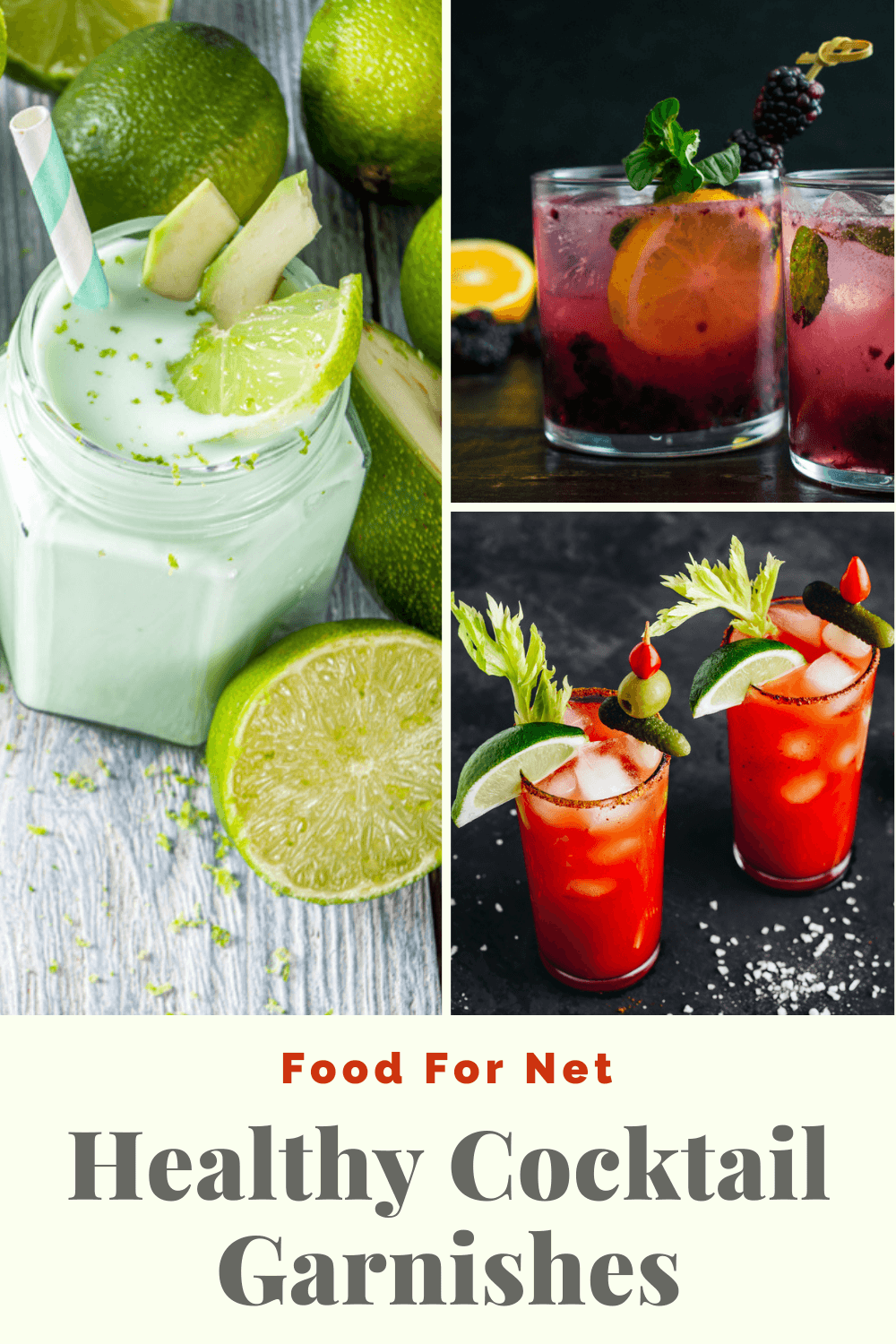 Looking to kick your cocktail up a notch? The answer is all in the garnish. The right garnish is an easy way to make your drink more impressive. There are plenty to choose from too, including common and uncommon styles. We can't ever hope to cover all the garnishes in a single list, so today we're simply focusing on healthy cocktail garnishes.
A healthy garnish isn't going to offset the damage done by a night of heavy drinking, but these garnishes are still much better than anything sugar-laden. Besides, most healthy garnishes will be savory and a savory garnish will easily complement many cocktails.
If you want inspiration for cocktails to go with these garnishes, we have plenty of cocktail lists on this site, including colorful cocktails and three-ingredient cocktails. You could even join a cocktail of the month club to try your hand at new cocktails.
Healthy Cocktail Garnishes
Olives
Pickled Onion
Citrus Wedges
Citrus Slices
Citrus Twists
Edible Flowers
Cherries
Berries
Watermelon Slices
Fruit Shapes
Melon Balls
Cucumber
Herbs As Skewers
Herbs On Their Own
Cinnamon Sticks
Other Fruits
Celery
Carrot Sticks
Spice Sachet
Herb And Fruit Skewers
Avocado
Pickles
Peppers
Pineapple Leaves
Apple Slices
Shrimp
Granular Rims
Olives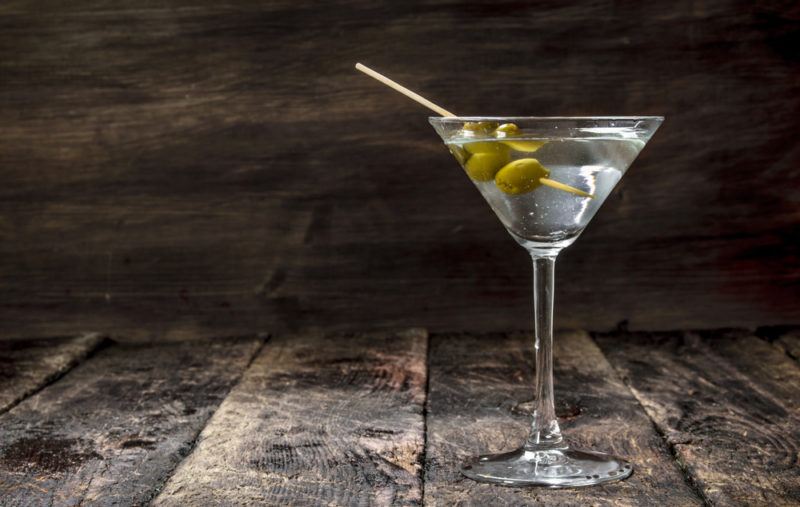 An olive is the classic martini garnish. Most martinis will be served with three olives on a cocktail stick. Tradition dictates that one olive is eaten early on, while the other two are enjoyed after most of the cocktail has been consumed.
Olives are exceptional in a martini because they soak up the flavors from your vermouth and gin. This gives the olives a distinctive flavor.
Almost any type of olive can be used in a martini, including olives stuffed with garlic or onion. Stuffed olives add some flavor to your cocktail, giving it a complexity it wouldn't have had otherwise.
And, of course, olives are well known for being healthy, providing you with plenty of polyphenols, which act as antioxidants. These compounds one reason why olive oil is so popular.
While olives are mostly used for martinis, you can garnish other drinks with an olive too, including a Manhattan or a Rob Roy.
Pickled Onion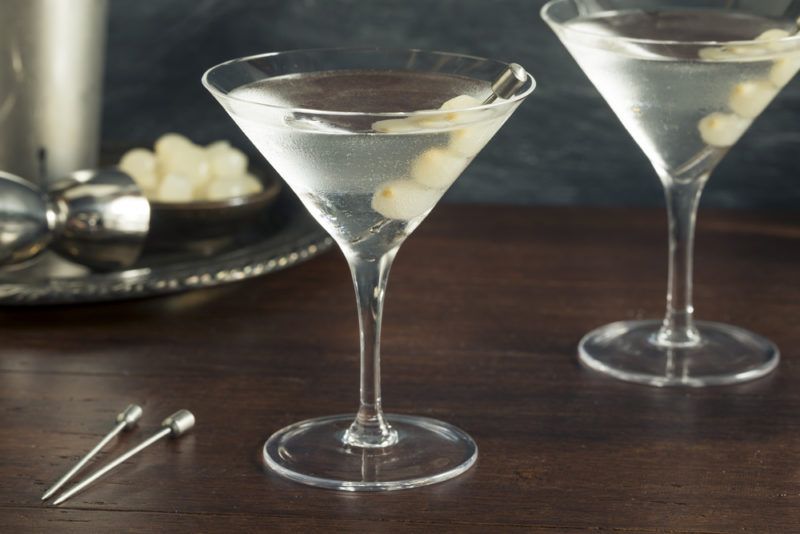 If you're using a pickled onion as a cocktail garnish, then a small pearl onion is the most common choice. However, you could also use a small red or yellow sweet onion.
Either way, the Gibson cocktail is the most famous drink that uses a cocktail onion.
This cocktail is literally just a martini, except that it is garnished using a cocktail onion instead of an olive. The onion is thought to have once been a signal that the martini is on the dry side. However, dry martinis are now popular enough that the signal isn't relevant at all.
Regardless of the Gibson's history, a pickled onion is a healthy garnish that might even provide some probiotics. You could try the same garnish with other cocktails too, just to change things up a bit.
Citrus Wedges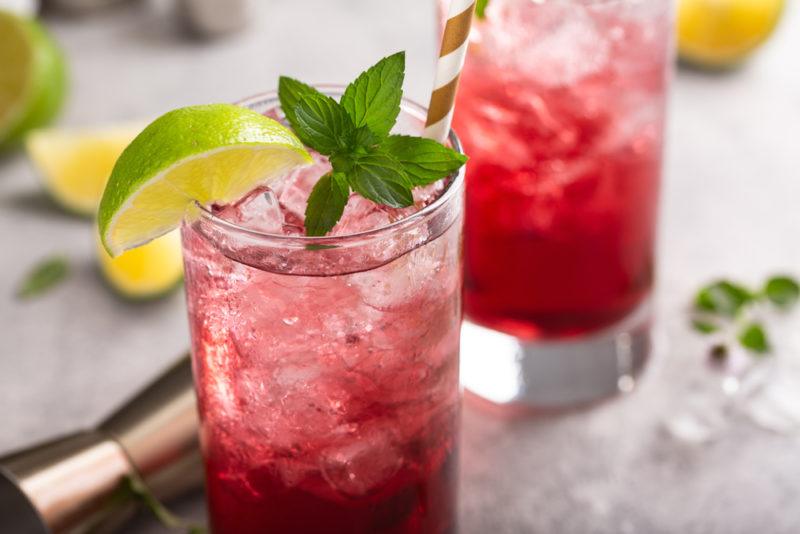 Whether they be lemon, lime, or orange, wedges of citrus fruit are a common garnish. They work well with almost any type of cocktail, especially if there are some sweet ingredients in the mix.
It's best to leave some rind on your citrus when you cut the wedge. This helps to hold it together and has a fantastic vibrant color.
Citrus Slices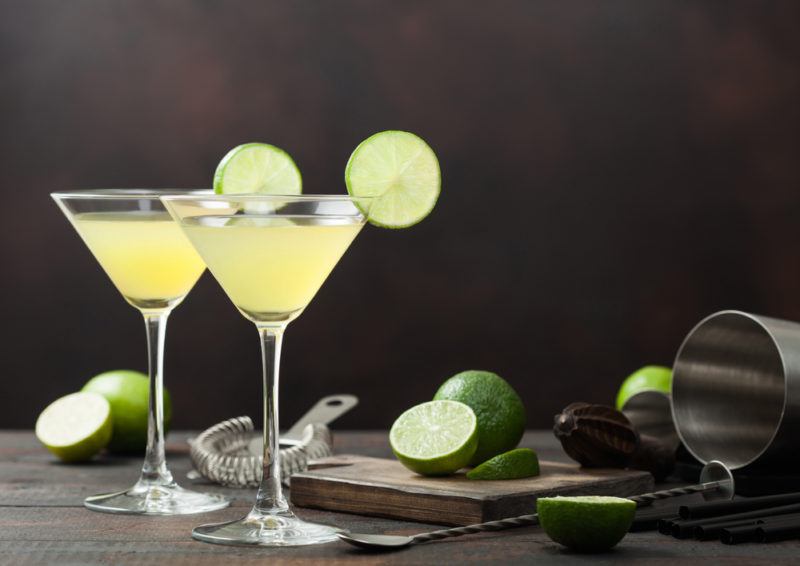 You can also make garnishes out of a citrus slice. These are trickier than citrus wedges, as you're dealing with a thin piece of fruit that can easily fall off the rim of your glass.
Still, thin slices of citrus look amazing in your drink too and add a little extra flavor. So, if you can't make the citrus slice sit how you want it to on the rim, you can simply throw it in the drink instead.
Citrus Twists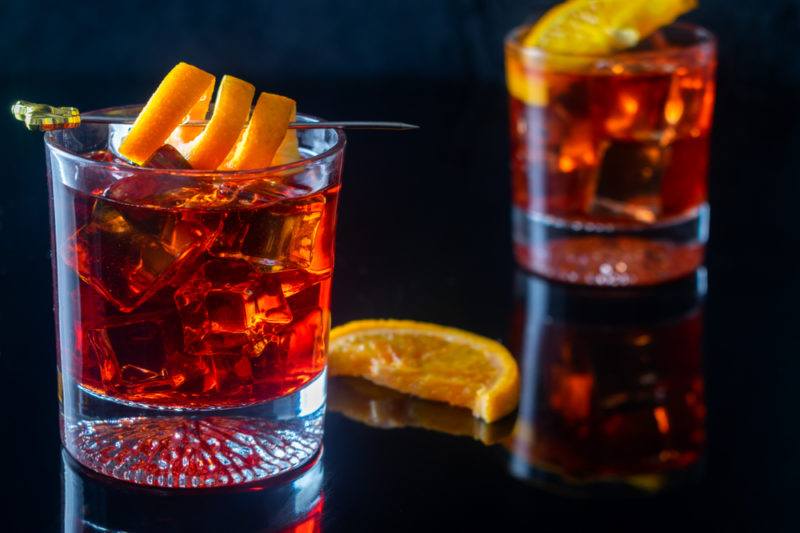 It would be remiss to miss out citrus twists. They are, after all, one of the most popular drink garnishes. They provide a little flavor from the citrus, especially if the bartender runs them over the rim or squeezes the twist gently to release some of the oil.
If you're making these yourself, be careful to avoid as much of the white pith as possible. The pith has a bitter flavor and won't complement your cocktail at all.
In one sense, citrus twists aren't as healthy as slices or wedges, as there is no flesh of the fruit for the cocktail drinker to eat. Still, the garnish doesn't add many calories either, so it still has distinct advantages.
You can make more complex garnishes using citrus peel too, such as a twirl of citrus, a heart, a fan, or even a rosette. The flavor of your garnish is roughly the same either way, but an unusual citrus skin garnish can make the drink stand out.
Edible Flowers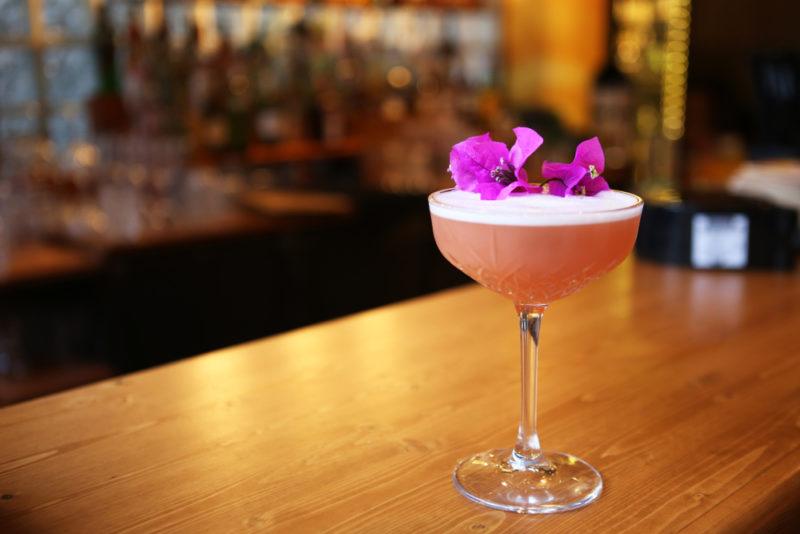 Whether they're on the drink, in the drink, or on the side, edible flowers always look fantastic. There are plenty of amazing ones to choose from, including marigolds, chamomile, and violets. Many of these are colorful, giving you the chance to match the color of your flower to your drink.
Edible flowers have another advantage too – most of them are almost flavorless. This means that you can use them with whatever drink you like. There shouldn't be any clashing flavors.
Still, you should be certain that the flower you're using is edible and that it hasn't been contaminated with any sprays or pests.
Cherries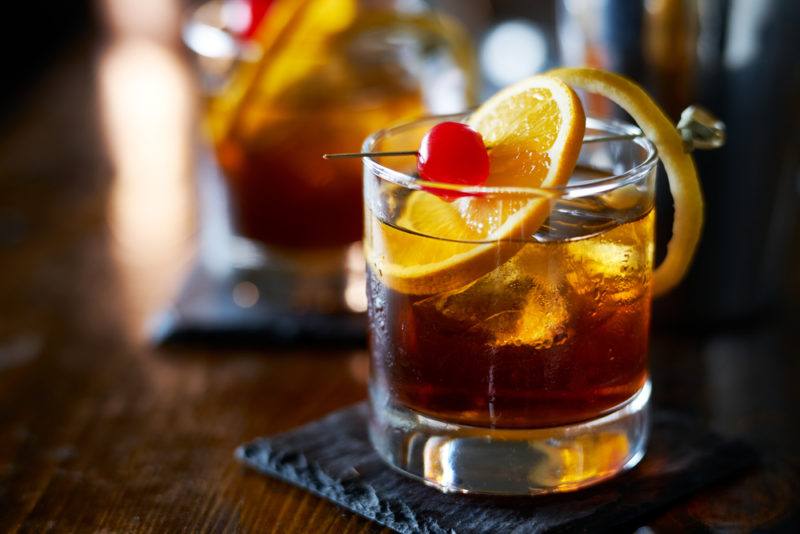 Maraschino cherries are another popular cocktail garnish. The name comes from how the cherries were originally soaked in maraschino liqueur.
The process is different these days, as production of the cherries often relies on brine, sugar syrup, and red dye. Such modern maraschino cherries aren't that good for you, although you might still get some healthy compounds from the cherries. Thankfully, you can order Italian-style maraschino cherries online or make a healthier version at home.
But, if you're looking for a healthy garnish, why not stick to regular cherries? These are juicy and bursting with flavor when they're fresh.
Berries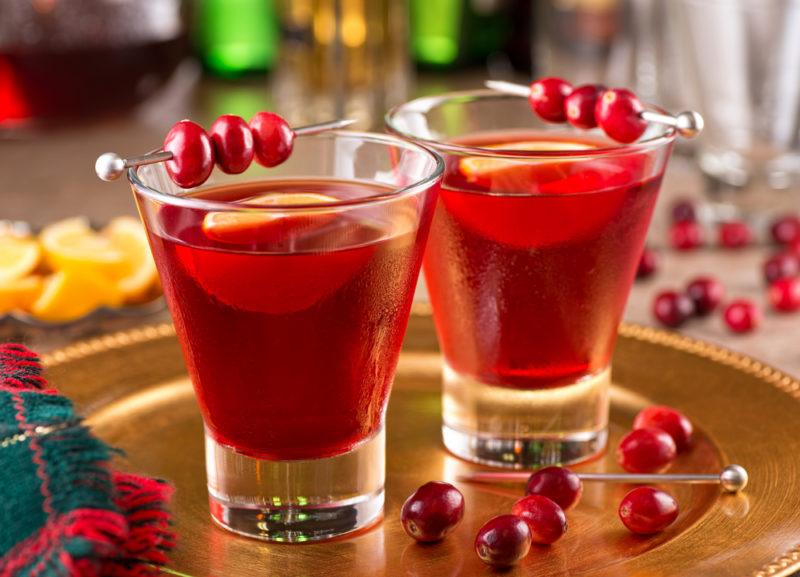 Using berries as a cocktail garnish couldn't be simpler. You just need to thread a few berries onto the cocktail stick.
Berries are fantastic, as they'll quickly soak up the flavors of your drink. The vibrant color and flavor of raspberries make them one of the best choices. You'll need to focus on firm ones though. Avoid overripe ones, as they won't stay put on the skewer.
More robust berries, like cranberries and blueberries can be much easier to handle.
You don't need to stop there either. You could easily garnish with a more unusual type of berry, even one that you foraged yourself.
Watermelon Slices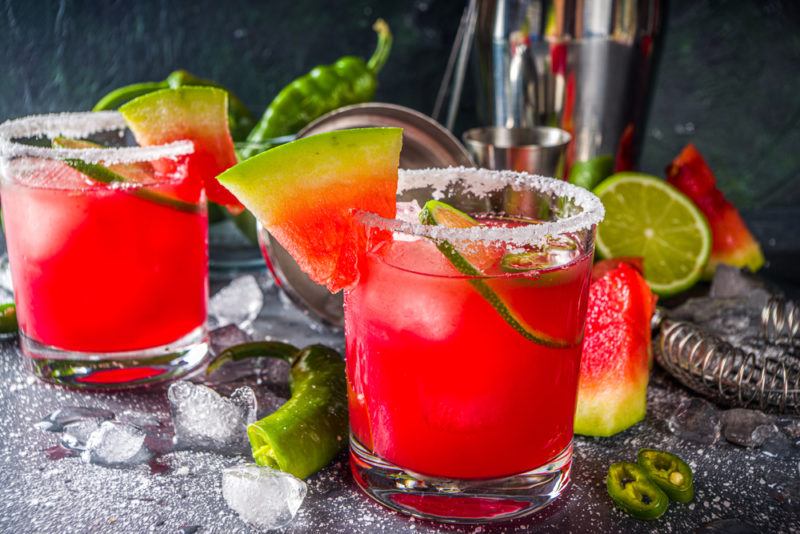 Most types of fruit will work well enough as a cocktail garnish and watermelon slices are just exceptional. They're perfect in summer cocktails, as watermelon is very refreshing. It mostly consists of water, after all, and isn't too sweet.
You could use a wedge of watermelon on the rim of a glass. Doing so may take some practice, as the watermelon has very soft flesh, so it might not stay in place well.
Another trick is to use a few small pieces of watermelon on a cocktail pick. You can fan these out to create a pretty garnish that takes almost no effort to make.
Why not take this garnish a step further by dipping the watermelon in flavored salt? Chili salt can be stunning here, as you get a fun sweet-tart flavor contrast.
Fruit Shapes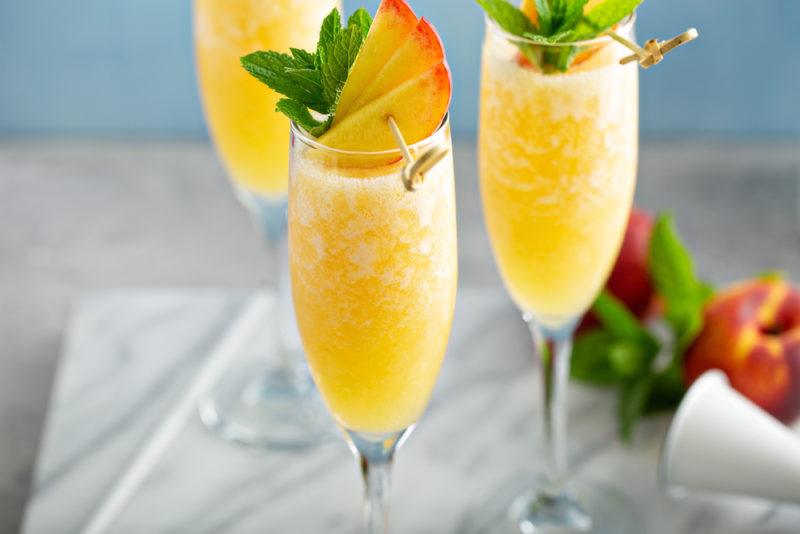 If you don't mind a little effort, you can make some pretty garnishes from sliced fruit.
Plum petals are a good place to begin. You just need to slice pieces of plum very thin, stick a toothpick through them, and fan them out like a leaf. You could do something similar with another type of firm-fleshed fruit too.
A peach rosette is another fun style. You're slicing the fruit ultra-thin here too, but this time you're lining these up so they overlap and then rolling them to create a rosette.
Melon Balls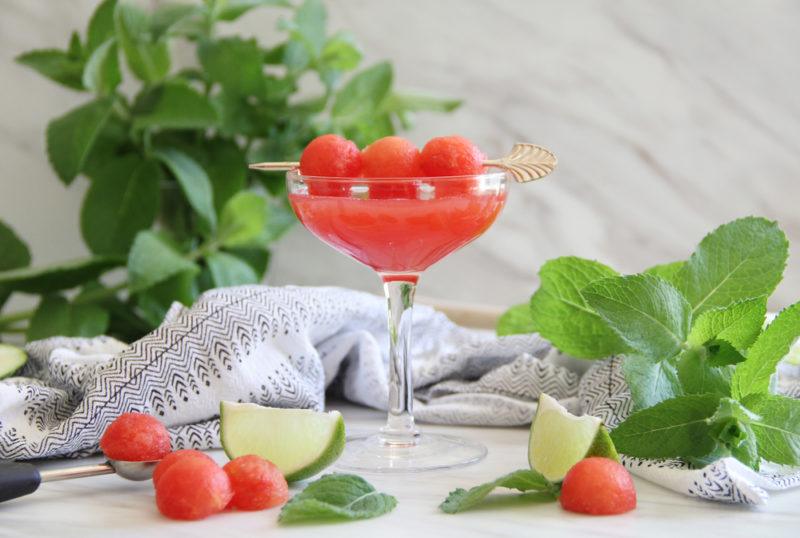 Whether you're using cantaloupe, watermelon, or honeydew, melon balls are always delicious and refreshing. They're an easy cocktail garnish too. Simply thread a few of them onto a cocktail pick.
You could focus on a single type of melon or alternate between multiple options. For example, watermelon and honeydew balls could be ideal for Christmas, giving you a red and green color contrast.
Cucumber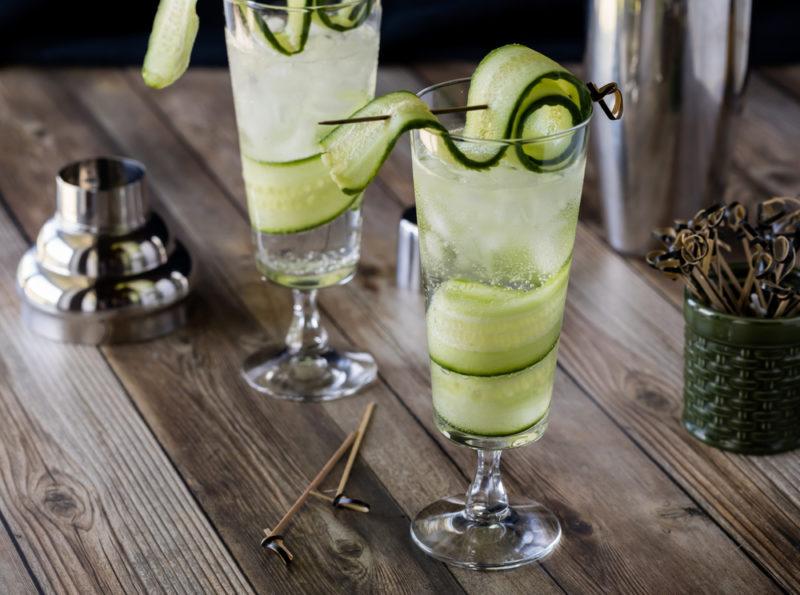 Cucumber is another refreshing choice. It adds an interesting flavor to your drink, one that is perfect with many summer cocktails and gin cocktails.
The vegetable isn't hard to work with either. You can easily create thin strips of cucumber and use these to create fun garnishes, including a cucumber flower. Even just a large flat ribbon of cucumber looks exceptional in your drink and adds plenty of flavor.
Herbs As Skewers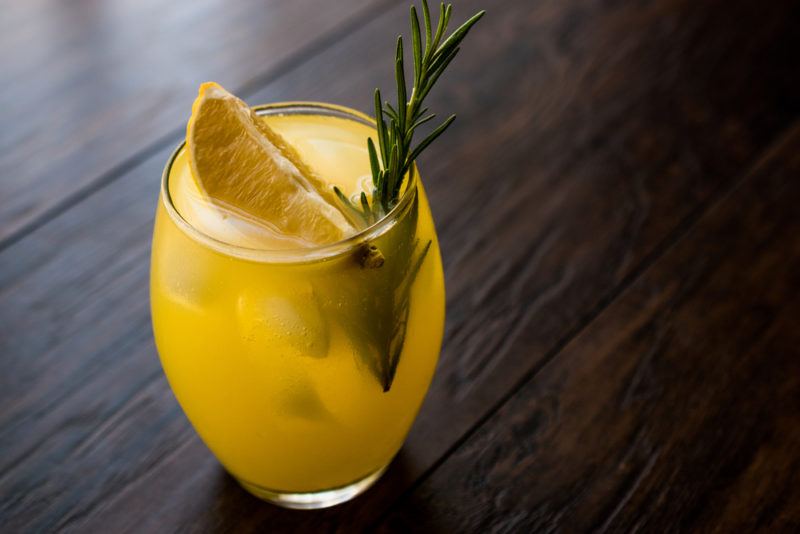 Cocktail picks aren't just reserved for fruit and olives. You can also thread herbs on them to create a fascinating garnish. Herbs that work well in cocktails include mint, lavender, thyme, cilantro, basil, and rosemary.
As with flowers, make sure that any herbs you use are edible, free from pesticides, and clean.
Herbs On Their Own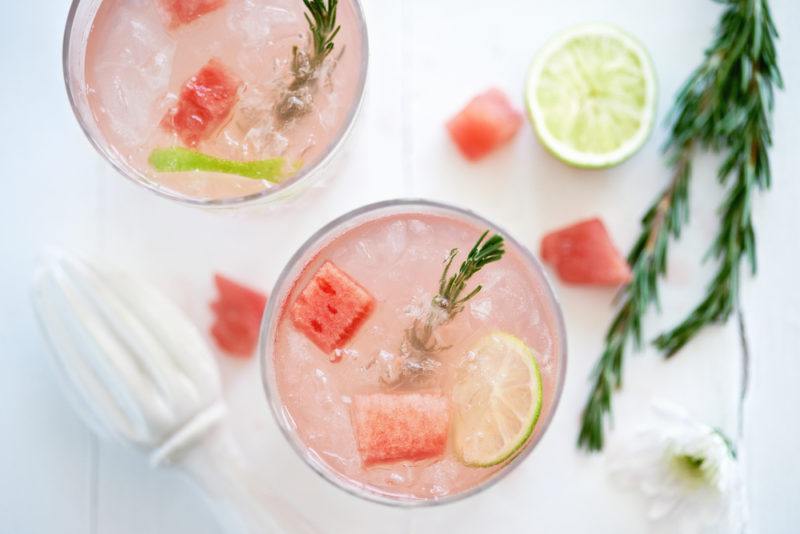 Some herbs don't even need a skewer. You can simply include a sprig of the herb in the cocktail as a garnish. Rosemary is a classic example here.
The herb doesn't just look stunning in the glass either. It also provides an interesting flavor to the cocktail. A sprig of mint is another popular choice that doesn't need a cocktail pick.
Cinnamon Sticks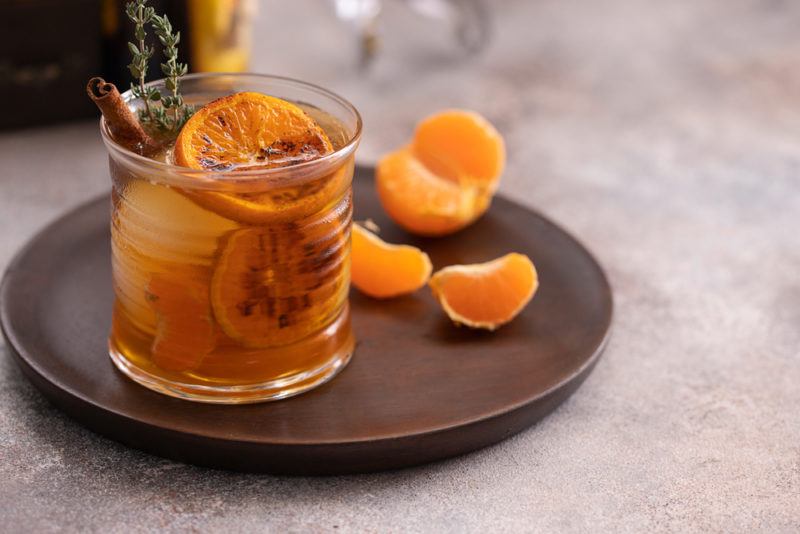 Cinnamon sticks are the perfect choice in a winter warmer cocktail, like mulled wine or a hot toddy. You can use them in other types of cocktails too, like the example pictured.
In this case, the cinnamon helps to contrast the flavor of the drink. Cinnamon happens to be an easy garnish choice as it is already a stick.
If you can, look for Ceylon cinnamon. This is higher quality than the more common cassia cinnamon. Ceylon cinnamon looks better too, as the cinnamon sticks have many soft layers. These might bring more flavor to your drink than you would get from cassia cinnamon.
Other Fruits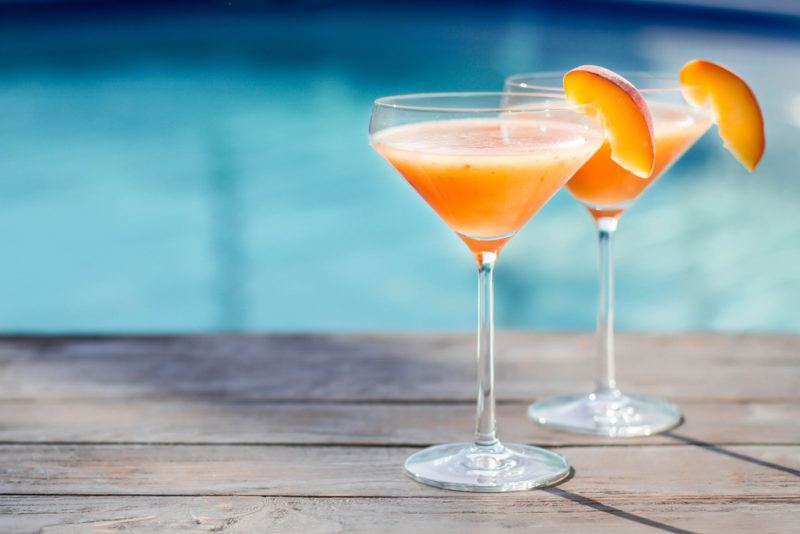 We've mentioned a few types of fruit already. In the end, any fruit that sits well on the rim of a glass will work as a garnish. The main trick is to try and match the color or the flavor of your garnish with the cocktail you're making.
For example, the image shows a peaches cocktail, garnished with a peach slice. Peaches are often firm fleshed, which makes them an easy fruit to use as a garnish.
If the fruit doesn't sit on the rim, you could try simply floating it on top of the drink. Passion fruit seeds are a fun choice here, as they float without a problem. I've even seen half a passion fruit being floated on top of a cocktail. How's that for impressive?
Pomegranate arils often float in a similar way, making them another exciting choice.
Celery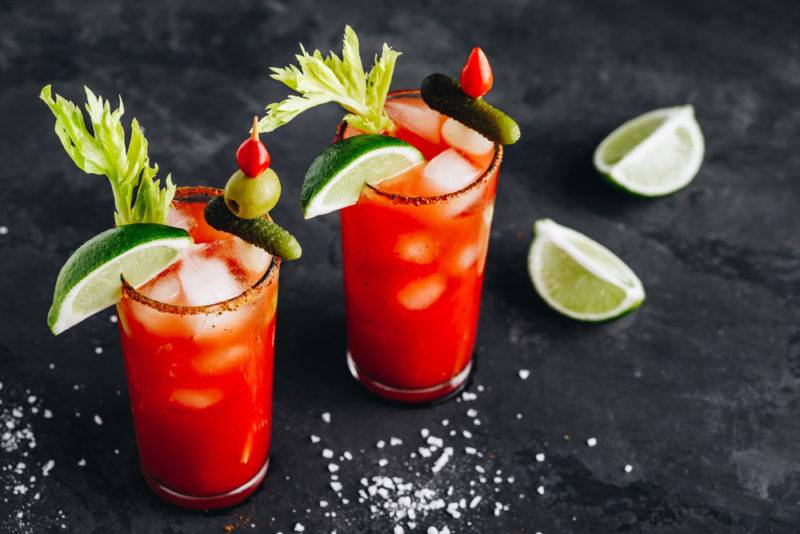 You'll normally find celery as a garnish in tomato cocktails, including the infamous bloody Mary. The vegetable is crisp and refreshing, so it's also a interesting choice for summertime cocktails.
Celery happens to be one of the easiest garnishes. You just need to cut the appropriate size and place it in your drink. Leave a little sticking out of the top. Then you're good to go.
Carrot Sticks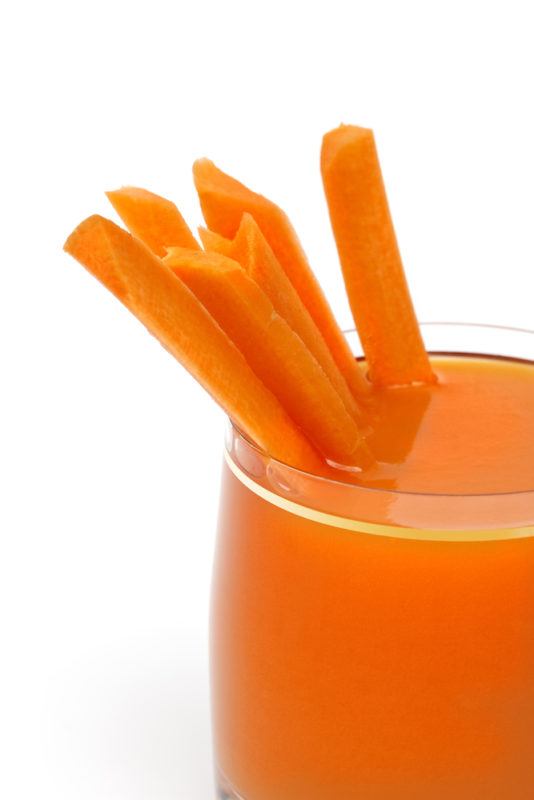 While they're not so common, carrot sticks are an excellent garnish in the same situations where you'd use celery. Try serving carrot sticks with a bloody Mary or another savory cocktail.
The bright orange color of the carrots makes them particularly appealing. Besides, it's quite fun to serve something different.
You could take this idea a step further and create pretty garnishes using carrots, like thin curled carrot strands.
Spice Sachet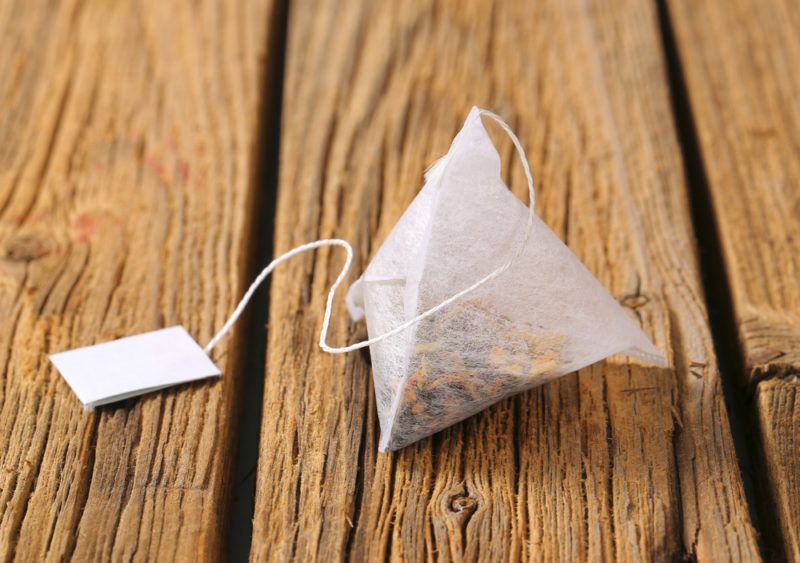 If you want to be really creative, you could create a small sachet of spices (much like a tea bag) and use this as a garnish. The person drinking the cocktail could choose whether to dunk the spices into the drink or not.
This approach is best with hot cocktails, like mulled wine or a hot toddy.
Herb And Fruit Skewers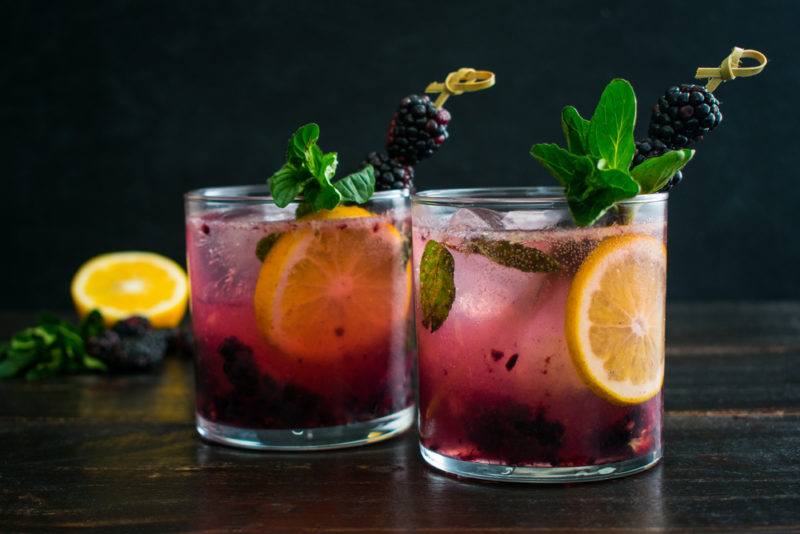 You don't need to stick to a single ingredient on your cocktail pick. Some of the best garnishes use two or more ingredients.
Pairing one type of herb and one fruit works exceptionally well here, such as a cocktail pick with rosemary sprigs and some type of berry. This combination could be exceptional in a bramble cocktail.
You could try using multiple pieces of rosemary and multiple blackberries, then alternate them on the skewers.
Another trick is to take an herb skewer and stick it through a piece of fruit. This looks fantastic. Some fruits even float, making the garnish look that much better.
Avocado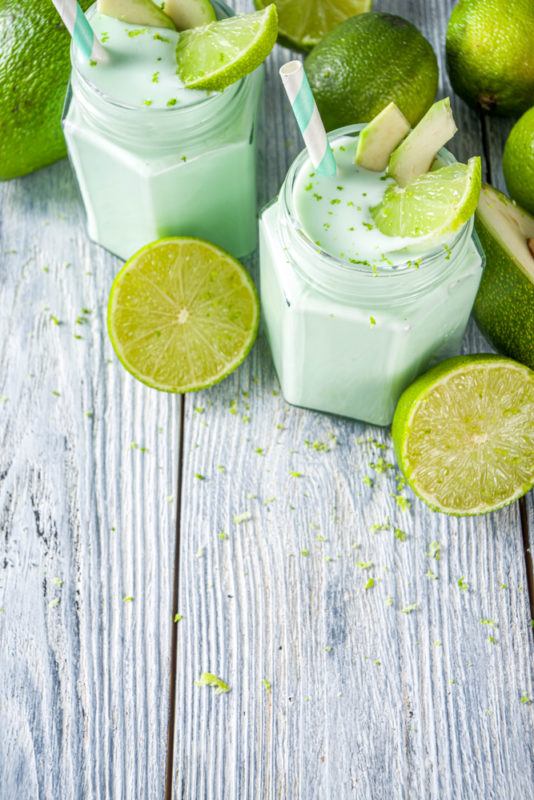 You can actually use avocado as a cocktail garnish too. The best approach is to cut a slice of the fruit and set it in the cocktail so that it catches on the side and (hopefully) stays put. Other approaches won't work too well, as avocado is too soft to be wedged on the side of a glass or made into a ball.
There isn't much call for an avocado garnish. The fruit will work best with an avocado cocktail. There are some out there, although the idea won't appeal to everyone.
Pickles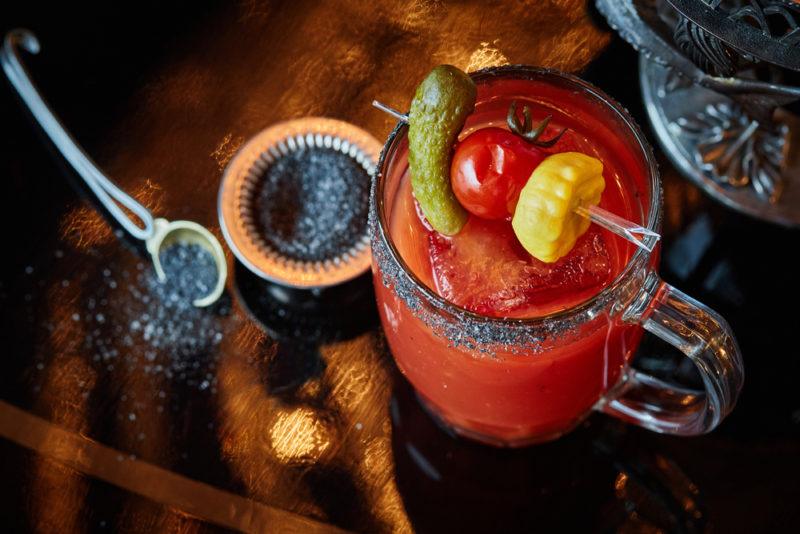 If you're serving a savory cocktail, then pickles or other pickled vegetables can be perfect. Like olives, pickles provide a little salty flavor to your cocktail.
Tomato juice cocktails are the ideal vehicle for a pickle garnish. Try using small gherkins or slices of pickle on a cocktail pick. Some bars get much more elaborate, using pickles as just one part of an elaborate bloody Mary garnish. But honestly, simple is often best.
Pickles do have benefits too. They can offer probiotics and you're getting some nutrients as well. They're certainly healthier than a sugar-laden garnish.
Peppers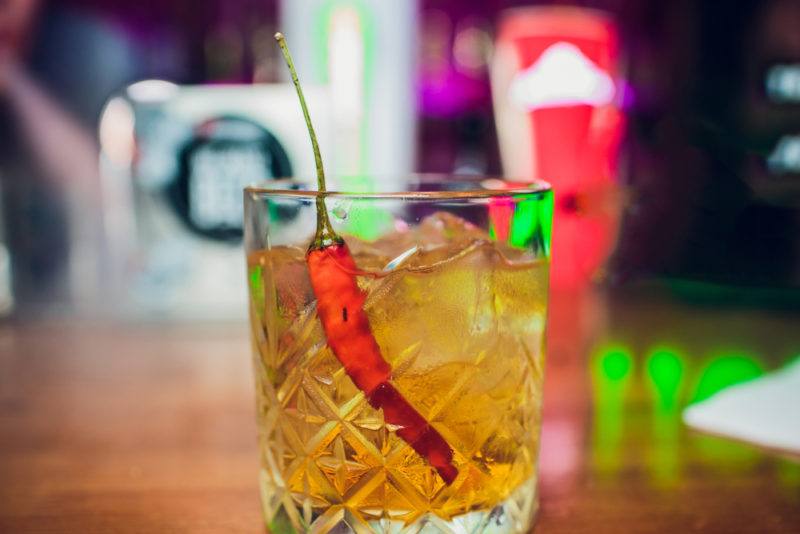 Various types of peppers, including bell peppers and smoky chiles, are another savory garnish to try. They add a little flavor and color to your drink, along with some crunch.
Just be sure to match these with the flavors of your drink. Peppers tend to be ideal with tequila cocktails, especially fresh and vibrant cocktails.
Pineapple Leaves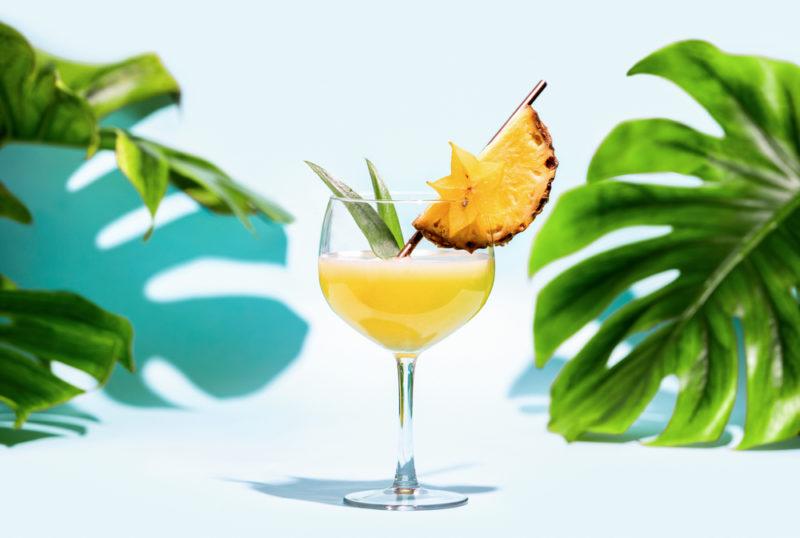 Leaves can be a fun cocktail garnish. They're purely decorative, as they don't add much flavor to your cocktail and you don't eat them either. So, why are we calling them healthy? Well, you're not getting any calories from the garnish, so there's that.
All you need to do here is grab a few pineapple leaves and fan them out at the back of your drink. This works best for drinks served on the rocks or with crushed ice, as the ice helps to hold the leaves in place.
Apple Slices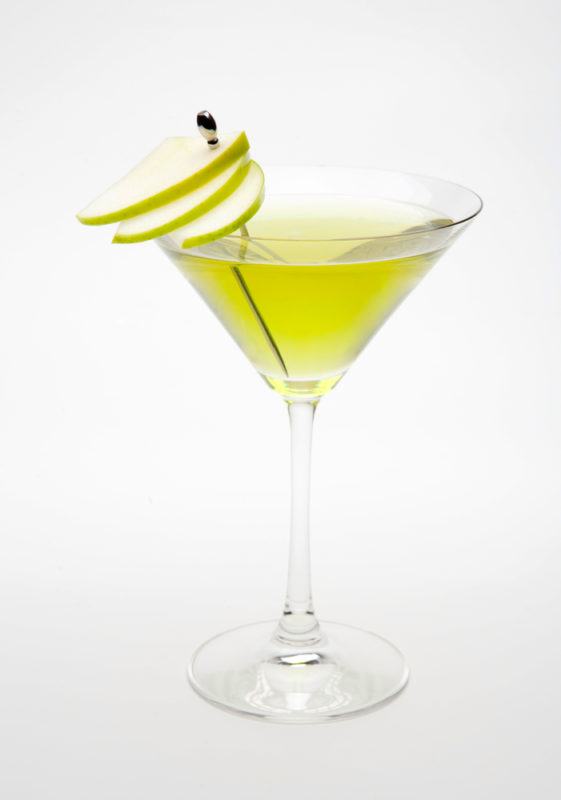 Apple slices are a pretty rare garnish. Still, don't write them off yet. Apples are inexpensive and the slices do add an appealing crunch to your drink.
Apples work exceptionally well with drinks that are a little sweet, including hard cider and some types of champagne. Red apples tend to be best, as green ones can be too tart for most cocktails.
Shrimp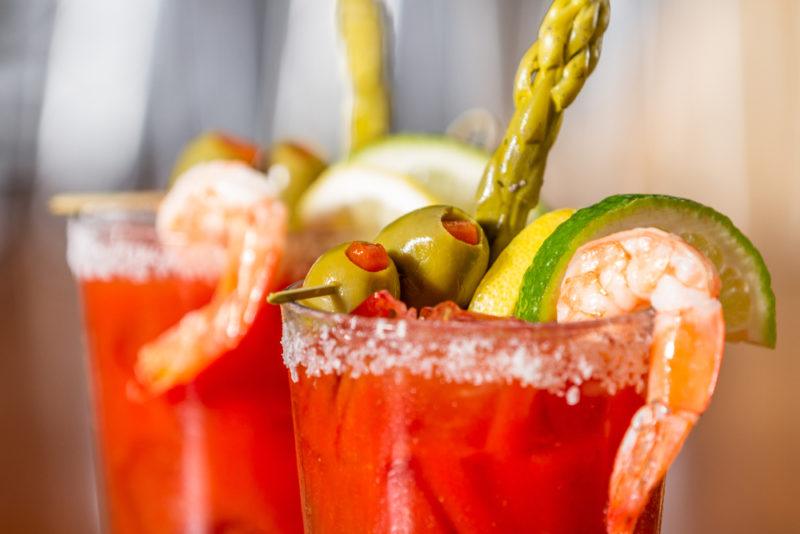 There's no denying that shrimp are healthy. The shellfish contains plenty of omega-3 fatty acids, along with protein and important nutrients.
While shrimp isn't a common cocktail garnish, you'll sometimes find it served with a bloody Mary. In fact, a celery stick and a single grilled shrimp is one of the easiest bloody Mary garnishes.
You could use shrimp with other tomato juice cocktails too, including the bloody Maria (which uses tequila instead of vodka as the spirit of choice).
Granular Rims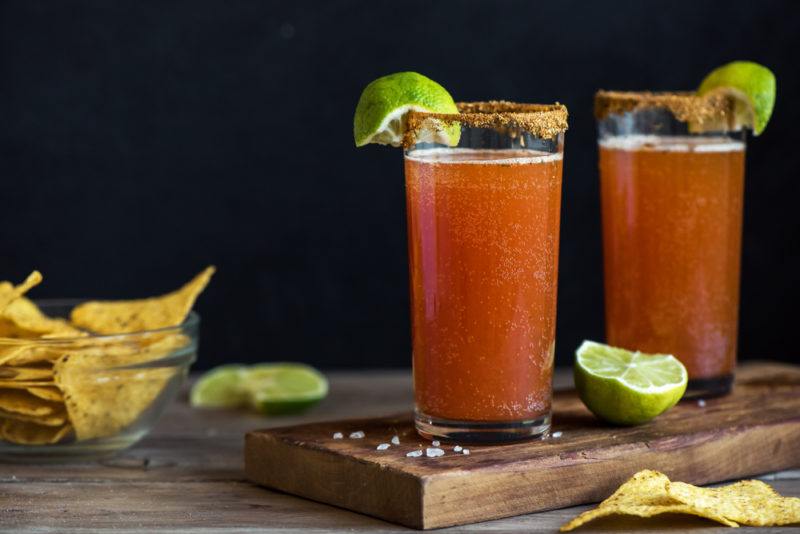 Adding a rim to your cocktail glass is another type of garnish. Sweet rims tend to rely on sugar, so they're not very good for you. Savory ones, on the other hand, can be healthy.
This might sound surprising, as granular rims often rely on salt. Regular white salt is the most common type, although some people rely on Himalayan salt or flavored salt instead.
We're including such rims on the list because salt isn't necessarily bad for you. It's an essential electrolyte, one that your body needs to function well. Too much salt can be bad for you, that's true, and many of us probably need to cut down. Still, if you exercise intensely or have low salt intake, the salt rim on your cocktail glass could actually be a healthy choice.