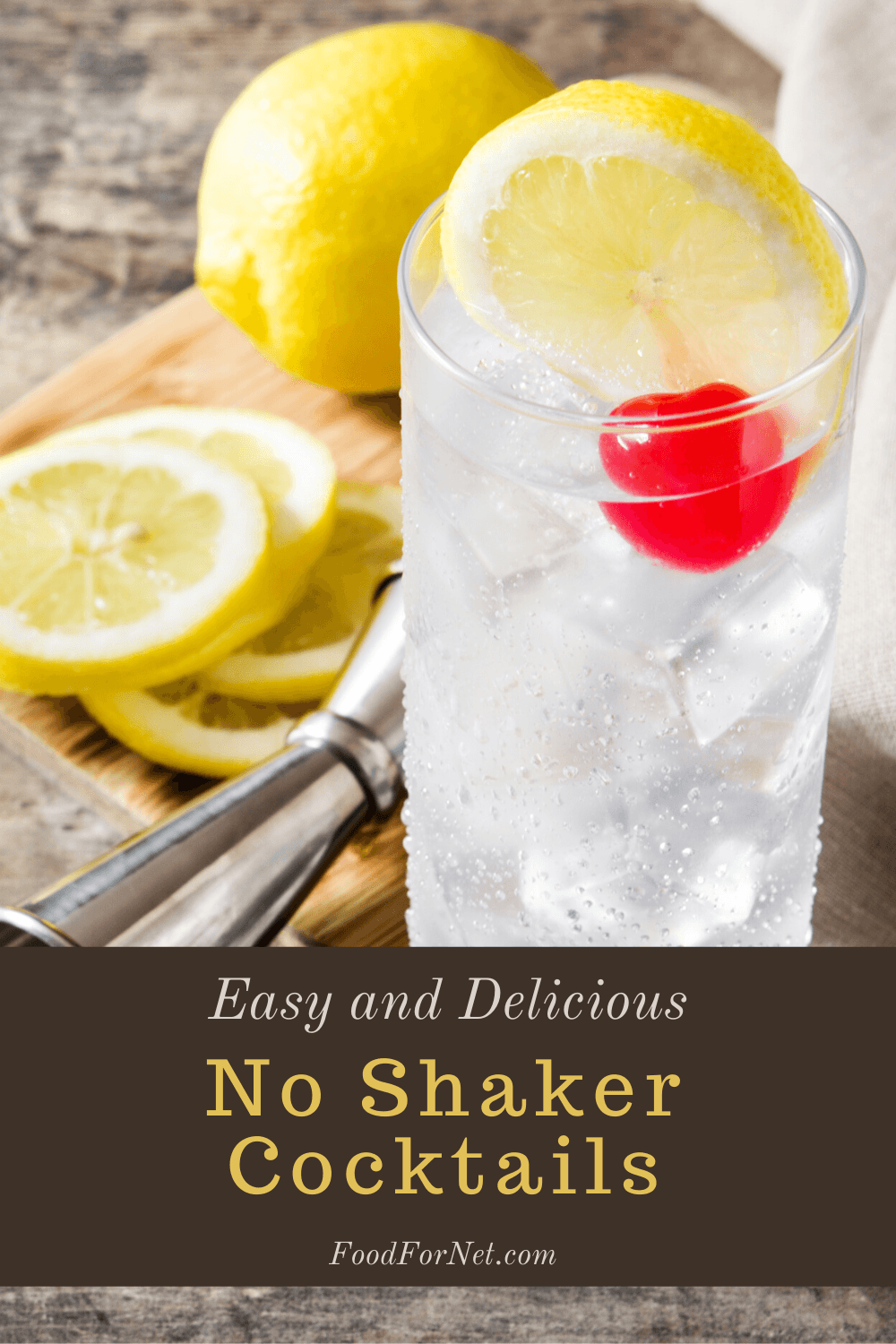 A cocktail shaker is a classic piece of equipment for anyone who is making cocktails at home or at the bar. While the shakers are easy enough to find and use, many of us are just looking for a simple cocktail that we can make without too much fuss. That's why we're focusing on no shaker cocktails in this list.
The cocktails rely on a variety of different spirits and have many styles, giving you plenty of options to choose from. Some of them are simple and only need a few ingredients, while others are more complicated.
Even if you have a cocktail shaker at home, these recipes could be a welcome addition to your repertoire. After all, taking a cocktail shaker with you isn't always practical. What if you wanted cocktails at a holiday home, on a beach somewhere or even camping? Sure, you could bring your cocktail shaker, but why go to all of that hassle?
Some of these cocktails just involve combining the ingredients in the glass that you plan on serving the cocktail in, then possibly giving everything a stir. Others are more complex, requiring you to stir the ingredients together with ice and then strain the drink into a new glass. Still, the end result is always worth the effort.
Countless cocktails can be made without a shaker, so this list is far from complete. You'll see more examples as part of our other lists, including our lists of dessert cocktails, soda cocktails, and even coffee cocktails. The goal here isn't to tell you all the cocktails you can make without a shaker, but to give you a decent selection to get you started at home.
Cocktails That Don't Need A Shaker (With Pictures)
Champagne Cocktail

Here's a simple cocktail that adds a little interest to your glass of champagne. To begin with, you add a sugar cube to the bottom of a champagne flute. A measure of whiskey is poured over this, along with a few dashes of bitters. Finally, you fill the flute to the top with champagne.
That's it. No shaking or stirring involved.
If you don't want to use expensive champagne in a cocktail like this, don't worry, you can make the same cocktail with any other type of sparkling white wine. You might even find sparkling white wine a more appealing choice, especially if you already have a favorite.
Tom Collins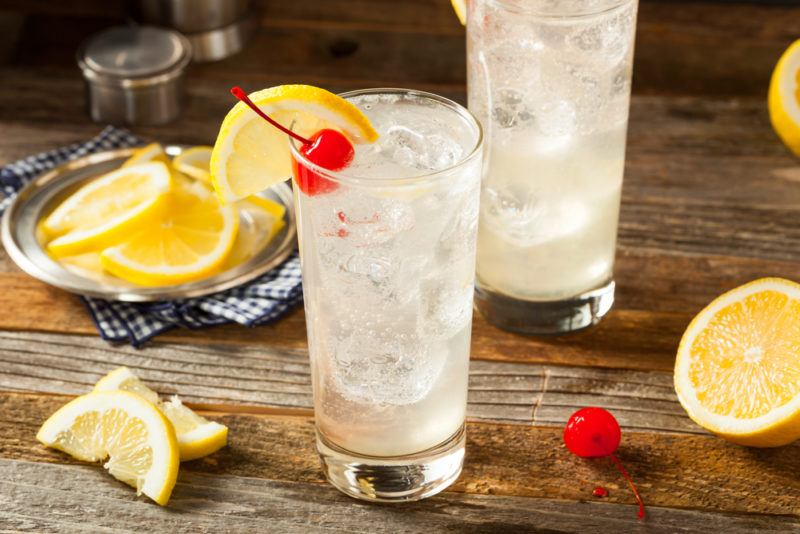 Tom Collins is a traditional cocktail that is normally made with Old Tom gin. No need to worry if you don't have that particular type of gin on hand, the cocktail is still just as good with another type of gin.
There are just three main ingredients to worry about: four parts of gin, two teaspoons of simple syrup and two parts lemon juice. These can all be poured into a tall glass that contains ice and then stirred.
Finally, top the glass up with soda water. That's it, you've made a Tom Collins.
Cuba Libre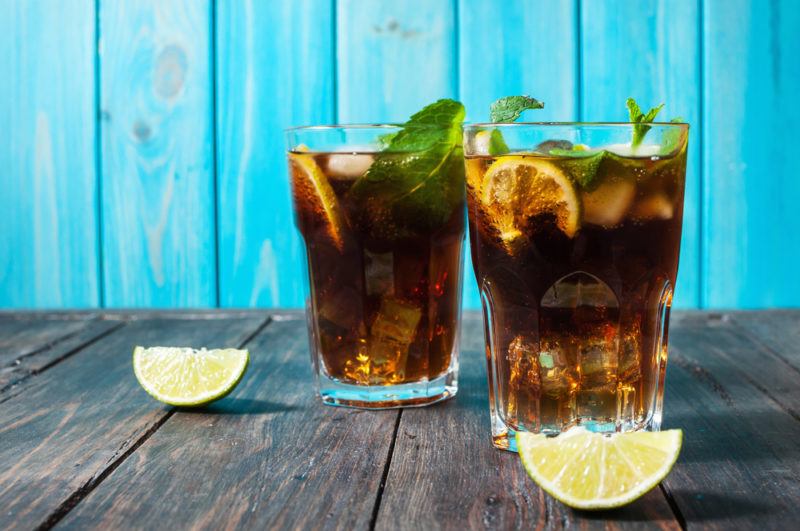 Traditionally, a Cuba Libre cocktail is made using Cuban rum. You can use Bacardi too, but the flavor profile will be a little different. Other types of rum simply don't work as well.
The drink is mixed in a highball glass that you've half filled with ice. Pour in four parts of rum, followed by lime juice. Then, you simply stir these together and top up with cola.
Mint Julep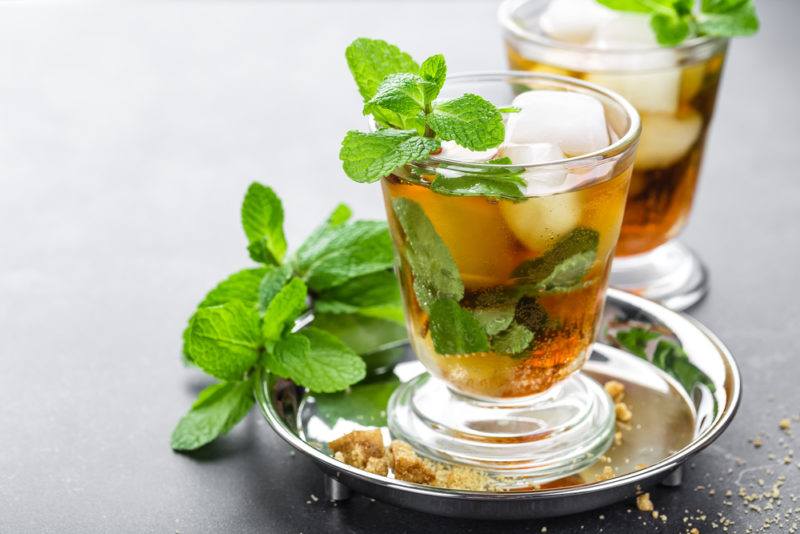 A mint julep is a bit more complicated than the previous cocktails, but you can still make it without a shaker. The first step is to combine roughly two tablespoons of soda water and one teaspoon of simple syrup, then use this mixture to muddle mint leaves.
The resulting liquid can then be poured into a highball glass. The glass is then almost completely filled with crushed ice and four measures of bourbon are added in. The drink is served as-is, no mixing required.
Sea Breeze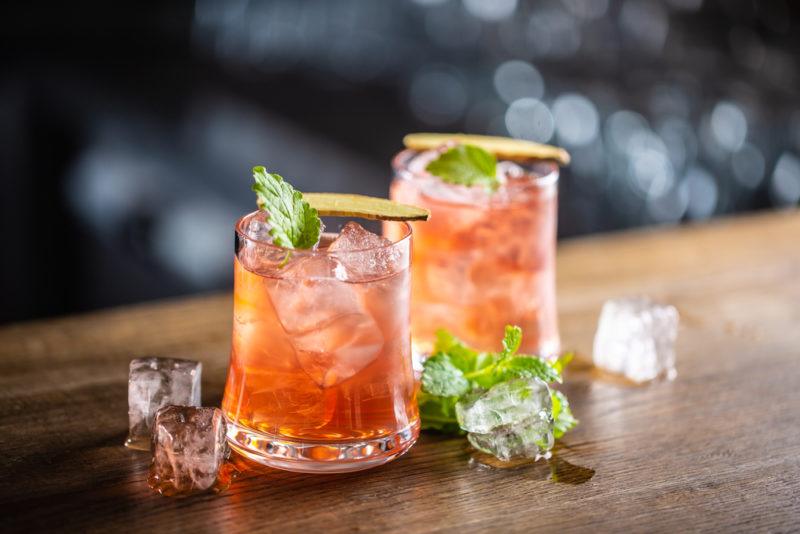 These days, a sea breeze is a simple vodka cocktail (even though it was originally gin-based). The cocktail includes equal parts of vodka, grapefruit juice, and cranberry juice.
This is an easy to cocktail to make, as you simply pour the ingredients over ice one after the other, starting with the vodka. You can stir the drink once you have done so, but even this isn't essential.
The cocktail could theoretically be made without ice too, if you're camping or don't have a freezer. It wouldn't taste quite as good warm as it does cold, but it ends up being a delicious cocktail regardless. The same pattern is true for many cocktails that are served over ice.
Black Russian And White Russian

Here's a set of two cocktails that can easily be made without a shaker. In both cases, you're using a lowball or rocks glass that has been half filled with ice.
You then add in four parts vodka and two parts Kahlua, then stir. This creates a black Russian. The cocktail can also be topped up with cola if you want something a little less intense.
A white Russian is similar, except that you're adding one part of cream to the cocktail, rather than cola. Doing so makes the drink much creamier, which works perfectly with the Kahlua.
Old Fashioned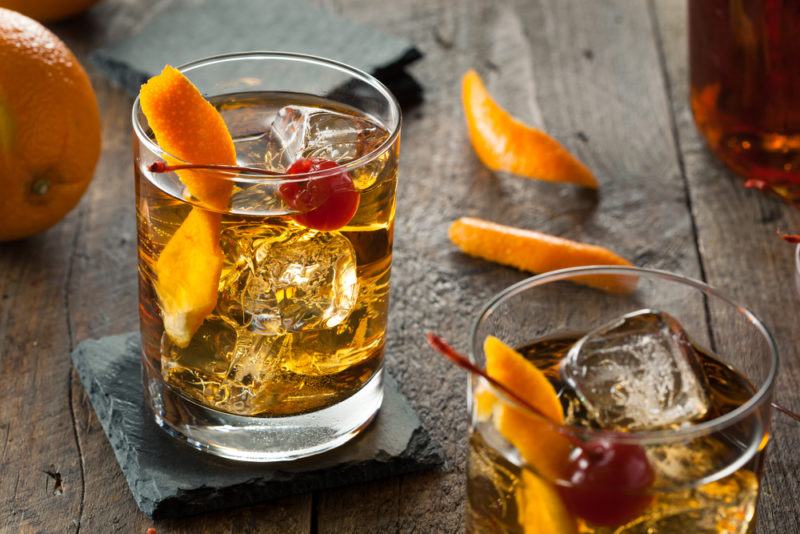 An old fashioned is a simple drink that just relies on rye whiskey or bourbon, Angostura bitters, and sugar. The way that it is made is just as important as the ingredients themselves.
To begin with, place the sugar in the glass and add in two dashes of the bitters. Then add two ounces of whiskey and stir until the sugar has been dissolved. Add ice, stir and serve.
An old fashioned is meant to be simple, so if you see barmen making it in a shaker, including syrup or muddling fruit, it's time to find a new place to drink. Also, you can find this cocktail sold in cans – sometimes with an ABV of 40% or above!
Rob Roy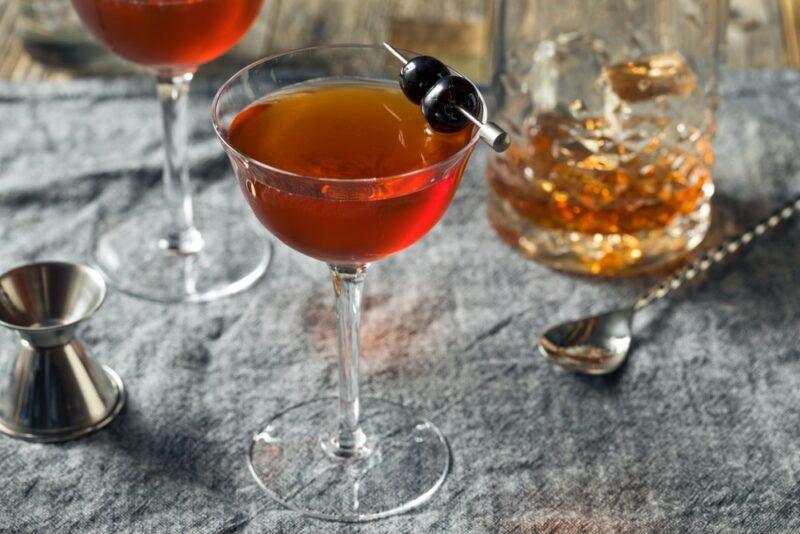 A Rob Roy is another classic that doesn't take much effort at all. It relies on Scotch whisky, ideally blended Scotch, along with vermouth and Angostura bitters.
To make the cocktail, simply combine the three ingredients with ice, stir and then strain into a chilled cocktail glass.
Bobby Burns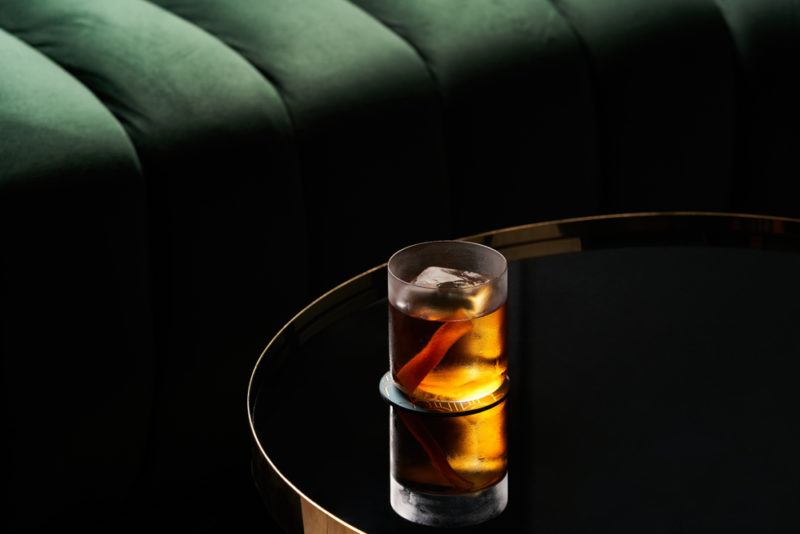 Because the Bobby Burns doesn't contain any mixers, the cocktail tends to be stirred rather than shaken. The cocktail relies on one part Scotch whisky, one part sweet vermouth and half a part of Bénédictine.
The ingredients are stirred together over ice to cool them, then strained into a cocktail glass.
Harvey Wallbanger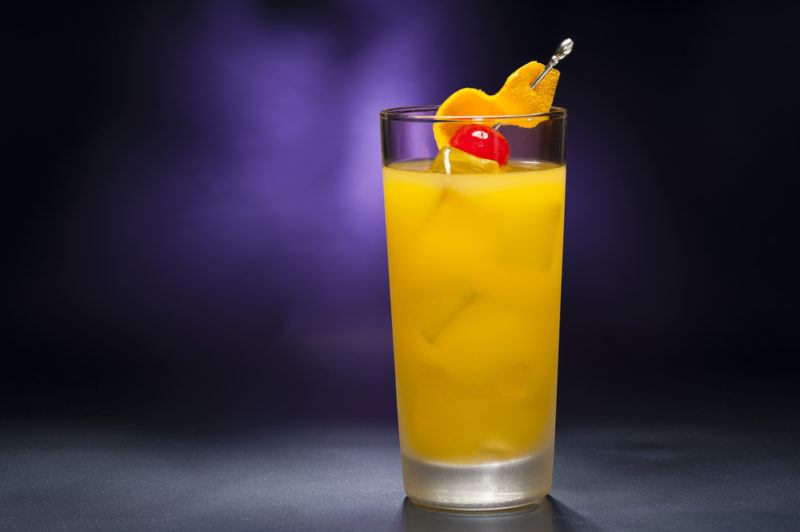 Like a screwdriver, a Harvey Wallbanger uses vodka and orange juice as the main ingredients. You're generally using at least two parts orange juice to one part vodka and serving the cocktail in a tall glass with ice.
The difference is that you're also adding in a little bit of Galliano. This Galliano doesn't tend to impact the color of the drink, especially if you stir all the ingredients together, but it does lead to a more interesting flavor profile.
Some recipes suggest that the vodka, orange juice, and ice should be mixed together in a glass, with the Galliano poured on top at the end. Others simply call for a single step, with everything being mixed at once. Either way, the drink is easy to make and doesn't require a shaker.
Americano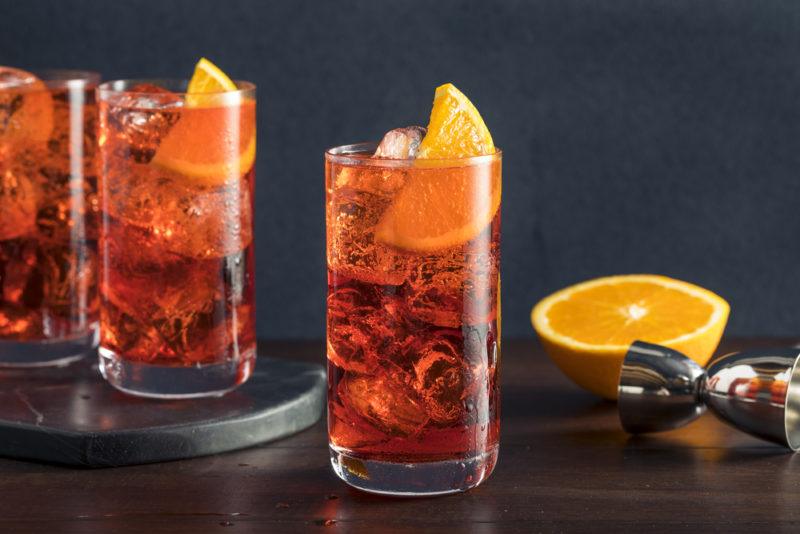 The Americano is a simple three-ingredient cocktail that remains very popular. It is made by combining equal parts Campari and sweet vermouth in a glass with ice, then topping the cocktail up with soda water.
Campari has a bitter flavor while the vermouth is sweet, so you end up with an interesting bitter-sweet balance. The cocktail gets a mixed reception. Some people love the bitter aspects of the flavor profile, while other people feel that the cocktail is too intense.
Bamboo

The most interesting thing about the bamboo is its alcohol concentration, which is lower than many other cocktails. This is because the cocktail doesn't rely on a heavy base spirit like brandy or whiskey.
Instead, the cocktail combines sherry and dry vermouth, in equal measures. A few dashes of Angostura bitters and orange bitters are added too, then the ingredients are stirred with a bar spoon.
You may even be able to find pre-bottled versions. While the cocktail isn't hard to make, the pre-bottled approach is useful if you have a limited bar and don't keep multiple types of bitters on hand.
Mind Eraser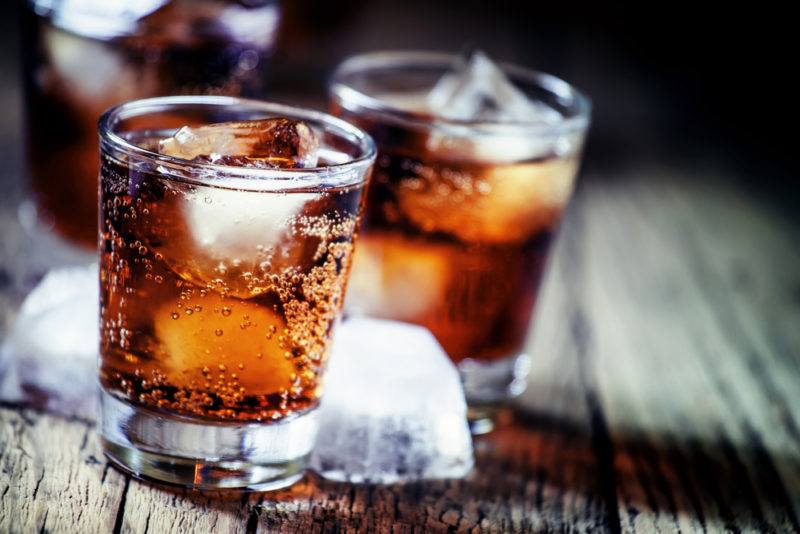 This Kahlua cocktail doesn't require much work at all. It relies on equal measures of Kahlua, vodka, and club soda. Absolut vodka is the official recommendation, but any type of unflavored vodka will work just as well.
Unlike most cocktails, the mind eraser generally follows a pour and drink style. You use a glass of ice then pour in the Kahlua, vodka, and soda – in that order. Skip the stirring and enjoy the drink as-is. You can even drink it with a straw, which gives you the flavors one layer at a time.
Tequila Sunrise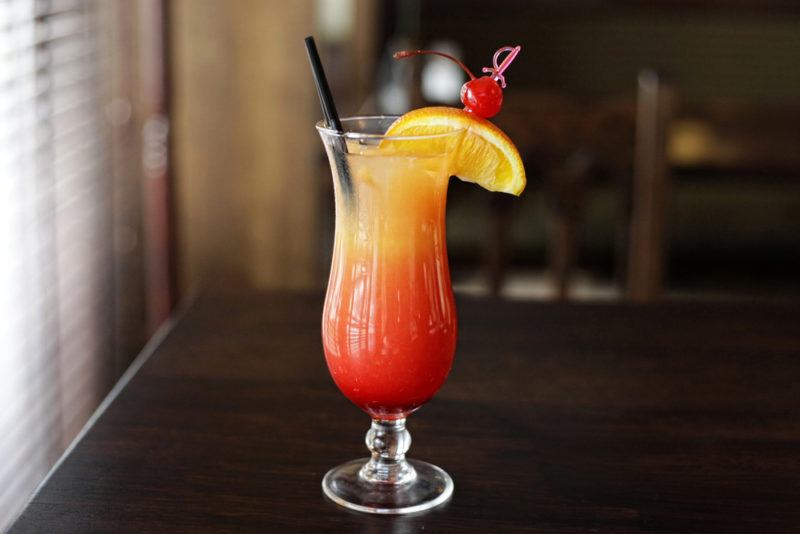 A tequila sunrise doesn't just look good in the glass. It also happens to be a tasty drink. The cocktail relies on orange juice, tequila, and grenadine.
As with other orange juice cocktails, the quality of your orange juice is important. Focusing on freshly squeezed orange juice will provide you with better texture and flavor in your finished cocktail.
Making the cocktail is easy. You just need to stir the ingredients together, either over ice or on their own. But, keep the stirring time to a minimum, so that you still end up with the two-tone coloring in the finished cocktail.
Tequila Don Coco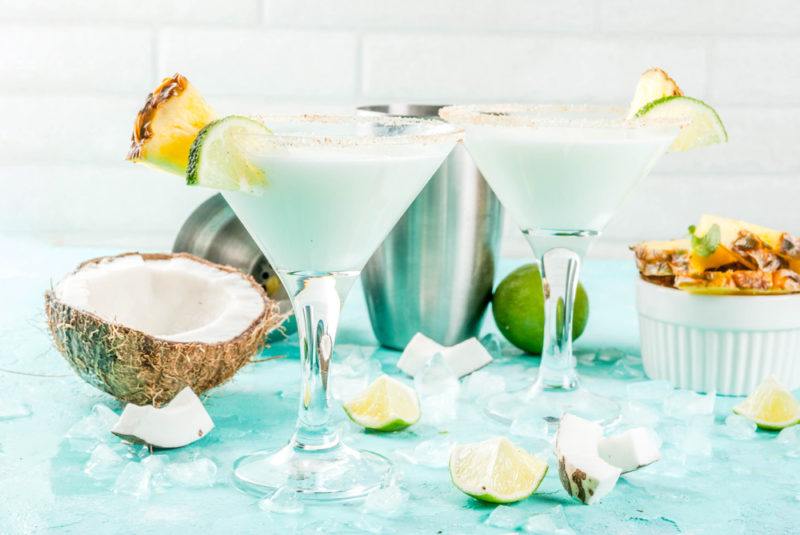 This tequila cocktail is a fun choice if you want something a little creamy. It relies on tequila, coconut liqueur, and cocoa liqueur. That combination of ingredients might sound unusual, but that doesn't stop the finished drink from tasting delicious.
Because the ingredients all contain alcohol, this cocktail is traditionally stirred over ice, then strained into the appropriate glasses.
Mulled Wine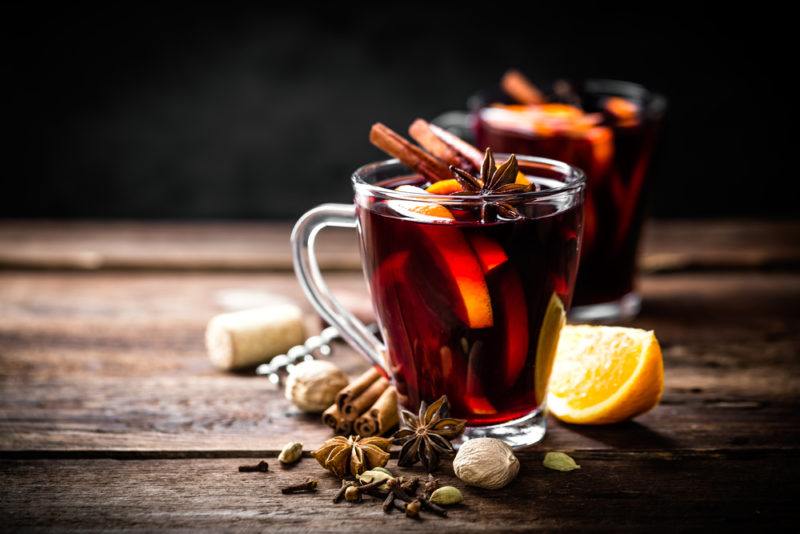 Hot cocktails don't generally need shaking and mulled wine is no exception to that rule. In fact, you're generally making the cocktail on a stovetop or perhaps in a slow cooker. This gives you the chance to enjoy mulled wine it even if you don't have any traditional cocktail making tools on hand at all.
There are many mulled wine recipes out there. Most rely on red wine and a combination of spices. You'll generally want to use whole spices, like cinnamon or cardamom seeds, as ground spices will create a strange texture in your drink.
It is possible to make mulled wine using white wine as well. If you do so, you'll need to choose the wine carefully. Wine that is too acidic can and up with an unappealing flavor once they're warm. An oaked chardonnay can be a good choice for a white mulled wine or perhaps a viognier.
Conquito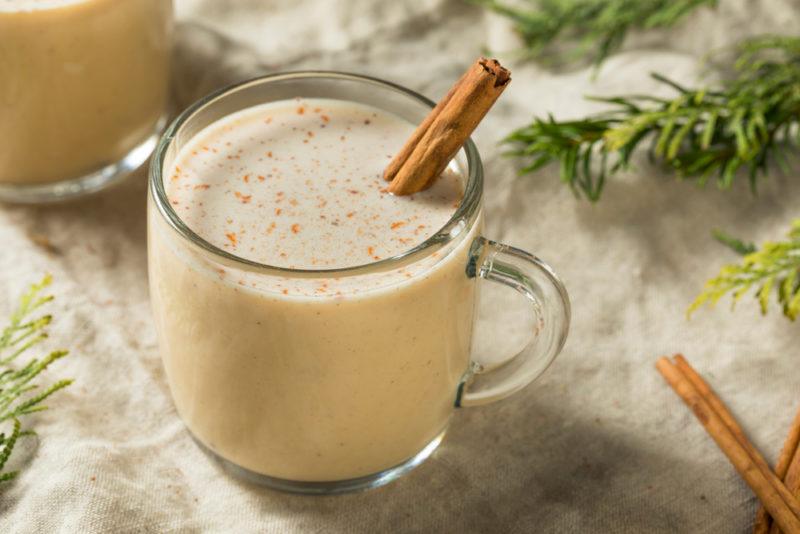 The conquito is an interesting cocktail, one that uses evaporated milk, condensed milk, cream of coconut, and white rum as the main ingredients. Not surprisingly, this combination creates a very creamy cocktail.
Because the ingredients are so creamy, you make this cocktail by blending everything together. Then the cocktail needs to be put in the fridge. It should be in there for at least a few hours, but longer is better. Some authors suggest leaving the mixture in the fridge for up to two days.
Horsefeather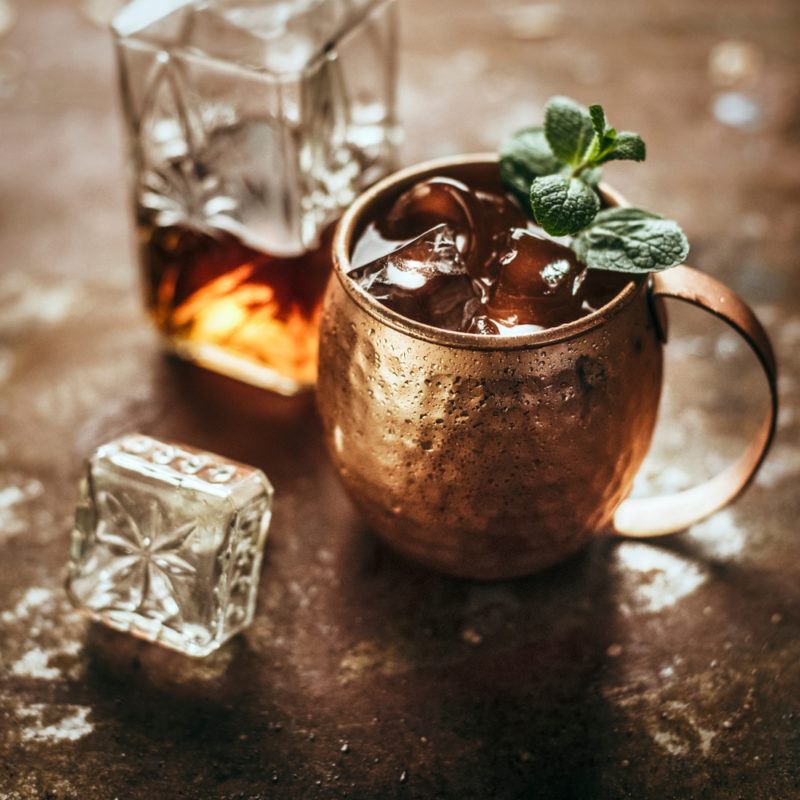 A horsefeather cocktail is a variation on a Moscow mule. One difference is that this cocktail uses whiskey as the spirit of choice.
You're also adding in a few dashes of Angostura bitters. The bitters add a little something extra to the cocktail, while complementing the flavor of the whiskey.
The best way to make the drink is to take a glass full of ice and pour in the ingredients, one at a time. Then simply stir to combine everything.
Irish Coffee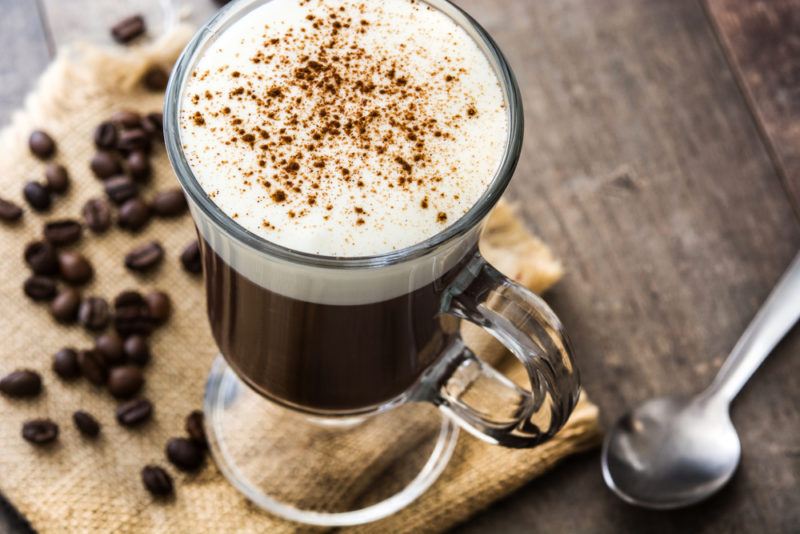 An Irish coffee is another hot cocktail that, not surprisingly, doesn't rely on a cocktail shaker. The traditional version of the drink tends to include brown sugar and whipped cream as ingredients, along with Irish whiskey.
However, you'll also simply see people spiking their coffees with whiskey and calling that an Irish coffee. This approach can be appealing too and means that you don't need to go to much work to enjoy a hot cocktail.
Brain Duster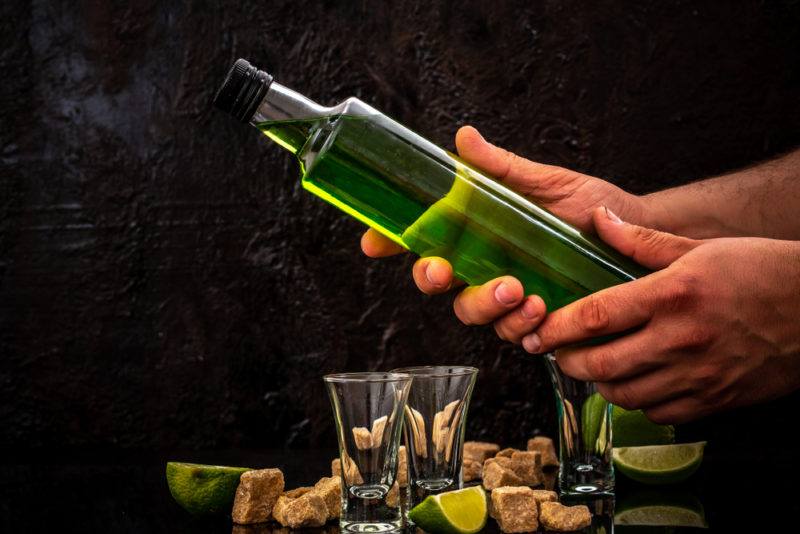 The brain duster is an interesting cocktail. You're likely to love it or hate it, as the drink is a potent one that also has a distinctive flavor.
The key ingredients are rye whiskey, absinthe, and vermouth, which should tell you quite a few things about the flavor profile. A few dashes are Angostura bitters are used too, just to make the whole thing more interesting still.
Martini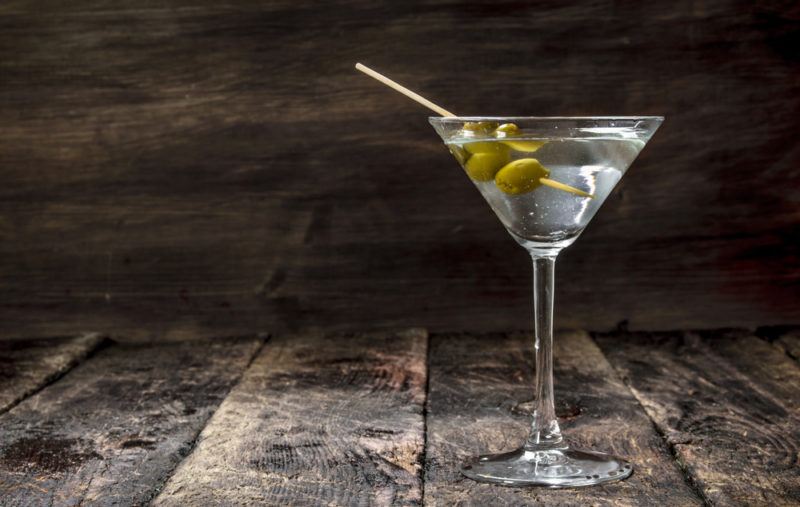 Forget what James Bond has to say on the matter – a traditional martini is stirred rather than shaken. Shaking the martini instead can make the drink less appealing by changing its texture and slightly diluting it.
You do, however, want to stir the cocktail together over ice and then strain it into a glass, as a martini will taste better cold. This is true regardless of whether you're using gin or vodka as your spirit of choice.
Bellini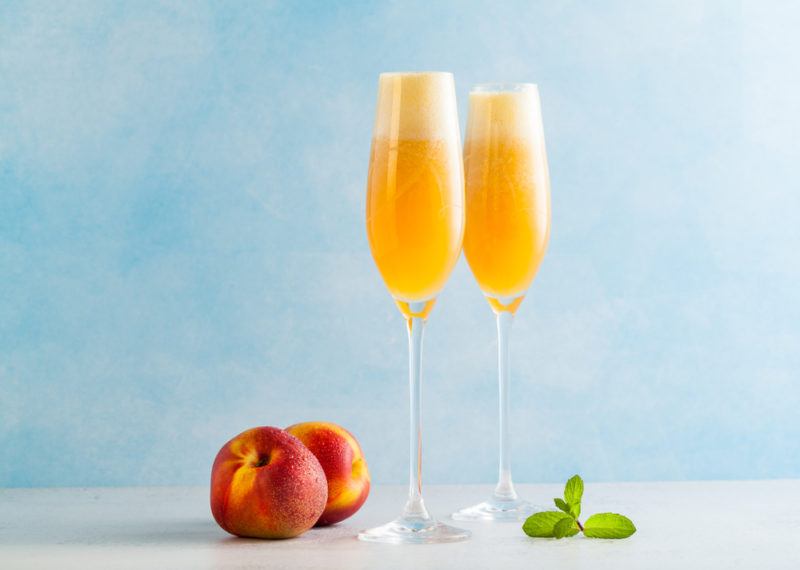 This classic cocktail traditionally relies on prosecco, but you can make it with any type of sparkling white wine at a pinch. The general approach is to add peach puree at the bottom of the glass and then top this up with the white wine.
The cocktail is a flexible one, so you can make changes as you see fit. For example, peach juice or peach liqueur can be used instead of the peach puree.
Other variations use a different type of fruit instead. This completely changes the flavor profile but can create a drink that tastes just as good.
Before we close the list, it's worth mentioning that most sparkling wine or champagne cocktails can be made without a shaker. After all, shaking bubbly doesn't sound like a very good idea at all.
Manhattan

We've talked about martinis, so it would be remiss to skip the Manhattan. After all, this cocktail is basically a martini that's made with bourbon, plus some bitters to make the flavor richer.
Like the martini, the Manhattan is traditionally stirred, but you may sometimes see it shaken instead. Still, stirring does produce a slightly better cocktail. Doing so is also easier than getting your shaker out.
Sazerac

The sazerac is another traditional cocktail, one that actually dates back to somewhere in the 1800s (the exact date is heavily debated). You'll see many classics in this list, as stirring was the style for many of these.
The cocktail itself is a little like an old fashioned, but it's more complicated. You start with an absinthe rinse. Then, a sugar cube is muddled with water, Angostura bitters, and Peychaud's bitters. Then equal measures of rye whiskey and cognac are added to finish the drink off.
Revolver

Here's a fantastic cocktail to experiment with. The revolver combines bourbon with coffee liqueur and orange bitters. This gives you a strong and somewhat bitter drink. Some recipes add a little sugar syrup to make the cocktail go down a little easier.
It's a particularly good cocktail if you enjoy the Manhattan and want something a little different.
Man o' War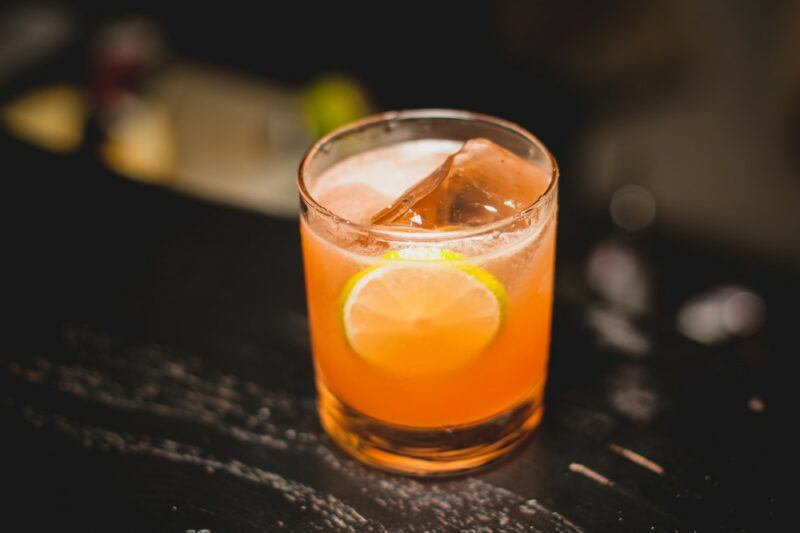 The man o' war cocktail follows some familiar themes. It features bourbon as the main spirit, which is complemented by lemon juice, sugar, sweet vermouth, and triple sec. The triple sec gives the drink a bright orange color, making it a great one for serving at parties.
Some versions skip the sugar. Doing so makes the drink tarter, but not in a bad way at all. After all, excessively sweet cocktails aren't great either.
Negroni

The negroni is one of those cocktail classics that some people love and others hate. It's an intensely bitter drink that relies on equal measures of gin, Campari, and sweet vermouth.
The Campari is what gives the cocktail its intensity. But, don't worry, while the cocktail is bracing at first, many people quickly warm to it. The negroni might even become a new favorite.
Negroni Sbagliato

The negroni sbagliato is basically a broken or mistaken version of a negroni (which is exactly what the name means in Italian). The cocktail uses two ingredients found in a negroni – Campari and sweet vermouth.
But, while the negroni traditionally uses gin, the negroni sbagliato relies on sparkling white wine instead. The sparkling wine adds fizz to the drink, while also making it seem a little less intense.
Boulevardier

The boulevardier is another negroni variation. It still features Campari and sweet vermouth, but this time whiskey is the third ingredient. Bourbon features most often, although rye whiskey offers a nice spicy contrast as well.
Using whiskey instead of gin creates a cocktail that's less bracing and has some warming qualities instead. This is particularly true if you use more whiskey than Campari in the cocktail (in contrast, a negroni traditionally calls for equal measures of all ingredients).
Greenhorn

Instead of being a classic, the greenhorn is a fun, vibrant, and modern cocktail – with Midori as the star ingredient. Another unusual feature is the addition of tequila, as this is rarely paired with Midori and isn't common in mixed drinks either.
The third interesting ingredient is interesting too. This is Suze, a French aperitif with distinct citrus and vegetal tones.
Hot Buttered Rum

Hot cocktails don't tend to be shaken, for obvious reasons. While there are plenty of them to choose from, hot buttered rum stands out.
For one thing, butter and rum sound like an odd combination of ingredients in a cocktail. Yet, hot buttered rum doesn't just 'work', it also tastes amazing. It's the perfect comforting drink for an evening or a cold day.
Caipirinha

The caipirinha has a lot going for it. The cocktail is refreshing, simple, and is easy to prepare. The most surprising thing is that it relies on cachaça. This unique Brazilian spirit is similar to rum, but it's also quite unique.
The drink is prepared in much the same way as an old fashioned. You start by muddling lime wedges and sugar in the base of the glass. Then you pour in plenty of ice, add the cachaça and stir. That's it. There aren't any mixers, just lime wedges, sugar (not sugar syrup!), and the cachaça.
Godfather

It's hard to get simpler than the godfather cocktail. There are only two ingredients to think about – whiskey and amaretto. You'll often use blended scotch, although some people mix this up and choose another type of whiskey. Even bourbon features at times.
There's also the ratio of ingredients to think about. The classic version of the godfather uses equal measures of the two ingredients. This gives you a relatively sweet drink that still highlights the flavors of whiskey.
You can mix it up by increasing the amount of whiskey. I've even seen a version that features 2 ounces of whiskey and just a quarter of an ounce of amaretto. In that version, the whiskey dominates the drink, while the amaretto acts as an accent.
Martinez

The martinez may look familiar, as it features gin and vermouth, just like a martini. There are some extra ingredients though – including angostura bitters and maraschino liqueur. Also, a martinez relies on sweet vermouth, while dry vermouth is more common in a martini.
Those ingredients give the cocktail an orange tinge that you don't get with a traditional martini. They make the flavors more interesting as well and give you a sweeter drink.
Hanky Panky

The hanky panky cocktail is surprisingly similar to the previous cocktail. Both rely on gin and sweet vermouth, and have an orange coloring.
However, the hanky panky doesn't feature angostura bitters or maraschino liqueur. It relies on a few dashes of Fernet-Branca instead, which is an Italian amaro with a strong bitter flavor.
Some people also add a little orange juice to the drink. Doing so does compromise the appearance, but balances the flavors of your cocktail and helps to offset the bitterness of the Fernet-Branca.
Rusty Nail

Finally, we have the rusty nail cocktail. This one is simple, as it just relies on Scotch whisky and Drambuie. Two ingredients. It's hard to get easier than that.
You might have heard about this one before, as the rusty nail was a favorite cocktail among Frank Sinatra's Rat Pack. You'll normally want a decent blended Scotch to make this cocktail shine.
Don't go too cheap with the Scotch. After all, there are only two ingredients, so the Scotch will have a big impact on the final flavor profile.
Stirring vs. Shaking a Cocktail
So, what's the story with stirring a cocktail instead of shaking it? Sometimes the difference is a practical one. After all, shaking a hot cocktail doesn't really make sense. You also wouldn't shake a sparkling wine or soda cocktail, as you'd lose all the bubbles, which really defeats the point.
You'll also find that spirit heavy drinks tend to be stirred, including many of the classic cocktails that have featured on this list. For these drinks, stirring them with ice allows you to chill the drink without ice chips or aeration.
Unlike hot cocktails and sparkling cocktails, you won't ruin a spirit heavy cocktail by shaking it. But, you are slightly compromising the texture and quality of the cocktail.