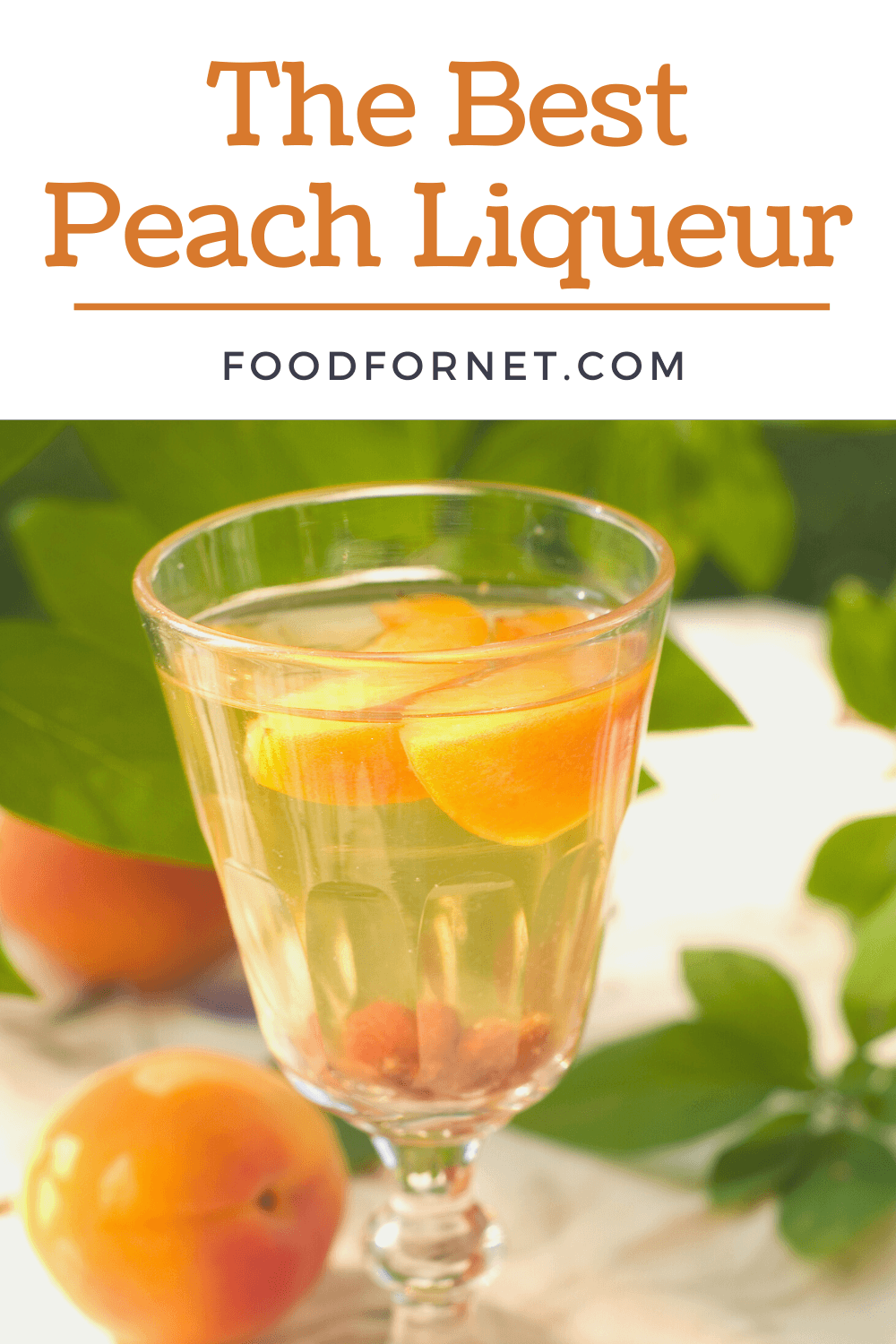 Peaches are a common find in grocery stores, and fuzzy peach candies are pretty popular as candy goes. For many, this is the extent of their knowledge and experience with peaches – even though there are more than 2,000 types of peaches grown across the world! While you may personally only be familiar with a few, the world of peach spirits is much more varied.
Some liqueurs feature tiny, wild peaches from Italian vineyards, and others have three or more types of peaches local to the distillery. Most of the varietals you probably haven't even heard of, but you'll experience their distinct flavors as you enjoy the carefully crafted liqueurs.
The many varietals out there mean there's a whole host of potential flavors that can go into these spirits but one thing remains universal – the best peach liqueur is made with care using real, fresh peaches.
The following expressions are some of the best peach drinks out there and feature some peachy flavors you didn't even realize existed. Enjoy a few sips on the rocks or pair them with a nice sparkling wine. A refreshing peach bellini never fails, either! And, if none of these seem quite right for you, you could try peach vodka instead.
The Best Peach Liqueur
1. Stirrings Peach Liqueur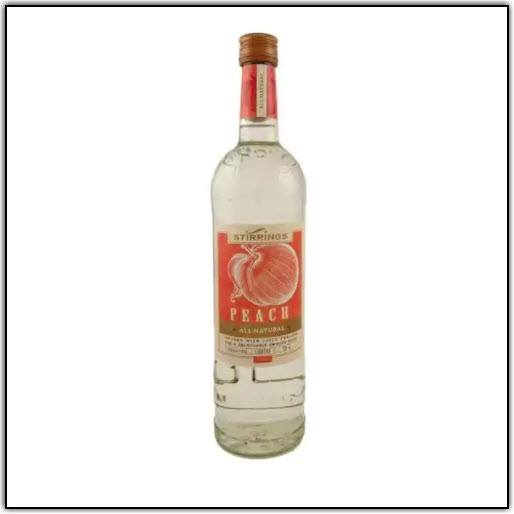 Stirrings is all about cocktails. They want to help you make the best, most flavorful ones you can, so they've created an impressive line of delicious, premium quality liqueurs. Their flavors are potent and made all naturally with only the best ingredients.
Although their goal is to provide excellent cocktail mixers and bases, the quality is so good that you can often sip their flavors neat or on the rocks for an easy, strong burst of your chosen flavor.
For their Peach Liqueur, they infuse the spirit with the striking essence of orchard ripe fuzzy-skinned peaches. The aroma is that of freshly-picked peaches straight from the orchard, with an intense but delicate profile of sweet, fresh, fuzzy peaches. It gets straight to the point with the peach profile and doesn't mess around with any other flavor, and that's the point! It's the ideal ingredient for the infamous peach bellini.
2. Berentzen Peach Liqueur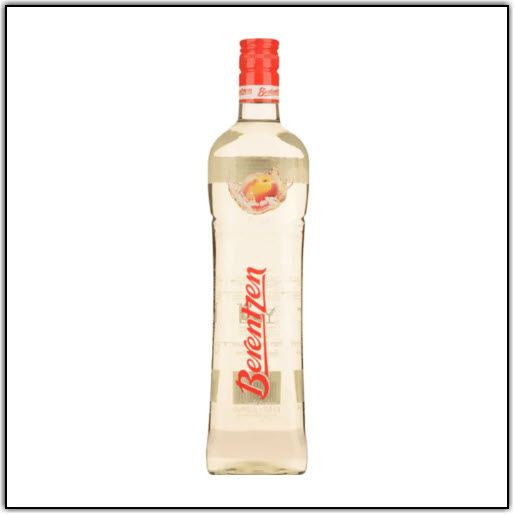 Berentzen started as a very small local grain distillery in Germany in 1758. The journey has been long but they kept gaining expertise, learning new things, and expanding until they became the globally recognized company they are now.
They put their centuries of knowledge and experience to good use and are known for creating smooth, delicious, premium spirits. Despite their large scale, they closely monitor all production activity and guarantee the highest level of quality in each and every bottle.
Berentzen Peach Liqueur is made with special sun-ripened peaches that are carefully selected and chosen for their superior quality. The base spirit is 100 percent single-grain wheat, ensuring a smooth sip and a clean finish.
The profile here is all about peach. The aroma offers plenty of sweet peach with notes of apricots and a touch of spice in the background. The palate is clean and full of peach with a bit of citrus to balance it out. The finish is fresh, potent, short, and simple with a final burst of peach.
3. Rothman and Winter Orchard Peach Liqueur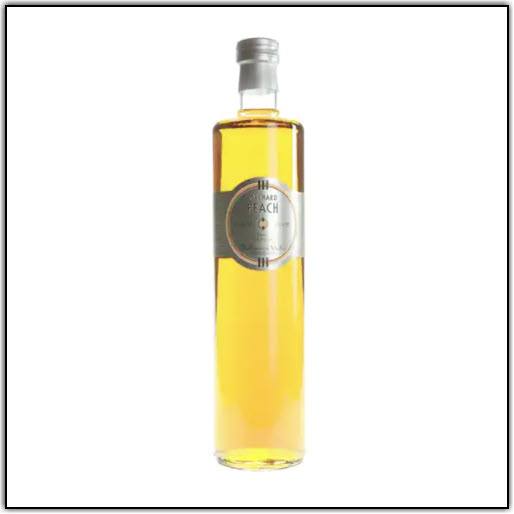 Rothman and Winter Orchard Peach Liqueur is true to its name, featuring a variety of Australian orchard peaches that all contribute something special to the profile. The varietals all come from the Oststeiermark Region which successfully grows many amazing types of peaches. Included in this liqueur are the Roter Ellerstadter, Haven, and Weinberg varietals.
The Rothman and Winter liqueur collection boats three exceptional expressions, each with a rich character and bold authenticity.
Their peach expression uses both the juice from the peaches as well as an eaux de vie made with the exact same fruits. This adds unmatched depth and complexity to the spirit. Using this combination also captures the most wonderful of aromas – the nose offers delightful, fragrant, and varied aromas of nothing but fresh peaches.
The palate is potent and refreshing with flavors from the different peaches coming through at different points. It's perfect when paired with sparkling wine and it makes an easy bellini that tastes incredible.
4. Merlet Creme de Peche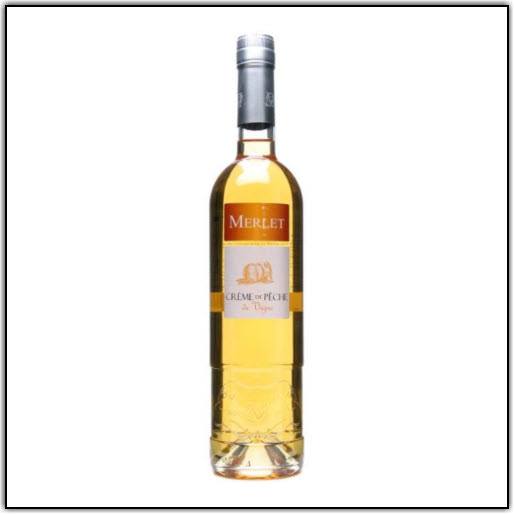 Merlet Creme de Peche features small, wild peaches that grow in the vineyards in and around the Cognac region. Though small, these peaches have a strong, highly concentrated flavor that lends itself quite nicely to this delicate spirit. They're also unique in that the flesh is red and white instead of the more common golden yellow color.
The Merlet brand of liqueurs belongs to a family of distillers that share five generations worth of knowledge and experience. They maintain strong and lasting partnerships with growers of this special variety of peach in order to ensure the quality of the drink stays consistent.
It's a lovely translucent, bright gold color in the bottle with peach aromas so sweet it's like you're about to taste candy. Hints of peach jam, mandarin, and almond come through in the background.
The palate offers similarly sweet peach flavors with almond and orange zest to balance it out. The finish is tangy, sweet, and reminiscent of hard candy.
5. Pallini Peachcello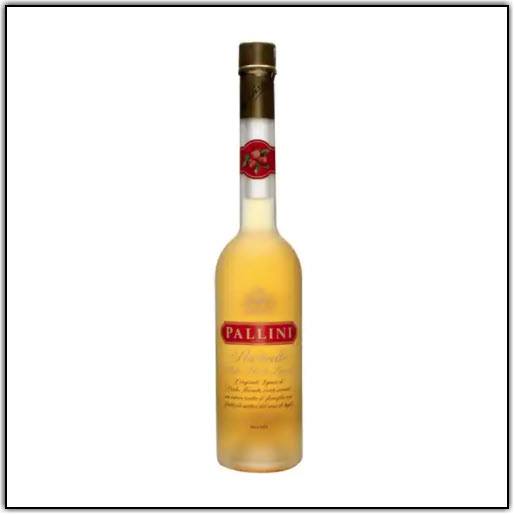 Founded in 1875, Pallini has made quite the name for itself, first in Italy and now around the world. They are known for their delicious fruit syrups and super-premium spirits made with great quality ingredients.
Pallini Peachello is made from special peaches that were the favorite of Virgilio Pallini Sr.'s wife – one of the many family members involved in the business. She would preserve lots of them in alcohol when they were in season so she could enjoy them all year. Once they were finally finished, she used the leftover liquid as the base for a delicious liqueur, adding fresh peach juice to enhance the flavor further.
The nose is filled with intense notes of fresh peach skin, peach jam, and a bit of citrus in the background. The palate follows with a bit of cooked peach behind the fresh, peach jam flavors. Like the nose, there is a mild citric acidity that lingers through the long finish where you'll find stronger notes of cooked peach. It's a little on the sour side as peach liqueurs go, making it good for some extra-tart cocktails or as a balancing agent for super-sweet drinks.
The Best Peach Cocktails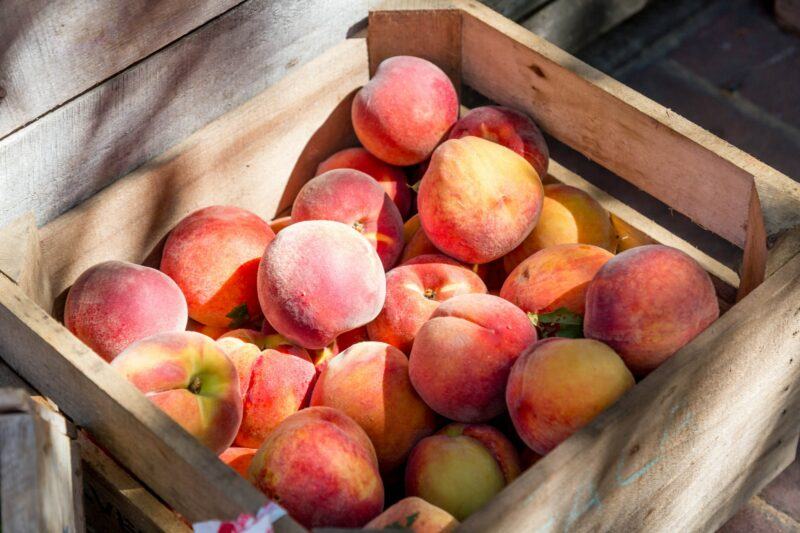 There's no debating the beauty of a sweet, refreshing peach bellini, it's something that every lover of fruity cocktails should experience at some point. However, there's more to peaches than this drink! Give one of these recipes a try when you're ready to mix it up:
Champagne Punch
So simple and so easy, this one is bubbly, delicious, and perfect for summer. It's also perfect when you're having company over. The punch is best when given some time to marinate and let the flavors meld, so it usually makes sense to make lots of it all at once! The following recipe is good for a nice pitcher, but you can scale it back for a single glass, too!
Ingredients:
3 or 4 peaches
1 cup of strawberries
1 bottle of peach liqueur
2 bottles of dry champagne
Instructions:
Start by slicing the peaches and strawberries into large pieces.
Add the fruit to your pitcher.
Pour in the liqueur and champagne.
Mix everything together with a large spoon. Let it sit in the fridge for a while before serving, if you wish! Or, pour over some ice and enjoy right away.
Grilled Peach Bourbon Cocktail
Grilled fruit probably isn't the first thing that comes to mind when you start thinking about summery, fruit-filled cocktails. But – it makes for quite an interesting drink and worth a try if you're really into peaches. While bourbon is the star of this recipe – there's nothing stopping you from adding your favorite peach liqueur for some extra peachiness and seeing what happens!
Regardless, it's a must-try for peach fanatics.
Ingredients:
2 peaches, halved
2 ounces thyme simple syrup
2 ounces bourbon
Ginger ale to taste
Thyme and peach slices for garnish
Instructions:
For best results, grill your peaches for about 8 minutes. You should see some grill marks and peaches should be softening just a little.
Once cooked, muddle the peaches with the syrup and bourbon.
Once done, pour the mixer into a cocktail shaker with ice and shake well.
Strain this into a glass with fresh ice.
Top with as much or as little ginger ale as you desire.
Garnish if you wish, and enjoy!
Of course, this recipe takes a little more effort than most cocktails, but trust that it's worth it! After all, one can only have so many typical light and fruity cocktails before a change becomes necessary. Try this one out and you might find you're a real fan of grilled fruit!