Vodka is most often intended to be a neutral drink – clean, crisp, and near flavorless. The less flavor a vodka has, while remaining smooth and clean, the more it tends to be praised. Even when flavor is present, it's usually in the form of soft, subtle, barely-there notes with only one or two flavors to speak of.
There are some brands, however, that are starting to break the mold and purposely create bolder and more flavorful vodkas. These expressions are met with mixed emotions, though many are embracing the change.
With such a strong, general consensus that vodka should be neutral, though, it seems backward to then add or infuse such strong, specific flavors. And yet, that's exactly what many brands are doing these days with their collections of flavored vodkas. Fruit flavors are among the most popular, but we've also got a handful of savory flavorings out there as well as some with a lean towards herbs and spices.
Though fruit is a common ingredient, peach is a little less common, which is rather unfortunate. Peaches are bright, light, juicy, and they go with so many things. While they may be scarcer than some, several brands have stepped up to the plate. The best peach vodka is one with fresh, juicy, authentic flavors. Apricots are a common fruit to pair peaches with and you'll find many bottles that boast both flavors in one.
A good peach vodka will perform well in your chosen fruity or tropical cocktail, but plenty of them do well on their own, too. If you're a fan of the peach flavor, you should be able to sip any of the following neat or on the rocks.
The Best Peach Vodka
1. Seagrams Peach Vodka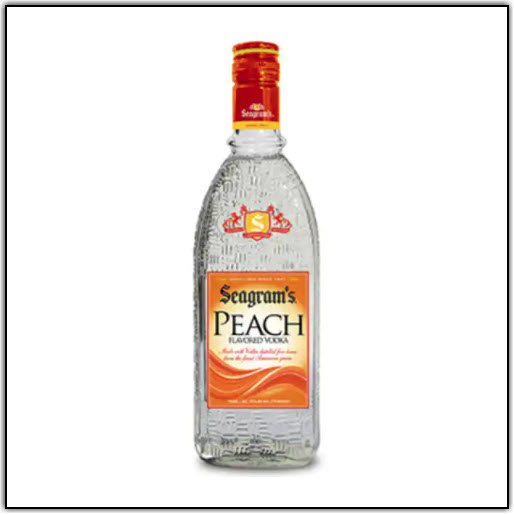 Made from grain grown in Indiana and pure water that's rich in minerals, Seagrams Peach Vodka is sweet, fruity treat you can enjoy in many different ways. It offers a soft, balanced flavor that can be enjoyed neat, on the rocks, mixed with fruit juice, or in a sweet, fruity cocktail. There are just enough tart and mellow tones present to perfectly balance out the sweetness.
The base vodka is distilled five times and then infused with sweet peach flavors. This balance makes it amazing in many cocktails but allows you to find a variety of flavor notes when you drink it neat. It also does well mixed with plain soda for a refreshing drink in the hot weather, or you can mix it with ice and fruit juice for a quick, boozy punch to serve your friends.
It's an amazing choice for any occasion give its wonderful flavor, good quality, and highly affordable price tag!
2. Ciroc Peach Vodka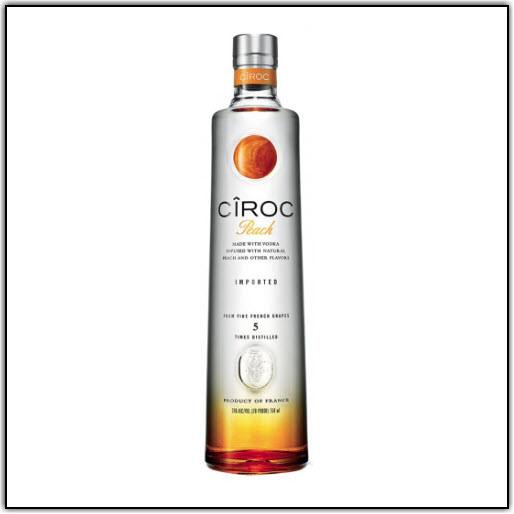 Ciroc Peach Vodka is a premium peach expression made from Eaux-de-vie in France. It's distilled a total of five times from two different types of grapes for a smooth and dynamic flavor. Its fifth and final distillation takes place at the beautiful, historic Distillerie de Chevanceaux in Southern France.
Founded in 2003, this expression is the third flavor-infused effort by Ciroc and they've done well to create the perfect fruity, juicy cocktail pairing. The entire profile is bursting with fresh, juicy peach flavors. There is a distinct note of sun-ripened peaches in the aroma with strong, juicy notes on the palate, plus subtle undertones of other orchard fruits and a touch of spice.
The finish is smooth and velvety.
3. Absolut Apeach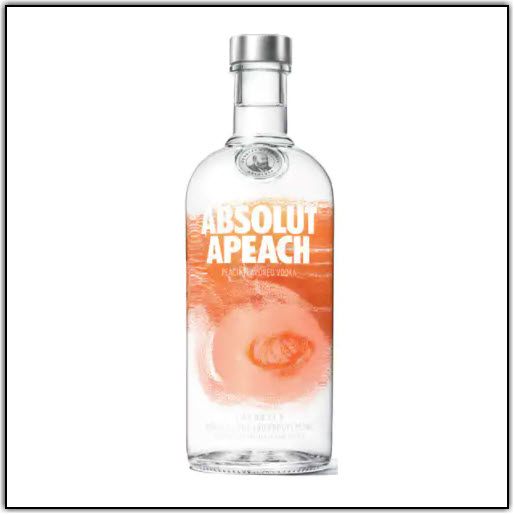 Known far and wide for being a delicious and premium vodka, Absolut noticed a gap in the market when it came to peaches. They knew how lovely, sweet, and inviting peaches were and they thought the world of alcohol was sorely lacking. So, they did something about it with the release of Absolut Apeach in 2005.
The drink quickly became popular in many places, including Asia where the peach originates, and Sweden, where Absolut is based. Today, Absolut is known pretty much everywhere and many people from all over the world enjoy this delightful peachy spirit.
Absolut themselves recommend mixing it with iced tea for an easy, refreshing summer drink or adding it to prosecco for a pretty, fancy peach bellini. Beyond their recommendations though, are plenty more mixers and cocktails that go beautifully with their delicious peach infusion.
They use their standard winter wheat vodka as a base and use only natural peach flavors – no sugar is ever added.
The flavor is a balanced and slightly complex one, offering a lovely combination of peaches and apricots with a tropical touch. It's fresh, rich, and smooth with a luscious mouthfeel and a mellow character. It's often described as being sweet and tasty but never too sweet, which is a good thing, especially when mixing cocktails.
4. Belvedere Peach Nectar Vodka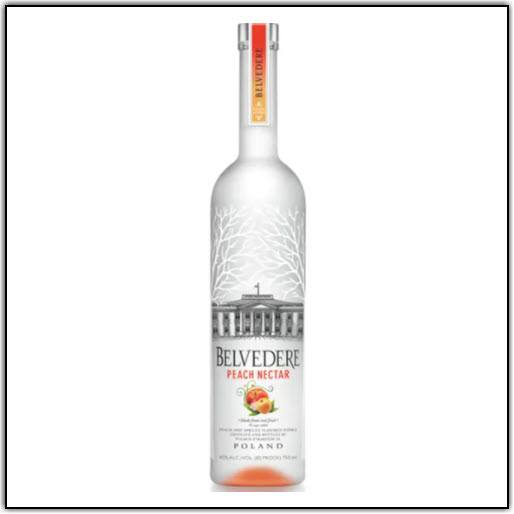 Belvedere Peach Nectar Vodka is fairly new to the scene, having launched in 2016 as the next in a succession of flavored expressions from Belvedere. The company combines juicy peaches from California with delicious Polish apricots to create this smooth and bright concoction through their unique maceration process.
The result is a profile that's bursting with fresh and aromatic orchard fruit that is sure to liven up and refresh your cocktails. The drink is also tasty on its own or with a stick of cinnamon and a slice of peach on the side.
On the nose are bright and aromatic notes of freshly cut peach, some citrus, and a touch of toasted almond. The palate is rich and juicy with notes of vanilla, baked apricot, peach flesh, marzipan, and a touch of almond just as on the nose. It's full-bodied with a luscious mouthfeel with a finish that's rich with peach, apricot, and almond.
The array of aromas and flavors other than peach make this an interesting, complex, and versatile peach vodka. The peach is certainly dominant, but the drink goes so much deeper.
5. Smirnoff Peach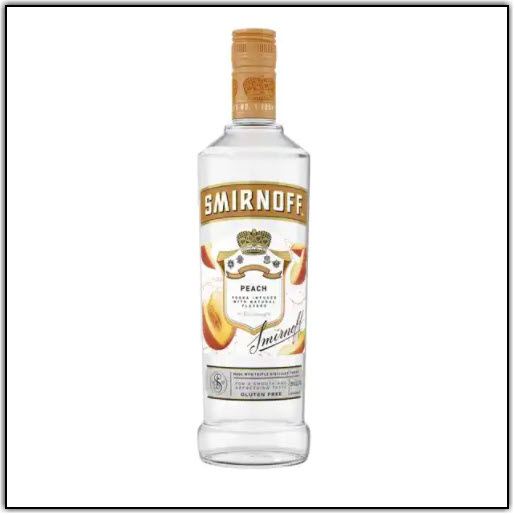 Smirnoff is a leader in the world of vodka and has reached such a point for many reasons. Their drinks are good-quality, great-tasting, affordable, versatile, and varied. They have an excellent selection of regular vodka, more than 30 flavors, and a series of delicious coolers. Smirnoff Peach is only one amazing flavor in their vast collection, and it's a favorite for many.
Like most other Smirnoff flavors, Smirnoff Peach is distilled three times, leaving it smooth enough to enjoy neat or on the rocks, allowing you to fully appreciate their delightful peachy flavors. It's also a great shooter if you want a quick burst of sweetness, and, of course, it's brilliant in plenty of light, fruity cocktails.
The aroma is rich and simple and filled with fresh peaches. The palate offers a tartness on the front that mellows into notes of juicy, ripe peaches with a smooth, sweet finish.
Delicious Peach Cocktails

Though there may not be as many peach vodkas out there as some other flavors, that doesn't mean the cocktail potential is any less. There are hundreds of amazing combinations you could come up with, these are just a couple of tried and true ideas to get you started.
Peach Cobbler Cocktail
This one is easy to whip up and tastes amazingly similar to the beloved dessert of the same name. Ciroc peach vodka is the recommended bottle here, but whatever peach vodka you have is fine, too.
Ingredients:
Brown sugar and crushed graham crackers for the rim.
¾ ounce hazelnut liqueur
¾ ounce peach vodka
¾ ounce heavy cream
A peach slice to garnish
The process is simple:
Start by wetting the rim of your glass with a touch of the hazelnut liqueur and dip it in the graham cracker/brown sugar mix.
Add ingredients to a cocktail shaker with ice and shake well.
Strain the drink into your prepared glass filled with fresh ice.
Garnish with your peach slice, and enjoy!
This drink is creamy and starts out quite heavy, which some people like. If you let it sit for just a little bit, though, the ice will melt and take away some of the heaviness. Many find that this is optimal for drinking.
Peach Sunrise
This refreshing, summery drink actually started as a virgin "mocktail" that takes after a traditional tequila sunrise. It calls for fresh peach juice and is delightfully sweet. It's a great-tasting drink for all ages, but it's also easy to spike. You can throw in a shot of almost anything, but peach vodka will make the already peachy drink even more delicious and potent.
Ingredients:
⅓ cup of fresh peach juice
1 ½ tablespoons grenadine
½ cup of lemon-lime soda – more or less to taste.
Desired amount of peach vodka
Making the drink doesn't take too long, but you do need to be careful to prepare the ingredients in the proper order:
Pour peach juice into a glass over ice.
Fill the glass with soda.
Add the shot of peach vodka.
Pour the grenadine in slowly. It sinks to the bottom and will rise slowly and gradually integrate into the drink.