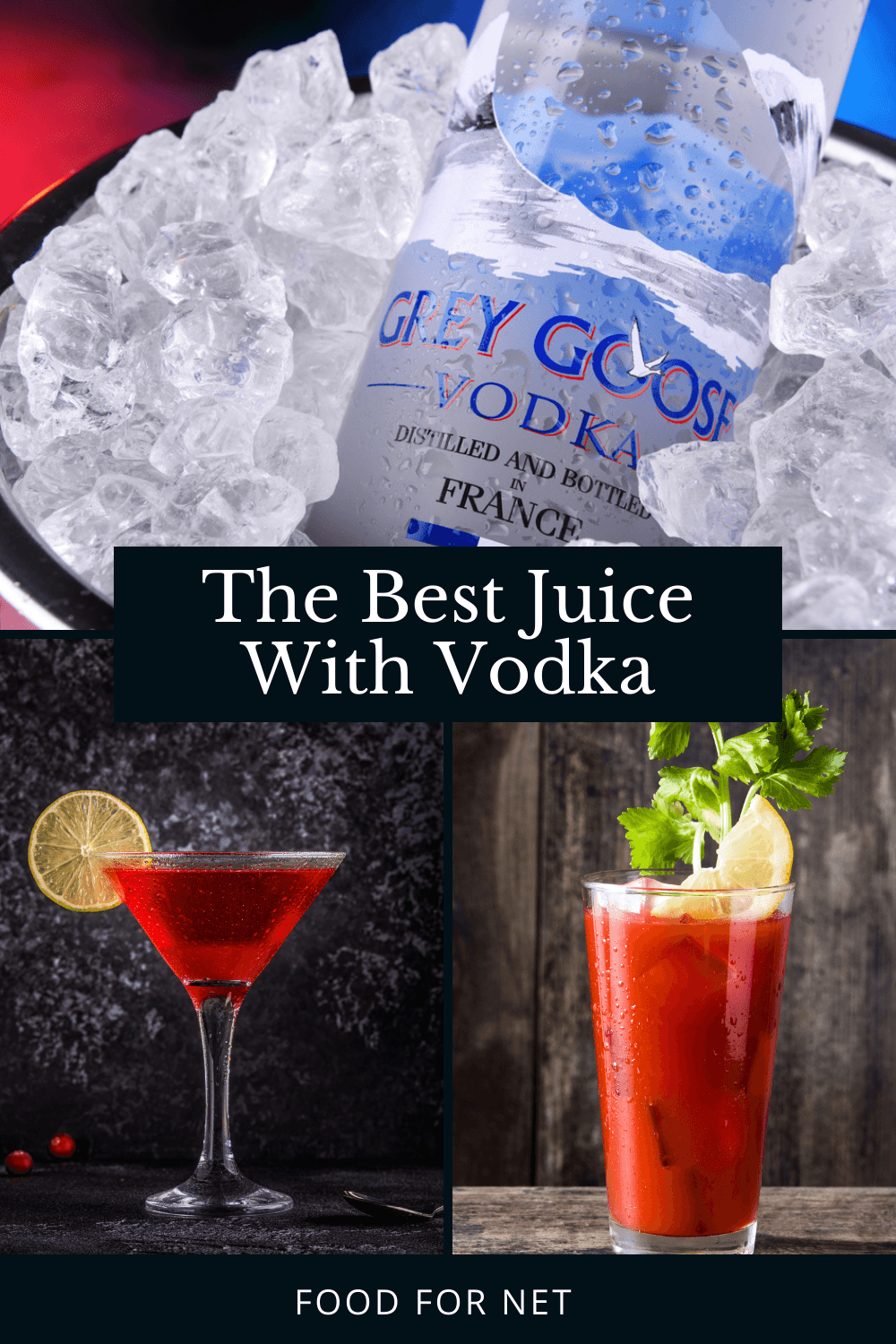 Crisp and neutral, vodka is so often used in cocktails – and rightly so. The highly neutral expressions offer a perfect base for bold cocktails that want to bring their flavors forward. There are also many vodkas out there now with stronger and more complex flavors, which many find are pleasant to sip alone while also doing well to complement cocktails with their flavor. For example, a citrus vodka in a citrusy cocktail can really elevate the flavor if you mix it right.
If you don't have all the necessary ingredients for a cocktail, though, or simply don't feel like exerting the effort, the simple addition of vodka to juice is often enough to create a fun, tasty drink with minimal output.
The screwdriver is a classic example. The combination of vodka and orange juice is so simple but so delicious. Orange juice isn't the only way to create an easy drink, though. You can probably do something with just about any juice you've got in your fridge, but these are some of the best juice with vodka combinations.
P.S. We're focusing on fruity juices that mix well with vodka. But, you can also infuse vodka with pickle juice for a delicious and completely different experience.
The Best Juice With Vodka
1. Orange Juice
We simply can't start a list like this off any other way – orange juice is the ultimate vodka mixer. It's a worldwide classic for a reason – it's delicious. Not only does it taste amazing, but it works well with almost any vodka. For a truly premium drink, something of superior quality like Grey Goose is a great choice, but you really can't go wrong either way.
Grey Goose creates such a nice, sippable vodka and OJ because it's a good quality drink, to begin with. It's made from pure water from the Gensac spring in France, which is mixed with premium, soft winter wheat and filtered through Champagne limestone.
They use soft wheat specifically instead of hard wheat, as it's thought to create a more durable grain due to the four extra months of growth. Grey Goose uses a locally sourced wheat grown in Picardy, which is known as the "breadbasket" of France for the amazing quality grain it produces.
On its own, Grey Goose has a delicate aroma with soft, gentle floral notes with a touch of nuts and vanilla. The palate offers a hint of sweetness with a light mineral flavor and a touch of pepper. The finish is bold with a hint of toffee flavor.
2. Tomato Juice
If you're not in the mood for a sweet drink, you can go the other way and do something easy and savory. Tomato juice is the base of the bloody Mary so you know it works. For an amazing and unique taste, mix it with some Absolut Peppar.
This combination is great because Absolut Peppar already has a spicy, savory kick to it and the addition of tomato juice balances it so well and creates brand new layers of flavor.
Absolut Peppar was created in 1986 and it was the very first flavored expression in Absolut's line of flavors. It was designed to be an easy bloody Mary base, considering the cocktail features vodka and pepper. It was well-received by the many bloody Mary bars popping up all over the place at the time. If you don't want an instant bloody Mary, any basic vodka will still taste great with tomato juice, especially if you're in the mood for something rich and savory.
3. Pineapple Juice
Tropical and refreshing, pineapple juice is the perfect choice for a sweet, strong, exotic treat in the heat of the summer. Often considered the most neutral vodka, Smirnoff will really bring forward the sweet pineapple flavors. That said, it's another juice that'll go well with just about any neutral or even citrus vodka.
Pineapple is a strong flavor on its own so you probably don't want to mix it with a particularly flavorful vodka, many of which are popping up all over the place. If you want to really play up the pineapple, you can try a pineapple-flavored vodka for a more intense experience.
Smirnoff is one of the most versatile expressions out there with its neutral flavor profile but smooth texture. It's used in countless cocktails but can be sipped on the rocks, too, for a simple, crisp, and refreshing drink. The vodka is triple distilled and filtered 10 times, so you can rest assured it's perfectly smooth, pleasant, and pure. Its fresh aroma and clean, tasteless palate are the perfect testaments to that.
4. Grapefruit Juice
Though much less sweet than some other fruit juices, grapefruit juice offers a sharp, tart edge that might actually be more refreshing than something sweeter. Pair it with a citrus vodka like Absolut Citron for a real citrus kick.
Absolut Citron has all the quality and smoothness Absolut offers in their original vodka, with just the right amount of fresh, citrus flavor. The expression was launched in 1988 and was an instant hit with the many fans of a simple but popular cocktail – vodka on the rocks with a twist of lemon. Throughout the 80s, people were adding lemon juice to plain vodka to create their desired flavor.
With Absolut Citron, it all happens in one glass and eliminates all the work associated with the highly sought-after mix. It also quickly became a popular ingredient in a cosmopolitan.
The nose offers bright but balanced notes of citrus with a touch of wheat grain and orange blossom. The palate is similar, with mild flavors of citrus peel, grain sweetness, and a subtle bite. The finish is warm and smooth.
5. Cranberry Juice
Cranberry Juice is the base for one of the easiest cocktails out there – the cape codder. Mix your favorite cranberry juice with a nice smooth vodka like Belvedere and you'll have an amazing, rich, complex drink on your hands right away.
It's much like the infamous vodka and OJ mix, it only features two ingredients but it creates such a rich, iconic flavor that the two ingredients alone are considered a cocktail. The only thing you may want to add is a squeeze of lime juice, but that's optional.
Belvedere is a Polish vodka that's distilled four times using premium Dankowskie rye. This grain is used because of its strength and resiliency, often standing up to the harsh winters in Poland. Belvedere means "beautiful to see." and the brand is named after the expansive Belweder Place in Warsaw, Poland, an image of which is printed on every bottle as a reminder of the brand's history. Belvedere Vodka comes as a result of over six centuries of vodka tradition in Poland. Not only is it quadruple distilled for purity, but it's entirely free of sugar, glycerin, or any other additives.
On the nose, Belvedere offers subtle notes of vanilla with a creamy character. The palate is medium-bodied and well-rounded with a good mix of sweet and savory notes like vanilla and pepper. The finish is bold and nutty.
Juice Based Vodka Cocktails

If you want to stick to the theme of easy mixing but still want a little more than just juice, here are a few quick, easy vodka cocktails with juice and just a few other basic ingredients you probably already have in your cupboard!
Appletini
Sweet, tart, and perfect for the fall weather, this is an uncomplicated cocktail you can make any time and easily scale up or down.
Ingredients:
50ml vodka
50ml apple juice
1 tsp maple syrup
1 tsp lemon juice
Add all the ingredients to a shaker with ice and shake it well. Keep shaking until the shaker feels col, and then strain the drink into a martini glass. Garnish with a slice of apple for the perfect finishing touch.
Classic Cosmo
Take that cranberry juice to the next level and make yourself a classic cosmopolitan. Sweet, tart, and full of citrus, it's the perfect drink to sip on poolside or share with friends. There have been many variations created over the years, but you can never go wrong with the original recipe:
Ingredients:
1.5 ounces vodka
¼ ounce lime juice
¼ ounce orange liqueur or triple sec
¼ ounce cranberry juice
Lime wedge to garnish
The method is simple: add all the ingredients to a cocktail shaker with ice and shake it up well. Once cold, strain the mixture into a chilled cocktail glass and garnish with your lime wedge.
Vodka Sunrise
Originally made with tequila, the tequila sunrise is a fun, beautiful, fruit drink that's quite popular. What you may not know, though, is that it goes just as well with vodka. This is great if you don't have any tequila on hand or you simply don't like it. When you make this drink with vodka, it's essentially an upgraded screwdriver, because the ingredients are simple:
1 ounce vodka
5 ounces orange juice
1.5 ounces grenadine
Orange wheel to garnish
Instructions:
Begin by adding ice to a highball glass.
Add the vodka and orange juice.
Stir it up well.
Pour the grenadine over top, slowly and carefully.
Garnish with an orange wheel if desired.
Related Content