The gin and tonic is among the most traditional and classic mixed drinks you can get. There are countless variations too. It's an easy cocktail to make and overall, gin is abundant. It's also easy to find a huge variety of flavor profiles, meaning there's a gin out there for just about everyone. Find the right gin for you and you'll probably like the gin and tonic too.
Unlike many spirits, gin isn't aged for years and years. If anything, it's rested for several weeks and nothing more. This means that unlike whiskey, it doesn't get better and more valuable the longer it ages. So, even the best cheap gin can rival the most expensive one in terms of flavor and experience – it all comes down to preference.
In addition to juniper, common botanicals include angelica, coriander, lemon, orange, cinnamon, and other citrus varieties. These are found in a cheap gin because they are common and easy to come by, not because there's anything wrong with them.
If these flavors appeal to you, then you'll find the simplest of gins enjoyable, even neat. It's when you have more expensive tastes that you start getting into a more expensive gin. Different botanicals do, of course, offer different flavor profiles and some are much rarer than others.
If you find yourself drawn to flavors like black truffle and roses, you'll pay more. This is simply because they're harder and more expensive to source. Some botanicals are also only available for a short period of time or during a single season. This limits the amount of gin that can be made from them and therefore, makes each bottle more expensive.
It's these factors that set gin apart from other spirits. Cheap doesn't mean low-quality and even the cheapest gin can be enjoyed neat if someone likes the flavors it includes.
It also means that it's easy to find a simple, cheap, unobtrusive gin to make your cocktails with. A gin with a flavor that doesn't overpower can be used across the board, too, meaning you only need one bottle for many drinks.
The Best Cheap Gin
1. Gordon's Gin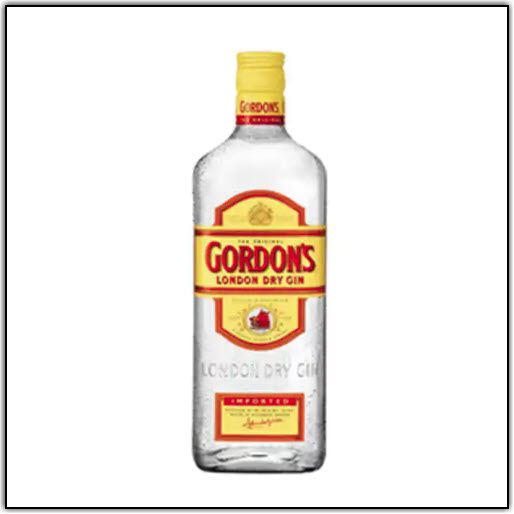 Gordon's London Dry Gin is well-known among gin lovers for the incredible value you get for the price. It's one of the cheapest gins available and it's good, too. It's heavy on the juniper which many consider a good thing. Juniper is the base for all gin. Some really love the flavor and Gordon's offers it in a cheap, accessible bottle.
Those who appreciate the juniper-forward flavor will enjoy sipping this gin neat, despite the low price tag. Its simplicity also makes it the perfect base for a wide range of gin-based cocktails.
Founded by Alexander Gordon, the company carries on his legacy of sourcing only the very best ingredients and maintains his dedication to the classic juniper flavor, earning this gin the unofficial title of "ginniest gin." Gordon's distillery began back in 1769 when the mission to create the best gin and tonic began.
This revolutionary London dry gin took over the world and hasn't backed down – it's still the most popular gin in the world.
The nose offers sweet aromas of anise and orange peel which are a well-balanced lead-in to the strong juniper you find on the palate. It won a double gold medal at the 2017 World Spirits Competition, among many other international awards throughout the years.
2. New Amsterdam London Dry Gin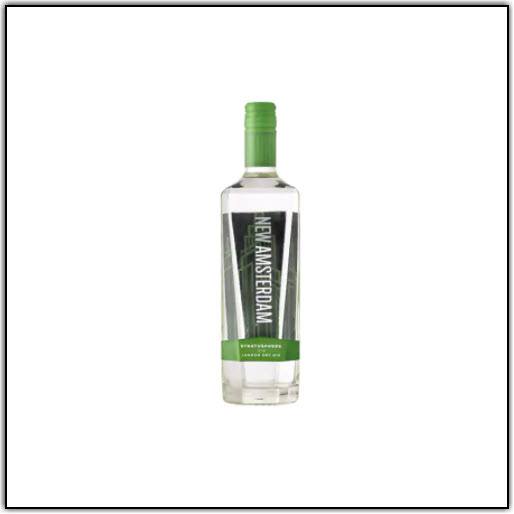 New Amsterdam made set out to revolutionize gin. They wanted to disturb the 400-year old practice of gin-making just a little and create something new and modern. They began with their Stratusphere gin, both the original and London dry versions.
They hand-pick a unique selection of botanicals and put them through a unique distillation process to create a crisp, clean taste with unmatched smoothness.
Though they're new to the game, their gin is gaining a solid reputation and growing in popularity. The London dry gin is an excellent choice for an array of cocktails, especially if you like them on the sweeter side.
It offers a bold nose of bitter, zesty orange and hints of pine, coriander, and juniper. This combination creates a sweet, almost candy-like scent followed by an equally sweet and citrusy palate.
The flavor is heavy on the orange with some subtle, soft spicy notes, particularly cassia. Hints of juniper come through in the middle and the finish offers more orange with notes of grapefruit and citron.
3. Seagrams Extra Dry Gin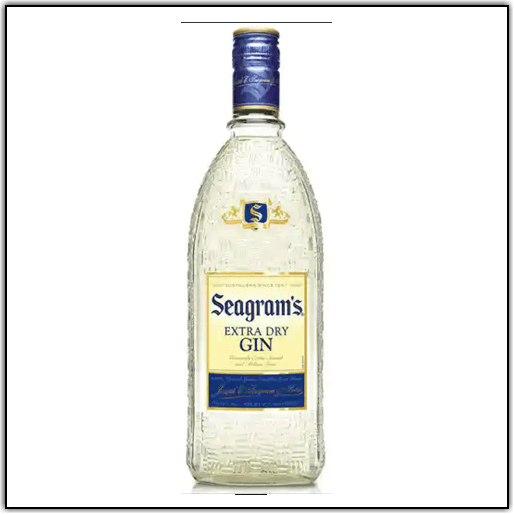 Distilled right in The United States since 1939, Seagrams has been popular with Americans for quite some time, though the original spirit has gone through some changes. In the beginning, it was aged for 90 days. By the 2000's they were simply "resting" it in oak. Now, even that's not a thing anymore.
This isn't necessarily a bad thing, it just means the original has changed a lot. Even so, Seagrams Extra Dry Gin remains beloved and nostalgic for many.
It has a strong citrus aroma with notes of angelica and a hint of pine and juniper. The orange is extremely sweet, almost like candy. The palate is juniper-forward followed by the same candied orange you smelled just moments before. The finish turns the tables a little with some heat and spice, almost like a cinnamon orange tea with notes of cider.
The changing flavors make it an experience when had neat, or it adds a complex touch to your favorite cocktail.
4. Gilbey's London Dry Gin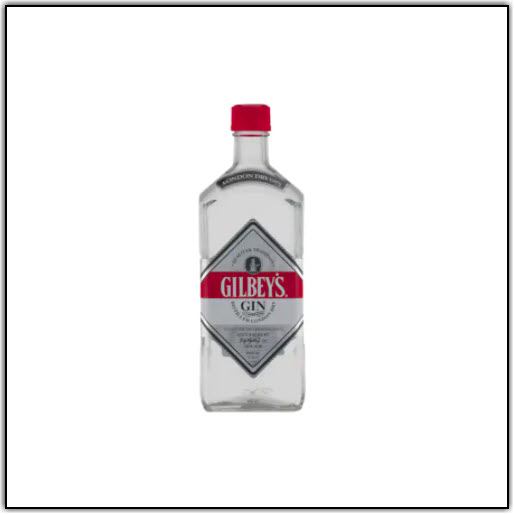 Gilbey's originated in nineteenth-century England and fast became a favorite around the world. The recipe became so wildly popular that they were granted permission to produce it in The United States in 1938.
This fine gin goes through a unique process quite similar to that of whiskey. Of course, the natural taste elements of things like bourbon and scotch are absent. They are replaced by a filter of juniper berries and a unique selection of herbs and spices that give Gibley's London Dry Gin its signature taste.
The aroma offers classic juniper with notes of angelica and orange zest. It's a fresh, simple aroma, but it's familiar among gin drinkers.
The palate comes in strong with heavy pine and noticeable juniper in front, followed by orange rind and coriander in the middle. The finish is strong, dry, and sharp with heavy notes of citrus followed by a rush of heat at the very end.
5. Bombay Dry Gin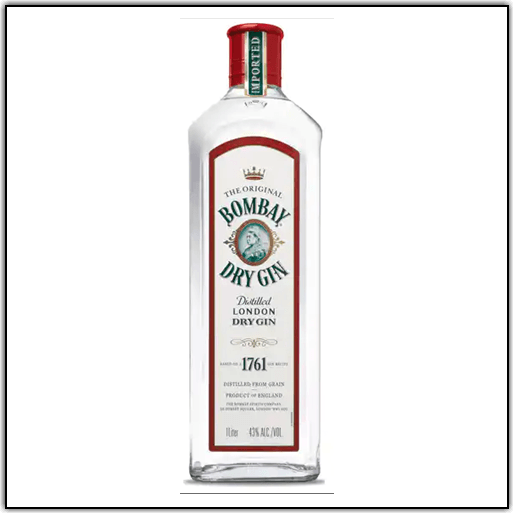 Bombay Dry Gin is made with eight carefully selected botanicals that are designed to work seamlessly with each other. They all have something to offer but no one flavor dominates the others too strongly.
The original recipe for this versatile gin can be traced back to the mid-eighteenth century, though this particular iteration was not launched until 1960.
It's somewhat similar to its more famous sister gin, Bombay Sapphire. This one is definitely cheaper, making it a good one for cocktails. Its simpler design and less delicate flavor profile also lend themselves well to mixing as you don't need to worry about overwhelming the flavor.
The aroma is soft and subtle with angelica to start and mild notes of juniper and pine. Also noticeable are small hints of cinnamon and citrus.
The palate is creamy and offers a vanilla sweetness right off the bat. This is followed by angelica, lemon, and jumper. The finish offers a medley of baking spices and brief, barely-there notes of cassia and coriander.
The Most Common Gin Botanicals

While a simple, cheap gin may be all your after, even the most common botanicals do have distinct flavors. It's the combination of chosen botanicals that give each gin its unique flavor profile, and that's the beauty of gin. You can use three botanicals or 50 to create the flavor you want.
While the possibilities are endless, there are a few basics you should know if you plan to seek out a specific type of flavor. Of course, you can't avoid juniper, though you can choose how much or little juniper flavor you're after in your gin.
Citrus Botanicals
Lemon and orange peel are common citrus botanicals and any gin that's heavy on these is going to be sweeter and have a heavy citrus aroma and flavor. Most gin distillers use the peel rather than the fruit as this offers a fresher flavor. It also makes the citrus stronger on the nose.
Other well-used citrus botanicals include grapefruit and lime peel.
Roots and Seeds
Next to citrus, seeds and roots are among the most common botanicals in gin. This includes coriander, angelica, orris, cardamom, lavender, etc. These give their gin musky, earthy, peppery flavors. Coriander seed is a good in-between as it has a surprising citrus quality that also serves to hold all other flavors together well.
It's common for citrus botanicals to be used in tandem with roots and seeds to create complex, balanced flavors. It's which type is more dominant that determines the overall flavor profile of the gin, and in what order you'll notice the flavors upon sipping.
Fruit, spices, flowers, and more can all be used in gin, but you'll almost always find a base of citrus peels and roots or seeds.