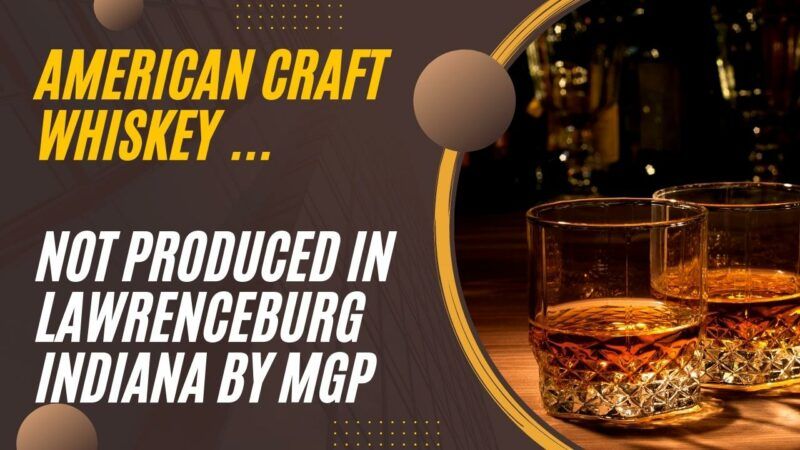 Whiskey is one of the most versatile liquors – neat, on the rocks, or served as an ingredient in a mixed drink, it is both classic and satisfying. And for the discerning consumer, craft whiskeys represent the pinnacle of whiskey consumption. However, conscientious whiskey connoisseurs might be interested to know that many so-called craft whiskeys are likely to have originated in the same distillery in Lawrenceburg, Indiana.
Most craft brewers appeal to consumers with promises of small, individually brewed lots; hand-bottled batches; and uniquely crafted liquors. However, many of these "individual" lots are actually purchased from the food corporation named MGP (Midwest Grain Products).
MGP is housed in the former Seagram's distillery, and there they manufacture an array of liquors, including many varieties of whiskey: rye whiskey, corn whiskey, wheat whiskey, and bourbon, among others.
The reason that MGP has become such a prolific and attractive choice for so-called artisanal whiskey distilleries is because they are well-established, and their product does, by and large, sell well. Furthermore, because MGP does not distill any brands of whiskey of its own, it is easy for small start-up distilleries to purchase, rename, and sell MGP's whiskey. Far easier than purchasing their own sills and ingredients and then taking the five-plus years to make and age their own actual craft whiskeys.
This is, in fact, one way that the discerning consumer can determine the authenticity of a craft distillery. By comparing the start-up year of the company with the alleged age of the whiskey, you can tell whether or not the whiskey could truly be artisanal.
A distillery, for example, that was established only a year or two ago would have no way of manufacturing a whiskey that has been aged five, ten, or even fifteen years. It is infinitely easier to purchase office space, hire a marketing team, and then purchase distilled whiskey from MGP to sell under your own label.
However, despite this massive marketing ploy behind some of whiskey's most beloved artisanal whiskeys, there are still true independent, craft distilleries that make unique, artisanal, and hand-crafted whiskey for the discerning consumer's enjoyment.
Alley 6 Craft Distillery
Happy world whisky day from Alley 6! #worldwhiskyday pic.twitter.com/qMh4jAat85

— Alley 6 Distillery (@Alley6whiskey) May 17, 2015
Though many people associate Sonoma County, California with its renowned vineyards, it is also home to Alley 6 Craft Distillery, an artisanal distillery founded in 2012. The first batch of Alley 6 whiskey (only 192 hand-crafted bottles) was sold this past summer, marking the beginning of what will hopefully be a long and illustrious history for the California distillery.
www.alley6.com
Bainbridge Organic Distillers
Located on Bainbridge Island in the Puget Sound, Bainbridge Organic Distillers was Washington State's first certified organic distillery, and the family-owned and –operated distillery distills, ages, and bottles all their whiskeys on-site and by hand. The owners are also actively involved in choosing their own grains from nearby family-owned farms.
www.bainbridgedistillers.com
Catoctin Creek
This distillery was founded in 2009 by Becky and Scott Harris and is located in Loudoun County, Virginia. It is the first legal distillery in the county since the pre-Prohibition Era. The distillery uses organic ingredients, which are largely locally sourced.
www.catoctincreekdistilling.com
Corsair
Located in Nashville, Tennessee, Corsair was founded by Darek Bell and Andrew Webber. The distillery originated from the two friends' adventures home brewing beer and wine in the Bells' garage. Since then, Corsair has won over 40 awards at various national and international spirits competitions. Bell and Webber accredit this largely to their adventurous "ultra premium booze for badasses."
www.corsairdistillery.com
Distillery 291
A small batch distillery located in Colorado Springs, Colorado, Distillery 291 is owned by Michael Myers, whose goal is to replicate the tastes of the Wild West in his company's craft whiskeys. Distillery 291 distills five whiskey products from grain to bottle in their distillery located at the base of the Rocky Mountains.
www.distillery291.com
Dry Fly
Located in Spokane, Washington, Dry Fly distills its own rye whiskey as well as a host of other liquor products, including vodka, gin, whiskey, and bourbon. They pride themselves on using locally grown grains from sustainable farms.
www.dryflydistilling.com
Few
Few is a distillery located in the suburbs of Chicago, in Evanston, Illinois. Interestingly, Evanston was once the center of the Temperance Movement, and the town was alcohol-free. Now it is home to a craft distillery committed to producing truly artisanal whiskey. Throughout the distilling, aging, and bottling process, Few whiskeys never leave their distillery.
www.fewspirits.com
Howling Moon Distillery
This North Carolina distillery, which was recently featured on Monday Night Football, first became known for their moonshine, thought they also produce several other varieties of whiskey. The liquor produced by Howling Moon has its roots in the generations-old recipes of the distillery's owners, the Bradford family. In fact, one of the stills operates a condenser that was also in the still of this generation's great-great-grandfather.
www.howlingmoonshine.com
Journeyman
Located in Three Oaks, Michigan, this distillery is not only artisanal but organic as well. Journeyman is housed in a historic building once owned by a Prohibitionist, but is now home to one of Michigan's premier craft whiskeys and spirits, all of which are distilled, aged, bottled, and labelled on premises. Journeyman boasts the privilege of being one of the few distilleries in the world that is certified both organic and kosher.
www.journeymandistillery.com
Wigle Whiskey
Wigle is a craft distillery located in Pittsburgh, Pennsylvania. The distillery is named for Phillip Wigle, a man whose passion for whiskey helped spark the Whiskey Rebellion, a protest against the whiskey tax implemented by George Washington's administration. After the Rebellion, western Pennsylvania continued to be one of the leading producers of whiskey in the nation. Wigle Whiskey hopes to revive this historic tradition of whiskey distilling with its family-owned, locally sourced liquors.
www.wiglewhiskey.com
While this is not, of course, a comprehensive list, it should encourage whiskey enthusiasts that, while many so-called artisanal whiskeys hide behind MGP's mass-produced and distributed products, there is still a strong contingent of small, craft, and family-owned distillers who pride themselves on hand-crafted, original products that appeal to a broad array of tastes and preferences.
It is important for consumers to be informed, as there is no requirement for whiskey manufacturers to reveal on their labels where their product was produced or distilled. Fortunately, most true artisanal whiskeys are proud of their work, and will readily advertise where their product was distilled, aged, and bottled.
Beware of so-called craft whiskeys whose labels indicate that they were distilled or bottled in a location other than where the company is located; many of these whiskeys are likely products of MGP's Indiana factory.
Whiskey, like any other food or beverage, is a largely personal preference, and consumers should be sure to research craft distilleries to find the one that produces the whiskey that best suits his or her individual tastes. But, rest assured, from north to south and east to west, across all reaches of the American countryside, there are distillers working hard to produce whiskeys that honor historic distilling traditions while catering to the modern drinkers' appetites
RESOURCES
"5 American Distilleries Making Whiskey You Can Trust." Mensjournal.com. Web. 31 Oct. 2015.
Felten, Eric. "Your Craft Whiskey Is Probably from a Factory Distillery in Indiana." The Daily Beast. Newsweek. Web. 30 Oct. 2015.
"Sku's Recent Eats." The Complete List of American Whiskey Distilleries & Brands. Web. 30 Oct. 2015.
Willett, Megan. "23 Craft Distilleries Every Liquor Lover Should Know." Business Insider. Business Insider, Inc, 10 Dec. 2014. Web. 30 Oct. 2015.