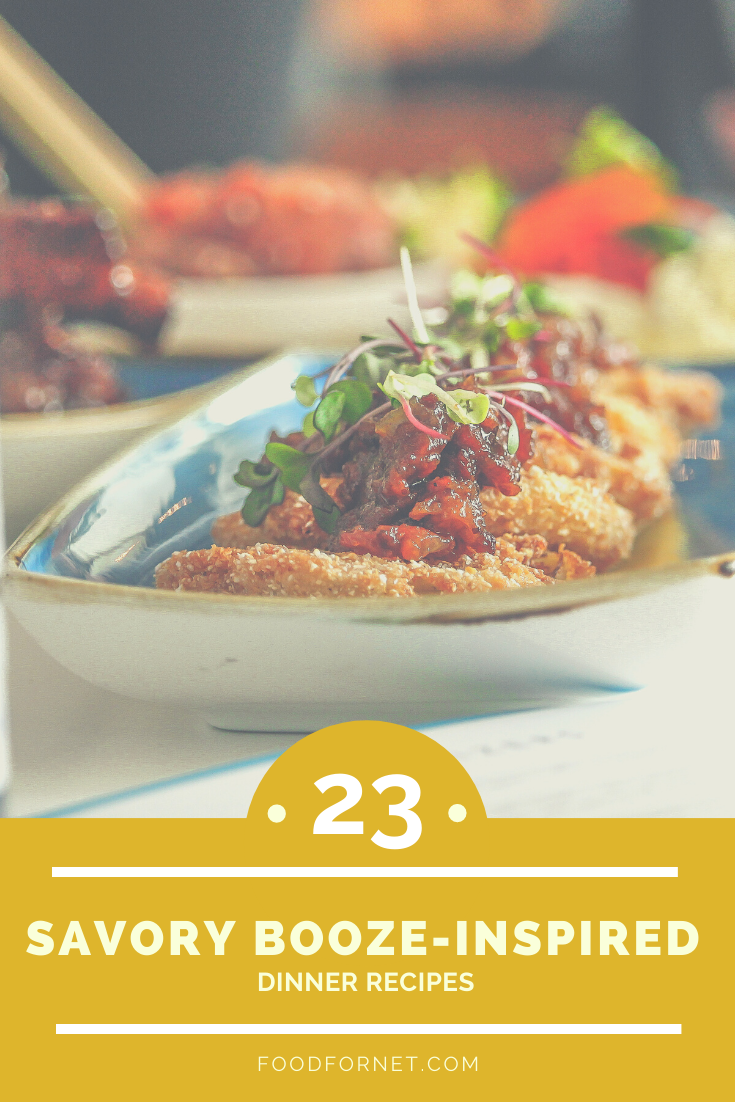 Alcohol is an incredibly versatile beverage. Not only is it something that we turn to if we want to relax or have a bit of fun, but alcohol is also a powerful ingredient in cooking.
For most of us, including alcohol in cooking isn't really about getting drunk or buzzed. After all, most (but not all) of the alcohol will burn off during cooking and most recipes with alcohol don't even use all that much alcohol compared to the serving size.
The power of alcohol in cooking comes from its effect on food. For example, alcohol can often be a way to add some unique flavor to a dish, especially in the case of alcohols like bourbon, which have a distinct taste. But, alcohol also plays a role in chemical reactions and just the presence of alcohol can alter a dish in unexpected ways. I mean, why else would some dishes use vodka?
In this list, I'm focusing on dinner dishes that specifically use alcohol as one of their ingredients. Some of the combinations are pretty common, but other recipes may use alcohol in a way that you have never really considered before.
And another easy way to do this is with alcohol-infused savory sauces. Then you can drizzle or drench them on your favorite meats!
PS. You might also like our list of boozy sweet sauces, which also have alcohol in them, but skew towards the sweeter side!
Savory Boozy Dinner Recipes
Maple Bacon Beer Burgers
This recipe comes from iowagirleats.com and burgers combine flavors of sweet maple bacon and beer. Overall, that combination would work extremely well, especially as many of us would typically have a beer with our burgers anyway.
In this recipe, the beer would add in a subtle flavor, especially as the recipe does contain other strong flavors. This is a fun way to make burgers taste a little bit different and it's a perfect recipe for anyone getting a little sick of plain old burgers.
Beer Battered Chicken Sandwich
Using beer in the batter is a technique with a long history and this recipe from leitesculinaria.com is just one example of this approach. With beer batter, the emphasis is strongly on the effect of the beer and not its flavor.
The inclusion of beer adds bubbles into the batter. This helps to make the batter lighter and can also give it more body. Now, this recipe is a bit different because it's fairly uncommon to see chicken done in beer batter, but there is no reason why not.
While we're on the topic, I want to note that this isn't your typical beer batter recipe either. The recipe uses a few more ingredients than you might expect, which gives the batter a more complex and appealing taste. Overall, this is probably an amazing sandwich with a more unique taste than the image suggests.
Beer Braised Chicken Tacos
Using beer in cooking is certainly a common approach, so here's another recipe that does just that. This time, the recipe comes from thebeeroness.com and as you might imagine, that is a great site to check out if you're interested in including beer in recipes.
This particular recipe is pretty cool because beer is actually an ingredient in the tortillas and also in the chicken. The impact and flavor of the beer would work well with the freshness of the other ingredients, like the avocado and cilantro, although you could use your own garnishes instead.
Classic French Onion Soup
There aren't many dinner recipes that traditionally use alcohol as an ingredient, but French onion soup is one example of such a recipe. At the same time there is a huge amount of variation in recipes for French onion soup and finding a good one can sometimes be challenging.
This recipe comes from willcookforfriends.com and it certainly does match up with the idea of a classic version of the recipe. In this case, the recipe actually uses two types of alcohol but both would significantly contribute to the flavor of the dish.
Slow Cooker Red Wine Pot Roast
I've always loved the idea of cooking a roast in a slow cooker. It's a wonderful way to make a hearty and warming dish without requiring all that much effort.
The idea of including alcohol in this dish just serves to make it that much better, especially if you're making this type of dish in the depths of winter. Red wine is also a natural complement to red meat in general, which is why recipes like this end up working so well. You can find all of the information that you need to make this one at jeanetteshealthyliving.com.
Vegan Beer Chili
This recipe comes from minimalistbaker.com and Dana notes that this is a good one to try even if you don't normally drink beer. Beer can be a great tool for cooking, adding in a depth of flavor.
In this case, the beer serves to make the dish taste a little rustic, which is pretty much perfect for chili. The recipe is for vegan chili. However, you could also add meat to the recipe if you preferred and the directions do give information about how to make this substitution.
Sticky Bourbon Chicken with Rice
I found this recipe at pinchofyum.com and I love the idea of using bourbon in a chicken dish. In general, bourbon does have a deep and somewhat rich taste, which would be a perfect complement to the chicken.
The recipe is also a surprisingly simple one to make, so it would be a great choice if you didn't have much time. Because the recipe relies on a marinade, you would need to get started the night before. Nevertheless, the amount of hands-on work with this recipe really is minimal.
Beer Battered Yogurt Fried Chicken
I know I already highlighted one recipe for beer battered chicken, but I had to include this one because it really is quite different. Much of that is to do with the yogurt mixture that is used on the chicken. That mixture would make the chicken taste quite different and I imagine the approach works especially well on chicken drumsticks.
At the same time, Katerina from diethood.com, also includes her own combination of beer and spices into the beer batter, which further adds to the overall depth of flavor that the recipe offers.
Penne Alla Vodka
If you've never cooked with alcohol, the idea of including vodka in a pasta sauce makes absolutely no sense. After all, vodka doesn't have a taste of its own. Yet, vodka really does influence the way this dish turns out.
This particular recipe comes from gimmesomeoven.com and the recipe contains a creamy vodka sauce. All-in-all, the end result sounds just wonderful, especially if you happen to be a big fan of pasta (or vodka) to start off with.
Rosemary Cornmeal Beer Battered Fish
To me, this fried fish looks exactly like I expect fried fish to look (even though it rarely does). So, as you can imagine, I was pretty taken by the photo in general and the recipe itself is even better than the photo.
The recipe comes from runningtothekitchen.com and there are actually two parts to it. The first part is the fish, which includes the beer. The second part of the recipe is for the remoulade (the yogurt dip). That dip doesn't contain any alcohol but it's a perfect complement to the fish.
Lemon-Garlic Shrimp Scampi
So, here's an option for any seafood lovers. Many variations of scampi do use wine as a key ingredient and this recipe follows this trend. The recipe uses a few key flavors to complement the flavor of the shrimp. The most significant ones are lemon and garlic but red pepper also makes an appearance.
The taste of the wine itself would also be evident in the final dish, complementing it nicely. You can find all of the ingredients and directions for this dish at daringgourmet.com if you're interested in trying it out.
Red Wine and Beer Braised Short Ribs
I have always loved the combination of red wine and meat, and this recipe is a great way of taking advantage of those flavors. This would be an especially good dish for a cold winter's day because the dish itself is warming as is the alcohol that it contains.
As the name suggests, this recipe actually contains two different types of alcohol – red wine and beer. The beer of choice is either Guinness or any stout beer, which would just add to the rich taste of the meat. The recipe comes from artandthekitchen.com, so you can find all of the ingredients and directions over there.
Beer Can Chicken
We're talking about alcohol and cooking, so I really did have to mention beer can chicken at least once. The images for beer can chicken do always look a little silly, but there is a really good reason for the approach.
Beer can chicken works because the flavors of the beer infuse into the chicken and the steam from the beer also makes it incredibly tender (which is why you have to put the beer can where it is in the image). You can find all of the details at jocooks.com.
However, as a word of warning, you do have to have enough space in your oven to stand a chicken upright like this, or the recipe simply won't work.
Beef Teriyaki
This recipe is a little bit different because it uses sake (rice wine) as the alcohol of choice. Most western dishes don't use sake and many people haven't even tried the alcohol (although personally, I do find it appealing). Regardless, this recipe is a good one to try if you're looking for flavors that are a little bit different.
The recipe itself is pretty simple and this would be a good recipe to serve to guests. The recipe comes from rasamalaysia.com, so you can head over there to find out more details.
Vodka Cream Penne with Chorizo
This recipe is another example of how powerful vodka can be in a cream-based sauce. This particular recipe is from notquitenigella.com and it's a fairly simple introduction into the world of vodka and pasta.
Don't let the simplicity of the dish fool you though, this is still a very flavorful dish, particularly because of the sauce itself and the use of chorizo. It's also an easy dish to prepare, which is certainly a bonus if you're in a hurry.
Bourbon Pulled Pork Totchos
Pulled pork can be an especially appealing food in general, so you can imagine how much better it gets once you add bourbon into the mix. This recipe comes from thenoshery.com and it really is worth trying out.
To make the whole thing even better, the pulled pork itself is made in the slow cooker, which dramatically decrease the amount of work you have to do. Actually, this entire recipe is easy to pull off and involves relatively little prep work or effort. Of course, you could also just prepare the bourbon pulled pork if that was the part that interested you the most.
No-Stock French Onion Soup
Here's a second French onion soup to add to our list. This one comes from alexandracooks.com and it is a fairly simple example of French onion soup.
That is intentional though, as Alexandra notes that traditional French onion soup should be simple and certainly shouldn't make use of stock. The approach seems to work exceptionally well because the simplicity lets the taste of onions shine through much more than most other versions of French onion soup.
Pineapple and Rum Glazed Ham
When you're baking a ham for any big occasion, the glaze really can make all the difference. This recipe, from theblondcook.com, is powerful in that regard because the glaze here contains rum and pineapple, which is sure to make an amazing holiday dish.
Perhaps the most important part of this glaze is that it isn't going to be drowned out by the taste of the ham. Instead, the two things are going to complement each other nicely. You couldn't ask for anything better when it comes to glazed ham.
Bourbon and Brown Sugar Baked Beans
If you love baked beans then this recipe is for you. It contains a fantastic combination of flavors, including brown sugar, bourbon and (of course) bacon. The recipe itself is from nospoonnecessary.com, although you would actually want a spoon to serve it.
Now, there is a decent amount of prep work involved in making this dish but it is always worth taking that time if the end result is going to be an amazing dish. Plus, this recipe also makes a large amount, so it would be a good way to feed a family or to create leftovers.
Mustard and Beer-Braised Pork
These pork ribs from blackberrybabe.com look absolutely amazing and I love the idea of using beer to add to their flavor. As with other recipes, beer would add a depth of flavor to this dish. So, it's worth giving it a try even if you don't especially like beer in the first place.
The recipe calls for any type of beer, so you can choose whichever you have lying around. Nevertheless, it's likely that the specific beer chosen would have some impact on the overall taste of the dish, so be aware of that when making your decision.
Rich Pork and Red Wine Ragu
The focus of this particular recipe is on the pork and wine ragu, and this could really be served on top of most types of pasta. To me, this recipe is a good reminder that you really don't need to buy jars of bottled pasta sauce from the grocery store.
Instead, you can make your own rich pasta sauce with relatively few ingredients. The red wine is a natural complement to this type of sauce and makes it taste that much better. You can find all of the details you would need for this recipe at gratineeblog.com.
Smoked Gouda Beer Burgers
This burger recipe comes from lifeasastrawberry.com and it focuses on using a heavy stout or lager to help create a smoky flavor. I love this recipe as a way to make burgers a little bit more interesting.
After all, sometimes burgers can seem a little bit repetitive simply because the burger patties always taste pretty similar to one another. You could actually use the burger patties from this recipe with any combination of burger buns and other burger ingredients.
Ribeye Steak Saute with Red Wine
This final entry comes from dadcooksdinner.com. I find this recipe pretty appealing because many people find that steak ends up dry or tasteless when they cook it at home.
This recipe is fairly simple, but it acts as a great way to infuse the flavor of alcohol into the steak while also making the cooking process that much simpler. Besides, the final steak does look pretty good on the plate too.