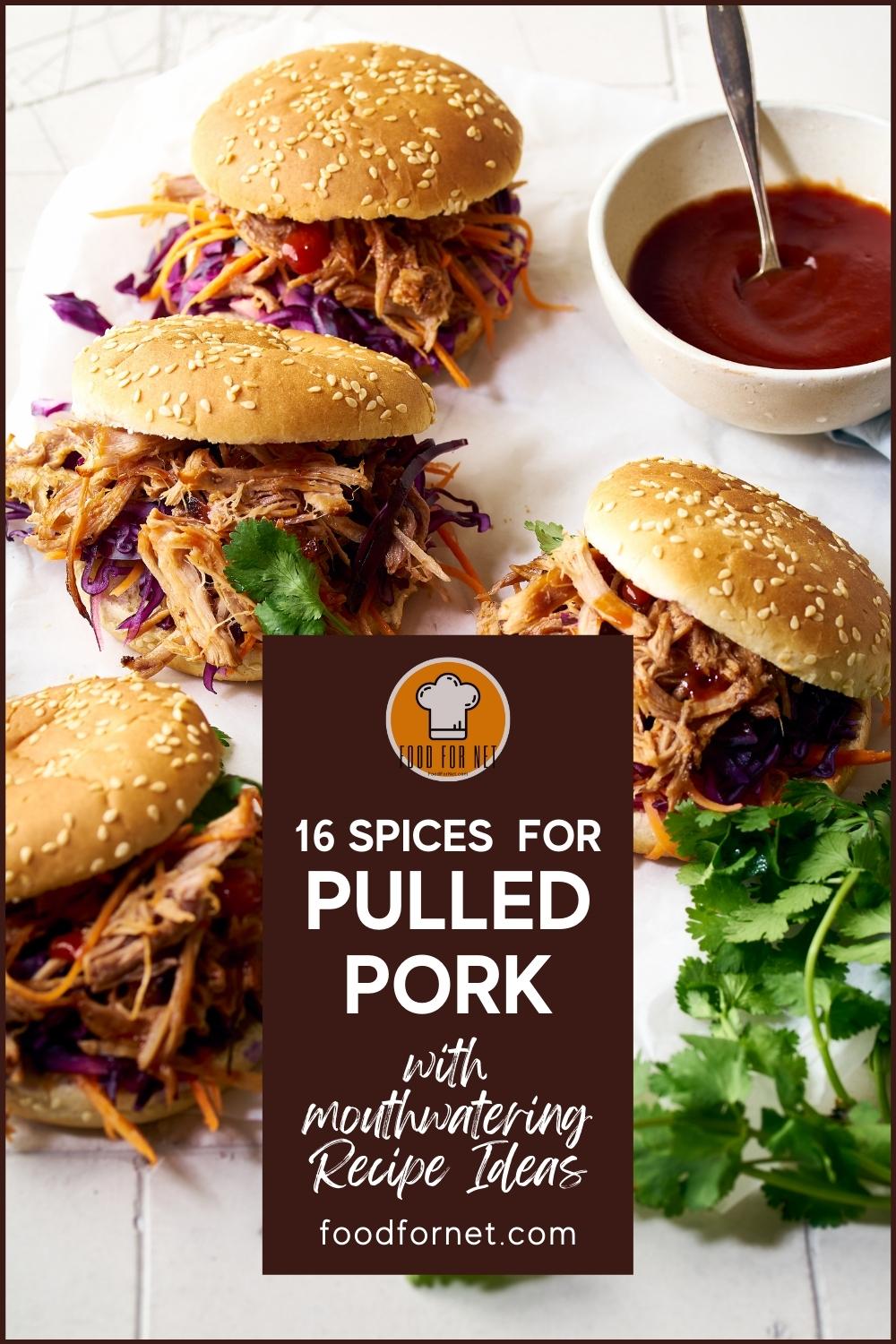 Pulled pork is a slow-cooked and shredded pork with a barbecue sauce that originated in the Southern part of the US. This American barbecue dish is understandably quite a favorite. Whether one prefers cooking it in a huge outdoor fire pit or simply in a good old domestic oven, as long as you can nail the spices for pulled pork, you're all good.
Pork, like other types of meat, is a fantastic source of protein, vitamins, and minerals. And although this type of meat is quite controversial, there is still a way for you to include it in your diet without the guilt (unless of course, your religion prohibits it of course!). Opting for cuts that have minimal saturated fats and practicing control over serving portions or consumption usually does the trick.
Pulled pork is just one of the many dishes that you can do with a good slab of pork. As to which cut in particular, you may try pork butt roast (the upper portion of the animal's front shoulder), pork shoulder, or center-cut pork loin roast. The first two, are favored because they're both relatively inexpensive.
After you've chosen your cut of meat then you can start planning your pulled pork rub. As we've mentioned above, this will pretty much determine the success of your dish. You can experiment with different spices for pulled pork till you find the one that simply suits your taste. After getting the seasonings down, all you have to do now is cook your meat until it's fork-tender that it easily pulls apart. And worry not because pulled pork is a very forgiving dish. So, just relax and enjoy the process.
It does take time to cook pulled pork. But while you're waiting for it to cook perhaps make use of the time to make a good side dish that will go with it – say a hearty serving of mac and cheese or a delicious bowl of baked beans. Or if you're planning to make pulled pork sandwiches, then it's the perfect time to prepare everything you're going to need in assembling your sandwich.
Now before you go making pulled pork in your kitchen, see here first the list of spices for pulled pork with sample recipes to get some ideas. Who knows, you might not only find the right spice combo that will pique your interest but a pulled pork recipe that will make it to your top favorite dish as well!
(If you're looking for other pork dishes to try, you can also check out how to make pork roast or pork chops.)
Spices for Pulled Pork (With Pictures!)
Smoked Paprika

Smoked paprika, sometimes called Spanish paprika, is made from smoked and dried peppers. Traditionally, oak wood is used in smoking these peppers. This rich red-colored spice tastes somewhat fruity because of the peppers, with woodsy smoke flavors.
This sweet, saucy, and smoky pulled pork recipe is surely a crowd-pleaser. Perfect for any BBQ-themed gatherings. Aside from the fact that it tastes absolutely delicious, you can very well prep it in advance as well.
Dried oregano

Oregano was first grown in Greece and has been used by Greeks since ancient times. It was believed that this herb is created by Aphrodite. Oregano has a bold, earthy, and somewhat bitter taste and can be used fresh or dried in cooking.
Simple yet effective, the dry rub for this Greek-style Pulled Pork recipe just works. It consists of dried oregano, garlic powder, smoked paprika, and white pepper which is rubbed onto the pork along with tomato paste and lemon rind.
Mustard powder

Mustard powder, also called ground mustard or dry mustard, is made from mustard seeds that are ground into a fine powder. It acts as a natural emulsifier and also adds a distinct tangy flavor and a unique sharp heat to your food.
Because of the alternative cooking methods included for this particular pulled pork dish, it'll be hard to say no to trying it out. You can basically use the oven, the slow cooker, or your good old instant pot. However way you want to do it, the pulled pork dry rub will ensure that you'll come up with a flavorful pulled pork dish.
Allspice

Allspice, also sometimes called Jamaica pepper, pimenta, pimento, or myrtle pepper, is the unripe berry of a mid-canopy tree. It tastes like a combination of different spices – hence the name. You can get a hint of cloves, nutmeg, and cinnamon with slightly bitter, earthy, and fruity notes.
This Perfect Spiced Pulled Pork recipe is flavored via a brine solution and a dry rub as well. And since this one involves brining, make sure to plan ahead – you'll need that pork to sit in that brine for about 24 hours. Don't worry, you'll see, it's worth it. Both the brine and rub consist of a number of spices that will surely leave your pulled pork tasting amazing.
Chili powder

Chili powder is a spice blend of grounded chilis and other spices like cumin, oregano, or paprika. It has an earthy taste with mild to moderate spicy heat. The combination of the savory and aromatic spices produces a flavor profile called Tex-Mex.
For taco nights, these Pulled Pork Tacos will be perfect! The spice combination that includes chili powder, paprika, pepper, cumin, ginger powder, and garlic powder really did the trick of beautifully seasoning the meat.
Bay leaves

Bay leaves, also called laurel leaves, are the fragrant leaves of the laurel tree that are used as herb either in fresh, dried, or ground form. Dried bay leaves have an herbal and somewhat floral aroma that is quite similar to oregano and thyme.
If you've tried adobo in the past then this Filipino Adobo-style Pulled Pork Sandwiches, will ring familiar to you. The simple spice combination just works with the tanginess from the vinegar and saltiness and umami flavor from the soy sauce. And of course, to complete the adobo flavor, it got to have bay leaves!
Cumin

Cumin seeds are the seeds of the fruit of an annual plant that belongs to the parsley family. It's native to the Mediterranean region but is also cultivated in India, Mexico, and China. These seeds have a rich, hearty, warm, earthy, and slightly citrus taste. Cumin is great for adding a slightly sweet and warming flavor to your dish and can be used either in whole or ground form.
This Slow Cooked Pork Carnitas or Mexican Pulled Pork is perfect with your tacos, tortillas, or for your burrito bowls. It's seasoned with amazing Mexican flavors that will surely work into every meat strand as you slowly cook it in your crockpot.
Cayenne

Cayenne powder, with its bright orange and brick red color, has a pungent aroma that is sweet and slightly smokey. It's made from dried and grounded cayenne peppers. Although some cayenne powder may be a blend of different types of peppers as well. This spice is normally about eight times hotter than chili powder.
See if the spice combination for the pulled pork rub here will interest you. You might also like the idea of crisping the shredded meats a bit by spreading it thinly on a lined baking sheet and broiling it for a few more minutes.
Coriander

Coriander as a spice refers to the seeds of the coriander plant whose leaves, called cilantro, are also used as an herb. This fresh-tasting spice has a floral, citrusy, and sweet flavor. Dry-roasting the seeds in a pan makes its floral aroma even more robust. It can also be slightly cracked or ground into powder.
This Slow Cooker Pulled Pork Sandwiches is a must-try not just because of its beautifully flavored shredded pork but its crunchy coleslaw as well. Don't get put off with the long list of ingredients because it's super easy to put together. And take note, too, that almost half of it is for coleslaw.
Garlic powder

Garlic powder is made from dehydrated garlic that is grounded into a powder. Its flavor is still very garlicky but nowhere near freshly chopped garlic. It actually tastes sweeter with caramelly undertones and is much less assertive than fresh garlic. Although some dishes call for fresh garlic specifically, keeping garlic powder on hand is still a great idea. This spice can be conveniently kept and stored in your pantry for an extended period of time.
If you're one of those who simply love using garlic powder in their rubs, then this may be the perfect seasoning mix for you. Along with it are other spices like onion powder, smoked paprika, cumin, pepper, and cayenne which are then mixed with brown sugar to create that beautiful pulled pork rub.
Cinnamon

Cinnamon came from the inner bark of the cinnamon tree. It can be used in sweet or savory dishes either in stick or ground form. It has a sweet and woody flavor with slightly citrusy, spicy, and bitter notes.
This Mediterranean Pulled Pork Tenderloin Sandwiches will give you a flavor fusion that will definitely make the hours spent in the kitchen worthwhile. The cinnamon and nutmeg combo really works with the other spices perfectly.
Dried thyme

Thyme is an herb with a very distinct smell. Its flowers, oil, and leaves are all used not just in cooking but as medicine as well. Its leaves can be used both fresh or dried in cooking. Thyme has a sharp, minty, and earthy flavor with floral notes and a hint of sweetness and bitterness.
Pulled pork cooked in smokers is a league of their own, somehow it has that added extra something. So, if you have one and the weather permits a cookout, then perhaps, you'd like to try this recipe. The meat is simply seasoned with dried herbs, paprika, garlic powder, red pepper, black pepper, and salt.
Chinese five-spice

Chinese five-spice is a blend of five or more different spices that encompasses all five tastes – bitter, salty, sour, sweet, and umami. It's usually a combination of cinnamon, star anise, cloves, fennel seeds, and Sichuan pepper – although expect that there are many variants available out there.
If you're craving Asian flavors then this Sticky Asian Pulled Pork recipe is for you. It can be served with rice but will also do just fine if serve with lettuce, sprouts, mint leaves, and a combo of carrots and cucumber which are cut into matchsticks.
Red pepper flakes

Red pepper flakes also called crushed red pepper flakes, are made from dried and crushed red chili peppers. The majority of these peppers are cayenne. It has a slightly sharp and earthy taste with a decent amount of heat.
Don't be put off with the red pepper flakes, cayenne, and paprika spice combination in the seasoning mix for this Carolina Slow Cooker Pulled Pork recipe. The heat from these spices will balance the tanginess of the apple cider vinegar and the sweetness of brown sugar. Other spices like pepper, garlic powder, and mustard are also used in flavoring the pork.
Cloves

Cloves are the aromatic flower buds of the clove tree that are harvested and dried to be used as a spice. Aside from its intense aroma, it also tastes somewhat sweet with an astringent flavor. It can be used both in whole or ground form in coking.
There is no shortage of flavors in this Chorizo-Spiced Pulled Pork recipe. And of course, pairing it with Mexican Street Corn Slaw is just perfect! The juices from the pork and the beer kept that shredded pork moist and delicious – but of course, because that juice contains all the goodness!
Onion powder

Onion powder is made from the dehydrated onion that is grounded into a powder. It has a sharp aroma with notes of sweetness, sulfur, and a hint of garlic. This spice is prone to caking so watch out for that. Quick tip, adding uncooked rice grains or crackers to the jar helps in preventing caking
Sure, we love a juicy pulled pork, but having crunchy bits is also a great treat – not just for texture but for flavor as well. This pulled pork is cooked and crisp in the oven. And don't worry, the instructions are very clear. With tips even! So, you'll pull it off for sure easily.
Related Content