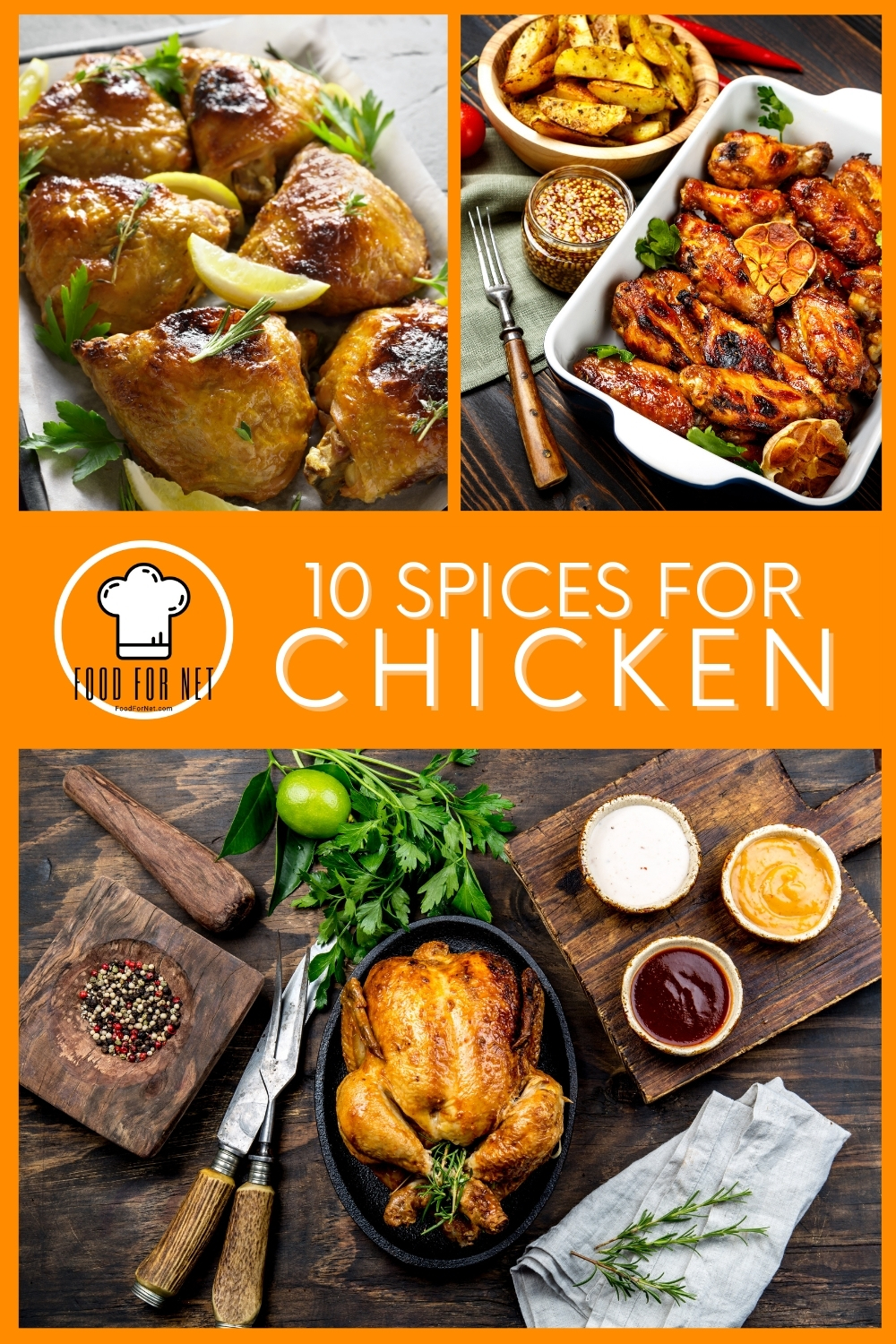 Spice up the flavor of your chicken dishes with these amazing pantry staple spices. Whether you're looking for a quick and easy flavor concoction or after a more distinct flavor layering, these seasoning for chicken is a must-try.
Chicken is usually favored over other proteins because it contains fewer calories, cholesterol, and saturated fat. Now, whether you're on a path to healthy eating or simply love chicken, it's important that you can offer as many variations with your chicken dishes if you often cook it at home.
By simply playing and experimenting with different spices you can easily level up your chicken recipes. See our list of 10 spices for chicken here and start planning for your next chicken dish.
Must-haves Spices for Chicken
Cumin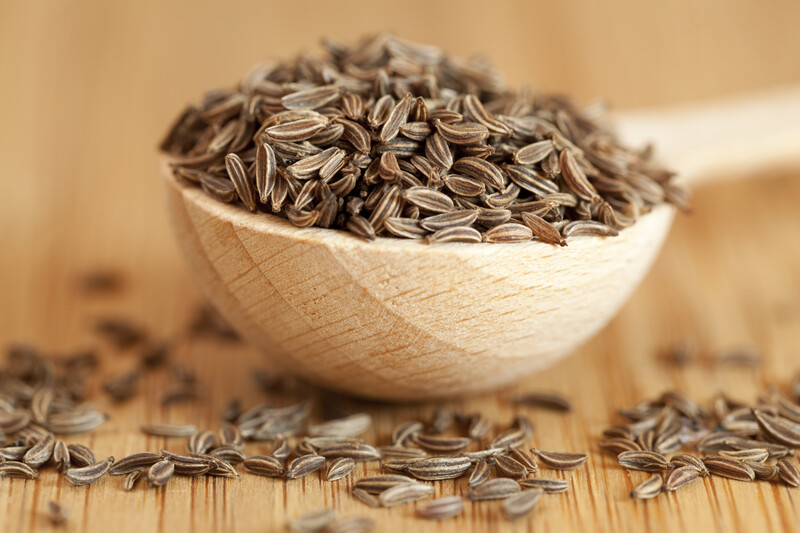 Cumin is the dried seed of an aromatic flowering plant belonging to the family of Apiaceae. These yellow-brown seeds are oblong in shape, with longitudinally ridged. It actually resembles caraway seeds but cumin is larger and lighter in color, and also hotter to the taste.
Cumin has a distinct flavor and aroma. It's slightly hot and gives off an earthy flavor, making it perfect when flavoring your grilled chicken. Aside from containing anti-oxidants, it also has anti-cancer properties, can help control blood sugar, and fight bacteria and parasites.
For an easy, healthy, and quick chicken dinner, try Cumin Grilled Chicken Breasts. It'll only take you about 10 minutes to do this dish. All you have to do is rub the seasoning for the chicken breast, grill, and enjoy your meal. That simple! Just serve it with your favorite side dish and you're all set.
Black Pepper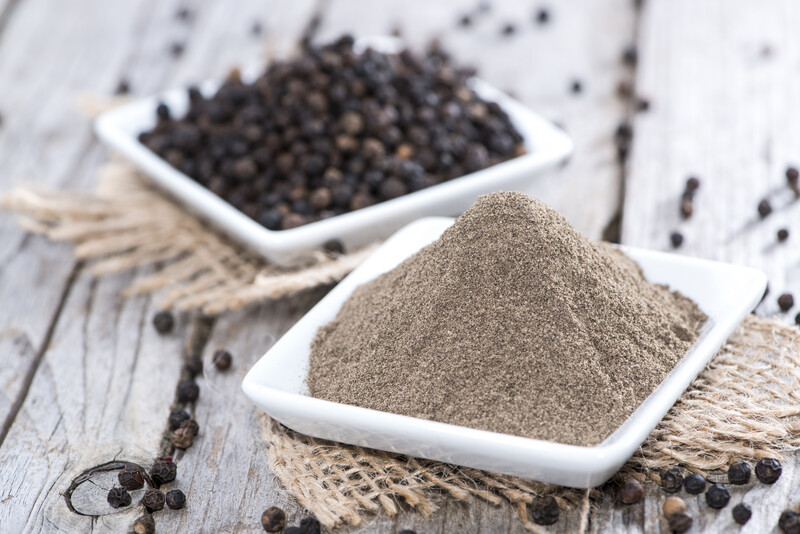 Black pepper belongs to the Piperaceae family and is produced from the unripe drupe of a pepper plant. These drupes are cooked briefly in hot water and then dried under the sun or by machine. After drying, the pepper skin around the seed then shrinks and darkens – and is now called the black peppercorn.
Black pepper is high in antioxidants and has anti-inflammatory properties. It gets its spicy heat, when cracked, from piperine that comes from the seed itself. The outer fruit layer contains organic compounds that give it that citrusy, woody, and floral notes.
A Chinese inspired dish called Black Pepper Chicken is an absolute classic. It's quick to make, super easy, and also very versatile. The freshly-cracked black pepper helps bring out the delicate taste in chicken breast. And since you can simply stir fry this white meat, this dish is a great quick dinner idea.
Paprika

Paprika is a red-colored ground spice from the dried fruits of Capsicum annuum plant. They're made from the sweeter varieties that are milder and have thinner flesh. Hungary is a major source of paprika but it's also produced in various places including some regions of the United States.
Paprika contains a good amount of Vitamin E and antibacterial properties which aid in rapid wound healing. It's also loaded with beneficial compounds like niacin and carotenoid antioxidants. Paprika's taste can vary depending on the type of pepper used – it can be mild, sweet, and sometimes also spicy. It's great for adding color, and smoky flavor to your chicken.
You can level up your baked chicken recipe and try this Garlic and Paprika Chicken. It's perfect for the drumstick lovers – but of course, feel free to substitute any chicken part you prefer. This dish is not just pretty to look at. Along with its vibrant color is flavor-packed chicken drumsticks that you can enjoy with your favorite side dish or salad.
Cayenne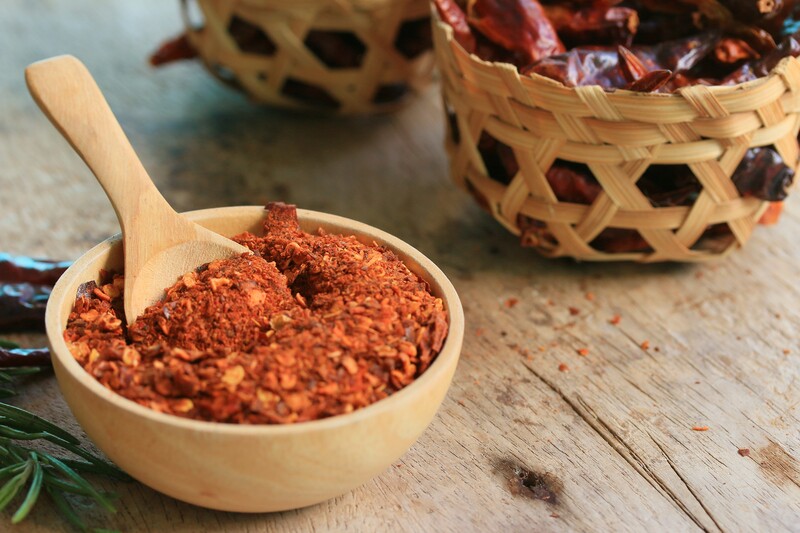 Cayenne powder is made from dried and ground cayenne pepper which is a type of Capsicum annuum. In its original form, t's normally red-colored, skinny, about 10-15 centimeters long, with a curved tip. Cayenne in its powder form may also be a blend of different types of peppers.
Cayenne powder is rich with antioxidants like beta carotene, vitamin C, cryptoxanthin, and more. The carotenoid in it gives the pepper its red color. Cayenne powder has an earthy and spicy taste which is perfect for chicken to give it that distinct flavor layer.
For a chicken wings recipe with a kick, try this baked Cayenne Pepper Chicken Wings. It's easy to prepare and since it's baked, you can simply pop it in the oven. This recipe will make for a great appetizer and since it uses ingredients that more likely you already have in your pantry you can whip this dish up anytime.
Coriander

Coriander belongs to the Apiaceae family and its seed is the one we used as a spice. It can be in whole or in ground form – but it's best when ground fresh because readily ground coriander tends to lose flavor in storage quite easily. When using coriander seeds it's best to warm it up first or roast it in a dry pan to further enhance the flavor and aroma.
Coriander seeds are rich in copper, zinc, iron, and other essential minerals that are good for the heart. It has a warm, spicy, nutty, and has a lemony citrus flavor. It's that citrusy note that works best with chicken meat giving the dish a different depth of flavor.
To see this spice in action, try Coriander Chicken and Rice. The flavor combination is divine plus it's also a complete meal. No complicated steps whatsoever, in just 40 minutes you can enjoy a hearty, fragrant, chicken dish.
Garlic Powder

Garlic Powder comes from dehydrated garlic that is powdered using large scale machines and powdering units. Garlic itself has ancient origins in Asia and has many bi-products including powder, oil, and salt – all these are used to enhance food nutrients and flavor.
Garlic is highly nutritious and has active compounds that reduce blood pressure and improves cholesterol levels. It's also rich in antioxidants. In its fresh form, the distinctive aroma comes from the organosulfur compounds. Its pungent spicy flavor eventually mellows and sweetens with cooking.
See how garlic powder will work wonder in this chicken recipe called Herb-Roasted Chicken with Garlic Powder. By using garlic in its powder form, you don't have to worry about bitter bits in your roasted chicken that is usually from the burnt fresh garlic. You'd be surprised at how garlic powder adds a muted sweet flavor to your chicken.
Turmeric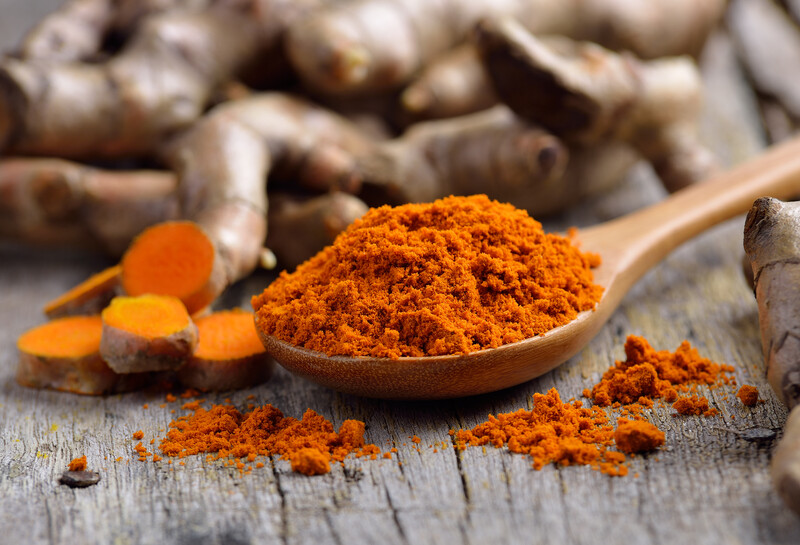 Turmeric powder is derived from rhizomes of fresh turmeric that is boiled in water and then dried and ground into powder. It has a deep orange-yellow color and is commonly found in Asian cuisines. Although it was first used as a dye and for medicinal purposes, it's now one of the key ingredients in many Asian dishes.
Turmeric powder has anti-inflammatory and anti-oxidant properties. It has an earthy aroma, with a pungent, slightly bitter flavor. It also gives off a rich golden yellow color to dishes. Turmeric powder is one of the most commonly used spices in Indian cuisine and is also known as Indian saffron.
Brighten up your dinner table with this amazing dish, Creamy Turmeric Chicken Skillet. In less than one hour you can enjoy a sumptuous chicken dinner. It's easy to make yet guaranteed flavorful. Its vibrant color will surely work your appetite.
Cardamom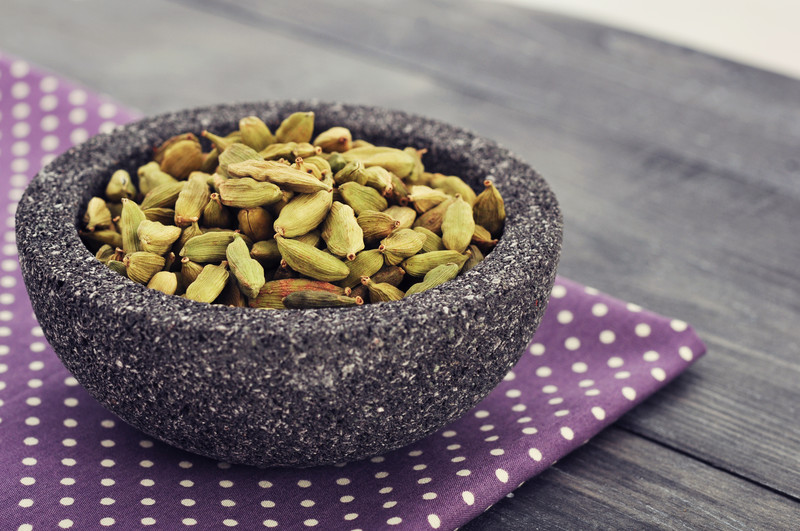 Cardamom is a spice that comes from the seeds of several plants in the ginger family. This spice is first mentioned in Indian literature and is considered the third-most-expensive spice in the world. Cardamom is used both for cooking and medicinal purposes.
It has an intensely aromatic and resinous fragrance. It's also citrusy, spicy, and minty at the same time. Cardamom is rich in antioxidant and diuretic properties that help lower blood pressure. It also boosts blood circulation, aids in digestion, and promotes oral health.
For a fragrant chicken dish, try Cardamom Honey Chicken. With just a few steps you can enjoy baked chicken with layers of flavor. Cardamom may not be your go-to spice when flavoring your poultry meat, but this dish is a must-try. See how a 4-ingredient marinade becomes your all-time favorite seasoning for chicken.
Saffron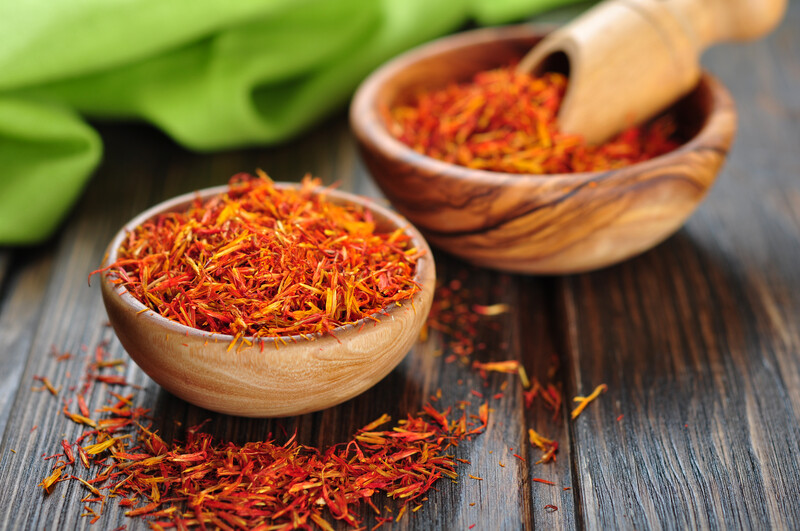 Saffron as a spice is the dried stigma and styles called threads from the flower of Saffron crocus. The rich golden yellow color it gives off to dishes is due to the crocin chemical compound found in the flowers itself. It is the world's most expensive spice by weight.
Saffron is widely used in Persian, Indian, Arab, and European cuisines. It also has a long history of use in traditional medicine and is also used for religious purposes in India. Saffron tastes hay-like and sweet while its aroma can be described as metallic honey with grassy notes. It's great for adding color and flavor to your chicken dish. It's worth noting as well, that it's rich in antioxidants that can help protect your cells against oxidative stress.
Go for a Moroccan themed dinner and try Saffron Chicken Tagine. This recipe includes detailed step-by-step instruction so don't fret, relax, and think good food. It's going to be worth it when you see your finished product looking so vibrant and smelling so good.
Onion Powder

Onion powder is made from dehydrated onion. Generally, a commercial onion powder's flavor is ten times stronger than a fresh onion. This makes it a good idea to always have an onion powder on hand. Although it's prone to caking when stored in a warmer environment, so you have to be careful when storing them.
Onion powder has a less pungent flavor than the fresh ones, but still has that sweetness, sulfur, and hints of garlic flavor. It's a good source of minerals like potassium, magnesium, and calcium. The nutrients found in it can also help with the treatment and prevention of heart problems, constipation, and osteoporosis.
You can easily add another layer of flavor to your dish by using onion powder just like with this Savory Rubbed Roast Chicken recipe. All other ingredients including onion powder are a pantry staple making this rub a go-to recipe. Simply massage the seasoning for chicken, pop it in the oven, and two and half hours later, you can enjoy a delicious dinner!