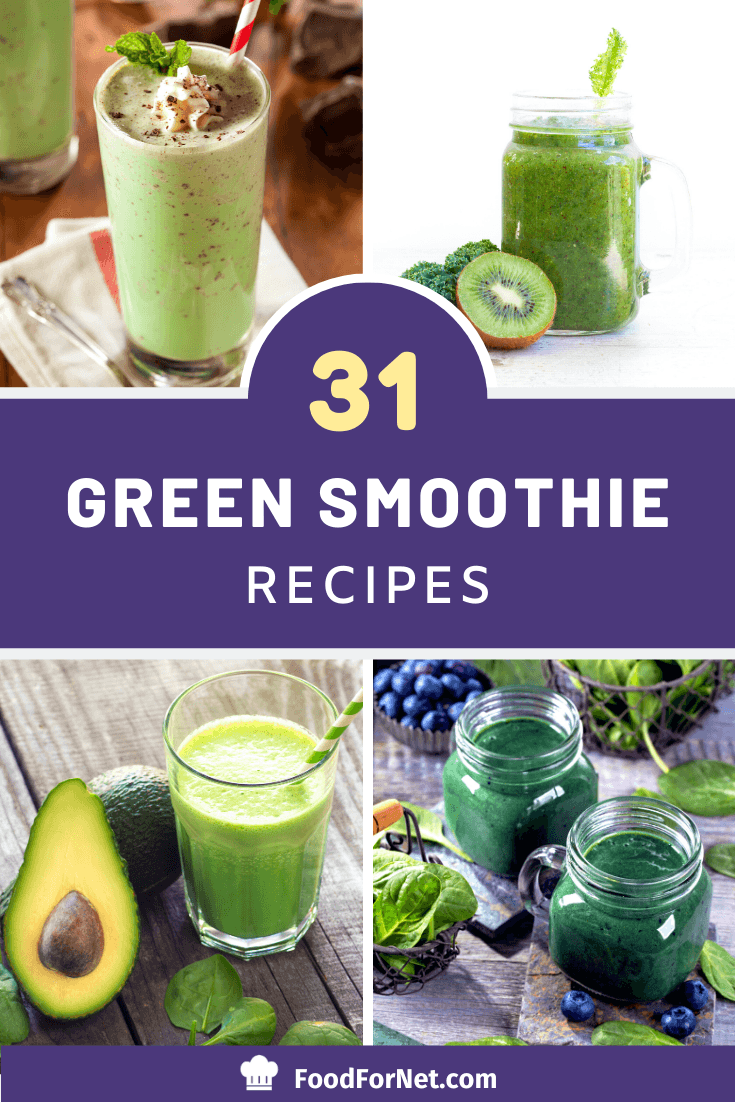 Green smoothies are certainly popular among people who love health food or enjoy their vegetables. But, what about the rest of us? Certainly, the idea of drinking a lot of veggies doesn't exactly sound appealing, regardless of whatever health benefits those vegetables offer. So, why are green smoothies so popular?
There are the health benefits, of course.
But, the main thing is that green smoothies don't have to taste bad. In fact, some recipes manage to completely bury the flavor of the greens entirely – so it doesn't even seem like you are drinking greens. Other recipes still let you taste the greens, but the end result is something very appealing.
Even if green smoothies don't sound particularly appealing, take the time to check out this roundup of recipes. They offer great combinations of flavors, and you're sure to find something in the list that takes your fancy.Oh – and one quick thing.
Green Smoothie Recipes
Banana Mocha Green Monster Smoothie
Let's kick this off with one recipe that doesn't look like it contains greens at all. Banana and coffee are both pretty strong flavors, so this recipe is a good option if you don't want to taste your greens.
The recipe itself comes from sunnysideups.org and it's also a low sugar recipe for those of you who are trying to keep your sugar intake down.
Skinny Mint Chocolate Chip Green Smoothie
Chocolate and mint is another flavor combination that can easily bury the taste of the vegetables. In fact, this is one smoothie recipe that would taste more like a dessert than anything else.
I love the way it looks in a glass too and it's a pretty appealing smoothie all around. You can find the recipe at foodfaithfitness.com if you want to give this one a go.
Lean Green Mean Protein Smoothie
This smoothie recipe from uniconutrition.com is a protein packed smoothie that would be a good choice for after a workout, or first thing in the morning.
The author promotes this particular smoothie as a detox option, and the ingredients in the smoothie are certainly good for health. It also sounds like a particularly tasty green smoothie and one that I would personally like to try.
Kiwi and Spinach Smoothie
Kiwi and spinach aren't a particularly common combination of flavors, but the other ingredients in the smoothie would mask the flavor of the spinach somewhat.
The recipe comes from dinnersdishesanddesserts.com and you have to admit that it does look good in a glass. Erin also notes that you can put the smoothie in a colored cup if you are trying to serve it to kids who aren't that keen on vegetables.
Blueberry, Avocado and Spinach Superfood Smoothie
Here is another green smoothie, but this one actually happens to be blue. The recipe is for a superfood smoothie, so it contains a range of fantastic ingredients, including avocados.
In general, blue food is pretty uncommon, but I think a blue smoothie could be pretty fun. You can find out about all of the ingredients in this recipe over at ahealthylifeforme.com and I recommend giving the recipe a try.
Super Detox Cleansing Smoothie
This detox smoothie from thegreenforks.com is a very pretty shade of green, which does make some of its ingredients pretty clear. This is actually a rather complex smoothie recipe, with 14 different ingredients.
Having that many ingredients might seem like overkill, but it isn't really. For one thing, the number of ingredients helps to create a more interesting and complex flavor. The other thing is that there is more potential for health benefits because of the different compounds the ingredients contain.
Triple Green Protein Smoothie
The previous smoothie was a complex one, so here is a very simple green smoothie. I love simple smoothies because they are a great first thing in the morning or just when you don't have much food in your cupboard. The recipe comes from amyshealthybaking.com and it really does make for a good healthy breakfast.
This particular recipe does contain quite a lot of greens and not many other ingredients. So, the recipe is best for people who do like the taste of greens in their smoothie.
Dairy-Free Green Protein Coconut Smoothie
Smoothies often rely on milk as one of their base ingredients, so finding one that is free from dairy is likely to appeal to many people.
I like this recipe because it is another simple recipe that uses just four main ingredients and one step. It's also a good choice if you are a fan of coconut. Even though the smoothie is pretty green, it is likely to have a more complex flavor because of its other ingredients.
If you want to try this one out, you can find the recipe at sugarfreemom.com.
Post Workout Green Smoothie
This smoothie recipe is specifically designed as something that you can have straight after a workout. The recipe is high in protein, which is one reason why it is such a good option after a workout, as protein helps with building muscle.
The smoothie is also high in nutrients. That's another thing I find really appealing about it. The recipe is hosted over at downshiftology.com.
Blueberry Kale Smoothie
This recipe from leitesculinaria.com is another example of a non-green green smoothie. I love this idea for a kale smoothie because so many people don't like the taste of kale.
If you can bury it a bit, then kale becomes that much easier to eat. Plus, I always find it easier to eat veggie smoothies when they don't look like they contain vegetables.
Peanut Butter Chocolate Banana Smoothie
This recipe from somethingswanky.com is a little bit unusual. Normally you would expect a chocolate banana smoothie to be brown like chocolate, but in this case the end result is a green-colored smoothie.
The green comes from the use of spinach, but you wouldn't really taste it. In fact, spinach in smoothies doesn't tend to have much taste, so smoothies really are a great way to get spinach into your diet.
Pumpkin Pie Green Smoothie
Here's another smoothie that takes its color from the greens, even though it has a very different flavor. In this case, the smoothie is reminiscent of pumpkin pie, which isn't what you'd expect from looking at it.
I love the flavor combination though and this isn't a flavor that normally find in a green smoothie. If you're interested in this one, you can find the recipe at hummusapien.com.
Bikini Ready Green Detox Smoothie
This green smoothie has a great combination of flavors, including pineapple, banana and lemon. The flavors might sound a little bit odd, but they would work together very well.
The recipe is a really good way to get a wide range of different nutrients, especially if you add in the optional ginger. Check out the recipe at theglowingfridge.com.
Strawberry Banana Green Smoothie
This recipe from bbritnell.com is a simple one and just involves five ingredients. The recipe is also has quite a lot of greens in it, so it is a good way to get lots of greens all at once.
The other ingredients do help to drown out the flavors of the greens, so it wouldn't be as challenging to eat as it first seems.
Bright Green Smoothie
This green smoothie is similar to many of the others on this list, but it does have some ingredients that don't always see in green smoothies. I won't tell you what those are, but you can check out the recipe itself at runningwithspoons.com.
The author also gives instructions for how to make the smoothie a bit thicker. In fact, those instructions could even be used to create a smoothie bowl.
Mango Spinach Green Smoothie
This recipe in an exceptionally simple one, but I do love the idea of including mango and spinach in the same smoothie. After all, spinach is great for your health and mango has a refreshing flavor.
You can also get frozen mango throughout the year, which makes this recipe even easier to create. You can check out the recipe at kitchenconfidante.com.
Wild Blueberry Banana Spinach Smoothie
I really love the color and overall appearance of this smoothie. This time, the recipe isn't a simple green smoothie with blueberries. Instead, the recipe uses two types of berries and a number of other healthy ingredients.
As the author notes, it's also a pretty flexible recipe and you could swap the blueberries for another type of berry. This time, the recipe comes from ambitiouskitchen.com and there are also a number of other healthy smoothie recipes on the site.
Green Warrior Protein Smoothie
This is a fun smoothie, which Angela from ohsheglows.com has nicknamed the green warrior. The image actually shows most of the main ingredients in the smoothie, although you'll have to check out the recipe on the sites to find out how much you need of each ingredient.
I love the way that this smoothie is a little bit different, especially as it uses mint leaves, which would change the taste pretty dramatically.
Spinach, Banana and Protein Smoothie
This smoothie recipe comes from garnishwithlemon.com and the recipe creates a high protein smoothie that would be perfect for breakfast. With this smoothie, the vegetable of choice is spinach and, as usual, other ingredients help to hide that taste somewhat.
Personally, I find the recipe quite appealing and it would be a great one to try if you are new to green smoothies.
Chocolate Green Smoothie
This smoothie might seem a little strange because it uses dates, but that really isn't so uncommon. In fact, dates can be used in some surprising recipes, and you may find that they don't taste quite like you'd expect in the recipe. If you want to try this one, you can find it at theconscientiouseater.com. I think you'll find the combination of flavors quite appealing.
Kale Pineapple Smoothie
Pineapple is a surprisingly uncommon ingredient in smoothies and I always think that the flavor works very well because it is so different than other flavors.
This recipe doesn't just use pineapple for flavor though, and there are a number of other ingredients that also help create the overall flavor. As you can see from the image, those ingredients include banana and peanut butter.
You can find the recipe at wellplated.com and it is a good one to try out.
Detox Smoothie
This green smoothie focuses on the idea of detox and it actually even contains pineapple like the previous one. There are a number of different ingredients as well, including lime juice, which is certainly an unusual flavor for a smoothie.
I think it would work well though. But, it is an optional ingredient, so you could leave it out if you were concerned. This recipe comes from sallysbakingaddiction.com and you can find a wide range of other healthy recipes on the same site.
Tastes-Like-Ice-Cream Kale Shake
I think this recipe is an attempt to make kale seem more appealing, because honestly, most people aren't too keen on the idea of a kale smoothie. Managing to make kale taste like ice cream is a pretty big achievement, so this recipe is appealing for that reason alone.
The recipe does use an unusual combination of ingredients and those ingredients would play a role in the overall taste of the recipe.
You can find the whole recipe over at healthyblenderrecipies.com.
Banana, Kale and Strawberry Smoothie
This is another smoothie recipe that combines kale and strawberries. As you might expect there are some other ingredients in there as well that add some more complexity to the flavor.
The presentation of the smoothie in the image is also pretty cool, although you could always skip that extra strawberry if you wanted. Either way, the recipe can be found at ricottaandradishes.com.
Pineapple Banana Kale Smoothie Recipe
This recipe comes from tasteandtellblog.com and it is a combination of kale, pineapple and a few other flavors. I do particularly like the idea of serving the smoothie in a mason jar because it really does make the whole thing stand out.
But, of course, there really are lots of options for how you serve the smoothie. Likewise, you could skip the chia seeds on the top if you felt like it.
Strawberry Kale Smoothie
This strawberry kale smoothie has a different color than many similar recipes on the site, but that just serves to make it more interesting. The difference in appearance probably just comes from the specific ingredients and the amounts of each ingredient.
I do think the recipe sounds tasty though and you can check it out yourself at organizeyourselfskinny.com.
Post Workout Protein Green Smoothie
I found this green smoothie at fortheloveofbasil.com and I love the combination of flavors. As a post-workout smoothie, this recipe focuses on protein-rich ingredients, including Greek yogurt and peanut butter.
With those ingredients, the smoothie really would be a good option for after a workout – and it would probably be quite a tasty option too.
Banana Spinach Smoothie
You'll find that bananas tend to be an extremely common ingredient in smoothies. That practice isn't too surprising because bananas do have a pretty strong taste and they help to give the smoothie a good texture as well. The taste of bananas is the main reason though, because that taste does help to hide the taste of spinach or any other greens.
You can find the recipe at fannetasticfood.com and it really is an incredibly simple one.
Chocolate Peanut Butter Green Smoothie
This chocolate peanut butter smoothie comes from gimmesomeoven.com and as you can see, the color of the greens is almost completely hidden. I always love smoothies like this and they seem so much easier to drink when you can't actually see the greens. Besides, chocolate and peanut butter are great flavors for a smoothie.
Banana, Kiwi and Kale Smoothie
I like the idea of using kiwi in smoothies, even though there aren't a lot of smoothies that use this fruit as an ingredient. Kiwi does have a pretty distinctive taste, so it will have a strong influence on the overall taste of the smoothie. The recipe can be found at diethood.com if you feel like trying it out.
Mint Chocolate Chip Green Smoothie
Here is one more recipe for this list. This one is mint and chocolate – in addition to the greens, of course. A mint chocolate smoothie is an interesting choice, because this is a smoothie that would be naturally green anyway. Besides, mint is a strong flavor and that makes it a good choice for a green smoothie.
If you want to check this recipe out, you can head over to gatormommyreviews.com.
Related Content