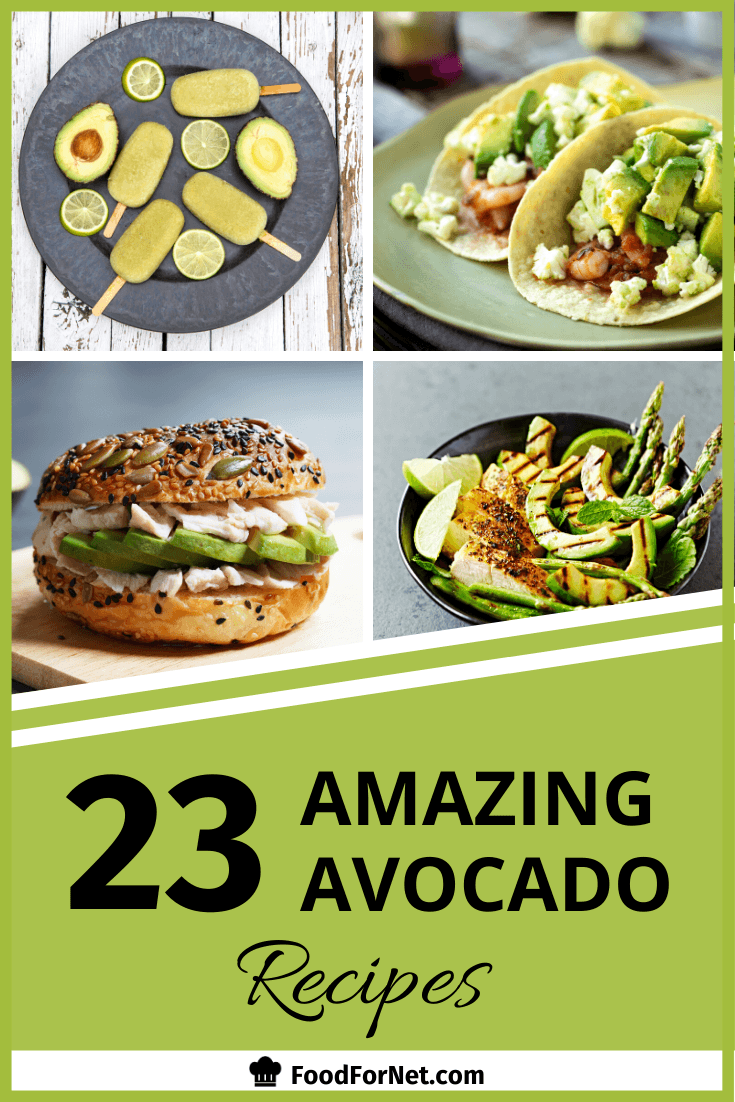 Before I started this list I thought that I'd basically find a bunch of sandwich recipes and call it a day. I was shocked at how versatile avocados are.
I mean, there are literally every type of recipe you can think of in this list, including: popsicles, soups, stuffed meats, ice cream, brownies, smoothies, and of course some excellent guacamole or salsa inspired snacks as well. My mind has truly been opened to the possibilities of what this special fruit can do in the culinary world.
Avocados are one of my personal favorite fruits, so it's a real pleasure to share this list with you. I'm even more excited to tell you about these avocado of the month clubs where you can get unique, organic, and of course delicious avocado shipped to your home every month.
And if you're here because you're on the keto diet (avocados are very popular for that diet because they are rich in healthy fats), you can check out these keto avocado recipes. If you are interested in making any of the recipes you see here, please click the link to visit the page or the original recipe creator!
Top Avocado Recipes
Avocado Lime Tequila Popsicles
A truly original idea that might raise some eyebrows, but somehow, the combination just seems to fit. Great for folks that can't handle dairy, a hot summer night, or an adult treat on Cinco de Mayo. You don't even need an excuse if you just like tequila. (I am kind of curious though – how do they get the alcohol to freeze?)
Some people might not be hot on the color, but personally, I don't have an issue with it as long as they taste good, and it actually reminds me of the look of pistachio ice cream. See how to make them at stresscake.com
Avocado Chicken Salad
I certainly love chicken salad…so much more than tuna. I don't know why, but it's been that way since I was a kid. Mashing some avocado in there gives it a creamier texture, and means you won't need to add any mayonnaise, which I'm not a fan of anyway. This is a great sandwich filler take with you on the go. It packs up nicely, and is filling since it's loaded with protein and good fats.
The recipe comes from saltedpaleo.com and the creator, Jadah, has a really interesting story of how she became "the salted paleo", which is basically a paleo diet with her own flare.
Spinach Salad With Chicken Avocado & Goat Cheese
Mmmm. Goat cheese. The name describes most of this delicious meal, but there's quite a bit more to it. Pine nuts and tangy Dijon vinaigrette are what caught my eye. This salad could be a colorful, protein rich addition to any meal, or a meal in itself.
The creator, Lori Lange, fed it to her family that normally demands a typical 3-course meal, and they loved it. You can get full instructions on how to make it at recipegirl.com, including that tasty sounding Dijon dressing.
Citrus Avocado Salad
Ok, let's get away from the heavy stuff and dig into a refreshing citrus salad. I'll admit – this is not a combination I would have thought of, but just looking at this picture changed my mind pretty quickly. Some subtle flavor additions to the salad include dill, honey, and apple cider vinegar, producing more delicious than the sum of it's parts.
Get the scoop on how to make this unique paleo meal from paleoleap.com. It's fast, easy, sweet, sour, salty, crunchy, and above all tasty.
Chilli Squid and Avocado Salad
I'm a big fan of squid, but haven't really experimented too much with barbecuing it. But I definitely believe that a spicy seafood avocado salad with a squirt of lemon juice will be a winning combination for the outdoors in the summer. There's a lot of room to play in this recipe that I found on countrywoodsmoke.com, including how spicy you make it!
I do love spicy food, but I think to keep the natural flavor of the squid alive, you might want to keep it dialed back. Experiment and see what works for you!
Grilled Avocado with Mediterranean Salad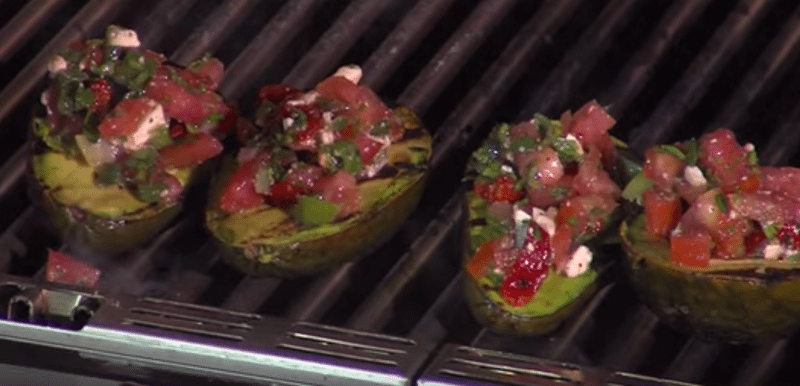 Grilled Avocados…Whaaaaaaa?! Yeah, this concept blew me away at first, but it actually comes up a few times in this massive list of greatrecipes. This one has a mediterranean twist, and involves making the salad beforehand, then stuffing the warm, slightly charred avocados with it.
The original recipe, including a how-to video, comes from betterbarbecueblog.com. If they're going to be hot though, I'm not quite sure how to eat them since holding them and scooping the stuff out might not be easy!
If you try it, be sure and let us know the best way to eat these.
Avocado Stuffed Burger
This recipe is going to require that you get your hands dirty with raw ground beef and mushing up the stuffing so prepare for fun! Rather than just slice up an avocado and sticking it on top of the burger where they can slide around and fall on the floor, stuffing it inside the burger meat keeps it nicely protected! The stuffing contains some sun-dried tomatoes, chopped onions, and seasoning.
This incredible recipe comes from the popular website civilizedcavemancooking.com.
Plantain Cups with Avocado & Shrimp
I'll admit, I haven't done much cooking with plantains, but these look so tasty that I think I'll have to start. The total time to prep and cook these is only 30 minutes, so getting these ready for party snacks or an appetizer should be a piece of cake. Actually, when I first saw the image I thought it was polenta , and personally, I think it would be a pretty good substitute if you don't have don't have any plantains locally. Green bananas would also work. The recipe comes from dominicancooking.com
Brown Sugar Chili Rubbed Salmon with Avocado Crema
Avocado plays a side role in this dish, but it still wins an award for best supporting role. Chili and brown sugar are rubbed into the salmon, then pan fried to produce a crispy, sweet, and spicy layer. The sauce is a blend of sour cream, lime, and of course our other favorite green fruit, plus a caramelized lime on top. I found this wonderful recipe on canyoustayfordinner.com.
P.S. The photo is my own – I tried this one at home. I'm still learning food photography obviously, so you have just witnessed my first attempt! I did not use any oil to cook the fish, hence the relative dryness compared to the original recipe, plus, I used greek yoghurt instead of sour cream to cut down on calories. I paired the fish with some quinoa and brown rice plus a spring mix salad…and I probably should have included that in the photo for presentation!
Avocado Ice Cream
Sometimes, weird ice cream tastes great. Pistachio ice cream? Yummy. Pumpkin ice cream? My favorite. Avocodo ice cream? Sure, why not. I'd try it. It's not that hard to make at home, and you can learn how to make it on altonbrown.com. Better hurry up. Summer's coming to a close soon.
Raw Chocolate Avocado Pudding
Could you have even guessed from this picture that the pudding was made with a vegetable instead of milk? I wouldn't have known. This deep, richly colored dessert has a few more surprises in the recipe, including honey. You can't make this stuff up!
There are lots of chocolate avocado pudding recipes on the internet but the one from therawtarian.com was the one I picked because it simply looked the most delicious (and most like real chocolate pudding!).
Skinny Avocado Pizza
"Skinny" is not typically a type of food I go after, but this pizza looks really delicious even if it is healthy lol. I mean, who really cares what it's called as long as it tastes good! There's a pesto base underneath all those fresh veggies, and the sauce you see drizzled on top is made form avocados as well. There's a few more toppings you might not be able to guess from looking at this picture so if you want to make this right be sure to head over to littlebroken.com for the full list of ingredients and recipe.
Baked Salmon Meatballs with Creamy Avocado Sauce
OK OK OK, so avocado is a side not on this one, but come on, it still looks pretty delish', right? Despite my original impressions, the meatballs look pretty easy to make as long as you have a blender. Chop everything up, roll up some salmon balls, and stick 'em in the oven. Make the sauce while they're baking, and, and you now have a creative, beautiful dinner or appetizer.
Dara also has some amazing links to other avocado recipes on her blog as well as other blogs, so be sure to check out her original recipes at cookincanuck.com
Avocado Mango Salsa
You know those people that can't handle spice? This is a wonderful, chunky, sweet, and filling salsa to try at your next get-together. Mixing in some fruit can lighten things up, as well as make your avocados last a bit longer (we all know how expensive they get). Just don't forget to make a spicy bowl of something for those other guys 🙂
This recipe comes from skinnytaste.com – check them out for a full list of ingredients!
Charred Corn & Avocado Pizza
With a bit of tabasco and a lot of pepper jack cheese, this is a Tex Mex style pizza that I'd be willing to eat…and entire pie of. Those white crumbles are cojita cheese, which was a nice addition. I'm not quite sure how they charred the corn though, but I think you can buy it that way.
Check out how to make this baby at twopeasandtheirpod.com, including a full list of ingredients and more precise directions so you don't end up making a #pizzafail.
Smoked Salmon and Avocado Pizza
One of the more unique recipes featured here – to be honest, I would have never paired smoked salmon and avocado. I probably wouldn't have thrown it on a pizza either. But according to the recipe creator Karina, it's great for any time of day (including breakfast).
There is A LOT going on with this pizza that is not immediately obvious from the picture, so you gotta check it out at cafedelites.com.
Deep Fried Avocado Tacos
Crispy is the perfect contrast to buttery an creamy avocado slices. Between the bread crumbs and taco shells, this dish has crispy covered. The picture here shows them made with black beans, but I think that using some chipotle pulled chicken or carnitas would also be a tasty addition. Check out the full recipe including instructions on how to get those avocados just right over at foodiecrush.com
Chocolate Avocado Brownies
Ok, let's get into some sweet treats. I'll be you didn't expect that to come up with something like avocados, right? Actually, after doing research for this post I'm starting to discover that they can add thickness and moistness to recipes while removing the need for too much butter or oil. The relatively light flavor of avocados can be masked by things as well, in this case, chocolate.
Imagine that – healthy, tasty, sweet, and moist brownies! The best recipe I found online was created by bakedbyanintrovert.com, so head on over for an ingredients list precise directions.
Bacon Wrapped Avocados
Bacon wrapped avocados have been done before, but this is the first recipe that really caught my eye. It's not just wrapping a piece of bacon around an avocado slice, frying it, and calling it a day. Oh Sweet Basil uses brown sugar and one other secret ingredient to take these snacks to the next level. Check out how to make these at ohsweetbasil.com
Avocado Crab Sliders With Lemon Aioli
Yes, those are Hawaiian buns that you see in this image, and yes, these sliders are like a tasty crab salad sandwich but better. Lemony, light, and great for party appetizers, I can't wait to try these. Personally, I think the crab and avocado mix would be great on any sandwich bread. Check out the full recipe for the crab salad and aioli at climbinggriermountain.com.
Avocado Fries With Cilantro Lemon Dipping Sauce
There are a lot of 'avocado fries' recipes online because cutting them into slender slices lends itself to making finger foods. This recipe really caught my eye because they are fully breaded and unashamedly deep fried. Check out the full recipe and ingredients list for the dipping sauce at adventures-in-cooking.com
Cheesy Guacamole Mini Quiche
I'm always surprised what the best online chefs can make with just a few ingredients. This particular recipe from aspicyperspective.com uses just six. Count 'em – six! These mini quiches use cream cheese to achieve a creamy and fluffy texture which pairs well with the flaky crust. You can make them with regular guac, or spice it up like Sommer does!
Creamy Avocado Lassi
RECIPE: Creamy Avocado Lassi http://t.co/WeOWSjR267 pic.twitter.com/c9sxpNBDnr

— The Kitchn (@thekitchn) August 31, 2015
It's pretty much avocados, yoghurt, and milk, but add some cardamom and suddenly it's a fantastic Indian Lassi. Can't say I've had anything else but a mango lassi myself, so I'm totally looking forward to trying this. This recipe comes from thekitchn.com