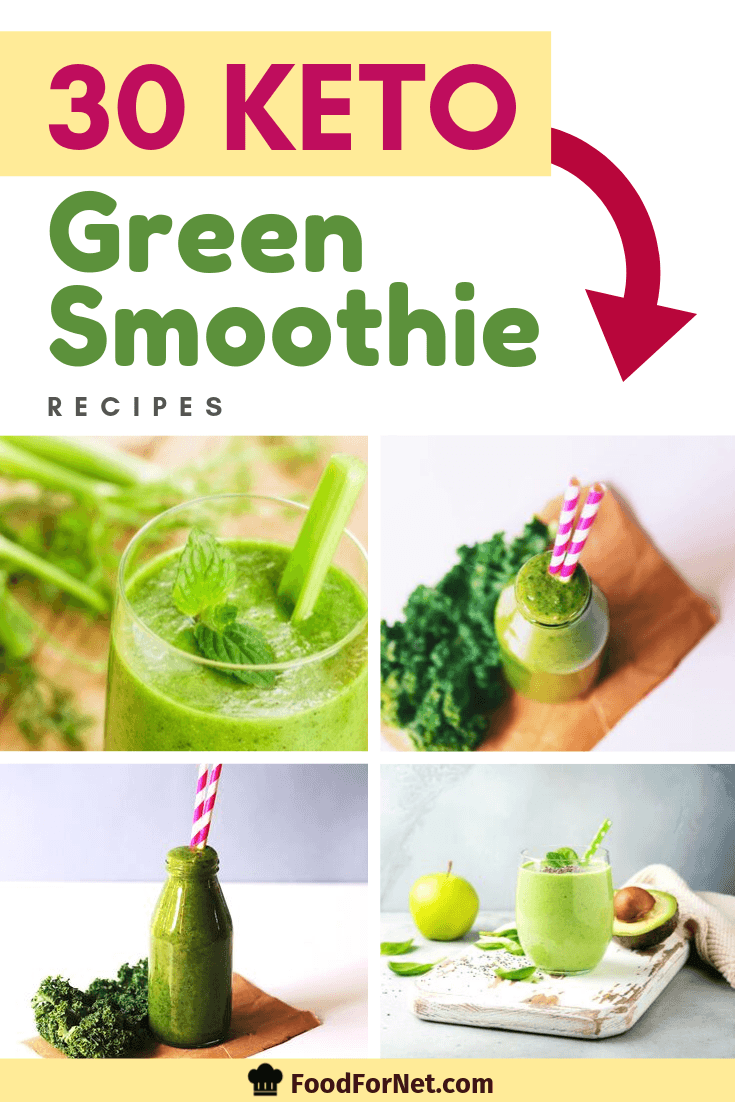 Green smoothies are an especially common smoothie choice. They provide a way to dramatically increase your vegetable intake, getting a ton of beneficial nutrients at once.
Getting your greens this way is often much faster and easier than eating them as part of your meals.
Despite their heavy reliance on vegetables, green smoothies can even taste fantastic. It's simply a matter of finding the right recipe. To help you in your journey, this roundup features a wide selection of keto green smoothie recipes.
This type of smoothie is an especially good keto choice, as many vegetables are already low in carbs.
Keto Green Smoothie Recipes
PS. We also have a list of keto spinach smoothie recipes, perfect for people who want to avoid other leafy greens like kale.
PPS. There are plenty of other smoothie flavors too, like chocolate, raspberry and vanilla.
Lean Green Breakfast Smoothie
Here's a breakfast smoothie choice from the site ieatketo.com. It is an excellent source of fat, with roughly 50 grams of fat per serving. Despite this, it contains less than 10 net grams of carbs. There are plenty of nutrient-packed ingredients too, including cucumber, spinach and avocado. The choice of ingredients also means that this smoothie tastes different than many other green smoothies.
Green Keto Smoothie Recipe With Avocado And Mint
This recipe is another slightly unusual one, as it doesn't make use of leafy greens. Instead, the green color mostly comes from avocado, along with some herbs. The choice of ingredients means that this smoothie isn't as packed with nutrients as some other examples. Still, it is a good source of healthy fats. You can find the full recipe at lowcarbyum.com.
Keto Green Smoothie
This green smoothie recipe comes from coolmomlife.com and it is a more traditional approach to the green smoothie idea. The recipe provides you with a decent amount of leafy greens, so you can be certain of nutritional benefits. You're getting a decent amount of fat too, with 18 grams of fat per serving. Just don't expect the smoothie to act as a meal replacement option. Each serving only contains six grams of protein.
Avocado Green Smoothie
Here's another green smoothie that relies on avocado. The recipe comes from alldayidreamaboutfood.com and Carolyn points out that avocado really is a great addition. It makes the smoothie much creamier, while also providing fiber and healthy fats.
This isn't just another typical green smoothie either. The recipe uses some interesting ingredients, ones that give create an unusual flavor profile.
Keto Ginger Green Smoothie
The addition of ginger to this smoothie is such a good idea. Ginger offers health benefits anyway and it also changes the flavor of the smoothie. This particular recipe is also a powerful choice for nutrition, as it relies on spinach as a key ingredient. You can find all of the information you need over at ketovale.com.
Five-Minute Green Smoothie
Lindsey from thelittlepine.com offers this smoothie recipe. The main green veggie is spinach, which offers plenty of nutrients to the drink. Mint is included as well. This helps to create a nice flavor and drown out some of the spinach taste. Lindsey includes details about some optional ingredients too, like the raspberries. Just be aware that some of these will increase the overall carb content.
Mint Chip Protein Shake
This smoothie recipe uses leafy greens as just one of many ingredients. As such, you're not getting as many greens as normal. Still, the style does have advantages. You end up with a shake that tastes amazing and still provides you with healthy nutrients.
Alejandra (from alwaysorderdessert.com) mentions that the shake averages around ten net grams of carbs per serving. That's on the high end for a keto smoothie. Still, the serving size is for an entire shake, so you could always just drink half of it.
Citrus Keto Green Smoothie
Here's a green smoothie recipe from perfectketo.com. It includes citrus as a key flavor, which is an unusual choice on a keto diet. Despite this, the recipe only contains three net grams of carbs, so it's an ideal one to try out. You're also getting 20 grams of fat per serving. The choice of citrus is also appealing from the taste perspective. It helps make the smoothie a little bit different.
Green Smoothie
This recipe, from eatbefitexplore.com, uses kale as the leafy green of choice (rather than spinach). It's also a very good choice for anyone struggling with the keto flu, as the smoothie contains electrolytes. Lesya also provides plenty of details about how you can make keto smoothies and various add ons that you can use.
Spinach Avocado Green Smoothie
This delicious smoothie is an easy recipe from ketosummit.com. It gives you the nutrition of spinach and avocado in a creamy and enjoyable drink. While the style isn't vastly unusual, it doesn't need to be either. Sometimes all you need is a simple recipe to get you started.
Green Smoothie Bowl
Smoothie bowls, like this one, make an interesting alternative to a regular smoothie. You get to eat them with a spoon and they often have a different texture too. This version comes from myketokitchen.com. It contains plenty of beneficial ingredients and instructions about how to get the smoothie bowl exactly right.
Keto Green Smoothie
Lorena from greenhealthycooking.com offers this smoothie recipe. While it looks like a simple green smoothie, there are some interesting ingredients in the mix. These help to provide extra nutrients, while changing the taste of the smoothie as well.
Keto Kale And Coconut Shake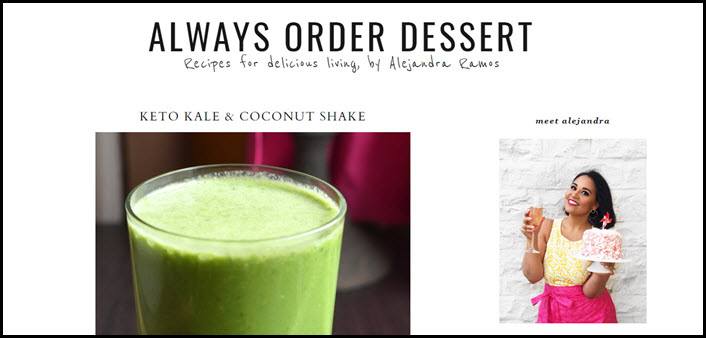 While coconut isn't normally a green smoothie flavor, Alejandra from alwaysorderdessert.com shows that it can work extremely well. The coconut helps to offset some of the flavor of the kale, creating an enjoyable drink. It's a particularly good choice for anyone who loves coconut.
Ketogenic Green Smoothie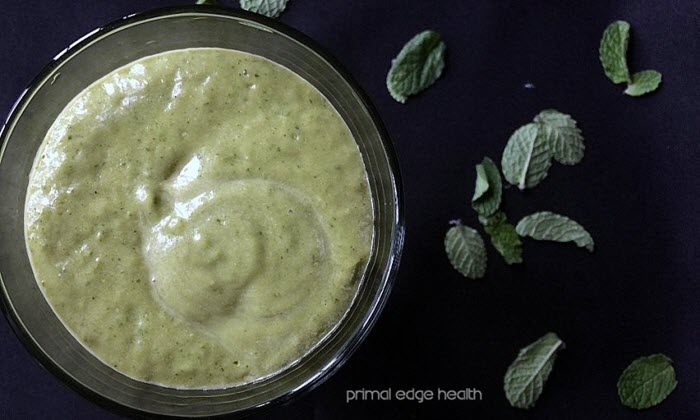 Jessica from primaledgehealth.com provides this smoothie recipe. I love the way she uses some interesting flavor-packed ingredients. Both mint and lemon make the cut and complement the rest of the smoothie well. The recipe can also be considered a fat bomb, as it is high in fat, while containing low amounts of carbs and protein.
Maple Almond Green Smoothie
Here's another interesting flavor combination to consider. The recipe comes from texasgranolagirl.com. The inclusion of maple really does add to the flavor, making the smoothie much more interesting. It remains an ideal keto choice, one that is also dairy free.
Low Carb Green Smoothie
This dairy free smoothie comes from Mellissa at ibreatheimhungry.com. It might look like any other green smoothie, but the ingredients used are completely different. This approach also means that the finished flavor isn't what you might expect at all – it's much better. Honestly, this smoothie sounds amazing. It even includes pineapple, which is rare for a keto recipe.
Green Smoothie
Libby from ditchthecarbs.com always offers good recipes. This green smoothie is no exception. It only contains four net grams of carbs per serving. You're also getting 34 grams of fat and eight grams of protein. That's an impressive balance all around.
The ingredients are pretty cool too. There are a few unusual additions that help to make this smoothie stand out. You can also make some adjustments based on your preferences.
Green Citrus Smoothie
This recipe from ketozone.com is another version that contains some unusual flavors. The emphasis is on citrus, including lemon, orange and lime. Spinach and avocado are included too, providing you with plenty of nutrients and a great texture. The smoothie is particularly satisfying, with almost 50 grams of fat and close to 20 grams of protein. Despite this, the net carb content is low – just four grams per serving.
Easy Morning Green Smoothie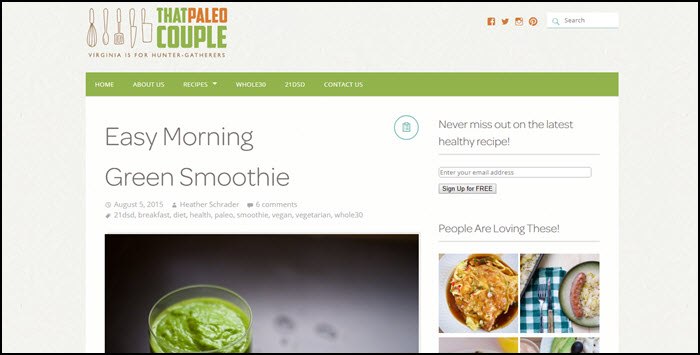 Here's a simple green smoothie recipe to try. It comes from thatpaleocouple.com and only requires five different ingredients. Kale is the featured leafy green this time, although you could substitute it out for your current favorite too.
The main limitation is that Heather doesn't provide nutrition details about the recipe. Even so, you can easily calculate these for yourself.
Almond Butter Green Smoothie Bowl
Here's another smoothie bowl that you can try out. This time it comes from godairyfree.com and is entirely plant-based. The light green color of the shake makes it look attractive in any bowl, especially if you use toppings like the ones in the image.
Cucumber Spinach Smoothie
This recipe from Craig at ruled.me is a little different, as it uses cucumber as one of the main ingredients. While you don't normally find cucumber in green smoothies, the addition is an appealing one. The cucumber lends a freshness to the recipe that you wouldn't get otherwise. If nothing else, it's always nice to try out new flavors.
Super Delicious Green Matcha Smoothie
Speaking of interesting flavors, check out this recipe from epicmatcha.com. The drink is very similar to a regular green smoothie, except that it includes matcha green tea powder as an ingredient.
Matcha has become popular for its potential health benefits. You'll often see it offered as a hot drink, but not everyone enjoys the tea that way. Adding matcha into a smoothie provides you with the health benefits and some of the flavor, without the taste being overwhelming.
Avocado Green Smoothie
This smoothie recipe comes from paleoleap.com and is more than meets the eye. It looks like a traditional green smoothie, but the ingredient selection isn't what you might expect. This provides an interesting flavor profile too. The smoothie also acts as a fat bomb, with 47 grams of fat (for two servings).
Key Lime Smoothie Bowl
The inclusion of lime in this smoothie bowl recipe is a particularly nice touch. The fruit helps to take some of the emphasis away from the leafy greens, making the smoothie taste great.
I particularly love the way that Andrea (from forestandfauna.com) has topped the smoothie bowl. Of course, you don't need to use the same toppings. You might want to change them around if you are trying to keep your carb intake low.
Low Carb Fruit Free Smoothie
This green smoothie isn't entirely fruit free, despite the name. It does contain avocado. Still, let's be honest, avocado doesn't really act like a fruit when it comes to a keto diet. It is a great addition that makes a smoothie creamy and gives you plenty of healthy fats. You can find this recipe over at thehappyhealthfreak.com.
Green Breakfast Smoothie
Here's an interesting smoothie choice from tasteaholics.com. You might notice that the color is lighter than normal. That's because the recipe uses an unusual combination of ingredients. It does still contain spinach, so you're getting the health benefits of that leafy green vegetable. There are also other additions, like matcha and cucumber. While these are less common choices in a green smoothie, they do work surprisingly well.
Chocolate Green Smoothie
There's no reason that a green smoothie needs to taste like it is healthy. The inclusion of chocolate and raspberry is a great way to make the smoothie taste great without compromising the nutritional value. Libby even mentions that the style works perfectly for kids. They won't even realize that you're giving them spinach. The recipe comes from ditchthecarbs.com, so you can find it over there.
Yummy Inspirations Green Smoothie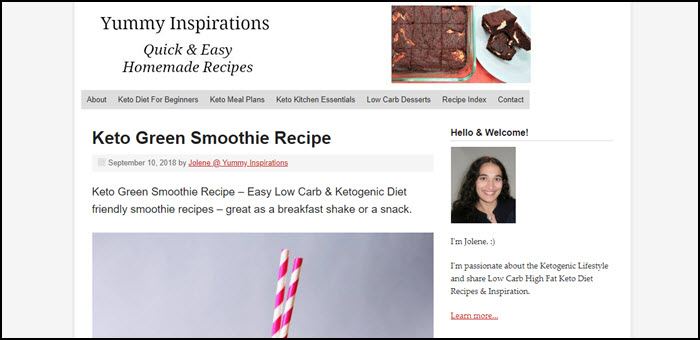 This recipe from yummyinspirations.net looks more traditional, but it is actually an unusual type of green smoothie. Despite what you might expect, the smoothie doesn't contain any leafy greens at all. Spinach and kale are both listed as potential additions to provide more nutrients, but they're not included by default. The decision makes this smoothie an interesting choice. It should taste pretty good too.
Classic Green Smarter Smoothie
Beth from tasty-yummies.com provides this green smoothie recipe. It follows a fairly typical style, although there are some interesting ingredients too. The end result is a smoothie that's especially high in nutrients. There are some blueberries included in the mix too. These create an appealing flavor and take the whole smoothie to the next level.
Real Balanced Green Smoothie
This smoothie is a powerful choice, as it suits so many different diet types. It is paleo, vegan and keto friendly, while also being free from eggs, nuts, dairy, gluten and refined sugar. Despite all of these exclusions, the smoothie ends up tasting amazing too. Some of the ingredients provide extra nutrients and health benefits too. The combination of ingredients alone is a reason to try out the smoothie. You can find the details that you need at realbalanced.com.