While strawberries are a fruit, you don't need to avoid them on a keto diet. The trick is to simply find good recipes, ones that take advantage of the flavor of strawberries, while still keeping the overall carb content low.
There are plenty of recipes that do this. After all, many keto bloggers are creative thinkers and design stunning recipes.
This post focuses on one specific style – keto strawberry smoothie recipes. The smoothies all use strawberry as an ingredient, typically as one of the main flavors.
The drinks are also great sources of healthy fats. Some of them even act as meal replacement shakes. This could allow you to have a smoothie instead of breakfast or lunch some days.
Keto Strawberry Smoothie Recipes
PS. There are many other keto fruit-based smoothies, like raspberry smoothies and blueberry smoothies.
PPS. You could try a different flavor again, like the ever-popular chocolate smoothies.
Healthy Strawberry Basil Smoothie
This recipe from ketodietapp.com is the perfect place to start our list, as the flavor combination is a little different than normal. As the name suggests, the recipe includes basil as an ingredient along with strawberries.
The flavors of the strawberries and basil do complement one another well. The smoothie is also dairy free and avoids any added sugars or sweeteners.
You're getting 8.4 net grams of carbs per serving with this recipe. That's more than you'll find in some other smoothies, but the carb content does still work well for ketosis. Besides, this recipe has 7.5 grams of protein per serving, so it can act as a meal replacement.
Creamy Dreamy PB&J Smoothie
Here's another interesting flavor to try. This recipe is designed to mimic the taste of peanut butter and jelly sandwiches by using frozen strawberries, nut butter and a few other ingredients.
The recipe does call for Perfect Keto Nut Butter, partly because it is hosted at perfectketo.com. However, the recipe does say that you can include another type of nut butter instead, like peanut butter or almond butter.
Strawberry Sage Smoothie
This recipe is a second example that combines strawberry with a herb to create an interesting flavor contrast. In this case, the herb is sage and you're just using a single sage leaf.
The sage is a good addition. It helps to give the smoothie a more interesting taste. You end up with just four net grams of carbs. As such, the smoothie is lower in carbs than many other recipes that you'll find. The full recipe is hosted at wickedstuffed.com.
Strawberry Smoothie
This strawberry smoothie comes from Gerri at myketokitchen.com. Unlike the previous examples, the main feature of the smoothie isn't the flavor profile. Instead, the smoothie is thicker than most, making it feel somewhat decadent.
Gerri even highlights an extra ingredient that you can add in to make the taste of strawberry even more noticable. Finally, the recipe works well for breakfast, as it contains 25 grams of protein per serving, along with 22 grams of fat.
Strawberry Vanilla Smoothie
Mellissa from ibreatheimhungry.com offers this strawberry vanilla smoothie. It's another dairy free choice and one that is also paleo complaint. You can even enjoy it on a Whole30 diet.
Mellissa also mentions that you can use frozen berries when making the recipe. Doing so means that you don't need ice. As a result, smoothie doesn't get diluted as the ice melts..
Chocolate Berry Truffle Smoothie
This smoothie is a little different, as it focuses on berries, rather than strawberries specifically. Still, the recipe is too amazing to leave out. I mean, just look at it.
The smoothie would be amazing if it even tastes half as good as it looks. As part of the recipe, you include a selection of mixed frozen berries. The authors use raspberries, strawberries and blueberries, but you can pick your own combination.
You could even make the smoothie just with strawberries if you want. You can find out more at theketoqueens.com.
Strawberry Avocado Keto Smoothie
This recipe from wholesomeyum.com shows that strawberry smoothies don't need to be complicated. You only need four ingredients to make the drink and two of these are obvious from the name alone. The finished drink contains seven net grams of carbs.
It isn't a particularly good source of protein or fat, so the smoothie is best as a snack rather than as a meal replacement. Maya also includes information about how you can create a smoothie that is creamier and has a richer flavor.
Strawberry Colada Milkshake
Here's a fun recipe to try. It comes from the site texasgranolagirl.com and strongly relies on strawberries. You also get an underlying hit from the coconut that makes the drink more complex and interesting.
The balance of ingredients works well, especially if you want something that's a little different than a straightforward strawberry smoothie.
Strawberry Avocado Smoothie
Lisa from lowcarbyum.com offers this strawberry and avocado smoothie recipe. The drink is dairy free and paleo compliant, without compromising the creaminess. You also end up with just four net grams of carbs per serving, which is impressive for any fruit smoothie.
Strawberry Brazil Nuts Spinach Smoothie
This recipe comes from ketovale.com and it has a few more ingredients than normal. As the name implies, the smoothie includes brazil nuts and spinach, in addition to the strawberries. These additions boost the nutrient content of the smoothie.
The nuts also mean that you're getting more protein, so the smoothie should help you to feel satisfied. The one limitation is that the smoothie has 8.8 net grams of carbs, which may be too high for some keto dieters.
Nutrient-Bomb Strawberry Milkshake
The combination of ingredients in this strawberry shake makes it a fantastic source of nutrients. The recipe also creates a very creamy texture. Paola even provides details for increasing the thickness and fiber content.
Like most smoothies, the finished drink is best consumed as soon as it is made. Thankfully, it is fast to prepare and you don't have to stress about prep work. You can find the recipe over at gnom-gnom.com.
Keto Flu Smoothie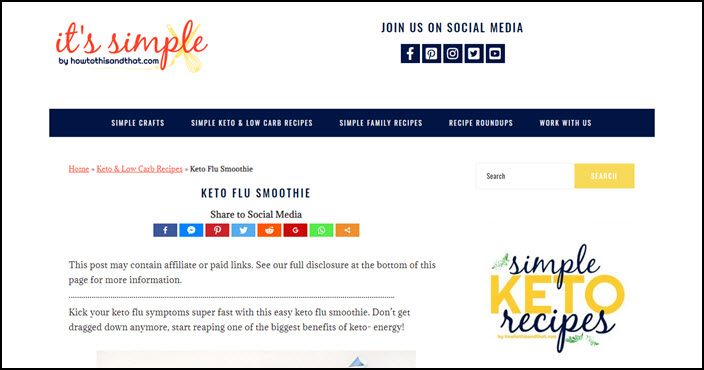 This smoothie from howtothisandthat.com is designed to help you avoid or decrease the symptoms of the keto flu. To do this, Melissa has carefully selected the ingredients to give you the nutrients that you need.
Despite the green color of the smoothie, strawberries are included in the mix. The difference is that there are other significant ingredients too. The end result is a more nuanced flavor profile.
Avocado Strawberry Keto Smoothie
This smoothie recipe is a simpler one and takes advantage of strawberries and mint. There is avocado present too, but this is added to help with the creaminess of the shake.
The taste of the avocado will be barely noticeable in the final drink. There aren't any nutritional details provided with the recipe, so you'll need to calculate these yourself. All the necessary information can be found at guygoneketo.com.
Strawberry & Mint Keto Smoothie
Here's another recipe that combines strawberry and mint. This time the smoothie comes from headbangerskitchen.com. The recipe creates a drink that is thicker than most.
It is also high in fat, with 30 grams of fat per serving. When you consider that there are just five net grams of carbs per serving, it's easy to see how this smoothie would be popular.
Strawberry Smoothie
If you're not looking for a complex smoothie, what about this recipe from simplysohealthy.com? As the name suggests, the main ingredient in the recipe is simply strawberry.
There is a touch of vanilla included too, but that's it for flavors. A handful of other ingredients are included to create the desired sweetness and texture. You're making two servings of the smoothie at a time, which each contain four net grams of carbs.
Strawberry Smoothie With Spinach
Here's a different style of strawberry smoothie. It comes from the site ifit.com and heavily relies on spinach. In fact, spinach ends up being the main taste in the finished smoothie.
The style is unusual, as the smoothie ends up being exceptionally high in fat (almost 90 grams per serving!), with little sweetness. Michelle mentions that the drink might take some time to get used to, simply because it isn't very sweet.
Still, it would be a great smoothie and a powerful source of healthy fats.
Keto Berry Smoothie
This recipe comes from Aaron at fatforweightloss.com. It's a keto berry smoothie, so it doesn't just rely on strawberries. Instead, you include a quarter cup of whatever berries you choose.
Frozen berries will give you a more smoothie-like texture, although you can use fresh berries too. Regardless of your choice, the smoothie is simple to make and would taste great too.