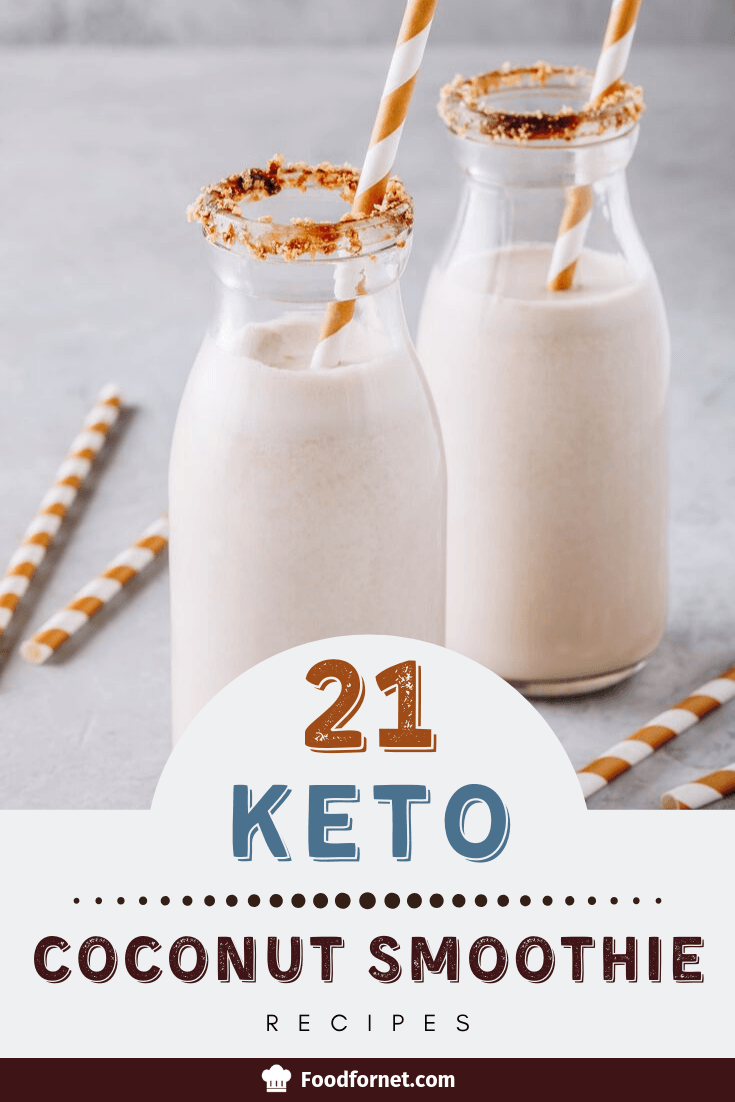 Keto recipes often rely on at least one coconut-containing ingredient. This might include shredded coconut, toasted coconut, coconut butter, coconut oil or, of course, coconut milk. The focus is hardly surprising. Coconut has a very appealing flavor. It also contains a variety of beneficial nutrients.
In this list, we're taking a look at keto coconut smoothie recipes. These recipes use coconut in some form or another.
Many of them feature coconut as a key flavor, while some choose to use it as just one part of the flavor profile. Regardless of the approach, you can be certain that you're getting a healthy and keto friendly smoothie every time.
Keto Coconut Smoothie Recipes
PS. For more coconut, check out our coconut milk smoothie recipes. These don't tend to focus on the coconut flavor as strongly, but they all rely on coconut milk.
PPS. There are also coconut fat bombs. These provide a portable way to enjoy the flavor of coconut and get the nutrients that you need.
Chocolate Coconut Smoothie
This chocolate coconut smoothie comes from ketodietapp.com. Combining chocolate and coconut works exceptionally well. It's a good way to make a chocolate shake taste more interesting.
I love the choice of ingredients too. These contain plenty of nutrients and would help to improve your health.
Blueberry Coconut Yogurt Smoothie
This smoothie from paleoflourish.com has so many things going for it. The use of coconut yogurt is one of the advantages.
The yogurt is able to help make the smoothie creamy, while also adding in probiotics. You just need to choose the brand carefully to make sure it is low carb.
The smoothie also has a great balance of flavors. Blueberry and coconut complement each other well. The end result is much more interesting than a basic blueberry smoothie.
Kale And Coconut Shake
I love the color of this shake from alwaysorderdessert.com. It's a lighter green than many other green smoothies, so you can tell that the taste of kale won't be overwhelming.
Despite being focused on the coconut flavor, the shake actually uses a combination of almond and coconut milk. Ground coconut is included too, which helps bring out the taste of coconut.
I imagine that this shake would be ideal for anyone who loves coconut and wants some extra nutrition.
Strawberry Coconut Smoothie
This recipe, from wickedstuffed.com, is a simple smoothie that you can try. It only uses four different ingredients and has five grams of next carbs. The smoothie is a great way to get extra fats into your day.
Just be aware that it isn't a meal replacement smoothie. The protein content is too low for that goal.
Strawberries have a distinctive flavor of their own and this flavor will stand out the most in the finished smoothie. Even so, you should be able to taste (and enjoy) the coconut milk too.
Sunflower Butter And Cocoa Smoothie
I love the use of sunflower butter in this smoothie. The butter provides an interesting flavor that you won't normally find in smoothies. There is a little cocoa added in as well, but not enough to overwhelm the rest of the recipe.
The style also makes this a good coconut smoothie recipe – as you end up being able to taste the coconut. The recipe itself comes from ibreatheimhungry.com and contains roughly three net grams of carbs per serving.
Coconut Vanilla Bean Shaken Hibiscus Iced Tea Latte
While this recipe from tasty-yummies.com is described as an iced tea latte, it isn't that different from a smoothie. In fact, you basically end up with a smoothie if you blend the ice in.
Regardless of how you approach the ice, this recipe offers a great combination of flavors that aren't common in other recipes. The hibiscus tea aspect alone makes the recipe worth trying.
Green Lemon Smoothy
This recipe from reallifeofpie.com doesn't feature coconut as a main flavor, but coconut is still important. In fact, the smoothie includes coconut yogurt and coconut water kefir. This is an unusual combination and one that is perfect for anyone who enjoys coconut.
There are also some other interesting ingredients included in the mix. Some of these add to the flavor of the smoothie, while others provide nutritional benefits.
High Calorie Vegan Banana Coconut Smoothie
This coconut smoothie won't be for everyone. As the name suggests, the drink is very high in calories. In fact, there are 1,200 calories in a serving, most of which come from fat.
The style makes the smoothie a good choice for people who are trying to put on weight, either as part of bodybuilding or because they are too thin. The recipe details can be easily found at planthlete.com.
It's also worth mentioning the carb content here. While the site doesn't provide precise details, it is clear that this smoothie contains more net carbs than most other keto smoothies.
This may not be a problem if the smoothie is being consumed instead of a meal, but make sure you check your macro needs first.
Fat Boost Smoothie With Coconut Cantilly Cream
This recipe provides an excellent way to increase your fat intake and also enjoy the flavor of coconut. It's a recipe from the site ruled.me, which offers an excellent selection of keto recipes.
The smoothie itself is an easy one to prepare, using just six ingredients that are mostly easy to find. You're certain to love the final texture and flavor.
Coconut Cream Smoothie
Here's a smoothie that offers significant probiotic benefits. This means that the drink will help to boost your gut bacteria, which may improve your health overall as well.
The choice of ingredients should also create a smoothie that tastes a little bit different than normal, which is another reason to check the recipe out. Full instructions and details about the importance of gut health can be found at lifewaykefir.com.
Lemon Coconut Smoothie
There aren't many recipes that combine lemon and coconut flavors, but this smoothie from triholisticnutrition.com appears to do this effectively. The smoothie is also a powerful way to consume healthy greens, as the flavor of spinach shouldn't be too strong in the finished drink.
Tahini Coconut Smoothie
This recipe comes from the company wholeearthsweetener.com and it is used to promote their stevia and monk fruit sweetener. Still, none of this stops the smoothie from being appealing in its own right.
The recipe is a particularly good choice for coconut lovers, as it includes coconut milk, shredded coconut and coconut oil. The flavors of the other ingredients aren't too intense either, so the coconut taste doesn't get drowned out.
Blueberry, Chia And Coconut Smoothie
Here's a more vibrant combination of flavors to consider. This one comes from the site eattry.com and features blueberries as one of the key ingredients.
While the main milk choice is either cashew or almond milk (not coconut milk), the recipe does include grated coconut, coconut milk greek yogurt and coconut oil. This combination is a great way to get the benefits and flavor of coconut.
Pina Colada Smoothie
Pina coladas always have a fantastic tropical flavor, so why not try a pina colada smoothie? This one comes from Brenda at sugarfreemom.com.
It's a very simple recipe that takes advantage of coconut milk. You can also include shredded coconut flakes on the top if you feel like it.
One thing to mention is the balance of macronutrients. This smoothie contains just under eight net grams of carbs per serving.
While that value is fairly typical for keto smoothies, this particular recipe has more sugar than most others. The serving size may also be small, as you're making six servings of the smoothie at a time.
Chocolate Coconut Smoothie Recipe
This smoothie is a simpler recipe than many of the others on this list. It also uses chocolate as the main flavor, rather than coconut. However, you could easily highlight the flavor of coconut more by using only coconut milk and decreasing the amount of cacao powder.
Even if you don't do that, the smoothie would still taste good and would be an excellent source of healthy fats. You can learn more at yummyinspirations.net.
Pineapple Coconut Smoothie
The combination of coconut and pineapple makes for such a fantastic smoothie. You end up with a drink that tastes extremely tropical. The recipe is one of many featured on the site 5minutelife.me.
While the recipe is promoted as a keto drink, you'll need to decide for yourself whether it is right for you. In particular, the entire smoothie contains 16 net grams of carbs. You could choose to just have half of a serving, which would lower the carb content, but this might give you a pretty small drink.
Chocolate Coconut Milkshake
There's one unusual thing about this chocolate coconut shake recipe – it doesn't include cocoa at all. Instead, the chocolate aspect just comes from the cacao nibs. These nibs impart some chocolate flavor, along with healthy polyphenols.
Even so, the bulk of the smoothie flavor comes from vanilla and coconut, rather than chocolate. This style isn't a bad thing, especially if you love coconut. The full recipe can be found at drjockers.com.
Cinnamon Coconut Smoothie
I love the combination of coconut and cinnamon in this smoothie. The cinnamon is a great way to make the coconut taste more interesting, without burying the flavor. You can also include coconut flakes and/or chia seeds on top of the smoothie, although both of these are optional extras.
The smoothie itself comes from Karen at sarcasticparent.com. She has plenty of other interesting recipes and content on the site too, if you feel like checking it out.
Avocado Smoothie With Coconut Milk, Ginger And Turmeric
Avocado is the main flavor in this smoothie from lowcarbmaven.com, but the drink features some other interesting flavors too. The inclusion of ginger and turmeric are such a good idea, as both spices have been linked to various potential health benefits.
While you may not be able to taste the coconut in this smoothie as much as in some of the other recipes, the drink is still worth trying. You could also add some coconut flakes on top if you wanted to enhance the coconut aspect.
Coconut Smoothie
Here's a smoothie that entirely focuses on coconut. It comes from the site vigoritout.com and uses both coconut milk and shredded coconut.
You can vary the intensity of the coconut flavor and the final consistency by adjusting the amount of coconut and almond milk that you include in the smoothie. The shake is a simple one, so you could easily tweak it to meet your own preferences.
Creamy And Crunchy Coconut Shake
This coconut shake may sound simple, but it is more complex than most. Rowan from tastefulketo.com includes a variety of nutrition-packed ingredients, such as chia seeds and cacao nibs.
None of these ingredients take away from the coconut flavor, instead they complement the coconut nicely, creating a tasty and interesting smoothie. Each serving contains just four net grams of carbs and plenty of fat.