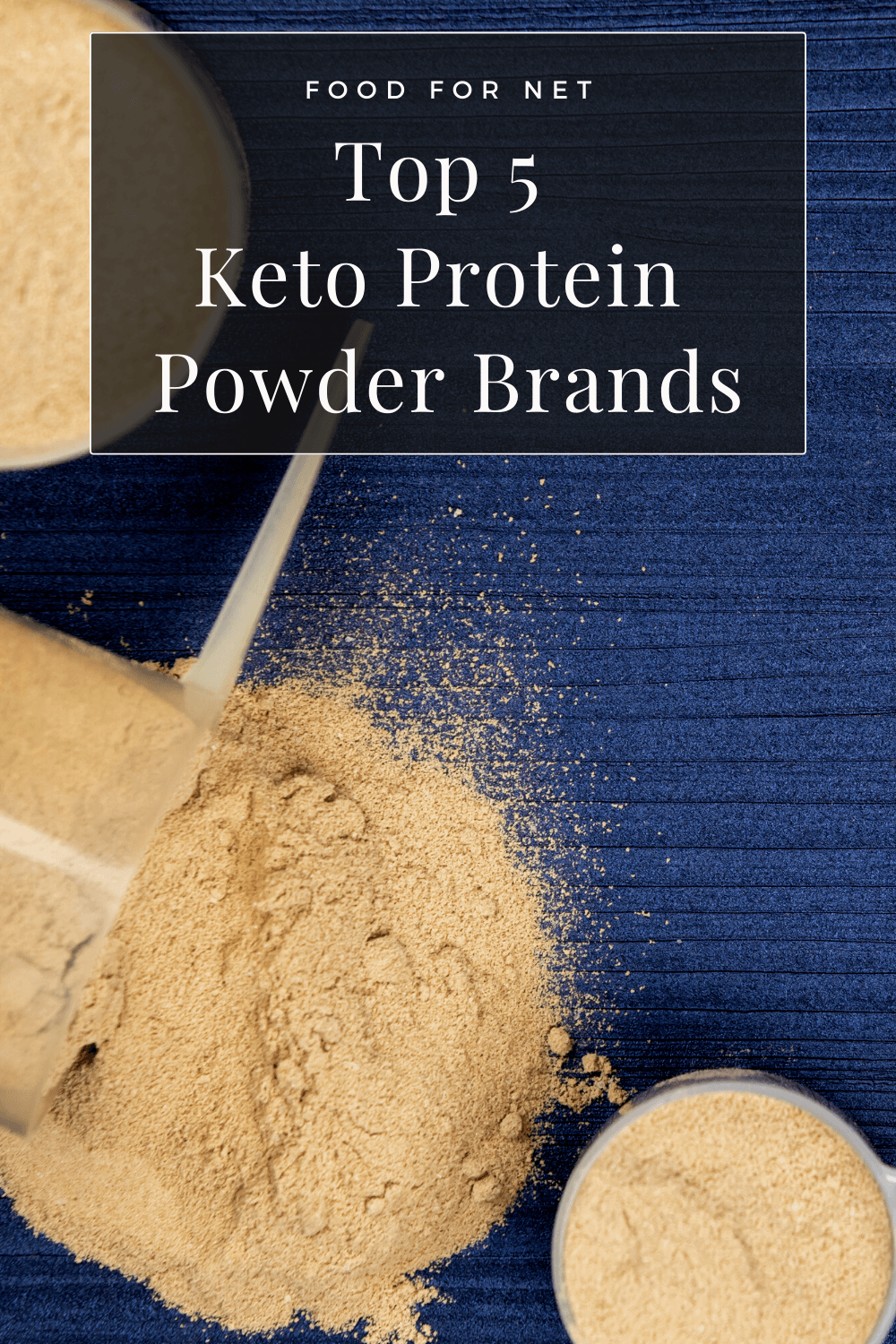 There are many fad diets out there and products and supplements that essentially promise to work some kind of crazy weight loss magic. The methods are sometimes a bit extreme but they promise fast and almost effortless weight loss and/or muscle building. Unfortunately, most of these diets and trends don't work, or they only work temporarily and results can't be sustained. It can be hard to distinguish between these things and real methods – but you can rest assured that the keto diet isn't one of these crazy fads.
It's a trend, no doubt. It's been slowly picking up steam over the years because it works. It certainly doesn't work for everyone, which is why some brand it as useless or extreme, but it is one "trend" that has a basis in science.
Essentially, by following the keto guidelines and eating a low-carb diet, you put your body into ketosis. What happens in this state is your body uses stored fat for energy instead of sugar. When your body is using fat for energy, it naturally burns off faster. It's simple in concept but it does take some work to get there. You must watch your carb intake above all else. Thankfully, there are plenty of foods out there that are made with all this in mind, including some high-quality keto protein powder.
The Best Keto Protein Powder Brands
1. Ketologie Protein Powder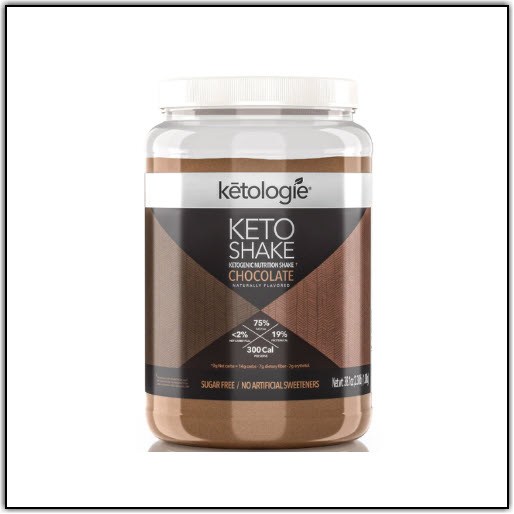 Ketologie Protein Powder is a good-quality, simple solution for those looking to add some protein to their low-carb lifestyle. Just because you're trying to go low-carb doesn't mean you don't need energy and sustenance to work out, go for a run, or simply feel full and satisfied throughout the day.
Ketologie also has a useful information section on their website for anyone looking to learn more about keto, how it works, why it's good for you – and how their protein can be beneficial.
They have several protein flavors available, such as classics like chocolate and vanilla.
The vanilla especially promises to be smooth and creamy while delivering a sweet treat without all the sugar. The main ingredients here are coconut oil powder, collagen, natural vanilla flavor, and a touch of sea salt. It has 15 grams of protein, seven grams of fiber, and 25 grams of good, healthy fats. This may sound extreme for a protein powder, but another facet of the keto diet is the high fat content most consume – always the good fats, though!
Beyond protein, they also have keto-friendly bone broth and probiotics to help support your chosen lifestyle.
2. Sunwarrior Warrior Blend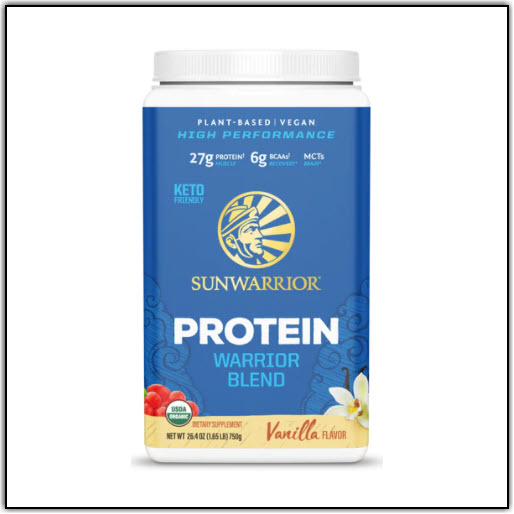 Sunwarrior is a premium brand of healthy, wholesome protein with several options. The Warrior Blend is an organic protein powder conducive to many diets and lifestyles, including keto, paleo, vegan, and grain-free. It's also soy-free, gluten-free, non-GMO, dairy-free, and has zero added sugars. It promises a smooth and creamy shake, but it's also versatile enough for baking or other creative ideas.
It offers 16 grams of protein, plenty of superfood and antioxidant ingredients, energizing MCTs and a complete profile of branched-chain amino acids. It's a very complete protein with some of everything you need for proper nutrition as well as pre and post-workout support.
The main ingredients are fermented yellow peas, goji berries, hemp seeds, and coconut. All of these offer many health benefits beyond protein. This protein is suitable and healthy for many people, though it's geared towards those living an active lifestyle and needing lots of fuel while sticking to a specific diet.
3. Quest Nutrition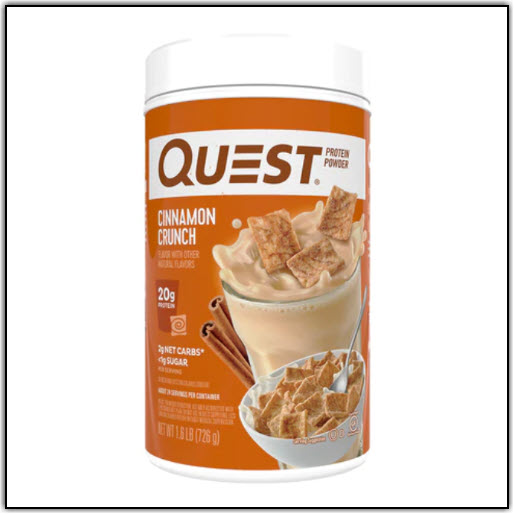 Quest Nutrition has become quite well known over the years for their legendary protein bars – they're delicious, packed with protein, and one of the cleanest on the market. Given the high quality of their bars, it shouldn't be surprising that they also have an excellent range of protein powder.
They have many fun, sweet, and interesting flavors to offer but a fan favorite is the cinnamon crunch. You can blend this one into a shake it's so delicious and decadent that it does just fine on its own in some water. If you're busy, tired, or just feeling lazy, this is an easy way to get your protein in post-workout.
Their protein is also designed in such a way, however, that you can use it for many other purposes within baking and cooking. Swap it out in a carb-heavy treat to turn it into a healthy, protein-rich snack – pancakes are a great example! The cinnamon crunch has 20 grams of protein and only two net carbs, making it perfect for a day of eating keto.
Other fun flavors include cookies and cream, peanut butter, salted caramel, vanilla milkshake, and chocolate milkshake.
4. Isopure Zero Carb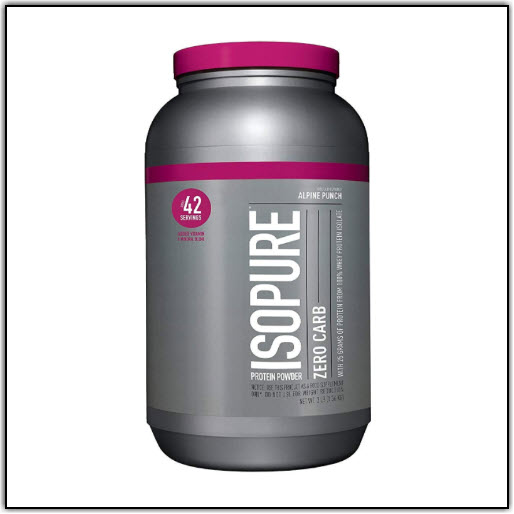 While there are plenty of healthy, keto-friendly protein powders out there, Isopure Zero Carb may just be the ultimate solution. Keto is all about low carbs, and a protein powder with one or two grams per serving is perfectly manageable and acceptable. But what if you could do it with no carbs at all?
This would free up your carbs for other foods throughout the day, while still experiencing all the benefits of protein. That's exactly what you get with Isopure – 25 grams of protein, no carbs, and a long list of other nutrients like zinc, magnesium, niacin, folate, biotin, and plenty of vitamins.
Available flavors include cookies and cream, alpine punch, mango peach, salted caramel, banana cream, and more. You can also get regular vanilla and chocolate if you want something more universal.
5. Amazing Grass Protein Superfood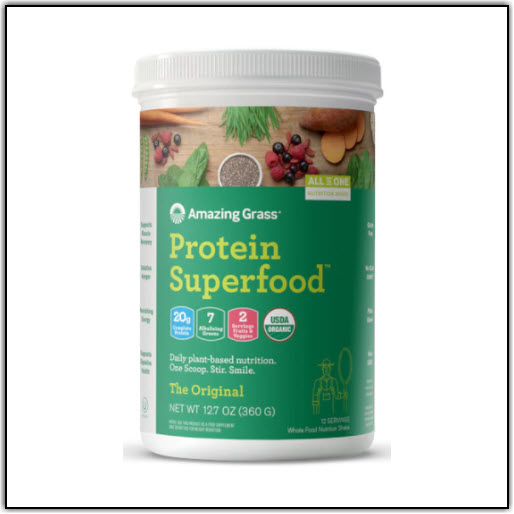 Amazing Grass Protein Superfood is a powerful and nutritious all-in-one superfood protein that has much to offer. It has 20 grams of protein in addition to alkalizing, farm-fresh greens plus a long list of nutrient-rich fruits and vegetables. They've packed all of this into a powder with a smooth texture and tasty, satisfying flavor.
This protein powder goes beyond protein and offers a convenient way to get whole food nutrition in a quick, easy, and delicious way. One of these protein shakes per day will give you two full servings of fruits and vegetables in addition to your protein. The protein blend is clean and simple, consisting of pea protein, hemp protein, organic chia seeds, and organic quinoa.
The original protein powder is more neutral in flavor, allowing you to do a wide range of things with it. If you want something even sweeter, they've got pure vanilla and chocolate peanut butter flavors as well.
Keto-Friendly Protein Shakes
Making protein shakes and smoothies is the most common and popular way to use and consume any protein powder. This is due to both the convenience and versatility. Shakes are quick to make and the possible flavor combinations are endless. You can also take them on the go and they make great meal replacements.
As with anything though, keto puts its own set of restrictions on the ingredients you can use. It's important to keep track of your carbs and fat even in smoothies. If you're stumped for new ideas, try these keto-friendly recipes:
Nut Butter Shake
This recipe is amazing because there are only three ingredients, and you can easily make it five different ways! All you'll need is nut milk of your choice, nut butter of your choice, and a granulated sweetener. The sweetener is optional if you'd prefer none, but of course, it'll reduce the sweetness a little bit.
This is the base recipe. Even this alone can be blended up for a quick, nutty, and mild shake. However, you can add a few simple ingredients for additional flavor:
Cocoa powder and chocolate protein powder for chocolate
Vanilla extract and vanilla protein powder for vanilla
Vanilla extract, cinnamon, vanilla protein powder for a cinnamon bun flavor
Vanilla extract, vanilla protein powder, and fresh/frozen berries of choice for a berry shake
Peanut Butter Keto Shake
Peanut butter itself has plenty of health benefits including some protein. It also has a delicious, decadent, indulgent flavor that some people are just obsessed with. If that's you, then this shake will prove to be just heavenly.
The ingredients are nice and simple, consisting of unsweetened almond milk, natural peanut butter, heavy cream (canned coconut cream for dairy-free), and unsweetened cocoa powder. To make it even more decadent, add a scoop of chocolate protein powder. Otherwise, you can use an unflavored one, or even vanilla if you want that sweet, creamy touch.
This smoothie only contains about 172 calories (before the protein powder) and offers a solid 15 grams of good fat. If you want to increase the fat intake you can always add a bit of avocado. An avocado's flavor is so mild you won't even notice the taste, but it will add a thick and creamy texture and plenty of nutrients!
Related Content