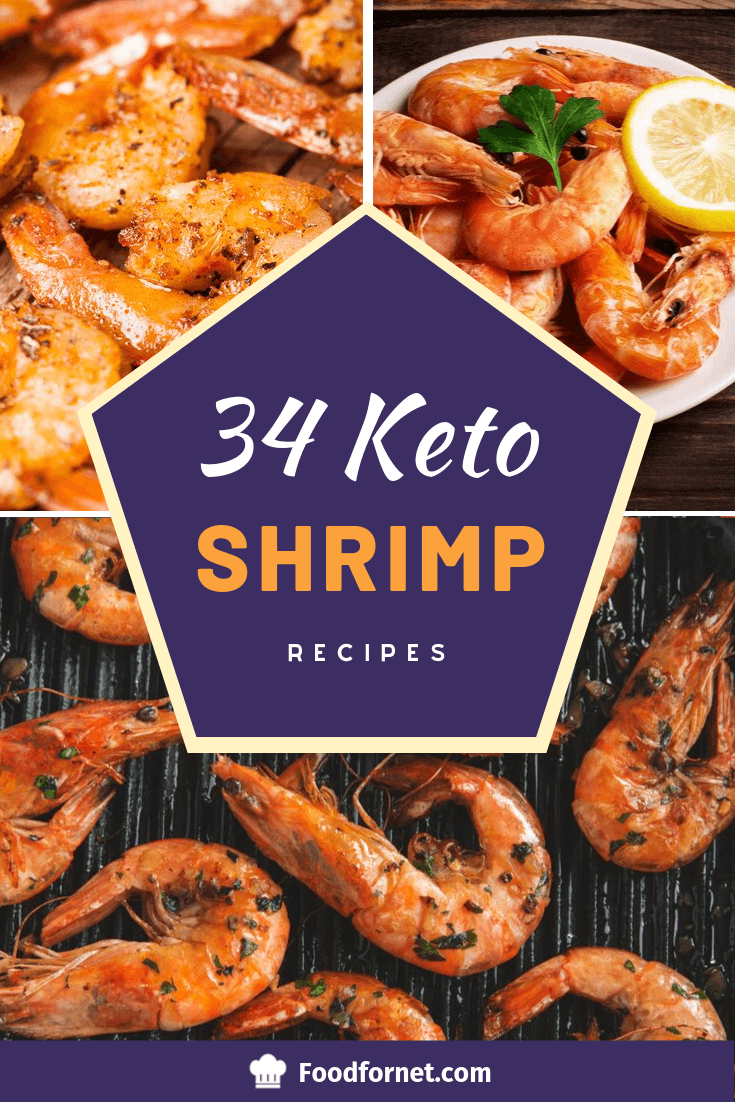 Shrimp make a natural addition to a keto diet. They're already very low in carbs, as are many other types of fish and seafood. This aspect makes them ideal for low carb dishes. It also means that you can use your carbs elsewhere, like in condiments or as a way to add extra flavors.
There are also many amazing shrimp recipes to choose from. The flexibility with carbs allows recipe creators to experiment with plenty of ingredient and flavor combinations.
Check out the recipes in this list to find some new dishes to enjoy. Some of them will follow familiar styles, while others may be much more unusual. Don't forget to leave a comment and let us know which recipes you enjoyed the most.
Keto Shrimp Recipes
PS. For anyone lactose intolerant, we also have a list of keto dairy free shrimp recipes and a similar selection of seafood recipes.
PPS. While you're here, how about checking out the wide range of keto recipes for parties?
Low Carb Shrimp Scampi
Let's start off with something simple and familiar – shrimp scampi. This recipe comes from lowcarbmaven.com, which makes it especially appealing. The scampi uses key flavors of white wine, garlic and lemon sauce, to create a dish that you're going to love.
Another key aspect is the ease of the recipe. You can create the entire meal in around 15 minutes. The ingredients list is of moderate length, but most of the items are simply used to add flavor to the finished dish. You'll have many of the ingredients on hand before you even get started.
Shrimp Cocktail Deviled Eggs
This shrimp recipe would be an ideal choice for a party. The eggs would make a great appetizer too. The concept is that you're mixing the flavor of shrimp cocktail sauce in with the eggs and then garnishing them with shrimp. It's a simple enough idea and one would taste fantastic.
While you could probably develop a similar recipe yourself, it's still worth checking out the version from ketodietapp.com. Lauren provides all of the instructions that you will need, along with plenty of high-quality images.
Baked Greek Shrimp With Feta
Here's another cool recipe, from Georgina at stepawayfromthecarbs.com. The dish combines baked shrimp with Greek flavors, which is a fantastic idea. Greek dishes often have a noticeable freshness to them.
Georgina mentions that finished meal maintains that freshness, while also being comforting. That's an impressive combination of approaches, a combination that you don't often find in a single meal.
Bacon Wrapped Grilled Shrimp
If you want something simple and tasty, what about this bacon wrapped shrimp recipe from alldayidreamaboutfood.com? The recipe even comes with details about a buffalo dipping sauce that perfectly pairs with the shrimp.
Honestly, the dipping sauce is the best part of this recipe. It provides you with such a stunning flavor. You could use it for plenty of other situations too.
Shrimp And Cucumber Appetizer
The visual style of this appetizer is just too perfect. It comes from ketosummit.com and is certain to impress. Of course, the appearance isn't the only interesting part.
The recipe also has a nice balance of flavors. These have been carefully chosen so that they compliment the taste of the shrimp, rather than overwhelming it.
Thai Shrimp Soup
Shrimp is a powerful choice when it comes to soup as well, like in this recipe from beautyandthefoodie.com. The soup takes advantage of Thai flavors to create something truly fantastic.
You end up with flavors like lemongrass, ginger and coconut milk. The dish takes its inspiration from Tom Yum Goong soup, except that this version is low carb and less spicy.
Cheesy Shrimp Soup
Here's another shrimp soup to consider. This time cheese is the main flavor and the recipe comes from ketosizeme.com.
This is also a perfect dish if you want something simple. The recipe only uses a handful of common ingredients. They'll be easy to find. Most of them are ones that you would use in other keto recipes as well.
Keto Shrimp Scampi
This is another shrimp scampi recipe, which comes from ibreatheimhungry.com. The scampi is served over cooked spaghetti squash, but you could use any other low carb pasta alternative as well.
Regardless of what you serve it with, this recipe is easy to make. The ingredients list mostly consists of various herbs and spices that contribute to the overall flavor profile. These help to create an amazing dish that stands out from the crowd.
Creamy Shrimp Primavera
Taryn from joyfilledeats.com offers this flavor-packed shrimp recipe. It was inspired by a pasta shrimp primavera recipe and Taryn uses extra vegetables to make up for the loss of pasta.
The recipe ends up being low in carbs and gluten free, without compromising on taste. The amount of vegetables means that the finished meal is also very healthy.
Garlic Butter Shrimp
This garlic butter shrimp recipe isn't complicated, but it doesn't need to be. The flavors all combine well with one another, while the recipe remains easy to prepare. You can find full details for the recipe at thatlowcarblife.com. This is certain to be a popular recipe too. Who doesn't love garlic butter?
Shrimp & Chorizo Spaghetti Squash Bowls
I love how this recipe, from ibreatheimhungry.com, uses shrimp in a different way than normal. The spaghetti squash acts as low carb pasta alternative, while the chorizo adds in extra protein and flavor.
Serving the dish in a squash bowl looks fantastic, but you don't have to. The recipe could also be made using a skillet and served in a regular bowl.
Tex Mex Shrimp Fajitas
The Tex Mex flavor of these shrimp fajitas would make them popular at parties, There are also some stunning ingredients included, which combine well with each other. The recipe can be found at lifemadesweeter.com.
Kelly includes details about various ways that you can serve the fajitas. Some of these approaches work well with a low carb diet, while others don't.
The great thing is that you can mix and match options. For example, you could serve the fajitas with warm tortillas and cauliflower rice on the side – allowing people to choose whichever style they prefer.
Shrimp Burger And Jicama Fries
Why not check out this burger and fries recipe for something completely different? It comes from flavcity.com and provides you with an unusual combination of flavors.
The jicama fries make a particularly interesting addition, as they stand out visually and would taste great too. Plus, eating shrimp in a burger is a great idea. The style works well and you're certain to love the end result.
Oven Fried Garlic Parmesan Shrimp
Cooking shrimp in the oven is a hands-off approach that simply works well. This style is perfect for anyone who is a little unsure about getting shrimp right.
Stacey, from beautyandthefoodie.com, mentions that the shrimp tend to be very popular and that they make a fast and easy snack. Stacey even has a recipe video that you can follow. This makes the oven fried shrimp even easier to make.
Keto Biryani With Shrimp
This dish from castironketo.com is a fantastic one if you want to impress guests. Seriously, the meal looks amazing. It's a variation on an Indian dish, but you're using shrimp instead of a more common meat choice.
While there are many advantages to the recipe, the most significant one has to be the flavor. This biryani is packed with delicious ingredients, making it a meal that you're certain to enjoy.
Spaghetti Squash Shrimp Scampi
Here's a second recipe that takes advantage of spaghetti squash as an alternative to pasta and as a way to serve the meal. The whole thing does look amazing when you're serving it in the spaghetti squash itself. The style also means one less dish for you to worry about.
Courtney, from sweetcsdesigns.com, provides information about other ways to prepare and serve the shrimp scampi too. One option is to prepare the spaghetti squash earlier, then sautee the various ingredients together. This style is perfect if you're serving a large crowd.
Creamy Garlic Shrimp With Parmesan
If you want a stunning dish that isn't too complicated, this recipe from cafedelites.com could be the perfect choice. The recipe is creamy and uses garlic as the main flavor.
This combination means that the dish will pair well with many different sides. In fact, Karina includes a list of low carb sides and another list of ones that aren't low in carbs. You can choose based on whatever suits you best.
That's not all. There are also various tips for the recipe, including possible ingredient substitutions and information about wine pairing.
Keto Shrimp Scampi
Shrimp scampi is always a popular meal, so here's another low carb version to consider. This one comes from tastaholics.com. The site is one of the most comprehensive sources of low carb recipes, so it's seriously worth checking out.
The recipe uses spinach instead of pasta, as the authors find that they tend to crave pasta less the longer they stick to the diet. You could easily swap out the spinach for a low carb pasta alternative such as spaghetti squash or zoodles.
Creamy Shrimp Soup With Vegetables
I love the professional appearance of this soup recipe. Seriously, it looks like something that you'd get served in a restaurant. That's not the only great thing. The soup is packed with flavors. Tasha from ketogasm.com mentions that she was surprised at the flavor too – and she designed the recipe!
Shrimp With Tomato Cream Sauce
This is another shrimp recipe that simply looks amazing. This time the dish features tomato as a key ingredient, creating the rich red color of the finished dish. It is also a creamy recipe, which makes it a perfect comfort food on cold evenings.
The meal is one that you could serve in many ways. Georgina (of stepawayfromthecarbs.com) recommends options like serving it over zoodles, shirataki noodles or cauliflower rice. I'm sure you can find plenty of other alternatives too.
Shrimp & Greens Enchiladas With Jalapeno 'Cream' Sauce
This recipe comes from allthenourishingthings.com and it makes a dairy free comfort meal that you'll love. The combination of texture and flavor means that you won't miss the dairy at all.
In fact, you mightn't even notice the difference. Then there are the flavors in the recipe. Including jalapeno in enchiladas is a surprisingly powerful approach. This addition would make the recipe taste so much better.
Shrimp And Bacon Chowder
How can you not love a shrimp and bacon recipe, like this one from betterthanbreadketo.com? The meal looks amazing in the bowl, with the colors of the bacon and the green garnish standing out from the creamy base of the chowder.
Logan also provides plenty of information about the recipe. This includes a discussion on how to make the meal dairy free and a list of ingredients that you can add to make the chowder more complex and tasty.
Garlic Shrimp Spaghetti Squash
I love how this keto dish looks like it has been made with angel hair pasta. Spaghetti squash works really well in this way. It also combines perfectly with sauce to create flavor-packed meals.
This particular recipe comes from itscheatdayeveryday.com and looks amazing. The meal is also very low in carbs. You're only getting three net grams of carbs per serving. That's a great outcome for a lunch or dinner recipe.
Cajun Garlic Shrimp
This recipe from simplysohealthy.com combines cajun spices and garlic to create a shrimp dish that is certain to taste amazing. It is also a very easy recipe, taking less than 20 minutes from start to finish.
In fact, the recipe is designed to be fast to prepare. This makes it perfect as an emergency dinner, for nights when you don't have the time or the energy to cook anything complicated.
Chipotle Lime Shrimp Bowls
Here's a recipe from lifemadeketo.com, which is designed to provide you with an entire meal. As such, you're not just getting tasty shrimp, you're also getting a selection of other ingredients with complementary flavors.
The flexibility of this meal makes it especially appealing. You could easily take out some of the ingredients or add in others as you see fit.
Shrimp Ramen Stir Fry
Another full meal recipe is this one from sugarfreemom.com. As the name suggests, the dish is a low carb variation on the idea of ramen. Konjac noodles are used as an alternative to pasta in the dish, although you could substitute for another type of low carb noodle if you would prefer.
Regardless of your 'pasta' choice, the flavors in this dish are stunning and the meal will come together well.
Savory Shrimp Stir Fry
This shrimp stir fry recipe follows a similar idea as the previous recipe, but features different vegetables. In this case, the recipe itself can be found at perfectketo.com.
The shrimp is designed to be served with baked cauliflower rice, but other low carb sides would work too. The meal takes less than half an hour to prepare and get on the table, making it ideal for a weeknight dinner.
Creamy Asparagus And Shrimp Alfredo
Hayley from healthstartsinthekitchen.com says that this meal sounds decadent, which is certainly true. The recipe features shrimp and asparagus, along with a creamy sauce. Those aspects are all amazing and mean that the whole meal will taste delicious.
As Hayley points out, the keto diet allows you to eat such meals on a regular basis, as you're meant to be consuming significant amounts of healthy fat. Why not take full advantage of that feature of the diet to enjoy a recipe like this one?
Easy Shrimp Ceviche
Here's a stunning meal to consider. It comes from kalynskitchen.com and would be a refreshing choice on a hot day. I'm particularly fond of the flavor combination, as it is one that you don't often find in a shrimp dish.
Because this is a ceviche recipe, the shrimp is 'cooked' in lemon and lime juice. That idea might not appeal to everyone, but it is safe and tends to be very popular.
Carbonara Shrimp Alfredo With Bacon
Carbonara sauce and bacon are commonly combined, while the addition of shrimp into the mix makes the entire dish more interesting still. This particular shrimp recipe is featured at cafedelites.com and is simply stunning.
The dish doesn't use a large number of different ingredients, making it a fast choice. The flavors also mean that this meal would be popular even among picky eaters.
Low Carb Shrimp Cakes
This recipe is similar to the previous example, where you're making an easy-to-eat finger food. In this case, the recipe comes from sugarlesscrystals.com.
You end up making ten shrimp cakes per batch, although the recipe could easily be doubled if you needed to. An interesting aspect is the inclusion of whey protein powder.
While the ingredient isn't a common addition to shrimp cakes, it does have advantages, including the way that it increases your protein intake.
Shrimp Cakes With Lemon Aioli
I love the way that these shrimp cakes turn out. They come from Jeanine at theketoblog.com and are packed with flavor. The inclusion of lemon aioli makes the recipe even better.
The sharpness of lemon will contrast perfectly with the creaminess of the aioli and the flavor of the shrimp. You're certain to love the final combination.
Shrimp Fried Cauliflower 'Rice'
Here's a recipe from peaceloveandlowcarb.com. The site is always a great place to find low carb recipes and has plenty of amazing options to choose from.
This particular recipe follows the classic fried rice style but uses cauliflower rice to bring the carb count down. The approach gives you a dish that tastes just as good as regular fried rice and is much better for you.
Asian Glazed Shrimp With Bok Choy
This final recipe comes from howtothisandthat.com. It takes advantage of shrimp and sauteed bok choy. The most notable aspect is the use of an Asian glaze. This adds a new dimension of flavor to the recipe, making it taste simply amazing.
You're preparing four servings of the meal at a time, with two grams of carbs per serving. You could serve the dish with cauliflower rice (or another low carb side) to make a complete meal.