Taco Tuesday? What about taco any day? I mean who doesn't like a fun night just chit-chatting with family or friends (or on your own, no judgment here!) munching on quite-messy-but-delicious and mind-blowing-but-enlightening tacos, right? Okay, obviously, I'm a taco lover here. How can you not, with just the basics of taco seasoning, taco meat, tortilla, and you're all set…well almost. But you get the point, right?
Tacos are so versatile you can basically choose whatever kind of meat you prefer, there are even vegetarian tacos now! But of course, an authentic Mexican taco got meat that is either stewed, grilled, or fried. And did you know that they use soft taco shells, they rarely top theirs with cheese, and are not typically spicy? Well, tacos had evolved so much now but it doesn't change the fact that it's still one of America's favorites.
When it comes to taco meat you can try virtually anything. It's actually a lot of fun experimenting with different kinds of taco filling. You can basically have the same meat, say ground beef, but using different taco seasoning will give you a different flavor every time. Heck, maybe now you can use the spices you have in your pantry for months! Well, of course, check first if they're still good though, or better yet, just replenish your stocks.
You might be tempted to use the readily pre-prepared taco seasoning, but you can also try making one yourself. You can start with spices for taco meat that perhaps someone you know is already using and swear is phenomenal (that is if they're willing to share their secret recipe, of course). Or you can also follow the spice mix used by different recipes you see online. Then who knows, when you get the hang of it and could pretty much tell which is which, maybe you can also come up with your very own taco seasoning mix!
Here are 14 spices for taco meat that you can experiment on. You can also try the recipe suggestions so you'll have a better idea of how more likely the spice is going to affect your dish. Again, the good thing about tacos is they're very versatile – even when it comes to taco seasoning!
Spices for Taco Meat
Chili Powder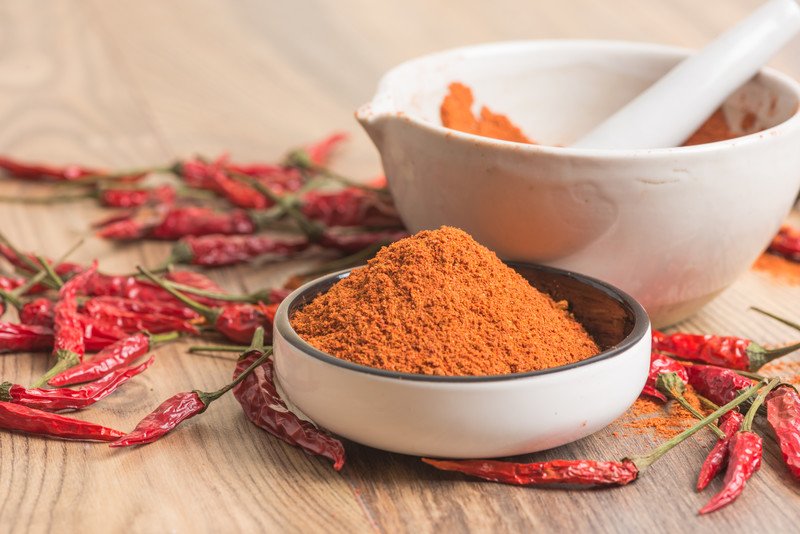 Chili powder is the pulverized form of dried chili peppers. It's usually a combination of different varieties of chili that are dried under the sun or mechanically dried and then pulverized by heavy machinery or for homemade ones – via coffee grinder, high-powered blender, or a food processor.
Chili powder is rich in vitamin C, vitamin B6, vitamin A, potassium, and copper. They are also rich in antioxidants. It aids in weight loss, pain relief, fighting inflammation, and promoting digestive health.
This Mexican-inspired pulled pork tacos recipe is not just delicious but simple and easy to make as well. The spice mix for the dry rub that really boosts the pork's flavor is a winning combination. The chili powder gives the taco meat that spicy kick.
Ground Cumin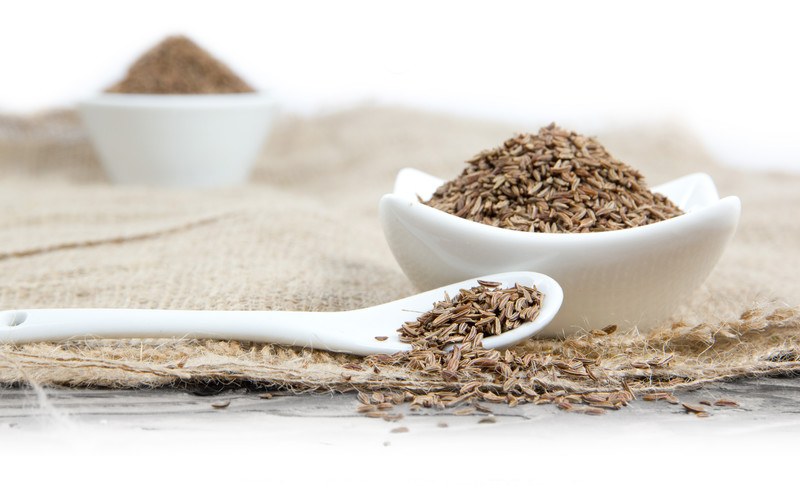 These yellow-brown, oblong, and ridged seeds came from an aromatic flowering plant that belongs to the parsley family. It is an essential spice for Indian cuisines and can be brought whole or in ground form.
Cumin is a good source of iron, magnesium, calcium, phosphorous, and a handful of vitamins. It promotes digestion, and may also help with diabetes and improving one's blood cholesterol.
Cumin's distinctive aroma and flavor really blend well with the other spices in this taco seasoning recipe from thekitchn. It got a good balance of flavor combination that will surely spice up any meat preference for your taco meat.
Dried Oregano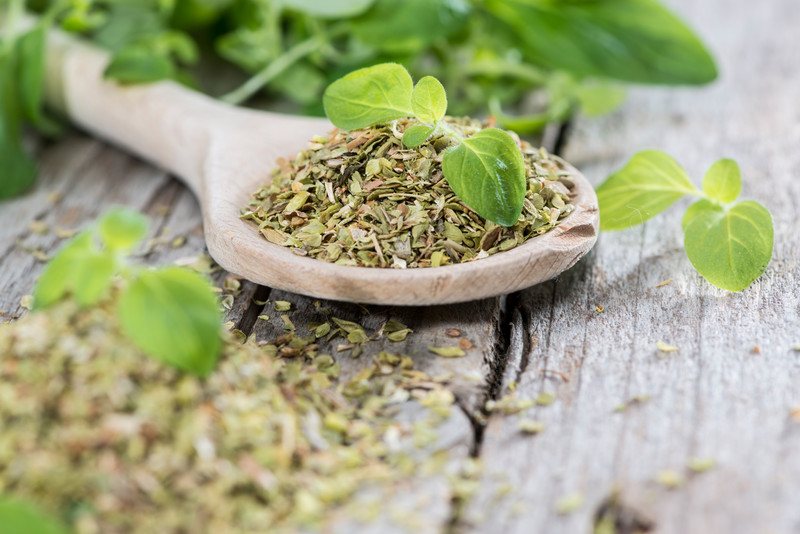 Oregano is a flowering plant that belongs to the mint family and closely related to the herb marjoram. It can be used fresh or dried in cooking – the dried version gives a stronger flavor. It is one of the staple herbs in Italian cuisine.
Oregano is rich in antioxidants, fiber, iron, manganese, calcium, and vitamins E and K. It helps in fighting bacteria, relieving inflammation, regulating blood sugar, and fighting cancer.
Oregano's bold and earthy flavor with slight bitterness simply works with the other spices in this ground beef taco recipe. See how can you managed to come up with taco meat this flavorful and juicy in under 30 minutes.
Five-spice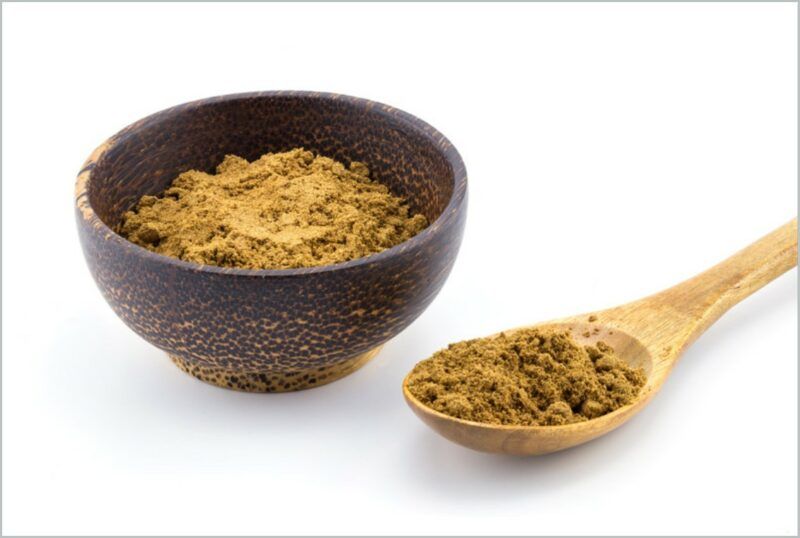 Five-spice is a spice blend that contains the five flavors that represent traditional Chinese elements – sweet, bitter, sour, salty, and pungent. So normally, it contains star anise, cinnamon, fennel seeds, Sichuan pepper, and cloves.
Since it's a combination of spices, it also contains a combination of nutrients including vitamin A, carotene, pyridoxine, calcium, iron, and manganese. Five-spice helps in lowering blood sugar, relieving nausea, fighting inflammation, and easing pain.
This pulled pork taco recipe uses five-spice for flavoring. And although you can use the pre-mix five-spice you may already have in your pantry, you can also try doing it yourself from scratch just like in this recipe – it's quite easy actually!
Turmeric Powder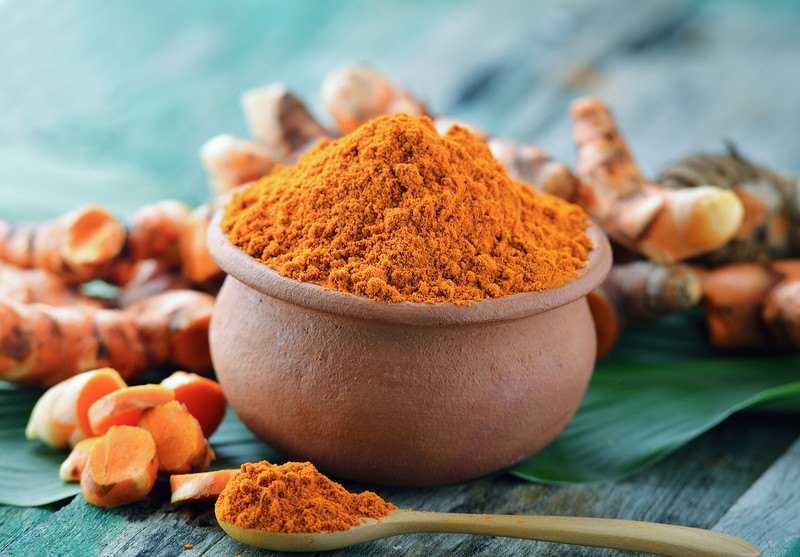 Turmeric powder is the pulverized form of dried turmeric. The rhizome of fresh turmeric is boiled and then dried before it is grounded into a powder. This bright yellow-orange powder is commonly found in Asian cuisine.
Turmeric powder contains curcumin which is a substance that has powerful anti-inflammatory and antioxidant properties.
Aside from turmeric powder's earthy aroma and pungent flavor, it does add beautiful color to wickedstuffed's seasoning mix – and of course to your taco meat as well. Surely, adding turmeric powder is a delicious way of brightening up your dishes!
Dried Parsley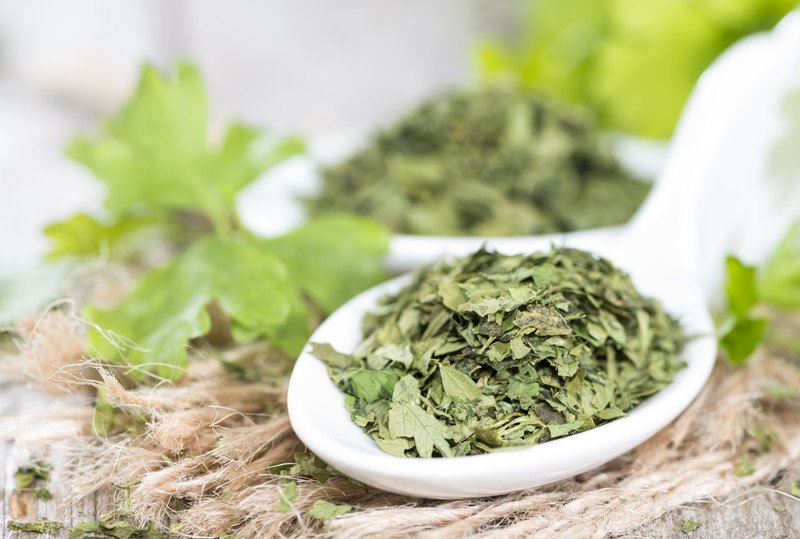 Parsley is a plant that belongs to the family of aromatic flowering plants. It is widely used in Mediterranean, Brazilian, Middle Eastern, and American cuisine. Parsley can be used fresh or dried – just keep in mind that dried ones are often more potent and concentrated.
Parsley is a good source of antioxidants like flavonoids, carotenoids, and vitamin C. It's also rich in vitamins K and A. It supports bone health, improves heart health, has antibacterial properties, and has nutrients that protect our eyes.
This taco seasoning by mexicanfoodjournal used a combination of parsley and oregano (normally, you'd only see oregano). Parsley's peppery taste with a hint of earthiness blends well with oregano's bold flavor. Overall, it works with the other spices.
Red Pepper Flakes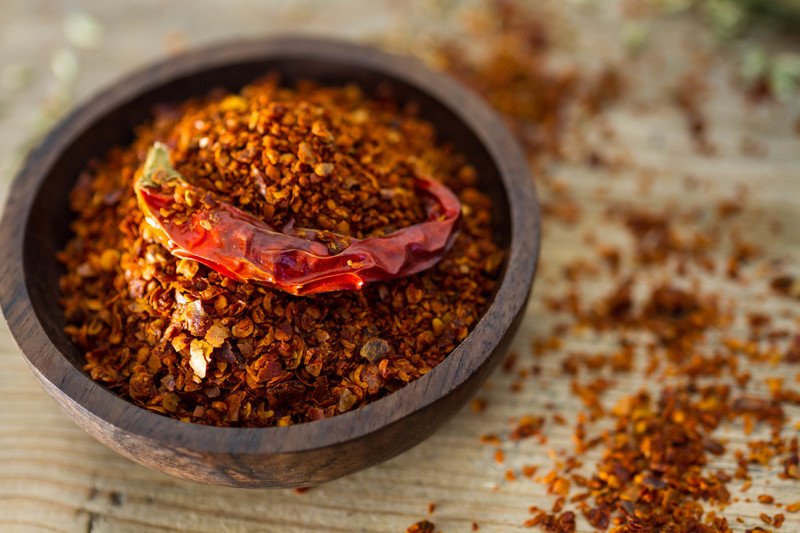 Red pepper flakes are made from a combination of different peppers but dominantly with cayenne pepper. The peppers are dried and then ground – seeds and all. It's great for adding heat to dishes.
Red pepper flakes are rich in beta carotene, magnesium, iron, cryptoxanthin, and vitamins A, B-6, C, and E. it boosts our immune system, improves eye and skin health, and aid in weight loss.
For added heat feel free to add extra red pepper flakes in this homemade taco seasoning recipe. You can of course try the original recipe first and then see for yourself if it needs more heat per your liking.
Paprika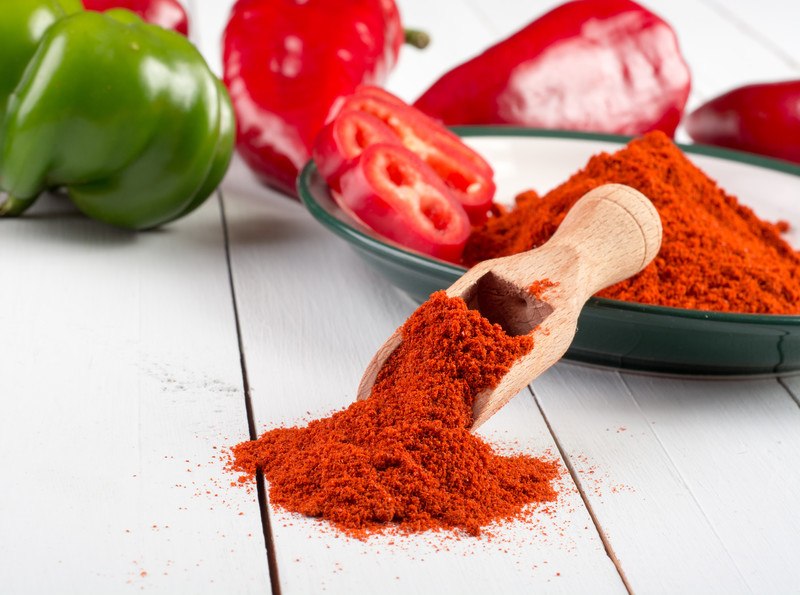 This bright red powdered spice is made from ground dried red peppers – the sweeter and milder varieties. Although it does have a kick it can range from mild to hot, for instance, sweet paprika has more than half of the seeds remove so it is a lot less spicy.
Paprika contains antibacterial properties and a good amount of Vitamin E. It's also loaded with beneficial compounds like niacin and carotenoid antioxidants.
See how the flavor combination works in this Blackened Salmon Tacos with Mango Salsa recipe. I was just trying something unusual and was pleasantly surprised when this became a big hit at my house. This is absolutely a must-try!
Dried Thyme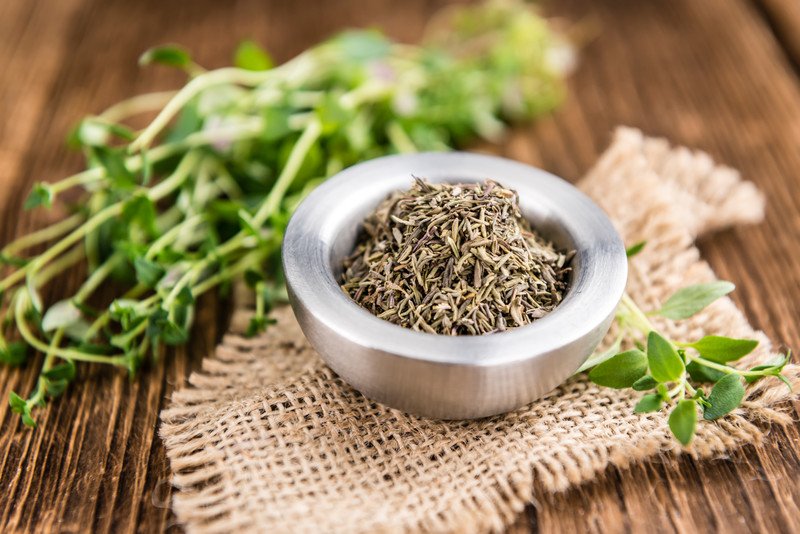 Thyme is another flowering plant that also belongs to the mint family. It's a close relative of the oregano. Thyme aside from its culinary use also has medicinal and ornamental uses. It can be used fresh or dried when cooking.
Thyme is a good source of vitamin C and A, copper, iron, fiber, and manganese. It helps in lowering blood pressure, stopping cough, and boosting your mood.
This Mexican Ground Beef Taco Filling really demonstrates how thyme works side by side with oregano and basil. Its sharp and somewhat minty flavor complements the other spices in the dish.
Ground Cayenne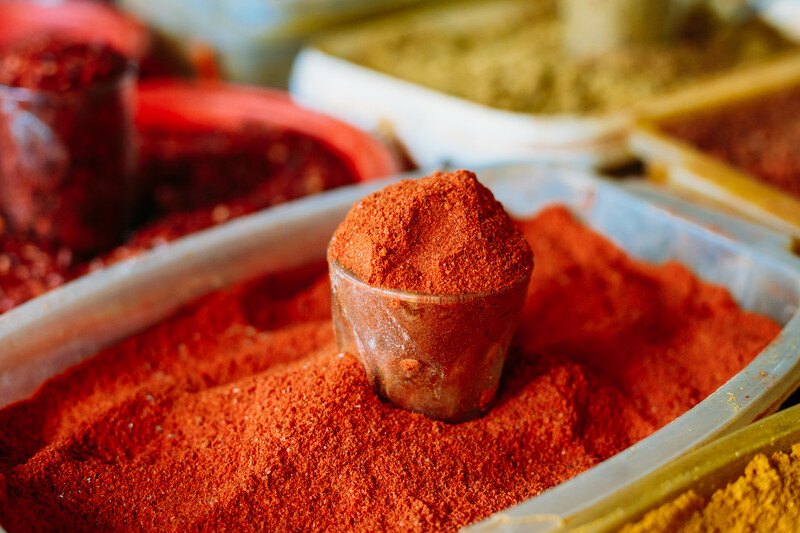 Ground cayenne is the powdered form of cayenne pepper which may also be a blend of different peppers. This red spice powder is great for adding flavor and heat to your dish. Although it may look similar to paprika (given that they are both from dried peppers) cayenne gives more heat while pepper has a somewhat sweet and fruity flavor.
Cayenne is rich in vitamin C, cryptoxanthin, beta carotene, and other anti-oxidants. It helps boost your metabolism, lowers blood pressure, relieves pain, and aid in digestion.
Cayenne absolutely gives this fish taco recipe its kick and earthy flavor. I think this is a great way to introduce tilapia fish to your friends or family. Make sure you prep enough for second servings though.
Ground Ginger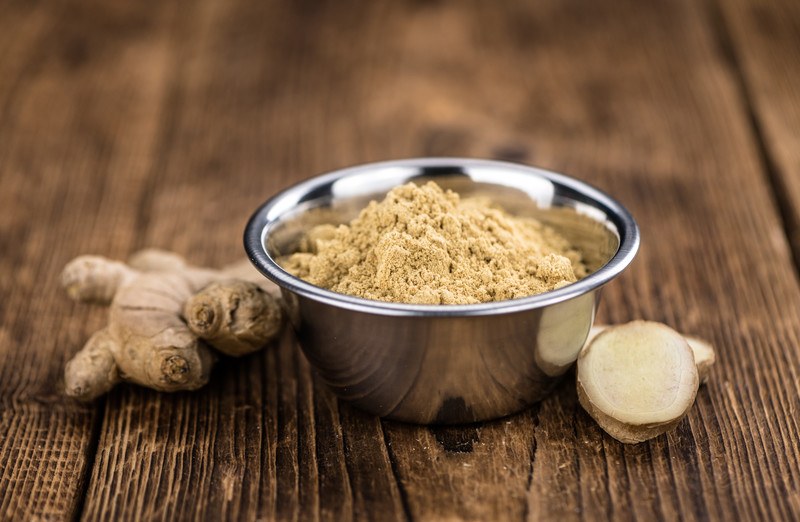 Ground ginger is the pulverized form of dried ginger root. It belongs to the family of turmeric, galangal, and cardamom. You'll need a lot of fresh ginger to substitute for ground ginger, a ratio of 6:1. So, it's great to have ground ginger in your pantry just in case!
Ground ginger is a good source of vitamin C and B vitamins like thiamine, riboflavin, and niacin. It also contains iron, calcium, and phosphorus. It has anti-inflammatory and antibacterial properties. It also helps reduce nausea, improve digestion, reduce the risk of heart disease, and relieves menstrual pain.
This homemade taco seasoning mix's secret ingredient may be ground ginger! Perhaps its sweet, peppery, citrusy, and hint of floral brings another layer of flavor to the usual spices for taco meat. Well, there's only one way for you to find out if you agree with me, you'll have to try it.
Dried Basil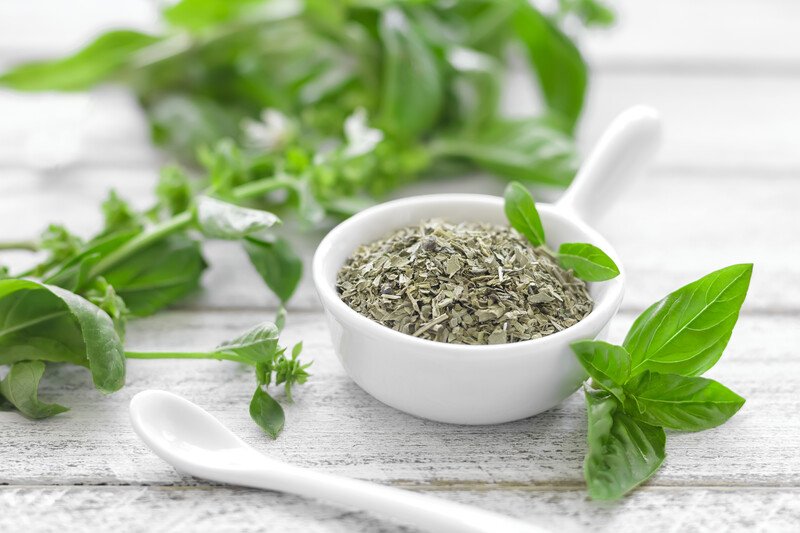 Another member of the mint family is basil. It's native to Africa and Asia but is now widely use worldwide. It is usually used fresh and added at the last moment of cooking so that its flavor is kept intact. Dried basils are also used in cooking and are great for sauces, soups, stews, or teas.
Basil is rich in vitamin K, iron, calcium, vitamin A, and manganese. It's also a good source of antioxidants. It has antimicrobial and anti-inflammatory properties. Basil also helps in reducing oxidative stress, reducing high blood sugar, boosting mental health, and supporting liver health.
Simplicity is really the key sometimes, just like in this simply-seasoned taco meat recipe. It didn't need much but it actually works. A great way for newbies in the kitchen to start with – we know how intimidating a long list of ingredients can get, right?
Ground Coriander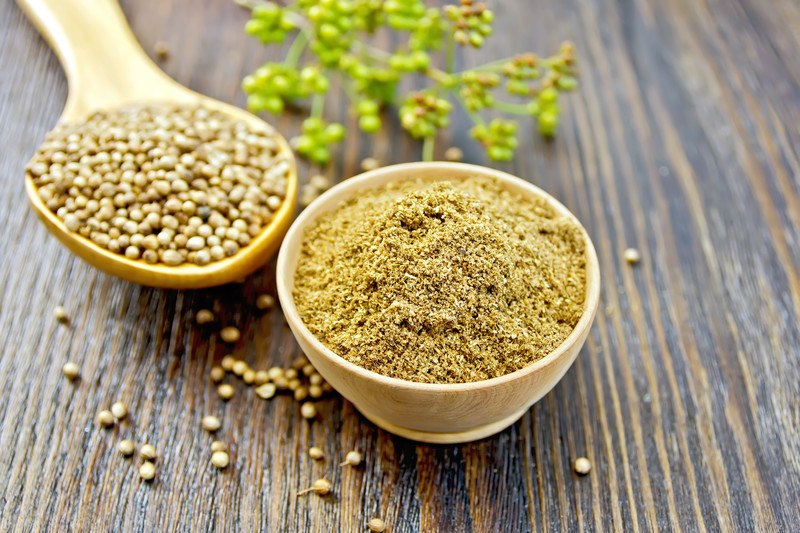 Coriander seeds came from the coriander plant that belongs to the aromatic flowering plant family. The seeds can be used whole or grounded – it's best to dry roast the seeds first before grounding for maximized flavor and aroma.
Coriander seeds contain copper, iron, zinc, and other essential minerals. It also contains vitamins such as A, E, and K. Coriander seeds help in reducing bad cholesterol, improving heart health, promoting good digestion, and aiding in weight loss.
Its warm, nutty, lemony, and spicy flavor really up the flavor game for this spicy taco meat dish. You might want to reign in on the chili powder if someone in the family is not too keen about spicy food, otherwise, you're all good.
Ground Cinnamon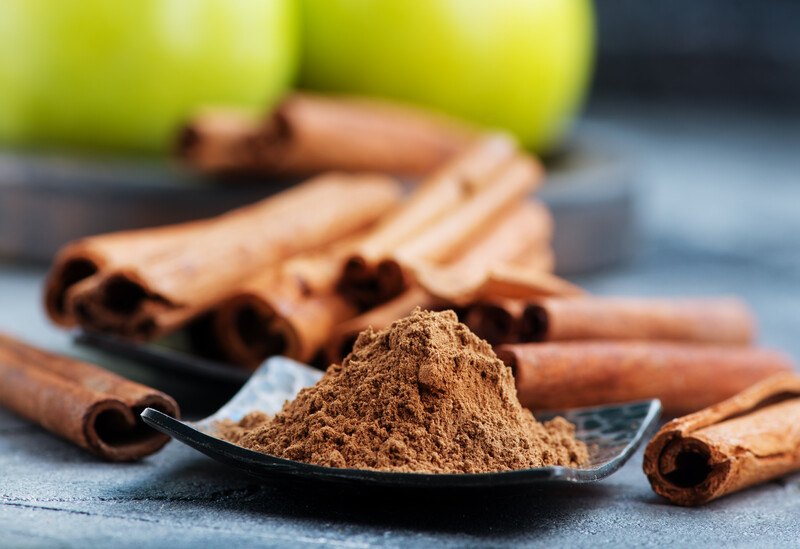 Cinnamon is actually the inner bark of a cinnamon tree. They are harvested, dried, and then ground into powder – or left as is, cinnamon sticks. It's used in a wide variety of cuisines and a great addition to both sweet and savory dishes.
Cinnamon is rich in calcium, potassium, beta carotene, and vitamin A. It helps in lowering blood sugar, reducing blood pressure, and relieving digestive discomfort. Cinnamon also contains anti-viral, anti-bacterial, anti-fungal, and anti-inflammatory properties.
Cinnamon in taco meat? Yes, cinnamon in taco meat. This Mediterranean-inspired taco seasoning will be perfect for any type of taco. I'm already contemplating using it in my chicken tacos…had to decide though, chicken thighs or chicken breast? Hmm…