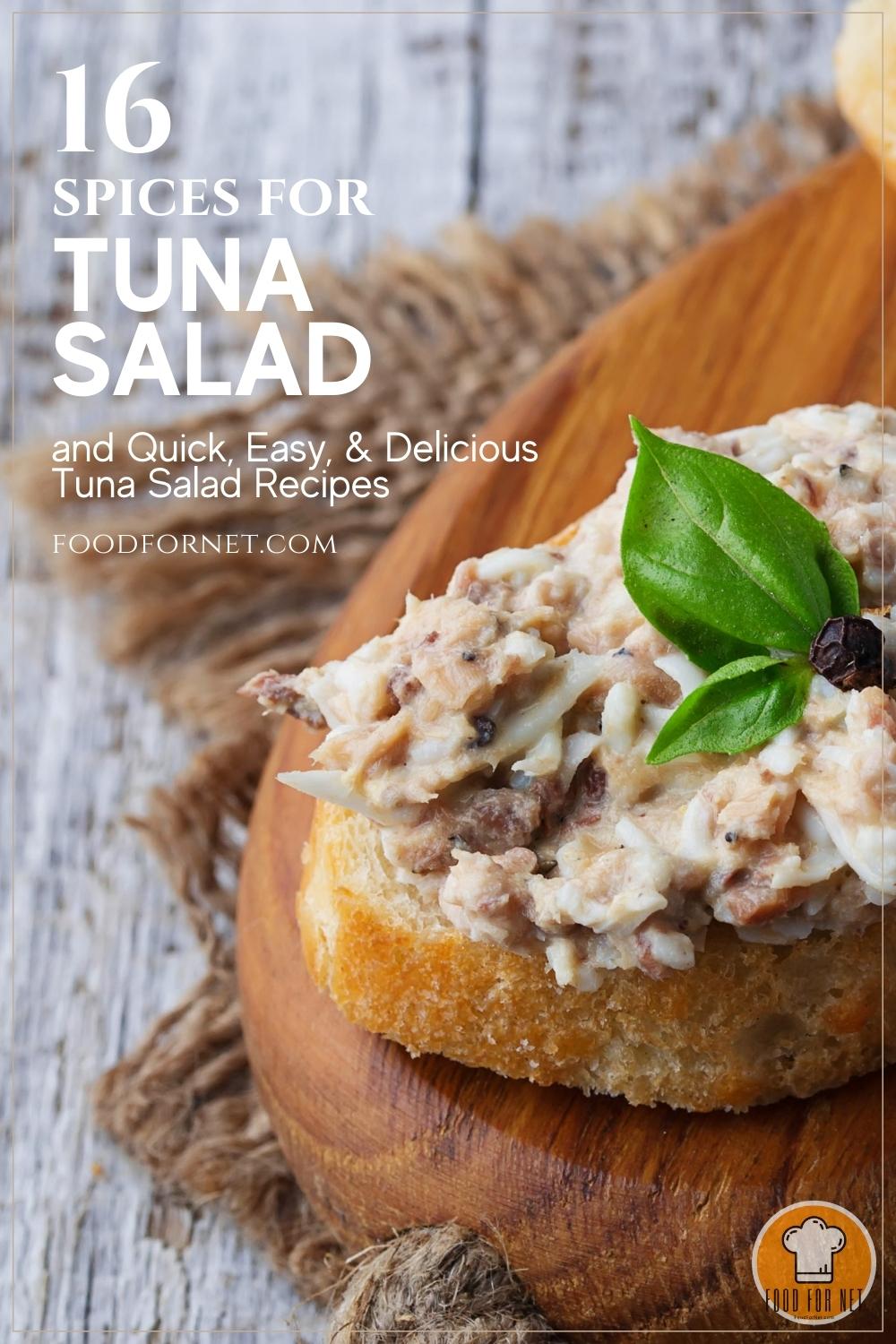 Whether you enjoy yours served with bread, lettuce, or tomatoes – the fact remains that tuna salad is a delicious, quick, and easy way to ensure you have yourself a lovely meal. The dish mainly consists of tuna and mayonnaise and just by using different spices for tuna salad, you can prepare it in so many different ways.
Tuna salad was actually first introduced at the beginning of the 20th century and it's pretty much because canned tuna came into existence and was mass-marketed in 1903. It was featured in the 1930s and 1940s cookbooks as alternatives to chicken and turkey salad.
Again, the two main ingredients are tuna and mayonnaise. It is then flavored with seasonings or tuna salad dressing. It's oftentimes served on a piece of bread to make a tuna salad sandwich. It can also be served with crackers, lettuce, tomatoes, or avocadoes. You'll also usually see other ingredients like pickles, relish, celery, or onions to add more flavors.
Tuna does have its own share of health benefits and are generally healthy when taken moderately. It's rich in omega 3 fats, low in saturated fat, a complete source of protein, and also boast a decent amount of vitamin D and iron. Canned tuna is also inexpensive and very versatile, so that's a big plus, too!
As for mayonnaise, while there's no denying that it's high in fat, moderation is always the key. It can still be a part of a healthy diet if you know how to use it wisely. You can also opt for plant-based mayo that is not only healthier but quite tastier, too.
Greek yogurt can also be substituted for mayonnaise if you're really concerned about mayo's impact on your health – especially when there are other dishes that you also love using mayonnaise. If that's the case then in keeping with the 'moderate' consumption of mayo, it's better that you start considering using Greek yogurt as well.
Now, for the tuna salad dressing. This is where the fun really begins. Like we've mentioned previously, there are so many ways to prepare this dish. And playing with either two or three spices or a handful of seasonings, you can come up with different tuna salad dressings that will keep your tuna salad interesting.
So, here's our list of the different spices for tuna salad – see also the accompanying easy, simple, and of course delicious tuna salad recipes.
Spices for Tuna Salad (With Pictures!)
Cayenne pepper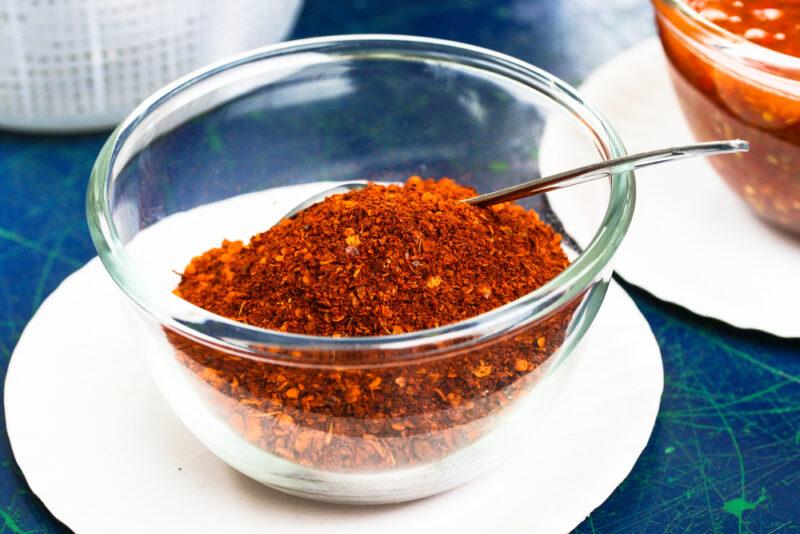 Cayenne's hot and somewhat fruity taste really adds a beautiful kick to any dish. It's a common spice used in Mexican cooking and is known to give robust flavors to sauces, marinades, and dry rubs.
It's particularly rich in vitamin A that helps in maintaining a healthy vision, reproduction, and immune system.
The veggies-and-herbs combination in this tuna salad recipe is perfected with a beautiful dressing. A combination of mayo with lemon juice, wine vinegar, and spices like cayenne pepper, salt, and pepper. Serving it with lettuce leaves will work but you should really try using tortillas as well.
Fennel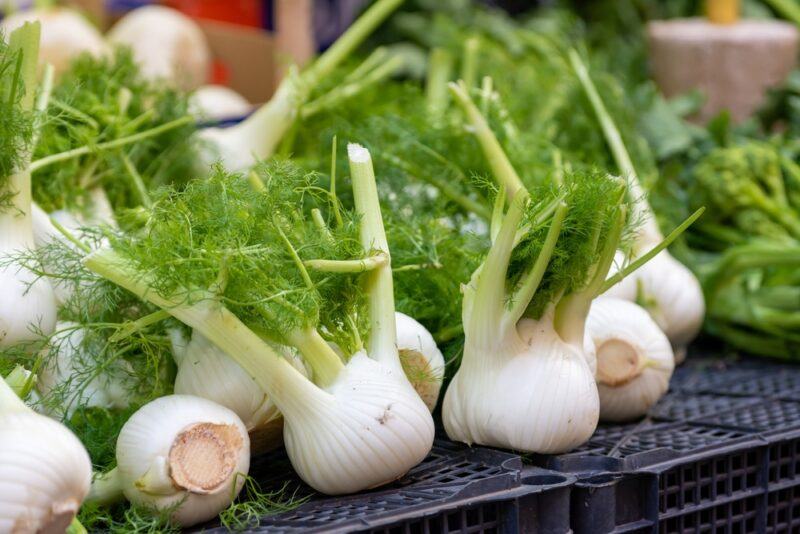 Fennel has a taste that somewhat resembles onions with an anise-y and licorice-y flavor. This herb has yellow flowers and feathery leaves which are also edible and are also used in cooking.
Fennel is rich in antioxidants and plant flavonoids that may aid in reducing inflammation which in turn reduces the risk of chronic diseases.
Aside from finely chopped fennel, this Tuna and Fennel Salad Sandwich recipe also uses crushed fennel seeds. And although it says fennel fronds are optional, I say, truly try it first and you'll see. Fennel's sweet and perfumy anise-like flavor really pairs well with tuna and has a welcoming flavor instead of the usual celery in tuna salad.
Dijon mustard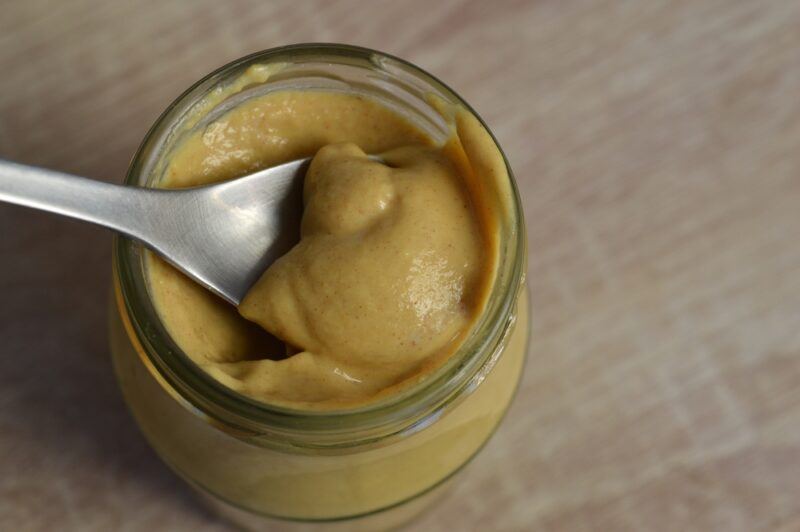 Dijon mustard has that distinctive mustard flavor with a sharp, strong, and tangy taste. This traditional mustard from France is named after the town of Dijon in Burgundy.
Its main ingredients include brown mustard seeds, salt, and white wine – a mixture of wine vinegar and water can be substituted as well.
If you haven't tried Dijon mustard yet in your tuna salad, then here's a recipe for you. It's your classic tuna salad recipe with good old relish, red onion, and celery but with the addition of freshly chopped dill and Dijon mustard.
Cumin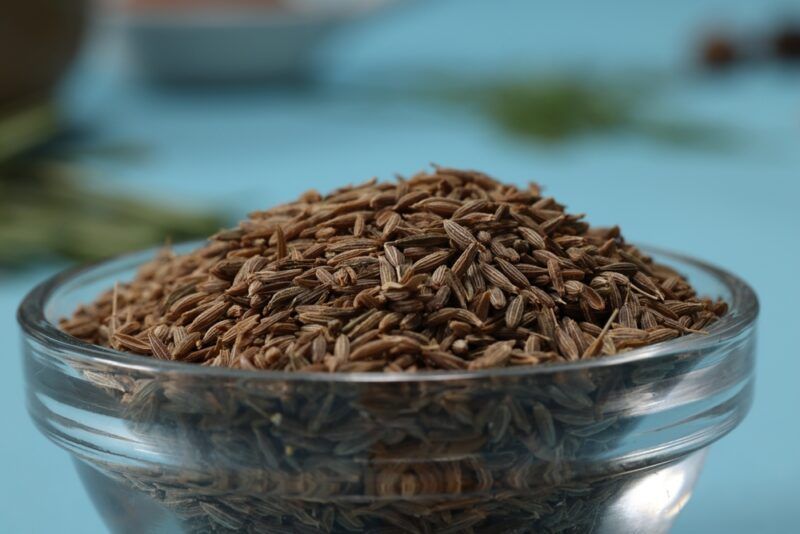 Cumin's warm and earthy flavor coupled with a sweet and somewhat bitter aroma makes it an interesting spice to use in cooking if you want to add a strong flavor to your dish. In fact, it's an essential spice when making Indian curries or chutneys.
Cumin is particularly rich in iron which can help children to support growth spurt and women to replace blood lost during the menstruation period.
This Cajun Tuna Salad is bursting with flavor. Seasoned with delicious Cajun spices like cumin, paprika, chili powder, pepper, and cayenne – it's meant to really level up your tuna salad game. It's also served rolled in Bibb's lettuce leaves. If you don't have Bibb's then worry not because there are so many other types of lettuce you can serve it with.
Dill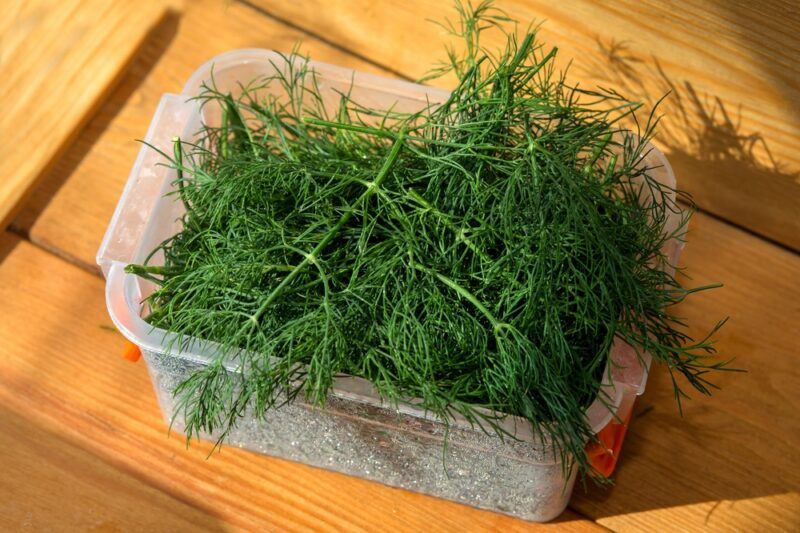 Dill has a slightly grassy undertone with a fresh and citrusy taste. This annual herb in the celery family is common in European and Asian cuisines. It also works perfectly as a substitute for parsley.
Dill contains antioxidants, vitamin C, vitamin A, magnesium, and other plant compounds that may help in protecting against heart disease and cancer, lowering blood sugar levels, and boosting heart health.
Adding dill to this Tuna Salad with Fresh Dill really adds an interesting kick. If you're substituting dried dill – say that's all you got in the kitchen, you may want to let your salad sit for a while to give time for the dried herbs to sort of rehydrate.
Relish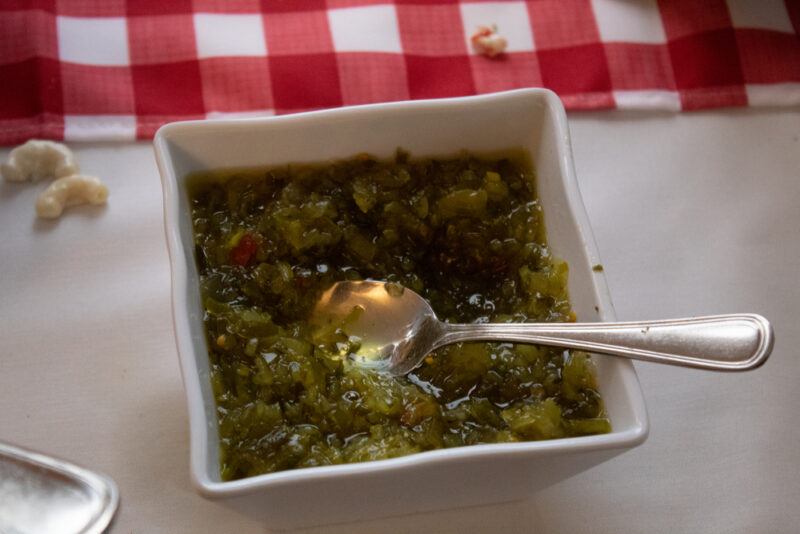 Relish is anything cooked and pickled chopped vegetables, fruits, pickles, or herbs. American relish usually refers to cucumber relish while chutneys are common to Indian cuisine.
Relish, although it contains vitamin A, vitamin K, and is low in saturated fat and cholesterol, is very high in sodium. So, consume in moderation.
When you think of tuna salad, you're always expecting that crunchy, fresh-tasting, with a bright and bold taste that comes from the pickle relish. And while some opt for some form of substitution to take the relish' place, some prefer the more classic approach like this Barbie's Tuna Salad recipe.
Rosemary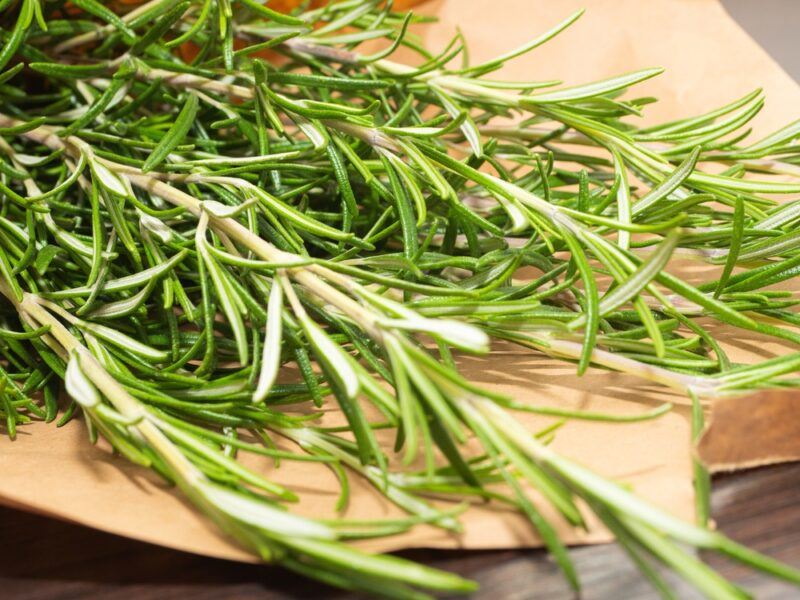 Rosemary has a lemony flavor with a peppery and sage-like taste. This aromatic herb is native to the Mediterranean region and aside from cooking, it can also be used in making medicine.
It's particularly rich in antioxidants and anti-inflammatory compounds which help in boosting the immune system and improving blood circulation.
This recipe, Rosemary Caper Tuna Salad, involves a couple of extra steps than your usual tuna salad recipe but it's all worth it. The rosemary oil and crispy capers really made all the difference. So be patient with it and you'll see.
Parsley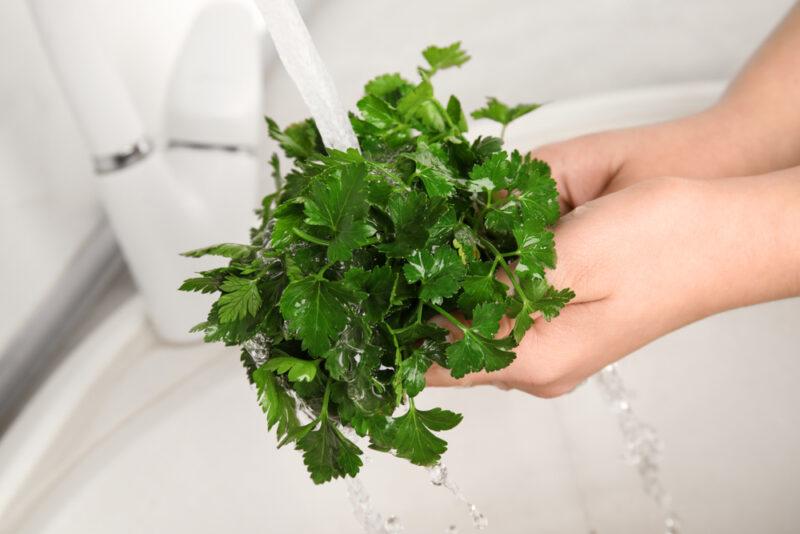 Parsley's peppery and slightly bitter taste helps in balancing strong flavors in savory dishes. This herb is also native to the Mediterranean region. It's a common herb used in European, American, and Middle Eastern cuisine.
Parsley contains high content of vitamin C and other antioxidants that aid in reducing the risk of certain diseases like diabetes, heart disease, and stroke.
If you want to try a mayo-free tuna salad, then try this recipe. It's quite vegetable-heavy which sounds great of course, but try and see if it measures up to your classic tuna salad considering it's mayo-free. It's beautifully seasoned with freshly chopped parsley and dill, olive oil, lemon zest, red wine vinegar, and salt and pepper.
Capers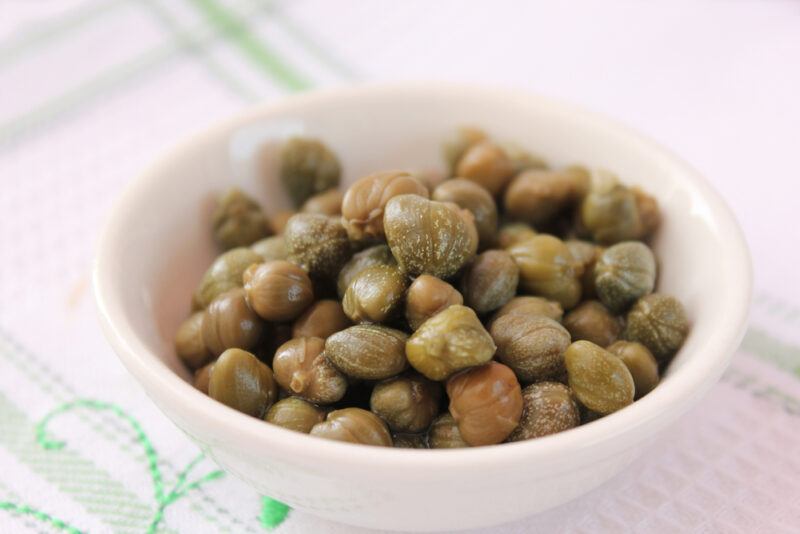 Capers have a floral tartness with a tanginess similar to lemon and brininess like that of olives. Its salty and savory profile is brought about by its brine.
Capers are a good source of antioxidants that helps in preventing cell damage by neutralizing harmful free radicals. But take note though, that capers are relatively high in sodium, too.
The recipe for this Mirepoix Tuna Salad with Capers calls for a quarter cup of capers but of course if you love its tartness feel free to add more. This one is much closer to your classic tuna recipe, with capers taking the relish's place.
Garlic powder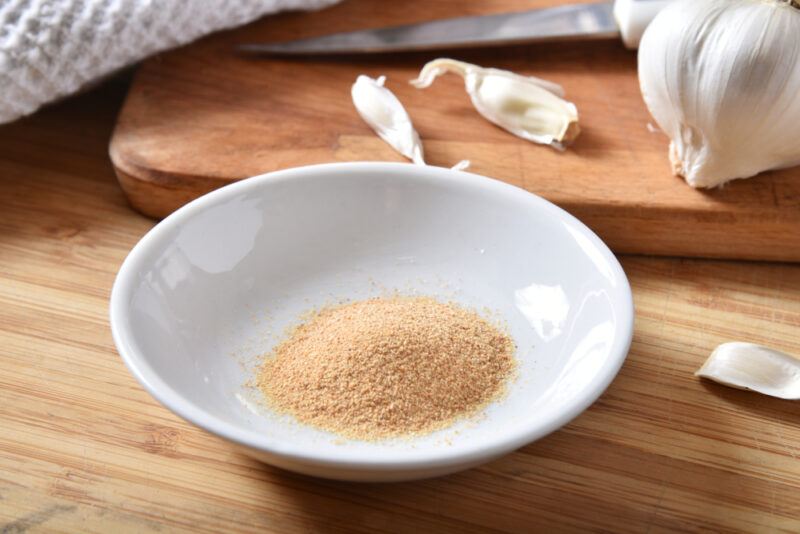 Garlic powder is made from dehydrated garlic cloves that are grounded into a powder. It has a sweeter and less assertive taste compared to fresh garlic.
It contains a combination of minerals and antioxidants that aid in boosting the immune system. Garlic powder also reduces the level of bad cholesterol, lowers blood pressure, balances blood sugar, and may even reduce the risk of cancer.
This Easy Tuna Salad recipe is indeed easy! It has the mayo, celery, and relish combo that is simply seasoned with salt and pepper and garlic and onion powder. The latter duo is always a handy to have in the kitchen!
Celery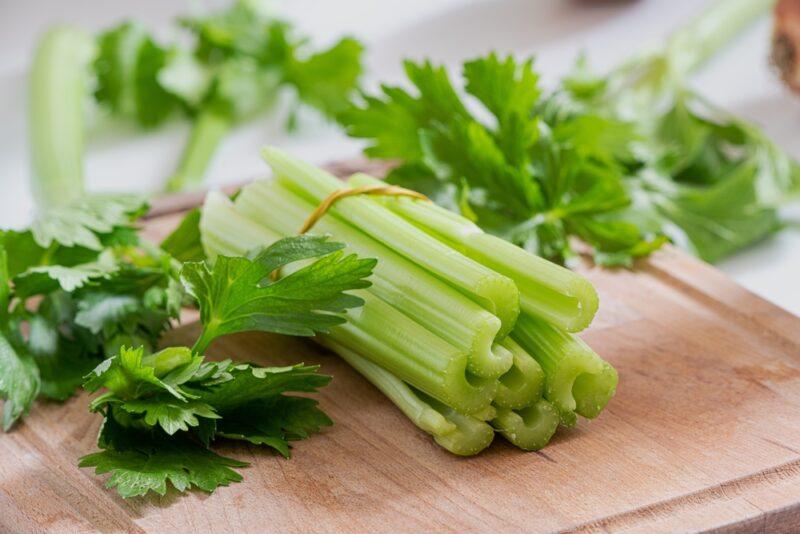 Celery stalks have a crunchy, salty, and grassy taste. Its leaves, on the other hand, are somewhat bitter and earthy with the grassy taste as well.
Aside from antioxidants, celery is also rich in potassium, folate, and vitamins A, C, and K. It also possesses antiviral, antibacterial, and anti-inflammatory properties. It's good for aiding the digestive and cardiovascular systems and for preventing diseases.
Here's a very classic tuna salad recipe with the celery and onion combination. The classic dressing of mayo, lime juice, and salt and pepper also has a teaspoon of Dijon mustard which is a welcome tangy taste addition.
Tahini

Tahini has a nutty taste that is strong, earthy, and somewhat bitter. And unlike most nut butter, tahini is not sweet. It's mainly sesame seeds, oil, and salt.
Tahini in addition to its antioxidants content is also a great source of thiamin, vitamin B6, phosphorus, and manganese. It's also rich in monounsaturated fats and anti-inflammatory properties.
This Mediterranean Tuna-Spinach Salad is quick to make, healthy, very filling, and absolutely delicious. Tahini is simply whisked together with lemon juice and water where tuna, olives, feta cheese, and parsley are added into. Now all you need is a plate of spinach and you're all set!
Onion powder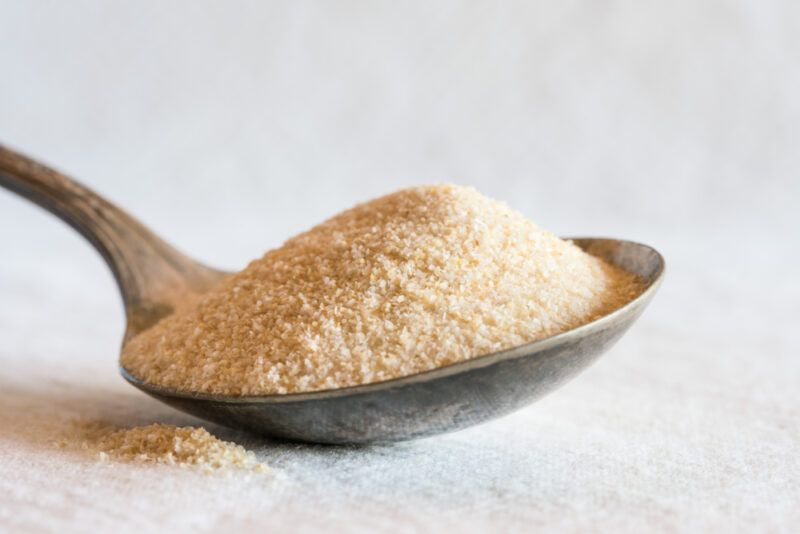 Onion powder has a pungent flavor with notes of sweetness, sulfuric, and garlicky taste. It's a great base profile for many savory dishes.
Onion powder contains antioxidants, vitamins B and C, manganese, calcium, iron, and potassium. It may help in treating mouth sores, heart problems, headaches, and high blood sugar.
Again, it's always a breeze to have onion powder (and garlic powder, too!) in your pantry for whenever you want to quickly season something. This particular recipe, Simon's Famous Tuna Salad, has the usual celery and mayo in the mix. It also has chopped carrot (pretty colors by the way), fresh dill, and is then simply seasoned with garlic and onion powder.
Paprika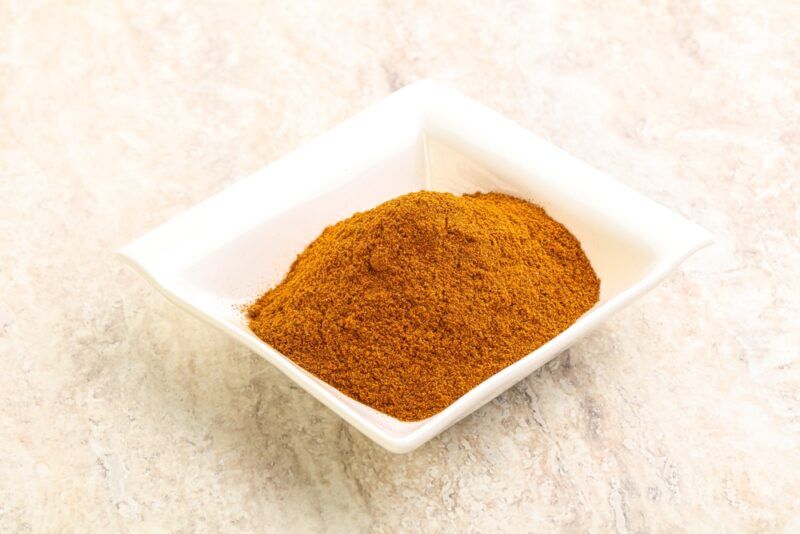 Paprika generally has a mild, sweet, and vegetable-like taste with mild to very hot taste. Some paprika comes in smoked form like Spanish paprika or with pungent heat like Hungarian paprika.
Paprika is particularly rich in iron and vitamin E which both aid in maintaining healthy blood and antioxidants which help in improving the immune system.
If you're uneasy with mayo but still want a tuna salad with mayo then try this Spicy Paleo Tuna Salad with Lemon Kale. The recipe used homemade paleo mayonnaise. The tuna salad is beautifully seasoned with paprika, cayenne, garlic salt, and pepper.
Thyme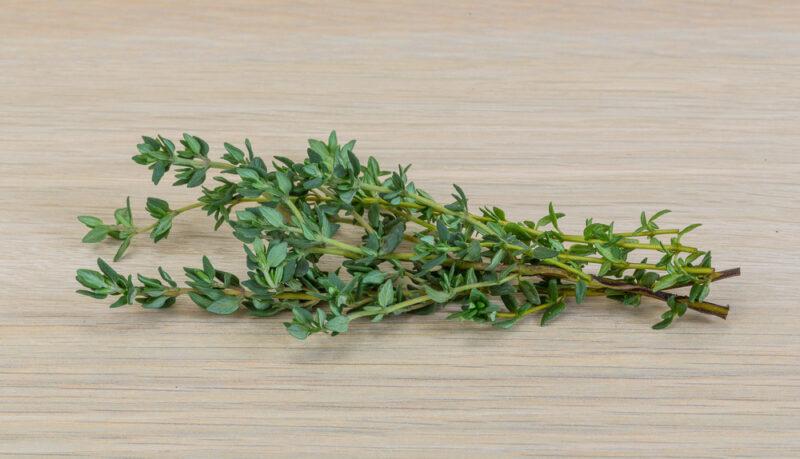 Thyme has a sharp and slightly minty taste with earthy and floral hints. It's quite a staple in many kitchens because of its subtleness which works perfectly along with other herbs like rosemary and oregano.
It contains vitamins A, C, and B vitamins, potassium, calcium, iron, manganese, magnesium, and selenium. It's good for maintaining healthy cells, boosting bone development, and supporting blood clotting.
If you really enjoy the taste of fresh herbs then you have to try this Healthy Fresh Herb Tuna Salad. It got celery, onions, carrots, dried apricots, and a hefty serving of fresh herbs that includes thyme, basil, and parsley.
Fish sauce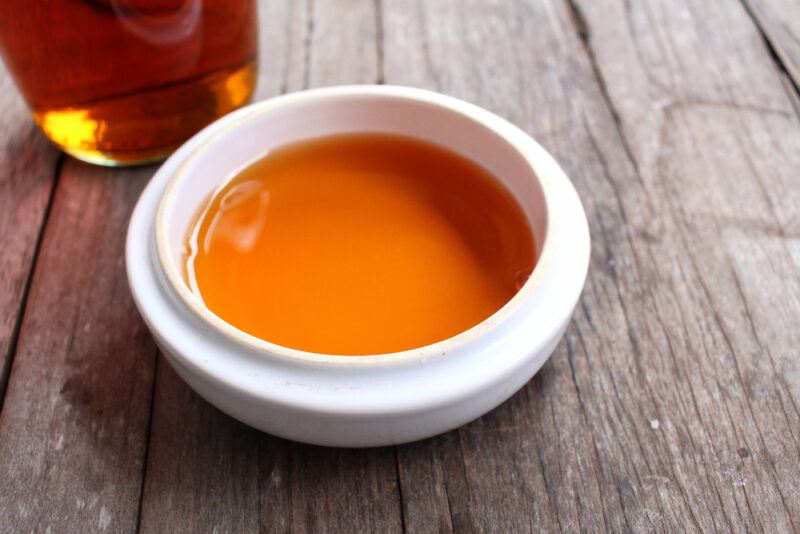 Fish sauce generally has a salty, earthy, and savory flavor with an umami taste. It's a staple in many East Asian and Southeast Asian cuisines. Depending on what region it came from, there may be subtle differences in taste.
Fish sauce is made from fish or krill which are coated in salt and then fermented for up to 2 years. This clear brown liquid condiment is very high in sodium so although it does add flavor to dishes, use it sparingly.
This Classic Mayo-Dressed Tuna Salad Sandwiches recipe used Asian fish sauce. And I know, you're probably thinking why fish sauce. Well, it does add a very subtle savory taste. And it really works with the tartness of the mayo and freshness of the herbs.