In some ways, using sous vide for fish may seem strange. Fish does tend to cook relatively quickly anyway and it isn't hard to prepare. So, why bother with sous vide? Well, you may have guessed, the answer comes down to the quality.
Sous vide cooking is a slow approach that offers much more control over temperature. When it comes to fish, this level of control allows you to ensure the flesh is perfectly cooked, without the risk of overcooking or drying out the fish. My personal favorite fish to cook? Halibut.
At the same time, you can promote more intense flavors and get the precise texture that you're looking for. The color of sous vide fish also tends to be more vibrant, which makes the meal look so much better on the plate.
The 10 recipes in this list are all examples of how to make amazing fish while using sous vide. They are also easy to follow, even if you're still fairly new to sous vide techniques. Love seafood? Here's my list of 10 sous vide seafood recipes.
And when you're done, don't forget to check out the Joule review to see what our favorite sous vide immersion circulator looks like and why we love it so much!
Sous Vide Fish Recipes
Sous Vide Salad Nicoise with Asian Vinaigrette

In many cases, canned tuna is the go-to choice for salad Nicoise. But, this Salad Nicoise with Asian Vinaigrette highlights a sous vide approach that lets you take advantage of tuna loin instead. Not only does the final result taste better but cooking the fish yourself is always a healthier option. If nothing else, it means you know precisely what you're eating.
The recipe is also fun because it is a variation on the traditional salad Nicoise flavors. So, you end up with a French recipe with a distinctly Asian feel. With that in mind, the end result doesn't taste like the Salad Nicoise that you may be expecting. But, don't worry, the flavor profile is powerful and the recipe makes an interesting salad to add to your repertoire.
Sous Vide Cod Loins in White Wine Dill Sauce

This Cod Loins in White Wine Dill Sauce recipe is intentionally simple, as the goal was to ensure the flavors of the fish shine through in the finished dish. Cod works well for this dish as it does have a fairly neutral flavor and firm flesh, providing many options about how to cook it.
Using sous vide allows you to cook the cod perfectly and ensure that it is moist and flaky at the end. Add the sauce to that and you have fish that can go with many different sides. Like many sous vide seafood recipes, this is also fairly fast to prepare, so you don't need to plan too far in advance.
Sous Vide Chili-Butter Cobbler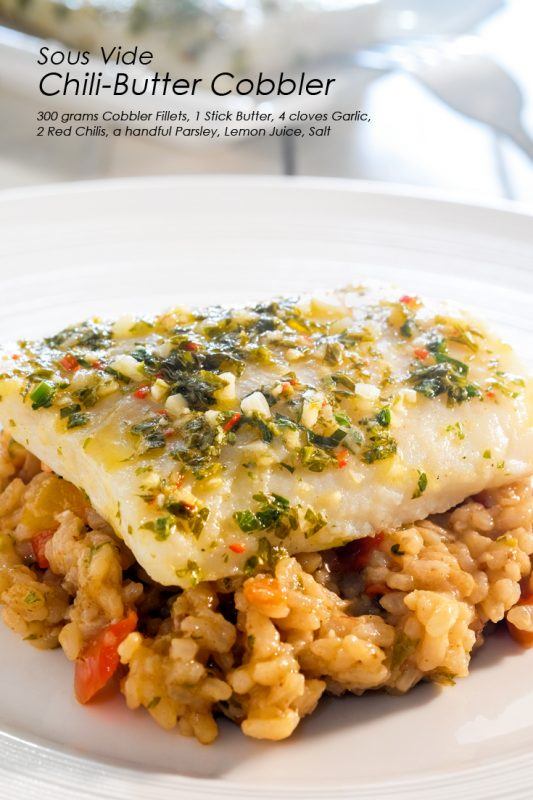 Unlike the previous recipe, this Sous Vide Chili-Butter Cobbler uses more intense flavors overall. The idea works well for people who are less thrilled with the natural taste of fish, or for anyone who wants something a little bit different.
Despite appearances, this isn't actually a complicated dish. Instead, it takes advantage of homemade chili butter and is easy to prepare. Because you're making the butter yourself, you can also change the flavors based on what you enjoy and how you plan to serve the fish. The end result is an easy meal that you can make fairly quickly.
Sous Vide Soy-Ginger Bacalao Loins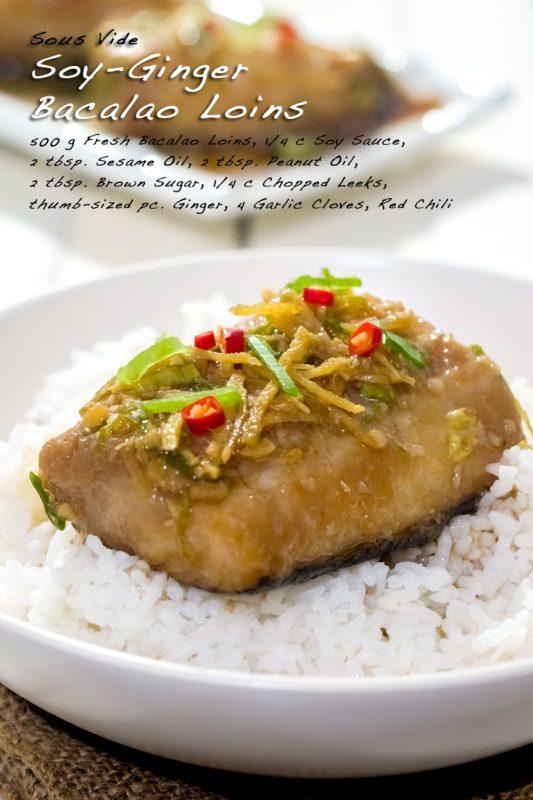 Speaking of interesting flavors, these Soy-Ginger Bacalao Loins are also worth trying. In this case, I focused on using key Asian flavors, without overwhelming the fish. As a result, you get something that looks visually stunning and is still easy to create.
On a side note, you don't have to use Bacalao either. Instead, you could make the same recipe with any white-fleshed fish that you have access to. This would allow you to pick the fish based on what's currently available or choose the type that you prefer. Whatever the fish ends up being, the meal is going to taste excellent.
Sous Vide Poached Salmon with Orange-Cilantro Beurre Blanc

I love white fish but salmon has its own amazing qualities that make it impossible to miss. This Poached Salmon with Orange-Cilantro Beurre Blanc is my attempt to make amazing salmon with sous vide, while imparting some interesting flavors along the way. Doing so is particularly important for salmon because it is easy to overcook the fish, which can lead to a dry and flaky mess.
Sous vide allows you to get the perfect texture for your salmon with ease, giving you one less thing to worry about. And, despite the complicated name, the recipe itself is easy to make. Even the sauce is just a classic French sauce, which you can make your own changes to if you're interested.
Sous Vide Salmon

While we're on the topic of salmon, there is a great recipe from seriouseats.com that's worth checking out. Unlike my recipe, this version is just about cooking salmon right each time, without worrying about additional flavors or sauces.
So, why recommend the recipe? Well, Serious Eats is particularly powerful because of the guides that the authors provide. In this case, there is information about the various temperatures that you can cook salmon at and a visual indication of the results from doing so. This information is especially useful if you are particular about how you want the salmon to turn out.
Sous Vide Cod Burgers with Curry Aioli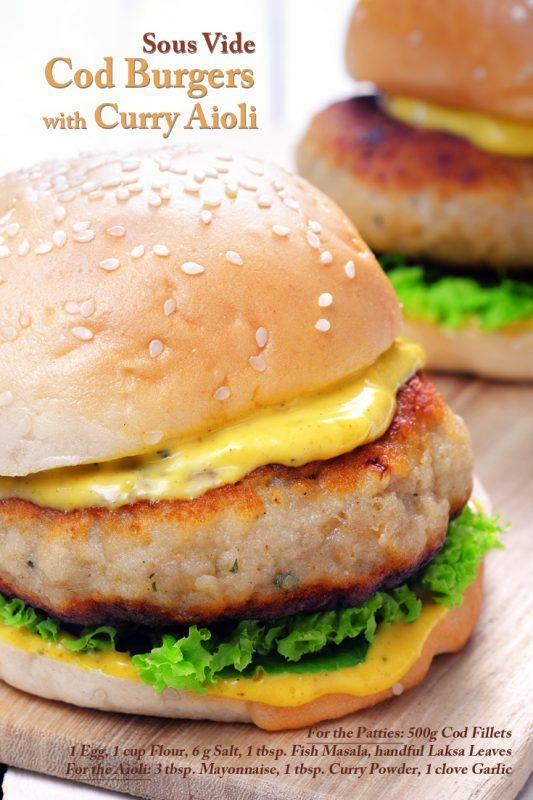 Another option for sous vide fish is these Cod Burgers with Curry Aioli. The use of fish masala in the recipe gives these burgers a distinctly Indian flavor profile, which is entirely a good thing. The recipe is also a great alternative to the heavily processed fish burgers that are far too common. Instead, you're making these burger patties from the fish itself, so you know that they're healthy.
As with most of these recipes, you aren't limited to a specific fish type. I used cod when preparing it but you could switch this out with just about any other fish or seafood. After all, you are turning the flesh into a patty anyway, so the original structure doesn't matter too much.
Sous Vide Mahi-Mahi with Squid Ink Bean Puree

This Mahi-Mahi with Squid Ink Bean Puree really stands out on the plate, which is one of the reasons that I like it so much. I chose Mahi-Mahi for the recipe because I love its distinct flavor and the way it isn't overwhelming. But again, you could pick another type of white-fleshed fish if you wanted. Either way, the recipe gives you an attractive fish meal that also tastes amazing.
On a side note, the different components aren't just for presentation. Instead, the various flavors work together extremely well – making a meal that is so much more than simply fish.
Sous Vide Milkfish Confit with Sun-Dried Tomatoes, Garlic, and Capers

Here's another meal that is fun in terms of presentation and flavors. In this case, the recipe is for Milkfish Confit with Sun-Dried Tomatoes, Garlic, and Capers – a meal that has distinct French and Mediterranean overtones. Those various ingredients also contribute to intense flavors overall, especially as they are cooked along with the fish.
Sous Vide Sweet Sesame Ginger Salmon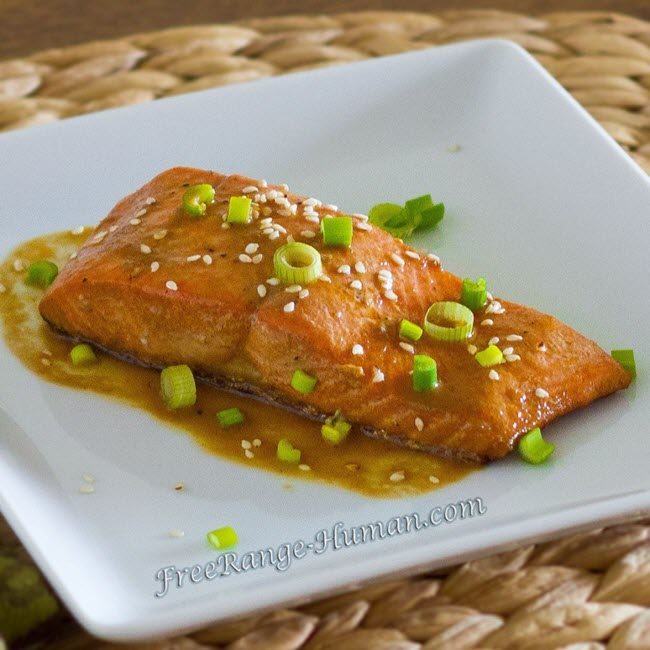 This salmon recipe comes from pasturedkitchen.com and is a simple preparation for salmon that still offers appealing flavors. One interesting thing to note is that the blog itself is paleo, so all of the ingredients in the recipe are as well. Now, that may be true for many of the other recipes on the list too but they were not designed based on those criteria.
As for flavor, the use of sesame and ginger works very well here, complementing the natural taste of the salmon. I can imagine this served with rice or potatoes, perhaps with some sous vide vegetables on the side.
Related Content