How can you go wrong with pancakes? They're a popular breakfast choice, especially on the weekend when you have a little more time to spare. Some recipes are even fast and healthy enough that you could have them every morning if you wanted to.
While pancakes are typically a high carb food, they don't need to be. The right keto pancake recipe can allow you to enjoy pancakes regularly, without compromising your keto diet at all. Why not? You still have every opportunity to eat great food on a keto diet.
The trick is simply finding the right recipe. That's why we're focusing on keto pancake recipes in this list. The featured pancakes come in various flavors and each has its own combination of ingredients. The one thing they have in common is the fact that all the recipes are perfect on a keto diet.
Keto Pancake Recipes
PS. If you're thinking about breakfast food, another style to consider is keto breakfast smoothies. These are easy to drink on the go and are often packed with protein.
PPS. There are also plenty of keto dairy free breakfast recipes to choose from. You don't need to be on a dairy free diet to enjoy these – they're suitable for anyone who wants to eat better food.
Pumpkin Pancakes
If you want an interesting flavor, these pancakes from ketogasm.com should be your first port of call. The pumpkin flavor makes them ideal for the fall, although the pancakes would taste just as good at any other type of the year.
As Tasha mentions, you don't have to use fresh pumpkin either. Canned pumpkin is still low in carbs and works perfectly in this recipe.
Low Carb Fluffy Pancakes
These fluffy pancakes are the perfect choice for many situations. The recipe comes from Georgina at stepawayfromthecarbs.com and makes just a single serving of pancakes. This is such a cool idea. There are many times where you don't want to be making pancakes for an entire family at one time.
You're not stuck if you do want to make more pancakes either. The recipe could be easily increased to make as many servings as you would like.
Low Carb Pancakes
There are many good recipes over at theharvestskillet.com, including these low carb pancakes. The recipe is simple and easy, which is precisely what you want. The pancakes are also dairy free and paleo friendly, making them perfect for many different diets.
Baked Strawberry & Ricotta Pancakes
Martina from ketodietapp.com shows that low carb pancakes don't need to follow conventional styles. Her recipe focuses on baked pancakes, using strawberries and ricotta cheese as key ingredients.
The style mightn't be what you expect, but this is a great option for trying something a little different. You won't be disappointed by the final result.
Almond Flour Pancakes
As the recipe title suggests, these pancakes from lowcarbmaven.com heavily rely on almond flour as an alternative to white wheat flour. The choice is a common one for keto, as almond flour is both low in carbs and versatile.
These pancakes are a good example of how effective almond flour can be. The pancakes end up fluffy and sweet, while also having some substance to them. In short, they're exactly what you are looking for when you make pancakes.
Blueberry Pancake Bites
This recipe, from alldayidreamaboutfood.com, is for pancake bites, rather than conventional pancakes. It's a nice choice if you want something more portable or if you're a little bored with regular pancakes.
The inclusion of blueberries is a nice touch too. These create little bursts of flavor, making the pancake bites stand out even more.
Cream Cheese Pancakes
Here's another pancake recipe to try out. This one comes from ibreatheimhungry.com, which is a fantastic keto and paleo food site. As the recipe name suggests, these pancakes rely on cream cheese as a key ingredient. This helps to give them a great texture. They taste good too.
Mellissa also mentions that you can make the pancakes without sweetener. If you do, the pancakes end up more savory. You could then use savory toppings or roll up the pancakes and use them as wraps.
Chicken Bacon Pancakes
Speaking of a savory option, what about these chicken bacon pancakes? The recipe contains more flavor than most other pancake recipes. It comes from ketosummit.com and the pancakes are surprisingly easy to create.
Another great aspect is flexibility. You can change this recipe in various ways, such as altering the texture, the shape and the flavors. Louise provides many details about possible changes. I'm sure you could think of plenty more options yourself.
Banana Nut Protein Pancakes
This pancake recipe is another one that includes an interesting flavor combination. An even better aspect is that the pancakes are extremely easy to make. You're relying on a blender, so there is no mess to worry about. The blender approach helps to make the pancakes nice and fluffy too.
Another interesting aspect is the protein powder. This is essential, as it is a key source of flavor. The protein is great for weight loss and health too. You can find out more details at peaceloveandlowcarb.com.
Cinnamon Roll Pancakes
I love these cinnamon roll pancakes from mincerepublic.com. Who wouldn't? Cinnamon rolls have such an amazing flavor and there's no reason to miss out on them just because you're on a keto diet.
These particular pancakes also have all the things that you love about regular pancakes, but they're also suitable for a low carb diet. You'll even find that kids love them.
Blueberry Paleo Pancakes
Here's another recipe for anyone who doesn't want plain pancakes. This one comes from ditchthecarbs.com and features blueberries as the star ingredient.
You're looking at less than four grams of net carbs per serving and this carb amount can be decreased even further if needed. You can also check out the comments section on Libby's post for details about possible ingredient substitutions.
Banana Pancakes
While you don't normally find banana included on a keto diet, these pancakes are seriously worth trying out. The recipe is even high in protein, making the pancakes a filling choice for breakfast. The pancakes are also gluten free. You can find the recipe at thegunnysack.com.
Just be sure to check the macros. Tonia calls this a keto recipe throughout her post, but the pancakes may not fit into your macros. The inclusion of banana does make these higher in carbs than most other keto pancakes.
Coconut Flour Pancakes
Carine from sweetashoney.co has created one of the best coconut flour pancake recipes that you will find. In fact, the version on her site is a relatively recent update, as she has refined her recipe to produce the best possible result.
changes make the pancakes particularly easy to cook, even for people who haven't used coconut flour much in the past.
Pumpkin Pancakes
The use of pumpkin spice makes these pancakes a knockout choice. Kasey mentions that she made six different versions of the recipe before she was completely satisfied with the final result. So, you can be certain that you're onto a winner.
The full recipe can be found at kaseytrenum.com and you're making six pancakes at a time (around four inches each). You could also double or triple the ingredients if you have a large crowd to feed.
Almond Cream Cheese Pancakes
Including cream cheese in pancakes is a surprisingly common idea and it's also one that works exceptionally well. This particular version comes from Katrin at sugarfreelondoner.com and uses almond flour as a key ingredient. The pancakes aren't just yummy, they're also fast to make. Katrin even provides a list of potential toppings that you can use to make the pancakes stand out.
There's just one other thing to mention. The pancakes are ideal in terms of taste and texture, but they do tend to be a little fragile. This means you're best focusing on relatively small pancakes. These will be less likely to fall apart.
Cloud Bread Pancakes
These pancakes come from aspicyperspective.com and they have plenty of advantages. One of these is the number of images included in the post. The images make the recipe very easy to follow. You're able to see exactly what the pancakes should look like every step of the way.
The recipe isn't terribly complicated either. You only need six different ingredients and some of those are seasonings. You might even have all of the items at home already.
Chocolate Protein Pancakes
Pancakes don't need to be plain. There are also flavored versions, like this recipe from diabetesstrong.com. I love the use of chocolate. After all, chocolate makes almost anything taste better.
There are also protein pancakes, offering almost 20 grams of protein per serving. The high protein content is perfect for breakfast. After all, regular pancakes often aren't too filling and you can get hungry shortly after. An option like these chocolate pancakes should keep you satisfied for much longer.
Cream Cheese Pancakes
As the name suggests, these pancakes use cream cheese as one of the key ingredients. The cream cheese isn't chosen for its flavor, but for the impact that it has on texture. You end up with thin and fluffy pancakes that are certain to impress. You can find full details at ketokarma.com.
Pumpkin Pancakes
Here's a great pancake recipe for any pumpkin fan. The pancakes come from Kelly at lifemadesweeter.com. They're also paleo friendly and gluten free, making them a perfect choice for many situations. The recipe is more complex than some of the other items on this list, but don't let that put you off. You'll often find that complex recipes have a more interesting balance of flavors.
Coconut Cream Pie Pancakes
I found these coconut cream pie pancakes at infinitelabs.com. They're a great recipe for fans of coconut, as the pancakes rely on coconut flour and coconut cream.
The recipe makes roughly ten pancakes, with an average of 3.8 grams of carbs per pancake. This is also a great recipe for beginners – as the pancakes only use four ingredients. The ingredients are all popular keto choices, making them easy to find.
Cauliflower Pancakes/Latkes
The inclusion of cauliflower in this pancake recipe completely changes the style. You end up with a dish that is more savory and would be best for lunch or a light dinner, rather than breakfast. You might even call these fritters or latkes instead of pancakes.
Still, the recipe is an interesting one. It's always nice to try something that is a little bit different. Full details can be found at myketokitchen.com. You're making six pancakes with the recipe and you're getting two pancakes per serving.
German Pancake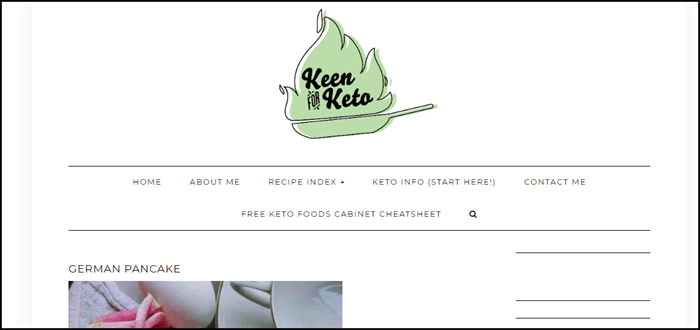 Here's another unusual recipe to consider. This one comes from keenforketo.com and is sometimes called a Dutch pancake or a puffed pancake. The style is different than normal, as the pancake is baked in an oven. This makes it puff up and creates the nice edges that you can see in the image.
The site doesn't just offer the recipe either. There are various details about ways to make the pancake turn out exactly how you want it to and how to keep kids interested.
The Fluffiest Ricotta Souffle Pancakes
If you want fluffy pancakes, this is the recipe for you. It is featured at thebigapplemama.com and only requires four ingredients. There are some great images included too. These show you the various steps of the process, along with what you can expect along the way.
Candida-Friendly, Gut-Healing Paleo Pancakes
Christina (from christinaricewellness.com) says that this pancake recipe was long-awaited and also fairly unusual. One reason is that the pancakes aren't fluffy like you would normally expect.
The pancakes are also particularly good for anyone who is trying to improve their gut health. Finally, the recipe has plenty of healthy ingredients, including ground flaxseeds, which add in additional fiber.
Spinach Feta Savory Pancakes
This recipe is perfect if you want something a little more savory. It comes from Angela at joyfilledeats.com and doesn't look like your typical pancake at all. That's not a bad thing. Regular pancakes taste fantastic, but they can get a little boring after a while. A recipe like this one can be a good way to vary things up, giving yourself a new experience.
Low Carb Pancakes With Sneaky Squash
The most unusual thing about these pancakes is the added vegetable – squash. You don't normally find squash in a pancake recipe, but Jill from thisoldgal.com shows that you can.
While the inclusion is odd, you don't taste the squash at all once the pancakes are made. The recipe can even be made using zucchini, if you don't mind ending up with green pancakes.
Four Ingredient Vanilla Ricotta Pancakes
These pancakes live up to their name. They just require four ingredients, one of which provides the vanilla flavor.
This approach means that you end up with a breakfast that is easy to prepare and still tastes amazing. The pancakes are also very low in carbs, with just one gram of net carbs per serving. You can find the details at sugarfreemom.com.
Easy Cinnamon Roll Protein Pancakes
Here's an interesting recipe to try out. The pancakes come from foodfaithfitness.com and have a similar flavor profile to cinnamon rolls. They even have a cream cheese frosting, which is an unusual choice for pancakes. This is also another protein-focused recipe, making the pancakes a satisfying breakfast choice.
Fluffy Keto Pancakes
As the name suggests, these pancakes are especially fluffy. They actually end up looking very similar to regular pancakes, which is always a good outcome.
The recipe is also easy to make and contains plenty of details about getting the pancakes exactly right. Another advantage is that the pancakes can be frozen. This allows you to prepare them ahead of time if you want to. The recipe comes from greenandketo.com. You can find all the details there.
Greek Yogurt Pancakes
Greek yogurt is a fantastic ingredient for many keto dieters. Not only does it contain protein and help to improve your gut health, but the yogurt tastes really good too.
This recipe is a great way to take advantage of Greek yogurt. You also end up with pancakes that taste a little different. The recipe itself comes from mysweetketo.com, so you can find the full details there.
This recipe is a great way to take advantage of Greek yogurt. You also end up with pancakes that taste a little different. The recipe itself comes from mysweetketo.com, so you can find the full details there.
The Best Keto Pancakes
Whether or not these are the best keto pancakes depends on your definition. Even so, it's clear that these pancakes from eatbefitexplore.com are going to taste really good. The pancakes also look amazing in the image. While appearance isn't everything, food often does taste as good as it looks.
Fluffy Buttermilk Pancakes
This recipe comes from one of my favorite keto sites, ruled.me. The recipe is designed to look and taste like conventional pancakes. There are plenty of images included, making the recipe very easy to follow. It would even be suitable for beginners.
Fluffy Blueberry Pancakes
This final recipe comes from Arman at thebigmansworld.com. The inclusion of blueberries works very well, as regular pancakes can sometimes feel a little plain.
The recipe is also great for many people, including those following paleo, vegan and/or gluten free diets. There is plenty of information included in the post, including a video and tips for making the pancakes turn out perfectly.