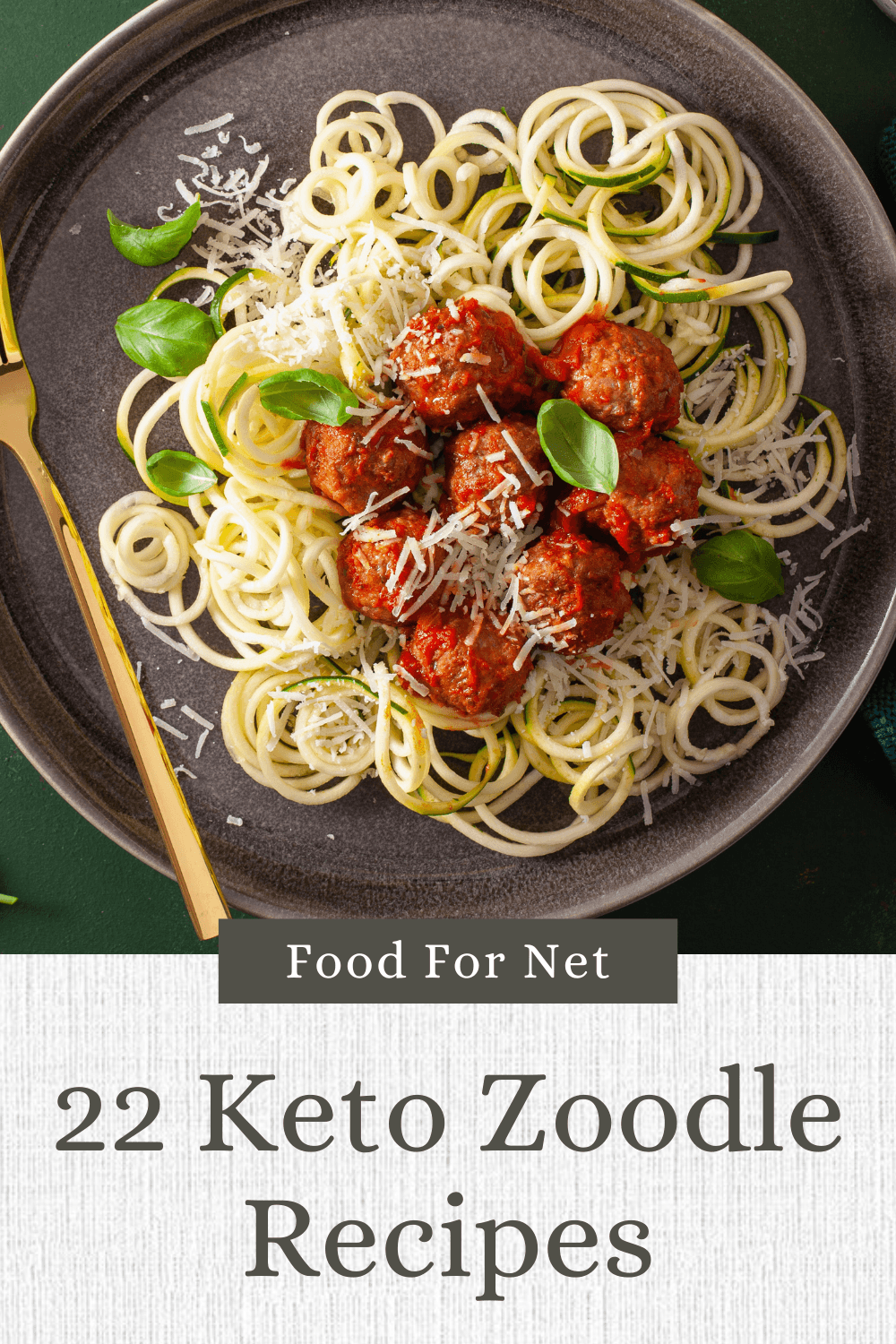 Zoodles are one of the most popular low carb noodle choices – which isn't surprising. The noodle alternatives are simply made from spiralized zucchini.
You can even make them without a spiralizer if you get a little creative. This style means that you can make the zoodles yourself, rather than buying something from the store.
At the same time, zoodles are a whole food ingredient. This is always more appealing than buying something highly processed from the grocery store. You're even increasing your vegetable intake, which is fantastic for health.
The final advantage is versatility. There are countless keto zoodle recipes. Some of them mimic traditional pasta or noodle recipes, while others are entirely different. You'll find plenty of different examples on this list. Take a look. You might discover some new favorites for lunch or dinner.
Keto Zoodle Recipes
Cream Cheese Zucchini Spaghetti
This recipe comes from bunsinmyoven.com. The dish is a very good place to get started with zoodles, as the recipe is simple. You can even make it using a jar of store-bought marinara as a base. If you don't want to do that, Karly also offers a link to a good low carb sauce that you can make yourself.
Regardless of the sauce that you use, this spaghetti recipe is easy to make and will taste fantastic. The chosen ingredients create a creamy base, one that nicely complements the flavor of the zucchini.
Zoodles With Browned Butter & Mizithra Cheese
Many zoodle recipes attempt to hide the zucchini flavor and create something that resembles a regular pasta dish. This recipe from ketogasm.com takes an entirely different approach. The simple steps and ingredients help to highlight the taste of the zucchini, making it more engaging and nuanced.
You could easily eat the zoodles as they are, perhaps for a snack. You might also use them as a side for a larger meal, or add in a protein-based component. The meat in marinara sauce from the previous recipe is one style that you could consider.
Thai Chicken Zoodles
This recipe comes from ruled.me and it's a flexible one. You could actually make the meal using zoodles or shirataki noodles, depending on your preferences and what you have on hand. The meal itself is a keto version of Mee Goreng – a fried noodles dish. The meal is packed with flavor. You can even make it spicier, if you want, by using chili paste.
Zucchini Noodles With Garlic, Butter And Parmesan
Here's a delicious zoodles recipe to try out. It comes from bestrecipebox.com and takes advantage of garlic and parmesan flavors. A very cool aspect is the flexibility. The recipe can be varied in multiple ways to meet your preferences. For example, you could add in extra vegetables or meat to create a more satisfying meal. Just make sure you calculate the carb content of any additions.
Easy Four Cheese Pesto Zoodles
Mellissa from ibreatheimhungry.com offers this zoodles recipe for all you cheese lovers. As the name suggests, the recipe relies on four different types of cheese, along with pesto to make the flavor more interesting again.
The dish is also a particularly good choice for families. After all, even the pickiest of eaters love cheese, especially in a creamy dish like this. Preparation is easy too and you're making four servings at a time – perfect for a family.
Creamy Mascarpone Zoodles
This recipe from gnom-gnom.com offers another flavor combination that you can try. This time, the recipe relies on a mascarpone sauce, which creates an unusual and tasty dish. It is also a very fast meal, taking just 15 minutes from prep to eating.
The noodles also look amazing in a bowl. They'd be a fun way to impress guests.
Chicken Zoodle Soup
Soup is another good way to take advantage of zoodles and Karly from thatcarblife.com has this style down to an art. The recipe still has the comfort factor that you get with conventional chicken noodle soup, without all the carbs that are normally present. The zoodles even keep their bright green color, helping the soup to look more fantastic again.
Bacon Avocado Keto Zoodles Recipe
Bacon makes its way into many keto recipes, including this one from blog.ifit.com. The dish uses another keto favorite too – avocado. In fact, the combination of ingredients creates an amazing dish, one that you'll find hard to beat. It's also another fast meal, so there's no reason not to try it out.
Keto Pad Thai
Pad Thai doesn't need to be heavy in carbs, as this recipe from thelittlepine.com shows. It just takes some little changes to create a fantastic keto-friendly variation. Of course, Lindsey takes it a few steps further – creating a dinner that truly is a masterpiece.
Paleo Tuna Green Chile Zoodle Casserole
The casserole approach is another interesting style to consider. This recipe from cottercrunch.com is a great recipe that takes advantage of the idea. The inclusion of tuna means that this meal is much heartier than many other zoodle dishes. It would make a satisfying meal in its own right. As Lindsay mentions, the dish is also a good way to get veggies and omega-3 fatty acids into the diet. That idea is perfect for adults and kids alike.
Keto Coconut Curry Shrimp And Zoodles
Shelby from grumpyshoneybunch.com is a type of curry, which is another way to take advantage of zoodles. I love the way that many of the flavors are the same as you would expect, while other ones are a little bit different. The coconut milk helps to create a creamy dish, while the shrimp add in extra protein and complexity.
Mediterranean Keto Shrimp Zoodles
If you want a different type of shrimp recipe, this one from castironketo.net is a fun idea. The meal uses many classic Mediterranean ingredients and flavors, such as olive oil, cherry tomatoes, olives and feta cheese. Besides, you have to admit that it all looks stunning when served up.
Low Carb Greek Zoodles
This recipe is featured on stepawayfromthecarbs.com and offers an unusual approach to Greek flavors. These flavors are more common in pasta-heavy dishes, but there's no reason that they can't be used in keto meals too. Why not? The flavors in this recipe and the one above would be ideal choices on warmer days or time where you want a fairly light meal.
Zucchini Noodles With Meatballs Meal Prep
The meal prep aspect of this recipe from kirbiecravings.com gives you a way to make easy meals ahead of time. This is a fantastic approach if you have a busy life. Of course, you don't need to follow the meal prep angle if you don't want to. If nothing else, this recipe offers a tasty low-carb alternative to spaghetti and meatballs.
Zucchini Noodle Shrimp Scampi
This recipe from lowcarbmaven.com is one of the best looking zoodle recipes that I've come across. As the name suggests, the meal takes inspiration from shrimp scampi. The combination of flavors works exceptionally well. Kim also mentions that the meal is worth trying simply as an alternative to cauliflower rice. After all, cauliflower rice is used so often that it can get a little boring.
Creamy Sausage Alfredo & Zucchini Noodles
With this dish, the focus is on the meat and the rich sauce, while the noodles nicely complement the flavors. The recipe comes from alldayidreamaboutfood.com and is deceptively simple. There are only 6 ingredients, most of which you will probably have at home already.
Asian Chicken Zoodle Salad
This zoodle salad takes its inspiration from a Chinese takeout dish. Despite being low carb and suitable for paleo, the meal ends up having a similar flavor profile to the original. It looks great when served as well. You can find the recipe at beautyandthefoodie.com. There's even a printable recipe card that you can take advantage of.
Zucchini Noodles With Avocado Sauce
Avocado is a popular keto ingredient, so it's a natural choice for a zoodle dish. Kayla from mincerepublic.com takes advantage of the texture and flavor of avocado in this recipe – creating a creamy meal that is also decadent. The zucchini noodles are cut a little differently this time. You could make them thinner if you prefer, but the pictured style combines well with the sauce.
Italian Wedding Soup with Zucchini Noodles

This recipe comes from inspiralized.com and follows an unusual style. As the name suggests, it's a zoodle version of Italian wedding soup.
The recipe includes ground turkey meatballs, which makes it both delicious and filling. There are plenty of herbs and spices for flavor too, giving you a soup that you won't soon forget.
This soup is also a great introduction to zoodles, as they're not the main feature of the meal. They're just an added extra. This is much easier than trying to enjoy carbonara made with zoodles when all you want is pasta.
Paleo Zucchini Carbonara
Of course, if you do want zoodle carbonara, there are plenty of delicious recipes, including this one from theroastedroot.net. This isn't just a keto-friendly recipe either. It also works for paleo dieters and is dairy free.
The creamy carbonara sauce actually uses cauliflower as one of the main ingredients. This just proves that cauliflower really is an exceptional keto ingredient. It can do almost anything.
Korean Beef Zucchini Noodles

Here's a filling option – a Korean beef bowl made using zoodles rather than pasta. The recipe comes from damndelicious.net and should truly be delicious.
The original version of the recipe is low carb, but isn't keto friendly, as it uses a decent amount of brown sugar. However, one reader mentions that she made a keto version by simply dropping out the sugar and using coconut aminos instead of soy sauce.
Those substitutions are easy to make and still give you a tasty meal. You can also check out the comments section for more ideas. Many people have tweaked the recipe to create their own equally tasty versions.
Zucchini Noodles With Pesto

Who doesn't love pesto? This recipe, from sweetashoney.co, allows the flavors of pesto to shine – creating a stunning recipe that's surprisingly simple.
There are only a handful of ingredients in the recipe if you make the pesto yourself and even fewer if you buy pesto instead. Also, if you want a vegan version of this recipe, you just need to use vegan parmesan instead of regular parmesan. You could even skip the parmesan if needed, the recipe would still be wonderful without it.
Related Content