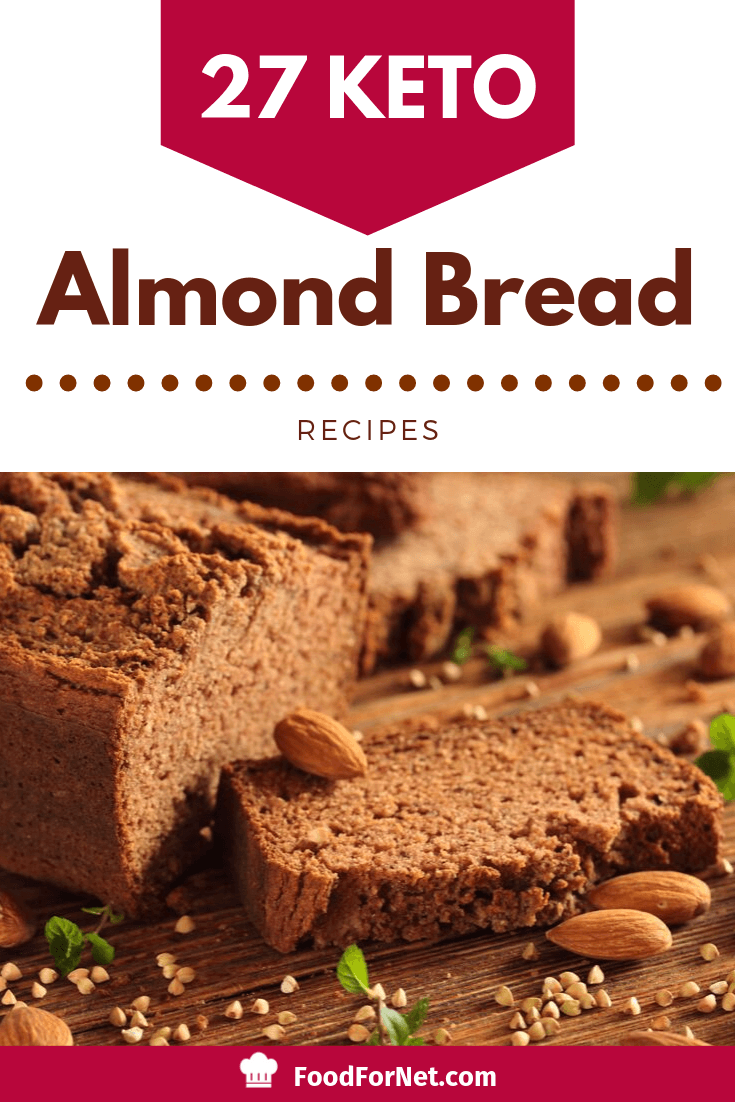 For many people on keto, missing out on bread is one of the most frustrating aspects. After all, bread is very enjoyable. It also makes meals much faster and easier. The ability to simply have some toast or throw together a sandwich when you're hungry is fantastic.
While regular bread isn't possible on a keto diet, there are many keto versions that you can try. We're looking at one specific area for this list – keto almond bread recipes. These recipes tend to rely on almond flour, which is one of the staple keto baking ingredients.
There are many different styles to choose from, including recipes that attempt to mimic regular bread and ones that use entirely different combinations of flavors.
Keto Almond Bread Recipes
PS. Coconut flour is the most common alternative to almond flour, but there are more exotic flours to use for breads. If you want specific types of nuts in your bread, but don't have the specific flour available, you can mix them in the dough such as with macadamia nut bread.
PPS. Another style is keto cheese bread. These recipes tend to use less flour or none at all.
Easy Low Carb Rolls
These dinner rolls follow the idea of fathead dough. While the texture is not exactly the same as wheat-based bread rolls, Kim mentions that they are one of the closest examples that she has experienced. Almond flour is one of the main ingredients in the recipe and a key reason for the texture. You can find the details you need to make this yourself at lowcarbmaven.com.
Beer Bread
This bread recipe comes from thismomsmenu.com. It has a subtle beer flavor, but this isn't overpowering. Instead, the beer helps to make the bread distinctive. It would also complement many different meals. Sabra also mentions that the recipe doesn't use much beer – only around half a cup. This means that even a high carb beer isn't going to add many carbs to the finished bread.
Nut And Seed Bread
Here's a perfect recipe if you want something a little more substantial. It was created by Louise at ketosummit.com and offers you plenty of nuts and seeds. These are all important for their health benefits. They also make the bread taste great. As Louise mentions, you can make a double batch of the bread and then freeze one loaf. This is a perfect trick if you are worried about leftover ingredients.
Chocolate Peanut Butter Loaf
If you want something on the sweeter side, what about this loaf from sugarfreemom.com? I particularly love the way that chocolate is swirled towards the top of this bread. The style just looks stunning. Brenda also mentions that the bread has a great texture. It ends up being similar to an English muffin.
Cheese And Bacon Bread
This cheese and bacon bread is a very popular keto recipe and it's easy to see why. Rachel (from aussieketoqueen.com) mentions that the bread reminds her of cheese and bacon rolls that you can find at bakeries. Of course, this version is lower in carbs.
One interesting thing is that the bread tends to be crumbly if you cut it straight after you have made it. It's much better to store the bread in the fridge and cut it when the bread is cold. You can always heat it up after if you need to.
Keto Blender Bread
The biggest advantage of this recipe is that it's easy to create. Caitlin designed the bread so that the ingredients could all be mixed together in a blender. This means that there is less clean up all around. The recipe creates around eight servings of bread, which have less than three net grams of carbs each. You can find all the details at grassfedgirl.com.
Keto Bagels
These bagels come from myketokitchen.com. They're everything that you could want in keto bagels. This includes the fact that they are fluffy and soft. They even look like bagels that you might buy from a local store.
Soft 'N Fluffy Sandwich Bread
Speaking of soft and fluffy, here's another recipe to consider. This one comes from gnom-gnom.com and allows you to make sandwich bread. As Paola mentions, this recipe has fewer eggs than many other keto bread recipes. This decreases the egg flavor, making the bread taste much better overall.
Keto Burger Buns
These burger buns, from myketokitchen.com, would be a good choice in many situations. You could use them to make hamburgers or just stuff them with sandwich fillings. The recipe used here is very similar to one for keto bread from the same site. The difference is the quantities of the ingredients, which allows you to create buns rather than a loaf of bread.
Pull Apart Clover Rolls
Here's an amazing recipe from beautyandthefoodie.com. In it, Stacey is creating pull apart rolls that have a buttery and cheesy flavor. I love the way that each roll pulls apart into three sections. This style would make them fun to eat and easy to share. The rolls are also surprisingly simple to make, which is always a bonus.
Keto Loaf Of Bread
This bread recipe from ketosummit.com is both dairy free and gluten free, making it a versatile choice. The end result is a light loaf of bread. Like most keto bread recipes, it's best to make the bread on the day that you plan to eat it. You can store it in the fridge for three to five days, but it will be noticeably better on the first day.
90 Second Bread
Kayla from mincerepublic.com offers this simple yet powerful bread recipe. You can prepare the bread in 90 seconds using the microwave – much like you would if you were making a mug cake. Kayla also highlights various ingredients that you can add to create different flavors. This includes the chance to make a sweet version.
Keto Bread With Pumpkin Seeds
The addition of pumpkin seeds to this low carb bread simply works well. They add an interesting texture contrast to the finished bread, along with extra nutrients. The recipe was even carefully designed to reduce the eggy taste. The pumpkin seeds play a role in that outcome. All of the recipe details can be found on the site ketogasm.com.
The Best Low Carb Bread
Here's another recipe that aims to minimize the eggy taste of the bread, while also providing the most appealing texture possible. With this bread, Chichi uses fat head dough as a base for the recipe, then makes various tweaks to create the perfect outcome. She provides all of the details on her site chichiuguru.com.
Keto Bread
This recipe is a third choice from myketokitchen.com. This time the recipe is for a basic loaf of keto bread, While some aspects of the recipe are similar to other entries on this list, other aspects are different. For one thing, Gerri relies on inulin and yeast. These aren't common ingredients in keto bread recipes, although they seem to work well for this one.
Low Carb Almond Flour Bread
This low carb bread is a fast, easy and tasty recipe from Libby at ditchthecarbs.com. It's a particularly good recipe for anyone just starting with keto baking, as there is nothing complicated involved at all. You're also making 15 slices at a time, making this a great bread recipe for serving a family.
Keto Bread Loaf
One of the most notable things about this recipe is that it doesn't contain any eggs. Most keto bread recipes rely on eggs as a key ingredient, which can be a little frustrating. This bread also includes almond flour, coconut flour and flaxmeal, rather than just a single flour choice. The style should create a more interesting flavor and texture for the finished loaf, but it does mean that you need more ingredients on hand. You can find the details over at sweetashoney.co.
Sara Louise's No More Rye Super Bread
This fantastic recipe comes from Sara at ketofirst.com. The bread relies on flax meal and almond flour, which help create the appearance that you can see in the image. There are a few other interesting ingredients included as well. The carb content is appealing too, with just three grams of net carbs per serving.
Low Carb Keto Bread
Sheena from noshtastic.com aimed to create a bread recipe that was both simple and tasty. The instructions are easy to follow, so you shouldn't have any problems. Sheena also provides tips about ways to use the bread. She does mention that you need to be realistic with your expectations. Keto bread is never going to look or taste quite the same as regular bread. That's all there is to it. Being realistic from the start can help you enjoy your bread so much more.
Savory Keto Bread
I love the way that this recipe (from isavea2z.com) has more flavor ingredients than most other keto breads. The inclusion of herbs means that the finished bread tastes much more interesting. You don't lose versatility either. The bread would still complement many different dishes.
Easy Almond Flax Bread
Hannah from healyeatsreal.com offers this almond flax bread recipe. It's a little bit different, as the bread has a crunchy crust and a soft interior. The combination of ingredients also makes this a particularly hearty bread recipe. While eggs are included, these don't have a strong impact on the finished flavor. The bread is even paleo compliant, which is yet another advantage.
Low Carb Buns With Psyllium Husk
These low carb buns are notable because they taste very similar to multigrain bread. The inclusion of psyllium husk helps the buns to hold their shape. Mira (from mypcoskitchen.com) even mentions that you can make whatever shape you like from the batter. This means that you could make a loaf of bread if you wanted to.
Almond Flour Bread
Here's an interesting recipe from Katrin at sugarfreelondoner.com. The bread is another easy choice to make. It is also designed to be similar to whole wheat bread, giving you another style to try out. As Katrin points out, you can taste the almonds in the finished bread. This is true for most keto almond breads, but it isn't a bad thing. You'll probably find that you enjoy the flavor.
Five Ingredient Easy Paleo Keto Bread
It's hard to find an easier bread recipe than this one from wholesomeyum.com. You only need five ingredients to make the bread. The end result is very similar to the white bread that many people know and love. There are also plenty of details on the post, including information about what you can expect and ways to make the bread turn out just right.
Chocolate Avocado Bread
This chocolate avocado recipe comes from ketosummit.com and it is a fantastic idea. The flavor combination alone makes the bread worth trying out. While chocolate and avocado are often found together in keto recipes, this isn't normally done with bread. On a side note, Louise does caution readers about the calorie content of the bread. This is an important point, as it's easy to overeat high calorie food, even when you're on a keto diet.
Garlic Shrimp Avocado Bread
Speaking of unusual bread flavors, here's a recipe that you'll need to see to believe. It comes from the site ketodietchannel.com and includes garlic shrimp along with avocado. This isn't a combination that I would have ever expected, but it does seem to work well. If nothing else, this would be a fun recipe to try for something a little bit different.
Banana Bread Recipe With Almond Flour
Bananas are normally too high in sugar for a keto diet. Maya from wholesomeyum.com avoids the problem entirely with this banana bread recipe – she uses banana extract instead. Don't worry. You're not getting bread that tastes unusual or artificial. The finished loaf of bread still tastes exactly as it should. Maya even found that the people trying the bread couldn't even tell that there were no bananas present.