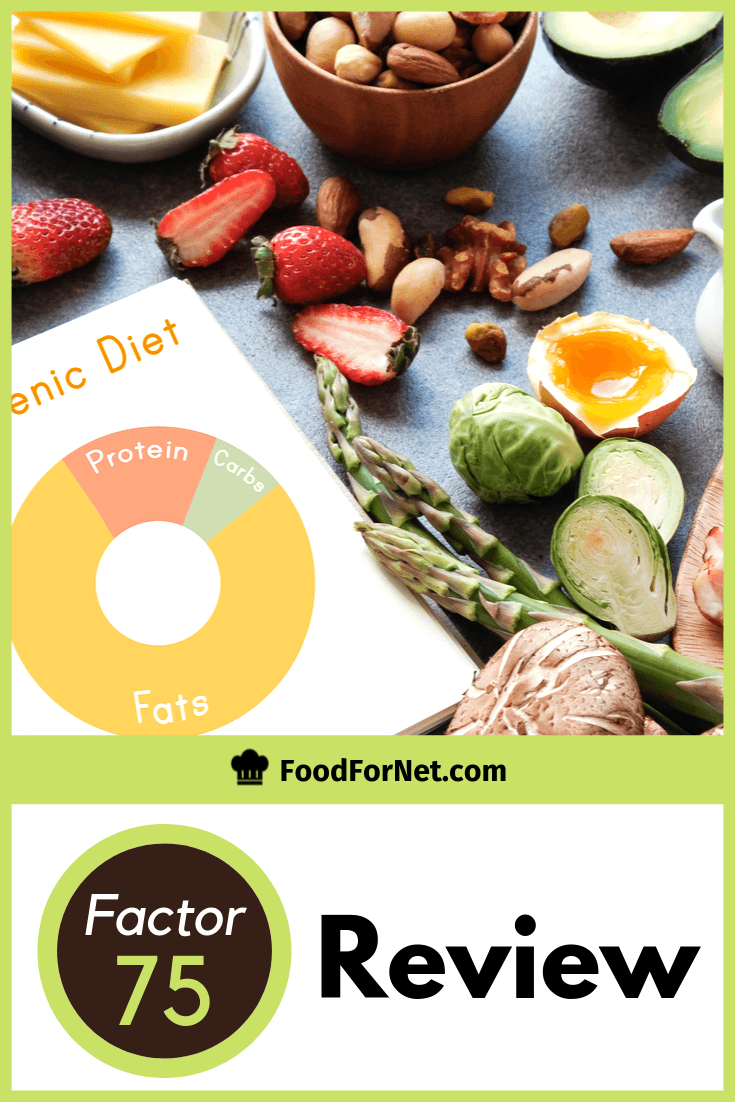 Factor 75 Review
Deliciousness - 98%
Pricing - 98%
Easy To Prepare - 100%
Variety - 97%
Value - 99%
As I work my way through various meal kits and meal delivery services, the best of the best becomes more obvious. In terms of flavor and value, Factor 75 is one of my favorites so far. Specifically for keto meal delivery, it's my #1 choice. The meals were satisfying, they were appropriately priced, and the actual taste of the meals was something I enjoyed rather than just tolerated for the convenience of not having to cook.
Keto meal delivery is all about convenience, but there's a line where convenience isn't that great when the meals suck. Eating trash on the go is still eating trash. That's why I really look at the flavor of these meal delivery services, and in my review of Factor 75 I want to highlight its main advantage: the flavor and texture of their meals.
One of the hardest thing about any type of restrictive diet is that you simply cannot eat some types of food. That means your house has to be empty of those things, otherwise you're going to cheat in a pinch.
Gotta get somewhere soon and there's nothing in the house but a chocolate bar? I guess that's what you're eating to keep your gains. But with frozen, ready-to-eat, keto-friendly meals on hand you never have to end up in that situation again.
Also, saving 30-45 minutes cooking just a couple nights a week can give you more time for the things you want to prioritize. Keto food isn't always easy to be "quick and ready", so rather than spend a ton of time in the kitchen every week, you can relieve some of that time stress by having Factor 75 on hand.
Ordering Factor 75
Like most meal delivery services, it's real easy to get started. With Factor 75, you'll pick the style of meal you want (Paleo, Keto, or Dairy Free)


After you pick your style of food, you choose how many meals you want per week. A 5-day week with 3 meals a day would be 18, so if you want three pre-cooked meal for every day, they've got you covered.


Here are some previews of the meals they offer. My only gripe with all of these frozen meal delivery services is that they don't represent their meals very accurately.
Factor 75 comes very close. They have the best looking meals of any company I've tried so far. However, they don't look this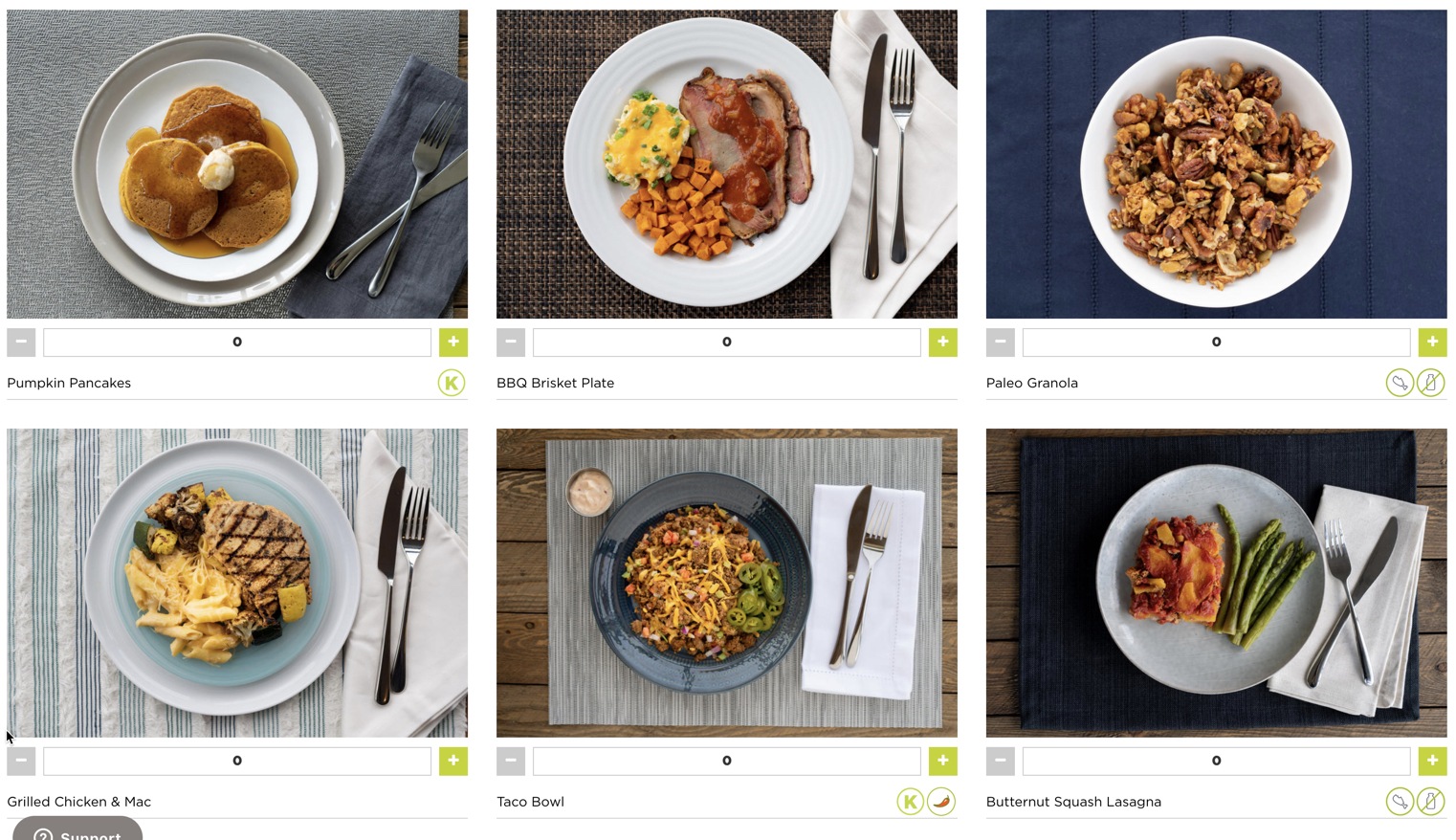 My total cost was $119 for 8 meals, including shipping ($20). So that's $15 per meal. It's a little more expensive than I'd like to pay, but the quality of meals is better than average here, and the price is pretty on par with other services.
So you get better food for an average price. Plus, they just got rid of shipping, so now I'd pay $100 for 8 means, reducing the cost to $12 per meal, which is much more reasonable.
Shipping & Packaging from Factor 75
Factor 75 just introduced free shipping, so that's another bonus in their corner. Cost is a huge factor for whether or not I enjoy a meal. A $12 shrimp scampi is more enjoyable than a $18 shrimp scampi (yes, those are real prices). Convenience is big, but cheap and convenient is better IMO.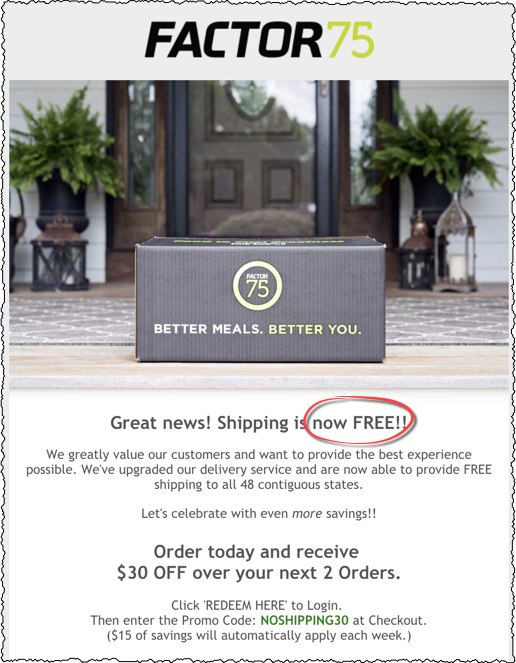 My box arrived a little later than I would have liked due to the shipping schedule, but everything was frozen. The meals come in boxed packaging, which makes it convenient to stack in the freezer rather than vacuum sealed or plastic bags which tend to fall all over the place.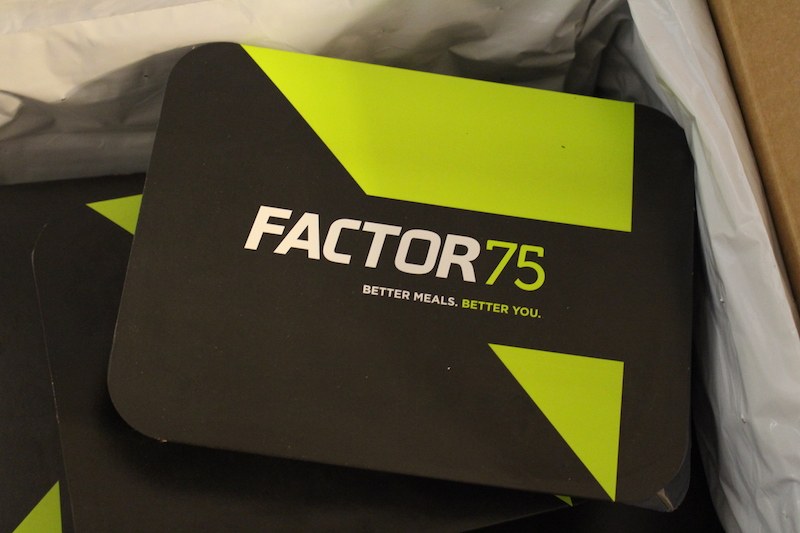 Cooking with Factor 75
The Good
Let's take a look at my favorite meals from Factor 75. Actually, most meals exceeded my expectations in terms of flavor. The clear winners were the Shrimp Alfredo and Steak with Sweet Potato fries.
What was surprising about the shrimp is that they did not have that fishy, seafood taste to them. They actually tasted fresh. Plus, although they were not the perfect texture you get when doing home cooking, they were more than passable!
Butter and garlic is hard to do poorly, and they came with plenty of sauce to drizzle on the broccoli.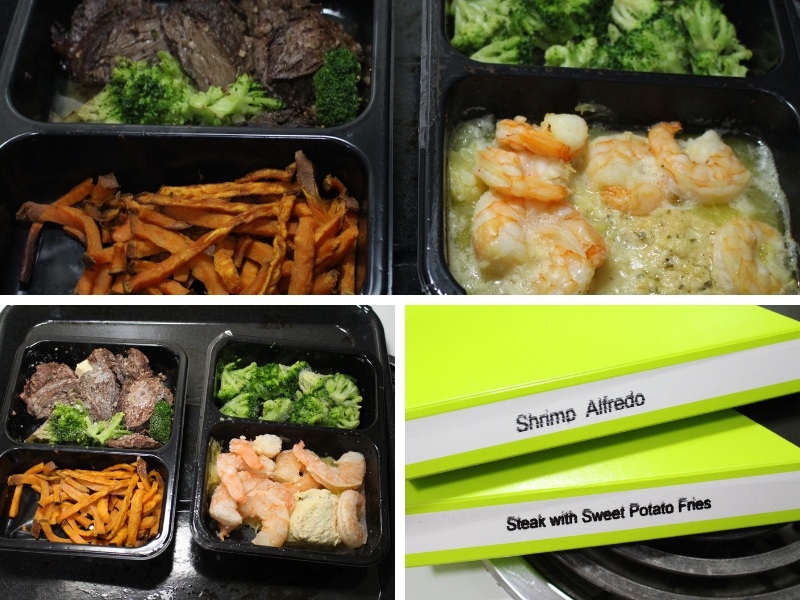 The steak was also tender and very flavorful. It was bordering on dry-ish, but not enough to complain. Again, it exceeded my expectations.
The fries were a little floppy, but frozen potatoes are hard to do and they were still better than average. I highly recommend cooking fries in the conventional oven because as you'll see below, microwaved fries are not a great idea.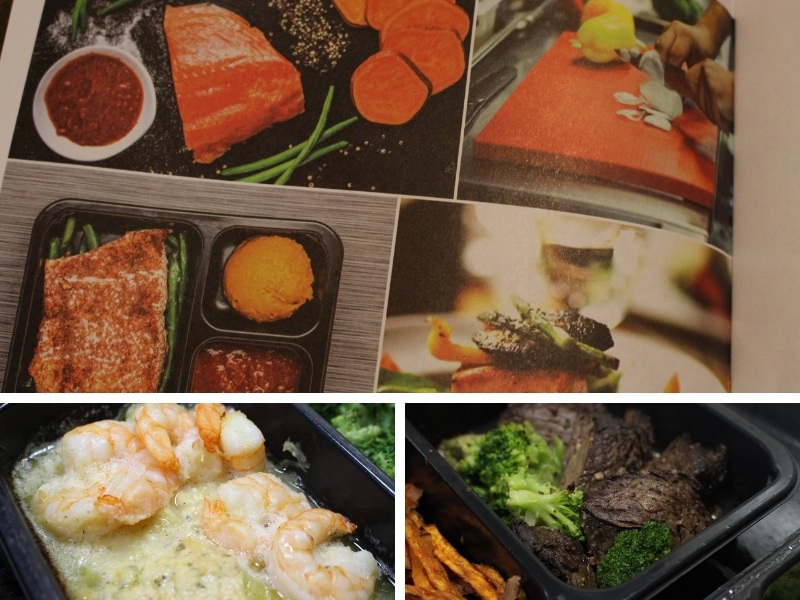 The Average
The chicken parmesan and pub burger were decent. I ended up microwaving the pub burger because I didn't have time to wait for the oven, and everything turned out a little soggy.
That's common when you microwave frozen meals, so it's not an issue with Factor 75. Just try to thaw you meals out beforehand, and make time to cook them in the conventional oven.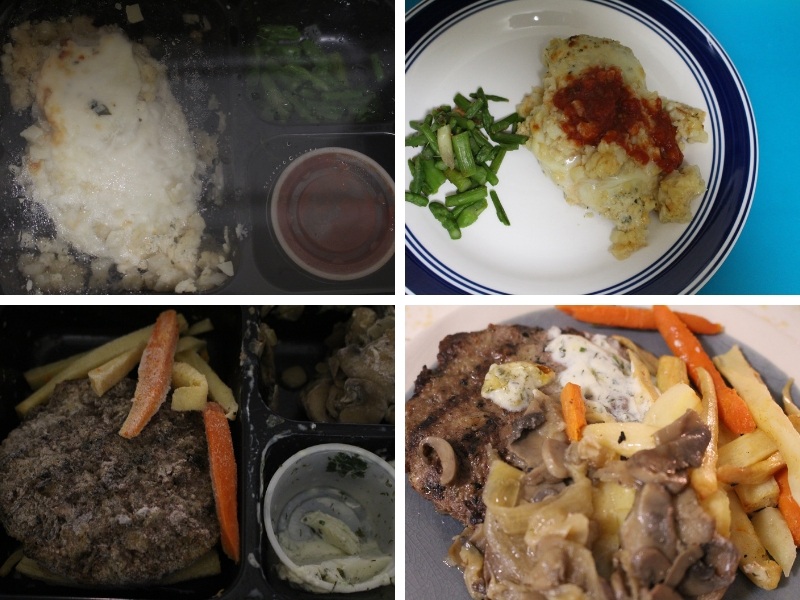 The parmesan chicken was surprisingly good. Chicken breast is easy to dry out. This chicken was a little dry, but not bad. I wish there were more veggies with this meal though – come on guys, how expensive is asparagus!
The asparagus was crispy though (cooked in the oven), so that's good.
The salmon you see below was actually a big winner. Great texture, not fishy tasting, and it was a pretty big size.
The only reason I have this meal in the "average" category is that the sides with this one were pretty bland. Frozen bok choi just does not reheat well.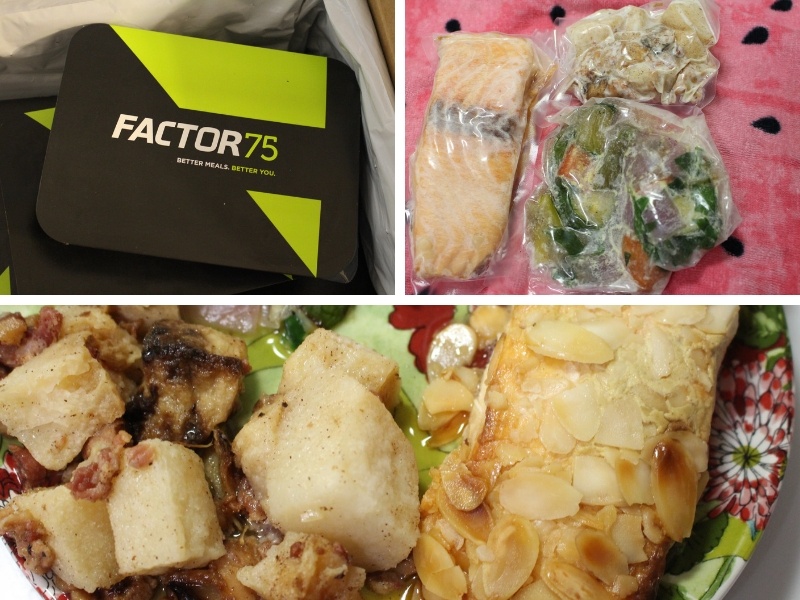 The Bad
Ok, the taco bowl wasn't that bad. The flavor was good actually! I just have a hard time paying $15 to reheat taco meat and shredded cheese when I could do the same, with double the food, in the same amount of time, for 1/2 the price.
Plus, the sauce on the side was not good at all.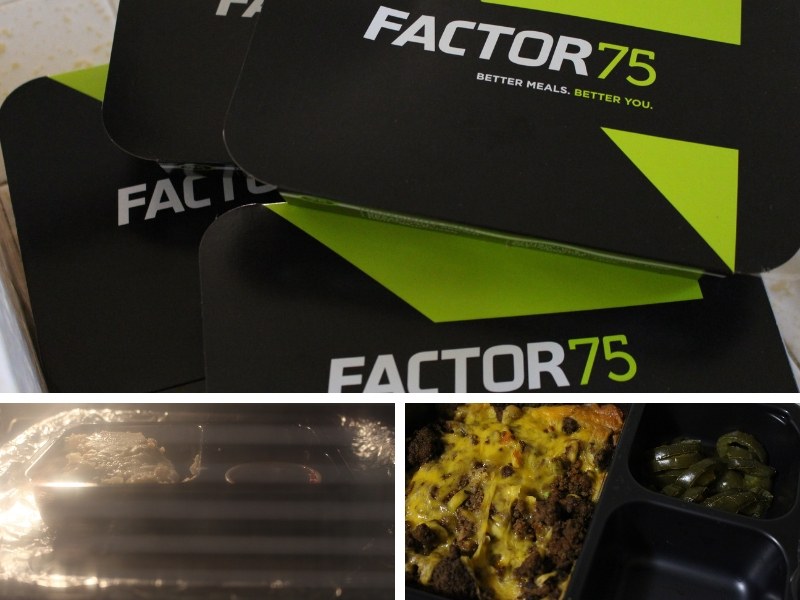 Canceling Factor 75
Canceling was easy. Just log into your account and go to account settings. No need to jump through hoops like with some of these companies!
Comparing Factor 75 To Keto Meal Deliveries
If you read the top introduction, then you know that Factor 75 is currently my #1 rated keto meal delivery service. They have decent prices, great flavor, and lots of meal choices.
If you want more of an a la carte experience, Keto Fridge is great for desserts and bread. Their meals were decent too, but really expensive ($18 for shrimp scampi!)
==> Get Factor 75 (Keto Version) Here!
Final Thoughts
Factor 75 is one meal service that I'll be going back to. I have a lot of others to test, so I canceled for now. I'll update with more comparisons as the reviews start to get published, but at this time, they have my vote.