Whether we're talking about ice cream, cookies, smoothies or something else, chocolate chip always works well as a flavor. That may be partly because it is a flavor many of us have loved since we were kids, but the idea does work well in its own right too.
One of the cool aspects is the variety of taste and texture in anything that uses chocolate chips. You're not getting the same taste all the way through. Instead, there are some areas of intense chocolate flavor and others that don't have it.
This post focuses on one fun area – keto chocolate chip smoothie recipes. This style of smoothie isn't the most common, perhaps because the recipe cannot rely on milk chocolate. Smoothies take advantage of cacao chips or dark chocolate chips instead.
While the end result doesn't taste quite the same as a conventional chocolate chip smoothie, you're still creating a fantastic drink. Don't just take my word for it.
Check out the recipes on this list to see what you can do with keto smoothies and chocolate chips.
Keto Chocolate Chip Smoothie Recipes
Mint Chocolate Chip Smoothie
Mint Chocolate Chip Shake
Chocolate Chip Cookie Dough Shake
Chocolate Coconut Keto Milkshake
Mint Chocolate Chip Frappuccino
Mint Chip Protein Shake
Shamrock Shake
Mint Chip Shake
PS. While we're on the topic of chocolate, what about chocolate smoothie recipes? There are many of these to choose from. You could even add cacao nibs or dark chocolate to them to give that chocolate chip style.
PPS. You can find a broader selection of smoothies in our coconut milk and almond milk smoothie lists. These both feature many different types of smoothies, making them a perfect place to find inspiration.
Mint Chocolate Chip Smoothie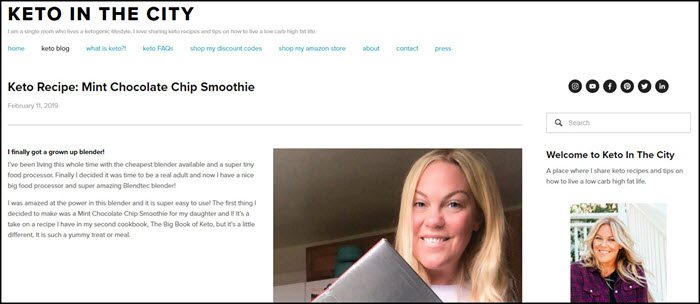 This first recipe comes from Jen at ketointhecity.com. It uses chocolate and mint as the main flavors, giving you a mint chocolate chip smoothie. This is such a fantastic idea.
You end up with a smoothie that really does taste like a treat. That's not all. The combination of ingredients means that this smoothie really would taste decadent.
For one thing, you are including chocolate in the mix, rather than cacao nibs.
Another cool aspect is the avocado. Adding avocado to a keto shake tends to make it much smoother and creamier. This creates a much tastier shake.
Mint Chocolate Chip Shake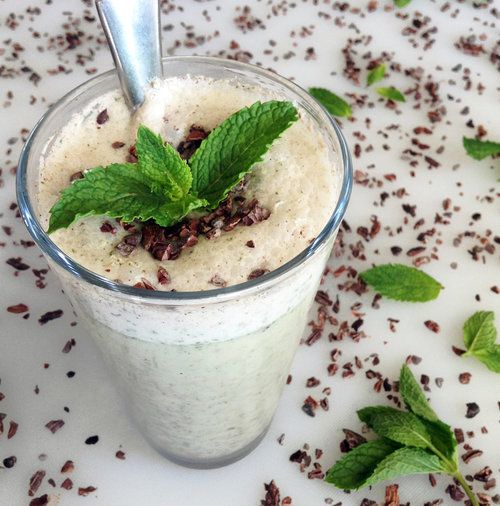 Here's another drink that follows the mint chocolate chip idea. This time it comes from Rowan at tastefulketo.com.
While there are some similarities in appearance and flavor, the two shakes also have some notable differences. For one thing, this version doesn't rely on chocolate at all. You're using cocoa nibs instead to create the chocolate chip style.
The recipe doesn't have the same creaminess either, as avocado isn't included. Even with these differences, this current shake would taste fantastic.
You simply have a different combination of ingredients. This particular version might end up being more refreshing, while the previous example could be more of a decadent treat,
Chocolate Chip Cookie Dough Shake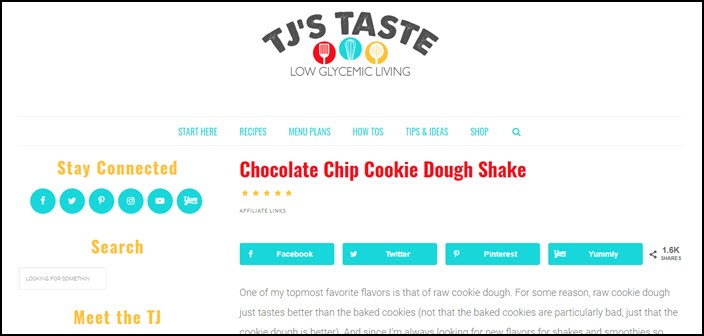 This recipe takes a different angle than the previous examples, focusing on the idea of cookie dough. To do this successfully TJ (from tjstaste.com) uses a relatively large selection of ingredients, including items like butter flavoring.
Some of these are optional, so you have the chance to simplify the recipe if you want to. Regardless of the ingredients that you choose to include, the finished smoothie should be unusual and taste fantastic.
One key reason is that the recipe relies on cream cheese. This is always a good addition to smoothies, creating a flavor that's similar to cheesecake.
Chocolate Coconut Keto Milkshake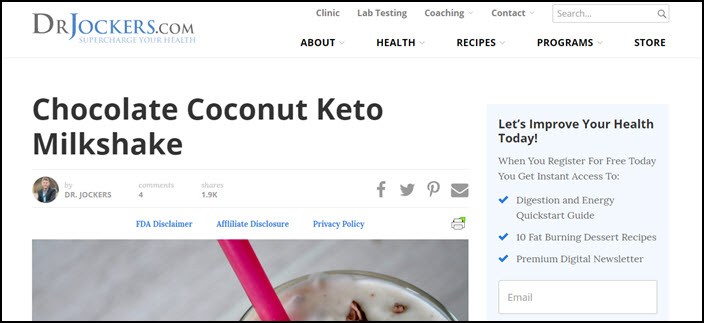 Here is a more basic recipe to consider. It comes from drjockers.com and relies on coconut as the main flavor. As such, it is a fantastic recipe for any coconut lovers.
Dr. Jockers even uses coconut milk ice cubes rather than regular ice cubes to ensure that the drink doesn't get diluted.
An interesting note is that this recipe relies on cacao nibs rather than chocolate. Cacao nibs taste amazing and they have been linked to a variety of health benefits.
Still, they're not for everyone. Some people can find that they simply taste too intense. If you don't like cacao nibs (or don't have any on hand), you can substitute for dark chocolate chips.
Mint Chocolate Chip Frappuccino
If you miss frappuccinos from Starbucks, this is the recipe for you. It comes from thehungryelephant.ca and offers a mint chocolate flavor. The recipe isn't as 'clean' as some of the other items on this list, especially as you're using green food coloring.
Still, the smoothie is still very healthy and perfect for a keto diet. You could also skip the food coloring if you don't feel like including it.
Mint Chip Protein Shake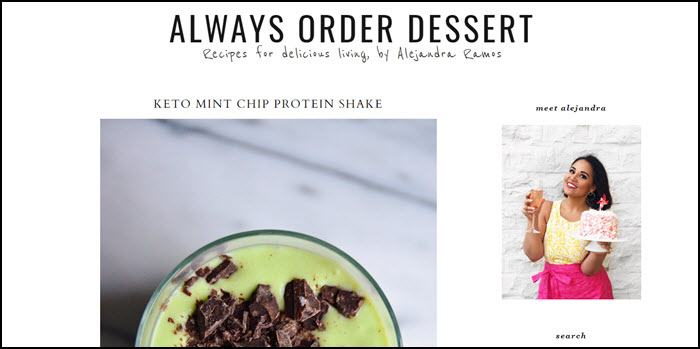 Here's another variation on the mint chocolate chip theme. This time the chocolate is included on the top of the smoothie, rather than mixed throughout it.
The green color comes from the use of avocado and baby spinach. Don't worry, you're not likely to taste either of those ingredients. The flavor of peppermint will be much stronger.
It's also worth mentioning the carb content. While this will vary depending on the specific ingredients and brands that you use, you're often looking at around ten net grams of carbs per serving. This is pretty high for a keto drink – making this one best as a meal replacement.
You could also just drink half of the smoothie rather than the whole thing. Regardless, all the details can be found at alwaysorderdessert.com.
Shamrock Shake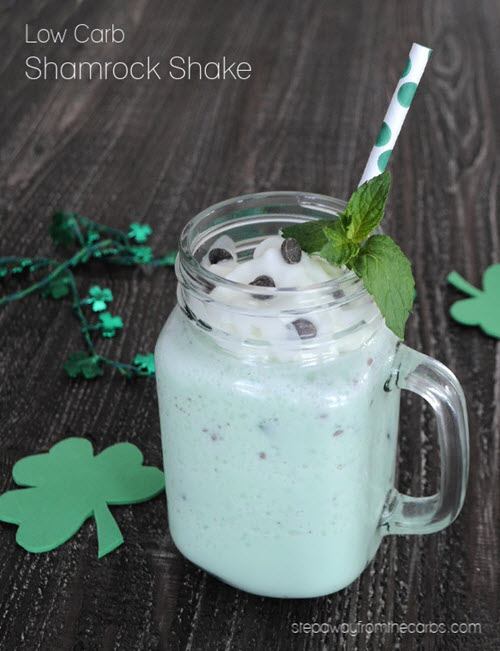 The name shamrock shake makes this recipe sound a bit unusual, but it is simply another mint chocolate chip example. This version comes from stepawayfromthecarbs.com.
It does take a different approach than most, as it uses Halo Top ice cream as a key ingredient. The ice cream is a great shortcut for making a smoothie. It also gives you a fantastic texture that you wouldn't get otherwise.
Mint Chip Shake
Here's one more mint chip shake to round the list off. This one comes from ketoplates.com. It might not look as amazing as some of the other examples, but the appearance won't influence the final result..
The mint flavor in the recipe comes from peppermint extract. This is the case for most mint smoothies that you'll find and is a simple way to get the mint flavor you're looking for.