Orange is one of those flavors that you don't normally find in keto recipes, due to the sugar content of oranges. Still, as we often say, following a keto diet doesn't mean that you need to miss out.
You can still enjoy most (if not all) of your favorite flavors. The trick is to choose the right recipe – one that balances the desired taste with carb content.
While there isn't an extensive range of keto orange smoothie recipes to choose from – some recipe creators have made them. The styles vary, allowing you to try out different taste combinations.
Some of the authors even include details about ways to vary their recipes. Perhaps you could add in more fat or change the texture of the finished smoothie.
Regardless of whether you follow the recipe precisely or change it up, the smoothies on this list are certain to taste fantastic. They're also powerful ways to hit your macro targets and remain in ketosis.
Keto Orange Smoothie Recipes
Chocolate Orange Smoothie
Jaffa Yohgo Mudslide Smoothie
Chocolate Orange Smoothie With Extra Fiber
Orange Rise And Shine Smoothie
Orange Creamsicle Smoothie
Low Carb Orange Julius Copycat
Orange Creamsicle
Green Citrus Smoothie
Citrus Green Smoothie
PS. Oranges aren't the only fruit featured in keto smoothies. Berries like blueberry, raspberry and strawberry are common choices.
PPS. For a broader selection, you could check out our list of almond milk smoothies. The one feature these have in common is the type of plant-based milk. As such, there is a wide selection of different flavors and ingredients to choose from.
Chocolate Orange Smoothie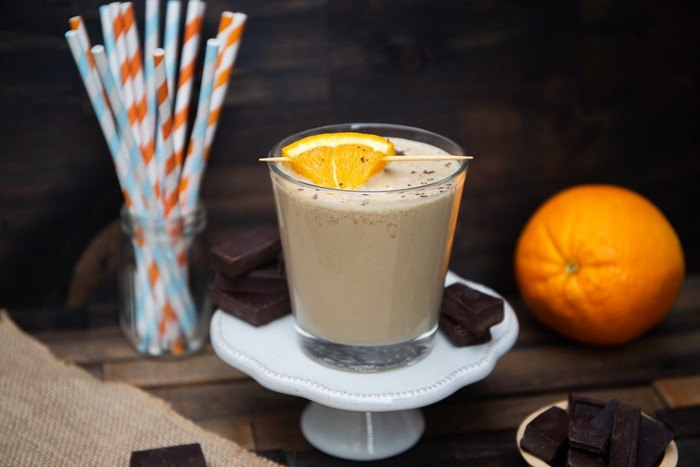 Chocolate and orange is such an amazing flavor combination. The two tastes combine extremely well, yet they're not featured in many recipes.
Thankfully, this recipe from wickedstuffed.com takes full advantage of both flavors. It's also an extremely simple recipe – so you don't need a large selection of ingredients to make the smoothie at home.
One key feature is the use of orange extract. As Amanda points out, extracts work well as a way to add extra flavor into keto shakes. Just make sure you buy a good product, one that doesn't contain artificial additives.
A final note is that this smoothie includes spinach. Not only will the taste of spinach be mostly buried by the chocolate and the orange in the recipe, but the vegetable is also great for nutrition.
Jaffa Yohgo Mudslide Smoothie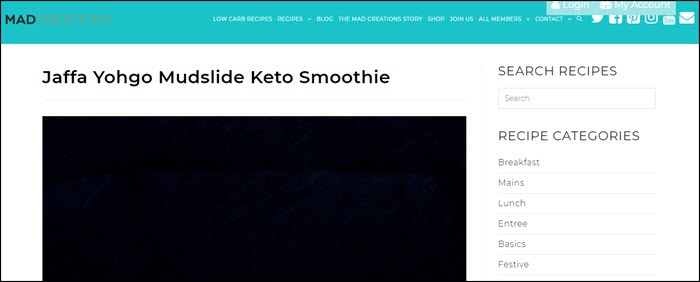 Jaffa is another name for the combination of orange and chocolate, meaning that this recipe tastes a little similar to the previous example. Of course, the two smoothies have plenty of differences from one another.
This version comes from madcreationshub.com. It has a much richer flavor and is a more complex recipe overall.
There are even two different parts to the smoothie. One has you making the yohgo, while the other involves using the yohgo to create the smoothie.
Yohgo is Megan's variation on a Yogo dessert. While the extra step isn't common in a smoothie recipe, the end result is well worth the effort. You might find yourself enjoying the yohgo on its own too.
Chocolate Orange Smoothie With Extra Fiber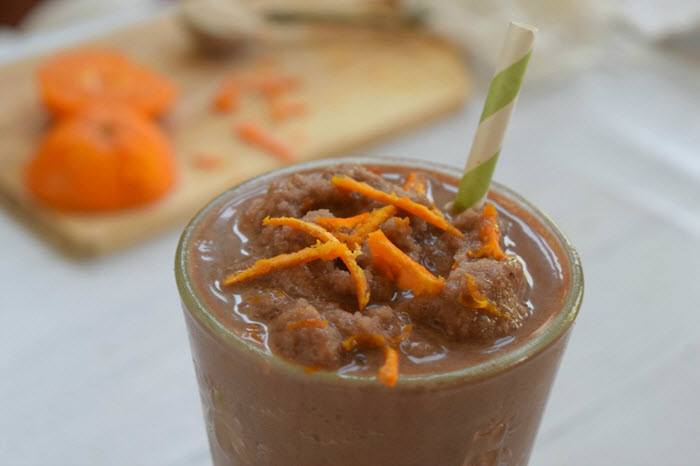 This recipe is another variation on the chocolate orange combination. You'll find it at thefitfork.com and it contains less than eight net grams of carbs per serving.
This time the orange flavor won't be strong, as it simply comes from adding orange zest to the top of your smoothie.
While the smoothie will mostly taste like chocolate (not orange), the recipe is a good choice for nutrition. It includes various ingredients that may promote health benefits, including Metamucil to provide extra fiber.
The end result is a nutritious drink that happens to taste good too.
Orange Rise And Shine Smoothie
This simple recipe from myketoscience.com is unusual – it actually features an orange. Specifically, the author calls for either a clementine or a mandarin orange.
The size for the fruit isn't specified, but a small fruit will tend to contain fewer carbs and offer less flavor to the finished smoothie.
While the recipe is promoted as being keto-friendly, the nutritional details are not provided. You'll need to calculate these yourself, using one of the many tools online.
The reliance on an orange in the recipe suggests that the carb content for this smoothie might be relatively high. If that is the case, you'd need to plan carefully so that you can enjoy this smoothie.
Orange Creamsicle Smoothie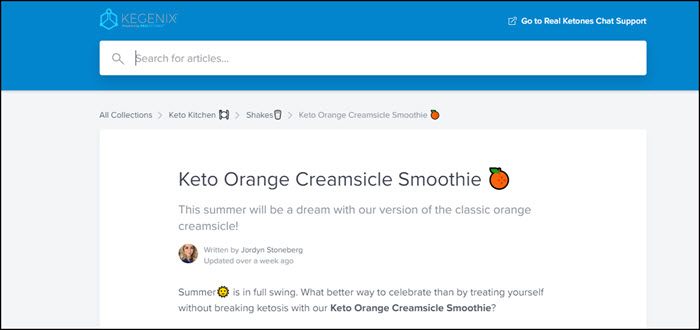 I love the way this smoothie looks. It seems like a fantastic refreshing drink for the height of summer, one that would satisfy a crowd.
The recipe itself comes from learn.realketones.com, which is associated with the brand Kegenix. The smoothie itself contains just three net grams of carbs, so it's a low carb choice.
The recipe is a little unusual too, as it contains just four essential ingredients, along with an optional one. The orange flavor also comes from a type of drink mix.
That idea is a good way to get an enjoyable flavor while sticking to keto requirements, but it might not be the approach that you're expecting.
Low Carb Orange Julius Copycat
This recipe, from hip2keto.com, focuses on the flavor of an orange julius, while giving the recipe a keto twist.
Many of the ingredients used are common to keto smoothies, like the use of erythritol as a sweetener and the inclusion of heavy whipping cream. The orange flavor comes from orange extract, which isn't a particularly unusual style.
One interesting feature is the use of cream cheese. When cream cheese is used in keto smoothies it tends to create a cheesecake-like flavor. This should mean that your orange smoothie is very creamy, while also tasting simply amazing.
Orange Creamsicle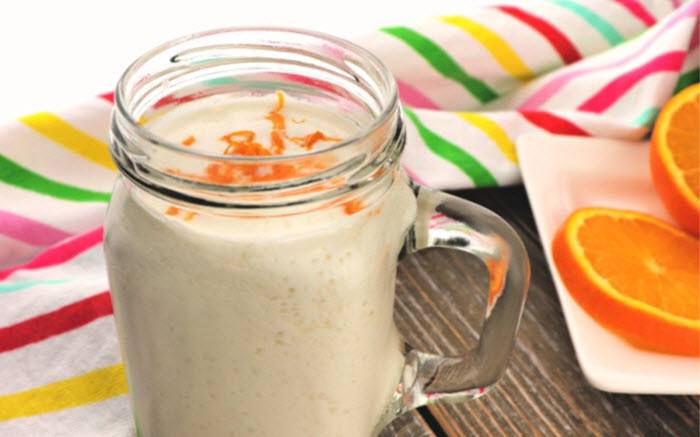 Here's a nutrition-packed smoothie from the site explorermomma.com. It includes some similar ingredients to the previous recipe, particularly the cream cheese.
This means that you're getting the cheesecake-like flavor once again. There are various beneficial ingredients too, like collagen and MCT oil.
The recipe is also another one that uses orange extract for flavor. Relying on extract like this might seem undesirable, but extracts do have many benefits.
The right choice can give you the flavors that you want, without having much impact on your carb intake. That's a powerful effect.
Green Citrus Smoothie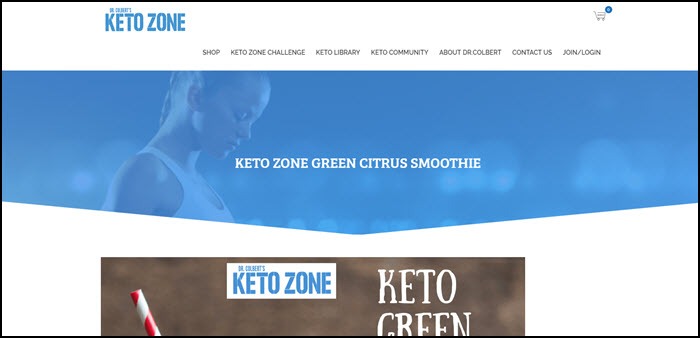 This smoothie comes from the site ketozone.com. It features three key flavors – orange, lemon and lime. The combination creates a fantastic citrus taste that contrasts nicely against the green ingredients.
The smoothie is a great nutritional choice too. Not only are you getting plenty of nutrients from the greens – there are also some other beneficial ingredients, like MCT oil powder.
Another thing to mention is that the smoothie doesn't rely on any form of orange extract. You're getting the orange flavor from orange zest instead.
This is a great way to get the taste of oranges, while avoiding their carb content. The recipe is even very low in carbs, with just four net grams of carbs per serving.
Citrus Green Smoothie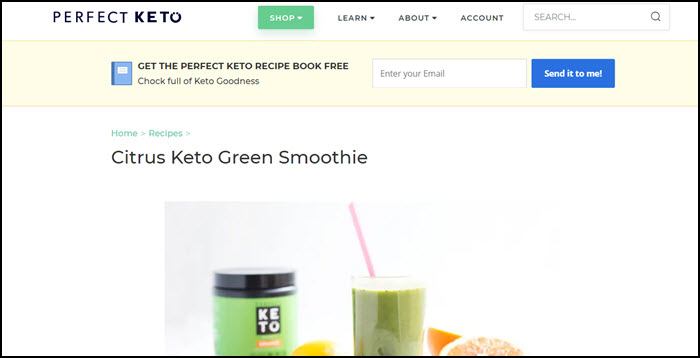 This final recipe is from Corina at perfectketo.com. It's another one that combines citrus with the flavor of a green smoothie. There are plenty of similarities too.
For example, both this recipe and the previous example use lemon juice, lime juice and orange zest to create the bulk of their flavor. This version features MCTs like the previous example too, except the Perfect Keto recipe uses MCT oil, rather than the powdered variation.
You'll also find differences in the greens that are included. The Perfect Keto recipe gets most of its greens from a powder.
This is a shelf-stable way to get all the nutrition that leafy greens have to offer. The recipe does include spinach too, but this is an optional ingredient rather than an essential one.