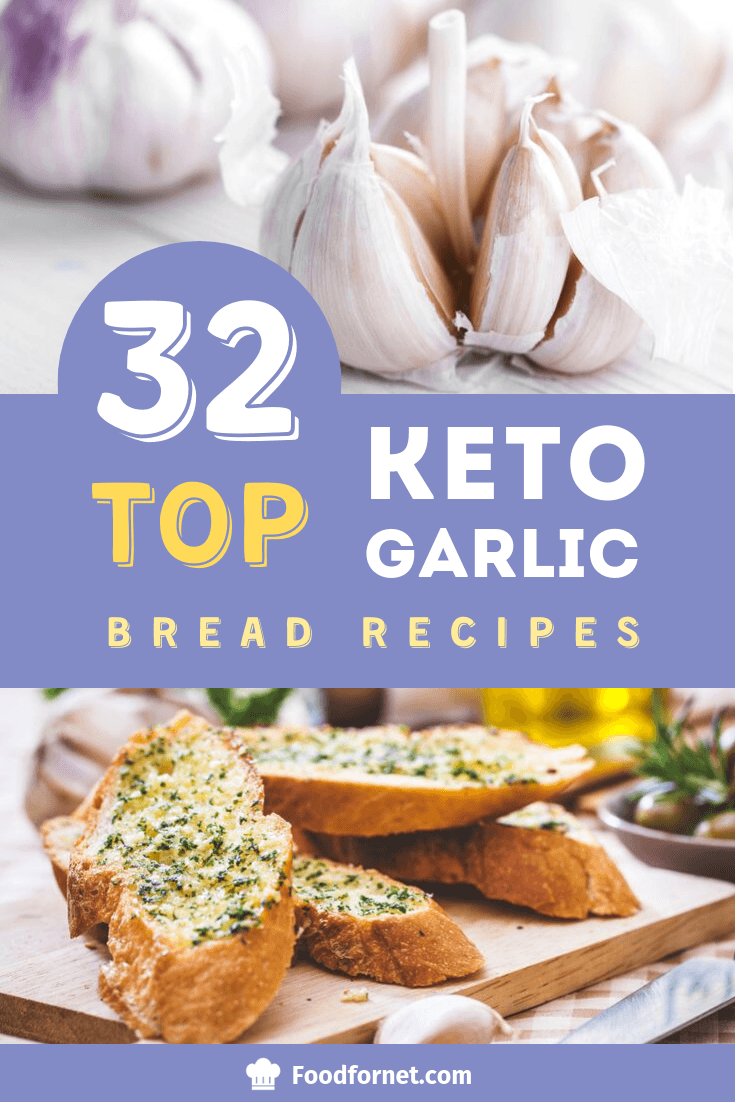 Garlic bread might not be the most common type of bread that people eat, but it remains extremely popular. There is something special about the combination of butter, bread and garlic that keeps people coming back for more.
The recipe can be even more special again once cheese is added into the mix. The keto garlic bread recipes on this list show that keto dieters don't need to miss out.
You can still enjoy garlic bread on a keto diet. That's not all. There are also many styles to choose from, including loaves of keto garlic bread and garlic breadsticks.
In compiling this list, we've aimed to include a wide variety of recipes, while also highlighting their key features. That way you know exactly what to expect from each recipe.
Keto Garlic Bread Recipes
PS. Many of the garlic bread recipes on this list also use cheese. Because of this, you might be able to tweak some keto cheese bread recipes to make your own version of garlic bread.
PPS. Garlic bread is just one of many keto recipe styles that is perfect for a party. We have a list of other ones that you can try out.
Garlic Butter Keto Bread
This first recipe comes from ketofirst.com. It's an incredibly popular one that tends to get loved and re-shared across social media.
I love the way that you're making individual balls of garlic bread. This style would be perfect for serving guests.
The chosen ingredients also mean that the bread is going to taste fantastic. Seriously, you're not likely to miss the carbs at all.
Garlic Parmesan Zucchini Bread
This garlic bread recipe follows an entirely different style. It relies on zucchini as one of the key ingredients. Eggs are also featured, along with coconut and almond flour.
The end result mightn't have the exact same texture as 'normal' garlic bread, but it will still taste really good. The bread is also a great way to get more zucchini into your diet.
The recipe itself is from kirbiecravings.com, so you can find out more about it there.
Almost Zero Carb Garlic Bread
Garlic bread is such a treat. It's fantastic to be able to have it on a keto diet – especially as this bread just contains one gram of carbs per slice. There is also plenty of garlic butter included, along with melted cheese.
Seriously, what's not to love? I have no doubt that the bread will be very popular in your household.
You might find that you need to make multiple batches to keep everyone satisfied. The recipe comes from stepawayfromthecarbs.com and provides all the information that you need.
Keto Garlic Bread
With just 1.8 net grams of carbs per slice, this garlic bread recipe is a fantastic choice. It comes from thehungryelephant.ca and takes roughly 45 minutes to make.
Most of that time is passive where the bread is cooking, so there isn't too much work for you to do. The instructions also include an additional step if you want your bread to be more garlicky again.
Cauliflower Bread With Garlic And Herbs
Maya from wholesomeyum.com provides this recipe that you can try out. This time garlic is simply one of the flavors used, rather than the main focus of the bread.
The recipe might also be unexpected, as you're making cauliflower bread. If you haven't tried this style before, cauliflower bread might sound a little bit odd.
While vegetables aren't normally used as a key bread ingredient, cauliflower performs this role well and you end up with a tasty loaf of bread.
Easy Keto Garlic Bread
Calling this recipe easy makes sense. There are just four main ingredients in the bread and the recipe takes less than 30 minutes to make. The ease of creating the bread is partly because you're not making a regular loaf of bread.
You're making a type of flatbread instead. While the style might not be perfect for all situations, garlic flatbread like this can be popular, especially if you're enjoying it with dip. You can find all the details at thatslowcarb.com.
Easy Cheesy Garlic Bread
This recipe follows a style that you might have heard about before, fathead dough. The dough is a common choice for low carb breads and can be used in many different ways.
Angela from advantagemeals.com has managed to take full advantage of the dough and create an easy garlic bread recipe that includes cheese as well. With 17 grams of fat and just two net grams of carbs per serving, this is a perfect keto bread for your family.
Garlic Cloud Bread
Cloud bread is another popular type of keto bread recipe. It tends to be easy to make and tastes good too. This version of cloud bread comes from thebigapplemama.com and acts as another type of garlic bread.
Like some of the other recipes on this list, the bread combines garlic and cheese to create a delicious treat. The recipe also works well for serving guests, as you are making individual rounds of bread.
Skillet Keto Garlic Bread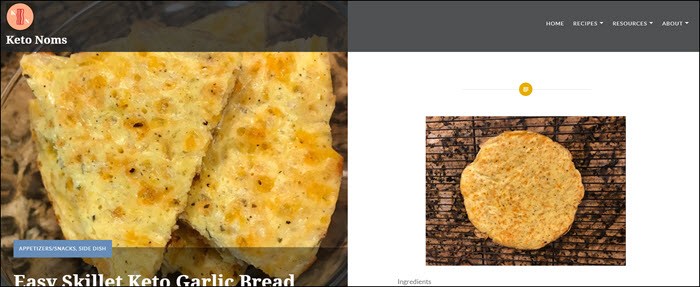 Here's a recipe from ketonoms.com. It's a variation on garlic bread that you can make in your skillet. As you can probably guess, this means that you end up with a fairly flat loaf of garlic bread.
The style isn't a bad thing. Garlic bread like this is a great choice for parties, as it can be cut into slices and used for dipping. The bread is also certain to be popular among kids.
Garlic And Rosemary Cauliflower Bread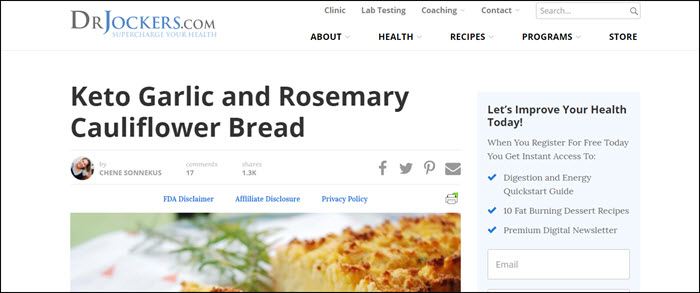 Garlic bread doesn't need to rely on a flour alternative as the base ingredient. There are also recipes like this one, where the bread relies on cauliflower instead.
Including cauliflower in bread is a surprisingly good way to get an appealing taste and texture combination. This particular recipe is also a popular one and is regularly shared across social media.
You can find out more about it at drjockers.com.
Garlic Bread Rolls
A garlic bread loaf can work well, but individual garlic bread rolls are often more appealing. This style makes it very easy to serve garlic bread to a crowd. It also helps ensure that there are no fights at the dinner table.
One of the goals with this bread was that it could be prepared without the need for pre-planning. That's exactly what the recipe achieves too. All of the details can be found at creativegreenliving.com.
Low Carb Garlic Bread
This recipe comes from kissmyketo.com. It is another example that relies on the fathead dough concept. Like all fathead dough recipes, this garlic bread is easy and fast to make.
It's also hard to get wrong, making it an ideal choice for beginners. The most interesting part is the topping for the bread, which uses a combination of parmesan and basil.
Cheesy Keto Garlic Rolls
I love the style of these garlic rolls. Each roll is made using three small balls of dough. This gives you rolls that are easy to pull apart and look a little bit different. You make a total of 12 rolls with this recipe.
Each contains three net grams of carbs. They're low in calories too, which makes them good for anyone trying to lose weight. You can check out the full recipe at officiallyglutenfree.com.
Cheddar Garlic Herb Bread
This recipe comes from the site by-pink.com and you're making a loaf of garlic bread. It's a savory recipe that features cheese, garlic and herbs as the main flavors.
While the bread recipe isn't especially unusual, the post is worth checking out for the information on the keto diet. This can be found at by-pink.com. There are plenty of details about the diet provided, including why you might want to follow it and what is involved.
Keto Garlic Bread
Here's a good choice if you want garlic bread for dipping. The recipe was developed by Laura at amazingeats.co and you're making a flat version of garlic bread.
You're making four servings with this recipe and each of them contains around 4.4 net grams of carbs. The chopped parsley on the top is a nice added touch, although you could substitute this for a different type of herb if you wanted to.
Garlic And Herb Focaccia
Liz from inspectorgorgeous.com offers a more unusual type of garlic bread recipe. This one is in the style of focaccia bread and even includes a special type of flaky salt on the top.
The style is a stunning alternative to regular garlic bread and ends up looking like something from an artisan store.
Garlic Flatbread
This garlic flatbread recipe comes from forgetsugarfriday.com and it can be used in many different ways. The best thing about the post isn't the recipe itself but the information that it contains.
There are many more pictures than normal, including images of each step along the way. This style helps ensure that you can follow the recipe without any problems. You also know what to expect, which is ideal if you're a beginner.
Tear and Share Garlic Bread
This recipe offers a more traditional style of garlic bread, where you are filling the bread with garlic butter. The bread does include garlic too, but there's something about the addition of garlic butter that makes the whole thing so much better.
There are detailed instructions for each step of the process at mudandlove.com. These instructions and the images peppered throughout the post make this a very easy recipe to follow.
Low Carb Cheesy Garlic Bread
Joan and Chris from tasty-lowcarb.com provide this garlic bread recipe. It falls somewhere between flatbread and a loaf of bread, as there is some depth to the finished bread but not a large amount.
Another feature is that the finished bread ends up being a little chewy. This style works well if you plan to use the bread for dipping. Even if you don't, I'm confident that you'll love the recipe.
Rosemary And Garlic Coconut Flour Bread
This recipe doesn't feature the garlic flavor as heavily as some of the other examples. Instead, garlic and rosemary are both significant. They tend to complement the flavor of the bread, rather than overpowering it.
The recipe itself is easy to follow and you can find all of the details at ketoconnect.net. This also happens to be one of the lowest carb choices on this list, with roughly 1.5 net grams of carbs per serving.
Keto Garlic Bread
This garlic bread recipe might be simple, but it's still a good way to make garlic bread for your household. The recipe comes from tayloredtraining.com.au and you're making four servings of bread at a time.
One unusual aspect is the carb content. A serving contains around nine net grams of carbs, which is higher than you might expect for keto. However, this is because the serving size is larger than normal.
You could easily half or quarter the serving to get a more reasonable number of carbs.
Garlic Shrimp Avocado Bread
Here's one of the most unusual keto bread recipes that you'll see. It comes from ketodietchannel.com and features shrimp. You're not just adding shrimp to the top of the recipe either. Some of the shrimp actually go in the batter.
While the idea isn't what you might expect, it does seem to work. If nothing else, you're getting a different combination of flavors, along with more protein than is normally found in bread.
Amazing Keto Bread Knots
With this recipe, you're not making a loaf of bread or even bread rolls. Instead, you're making garlic knots, which is a completely different style. Julia (from savorytooth.com) mentions that they would work well as a keto appetizer.
As she highlights, the finished knots even look like regular bread. Many people wouldn't be able to tell the difference. She includes a large number of images in her recipe too. These images can help you to get the bread knots exactly right.
Garlic Cheese Bread
The recipe from moscatomom.com looks more like a conventional loaf bread than many other recipes. This isn't too surprising, as Lynsey wanted a loaf of bread that she could slice and that didn't taste too much like egg.
This last outcome is interesting, as the recipe does still contain six eggs. The other ingredients must be a key reason why the flavor of egg doesn't end up being too prominent.
Garlic Bread Bites
These garlic bread bites may not look as professional as some of the other recipes on this list, but that doesn't have any impact on how they taste. The recipe itself is similar to some other garlic bread recipes, which includes a focus on almond flour and on mozzarella cheese.
One key difference is that you can bake the bread in an air fryer or an oven. An air fryer is an unusual choice, but it could be a useful alternative to baking bread in the oven.
Check out the full recipe at subbucooks.com.
Garlic Pull Apart Bread
The pull apart nature of this garlic bread makes it immediately interesting. Such recipes are always fun to eat, especially if you are serving it to guests. The recipe is slightly unusual too. It comes from thesugarfreediva.com and is based on a low carb biscuit recipe from elsewhere on her site.
You need to follow her link and make the biscuits first, then come back and create the garlic pull apart bread. While the process may sound like a hassle, your efforts won't be wasted.
Cheesy Keto Garlic Bread
Here's a recipe that you could call bread or breadsticks. It comes from buttertogetherkitchen.com and is one of many wonderful recipes featured on the site.
I love the way that there are various seasonings included in the bread, along with multiple types of cheese. This choice of ingredients means that you have a very interesting balance of flavor.
There is also a garlic butter spread. This helps ensure that the garlic flavor is intense.
Keto Cheesy Garlic Bread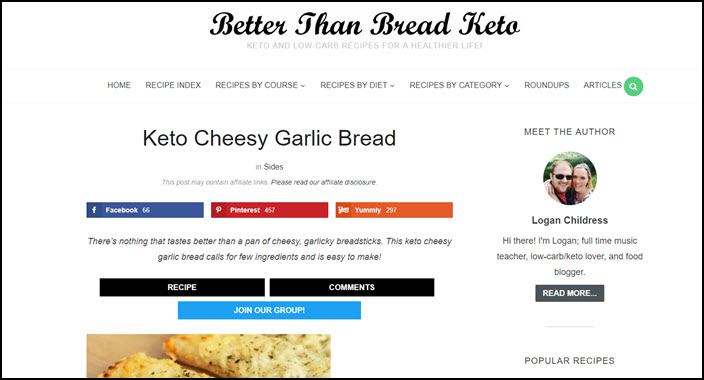 This recipe has many things in common with the previous one, including the title and the overall style. One difference is that there are two main steps for the recipe from betterthanbreadketo.com.
The first of these is to make a keto pizza crust from the same site. Once you've prepared the crust this then becomes the basis for your garlic bread.
While the idea might sound a little frustrating, it does mean that you can use the same pizza crust as the basis for other recipes as well.
Garlic Breadsticks
These breadsticks honestly look like something that you might get at a restaurant or perhaps from a fast food joint. Despite this, the recipe is entirely keto friendly and relies on healthy ingredients.
The recipe itself isn't even that unusual, yet the final outcome certainly stands out from the crowd. You can check out all of the details at kirbiecravings.com. There are plenty of notes included, which can help to guide you towards making the perfect breadsticks every time.
Keto Garlic Bread
This is another style of keto breadstick to try out. It comes from the site sugarfreelondoner.com. You're basically making an almond flour garlic flatbread and then cutting it into pieces.
The flatbread can be easily used for dipping or just eaten as-is. Katrin also mentions that the flatbread ends up being surprisingly filling. This is because it has a high amount of fat in it.
Garlic Butter Keto Bread
Here's a recipe from eatwell101.com. It has a herbed parmesan crust and this is brushed with garlic butter. The style creates a strong contrast of flavors.
You also end up with bread that looks amazing in the pan. This is one type of keto bread that would quickly disappear, even among people who don't follow the keto diet.
Buttery Keto Garlic Bread
One of the best things about this recipe is that it isn't cheesy. Don't get me wrong, cheesy garlic bread is amazing and is perfect for many situations. Even so, it isn't always the best choice.
Sometimes you don't want anything to get in the way of the bread and garlic flavors. The recipe is also a fairly simple one. This means that you don't need to worry about complex steps or ingredients. Check it out for yourself at ditchthecarbs.com.