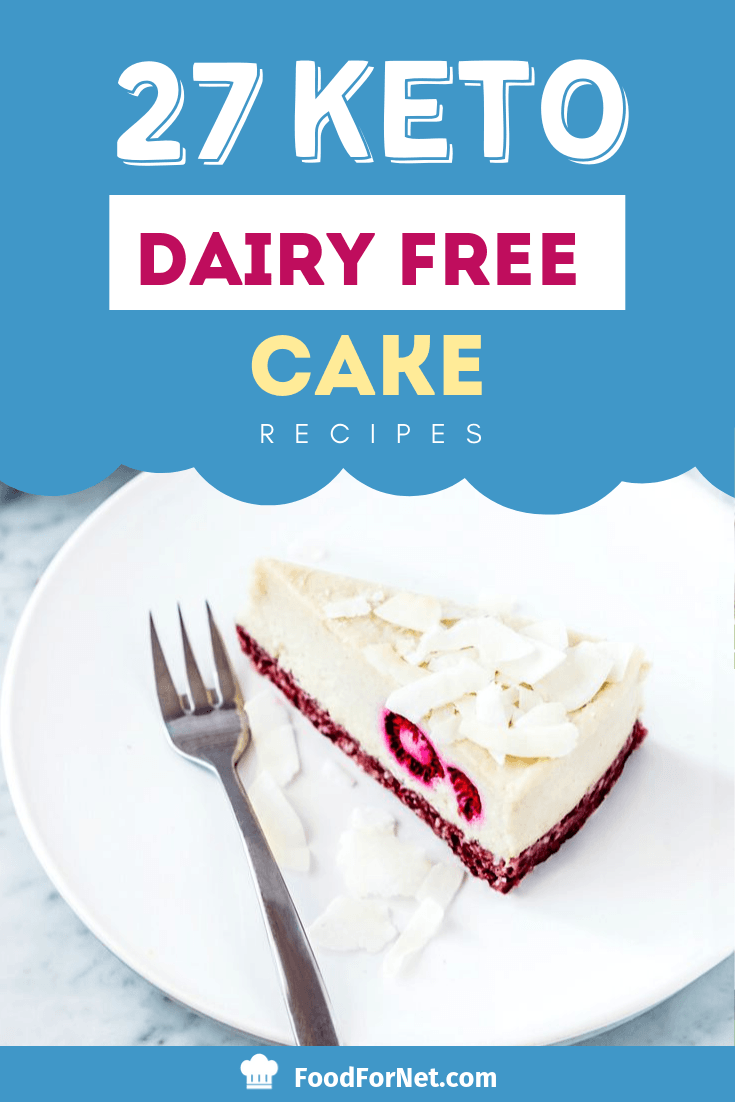 Being on a dairy free keto diet shouldn't mean that you need to miss out. After all, there are plenty of creative recipe makers out there, including ones that specialize in keto techniques and food.
That's how we've been able to create this list of keto dairy free cake recipes. In it, we focus on recipes from many different bloggers. Some of them are focused on the keto diet, while others offer a variety of recipe types on their site.
By highlighting so many authors, we're able to offer you plenty of different cake styles and flavors to try out. You wouldn't get nearly as much variety if you focused on recipes from just one or two bloggers.
A list like this one can also help you to find some new favorites, ones that you may have never stumbled across on your own.
Keto Dairy Free Cake Recipes
PS. There are many other sweet choices on a keto diet too, including dairy free desserts, cookies and ice cream.
PPS. You can also take a look at dairy free snacks. These come in a range of styles. Some are sweet, while others are savory.
Chocolate Hazelnut Celebration Cake
Doesn't this chocolate cake simply look amazing? It comes from ketodietapp.com and really is entirely dairy free. This would be a great dessert to serve at a party. The reviews for the cake show that it is every bit as good as the image suggests. The main limitation is that this cake does take a bit of work to prepare. Still, that's true for many cakes and the end result is always worth the effort.
Coffee Cake
Sara from realbalanced.com offers this coffee cake that you can try. There are two parts to the recipe. One is the coffee cake itself, while the other is the crumble topping. The topping is really what makes this cake stand out from the crowd. Another advantage is the carb content. There are only 1.7 net grams of carbs in a serving.
Egg-Free Low Carb Lemon Cake
This lemon cake is another style that you can try out. The recipe isn't just dairy free. It also excludes eggs. While the cake ends up being perfect for many diets, including paleo, keto and gluten free approaches, it isn't a vegan recipe. There are various steps involved in making the cake, along with a decent ingredients list. You don't need to worry about those aspects. Leanne from healthfulpursuit.com provides detailed instructions that you shouldn't have any problems following.
Vegan Keto Chocolate Cake
Here's another interesting cake to try out. This one comes from compassionateketo.com and it is a vegan cake. I love the style of the icing, along with the square shape of the cake. Of course, you could change either of those aspects. Another cool feature is that this is a layered cake with a raspberry filling. It is bound to taste amazing and will impress anyone that you serve it to.
5-Ingredient Flourless Chocolate Pumpkin Mug Cake
This dairy-free dessert follows the mug cake style. It only uses five ingredients, so the mini cakes are fast and easy to create. You're not using any flour or flour alternatives either, which is another bonus. The recipe comes from lowcarbsosimple.com and you're making a single mug cake at a time.
Cinnamon Swirl Coconut Flour Mug Cake
This recipe is another mug cake choice, from sugarfreelondoner.com. The style is very similar to a cinnamon roll. Unlike a traditional cinnamon roll, this version is low in carbs and is fast to create. This style makes it a perfect keto snack, one that you're bound to love. The flavors of a cinnamon roll are also a nice alternative to more common cake flavors, like chocolate.
Mocha Coffee Cake
Here's a larger cake to try out. It is still surprisingly easy to make, taking a total of 50 minutes from start-to-finish, which includes the prep time. You make roughly eight slices of cake, which contain around two net grams of carbs per serving. The cake offers a decent amount of protein too, with eight grams of protein in each slice. This protein would make it surprisingly satisfying You can find information on making the cake at grassfedgirl.com.
Lemon Poppyseed Bundt Cake
This bundt cake, from traditionalcookingschool.com, simply looks amazing. I love the inclusion of poppy seeds, along with the lemon flavor. The downside is that the recipe does take time to create. There is a fairly long ingredients list and plenty of steps to follow. Still, the finished cake is worth the effort that you put in.
Blackberry Cake
Here's another style of cake that you might consider trying. It is a variation on the coffee cake idea and comes from the site joyfilledeats.com. The inclusion of blackberries is such a great approach. They add a fantastic burst of flavor to the cake, taking it to the next level. The different layers also make the plate look particularly good on the plate.
Chocolate Olive Oil Bundt Cake
Here's a bundt cake recipe for anyone who loves chocolate. It comes from the site iheartumami.com and has a perfect balance of sweet and savory. That balance is partly achieved by the use of olive oil in the cake itself. The individual bundt cakes also look amazing. They would be perfect for serving to guests or as holiday treats.
Chocolate Cake
While we're on the topic of chocolate, here's a chocolate cake recipe to try. It comes from Monica at themovementmenu.com and looks just like a conventional chocolate cake (a decadent one at that!). This style is reason enough to check the cake out. Monica mentions that one of the best things about the recipe is the frosting, which relies on avocado and cacao. While that combination might sound odd, it clearly works well.
Chocolate Avocado Cake
This recipe, from sweetashoney.co, is another one that relies on chocolate and avocado as ingredients. Don't worry about the avocado, you won't taste it at all. This recipe makes a smaller cake than the previous example and has just a single layer. The smaller size can be a good thing, as it makes the cake easier to prepare. You'll probably find that one layer is more than enough in most situations.
Carrot Cake With Coconut Butter Frosting
Here's a fantastic carrot cake recipe to try. It comes from the site momsecrets.co and may not be what you're expecting at all. I love the bright yellow color of the cake. The coloring almost looks artificial, but it is actually entirely natural. The visual style should make this an especially good recipe to serve to kids. Another cool thing is the chocolate ganache. This can be kept in a jar for as long as two weeks, so you could prepare it ahead of time. I'm sure you could find plenty of other uses for the ganache too.
Keto Carrot Cake
Caitlin from grassfedgirl.com offers another carrot cake recipe to consider. This one looks more like a traditional carrot cake and still manages to be keto friendly and suitable for paleo diets. However, there are distinct paleo and keto approaches for sweetening the cake. As a result, you cannot make the cake paleo and keto friendly at the same time. The recipe also relies on almond flour, so it isn't a good choice for people with nut allergies.
Chocolate And Coconut Mug Cake
This recipe comes from ketodietapp.com and is a simple mug cake to try out. Each mug cake contains just five net grams of carb, making a single cake perfect as a keto snack. Martina also includes plenty of details about variations that you can make to the recipe. One of these involves decreasing the number of eggs to create a cake that tastes less 'eggy'.
Paleo Pumpkin Bundt Cake
This bundt cake looks amazing. It comes from the site mypcoskitchen.com and makes ten slices. Each slice has a little less than five net grams of carbs. The cake can be easily frozen and thawed, giving you plenty of options for how to use it. Mira mentioned that she cut some of the cake up into slices, wrapped these individually and then froze them. She was able to thaw the pieces out individually as she needed them. Doing so is a practical way to have cake whenever you want it, without being tempted by fresh cake within arms reach.
Coconut Mug Cake
Here's a mug cake recipe that was featured on the site kirbiecravings.com. It uses coconut as the main flavor, which is a little unusual. As Kirbie mentions, many recipes try to hide the flavor of coconut flour, while this one highlights the coconut instead. Needless to say, you'll want to be a fan of coconut if you're going to try this one out.
Coconut Lime Cake
This recipe comes from Cristina at thecastawaykitchen.com and is another coconut-based approach. Lime is featured in the cake as well, creating a tropical flavor that works perfectly. Despite the elegant appearance, the cake itself is easy to make. Cristina even includes a video to step you through the process.
Pumpkin Spice Cake
Fans of pumpkin are certain to love this recipe. It comes from the site meatfreeketo.com and is a vegan keto recipe. The cake takes roughly 50 minutes to prepare and each serving contains around 4.3 net grams of carbs. Liz promotes the recipe as a breakfast choice, but it could easily be a keto snack too.
Vegan No Bake Carrot Cake
This recipe, from thebigmansworld.com, can be made in a single bowl. It's a raw recipe, so there is no cooking involved. The end result is a cake that is easy to prepare and won't make a mess. There are two versions of the cake listed on the site. One is paleo friendly and the other is keto friendly. While the cakes themselves are quite different than one another, they do use the same frosting.
Coconut And Vanilla Friands
Gerri from myketokitchen.com provides these friands. They're basically small cakes that use a specific type of mold. The style works well, as you end up with snack-size cakes that you can serve to others or keep for yourself. Gerri mentions that the cakes taste the best when they're warm. Simply microwaving them for around 30 seconds is enough to get them to the ideal temperature. Each of the friands contains just two grams of net carbs.
Carrot Cake With Almond Flour
Here's another carrot cake recipe, which comes from wholesomeyum.com. The cake looks stunning, especially with the two distinct layers and the icing. While the original version of the recipe does contain dairy, Maya offers a dairy free version as well. She says that the dairy free approach isn't quite as good, but you'll still end up with a tasty cake at the end.
Macadamia Nut Coffee Cake
I love the inclusion of macadamia nuts in this coffee cake. It's easy to see how the cake would disappear quickly, especially as there are other interesting flavors included too. The recipe itself comes from primaledgehealth.com. Jessica mentions that you can use other nuts instead of macadamia nuts if you need to. Like the previous cake, this recipe isn't dairy free by default. Instead, you'll need to follow the modifications that Jessica provides to create a dairy free version.
Blueberry Almond Flour Coffee Cake
This recipe from simplysohealthy.com has to be one of the best looking dairy free cakes that I've seen. The blueberries simply look stunning and they contrast well against the rest of the cake. There are plenty of images included on the site, making it clear what you need to do every step of the way. There are just three net grams of carbs per serving of the cake and you make nine servings from the recipe.
Healthy Blueberry Breakfast Cake
Arman from thebigmansworld.com offers another recipe that features blueberries as a key ingredient. The end result isn't quite as spectacular as the previous example, but it would still be a fantastic recipe to serve to guests. There are two versions of the recipe on the site. One of them is suitable for keto and paleo dieters. This version is dairy free too. The other version is vegan friendly. This one can work for keto too, as long as you choose a low carb sweetener.
Sugar Free Lemon Cake
If you're in the mood for lemon cake, check out this recipe from themovementmenu.com. It has a perfect balance of sweet and tart, which is complemented by the vanilla buttercream icing. The cake manages to look amazing too, especially if you follow the decorating approaches that Monica took. I had to laugh slightly at once of the comments for this recipe, as Monica apparently left out lemon from the initial version of the ingredients list. Don't worry, the recipe is correct now.
Tahini Chocolate Mug Cake
This final recipe is for all of you chocolate lovers. It comes from Beth at tasty-yummies.com and can be prepared in less than five minutes. The cake isn't just perfect for paleo and keto dieters. It is also a low FODMAP recipe, making it great for anyone with food sensitivities. The simplest way to make the recipe is in a microwave, which only takes around 90 seconds. Beth also provides the information for baking the mug cakes in an oven, if you would rather follow that approach.