Sous vide is a fairly limited cooking method, but there's one thing that sous vide does better than any other style of cooking – eggs. These sous vide egg recipes are guaranteed to make fluffy, soft, delicate eggs for breakfast, dinner, snacks, & dessert.
For one thing, sous vide lets you get consistent outcomes with eggs. Honestly, this is reason enough to try the idea. After all, most of us regularly overcook eggs and it's difficult to exactly the right consistency every single time. Additionally, sous vide can lead to different textures and eggs that are simply amazing.
There are still many cases where I would cook an egg regularly, rather than using sous vide. But, all of the recipes on this list are great examples of sous vide eggs that you won't want to miss.
PS. You know what goes great with eggs? Hot sauce. Try one of these hot sauce subscription boxes for craft, hand-made, small batch hot sauce delivered monthly to your home. Never run out, and try new, exciting flavors with each shipment!
Sous Vide Egg Recipes
Sous Vide Chawanmushi
Sous Vide Blueberry and Saffron Crème Brûlée
Sous Vide Homemade Eggnog
Sous Vide Egg Bites
Sous Vide Ramen Eggs
Sous Vide Egg Yolk Croquette with Gruyere Foam
Sous Vide Soft Poached Eggs
Sous Vide Eggs St. Denise
Sous Vide French Toast
Sous Vide Ham and Manchego Egg Bites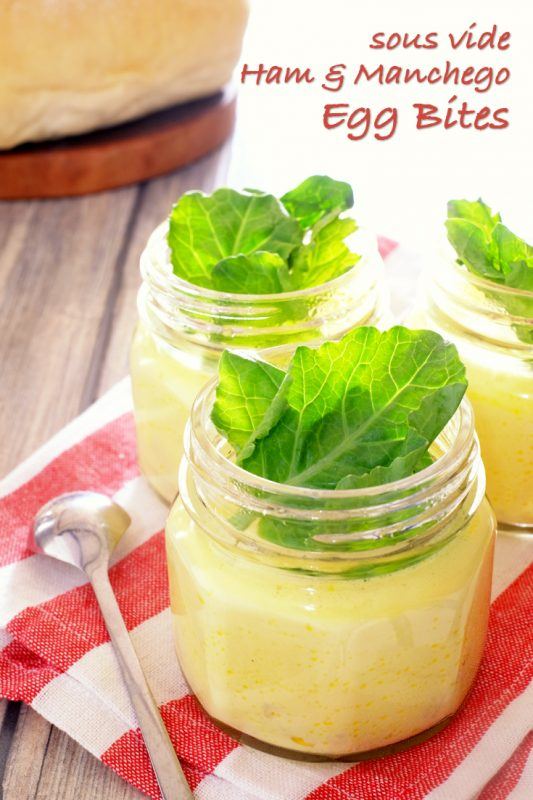 These Ham and Manchego Egg Bites are one of the best ways to use sous vide for eggs. The little bottles simply make for fantastic snacks and they're also an interesting choice for breakfast. Plus, the bites are in their own jars, so it's easy to take one with you and eat it on the go.
For the most part, egg bites are a little bit like a quiche, although there are fewer ingredients. The texture is similar though and you get all of the nutrition that eggs have to offer, along with that popular combination of egg, ham and cheese flavors. The recipe also offers information about variations so that you can get the exact texture and flavor that you prefer.
Sous Vide Chawanmushi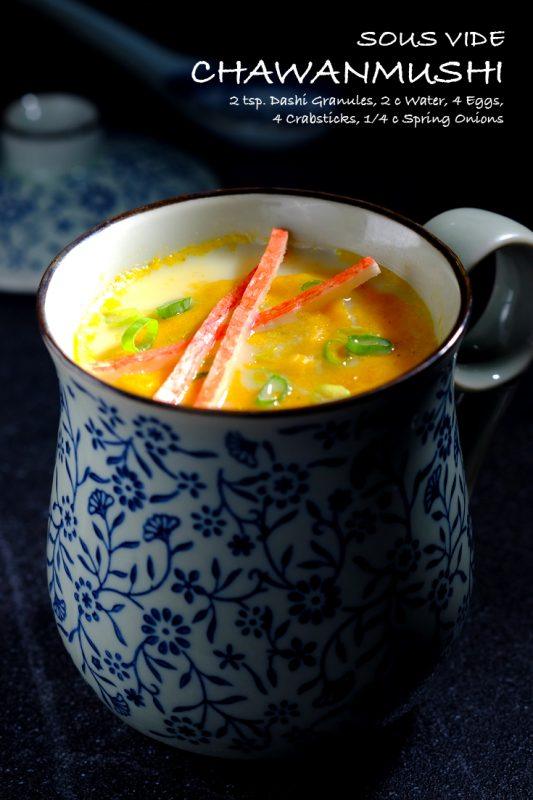 This Sous Vide Chawanmushi may sound similar to the egg bites from before but there are also many key differences. In this case, the flavor profile is distinctly Japanese, while the texture of the finished product is also silky and less dense. The finished dish comes together very well and they look impressive in the cup.
You could still use these cups as a fast snack or a breakfast but the most common approach would be as an appetizer. The Chawanmushi is perfect in that role, especially if you have some guests that you want to impress. You could also serve it before other Japanese-style sous vide recipes, if you wanted to.
More Japanese sous vide recipes.
Sous Vide Blueberry and Saffron Crème Brûlée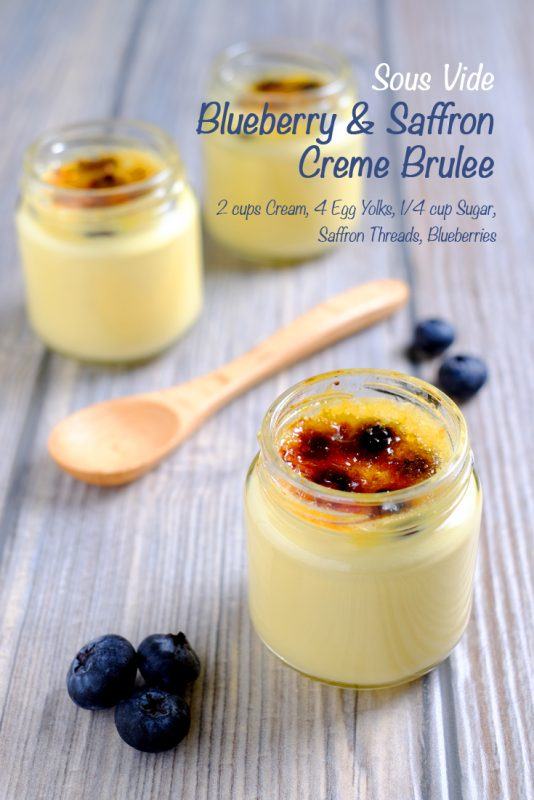 Egg sous vide recipes don't always have to be savory. In fact, this Blueberry and Saffron Crème Brûlée is a variation on a common sous vide dessert. As with the previous two examples, this is a recipe that you cook in small jars, making for easy portion sizes. This also makes the dessert easy to prepare ahead of time and store.
What I love the most about this recipe is the flavor profile. The extra ingredients make the crème brûlée taste more interesting, without overwhelming the natural flavor of the dessert. You can also vary this up further based on your own preferences.
Sous Vide Homemade Eggnog
This Homemade Eggnog recipe comes from www.chefsteps.com and it is another interesting egg option for sous vide. Admittedly, we're at the wrong time of the year for eggnog but the recipe was too interesting to exclude from the list. It's also great to be able to make your own eggnog when the time comes – and the drink doesn't have to be saved until the winter either. Instead, you can make it at any time and even add booze to it, making a great cocktail.
Remember, Chefsteps is the same company that makes the Joule, my all-time favorite immersion circulator for cooking sous vide.
More sous vide dessert recipes.
Sous Vide Egg Bites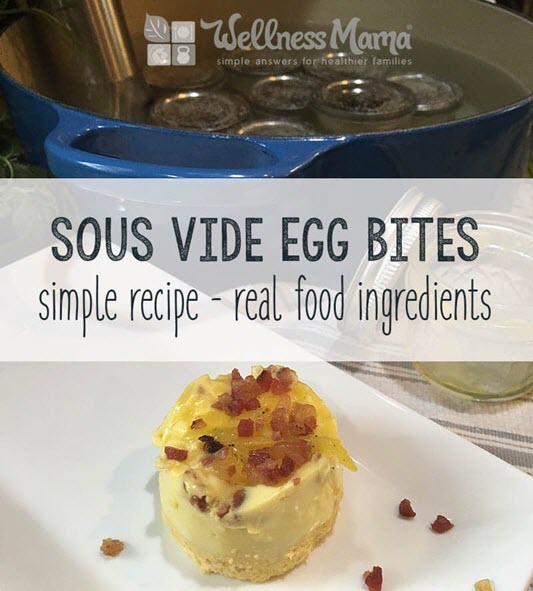 Earlier on, I highlighted one recipe for egg bites and this recipe is the version that Katie from wellnessmama.com has created. While there are some similarities between the two, the style here is very different and ends up looking fun on the plate as well.
In her recipe, Katie also mentions variations that you can use, including simply leaving the cheese out if you don't want it. The style of recipe is also great for any keto dieter and for everyone who loves their eggs.
Sous Vide Ramen Eggs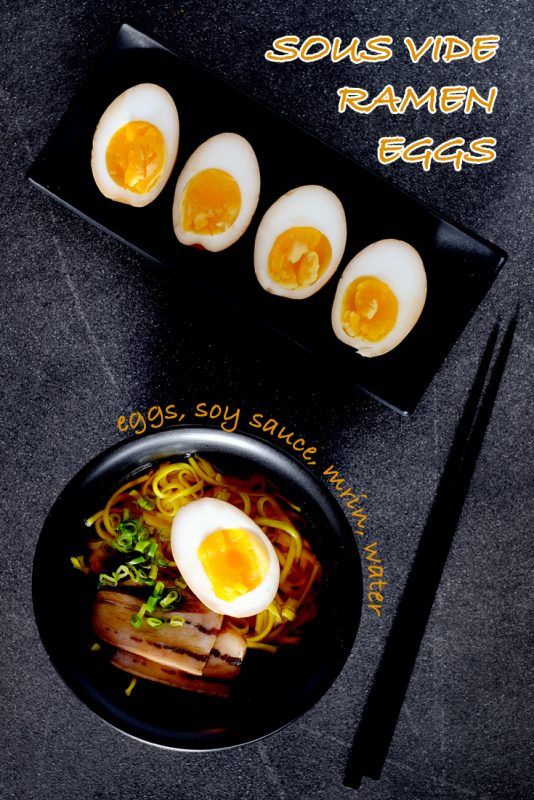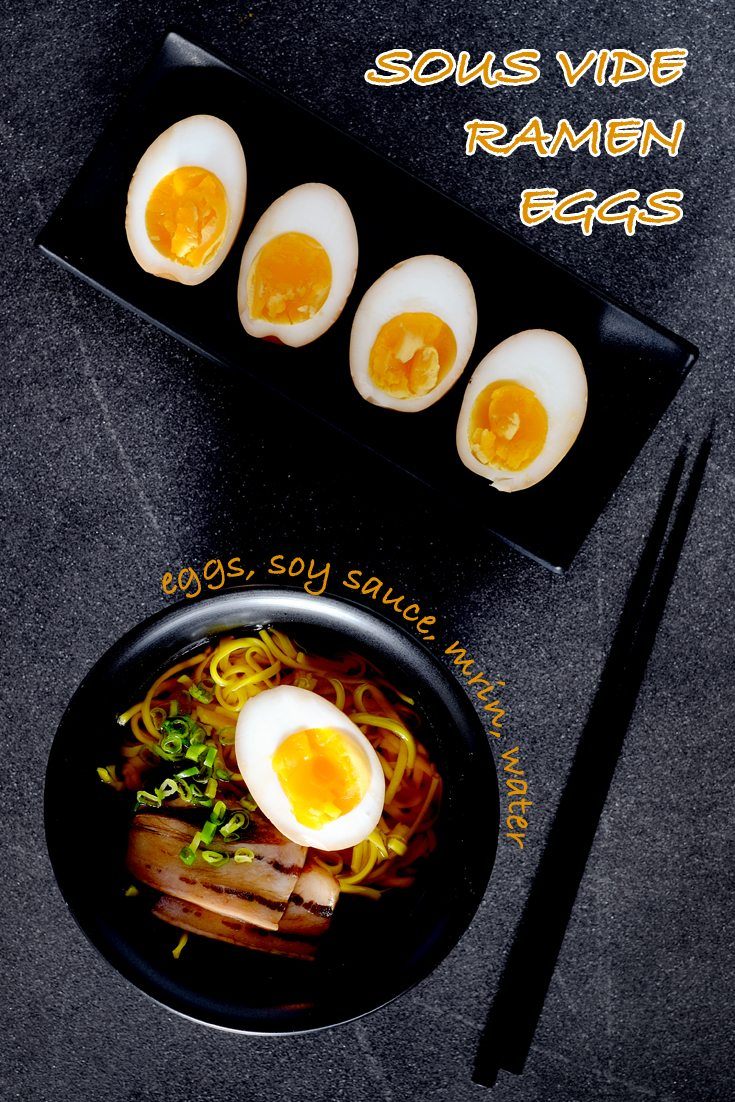 One key characteristic of ramen is great eggs, which is why this Sous Vide Ramen Eggs recipe is so important. The directions here mean that the white of the egg will be fully set every single time, while the yolk is slightly runny. Being able to do this consistently is amazing, especially as doing the same thing when boiling eggs produces varied results.
Of course, you don't have to use the eggs for ramen. Instead, there are countless different reasons that you might make them, such as just eating the eggs as snacks. But, if you've ever considered making traditional ramen, these eggs make the perfect accompaniment.
More Asian sous vide recipes.
Sous Vide Egg Yolk Croquette with Gruyere Foam
This dish comes from molecularrecipes.com and the site does tend to produce some fairly elaborate meals. In this case, there are two components, one is the egg yolk croquette and the other is the foam. The croquettes themselves are the main reason for including the recipe on this list, as you've basically got deep fried egg yolk, which ends up being completely amazing.
If you have the tools, you could also make the gruyere foam as well, although the egg yolks would work well enough on their own. Alternatively, any sauce that complements egg yolks would be effective in the place of the foam.
Sous Vide Soft Poached Eggs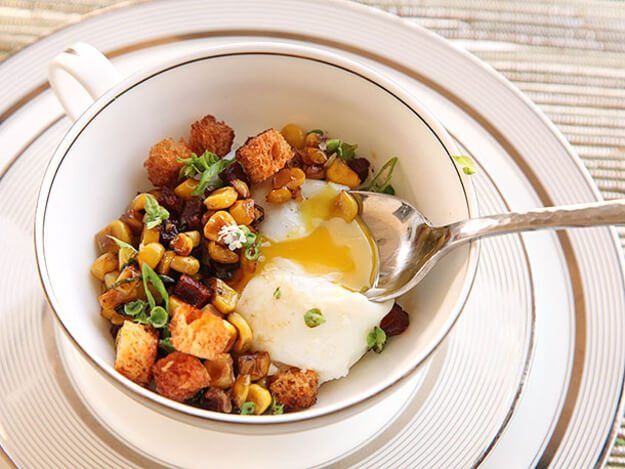 I've always loved poached eggs and this recipe from seriouseats.com offers insight into how you can do this perfectly every time. For that matter, the site itself offers a wealth of information about ways to cook various sous vide dishes and the impacts that time and temperature have on the end result.
With that in mind, the recipe works very well if you want to get your poached eggs right every time. The final consistency is also a little different than regular poached eggs and that is another reason to try these out. Personally, I much prefer poached eggs via sous vide, regardless of what you're planning to use them for.
My only problem with poached eggs in the morning is that I have to get up and make them. That's why I now use the wifi-endabled Joule to start the eggs cooking while I'm still in bed (I place them in the water the night before)
Sous Vide Eggs St. Denise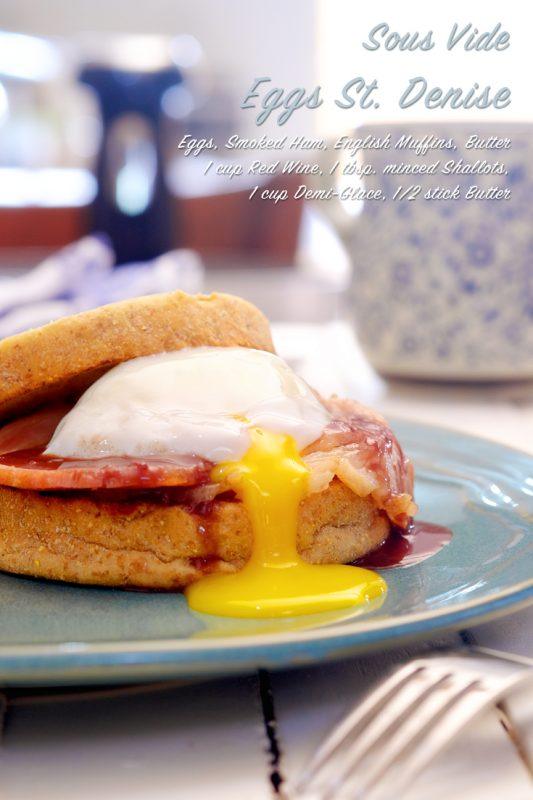 Eggs benedict may be the most common way to serve eggs on English muffins but Eggs St. Denise is another style that can work very well. With this recipe, you end up with something that looks a little like a breakfast sandwich and would be very satisfying overall. The red wine demi-glace complements the entire dish well and is very easy to make.
The recipe here contains information for poaching eggs via sous vide, although you could use the approaches from the previous recipe as well. Either option works well.
Sous Vide French Toast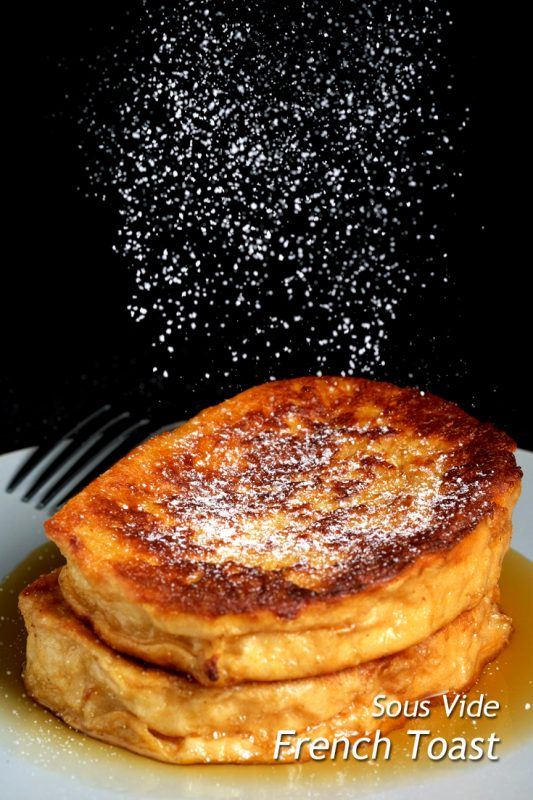 Many of the recipes on this list make great choices for breakfast and this Sous Vide French Toast is no exception. The idea of using sous vide for French toast does sound a little strange but this was the best version of French toast that I've ever made.
The main reason is the texture, as the sous vide lets you get the internal texture precisely right, without overcooking the outside. In fact, that pattern is why sous vide works so well for meat.