There are so many different ways to cook beef, including grilling, stewing, smoking and baking. Sous vide is one more addition to that list and it comes with its own set of advantages. This is one of my own personal favorite approaches to cooking red meat, and these sous vide beef recipes will show you why.
For many people, the key reason for choosing sous vide is consistency. No other cooking technique will give you such precise control over temperature and that control ensures that you get the same result every time you prepare a dish. At the same time, sous vide makes it incredibly difficult to overcook anything. Even if you do leave the food in too long, the end result is still surprisingly moist and tasty in almost every situation.
Personally, I love the variety of different recipes that you can make with sous vide. I've also found the technique to be powerful for getting additional flavor into food and creating textures that I simply couldn't get otherwise. These 10 sous vide beef recipes are all examples of how much you can do with sous vide and are all great meals to try.
Keep in mind, you have to start with a good cut of meat, from a high quality source. You can cook a decent steak from your local big box grocer, but it won't be as good as grass fed beef from local farms. I recommend a steak of the month club to start, so you can see what you're missing out on.
Is this your first time cooking sous vide? Ready to upgrade to 21st century? Check out my Joule review to see what my favorite immersion circulator looks like and why I love it so much!
Sous Vide Beef Recipes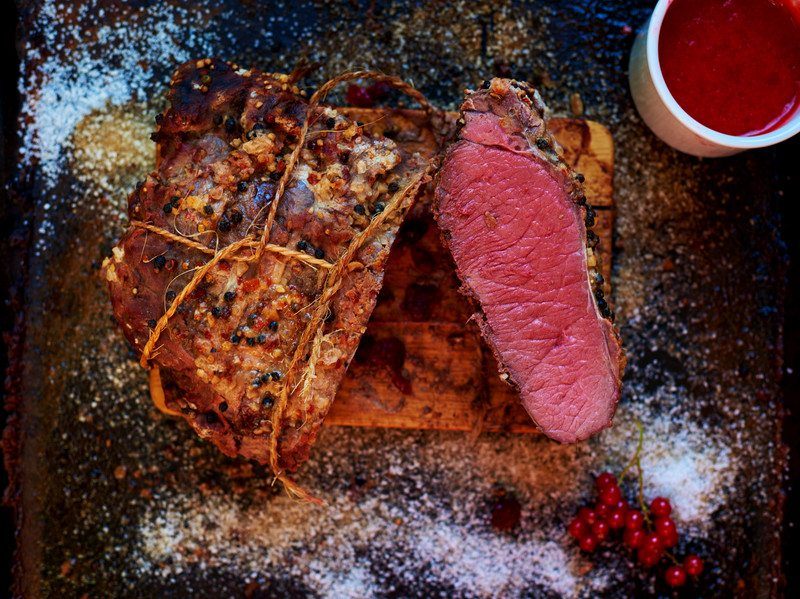 Red Curry Sous Vide Crusted Beef Prime Rib
Sous Vide Miso-Glazed BBQ Beef Steaks
Sous Vide Greek Burgers with Feta Cheese
Sous Vide Spiced Rubbed Beef Short Ribs
Sous Vide Beef Filet Tail with Sweet Potato Mash
Sous Vide Beef Kaldereta
Sous Vide Filet Mignon with Liver Compound Butter
Sous Vide Beef Shogayaki
Smoky Sous Vide Meatballs
Sous Vide Smoked Beef Chuck
Red Curry Sous Vide Crusted Beef Prime Rib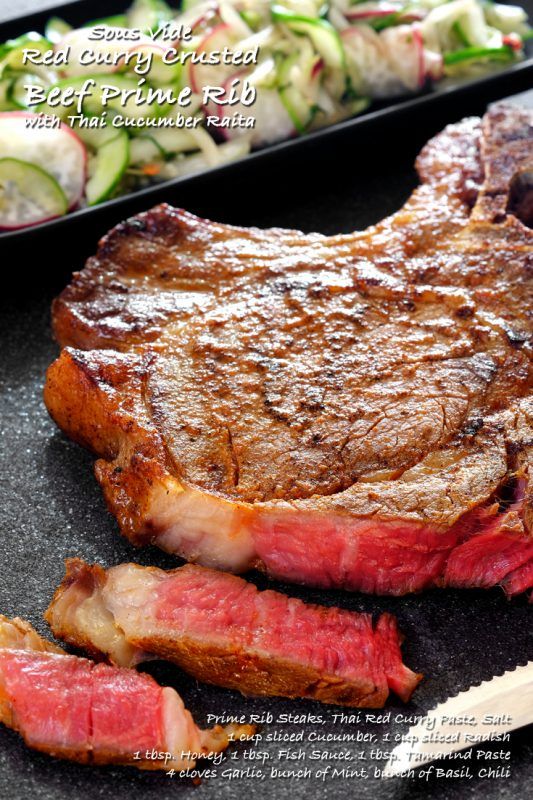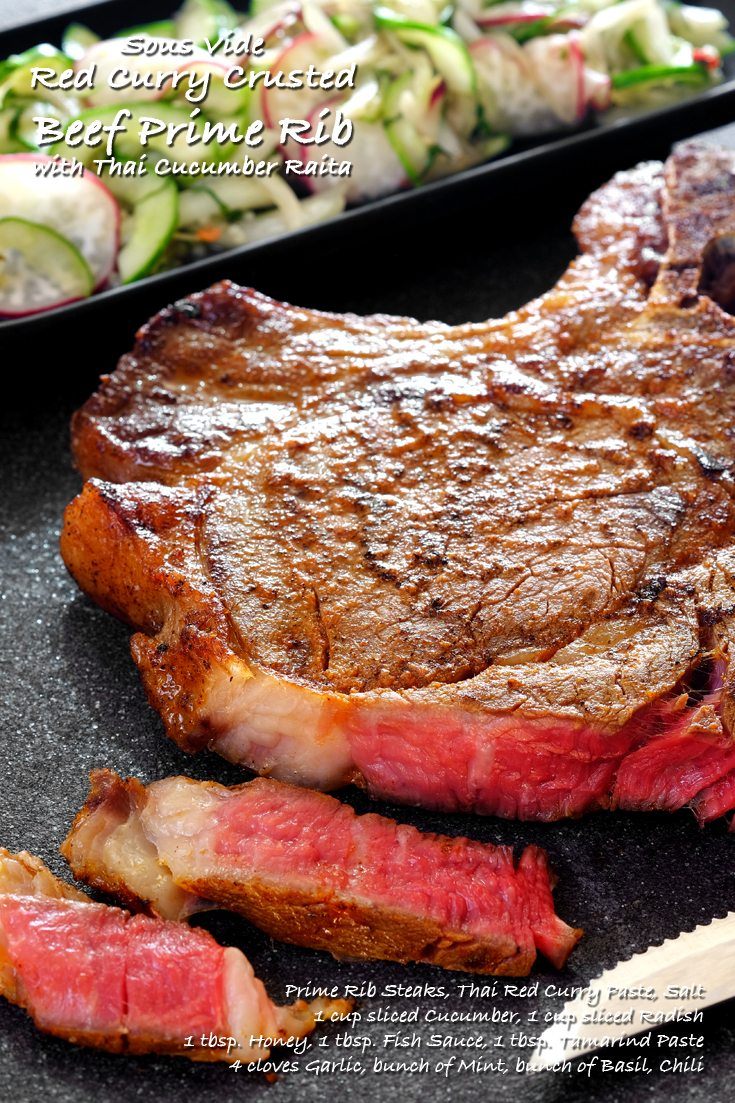 My goal with this Red Curry Crusted Beef Prime Rib was to create something that's a little bit different. Sure, regular steak is amazing, as are the typical smoky flavors that we're all used to. But, trying something different is often worthwhile and this recipe is a good way to do so.
The ingredients choice means that this steak ends up with a distinctly Asian-style flavor profile. With this recipe, most of the flavor comes in during the searing process, which is where you're using the red curry paste. The raita also pairs perfectly with the steak, making an attractive (and tasty!) meal all around.
If you love curry, you'll dig these Indian sous vide recipes.
Sous Vide Miso-Glazed BBQ Beef Steaks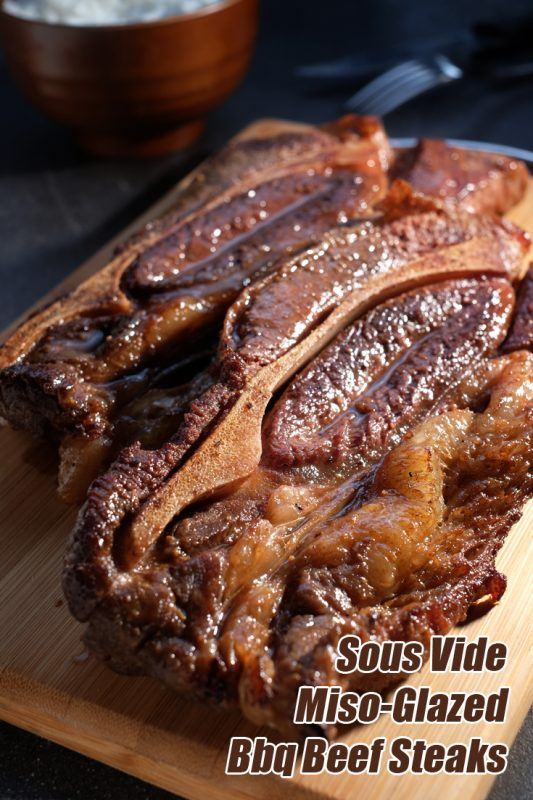 These Miso-Glazed BBQ Beef Steaks are another example of making steak a little bit more unusual. In this case, I was interested in the Japanese flavors that miso paste brought to the mix and I wasn't disappointed with the end result.
But, the flavor is only one part of the equation. The other interesting aspect is the tenderness. BBQ steak tends to be a fairly tough cut of meat but it ends up tender after cooking it in the sous vide. By the time the cooking is done, you wouldn't even know that these were cheap cuts of meat. That's a win in my book.
Sous Vide Greek Burgers with Feta Cheese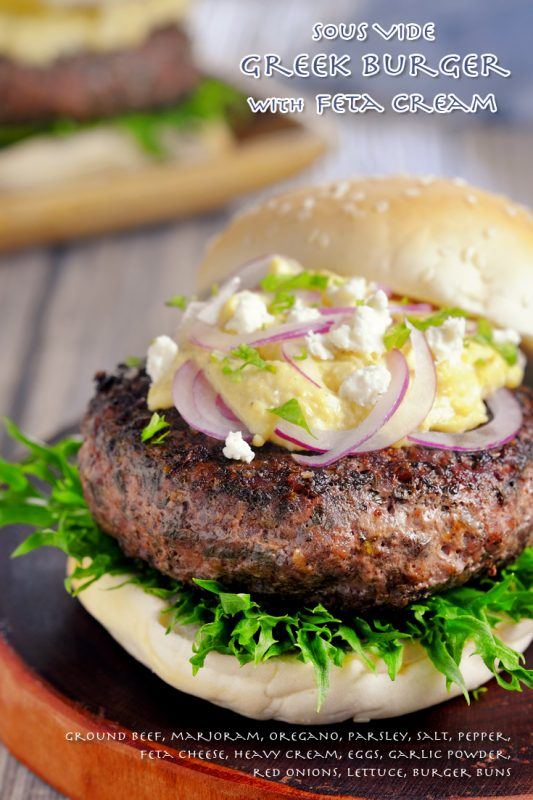 I love the flavors of Greek cooking, which was partly why I made these Greek Burgers with Feta Cheese. Once again, I was trying to make a dish that is a little bit different and these beauties would stand out at any barbecue or dinner. Visually, the burgers are stunning, especially if you make the feta cheese component as well.
Using sous vide helps you to get the thick patties cooked all the way through, without burning the outside. Getting this outcome with regular grilling would be tough, especially as you don't want to have to break the patty to be sure it's cooked. Honestly, that aspect alone is why sous vide is perfect for burgers.
Sous Vide Spiced Rubbed Beef Short Ribs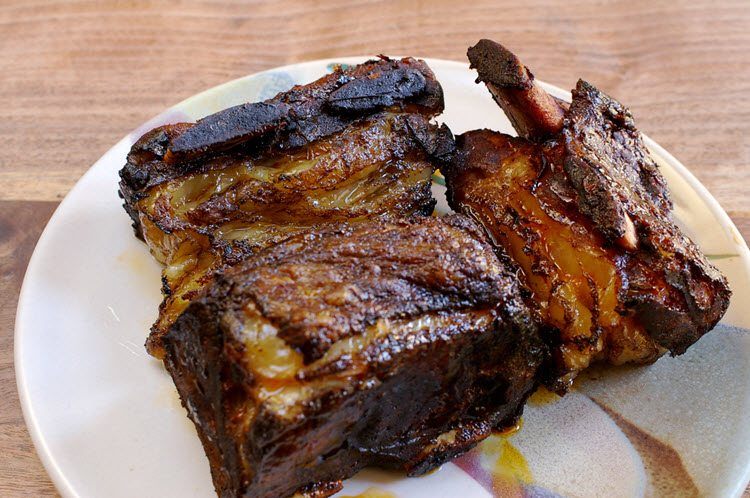 This recipe comes from rikishore.com and it's a relatively simple way to make short ribs in the sous vide. But, don't let the term simple fool you – because many such recipes end up tasting amazing. In this case, the choice of flavors means that the ribs will stand out, while the natural taste of the beef will still shine through.
At the same time, sous vide ribs are amazingly tender. The texture just adds to the dish, making it that much more attractive.
Sous Vide Beef Filet Tail with Sweet Potato Mash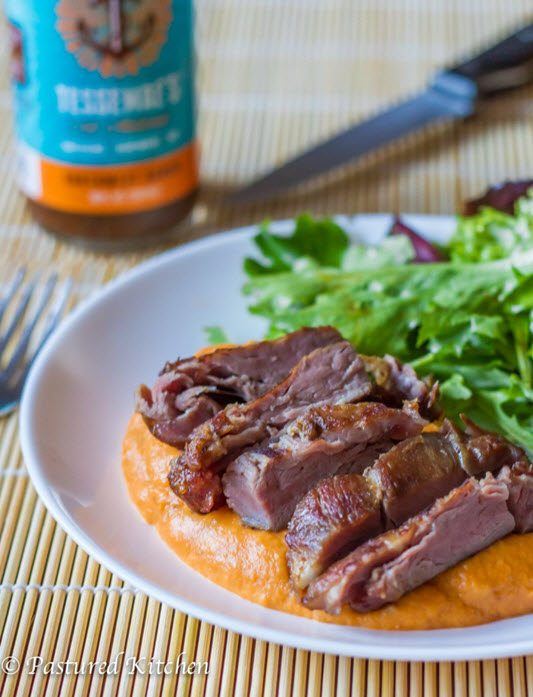 Here's another interesting recipe, which I found at pasturedkitchen.com. With this recipe, the cut of meat chosen is beef filet tail. That's somewhat unusual and you could use something else instead. But, as the author notes, the choice of meat does play a key role in the finished dish, so it's worth finding the listed cut if you can.
The recipe also heavily relies on compound butter, which helps to give it a depth of flavor that you wouldn't normally see. Finally, there is information provided for the sweet potato mash as well. This pairs perfectly with the beef, both in terms of the color and the flavor.
Sous Vide Beef Kaldereta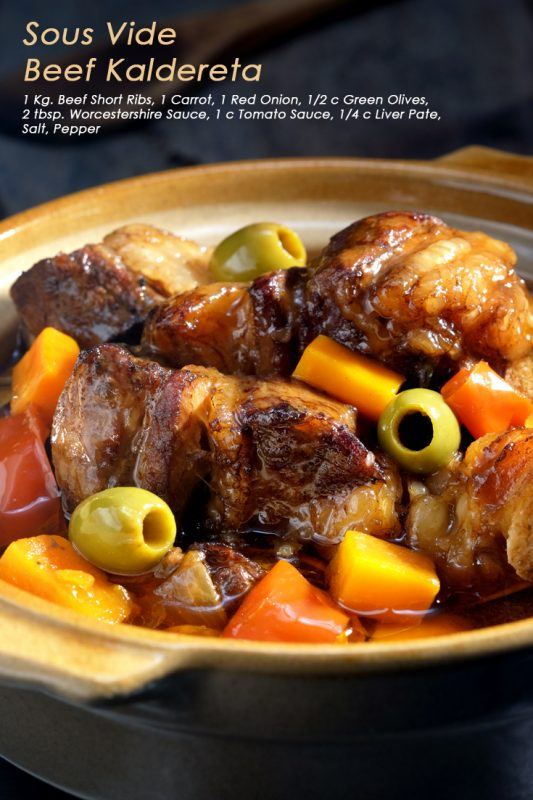 Beef stew is normally made with a slow cooker but this Beef Kaldereta ends up so much better when you use the sous vide. The main advantage is the depth of flavor. With slow cooked food stews, you often find that some of the flavors are lost as the cooking time progresses, especially as you have to have enough liquid in the pot at all times.
In contrast, sous vide allows for more concentrated flavors overall. By the time you're done with cooking the meat is also very tender and you can even increase the cooking time further if you want it more tender still. Additionally, sous vide results in a better texture all around, so you don't have to worry about your beef turning to mush.
Sous Vide Filet Mignon with Liver Compound Butter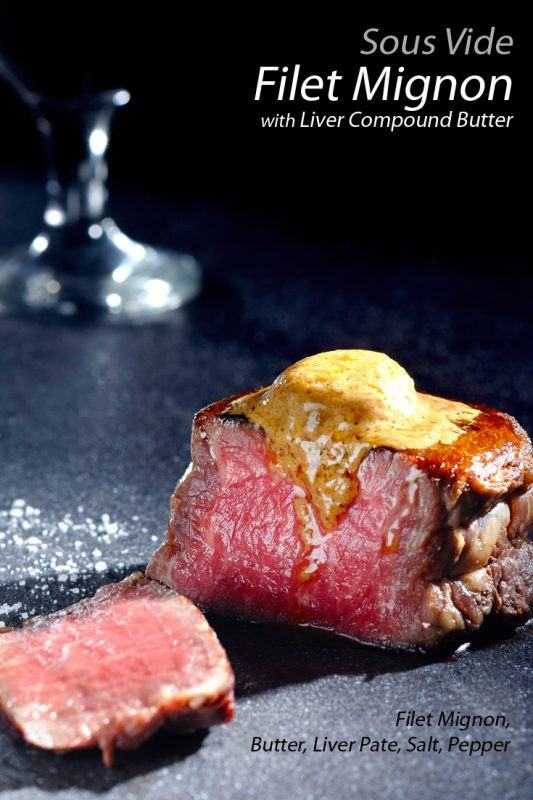 This Filet Mignon is a fairly simple example of sous vide beef but that isn't a bad thing. Instead, the recipe is focused on getting the exact right degree of doneness and letting the natural flavor of the steak shine through. With that in mind, the main additional flavor simply comes from the liver compound butter and this is more than enough.
As you can see in the image, the end result is perfectly cooked steak. Even more importantly, that outcome is consistent. This means no more guesswork, even with cooking a steak as thick as these ones.
Sous Vide Beef Shogayaki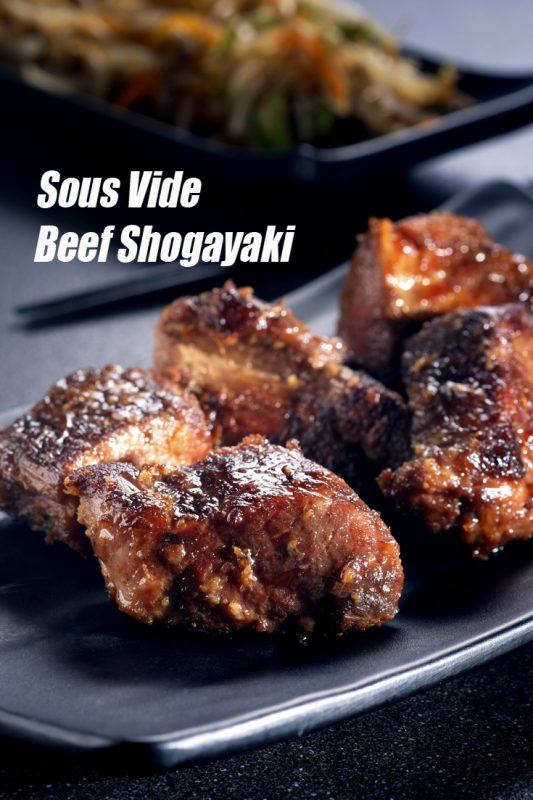 This Sous Vide Beef Shogayaki is simplicity itself but it is an amazing meal to serve family and friends. In particular, there are few extra steps involved in the recipe and the prep work just involves making a flavor base that the meat is then cooked in. After that, it is just a matter of searing the meat and perhaps making some vegetables to go alongside.
The end result is an easy meal that is bound to impress.
Smoky Sous Vide Meatballs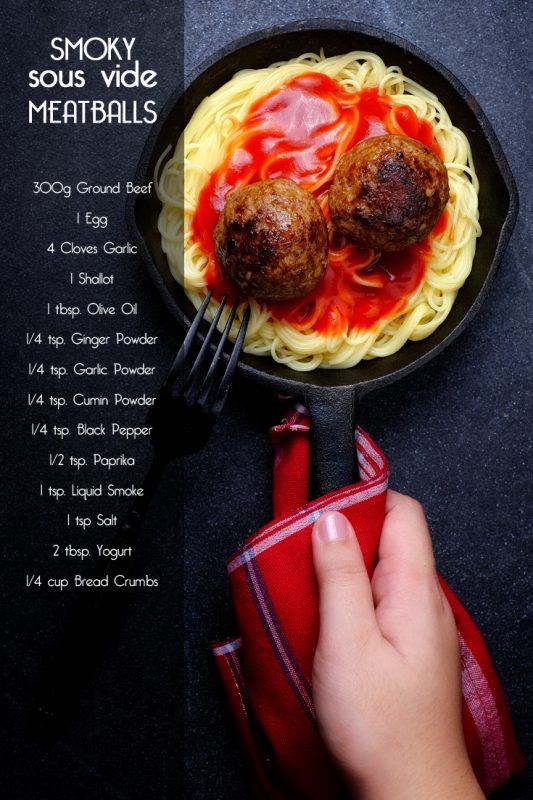 Meatballs are a classic recipe, especially as they can be used in so many different situations and meals. These Smoky Sous Vide Meatballs are my own variation on that theme, where I take full advantage of the sous vide. The recipe also offers a smoky flavor, which allows them to complement many different meals.
I personally love using the sous vide for meatballs, even though they're a pretty basic food. The main reason is that meatballs may be easy to cook but they're hard to get perfect. Instead, you often end up overcooking them or burning the outside before the middle is done. Sous vide lets you avoid all of those issues.
Sous Vide Smoked Beef Chuck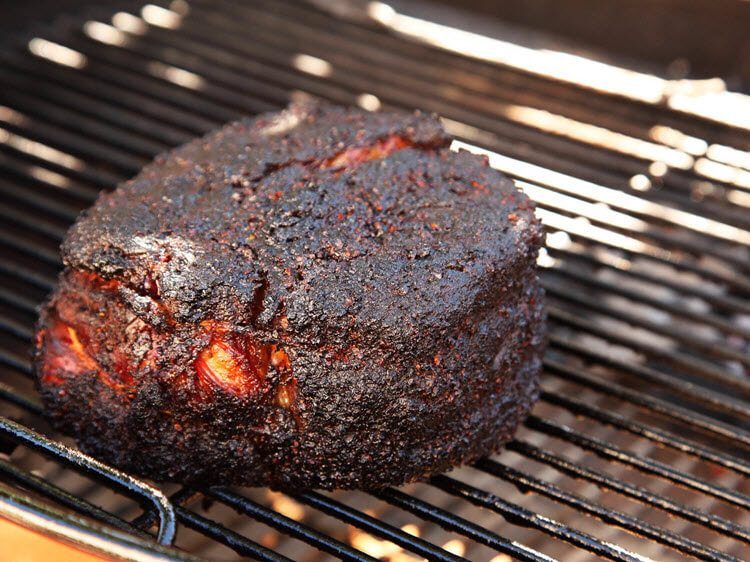 This Smoked Beef Chuck comes from seriouseats.com and it is a recipe that offers many traditional barbecue flavors while relying on the sous vide cooking approach. The choice of chuck beef is particularly interesting, giving people the chance to use an inexpensive cut of meat and still produce amazing results.
The recipe at hand has two components. The first is cooking through sous vide, which is what gives you the desired tenderness. The second component is finishing on the grill or oven and doing so offers you the barbecue-like smokiness. While there are multiple steps, creating this meal is much less labor-intensive than a traditional barbecue brisket and just as tasty.