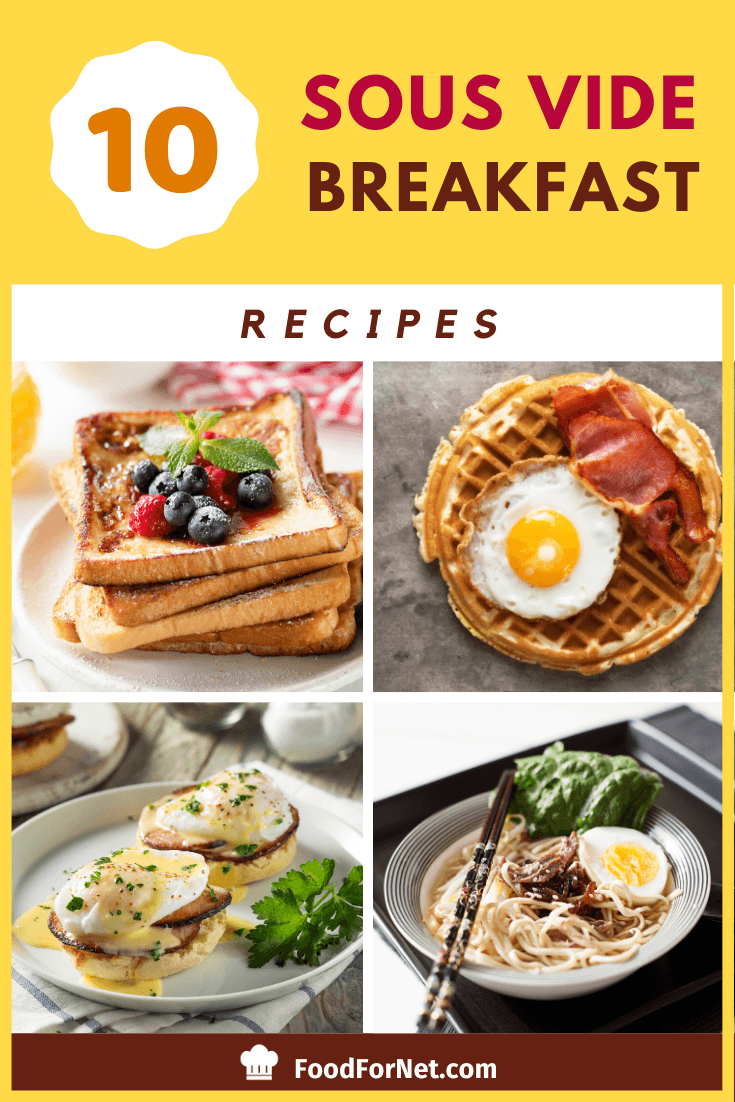 Sous vide is a common choice for dinner recipes, especially as it cooks meat perfectly every time. But, sous vide is just as powerful (if not more so) when it comes to breakfast. The main example is, of course, making poached eggs in the sous vide. Those eggs turn out amazing every time and are useful in so many different dishes, including some of the ones on this list.
But, eggs are just one area to consider. Instead, there are other breakfast dishes that also benefit from sous vide. If nothing else, sous vide lets you add variety into your breakfasts.
This list offers inspiration about how you can do just that – providing links to 10 different sous vide breakfast recipes. Many of these are unique recipes from this site. But, the list also includes some of my favorites from other food bloggers.
Sous Vide Breakfast Recipes
Sous Vide French Toast
Sous Vide Ham and Manchego Egg Bites
Sous Vide Eggs St. Denise
Overnight Sous Vide Bacon with Chili-Bacon-Fat Waffles
Sous Vide Crabby Eggs Benedict
Sous Vide Citrus Yogurt
Bacon and Egg Breakfast Ramen
Sous Vide Mango-Coffee Preserve
Breakfast Smashed Avocado Tomato Toast with Sous Vide Egg
Sous Vide-Style Eggs
Sous Vide French Toast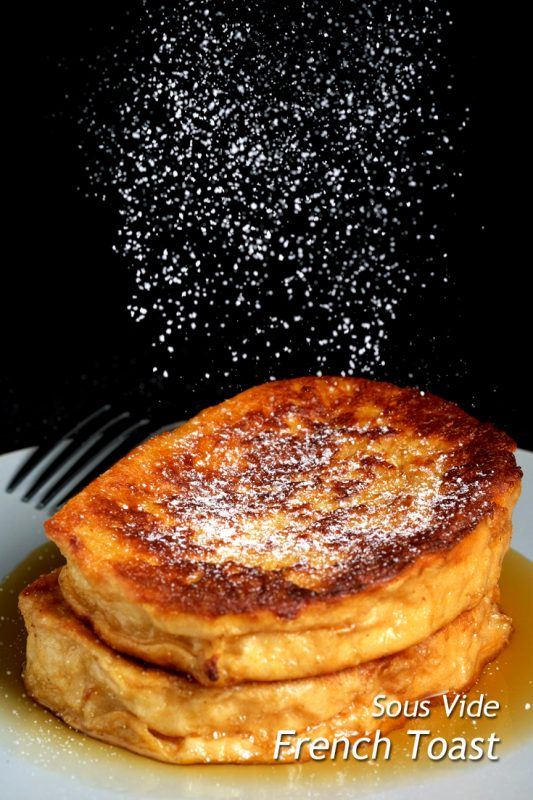 For the most part, French toast isn't a particularly difficult meal to make, especially if you're eating it often. But, this Sous Vide French Toast is in a class all of its. In fact, once you've tried this version of French toast, you'll never go back to normal methods. The difference here is the texture, with a crisp exterior and a pillowy middle. The bread also takes on the flavors of the soaking batter much more effectively– giving you French toast that simply tastes better.
On top of all that, the recipe isn't even difficult. Instead, most of the time simply involves letting the bread cook in the sous vide and the preparation isn't much different than regular French toast.
Though french toast isn't actually french, here are some French sous vide recipes.
Sous Vide Ham and Manchego Egg Bites

Egg bites have become very popular, so I had to try my hand at the idea myself, which resulted in these Ham and Manchego Egg Bites. The bites themselves are fairly similar to a quiche or a frittata, especially in terms of the flavors that are used. The main difference is simply the texture but, don't worry, the texture of the bites is still extremely appealing.
The recipe also offers information about a range of variations that you can make to customize these egg bites. For example, you can choose whether you use cream, half-and-half or milk, which will influence the texture and the flavor of the bites.
You could also use bacon instead of ham. There are other options too but regardless of what you choose, the finished egg bites taste amazing.
Sous Vide Eggs St. Denise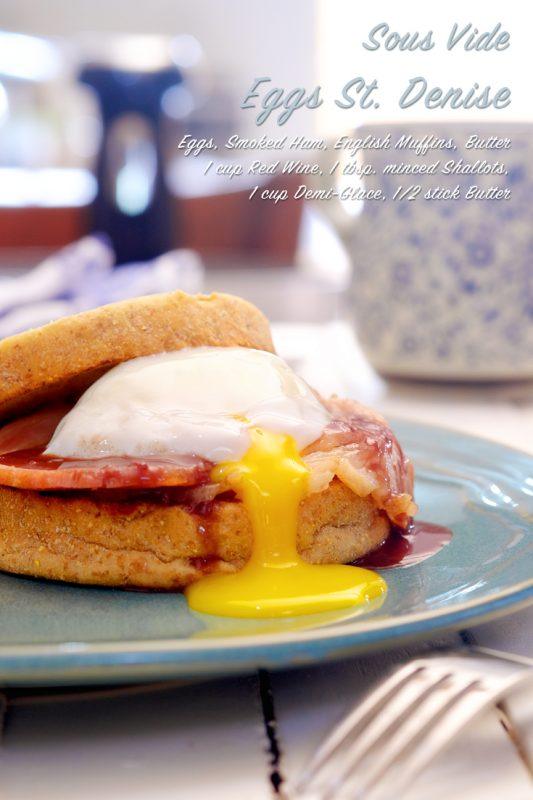 These Sous Vide Eggs St. Denise are a fun alternative to eggs benedict, especially if you get bored with the same meals time and time again. The biggest difference here is the sauce that you're making, which involves a reduction of red wine. Don't worry though, the sauce is easy to make, even if you haven't tried something like this before.
The combination of flavors works extremely well for breakfast, especially as you have the whole egg, ham and English muffin combination going on. Besides, it's always nice to eat something a little bit unusual.
Overnight Sous Vide Bacon with Chili-Bacon-Fat Waffles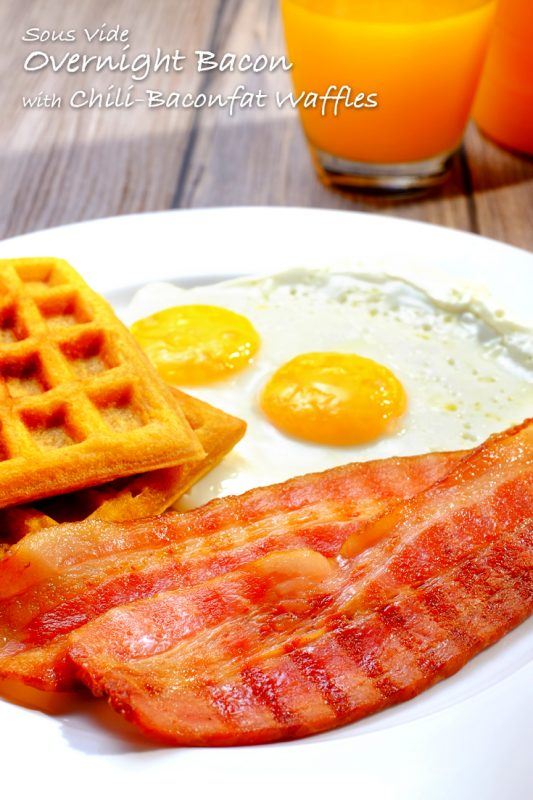 Bacon is a staple ingredient for most breakfast lovers and this Sous Vide Bacon with Chili-Bacon-Fat Waffles recipe is a great way to take advantage of bacon. With this recipe, you're cooking the bacon overnight in your sous vide and then using the cooking juices to flavor the waffles. The end result is waffles that taste like bacon, along with bacon that is perfectly cooked.
Even if you're not interested in the waffles, it's worth checking this recipe out for the bacon. The idea might sound like extra effort, especially as you have to cook the bacon overnight. But, your machine is doing most of the work for you. The end result is also amazing bacon that is packed with flavor. You can then finish and serve the bacon in countless different ways.
Sous Vide Crabby Eggs Benedict
Eggs benedict has to be the most common breakfast cooked using sous vide, simply because the approach is so perfect for making poached eggs. However, this Crabby Eggs Benedict recipe from ChefSteps is a different take on that idea, using crab meat instead of ham as the meat of choice.
With most similar recipes, the sous vide is only used for the eggs, with the rest of the dish being prepared normally. But, that's not the case here. Instead, the sous vide is also used to cook the crab. Sous vide actually works really well for seafood, especially fish! The site does provide a link to a hollandaise sauce that you can use for the recipe – however, any other hollandaise recipe would suffice as well.
Sous Vide Citrus Yogurt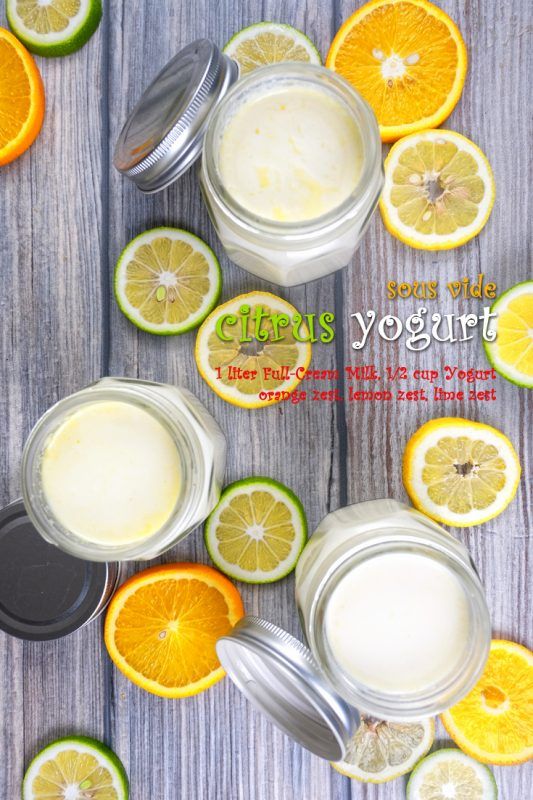 This Sous Vide Citrus Yogurt is a much less complicated example of making breakfast in the sous vide. With this recipe, you're making your own yogurt at home and also infusing it with citrus flavors. For that matter, you can use any flavor combinations that you'd like and customize the yogurt to your heart's content. Doing so is less expensive than buying flavored yogurt at the grocery store and is much more fun as well.
Bacon and Egg Breakfast Ramen

Ramen isn't normally served as a breakfast in the US, but it's quite common in Asian countries. This Bacon and Egg Breakfast Ramen from iamafoodblog.com shows that the dish can work extremely well first thing in the morning. With this recipe, the sous vide is used for the eggs and also for preparing the pork belly, which makes up the bacon component of the breakfast.
I love the way this meal looks in the bowl and it's a great option for something a little unusual. You don't have to have this for breakfast either. Instead, the meal could just as easily make a hot lunch or even a light dinner.
Sous Vide Mango-Coffee Preserve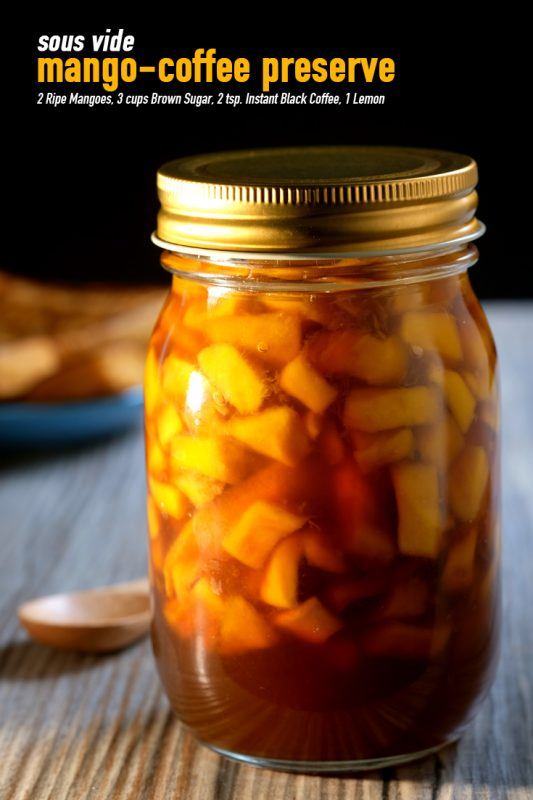 This Sous Vide Mango-Coffee Preserve smells like breakfast from the moment you open the jar. The recipe itself is a type of infusion, so you're soaking the mangos with the flavors of sugar, lemon and black coffee. The end result is a slightly runny type version of jam, which you could easily firm up using extra sources of pectin.
The finished preserve is perfect for many different uses. I typically serve it on toast, although the flavors would also work well on top of cereal or hot oatmeal. Either way, it is an easy-to-prepare breakfast option that simply tastes amazing.
Breakfast Smashed Avocado Tomato Toast with Sous Vide Egg

The sous vide element of this Breakfast Smashed Avocado Tomato Toast is just the egg. But, the combination of flavors is too good to ignore, so I've included it on this list. The recipe comes from jeanetteshealthyliving.com and it shows how you can use sous vide eggs for pretty much anything.
This simple breakfast makes a powerful way to start the day, especially as the flavors are so fresh and lively. The egg here is also both poached in the sous vide and fried, which creates an interesting texture for the finished product. Of course, you could skip the frying if you wanted to save time and energy.
Sous Vide-Style Eggs

This final breakfast recipe is a little different. It comes from seriouseats.com and it is one of the site's guides into sous vide cooking. In this case, the guide focuses on making eggs in the sous vide, along with the different effects that temperature can have.
The information provided is important if you want the perfect egg for your breakfast, regardless of whether your preference is hard boiled, soft boiled or poached eggs.
---
Don't forget to check out the Chefsteps Joule review to see what our favorite sous vide immersion circulator looks like and why we love it so much!