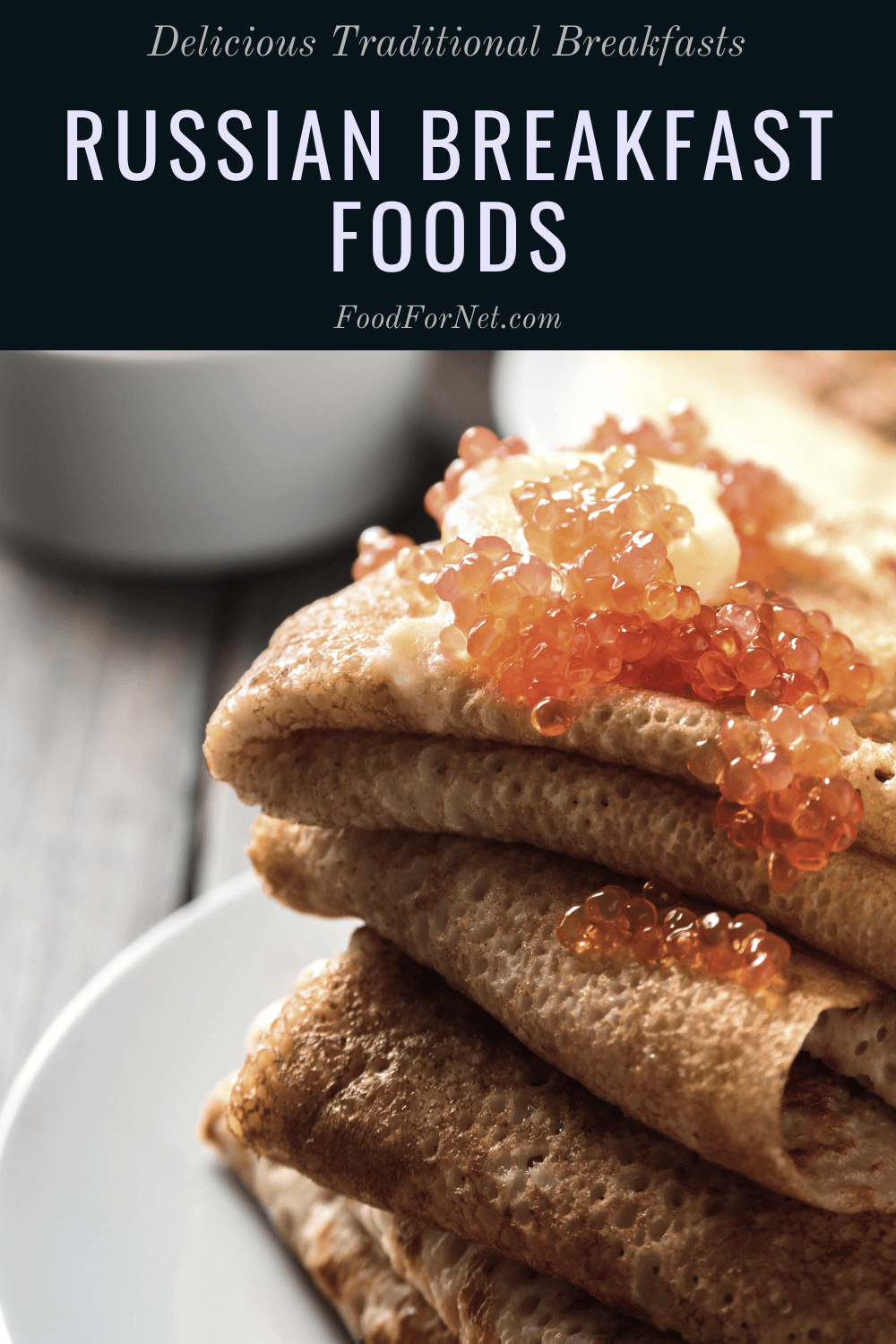 Is there any doubt that breakfast is important for your health? Sure, some people skip breakfast entirely, but let's be honest, the day is always better when you start off with a good source of energy. The trick is to figure out what you're going to have for breakfast. So today, we're talking about Russian breakfast foods.
This post is part of an ongoing series of traditional breakfast foods. We've already talked about American, English, Italian, and Scottish breakfasts, with plenty more topics planned.
Our goal is to take a close look at the foods out there and give you plenty more options for your own breakfasts. After all, breakfast can easily get repetitive and it doesn't need to be that way at all. There are so many different types of breakfasts to try.
You may notice a few trends with Russian breakfast foods. For one thing, there aren't many sweet options on the list. The breakfasts tend to be savory instead and many heavily rely on dairy. Russian cottage cheese often features as an ingredient, while sour cream is a common side.
There are also various carb-based options, which might not suit everyone. Still, if you're wanting a comforting breakfast that's full of energy, Russian breakfast foods could be about perfect.
Russian Breakfast Foods (With Pictures!)
Eggs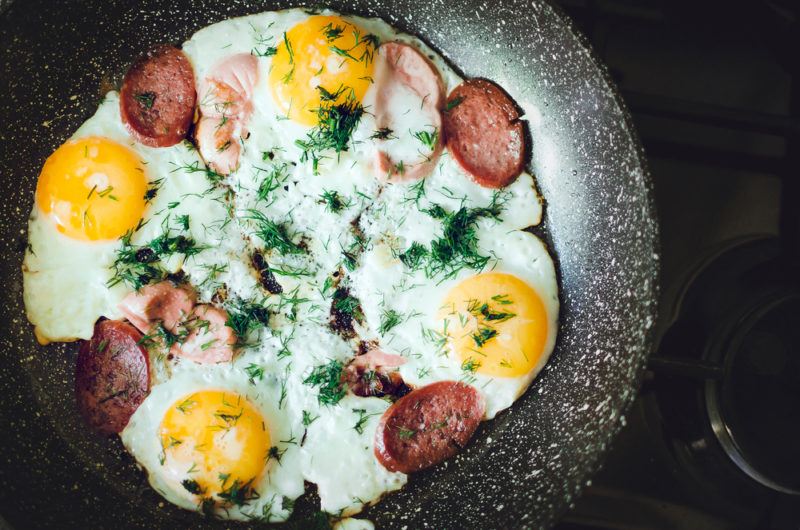 Eggs seem to be a popular breakfast choice no matter where you are in the world. For a Russian breakfast, fried eggs are the most common approach. After all, you don't need any ingredients beyond the eggs themselves and there's minimal prep work to worry about.
Various toppings or additions can be used with this meal, like grated cheese or sliced sausages. You may even see vegetables used on occasion. And, of course, fried eggs are often served alongside toast.
Scrambled eggs are also eaten on occasion and these are the same as you would find them anywhere else. The scrambled eggs might sometimes be enjoyed on their own, although bread and mayonnaise are common additions.
The other styles of eggs that you're familiar with feature too, including omelets. Omelets are always appealing, as they give you the chance to add in various other hearty ingredients and create a more filling breakfast.
Rye Bread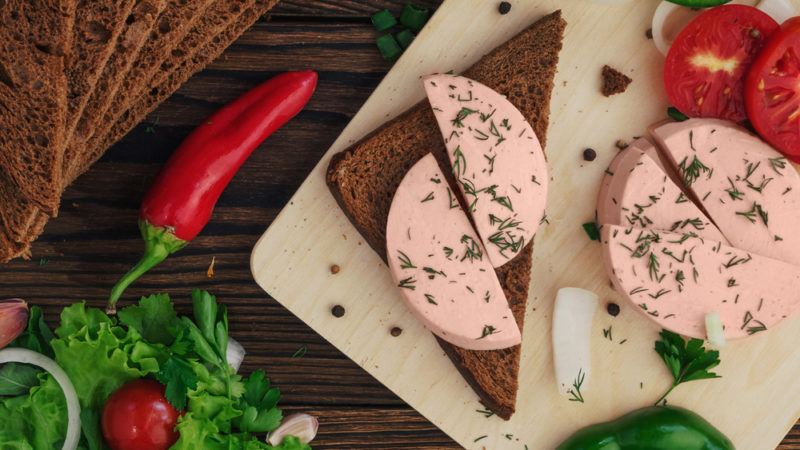 Rye tends to be the most common bread choice in Russia. In case you're unfamiliar with it, rye bread is dark brown in color. It has a distinctive flavor and can be tougher than other types of bread.
While rye bread can be used to make toast, another approach is to create an open sandwich using the bread, butter, and sausage. This breakfast ends up being much heartier than simple spread on toast and doesn't take that much extra work to prepare.
Sandwiches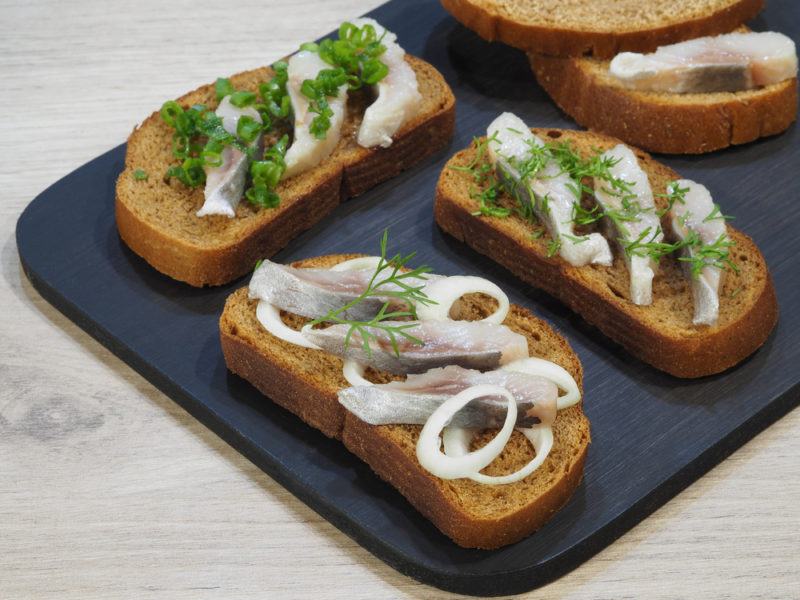 Indeed, sandwiches are a common breakfast choice in Russia, with other types of bread being sometimes used as well. Sandwiches often follow the open-faced style, which means that the toppings are placed on one slice of bread, rather than using bread on the top and the bottom of a sandwich.
There's no limit to the ingredients that you use on a sandwich, many of which will be familiar. Sausage, ham, cheese, cucumbers, fish, or tomatoes are just some options – and many people will use multiple toppings on their sandwich.
Semolina Porridge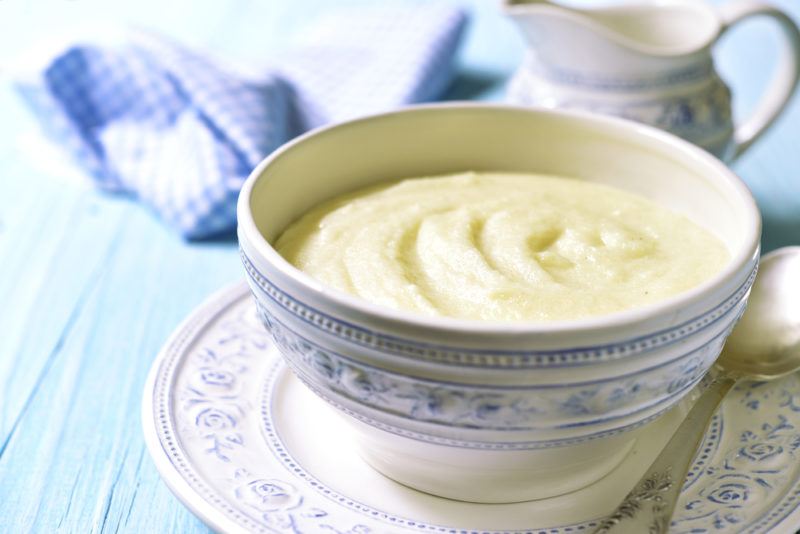 Porridge is another meal that crops up in many different cultures. In the case of Russia, semolina porridge is one of the most common choices. This type of porridge can be a little difficult to get right, as the semolina can form unappealing clumps if you're not careful.
Those clumps are one reason that many children have bad memories of the porridge and struggle to enjoy it as adults.
Still, if you make the porridge well, then it is a satisfying breakfast. The porridge can be topped with fruit, particularly berries, although other toppings might be used as well.
Other Types Of Porridge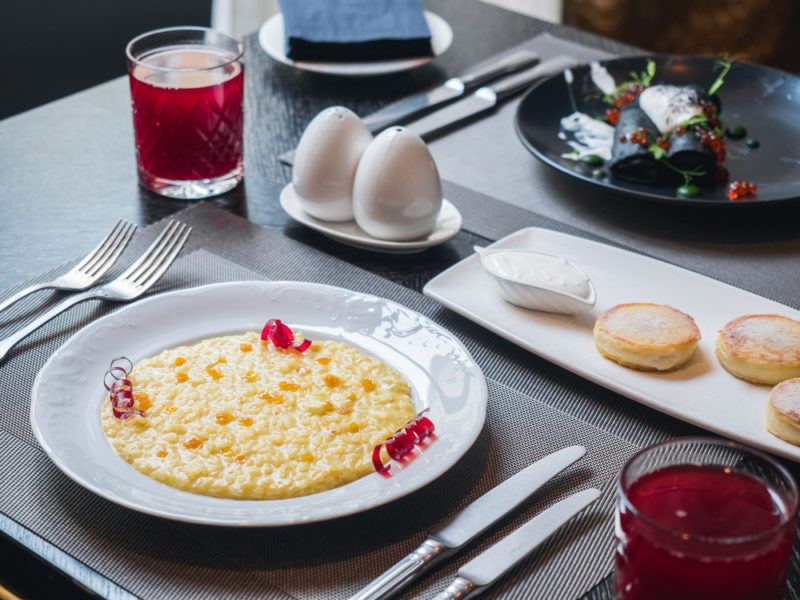 Semolina porridge isn't the only type of porridge enjoyed in Russia. Other options include porridge made from barley, buckwheat, or millet. The cooking process tends to involve milk and sugar in all cases, with the finished dish being served hot or occasionally cold.
Blini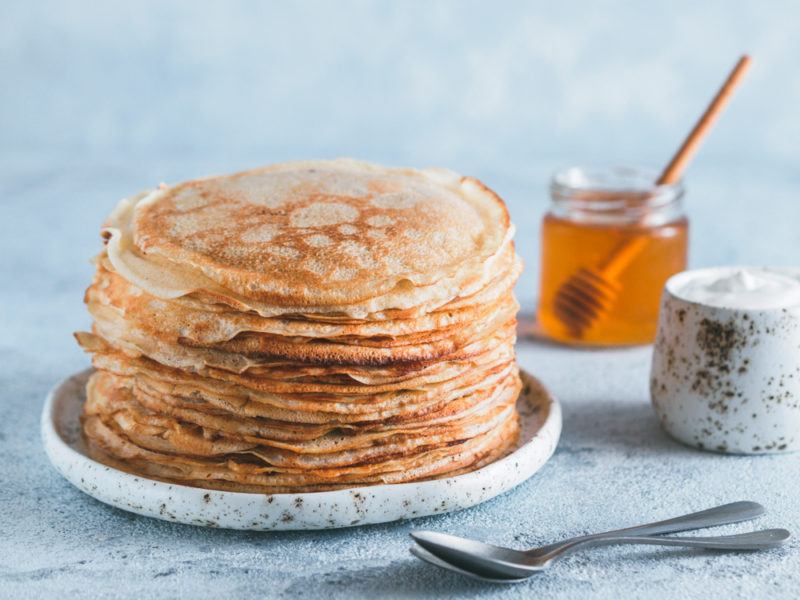 A blini is one of two main Russian pancakes. This pancake tends to be somewhere in between a French crepe and an American pancake.
Toppings can include sour cream, butter, and sometimes jam. Another interesting combination is sweet condensed milk and honey. There are even cases where people eat minced meat and sour cream on top of their pancakes.
Adding toppings to blini isn't the only option. Some people choose to use filling instead, which cottage cheese being a popular choice. This helps to increase the protein content of the breakfast too.
Not surprisingly, blini is largely a breakfast for special occasions, rather than something that one might eat every day. After all, pancakes do take a bit of time and energy, which isn't always practical at the start of a work day.
Oladyi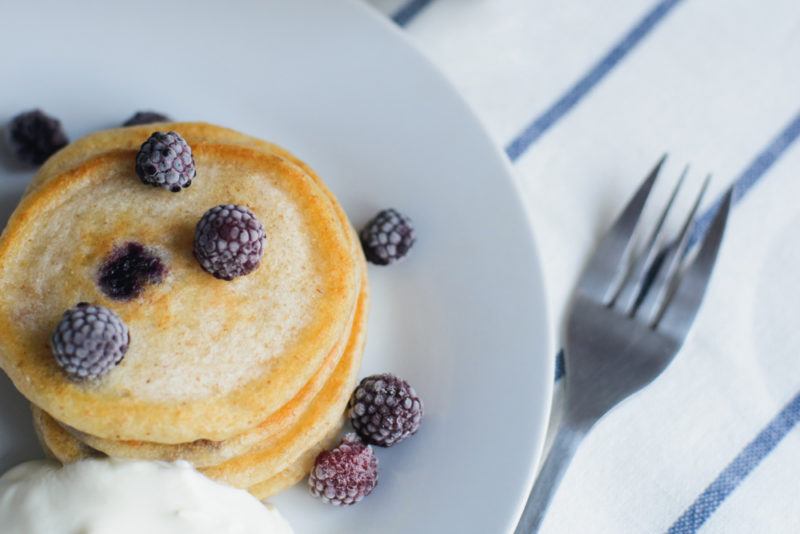 An oladyi is another type of Russian pancake. This pancake is similar to an American pancake, but just a little bit smaller. The two options tend to be served in much the same way.
Syrniki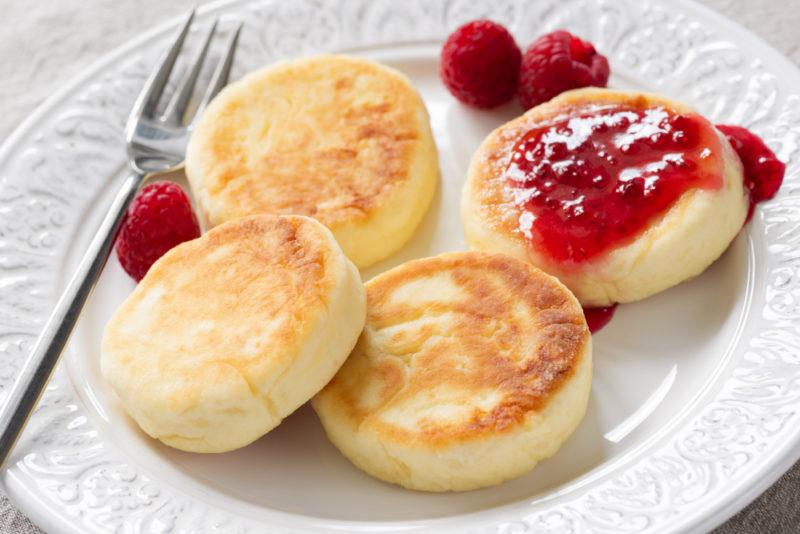 Syrniki, or sirniki, are best thought of as cottage cheese dumplings. These unusual treats are made with cottage cheese, flour, and egg, and seasonings.
They're fast to prepare, which immediately makes them more practical than pancakes on many mornings. The use of cottage cheese means that syrniki offer a decent amount of protein. This is exactly what you want from your breakfast.
The use of cottage cheese is important here. Russian meals often feature cottage cheese as a key ingredient (this type of cottage cheese is known as tvorog). Russian food bloggers mention that if you want the real deal outside of Russia, you'll need to be making the cottage cheese yourself. The versions that you'll find in American grocery stores aren't the same at all.
Vareniki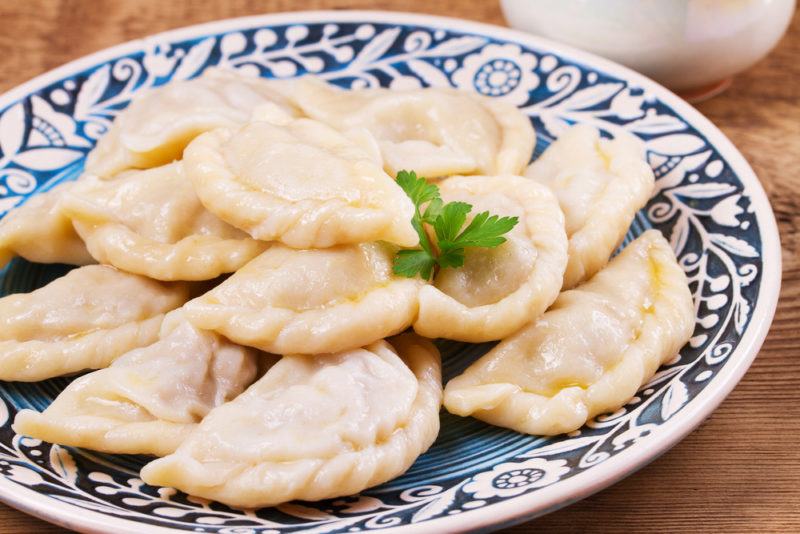 This meal is similar to dumplings or ravioli. You basically have a piece of dough that has some type of filling.
There are many different options for the filling. Sweet examples include cottage cheese or cherries, while mushrooms or potatoes are savory options. It's even possible to make vareniki using a meat filling, although it is then called pelmeni instead.
Like ravioli, vareniki does take a decent amount of time and effort to prepare. It's not something that you're going to make from scratch and then eat for breakfast on the same day.
However, vareniki can be prepared in advance. You can even cook them from frozen by boiling them for five minutes or so. This makes the dish an easy breakfast choice.
Vareniki is often served with sour cream. Actually, sour cream is a common accompaniment for many Russian foods.
Pastries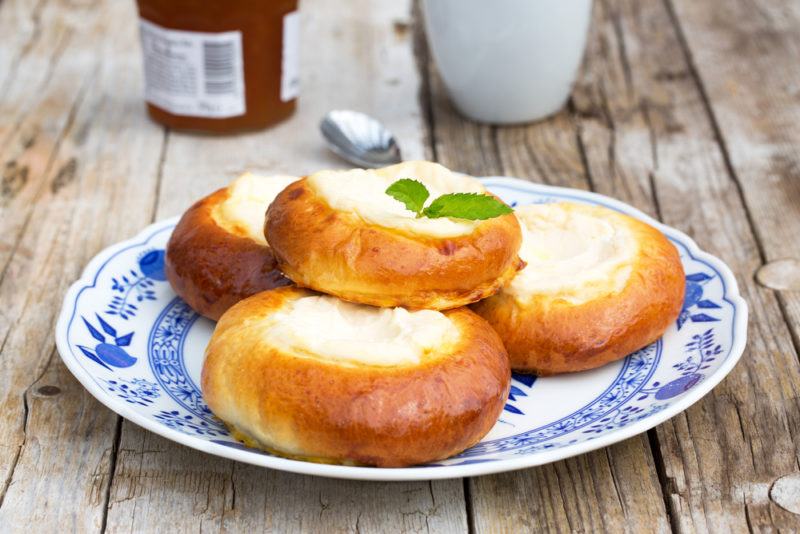 Pastries have made their way in as a breakfast option too, perhaps because these taste good and are easy to find. Of course, pastries aren't the healthiest breakfast choice and you'll end up hungry before too long. Still, most of us can get away with an unhealthy breakfast every so often.
Zapekanka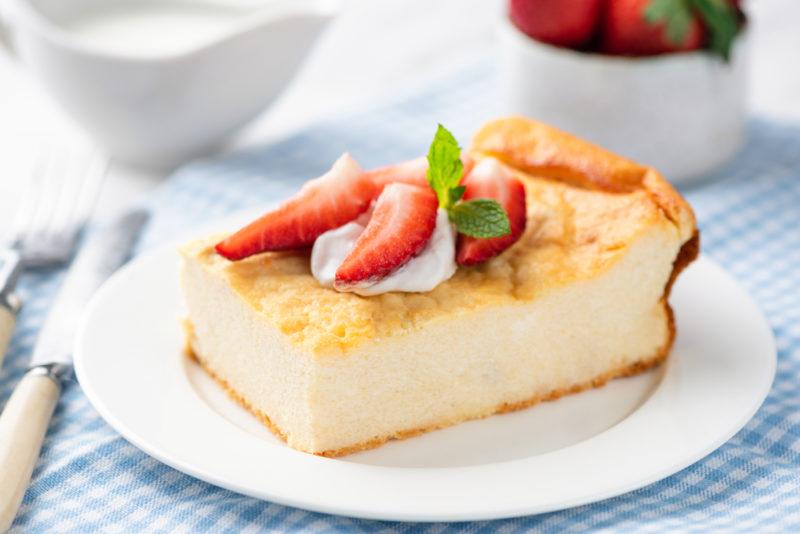 Zapekanka is sometimes known as a farmer's cheese breakfast cake, which might give you a hint at what you can expect from it. You're making something that's a little bit like a cheesecake and often includes dried fruits as well.
Many versions rely on tvorog, Russian cottage cheese, as the main ingredient. If you're making the dish outside of Russia, homemade cottage cheese would be the most obvious ingredient. Cottage cheese from the store would work too or you could look for a recipe that is designed to mimic the taste and texture of zapekanka while using American ingredients.
Tvorog With Smetana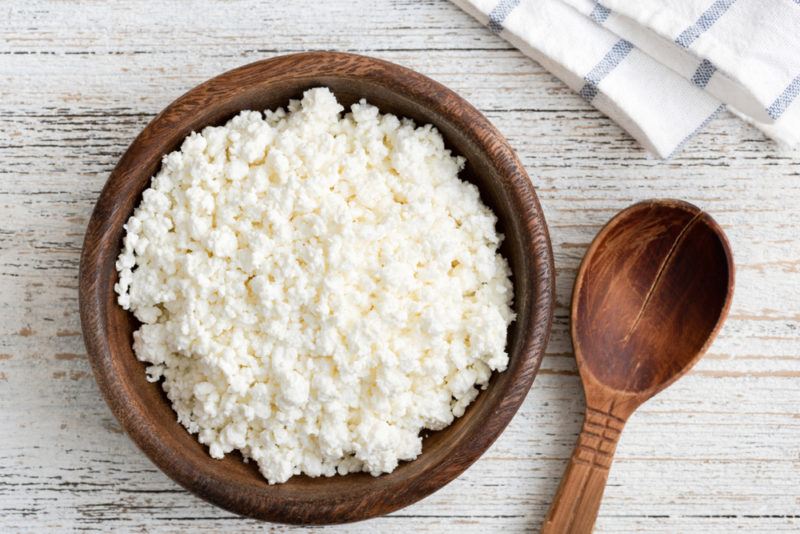 This simple breakfast relies on tvorog once again, along with another dairy product called smetana. Smetana is a little like crème fraiche in terms of texture and flavor.
The use of smetana helps to moisturize the tvorog, creating a dish that is very easy to enjoy. Sweet ingredients, like honey or jam, can be added to provide some extra flavor. Berries are a common topping too.
Draniki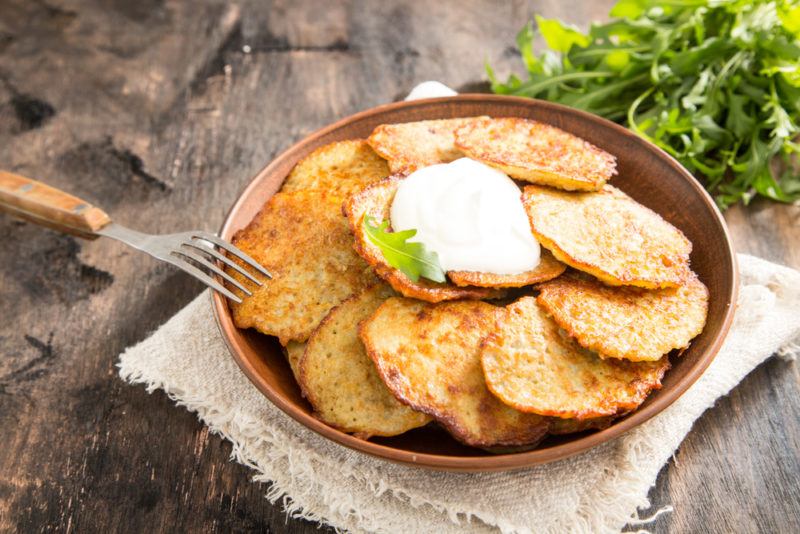 A draniki is basically a savory potato pancake. You end up with something that tastes similar to a hash brown and is prepared in much the same way.
A draniki breakfast is often served with sour cream on the side. The creaminess balances out the flavor and makes the dish more interesting. And, of course, you might use other breakfast foods at the same time too, like eggs.
Grenki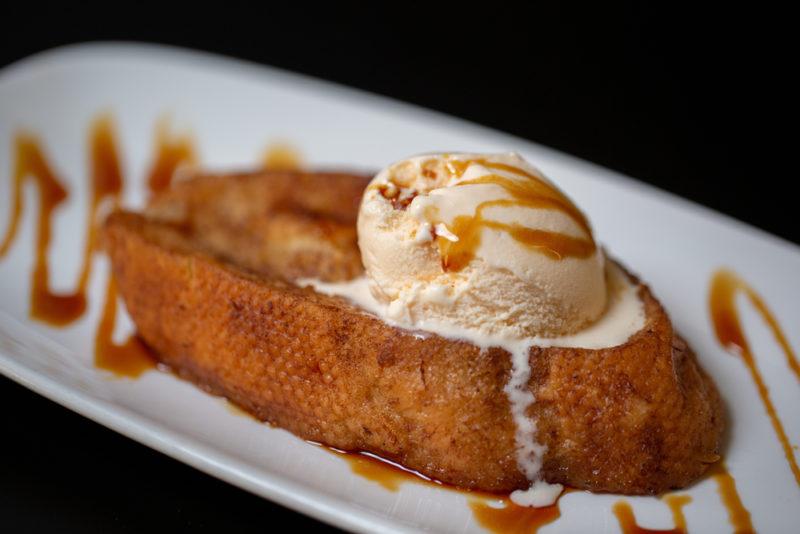 Grenki is the Russian version of French toast. It isn't as popular as some of the other breakfast choices on this list, but doesn't make grenki any less delicious.
The recipe tends to be what you would expect, so you're relying on milk, egg, sugar, and spices, dipping the bread in the mixture and then frying it. As is always the case, you can use fresh bread or slightly stale bread. Either option works well.
Cereal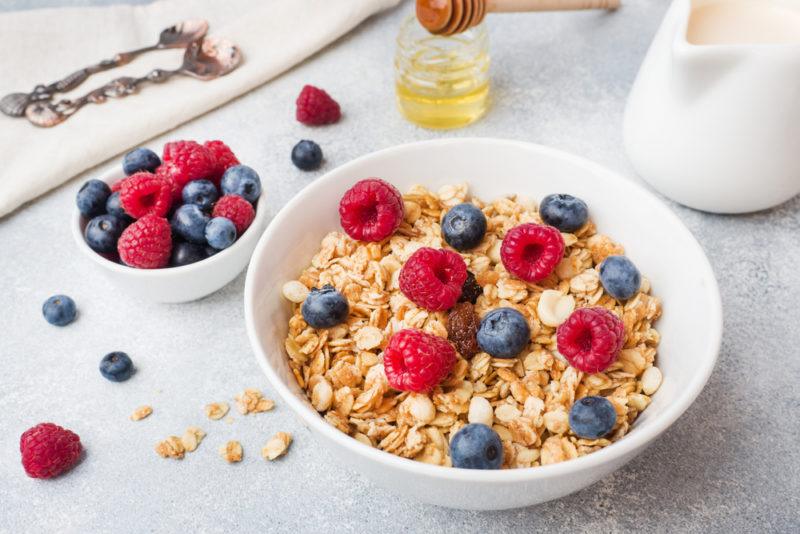 While cereal isn't a traditional Russian breakfast choice, Western influences and modern marketing mean that cereal can be easily found in stores and is becoming increasingly common at breakfast time. There are local brands to choose from, along with international ones.
When used as part of breakfast, cereal tends to be served with either milk or yogurt.
Bacon And Sausage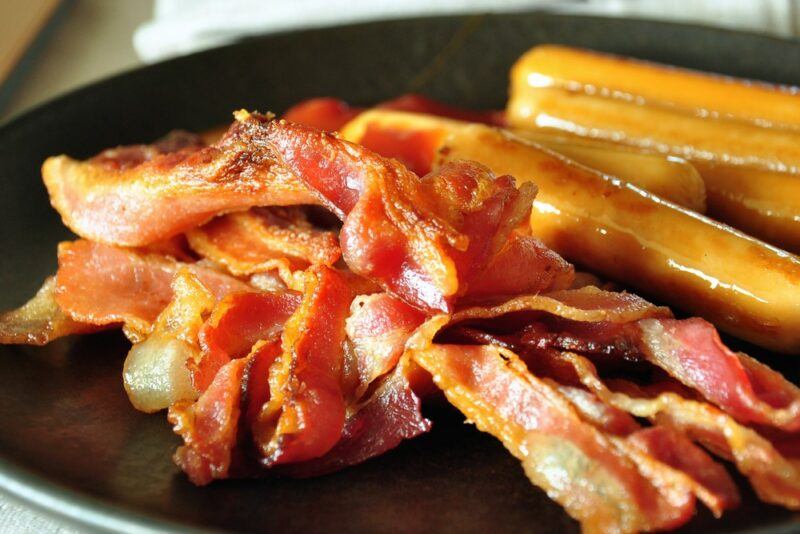 Bacon and sausages often feature as part of Russian breakfasts, frequently complemented by buttered bread and eggs. This style should be familiar, as it's one we often follow here as well.
While bacon and sausages certainly aren't the healthiest breakfast ingredients, they are delicious and filling. They're also perfect if other breakfast options feel too carb-heavy.
Vatrushka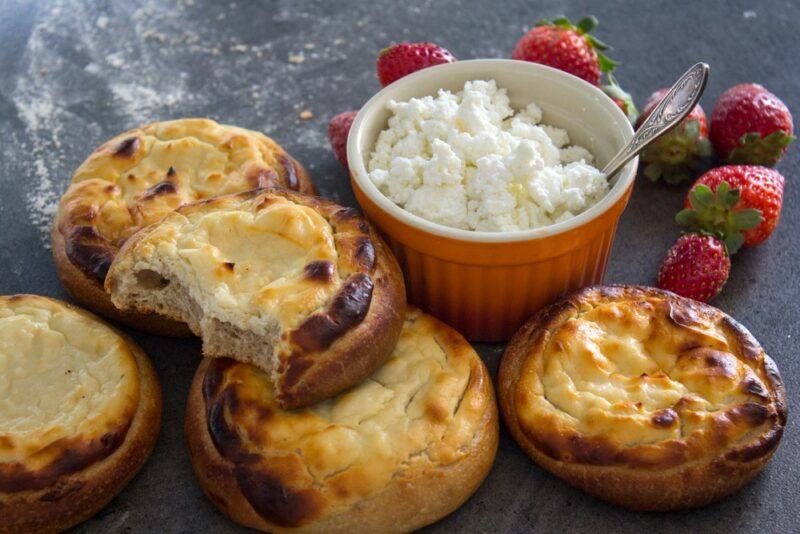 Vatrushka buns look a little like danishes that have been filled with cream cheese. However, danishes typically rely on flaky pastry, while vatrushka pastry is more like bread instead.
The filling is a little different too, as it is made from quark. This dairy product is similar to cottage cheese, but has its own distinct flavor and texture that many people love.
The buns aren't limited to breakfast either. They're also served as dessert, particularly as they're fairly sweet.
Sharlotka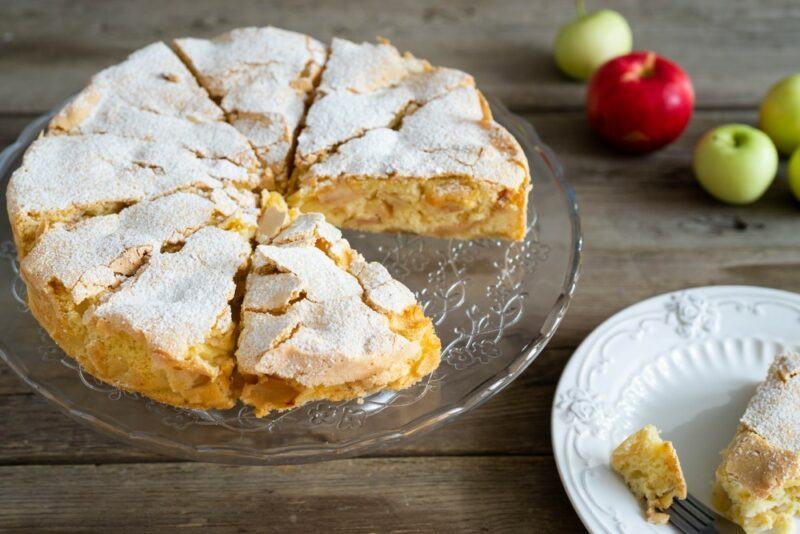 Sharlotka is another Russian dessert that's sometimes served as breakfast too. It's best described as an apple sponge cake. The sponge is light, so the cake isn't intense at all.
How well does this work for breakfast? That really depends on how you feel about sweet and light breakfasts. Some people love them, while others find that they need something savory or more protein at breakfast time.
Ponchiki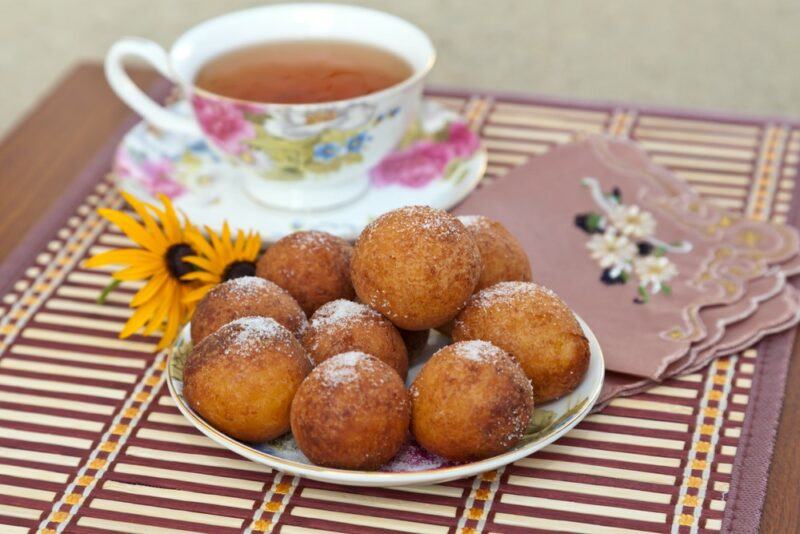 Here we are with one final sweet treat. Ponchiki are essentially Russian donut holes. They're not a particularly filling or healthy breakfast, but might be perfect for a special occasion.
Russian Breakfast Recipes
Some of the Russian breakfasts we've featured will already be familiar, including bacon, sausages, eggs, rye bread, and cereal. However, there are plenty of unusual additions instead.
What if you want to try some of these for yourself? The recipes below show you how to make a selection of these breakfasts at home.
Drinks That Complement Russian Breakfasts
Not surprisingly, coffee and tea are both served with Russian breakfasts. However, tea tends to be the most popular choice.
Russia even has an impressive tea culture. Tea is often brewed in a small teapot, rather than using teabags (although teabags are available and are helpful when making breakfast for one). Tea is often served black, although milk is provided for those who want it.