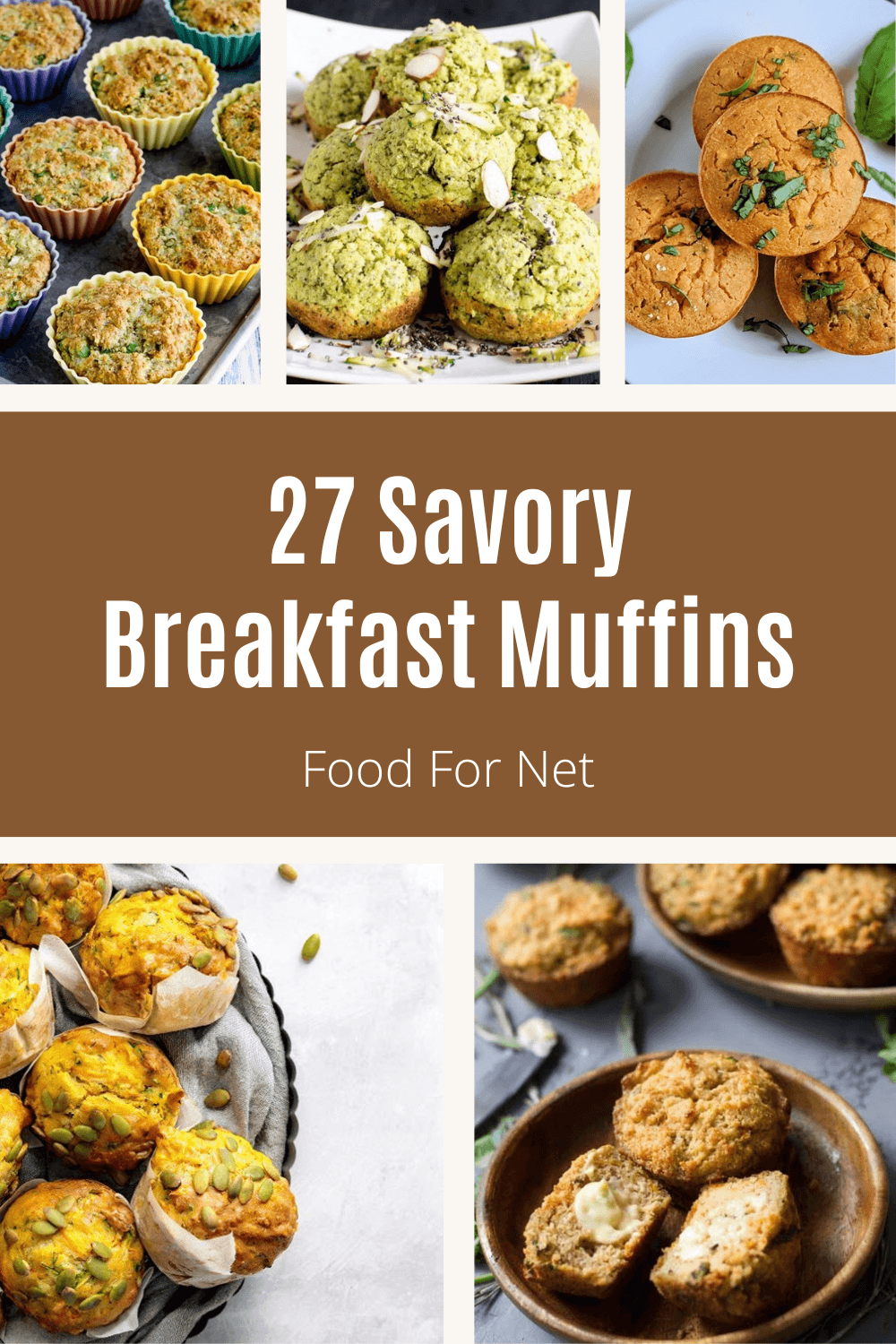 Muffins are often a sweet and pretty unhealthy treat, packed with more calories and carbs than you should have in a sitting. That's not the only style, though. There are savory muffin recipes too, including many winter-themed ones and savory breakfast muffins. Savory muffins aren't as popular or common as sweet ones but they can be tastier. They're often much healthier too.
Savory breakfast muffins come in plenty of different styles. Some rely on classic breakfast flavors, like eggs and bacon. Others are completely different, like veggie-packed muffins or ones that use extra ingredients to boost the protein content and make them much more satisfying. A few even work well as fall themed breakfasts.
The recipes in this list showcase all these different types and many more. They all come from amazing food bloggers, so you can be certain that they taste just as good as they look (and they look stunning!). Many of these would even make good breakfasts for picky kids.
Savory Breakfast Muffin Recipes (With Pictures!)
Oat And Tofu Vegan Egg Muffins
Have you ever included tofu in muffins? This recipe from ohmyveggies.com takes exactly that approach. The tofu means that you can have an egg muffin style, without any eggs in the recipe at all.
While these don't taste exactly like regular egg muffins, the taste and texture is surprisingly close. These are also nutritious muffins, as they contain plenty of protein and even some kale.
Can you think of a better way to start the day?
Coconut Flour Muffins
These muffins, from theharvestskillet.com, are much simpler. That doesn't make them any less delicious though. Most of the flavor comes from Everything But The Bagel Seasoning. Of course, you could easily use a different type of seasoning if you'd prefer.
The muffins are also grain free, paleo friendly, and low in carbs. As such, they're excellent for anyone who can't eat regular muffins. They're also perfect if you simply feel like a change.
Chickpea Muffins With Tomato And Basil
These muffins come from theherbeevore.com and have the unusual addition of chickpea flour. The flour is powerful though, as it adds plenty of protein to the muffins, making them more filling than normal.
The combination of tomato and basil is exceptional too, adding plenty of flavor to the muffins. Honestly, these might be your new favorites.
Keto Salami And Cheddar Breakfast Muffins
Here are some delicious muffins for anyone who loves salami and cheese. They come from hungryforinspiration.com and are even keto friendly. Seriously, an entire muffin contains less than 2 net grams of carbs. It's hard to get better than that.
You don't need to stick with salami either. As Uliana points out, you can easily substitute this for another type of meat, such as ham or sausage.
Flourless Zucchini Chia Savory Breakfast Muffins
There are plenty of exciting things going on with these muffins. You have the zucchini, which gives them a distinct green color and plenty of nutrients.
Then there are the chia seeds. These are packed with nutrients. They act as an egg replacement too, helping to make the muffins vegan friendly. The muffins are also gluten free, as almond flour is used instead of regular wheat flour.
You can find all the details at kiipfit.com. While you're there, check out the rest of the site. There are plenty of delicious recipes.
Cheesy Garlic Bread Muffins
It's hard to go past alldayidreamaboutfood.com. There are simply so many stunning recipes on the site, including these muffins.
They really are like the name suggests – muffins that taste like cheesy oven baked garlic bread. Imagine having these first thing in the morning. They'd really start your day off right.
What's more, these are keto friendly muffins. And, because they avoid regular flour, they're also gluten free. Perfect, right?
Sweet Potato And Herb Savory Muffins
These muffins, from feastingonfruit.com, are unusual and delicious. Natalie talks about serving them alongside soup, but you could just as easily have them for breakfast too.
The combination of sweet potato and herbs is also fantastic. You get just enough sweetness from the sweet potatoes to make them interesting, but the muffins are still largely savory.
The texture is rougher than many other muffins, particularly on the top. Don't worry though. This just makes the muffins even better.
Paleo Herbed Sweet Potato Muffins
I found these fantastic muffins over at paleorunningmomma.com. They're another type that relies on sweet potatoes and herbs, but there are plenty of differences between these and the previous recipe.
Michele mentions that the muffins even have a buttery flavor, despite being completely dairy free. The herbs in the muffins give them plenty of punch, while offering some health benefits as well.
Vegan Corn And Pepper Breakfast Muffins
Here's a different style to try out. These muffins come from veganosity.com and feature corn, two types of peppers, herbs, and a few other ingredients.
These muffins aren't just savory. They also have a spicy kick to them that's great for waking you up first thing in the morning.
The recipe is more involved than many other breakfast muffins, but the muffins are totally worth the extra effort. Besides, you can prep these ahead of time and then they're ready to go first thing in the morning.
Gluten-Free Savory Muffins With Pesto
I love the idea of including pesto in muffins, as it has such a vibrant flavor. Honestly, it's an underutilized ingredient.
Pesto isn't just used as a topping for the muffins either. Instead, it is part of the muffin mixture itself, giving you consistent flavor. The muffins are also vegan friendly and gluten free, as long as you use vegan pesto.
You can find full details at wallflowerkitchen.com.
Vegetable Savory Muffins
Amy from healthylittlefoodies.com developed these vegetable-focused muffins. They contain four different types of vegetables, so they're an excellent source of nutrients.
Despite all the vegetables, most kids will eat these muffins without a problem. You can also substitute one or more of the vegetables if you need to.
While the recipe focuses on kids, you could easily have these muffins as an adult as well. They'd be just as delicious and nutritious, although you might need to add a little salt.
Paleo Mushroom Muffins
These muffins come from powerhungry.com and they're just the ticket if you want something unusual. As the name suggests, these muffins really do contain mushrooms.
The mushrooms provide an earthy umami flavor that you don't find with most other recipes. The muffins are also gluten free and paleo friendly, so they'll easily fit into many other diets. Why not give them a try? They might be your next favorite.
Savory Paleo Breakfast Muffins
These muffins, from paleoporn.com, are paleo friendly as well. However, they're quite different than the previous paleo muffins, partly because these ones rely heavily on eggs rather than using mushrooms.
They're a little like the classic egg muffin, except that the egg is cracked on top, rather than mixed with the other ingredients. The style works surprisingly well, giving you an excellent contrast of textures.
Low-Carb High-Fiber Savory Muffins
These muffins are useful for anyone following a low carb or keto diet, as they keep the carb content low, but contain a considerable amount of fiber. Seriously. You get 5 grams of fiber per serving.
Fiber plays vital roles in your digestive system, yet many keto dieters don't get enough of it. These muffins are the perfect way to readdress the balance and keep you regular. You can find full details at kalynskitchen.com.
Vegan Muffins With Caramelized Onions And Smoked Tofu
These vegan muffins come from family-friends-food.com and they have a stunning balance of flavors. Topping the muffins with cherry tomatoes provides a perfect burst of color and flavor that brings everything together nicely.
The inclusion of smoked tofu works exceptionally well. Not only does this provide a smokiness to the taste profile, but the tofu also helps with the texture of the muffins. After all, vegan savory muffins can't rely on egg, so it's sometimes tough to get the texture working as it should.
Savory Muffins With Kale And Chives
These kale and chives muffins prove that kale can be delicious, if you choose the right recipe. The muffins are savory, tasty, and packed with nutrients. Those features are all perfect for a breakfast treat.
The recipe comes from attainable-sustainable.net and is even completely vegan friendly. The ingredients are all familiar too, making these muffins easy to prepare at home.
Vegan Chickpea Muffins
Here's another vegan recipe. This one comes from cozypeachkitchen.com and is perfect even if you're sensitive to gluten.
The muffins are exceptionally healthy, as they rely on chickpea flour, parsley, vegetables, nutritional yeast, and various seasoning ingredients. The chickpea flour also adds plenty of protein, which makes the muffins surprisingly filling.
Chicken Sausage, Egg, And Cheese Muffins
These muffins come from Monique at ambitiouskitchen.com and they give you all the classic breakfast flavors. How can you go wrong with chicken sausage, egg, and cheese for breakfast?
The muffins also include a little coconut flour, which tweaks the texture and makes the muffins work even better.
There are some substitution instructions in the recipe too. These allow you to make a dairy free or paleo version of the muffins. You could even ramp up the vegetable content.
Gluten Free Muffins With Cheddar And Eggs
I love these Savory Muffins with Cheddar and Eggs from fannetasticfood.com. They take the normal idea of including eggs in muffins and flip the whole thing around – including a whole egg in the middle of each muffin.
It's a clever idea, especially as no one expects to find a hard boiled egg hiding in their muffin. The egg also provides a hit of protein, which is perfect first thing in the morning.
There's one catch, though. You need to use jumbo muffin tins. You won't get a full egg and the rest of the muffin in a regular sized muffin tin. There's just not enough space
Bacon And Vegetable Muffins
Mmm… bacon. What could be better for breakfast? This recipe from thecookingcollective.com.au balances bacon with vegetables, to give you muffins that are both delicious and healthy.
In fact, the muffins get so much flavor from the bacon and cheese that the vegetables are almost completely buried. This makes the muffins fantastic for picky eaters. You can even experiment with the vegetables you use, as most types will work perfectly with the recipe.
Flourless White Cheddar Zucchini Muffins
Here's another set of vegetable-focused muffins. These ones come from marisamoore.com and rely on a combination of cheddar cheese and shredded zucchini. The zucchini adds moisture, flavor, and nutrients to the muffins.
Perhaps the best feature is that the recipe is simple. You just need a handful of ingredients, plus seasonings. The ingredients are all familiar, so you probably have them at home already.
The muffins also rely on almond flour rather than wheat flour, so they're gluten free to boot.
Gluten Free Savory Muffins
These muffins come from Hope at lovefoodnourish.com. They're paleo and dairy free, although you could add cheese on top if you're not worried about dairy.
While the original recipe relies on zucchini and spinach, Hope mentions that you can use other vegetables instead. Even chopped broccoli would work well.
I particularly love the bright color of these muffins. It's always nice to find some that stand out from the crowd.
Savory Polenta Muffins
This recipe, from somebodyfeedseb.com, takes the unusual approach of including polenta as an ingredient. Polenta isn't popular at the best of times and it's hardly ever used in muffins. Yet, Ieva's photos and the comments under the recipe suggest that the polenta works exceptionally well here.
Of course, polenta isn't the only ingredient in these muffins. Others are added for extra flavor, including sundried tomatoes, chopped chili, and cheese. You end up with moist, cheesy, and downright delicious muffins.
Fluffy Carrot And Zucchini Vegetarian Muffins
These muffins can be found at curatedlifestudio.com. Most of the ingredients should be familiar, including flour, baking soda, and cheese. There's no egg, but the recipe doesn't need one either. The inclusion of carrot and zucchini adds moisture to the muffins, along with plenty of nutrients.
The bright colors are particularly fun first thing in the morning. Plus, like other muffins on this list, you can enjoy them warm or cold.
Veggie Quinoa Egg Muffins
I love these muffins from savorthebest.com. The addition of quinoa adds a delicious nutty flavor to the mixture while also increasing the protein content. There are plenty of other nutritious ingredients as well.
The quinoa means that these muffins have a different texture than normal. That's quite useful, as regular muffins get boring after a while.
Healthy Vegan Savory Muffins
These muffins come from forkfulofplants.com and they truly are a healthy choice. Not only are they vegan friendly, but they also rely on plenty of fresh vegetables, like carrot and zucchini. Because they're vegan friendly, these muffins are made entirely without eggs. Don't worry, they're still moist and have a fantastic texture. Honestly, you won't miss the egg at all.
Green Eggs And Quinoa Muffins
Our final recipe comes from Natalie at greenletes.com. The muffins follow a classic egg cup style, except that they also use quinoa as an ingredient. The quinoa provides extra protein and plenty of nutrients.
You get some carbs from the quinoa too. That's not as bad as it sounds, as carbs are still important as a source of energy. Indeed, the balance of protein, carbs, and fat in these muffins is almost perfect for breakfast.