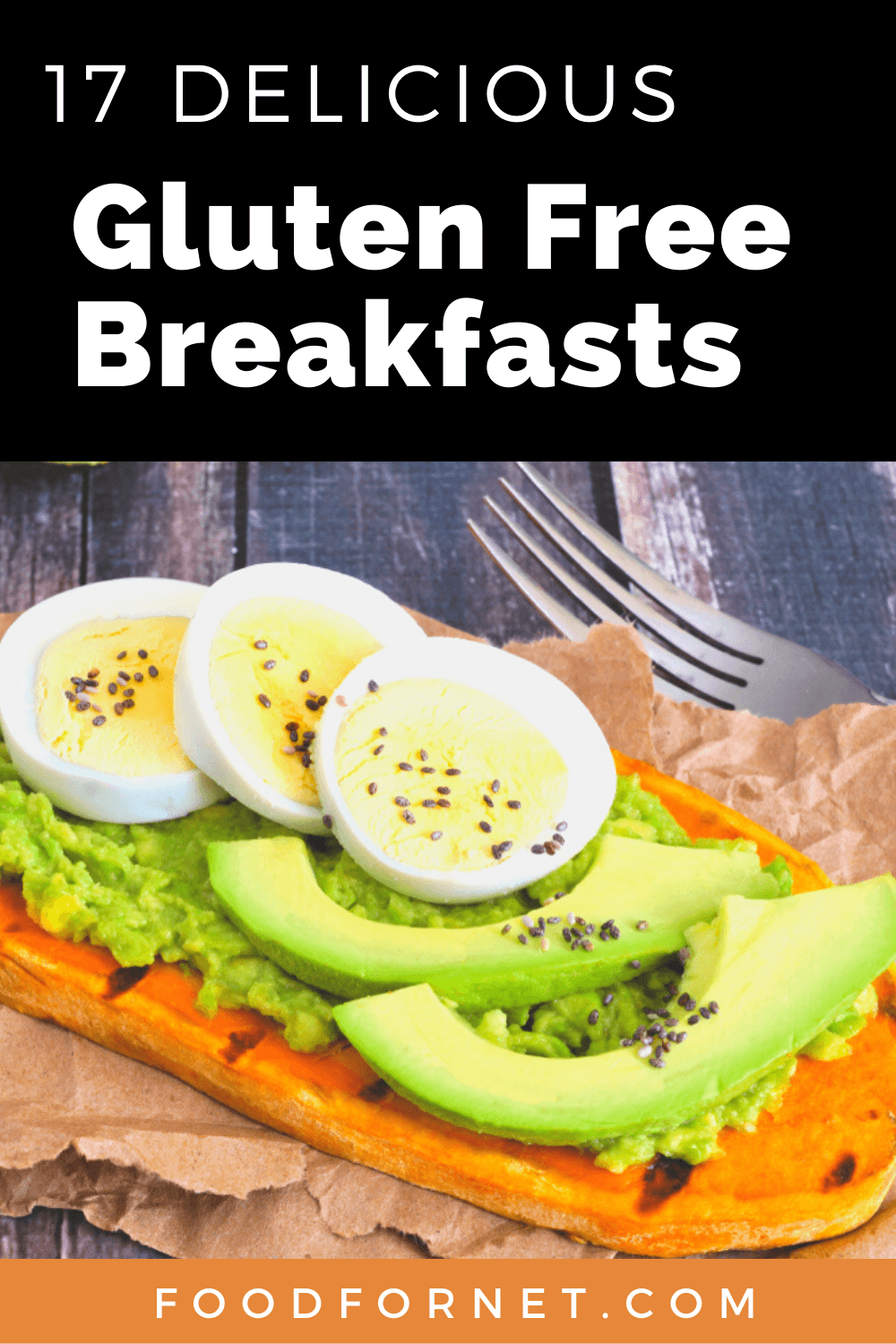 Being gluten intolerant or sensitive can be seriously frustrating. There are suddenly so many foods that you can't eat and countless meals that need to be tweaked before you can enjoy them. Thankfully, there are many amazing gluten free meals out there, including various gluten free breakfast foods.
We're focusing on breakfast in this post, partly because breakfast is such an important meal. Getting the right food into you first thing in the morning can have a huge impact on how the rest of the day progresses. Skipping breakfast or having something sugary may make it difficult to concentrate, while a hearty breakfast will give you energy to spare.
In fact, having a healthy gluten free breakfast doesn't need to be difficult at all.
It's becoming clear that many of our go-to breakfast foods, like toast and cereal, aren't all that good for us anyway. They're often high in carbs and have been heavily processed. As a result, the energy that they provide simply doesn't last. You might even get an energy crash not long after breakfast and find yourself craving food long before lunchtime.
The foods featured in this list, on the other hand, tend to be heartier. Many are rich in protein and fiber, so they'll easily keep you satisfied.
Gluten Free Breakfast Foods
Eggs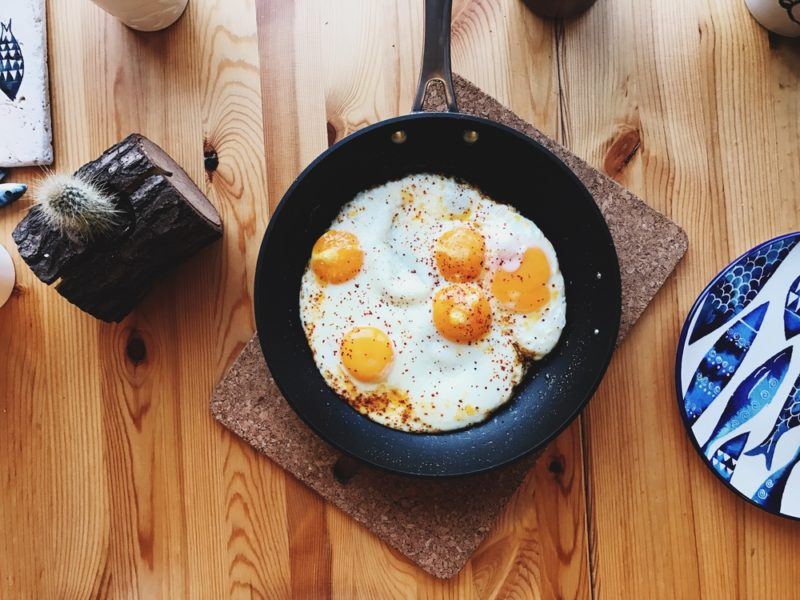 Eggs are an obvious place to begin our list, as they're a very common breakfast ingredient and they can be prepared in so many different ways. Scrambled eggs, omelets, poached eggs, and fried eggs are some examples. That's not even counting all of the breakfast dishes that feature eggs, such as frittatas and egg cups.
While eggs had a bad reputation once, we now know that they have some serious advantages for breakfast. Their protein content is reason enough to eat eggs regularly. Even just a couple of eggs can easily keep you full for hours, especially if you have some other hearty ingredients at the same time.
Eggs are nutrient-dense too. This means that you're getting a lot of nutrients in a small package. It really doesn't get any better than this.
Oatmeal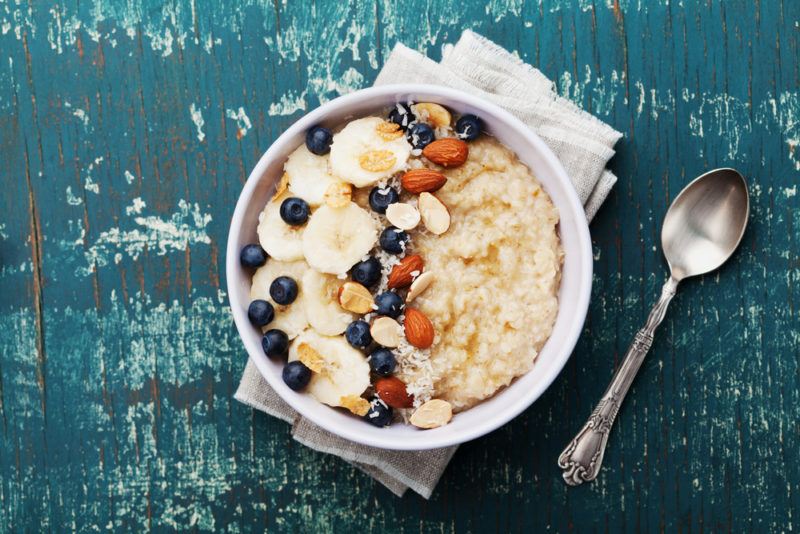 Oatmeal doesn't contain any gluten itself, but some people do avoid oatmeal when they're on a gluten free diet. This is because oats are often processed in the same environment as gluten-containing grains. There are other points of contact with gluten too, like in the field, during storage, and during transportation.
This means that many oatmeal products will contain trace amounts of gluten. Whether this level of gluten is a problem will depend on how sensitive you are to gluten.
However, some brands do go to lengths to produce gluten free oatmeal. Quaker, for example, has a gluten free range and some other companies do too. Just make sure that the term gluten free is used on the packaging somewhere.
People who are very sensitive to gluten may want to look into the processes that a company uses too. Some companies will be more stringent than others, which will affect the risk of gluten contamination.
Overnight Oats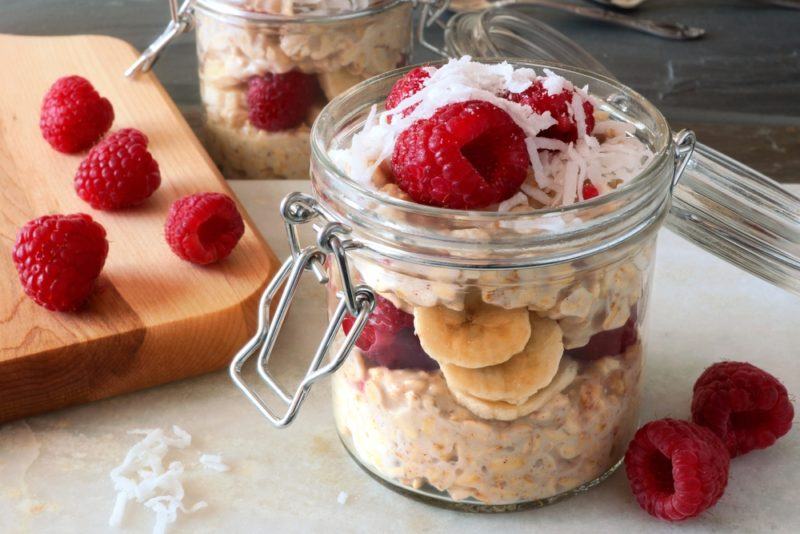 While oatmeal is the most obvious way to use oats for breakfast, overnight oats can be appealing too. These are generally eaten cold or at room temperature, so they're especially appealing in the warmer months.
One advantage is that you're preparing these ahead of time. You'll normally prep the oats the night before and leave them to soak overnight. The process infuses them with flavor from your ingredients.
This also means that there is little work for you to do in the morning. You could even take the oats with you and eat them at work or on the way.
Breakfast Stacks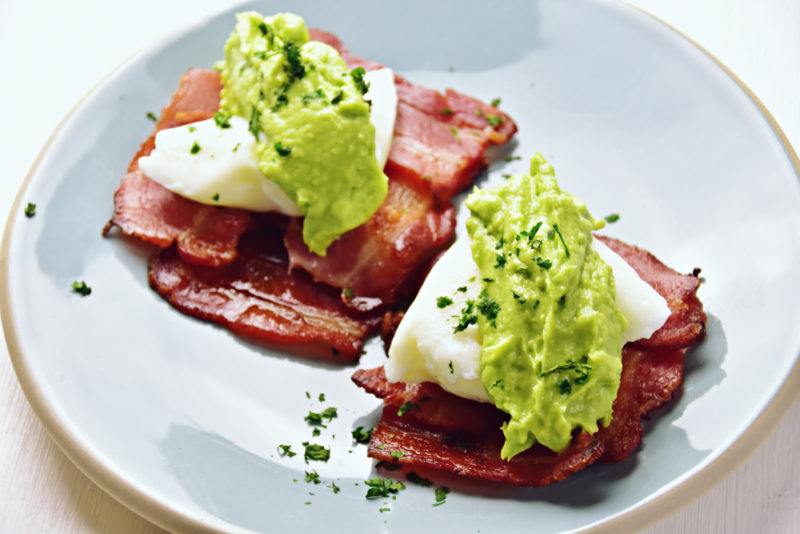 Traditional breakfast stacks often use bread at the top and the bottom, but this isn't your only option. You can easily make a gluten free version by skipping the bread entirely. You don't even need to replace it with anything if you plan to eat the meal with a knife and fork.
One simple approach would be to have a sausage patty on the bottom, then some guacamole or sliced avocado, and top the meal off with a fried egg. You could easily get more complicated too and add extra layers.
Once you've made breakfast like this a few times, you'll wonder what the point of the bread was to begin with.
Pan Fried Potatoes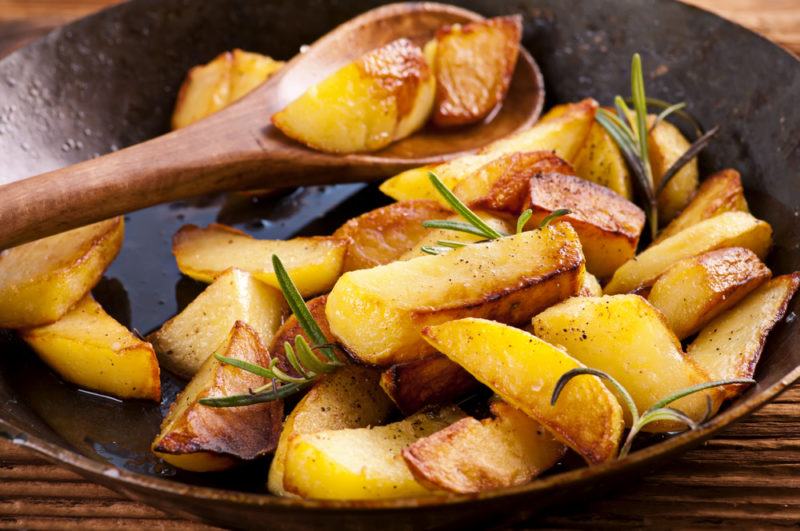 Potatoes on their own aren't going to be enough for breakfast, but they're a perfect place to begin. Pan fried potatoes are a particularly delicious approach that doesn't even require all that much work.
You could easily partially cook the potatoes in the microwave before frying them. Or, you might cook the potatoes on the stovetop the night before and leave them in the fridge. Then all you need to do is slice them and fry them first thing in the morning.
Pan fried potatoes will perfectly complement many other gluten free breakfast options, like eggs, bacon, and sausages.
You're not limited to regular potatoes either. You can pan fry or sauté sweet potatoes as well. Sweet potatoes have a different flavor to regular potatoes and their own nutrient composition too. They're also a great way to change things up, as having the same breakfast time and time again will get boring fast.
Sweet Potato Toast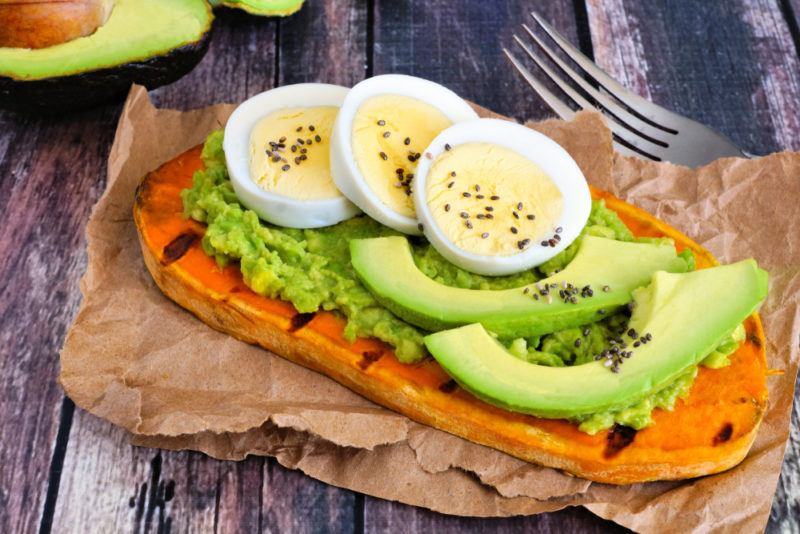 Instead of skipping toast entirely, how about grilling a slice of sweet potato and using this as the base for your meal. The approach is naturally gluten-free and gives you more nutrients than you'd get from bread too.
You would need to think about the toppings a little bit, as some toast toppings would taste delicious on top of sweet potatoes, while other toppings certainly wouldn't. Avocado and eggs are an easy place to begin, like in the image.
Eggs In Boats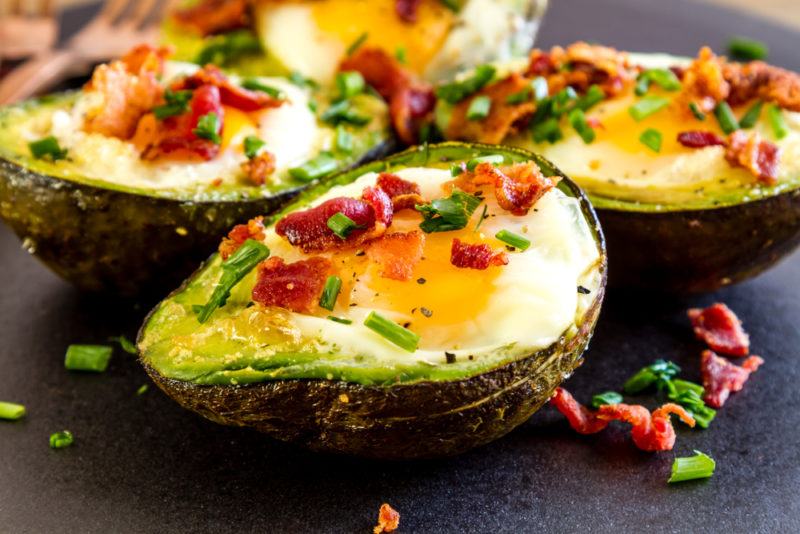 We've mentioned eggs once already, but this method of using them is overlooked much too often. The idea is that your baking an egg inside of something else.
For example, did you know that you can bake an egg in the hole of an avocado? The baking process gives the avocado an amazing texture too, so it's a win-win. Sweet potatoes can be another good place to bake an egg, giving you a hearty breakfast that tastes delicious too.
Smoothies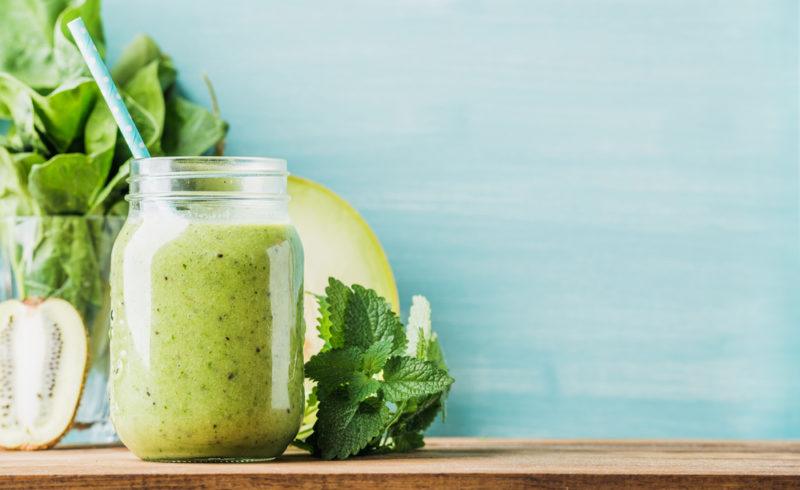 Smoothies are an interesting breakfast choice. They're incredibly flexible, can easily be gluten free, and can also be good for you. Smoothies are also popular as a fast way to increase your nutrient intake. You can even drink a smoothie on the go, which is perfect if you're running out of time in the morning.
Still, smoothies have their limitations too. For one thing, you're relying on liquid calories. Liquids are never quite as filling as foods, even when the nutrient composition is similar.
You also need to be very careful about designing the smoothie. It's far too easy to end up with a high-sugar or high-fat smoothie that doesn't offer many nutrients at all.
To make a healthy smoothie, look for fiber rich and protein rich smoothie additions. Dark leafy greens, seeds, nut butter, and berries are all powerful examples. You could also add protein powder into the mix to increase your protein intake.
Avocado is a surprisingly good addition too, providing you with healthy fats and nutrients. Just be aware of how much avocado you use, as the fruit is high in calories.
When you're making a smoothie, keep the sugar-containing additions to a minimum. Some fruits are fine, like berries, which are rich in fiber – just don't overdo it with your quantities.
Try to avoid using fruit juice as a source of liquid. There are plenty of healthier alternatives. Watch out for bananas too. They do provide an amazing texture to your smoothie, but their sugar content is high.
Chia Seed Pudding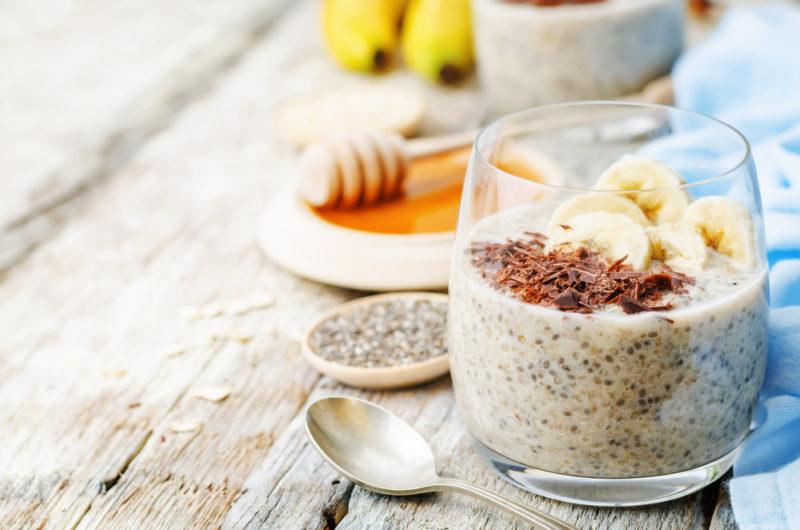 Chia seed puddings might sound like dessert, but they can make for a healthy breakfast too. The seeds are naturally gluten free, high in protein and fiber, and offer plant-based omega-3 fatty acids too. What could be better than that?
Making a chia seed pudding is simple. All you need is the chia seeds themselves and some type of liquid. Plant-based milk is a popular choice, although you could turn to dairy milk too if that's your preference.
Chia seeds become gelatinous once they've been in liquid for a little while. This effect is what gives the chia seed pudding its texture.
You can then flavor the pudding however you would like. For example, fruit can make the pudding taste so much better, while adding some nutrients in too. Cacao powder, on the other hand, provides a chocolatey flavor without sugar. You can also use nut butter for extra protein.
The various ingredients can often be added as a layer within your pudding, as a topping, or as something that you stir in. The approach you take will depend on the effect that you're looking for in the finished meal. Thankfully, chia seed puddings are very flexible. You can keep trying out different combinations and learn your preferences that way.
Fried Foods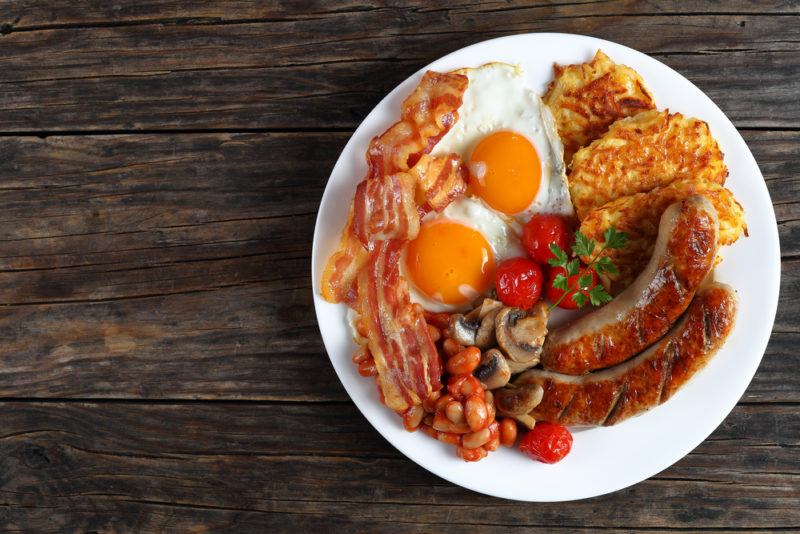 Many fried breakfast foods, like eggs, mushrooms, potatoes, sausages, and bacon, are naturally gluten free. This means that you can basically have a full English breakfast, or close to it, while still sticking to a gluten free diet.
The biggest change is that you'll need to cut out the bread. You could give this a miss entirely or substitute it for another source of carbs. Potatoes or sweet potatoes work well as an option, especially if you feel like making hash browns or frying your potatoes. Doing so would give you crispy potatoes, which complement the rest of your meal well.
Whether fried food is good for you or not is a matter of debate. Still, if you're using healthy fats for cooking and don't overload yourself, then there's no reason that you can't enjoy a breakfast like this occasionally. You're also relying on whole food ingredients, which is always a good choice for health.
And, if you're worried, you could always add some sauteed or raw leafy greens onto the side. Roasted vegetables would work well too. Either approach would help you to create a balanced meal.
Cottage Cheese With Fruit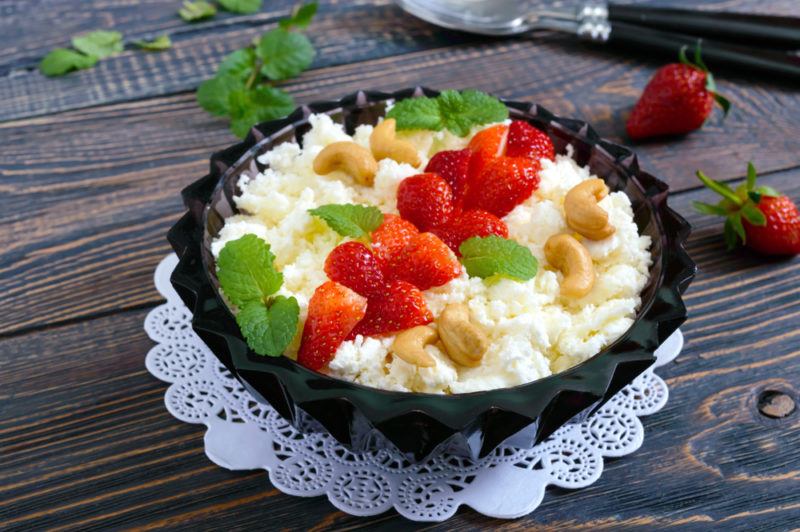 Cottage cheese is popular as a weight loss food, partly because it is relatively low in calories and contains a deccent amount of protein.
Adding sliced fruit on top is an easy way to make cottage cheese more interesting, as cottage cheese doesn't have a strong flavor of its own. Fresh fruit also provides extra fiber, which is always a good thing.
However, if you're going to eat cottage cheese, be sure to check the ingredients first. While cottage cheese tends to be gluten free, some brands do use some form of wheat starch.
Breakfast Hash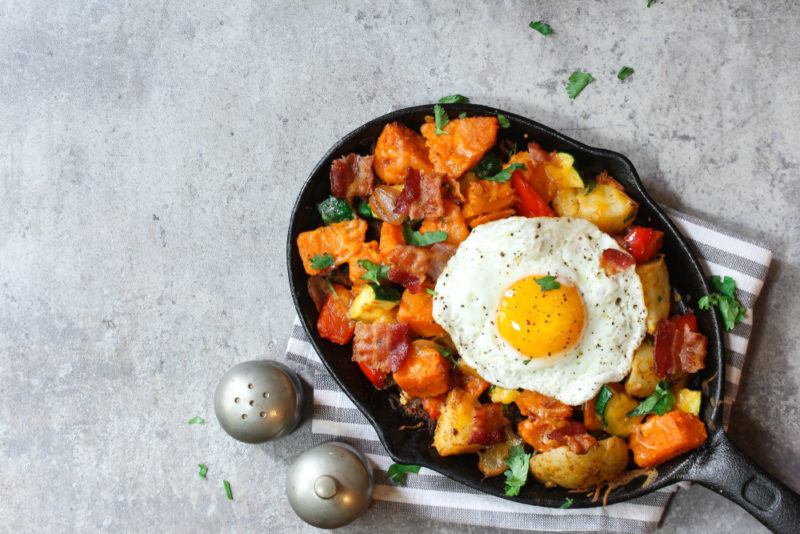 Breakfast hashes come in very different styles, but most of the common ingredients are gluten free. Potatoes, bacon, and eggs are found in countless such recipes. Some versions swap the bacon out for ham or even minced beef instead.
Other variations work well too, like using sweet potatoes instead of regular potatoes. You could try adding in other roast veggies too.
Breakfast hashes tend to be hearty, which is a major advantage first thing in the morning. Plus, you can make them with leftovers. An easy approach is to cook extra roast veggies the night before so that you have everything you need for your breakfast hash.
Breakfast Casserole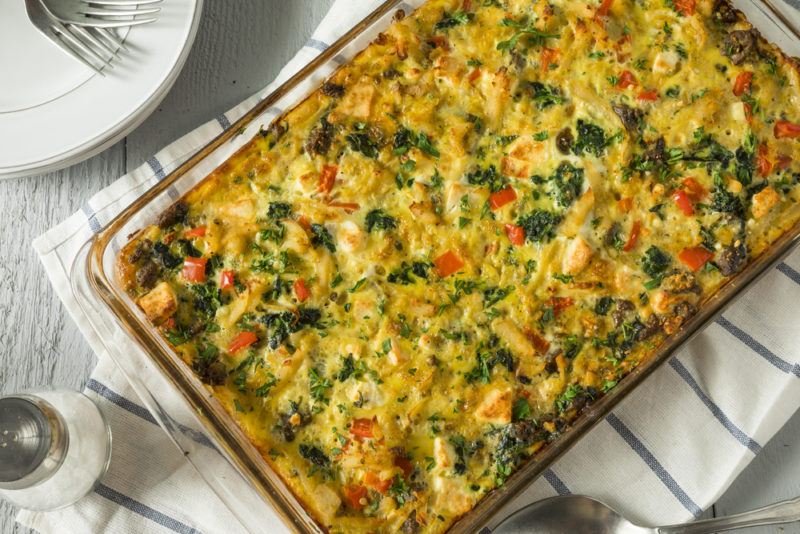 Breakfast casseroles are another style to try. You'll sometimes see these called breakfast bakes too, as you're combining a collection of ingredients and then cooking them together in the oven.
Most versions use eggs as a key ingredient, as the eggs help to bind things together. You could use other classic breakfast flavors too, like bacon and cheese. Other recipes load the meal up with vegetables, which makes it a healthy choice that is packed with fiber.
Cauliflower Breakfast Pizza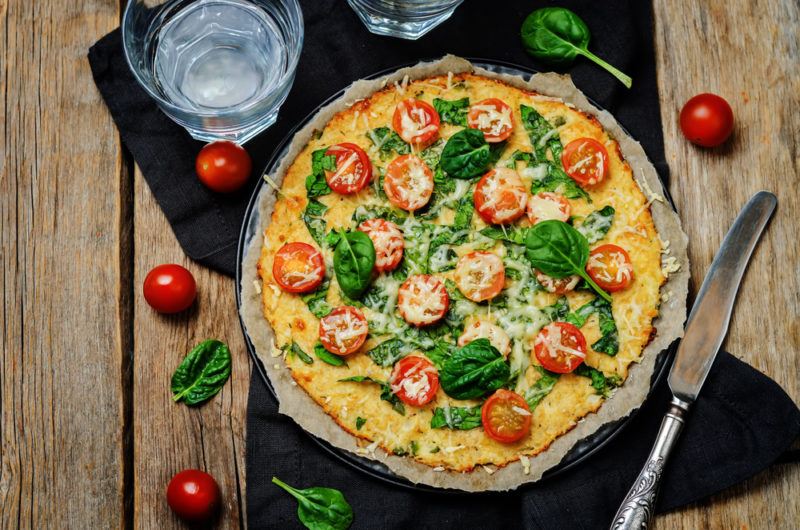 How does pizza for breakfast sound? This meal can actually be healthy and gluten free, if you plan it well. One method is to use diced cauliflower as the main ingredient in the pizza crust.
The idea works surprisingly well, partly because cauliflower has a very mild flavor. You can top your pizza with whatever ingredients you like. If you're looking for a healthy pizza, try not to load it up with cheese too much.
There are also other recipes for gluten free pizza crusts, including some that use broccoli rather than cauliflower as the base vegetable. This gives you plenty of versatility, which is perfect if you're not a fan of cauliflower.
Roasted Sweet Potatoes With Toppings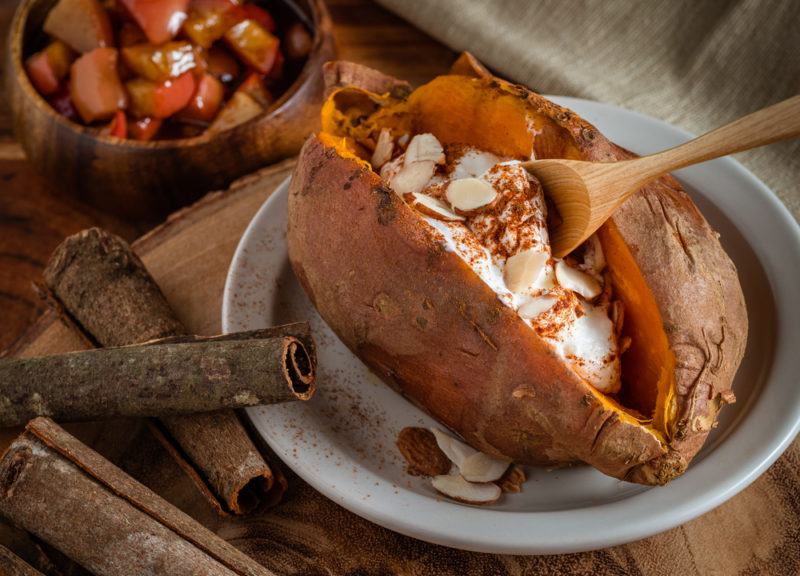 If you want something a little different, sweet potatoes are a fun choice. These veggies are actually good for you and their bright orange flesh means that there are plenty of phytonutrients present too.
One fun way to use the potatoes is to roast them, then serve with yogurt, nuts, and a little maple syrup. You can roast the potatoes first to save time, then just reheat them in the microwave first thing in the morning.
You can also use sweet potatoes as a boat and include other ingredients as a filling. Baking an egg in the middle of a sweet potato is an especially fun idea.
Protein Bowls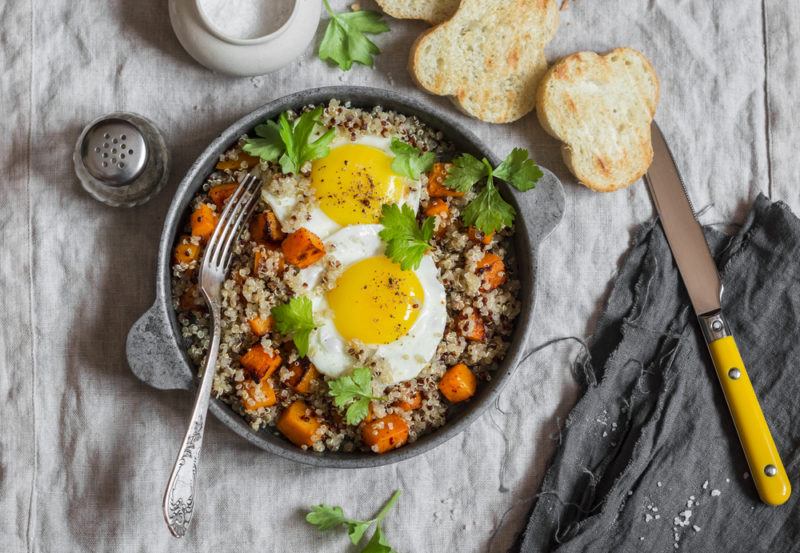 Protein bowls also go by the name power bowls. This type of meal combines multiple powerful ingredients in a single dish.
The biggest difference between this and a regular meal is that the ingredients aren't all mixed in together. The style makes it very easy to add or remove ingredients as you see fit. So, it can be much simpler to create a gluten free power bowl than a gluten free version of a regular meal.
Most protein bowls do use some type of grain as a base ingredient. This provides a healthy source of carbs and fiber. But, you can easily use a gluten-free grain like quinoa.
You don't need to stick to breakfast-style ingredients when making a protein bowl either. Try one that has dinner flavors instead. You might be surprised at how much you enjoy the change of pace.
Paleo And Gluten Free Alternatives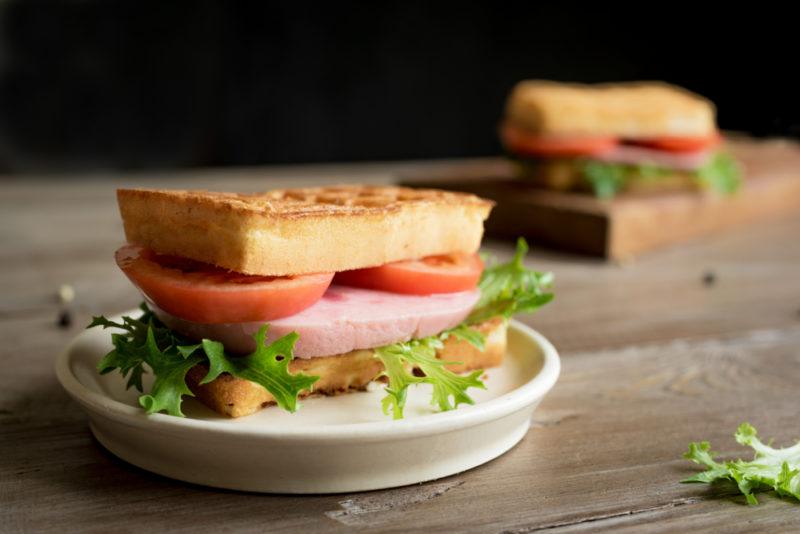 If there's a specific breakfast food that you miss, you can easily look for a recipe that tries to mimic the food in question. For example, a search for 'gluten free bread' will turn up hundreds of different bread recipes that you can use to make toast or perhaps use as the base for eggs benedict.
You can also rely on the term paleo when you're searching. The paleo diet is based on an idea of how our ancestors ate and involves various restrictions. For example, paleo dieters generally cannot eat legumes and grains. The restrictions mean that all paleo diet food is also gluten free (although some gluten free food is not suitable for paleo).
Just be aware that a gluten free version of a meal won't taste quite the same as the original. There are always some differences in flavor and texture. Whether this is a problem will depend on exactly what you're looking for.
Related Content