Cereal remains a classic breakfast option. It's a popular choice among those who want something fast and easy in the morning. Plus, choosing a cereal like granola can seem exceptionally healthy. After all, many products are minimally processed and include plenty of healthy ingredients. Still, is granola good for you?
To answer this question, we need to talk about the various features of the cereal and how they can impact your health. We must look at the differences between products too, as there are many of these.
Sometimes you end up with granola that's high in sugar and calories, while other times the granola might rely more heavily on nuts and seeds, giving you less sugar and more nutrients.
Don't forget that granola is just one of many breakfast options. You can also look at high protein breakfasts, like eggs, or even try an unfamiliar breakfast, like a Thai breakfast or a Mexican breakfast.
Is Granola Good For You?
What Is Granola?
Granola Versus Muesli
The Benefits Of Granola
The Health Risks Of Granola
Should You Avoid Granola?
How To Choose Healthy Granola
How Much Granola Should You Eat?
Final Thoughts
What Is Granola?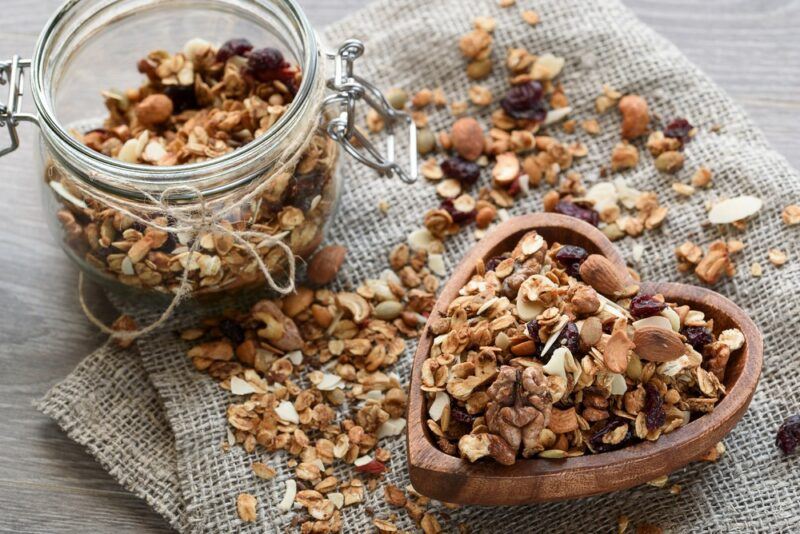 Granola is technically a combination of rolled oats and various other ingredients, such as dried fruit, nuts, seeds, and spices. It's most often used as a breakfast cereal or sometimes as a snack.
Regardless of the ingredients, granola can be delicious and quite nutritious.
It's very popular too, partly because a bowl of granola with milk is one of the easiest breakfasts that you could ever have.
These days, granola isn't limited to rolled oats. Other grains may be used instead. You can even find keto and paleo versions of granola, which avoid some of the traditional ingredients altogether.
Granola Versus Muesli
The words granola and muesli are often used interchangeably. This isn't too surprising either, as the cereals look similar and may use almost the same ingredients. One difference is that muesli tends to be served raw, while granola is baked instead.
Some type of sweetener is often added to granola too. This helps to bind the ingredients together when they're baked.
Baking granola means that it can be eaten with just a little milk or yogurt, or even on its own, while muesli needs to be soaked in liquid for a short time to make the oats softer. This approach also means you're often getting clusters of crunch granola – a feature that isn't seen with muesli.
The Benefits Of Granola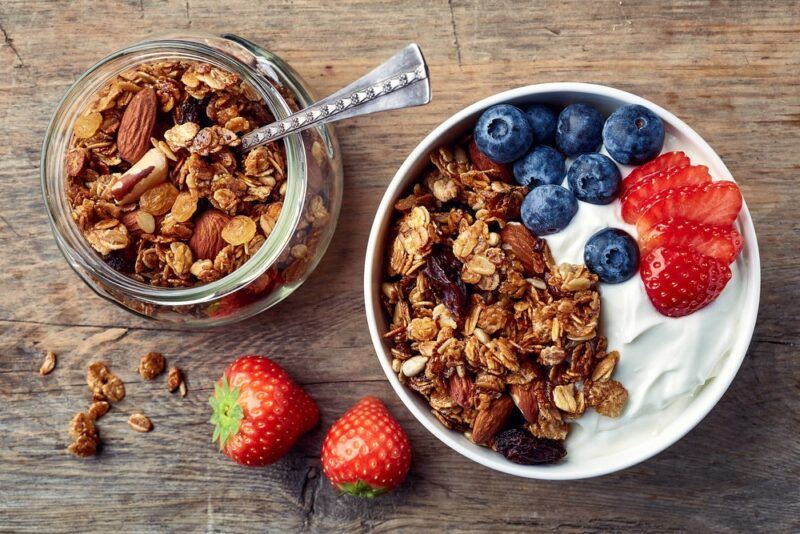 Convenience
The first benefit of granola is a practical one – the breakfast cereal is incredibly easy to use. You don't need to cook or soak it, just eat it as-is. This is fantastic first thing in the morning, as many of us don't have the time or energy to prepare a full breakfast.
As we've talked about before, skipping breakfast can be a healthy and practical option, but not for everyone. Many of us need something satisfying in our stomachs before we get too far into the day.
Can Promote Weight Loss
Granola can help you lose weight in a few ways. First, if you choose nut-based granola, then it should be high in protein. This protein can help to keep you satisfied, reducing the chance that you'll crave snacks later in the day.
Plus, having three regular meals a day, starting with breakfast, can be an important weight loss tool for many people.
Another feature is the oats. Granola is traditionally an oat-based cereal and oats are quite significant for weight loss, due to the beta glucans that they contain. Beta glucans are a type of fiber that is soluble, forming a gel when combined with water. The effect can help you to feel full and could even directly promote weight loss.
A Rich Source Of Complex Carbs
I'm sure you've heard the controversy about carbs by now. In our attempt to decrease fat intake, modern society has started to rely on high carb foods, which are often processed and contain plenty of added sugars. That diet pattern may contribute to many diseases and health problems.
We clearly need to cut down on the refined carbs and added sugar, but what about complex carbs? This is where the topic gets muddy, as complex carbs can promote health. They can even help to stabilize blood sugar because of the fiber they contain.
Granola tends to be a whole grain food, making it a rich source of complex carbs. The cereal is even more powerful when you choose a brand that keeps the sugar to a minimum.
May Promote Heart Health
Granola may be relevant for heart health too. The whole grains are one reason for this, as whole grains help to keep your blood sugar stable and could significantly reduce heart disease risk.
The beta glucans from the oats are relevant here too, as they help to promote better cholesterol, blood sugar, and blood pressure levels.
Can Be Nutrient Dense And Packed With Antioxidants
Granola can include many powerful ingredients, including chia seeds, flax seeds, almonds, rolled oats, and dried fruit. These ingredients provide a decent amount of fiber and protein, not to mention a variety of vitamins and minerals.
As such, granola ends up being an easy way to boost your nutrient intake. When else do you get so many potent ingredients without needing to cook anything?
Because the ingredients are plant-based, you're getting plenty of antioxidants and anti-inflammatory compounds as well. These can promote health in a variety of ways. For example, reducing inflammation might lower pain and decrease the risk of some diseases. Similarly, antioxidants are sometimes linked to longer life and anti-aging properties.
Helps With Digestion
The fiber in granola makes it powerful for your digestion. Granola is actually better than many other breakfast foods for this effect, as it contains soluble and insoluble fiber.
Oats are particularly relevant here too, although all of the whole grains in your granola contribute to its fiber content and digestive impacts.
The Health Risks Of Granola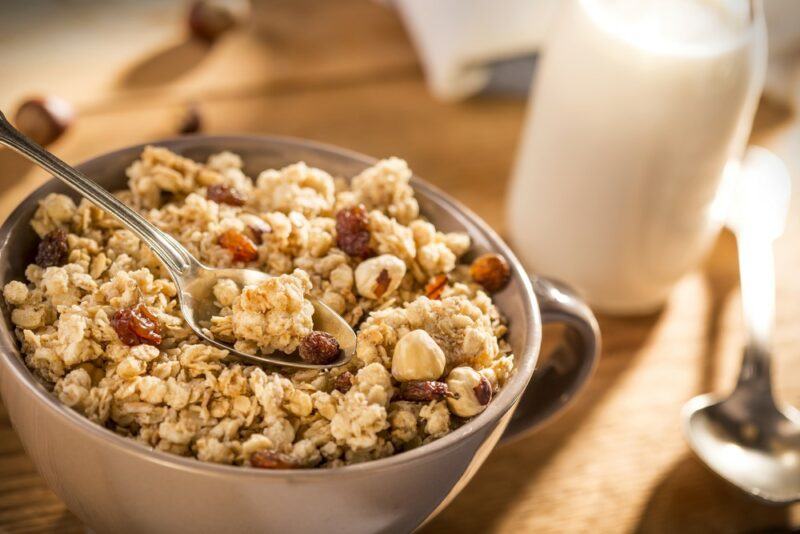 With all the nutrients and healthy ingredients, granola should be good for you, right? Well, it can be, if you eat the right type and watch your portions. But, as you'll see, granola has some serious issues too.
It's Often High In Sugar
Granola isn't just baked in some type of sweetener, it can also contain sugar-packed ingredients, particularly dried fruit. Because of this, the cereal is often much higher in sugar than you might expect.
The risks of sugar are well-known these days. Not only is sugar a source of empty calories, but it also leads to blood sugar spikes and might contribute to various diseases. Many of us are already consuming too much sugar, particularly added sugar, and granola just makes that issue worse.
Granola mightn't seem so bad because much of the sugar comes from dried fruit. Don't be fooled though, Sugar from fruit is still sugar. It might be slightly better than added sugar, but it still comes with many of the same risks, especially if you eat too much.
It's easy to overdo it with dried fruit too, as you're getting these tiny pieces of delicious fruit that are shockingly high in sugar.
Can Be Very High In Calories
While granola contains plenty of nutrient-dense ingredients, many of these are calorie-dense too, making granola higher in calories than most of us realize.
Let's start with the dried fruit. The dehydration process means that the fruit loses most of its liquid. You get the same amount of calories and nutrients as you would in a whole piece of fruit, but in a much smaller and easier-to-eat package.
Consuming too much fresh fruit takes effort, as you have plenty of liquid and fiber to deal with. Dried fruit, on the other hand, tastes much like eating pieces of candy, so it's easy to have too much.
Many granola brands are generous with their dried fruit, which quickly raises the calorie content of the cereal.
There are other calorie-dense ingredients too, including nuts and seeds. Even when these are healthy on their own, they all contribute to a calorie-dense meal that can quickly be unhealthy.
Considering all these things together, it's not surprising that half a cup of granola can easily contain more than 200 calories. The calorie content could be even higher if the company isn't focused on creating a healthy product.
There Are Often Additives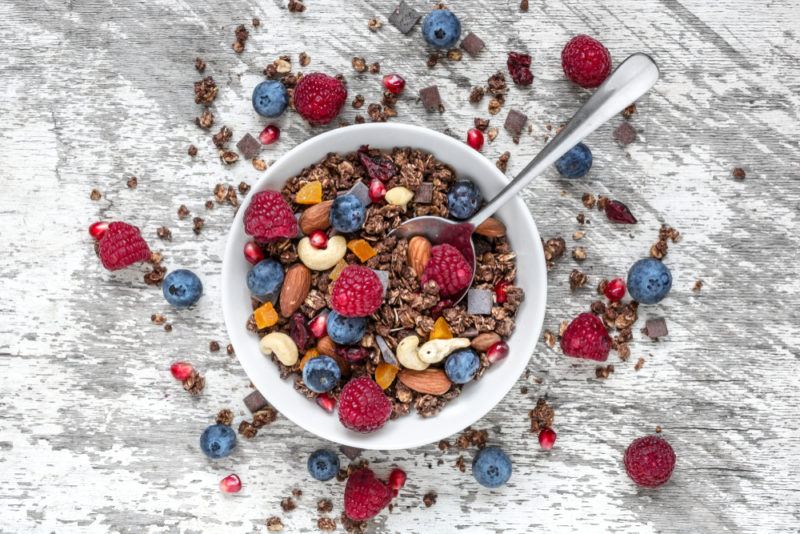 Granola should rely on whole food ingredients like nuts, grains, dried fruit, and seeds – and little else. While some companies do follow those principles, plenty of others don't.
You'll see what we mean on any grocery store shelf. Fillers, preservatives, sweeteners, and flavors are often used to give the granola the exact right flavor and texture.
These additives are generally considered safe. And, in fairness, they were researched before they ever entered the human food supply. Even so, there's plenty of controversy around additives. Some of these could have negative impacts on health, especially if consumed regularly.
Even if the chance of issues is low, why risk it? There are so many products that don't use additives. Why not rely on these instead?
The Carb Content
Granola contains complex carbs from the whole grains and simple carbs from the sugar and dried fruit. While complex carbs are thought to be healthy, many people try to cut their carb intake down entirely.
If you're limiting carbs, then most granola brands won't be a good choice.
There are paleo granola recipes and keto granola recipes, both of which tend to be much lower in carbs. Of course, you're not making granola in the traditional sense, as most of these recipes will avoid the oats.
You should also be careful with such recipes, as they often heavily rely on nuts and seeds. While doing so gives you a nutritious and filling breakfast, you end up with something much more calorie dense than regular granola.
It's Misleading
The sugar, carbs, and calories are all reasons to be careful with granola. The same is true for the various additives. But, granola's biggest problem is that it looks healthy. It's often marketed that way too.
This is a serious issue because when we think a food is healthy, we tend to trust it and don't pay too much attention to our serving sizes. But, as we mentioned earlier, granola is calorie dense. Eating as much as we feel like isn't a great plan – and it's very easy to overdo it with granola.
For example, some cereal brands contain between 190 and 250 calories for a serving of half a cup or so. That's concerning because, let's face it, half a cup of cereal isn't enough for most of us. We might eat a cup or more, perhaps with milk, yogurt, or even some fresh fruit.
Those calories add up far too quickly.
Should You Avoid Granola?
Granola has its good features and its poor ones. How well it works for you depends on the rest of your diet and why you're eating granola to begin with. Plus, if you're going to have granola, make sure the type you choose matches your needs.
If you're an athlete or are spending a lot of time in outdoor activities, granola could be perfect. The carbs provide you energy quickly, which is exactly what you need.
In this context, the amount of nutrients and calories in the cereal could be perfect – helping to refuel you and give you the energy needed for your activities. Plus, for those involved in nature sports, a bowl of cereal is easier to prepare than most other breakfasts.
The problem is when you try to have granola as a regular breakfast before a workday.
Convenient as granola is, it is often too calorie-dense and the carbs aren't helpful either. We can end up with a blood sugar spike, followed by a crash a few hours later. This isn't helpful, especially if the granola isn't keeping us full either.
How To Choose Healthy Granola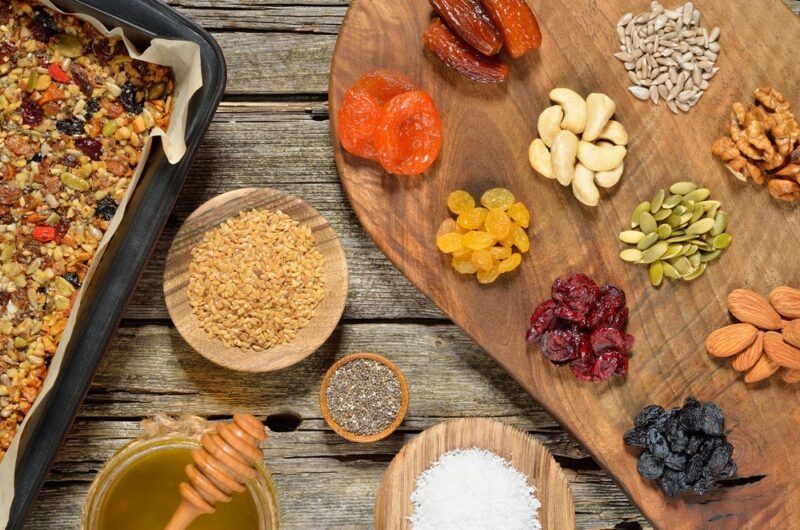 As you've seen, granola can be quite complex. Whether it ends up being healthy or unhealthy largely depends on the type that you choose. Thankfully, some tricks can help you choose the best granola.
Look For Natural Products
The best granola will skip unneeded ingredients, including artificial flavors, binders, and other additives. Instead, the granola should rely on whole food ingredients.
Products designed for paleo or keto dieters will often be healthy choices, as both eating approaches focus on whole foods. Still, you should always check out the ingredients for yourself. Too many products sound like they should be healthy and aren't at all.
Watch Out For Homemade Granola
Homemade granola is often better for you. There aren't any additives to worry about and you get to control all the ingredients. So, you can add some of your favorite ingredients and remove others.
Still, making the granola yourself doesn't guarantee that it will be healthy. Some recipes will still use sweeteners and dried fruit. Others might skip the sweetness and rely more heavily on nuts. That combination can seem fantastic until you look at the number of calories per serving.
Make Sure It Matches Your Needs
For most people, the best granola will skip most sweeteners, keep the dried fruit to a minimum, and focus more heavily on nuts and seeds instead. Even then, there's plenty of room for variation.
Some products, particularly those for keto and paleo dieters, skip the grains almost entirely. You end up with a very low carb breakfast cereal, one that focuses on nuts and tends to be high in both calories and fat.
If you're following a keto diet, the calorie and fat content of the granola might be fine, especially if you keep your serving size small. If you're not, this type of granola could be too much. You may do better with a product that more evenly balances grains and nuts.
Also think about your ideal protein intake. Will a serving of granola give you enough protein to keep you satisfied without too much sugar? Or, would it be better to skip the granola entirely and focus on a different type of high protein breakfast?
How Much Granola Should You Eat?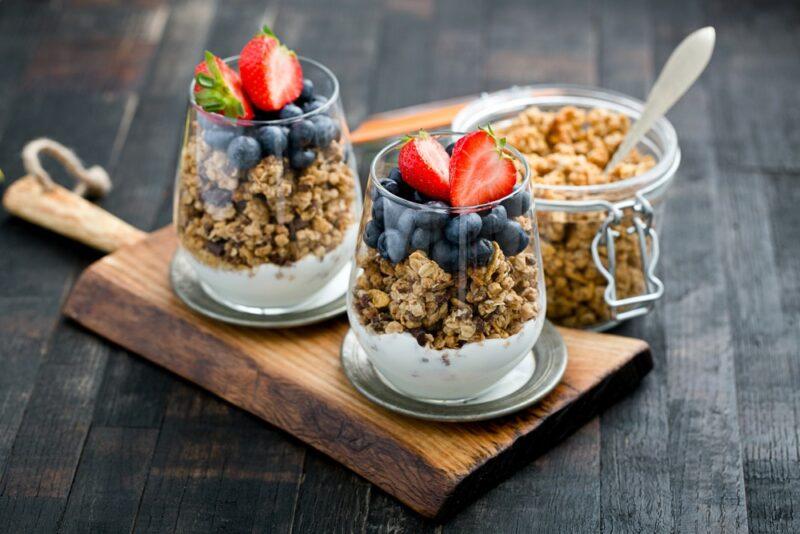 The nutritional label for granola will give you a good idea of the recommended serving size, along with the nutrients, sugar, and protein that you get per serving. Most of the time, you'll need to stick to this serving size. If you go above it, you may be consuming far too many calories.
Don't forget about anything you're adding to your granola too. Yogurt, milk, or fresh fruit are all common additions. You might even use all three. While those ingredients are all healthy, they do increase the calorie total still further.
Most of the time, you're looking at between a third of a cup and half a cup of granola per serving.
Be sure to measure this out – as it's much less granola than you might expect.
Here's a good test. Have just the recommended serving for your granola for breakfast, perhaps with a little milk. Do this for a week or so. See whether you're getting enough energy from the granola and whether the energy release is stable.
If you're getting hungry quickly, try increasing the amount of granola. But, still pay close attention to the amount you're consuming. If you need to have two servings of granola or more to stay satisfied, then granola mightn't be the right breakfast for you.
Final Thoughts
Granola is one of those foods that can be healthy or harmful. Which effect it has is based on the type you choose, how much you're eating, and the amount of energy you need.
For most of us though, granola isn't nearly as good as it sounds. It can be nutrient dense, true, but also ends up being high in carbs and calories. Such features make it easy to eat more granola than you should, which could lead to weight gain.
Plus, if you choose a low protein product, granola isn't likely to keep you full either. Granola works best when you're expending a lot of energy, like if you're active outdoors. Here, the carbs and calories in granola can be a good thing, helping to refuel you, while also providing plenty of nutrients.
Frequently Asked Questions
Is Granola Keto Friendly?
Most granola from the store isn't keto friendly at all. The carb content is far too high, often getting above 12 grams of carbs in a quarter cup serving (and most of us don't stick to just a quarter of a cup at a time).
There are exceptions though. Some brands focus on making low carb products. These rely much more heavily on nuts and may even skip grains entirely.
These products, plus similar homemade versions, could easily fit on a keto diet. But, if we want to get technical, such products aren't the same thing at all. They're actually low carb alternatives that aim to replicate the flavor and texture of granola.
Is Granola Good For Weight Loss?
You could use granola for weight loss if your portion sizes were small enough. However, it's not an ideal choice.
Most granola products end up being too high in sugar and fat, which makes them high in calories as well. Granola is also traditionally fairly low in protein, which means that it isn't very filling.
When you're trying to lose weight, it's often better to focus on high protein meals, particularly those that are fairly low in sugar. This way you stay satisfied between meals without overdoing it on calories.
Is There High Protein Granola?
Some companies do focus on high protein granola, often by relying on nuts and seeds. These products should be better for weight loss than traditional granola.
You can make your own too. Including protein powder in the mix is a great way to boost the protein content without much impact on the flavor or texture of your cereal.
Is Granola Good For Diabetics?
The high carb content of granola means that it isn't ideal for diabetics. However, versions with plenty of protein and minimal added sugar can be helpful.
It's also best to focus on high protein or high fiber toppings for the granola. Doing so helps to lower the blood sugar impact and make granola a safer choice.
You'll need to keep an eye on your portion sizes though, as a serving of granola is surprisingly small and it's easy to eat more than you mean to.
Can Granola Go Bad?
Granola has a decent shelf life when unopened. It can even last up to 6 months beyond the date on the label if it is kept in a cool place. Even once opened, granola can still be good for around 3 to 6 months.
However, those are just estimates. Companies vary in the ingredients they use and whether they add preservatives. Those differences can dramatically impact how long the granola lasts for.
Homemade granola also has a much shorter shelf life, often just a month or so.
A change in flavor is a big indication that granola has gone bad. It will often taste 'off' or have a paint-like scent. Keep an eye out for mold and bugs as well.