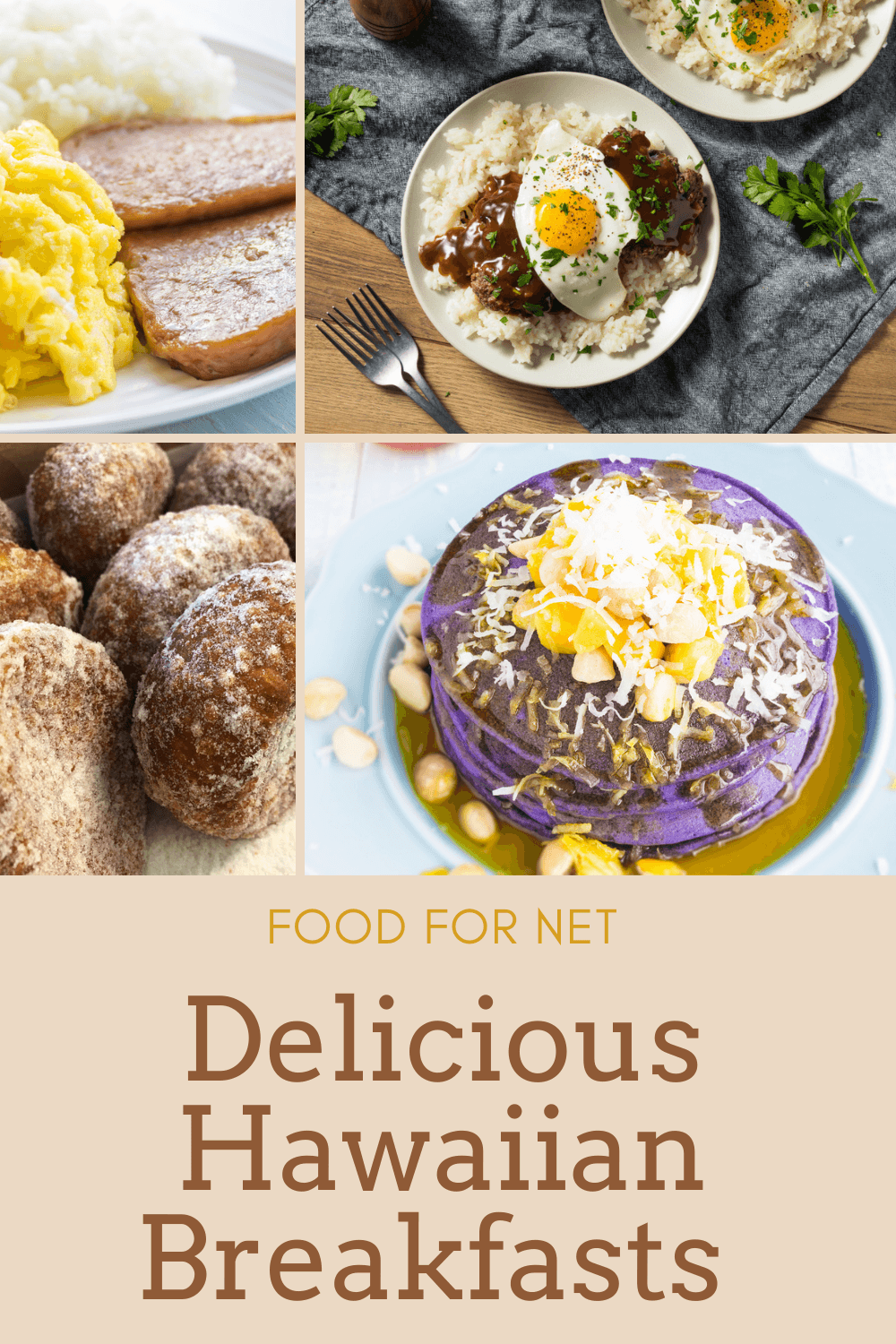 There's always something special about breakfast, regardless of where you live. The meal helps sets the pace for the rest of the day and gives you the energy you need to get rolling. While Hawaii is more well-known for its palm trees and clear waters, Hawaiian breakfast foods aren't to be missed either.
You won't find all of your personal favorites from other parts of the United States, but that's not a bad thing. Hawaii has more than enough interesting and unusual foods to make up the gap.
You might even find some new favorites and end up craving Hawaiian breakfasts when you get back home. Thankfully, you can make many of these meals yourself with a little research and energy.
If the breakfasts on this list aren't exactly what you're looking for, then check out our other lists of regional breakfasts, including breakfast foods from China, Russia, and France. Each part of the world has its own distinct meals that aren't to be missed.
Hawaiian Breakfast Foods
Malasadas
Loco Moco
Portuguese Sausages
Meat With Rice
Macadamia Nut Pancakes
Other Types Of Pancakes
Acai Bowls
Breakfast Plate
Taro Bagel
Congee
Poke
Hawaiian French Toast
Bacon and Pineapple Bake
Fruit Filled Crepes
Malasadas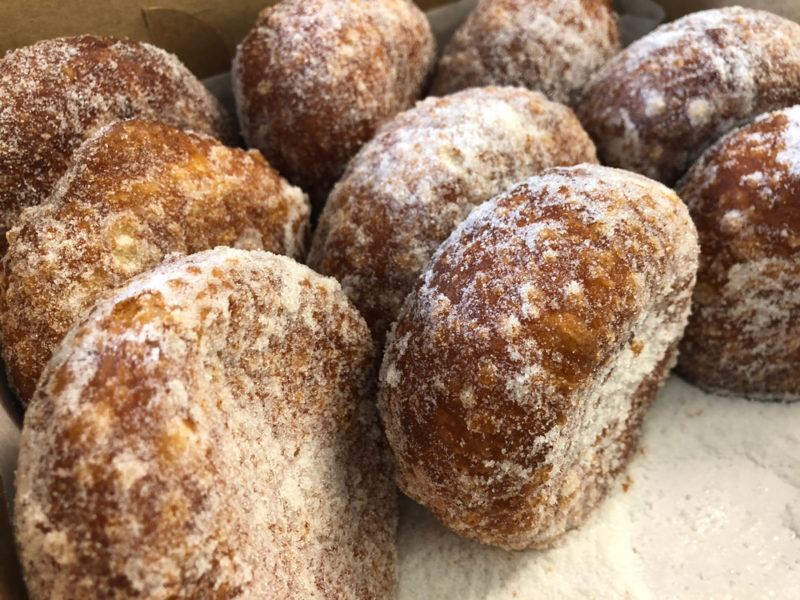 Malasadas are a type of Hawaiian donut that originally came from Portugal. The donuts are made from yeast dough balls that have been deep fried and then covered in sugar. Other toppings are available too, including cinnamon sugar, although the simple ones often taste the best.
While these treats don't have the donut shape that many of us are familiar with, the taste should match your expectations.
Not surprisingly, this isn't a filling breakfast food. You get a sugar rush first thing in the morning instead. That might be enough to get you moving, but malasadas are best saved as a sometimes breakfast, rather than something you eat every day.
Loco Moco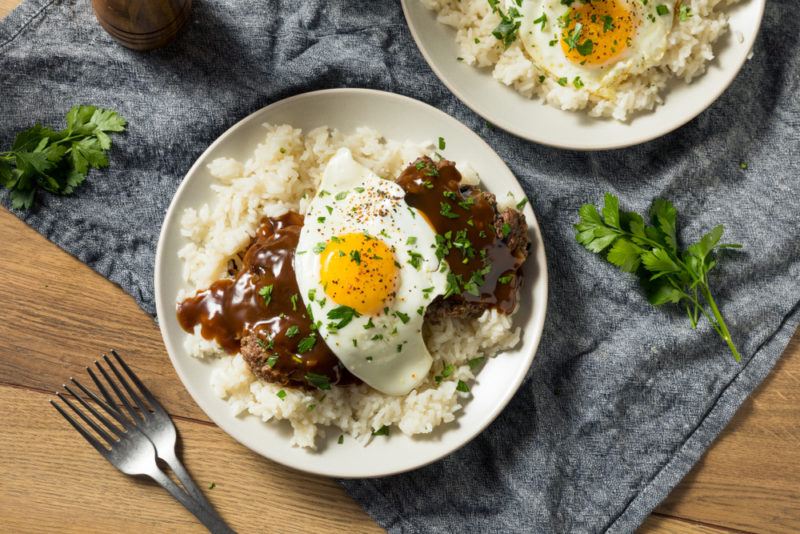 This hearty dish combines filling ingredients in an unexpected way. You have a bed of rice, with a burger patty, gravy, and an egg. Some greens might also feature in the breakfast.
While pairing rice with a burger patty might sound odd (most of us would look for something bread-based instead), the pairing is a good one. You might find yourself relying on rice more often after trying this breakfast once.
The name comes from Loco Moco Drive In and the meal is one of the restaurant's signature dishes. Of course, you'll find many similar meals at other restaurants in Hawaii or could easily make your own. As you'll see later, the pattern of serving meat and rice for breakfast is a common one in this state.
Portuguese Sausages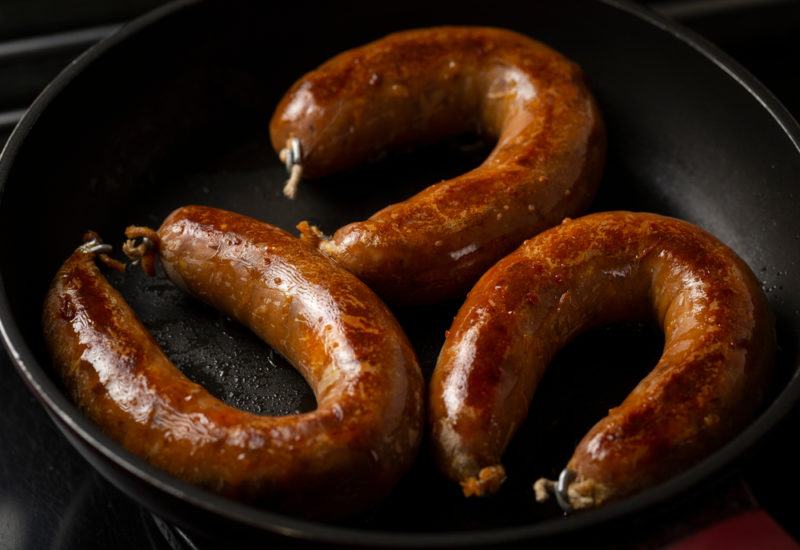 Sausages often grace the breakfast table in Hawaii. Portuguese sausages are the most common type here. These are pork sausages that are spiced with paprika, garlic, and black pepper. Vinegar is included too, which gives the sausages a distinct flavor.
The sausages were originally brought over by Portuguese immigrants, towards the end of the 19th century. Since then, they've become well-established and you'll find them throughout Hawaii. Even McDonald's has got on board, offering a Portuguese sausage breakfast.
Meat With Rice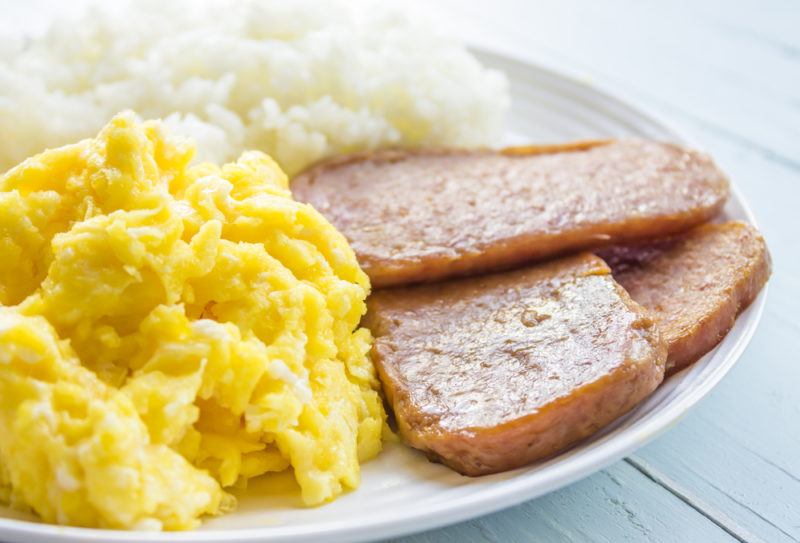 The loco moco dish that we mentioned earlier serves up a hamburger patty with an egg, rice and, gravy, but this isn't the only such meal in Hawaii. Many people eat some type of meat with an egg and rice for breakfast. Spam or Portuguese sausages are both popular options. You'll see bacon served too.
This meal has a few advantages.
For one thing, it's filling. You're getting enough energy to easily last you until lunchtime. It's sustainable energy too, so you're not getting a blood sugar spike followed by a drop.
The meal is also easy to prepare, which makes it a fantastic day-to-day choice for eating at home.
Macadamia Nut Pancakes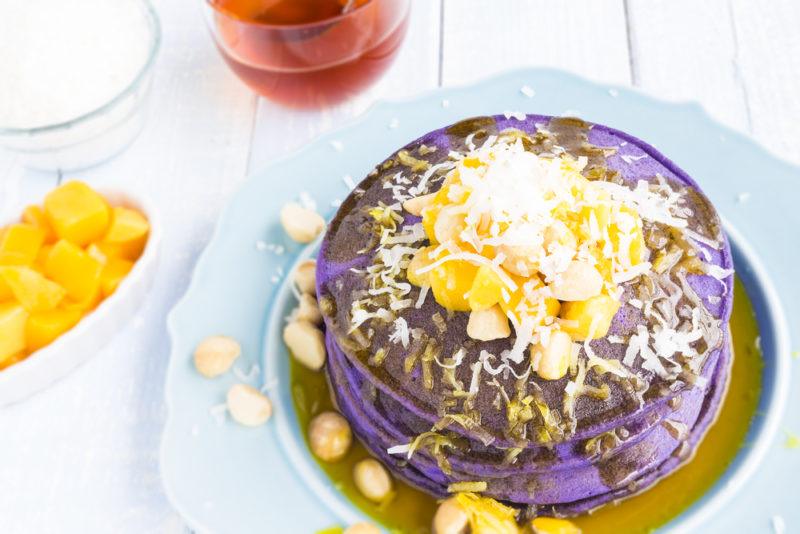 Pancakes are a popular breakfast in Hawaii, just like they are in many other parts of the world.
There's a difference though. The version you find in Hawaii often relies on macadamia nuts. You may see other regional ingredients too, like coconut, pineapple, or taro (which gives a purple color). This ingredient combination creates a distinctly tropical flavor to your meal.
However, these are still traditional pancakes in many ways. They still rely on wheat flour, so they're not gluten-free at all.
Other Types Of Pancakes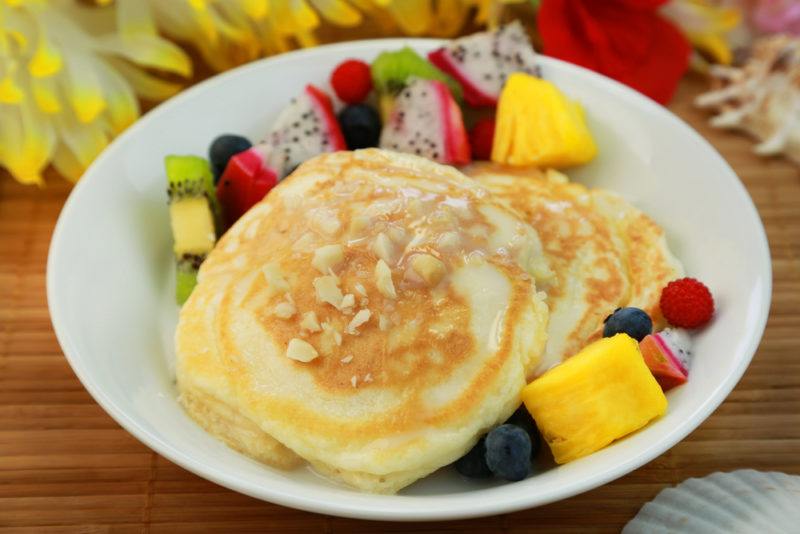 Macadamia nut pancakes might be strongly associated with Hawaii, but they're not the only type of pancake that you'll find. Many cafes offer a selection of different types of pancakes and associated toppings.
Some of these might be familiar, like chocolate chip pancakes or just plain pancakes. Others are more unusual, like pancakes that rely on sweet coconut sauce and coconut flakes.
Acai Bowls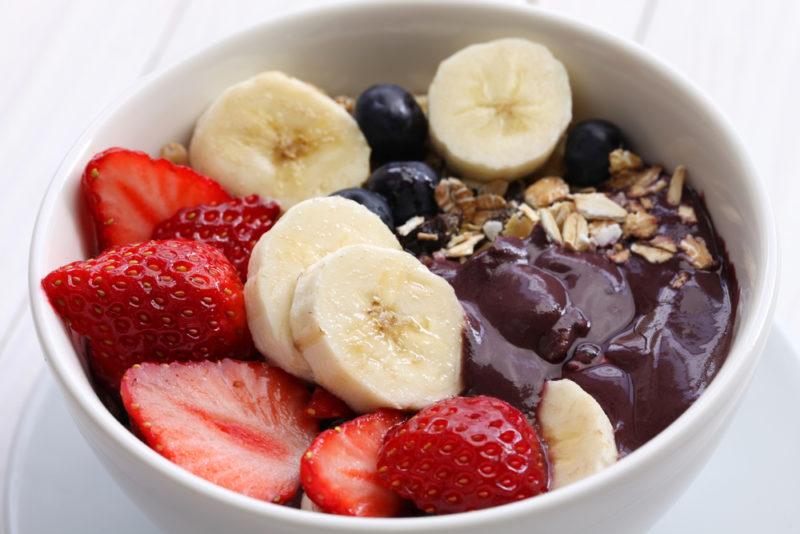 Acai bowls might be a fairly new idea, but they're certainly trending in Hawaii. You can find these bowls served in countless different places, including food trucks and markets.
Each vendor varies in how they make the bowls, so you'll see any number of topping combinations. Some places will allow you to pick and choose the toppings you want and the ones that you don't. This is an easy way to get a customized breakfast.
Breakfast Plate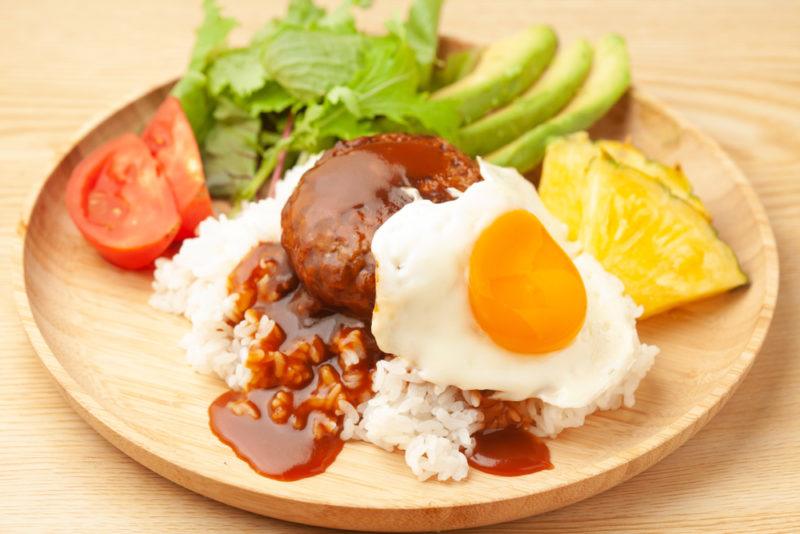 You'll also see the typical big breakfast served in Hawaii. This is similar to what you find elsewhere in the United States. In some cases, the combination of food might be identical.
But, as we mentioned earlier, there are some differences. Rice is more likely to feature as a side than hash browns or fried potatoes. You may see Portuguese sausages more often than regular ones too.
Still, some places might serve the exact version of a full breakfast that you're familiar with.
Interestingly, Spam features on breakfast plates too. Spam and eggs is the simplest approach, although you might see other ingredients added as well. Spam is, of course, pretty controversial. Many of us wouldn't choose to eat processed meat straight out of a can, especially when there are so many fresher options out there.
Despite this, Spam is popular as part of Hawaiian breakfasts. And, it can't be denied that the meat is easy to use. Don't worry if you find the flavor a bit weird. This won't be too noticeable once you include other ingredients in the mix, like eggs and cheese.
Taro Bagel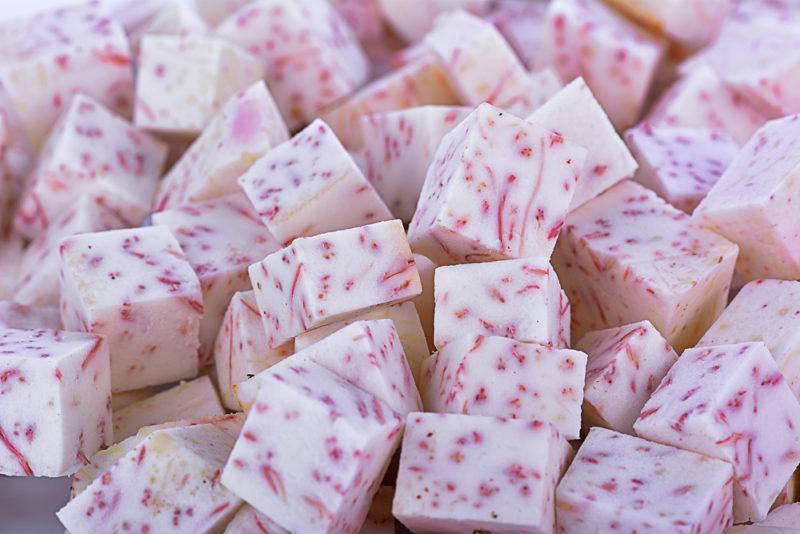 A taro bagel isn't necessarily a traditional Hawaiian breakfast, but it is one you'll see crop up in Hawaii and few other places. The idea isn't too surprising, as taro is very common in Hawaii. The root vegetable tends to make its way into many dishes.
The most notable thing is the color, as the bagel itself is blue-purple.
There are many potential fillings for the bagel. You might find it served like a classic breakfast bagel, with meat and eggs. Or, you might find a vegetable-focused dish instead.
Tourists report enjoying this type of bagel, but your experience might be influenced by the fillings in the bagel and your preferences. Where you buy the bagel from will matter too. After all, restaurants and cafes can strongly differ in the quality of their meals.
Congee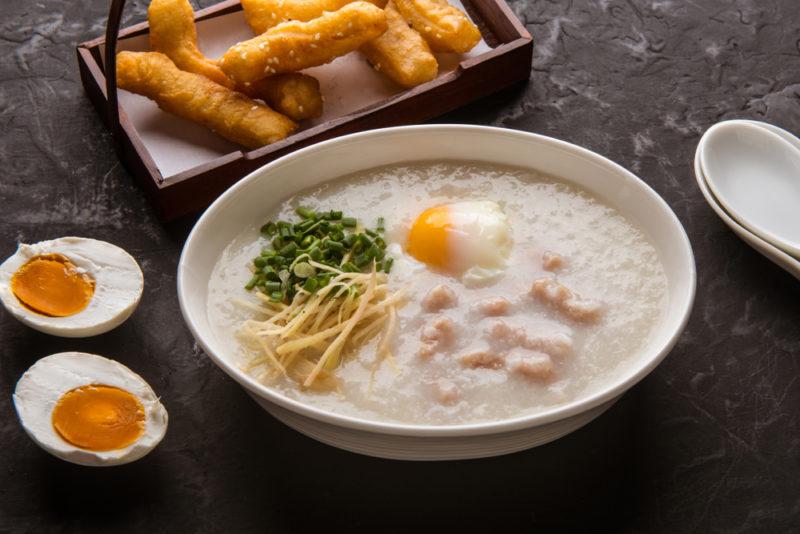 Congee is another name for rice porridge. It's a common breakfast dish in China and Chinese immigrants introduced it to Hawaii. Since then, the meal has found a life of its own in Hawaii. You'll now find it served in many Hawaiian restaurants and homes.
While the dish is sometimes prepared as a main meal, breakfast versions can be found too. Some of these bring familiar American flavors into the mix, with toppings like cheese, sausage, bacon, and eggs.
Poke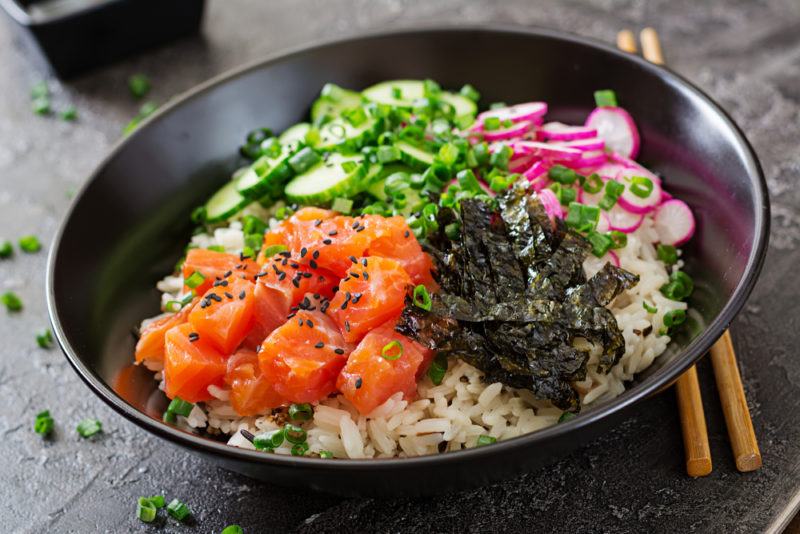 Poke is a dish that relies on chopped fish, along with flavorings and sauces. Most of the time the fish is raw, making this sound like an unusual breakfast choice. Who wants to eat raw fish first thing in the morning?
Well, as odd as it might sound, some places in Hawaii do serve poke as a breakfast dish. The meal has some advantages too. After all, it is very healthy. Fish is a powerful source of omega-3 fatty acid and protein too.
The protein in the dish should give you an energy boost and keep you going for hours.
This could also be a good choice for anyone who doesn't like eating much in the morning, as the dish is small and simple. You'll often just be eating the fish with seasoning. There are no sides to worry about. As a result, poke could also be a perfect low carb or keto breakfast.
Or, if you want something more complex, you could have other ingredients at the same time, like in the pictured poke bowl.
Hawaiian French Toast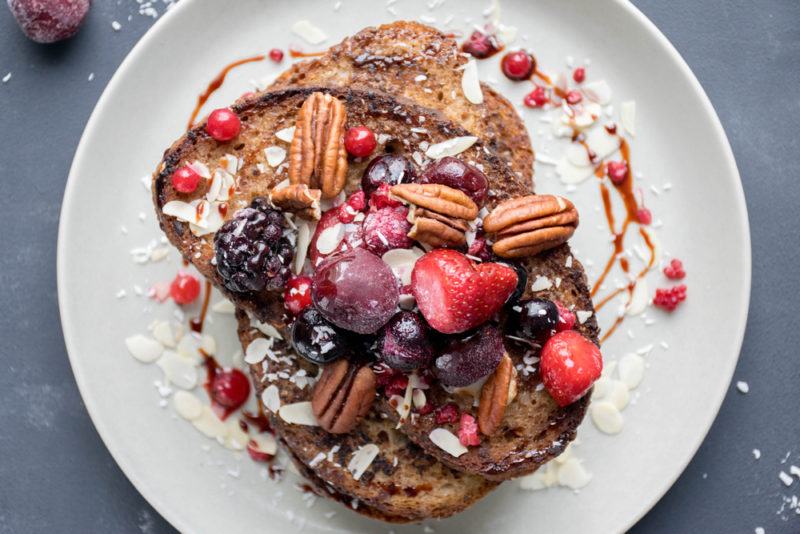 French toast is a popular breakfast in Hawaii and it comes with its own local twist. One difference is that coconut is often included somewhere in the recipe, like coconut flakes as a garnish or coconut cream drizzled on top.
Some versions are also made using sweet bread. This choice makes the breakfast sweeter and more tropical than regular French toast.
Fruit might be served on the top too, with pineapple and bananas both being popular options. While using fruit on French toast isn't that unusual, the combination of ingredients and flavors means you do end up with a distinct dish.
Bacon and Pineapple Bake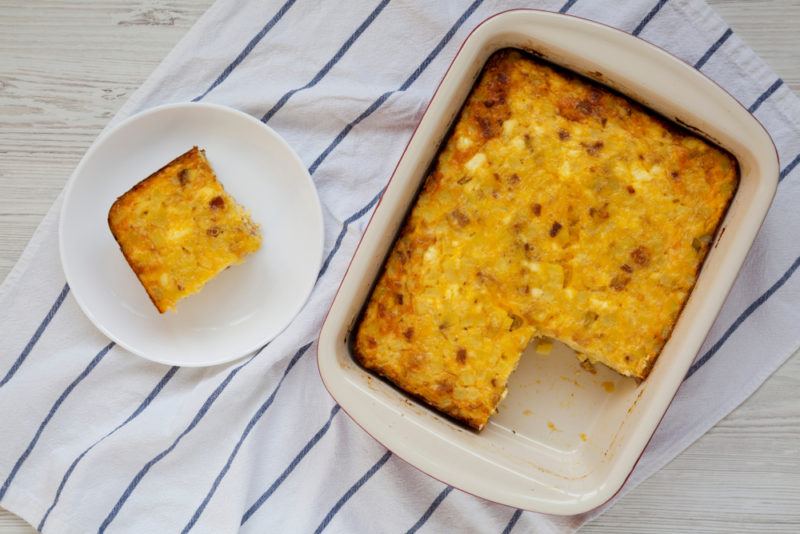 This breakfast dish uses the combination of bacon and pineapple that sometimes makes its way onto pizza (where it is the subject of endless debate). Still, the ingredients do create an interesting sweet-salty contrast of flavors.
Using bacon and pineapple in a breakfast dish is an even more stunning idea. You'll want to throw some cheese in here too. The bake is often made using some type of sweet bread, like Hawaiian rolls, although regular bread could be used instead.
The combination of ingredients helps to create a delicious and hearty breakfast, one that isn't even difficult to make. You just need to mix everything together and let it cook. The ease of creation is fantastic if you're planning to make breakfast at home.
Fruit Filled Crepes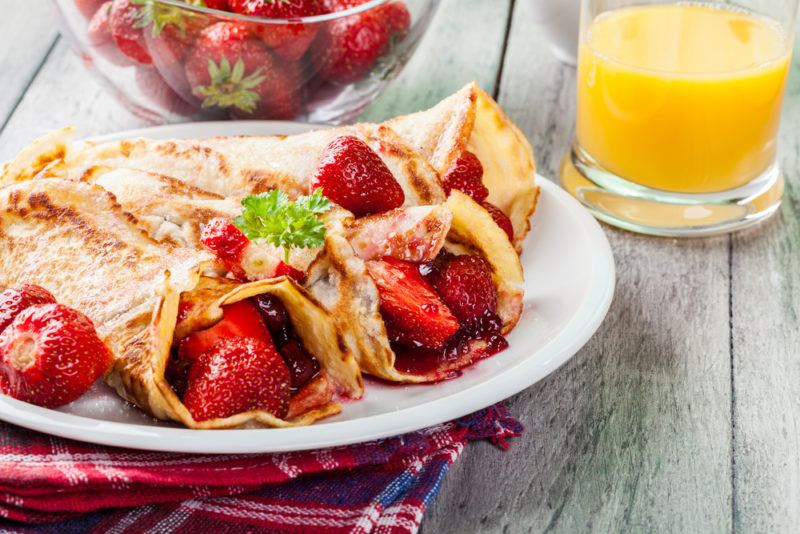 Hawaii is home to all kinds of fresh and delicious fruit, so it shouldn't be surprising to see these pop up in Hawaiian breakfast. Crepes filled with fresh fruit are one popular way to enjoy the fruit. These are as delicious as they sound.
You may also see fresh fruit served on the side of a Hawaiian breakfast, including the breakfasts featured on this list.