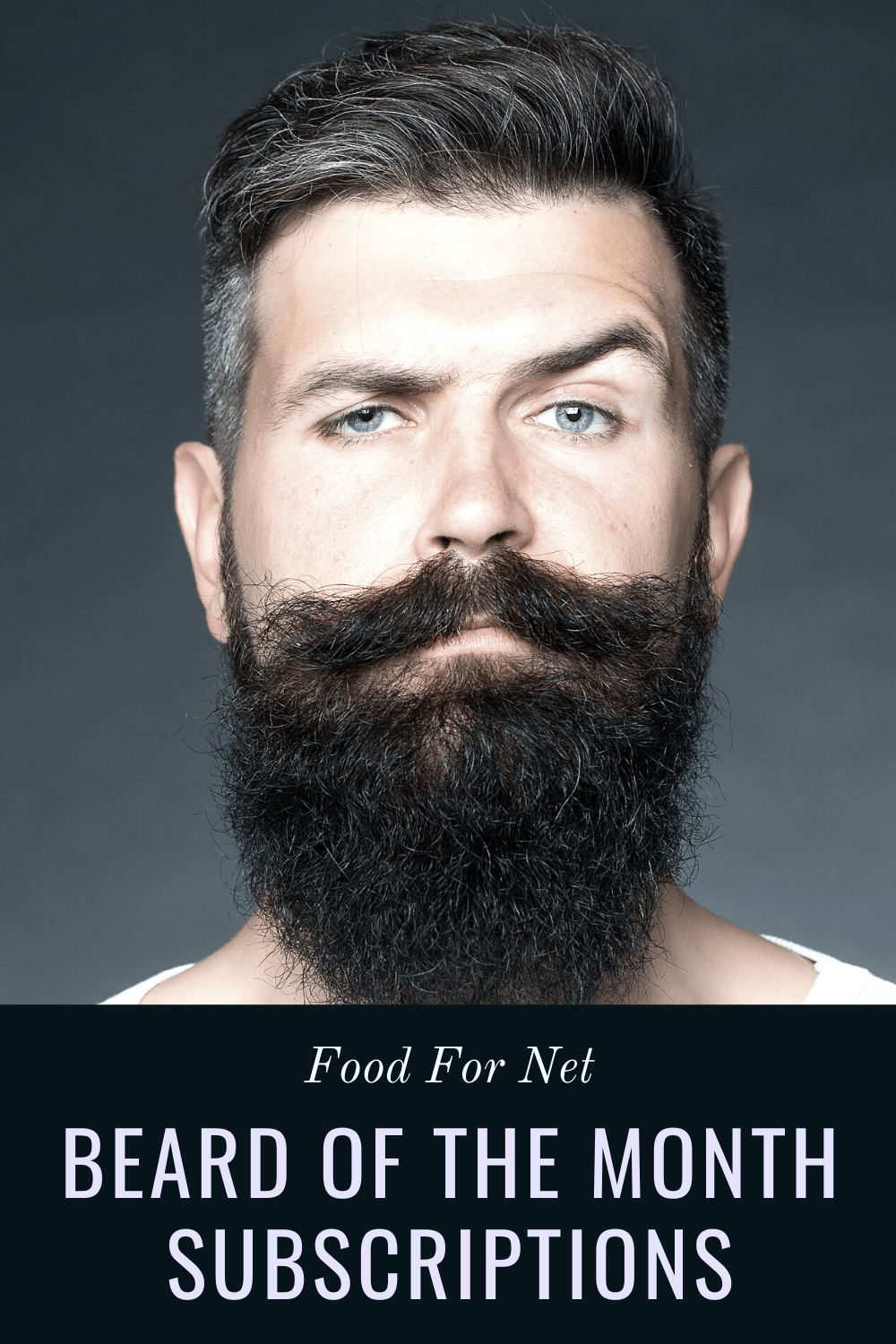 The history of the beard dates back to prehistoric times, although beard of the month subscription boxes are much more recent than that. The beard has had various purposes and has been impacted by the trends of the time.
Not surprisingly, beards were first grown for protection from the elements and helped to keep men warm. However, as time went on, the beard's purpose evolved and became a symbol of masculinity, status, fashion, and royalty.
As many beard growers know, beards require work and care to ensure both comfort and style. And beard grooming goes far beyond just trimming. Beard oils, waxes, and balms are necessary for maintaining the health of both the beard and the skin below it.
Beard oils were the first products invented for beard care. Oils are an excellent way to keep your skin and beard moisturized. Also, beard oils come in an array of scents and oil combinations.
Beard balms are a type of pomade made up of two essential elements a moisturizer and a sealant. Beard balm moisturizes and helps style more unruly beards. However, beard balm does not help moisturize the skin beneath, which is vital to keep the skin from becoming dry and itchy.
Beard wax is for longer beards that need something more robust to the beard from looking untidy. Though beard wax is most often used as a styling product, it still contains oils that help condition the beard.
Most men use beard oils with balms or waxes to maintain the health, comfort, and style of beard and skin. In addition to maintenance, beard products are frequently scented, making them a multifunctional product.
The best way to ensure you always have quality beard products on hand is to sign up for one of the many beard of the month subscription boxes. Most beard subscription clubs include everything you need to maintain a healthy beard, including things like shampoos, oils, waxes, and balms. And best of all, these boxes are conveniently delivered right to your door.
Such subscriptions can be fantastic gifts for the man in your life. There are other appealing subscriptions too, like whiskey of the month clubs, cologne clubs, and shaving clubs.

Beard of the Month Club
Badass Beard Care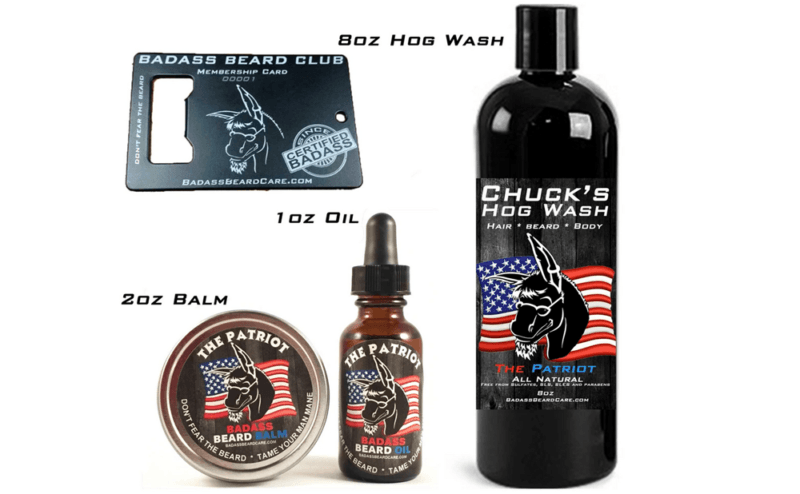 Badass Beard Care, founded in 2014 by Charlie and Ashley Moyer, is located in northern California. Charlie and Ashley started Badass Beard Care when Charlie returned home after 10 years in the US Coast Guard.
Through a series of events, including finding overpriced beard care products that contained turpentine, Charlie decided to start making his own beard balm using safe ingredients like essential oils.
Badass Beard Care offers an array of products that help improve the comfort, smell, and health of beards. Some of their product lines include:
Beard wash
Deodorant
Beard oil
Beard wax
Mustache wax
Tools and accessories
Badass Beard Care offers 13 different scents. Some of these scents include:
The Viking – Orange, Siberian fir, and clove
The Biker – Patchouli, peppermint, and sandalwood
The Bushwacker – Eucalyptus, lemongrass, and citronella (Helps repel mosquitos)
The Pirate – Lime, bay leaf, orange, and clove
The Patriot – Leather, cedarwood, black pepper
All of the products created use premium ingredients like shea butter, cocoa butter, coconut oil, tea tree oil, and jojoba.
For those looking to try the various Badass Beard scents, they offer a sampler pack. However, they also have the Badass Beard Club, which ensures you will never run out of your favorite beard care products.
The Badass Beard Club has several benefits above and beyond receiving Badass Beard products, benefits like:
Discounts

5% off kits and bundles
10% off beard care products
20% off accessories and tools
30% off apparel

Free swag and seasonal scents
Access to the exclusive members-only Facebook group
There are various clubs to choose from:
Tier 1: 1 oz beard oil
Tier 2: 1 oz beard oil and 2 oz beard balm
Tier 3: 1 oz beard oil, 2 oz beard balm, and 4 oz beard wash
Tier 4: 1 oz beard oil, 2 oz beard balm, and 8 oz hog wash
Tier 5: Chucks Essentials Vitamins
Tier 6: Badass Deodorant
All of the beard oil clubs are available in a premium option, which features their premium blends. When signing up for the beard club, you can choose which oil and balm scent and the frequency of deliveries.
The Beard Club

The Beard Club's mission is to provide high-quality products at affordable prices to help men look their best.
The Beard Club offers many men's products, like beard kits, trimmers, vitamins, beard oils, beard shampoos, vitamin beard sprays, beard accessories, beard balms, and more. And many of their beard products are available in a couple of different scents, like sandalwood and cedar.
The Beard Club is a subscription-based company, and all products, except for their accessories like razors, combs, and brushes, can be included in your subscription box. Unfortunately, their products are not available for individual sale.
The Beard Club has preselected kits available, or you can customize your own beard subscription box.
The subscriptions are flexible, and you can change your shipping date to meet your needs. Plus, you can change the contents of your beard subscription box from month to month. Also, because The Beard Club does not offer prepaid memberships, your account can be canceled or paused at any time.
Murphy's Beard Care

Murphy's Beard Care took two years of experimenting with different beard balm recipes until finally perfecting their recipe. After perfecting the beard balm, Murphy's Beard Care created a line of beard soaps and oils. And Murphy's continues to add new products and accessories all the time.
Though the company name makes one think that the products are all geared towards men, that is far from reality. Murphy's also has different personal care lines for women, including:
Women's bath soak
Shower bar
Sugar scrub
Women's lotion
Most of these products come in various scents like Blueberry Muffin, Lavender, Peppermint, Fairy Tales and Roses, and more.
However, most products are focused on men like beard balms, beard oils, beard soaps, and accessories. And, the men's products come in 17 different scents, including seasonal and holiday fragrances. Their top-selling scent is Dragon Slayer, which is a blend of amber, lavender, and citrus.
All of Murphy's Beard Care products, with the exception of the tools and accessories like the brushes and combs, can be added to a subscription box. However, if you are not ready to sign up for a monthly beard subscription, you can always purchase their products without joining the club.
When ordering items as a subscription, you will receive a 2% discount. All subscriptions are flexible month-to-month and can be canceled or changed anytime.
BEARDSANITY

BEARDSANITY was founded to help reduce the number of products needed to keep a beard looking and feeling strong and healthy while also keeping the beard shiny and smelling great.
BEARDSANITY uses premium ingredients to make all of its products, like its beard butter, beard oils, and beard balms. Their beard oils and balms are available in 4 different scent options:
The Sophisticated
The Mountaineer
The Gentleman
Cannabliss
The beard butter, created to help repair dry and damaged beards, is unscented.
And if you are looking for a beard care kit, BEARDSANITY offers one in each of the unique scents; all of the kits include oil, balm, a comb, and a brush. BEARDSANITY also offers other beard products like beard soap, beard shaping tools, and BEARDSANITY swag.
BEARDSANITY also offers a subscription box in both The Gentleman and The Mountaineer scents. Each box includes a 30 ml bottle of beard oil and a 30 gram canister of beard balm.
The subscription boxes are month-to-month and can be canceled anytime. The boxes ship out on the 4th of each month and are available to ship worldwide.
Man Bundle

Man Bundle is a beard product subscription company. Though they offer a few gift sets, their primary focus is curating unique monthly beard subscription boxes.
Unlike some companies, Man Bundle does not create its own products. Instead, they work with smaller beard product companies to find quality beard products for you to try.
Man Bundle beard boxes are the perfect way to explore and learn about other beard companies. Some of the different brands you might see in your subscription box are Grooming Hut, Guise Etiquette, and Mason Man.
Man Bundle subscription boxes contain 4 to 5 full-size beard products. Each month contains different products, so you never have to worry about duplicates, plus you will receive an array of products to ensure you always have what you need. Some of the items you might find in your Man Bundle box include oils, soaps, conditioners, balms, and brushes.
There are 4 Man Bundle subscription box options available:
Monthly for $34 per month
3 months for $32 per month
6 months for $30 per month
Bi-monthly for $36 per month
Shipping is included with all Man Bundle subscriptions.
Mountaineer Brand

Mountaineer Brand, founded in 2013 by Eric Young, started when Young was looking to save money by making his own high-quality beard products.
The company's goal is to create and sell all-natural affordable beard products that are shipped conveniently to your door. Additionally, Mountaineer Brand hopes to help fellow beard enthusiasts learn more about quality beard products and how best to use them.
The Mountaineer Brand creates more than just beard products; they also make:
Bald head care products
Shaving products and accessories
Muscle rub
Hand gunk
Body wash
Though you can purchase their products individually and in kits, you can also sign up for their Mountaineer Brand monthly subscription. There are 3 subscription box options, all of which come with 3 samples:
Beard Club Basic – A full-size product of your choice
Beard Club Ultimate – 2 full-size products of your choice
Beard Club Supreme – 3 full-size products of your choice
In addition to choosing which product type you want, you can also select the scent; some of the different scents they carry are Timber, Pine Tar, Mountain Fresh, Unscented, Essential 7, and Original Blend.
Subscriptions come in 2 duration choices month-to-month and 12-month prepay. The 12-month prepay includes a free month.
Beard Care Club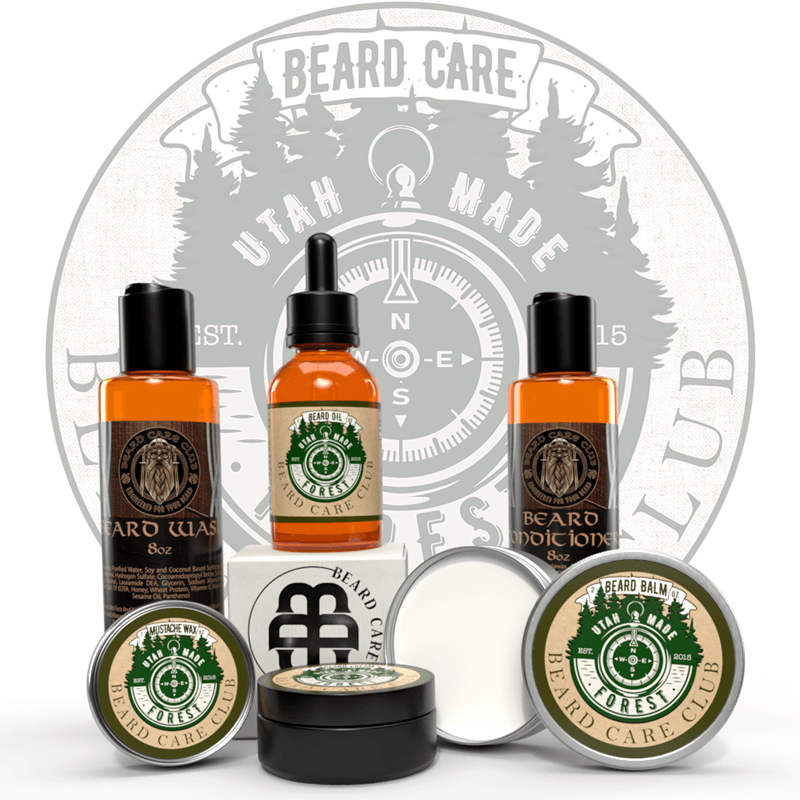 Beard Care Club was established in 2015. Their online storefront allows you to buy products individually, including beard oil, beard balm, mustache wax, pomade, beard washes, accessories, and more.
They also have a Scent of the Month Club that ships a different scent of their products every month. There are multiple versions of the club, including the following:
Cream of the Crop: 2 oz beard cream, starting at $15 per month.
Royal Oil: 1 oz beard oil, starting at $15 per month.
Balms Away: 2 oz bead balm, starting at $15 per month.
Chin Curtain: 1 oz beard oil and 2 oz bead balm OR beard cream, starting at $30 per month.
The General Patton: 1 oz beard oil, 2 oz bead oil OR beard cream, and 1 oz mustache wax, starting at $35 per month.
Lil' Bastard: 1 oz bead oil, 2 oz beard cream OR beard balm, along with beard conditioner, starting at $56 per month.
Big Bastard: Same as the Lil' Bastard, but with mustache wax added as well, starting at $61 per month.
Mr. Whisker Mixer: An 8 oz bottle of beard wash and beard conditioner, starting at $25 per month.
Upper Lipholstry: A tin of mustache wax, starting at $7.50 per month.
There are also a few clubs that simply ship out the same products each month, without changing the scent. Each club comes in multiple durations. Paying month-to-month is the most expensive option, while the price per month decreases if you choose one of the prepay versions instead.